Washington Beer Open House Returns on March 5, 2022
|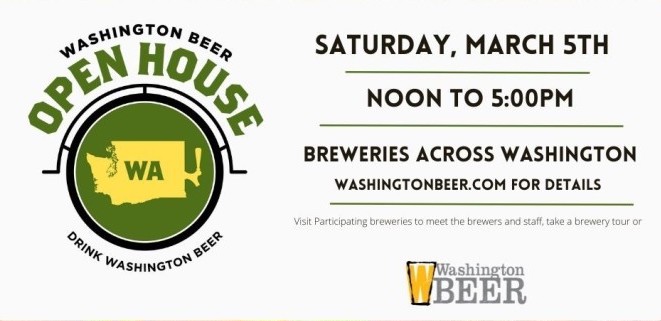 After taking last year off, the Washington Beer Commission returns with the 2022 Washington Beer Open House. Each year, breweries throughout the state open their doors for exclusive events in celebration of Washington Beer. The 2022 Washington Beer Open House will take place on Saturday, March 5, 2022 from Noon – 5:00pm.
For this year's Open House, look for opportunities for brewery tours, meet the brewer, sample some beers, and purchase some beer and swag to take home! No matter what, it makes for a great afternoon to celebrate the bounty of Washington brewers. Make sure to post your photos to social media using the hashtag #WAbeerOH.
Participating Brewery List:
54-40 Brewing
7 Seas Brewery and Taproom
Acorn Brewing
Anacortes Brewery 
Ashtown Brewing Company
At Large Brewing
Atwood Farm Brewery
Bad Jimmys Brewing
Badass Backyard Brewing
Bainbridge Brewing
Bale Breaker Brewing
Bale Breaker Brewing-Seattle Taproom
Barlows Brewery
Bent Bine Brew Co.
Bickersons Brewhouse
Big Barn Brewing
Bosk Brew Works
Burke Gilman Brewing Company
Burke Gilman Brewing Company
Cardinal Craft Brewing
Chuckanut Brewery South Nut Taproom
Counterbalance Brewing Co
Crucible Brewing – Woodinville Forge
Crucible Brewing Company 
Crucible Brewing-Pour Decisions Taproom
Deep Draft Brewing
Explorer Brewing Company
Figurehead Brewing Co
Flying Bike Cooperative Brewery
Flying Lion Brewing 
Foggy Noggin Brewing
Fortside Brewing Company 
Four Generals Brewing
Fremont Brewing
Garden Path Fermentation
Ghost Runners Brewery and Kitchen
Ghostfish Brewing
Gig Harbor Brewing Company – Tacoma Taproom & Brew
Good Brewing – Hollywood Taproom
Half Lion Brewing
Haywire Brewing Co. 
Heathen Brewing
Hellbent Brewing Company 
High Steel Beer Co. 
Humble Abode Brewing
In The Shadow Brewing 
Iron Goat Brewing
Kulshan Brewery
Ladd & Lass Brewing 
Lake Stevens Brewing Company 
Lantern Brewing
Loowit Brewing
Lucky Envelope Brewing 
Machine House Brewery
Matchless Brewing 
Meatheads Smokehouse and Beer Works
Narrows Brewing
North Jetty Brewing
Obec Brewing
Optimism Brewing Co. 
Penn Cove Brewing
Postdoc Brewing
Potlatch Brewing Company
Precious Things Fermentation Project
Propolis Brewing
Rainy Daze Brewing 
Resonate Brewery & Pizzeria
Reuben's Brews
Sage Brewing Company
Sage Brewing Company
Scuttlebutt Brewing
Silver City Brewery and Taproom
Single Hill Brewing
Sno Town Brewery
Sound to Summit Brewing
Spada Farmhouse Brewery
Stones Throw Brewing
Terramar Brewing
The Good Society Brewery & Public House 
Top Rung Brewing
Triceratops Brewing Company
Twin Sisters Brewing Company
Two Beers Brewing
Valley House Brewing
Varietal Beer Co.
Wander Brewing
White Bluffs Brewing
Whitewall Brewing
WABL will be onsite at Sound to Summitt Brewing in Snohomish from Noon-5pm. Stop by and renew your membership, redeem your 20 stamp prize or just to have a beer.
To stay up to date on all participating breweries, visit WashingtonBeer.com.