Washington Brewer's Guild's 2021 Washington Pint Days – December 2 – 4, 2021
|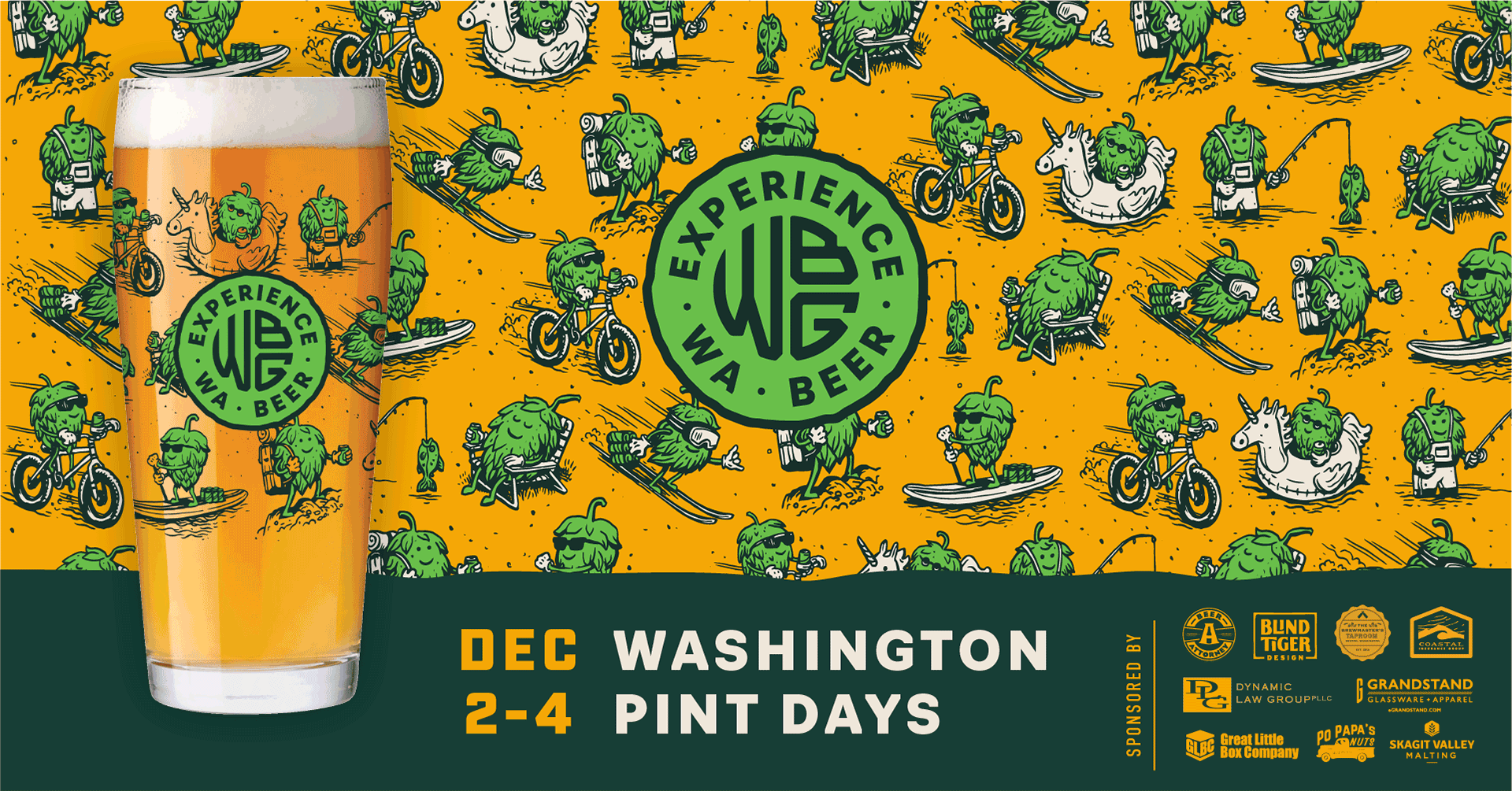 Over the next few days, the Washington Brewers Guild presents the 2021 Washington Pint Days. Taking place at Washington Brewers Guild member breweries from December 2 – 4, 2021, it's your chance to try out new beers and take home a nice, collectable pint glass!
Earning this sweet pint glass is easy, all you have to do is go drink beer at a participating brewery in Washington. The glasses are exclusively available at the participating breweries listed further below in the article. Once the glasses are gone, they're gone.
The goals of Washington Pint Days are to encourage beer enthusiasts to get out and visit Washington craft brewery taprooms, and raise money to support our Guild.
In partnership with Washington Brewers Guild member breweries and Grandstand, $1 from every glass will be donated to the WBG. WA Brewers Guild, is a grassroots organization that fosters a sense of community among the state's breweries and also does the increasingly critical work of representing the brewing industry's interest in Olympia. Additionally, our guild has been extremely active providing advocacy and education for WA breweries during the COVID-19 crisis.
Pick up a limited-edition full art pint glass, included with to go and specials at over 70 participating breweries during Washington Pint Days. Check participating breweries' websites and social media for specific details on their Pint Days specials.
PARTICIPATING BREWERIES:
210 Brewing Company
5th Line Brewing
Airways Brewing
Anacortes Brewery
Ashtown Brewing
At Large Brewing
Bainbridge Island Brewing
Bale Breaker Brewing Co.
Beach Cat Brewing
Bent Bine Brewing Co
Bickersons Brewhouse
Black Fleet Brewing
Black Raven Brewing Co.
Brewing Savage
Brewmaster's Bakery & Taproom
Boundary Bay Brewery
Burke-Gilman Brewing Company
Cairn Brewing
Chuckanut Brewery
Cosmic Bottles
Counterbalance Brewing Company
Dru Bru
Explorer Brewing Company
Everybody's Brewing
Figurehead Brewing
Five Dollar Ranch Brewing
Fortside Brewing Company
Fremont Brewing
Flying Lion Brewing
Garden Path Fermentation
Georgetown Brewing Company
Haywire Brewing Company
Headless Mumby Brewing
Hellbent Brewing Company
Humble Abode Brewing
Icicle Brewing Company
Iron Goat Brewing
Kulshan Brewery Company
Lazy Boy Brewing
Logan Brewing Company
Loowit Brewing Company
Lowercase Brewing
Machine House Brewery
Monka Brewing
Moonshot Brewing
Mountain Lakes Brewing Co.
Narrows Brewing
Northern Ales
Old Schoolhouse Brewery
Optimism Brewing
Peddler Brewing Co.
Postdoc Brewing
Quartzite Brewing
Rainy Daze Brewing
Republic Brewing
Reuben's Brews
Riverport Brewing Company
Roslyn Brewing Company
Scuttlebutt Brewing Company
Silver City Brewery
SnoTown Brewery
Sound 2 Summit Brewing
Stemma Brewing
Stoup Brewing
Terramar Brewing
The Good Society Brewery
Top Rung Brewing
Trap Door Brewing
Triceratops Brewing Co.
Trusty Brewing
Two Beers Brewing Co.
Wander Brewing
Well 80 Brewhouse
Wet Coast Brewing Company