Weekend In Beer – Beginning April 27, 2023
|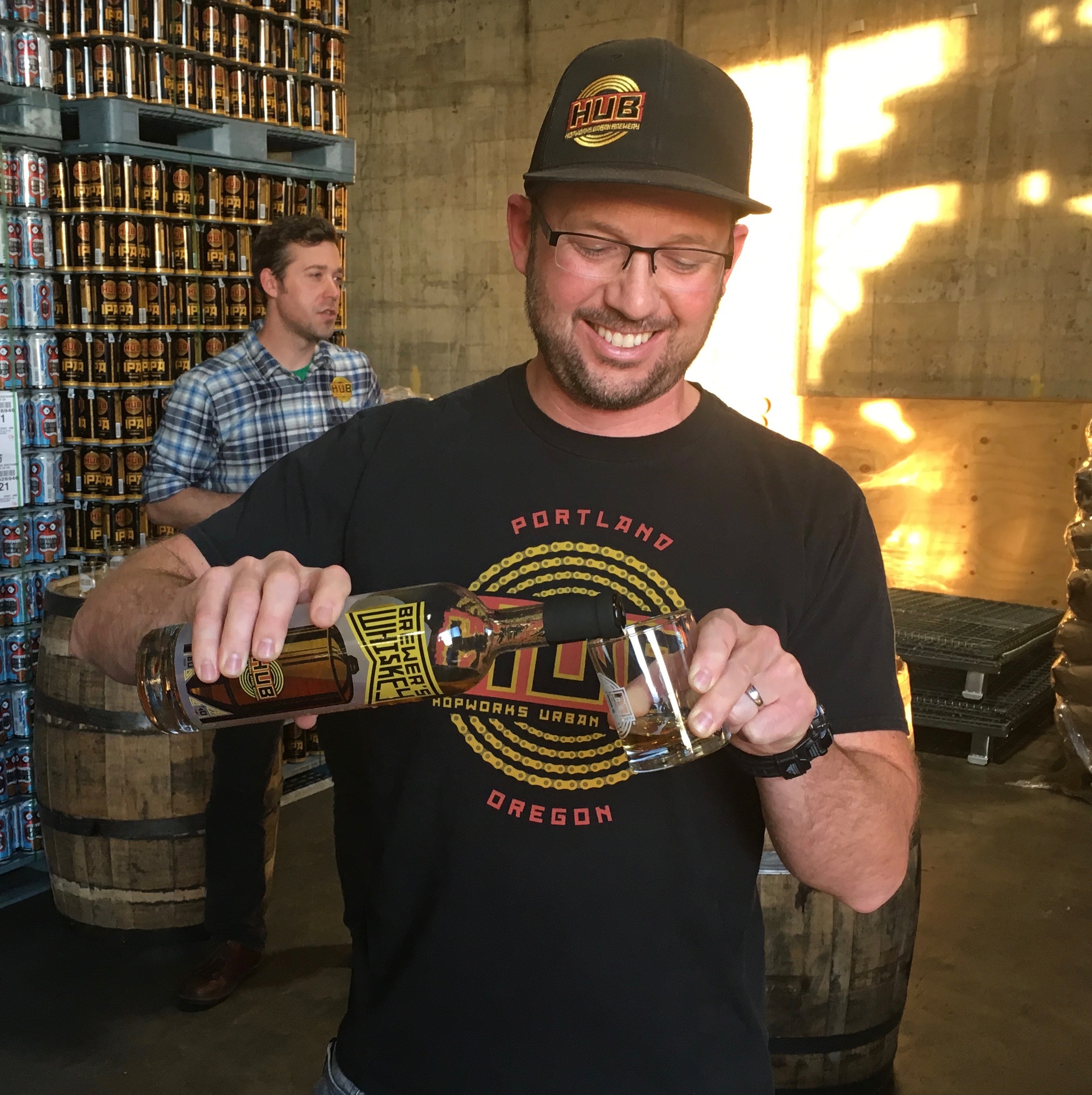 This weekend is looking to be a nice one, especially for getting outside as spring has finally arrived here in the Pacific Northwest. There are plenty of beer events, tap takeovers and more taking place throughout the Beaver State. But before we dive into these events, one local cider maker has re-opened its Clackamas pub while a taproom and bottle shop will serve its final beers on Friday.
After its temporary closure, Portland Cider Co.'s Clackamas Pub is back open for business. During its closure, the cider maker did some remodeling work that allowed it to open a full-service kitchen.
Led by Chef Vinnie Manna, the refreshed menu features local produce and Northwest ingredients, with everything made in-house, from the bread and buns, to smoking and grinding the meats served.
But things are not all rosy across the Portland metro area. If you're a fan of Hoplandia in St. Johns, this Portland beer bar and bottle shop will be open for its last day on Friday, April 28. The owner has decided to go in a different direction but there's a chance that it could return, but in a different form this summer.
Now on to beer events across Oregon in the coming days. Here are our top picks!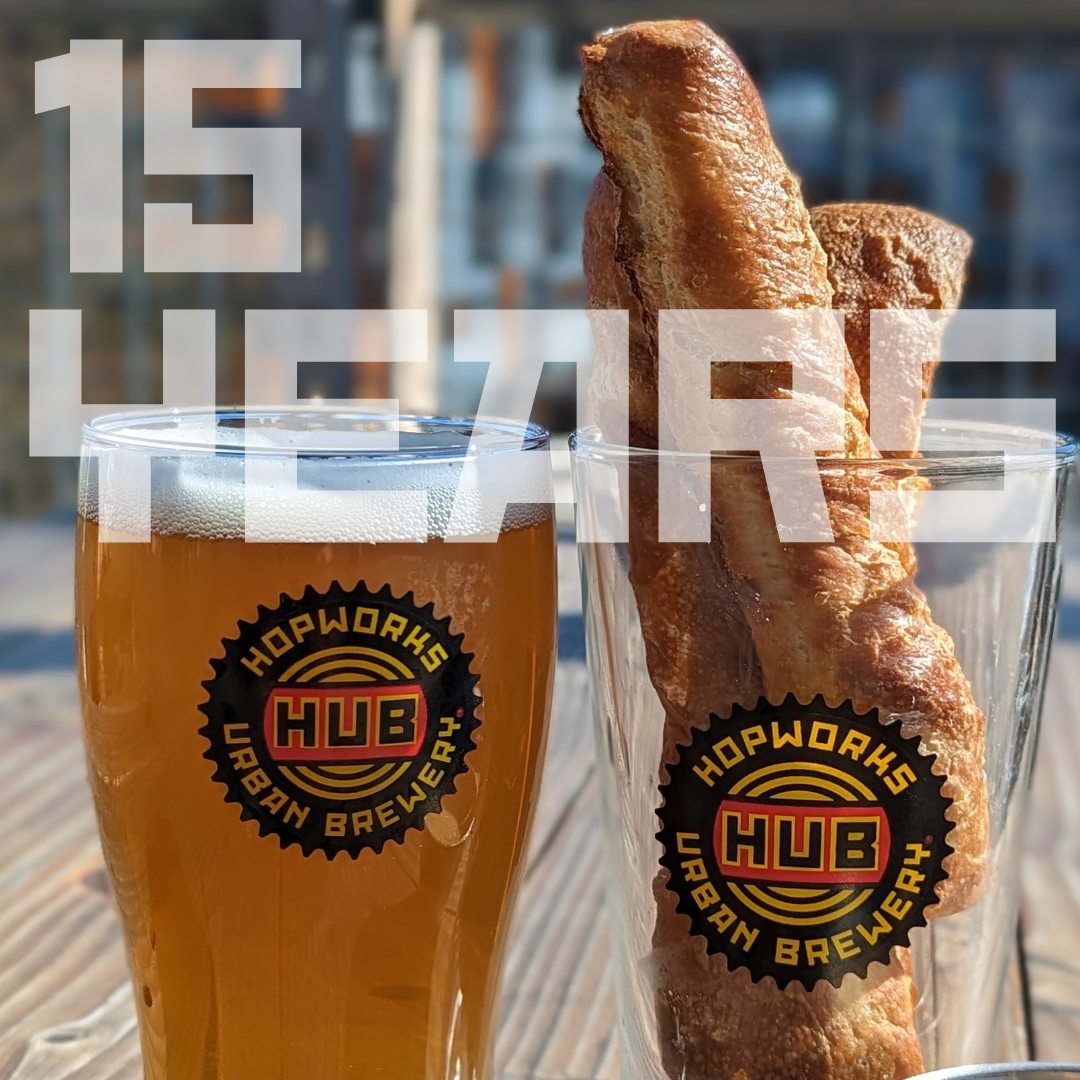 Hopwoks Brewery 15th Anniversary
Thursday, April 27 – 11:30am-9:00pm
When Hopworks Brewery celebrates its 15th anniversary, it's the customers that win as the brewery will be throwing it back to 2008 pint pricing! Yes, stop by today for $4.25 pints all day long. And if you need a snack, add a pint of pretzels, also setting you back just $4.25. As an added bonus, anyone who comes in wearing a Hopworks shirt receives a free pint glass.
Cheers to 15 years!
Hopworks Brewery – 2944 SE Powell Blvd – Portland, OR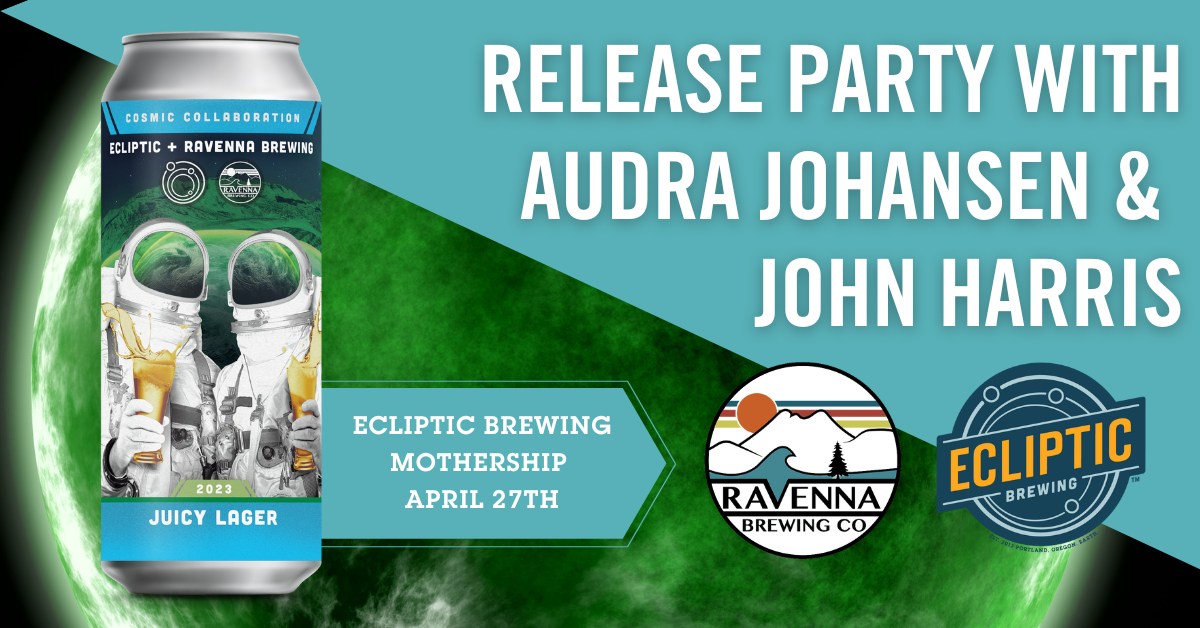 Ecliptic Brewing & Ravenna Brewing Juicy Lager Pub Crawl
Thursday, April 27 – 5:00pm-9:00pm
On the latest Cosmic Collaboration Ecliptic Brewing recruited Ravenna Brewing on the new Juicy Lager. At the release party, Ravenna's Head Brewer, Audra Johansen, and Ecliptic's Owner and Brewmaster, John Harris, will be on hand when the event kicks off at Ecliptic Brewing at 5:00pm. The crawl will then move to Bridgetown Beerhouse at 6:30pm and will be capped off at Saraveza at 8:00pm.
Cosmic Collaboration Juicy Lager is brewed with a clean malt base, then opens up a multiverse of flavor with a juicy mix of modern hops, including Enigma and Cashmere. The adventurous will be rewarded with notes of white grape, red currant, and lime-orange citrus bursting all at once on the palette.
Ecliptic Brewing Mothership – 525 N Cook St – Portland, OR
Boneyard x Great Divide Great Bones Release Party
Thursday, April 27 – 5:00-7:00pm
The Boneyard and Great Divide caravan rolls into Portland to The Moon and Sixpence for the launch of Great Bones Double Dry-Hopped IPA. This new collaboration makes its Portland debut this evening, and a perfect evening it will be to take advantage of the Moon's expansive back patio!
Great Bones Double Dry-Hopped IPA is described as a West Coast IPA that features Pacific Sunrise, Riwaka, Galaxy, Citra and Idaho 7 hops.
The Moon and Sixpence – 2014 NE 42nd Ave – Portland, OR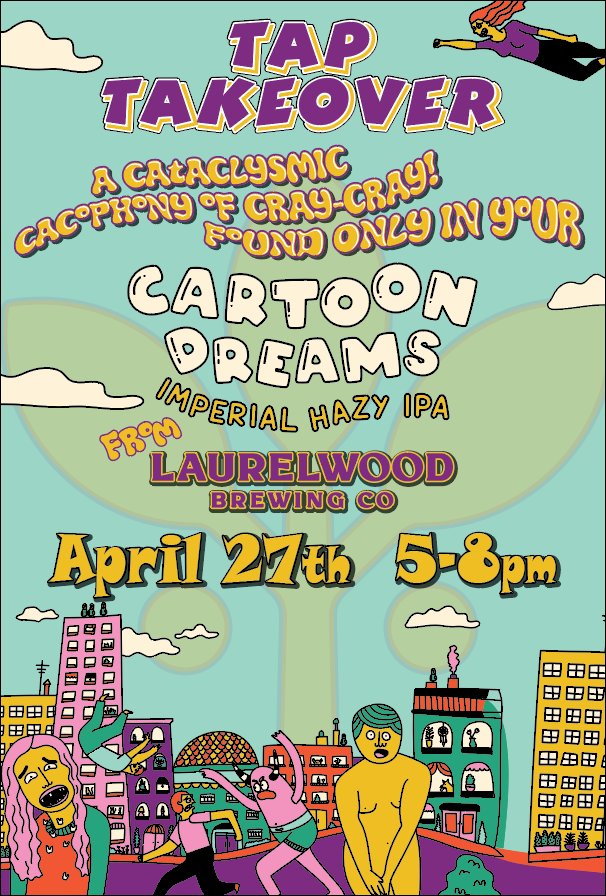 Laurelwood Brewing Tap Takeover
Thursday, April 27 – 5:00-8:00pm
The Beer Store will be bringing in seven beers from Laurelwood Brewing for tonight's tap takeover. A few of the featured beers include Cartoon Dreams Imperial Hazy and the brand spankin' new La Madera Mexican Lager.
Beer Store – 10610 SE Main St – Milwaukie, OR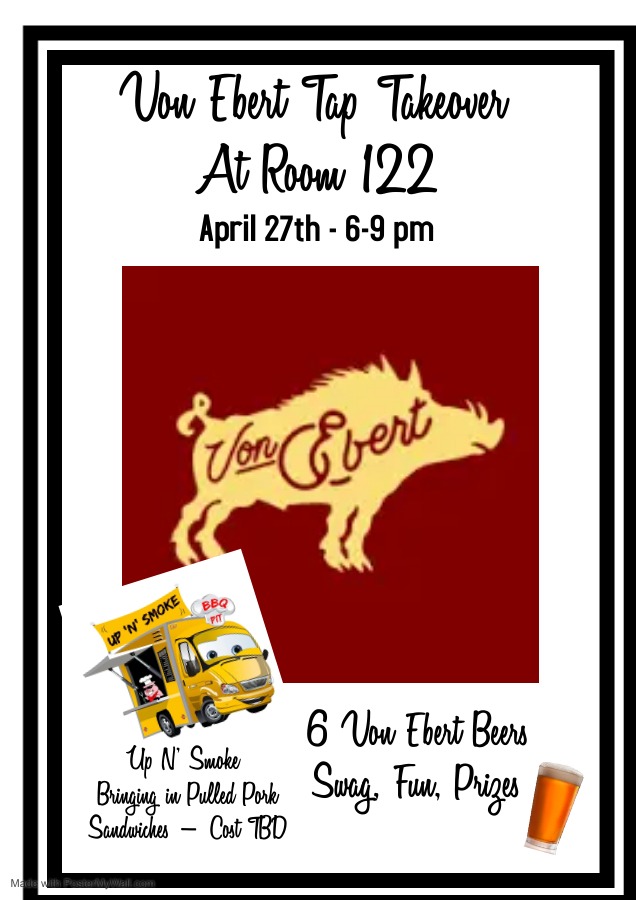 Von Ebert Tap Takeover
Thursday, April 27 – 6:00-9:00pm
Six beers from Von Ebert Brewing will be on tap today. Pair these with some great food as Up N' Smoke will be on-site serving up some delicious pulled pork sandwiches.
Room 122 – 14274 SE Allen Blvd. – Beaverton, OR
Oakshire Public House 10th Anniversary
Friday, April 28 – Sunday, April 30
Celebrate ten years of Oakshire Public House in Eugene's Whiteaker neighborhood. There are plenty of specials to be had all weekend. Pints of the OGs – Watershed, Overcast, and Amber⁠ – are only $5; Keep the glass! $12 for a Space glass, filled with This Is What Space Smells Like Hazy IPA⁠, $5 4pks (or $30 cases) of Sun Made Fruit Fusion: Orange Cranberry⁠; 15% off all Oakshire merch; and rider your bike for $1 off a pint
⁠
Friday, April 28:⁠
Bing King (4-9pm)
Live Music: The Fiddlin' Big Sue Band (6-8pm)⁠
⁠
Saturday, April 29:⁠
Whiteaker Community Market Pop-Up (2-7pm)⁠
Live Music:
The Barnstormers (3-5pm⁠)
Cherry Hill (5:30-7:30⁠pm)
Dubious Rubes (8-10pm⁠)
⁠
Sunday, April 30:⁠
Paint & Pint with Alejandro⁠ (3-5pm) > Buy tickets.
Live Music: Chad Kushuba Show (6-8pm)⁠
Oakshire Public House – 207 Madison Street – Eugene, OR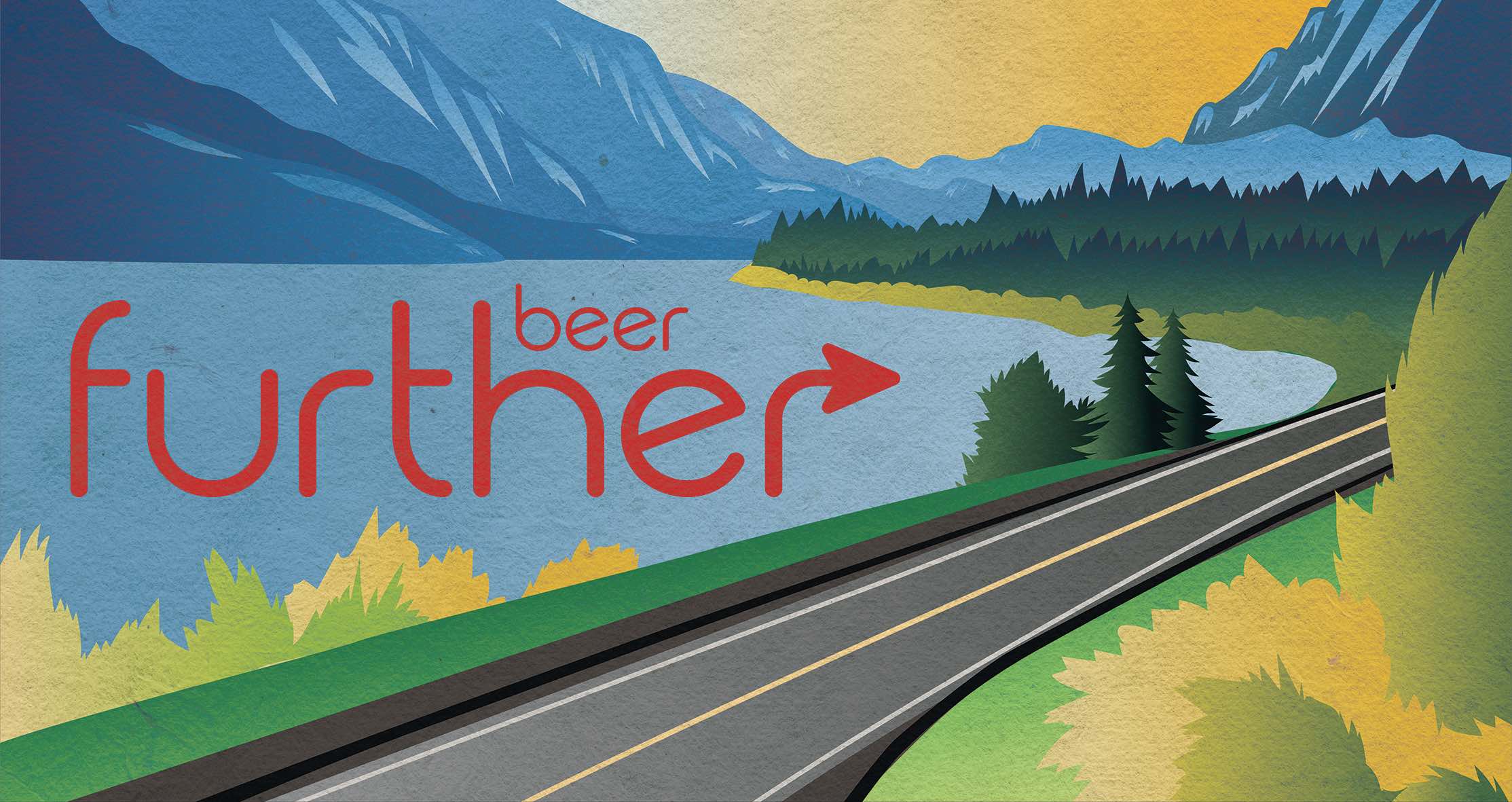 Occidental Brewing Further Beer Debut
Friday, April 28 – 4:00-7:00pm
After announcing the launch of a new beer line, Occidental Brewing will debut its Further Beer line at Belmont Station. Known for its German inspired beers, Occidental Brewing is allowing its brewers to branch out and the first release in the Further Beer line is a classic West Coast IPA using Strata and Azacca hops. The Further IPA brings a crisp and refreshing taste, balanced bitterness, aroma of melon and citrus. 6.0% ABV
Also on tap will be Occidental Cervesa Clara Mexican Lager, Occidental Japanese-Style Dry Lager, Occidental Edel-Hell Helles, Occidental Kolsch, and Occidental Hefeweizen.
Belmont Station – 4500 SE Stark – Portland, OR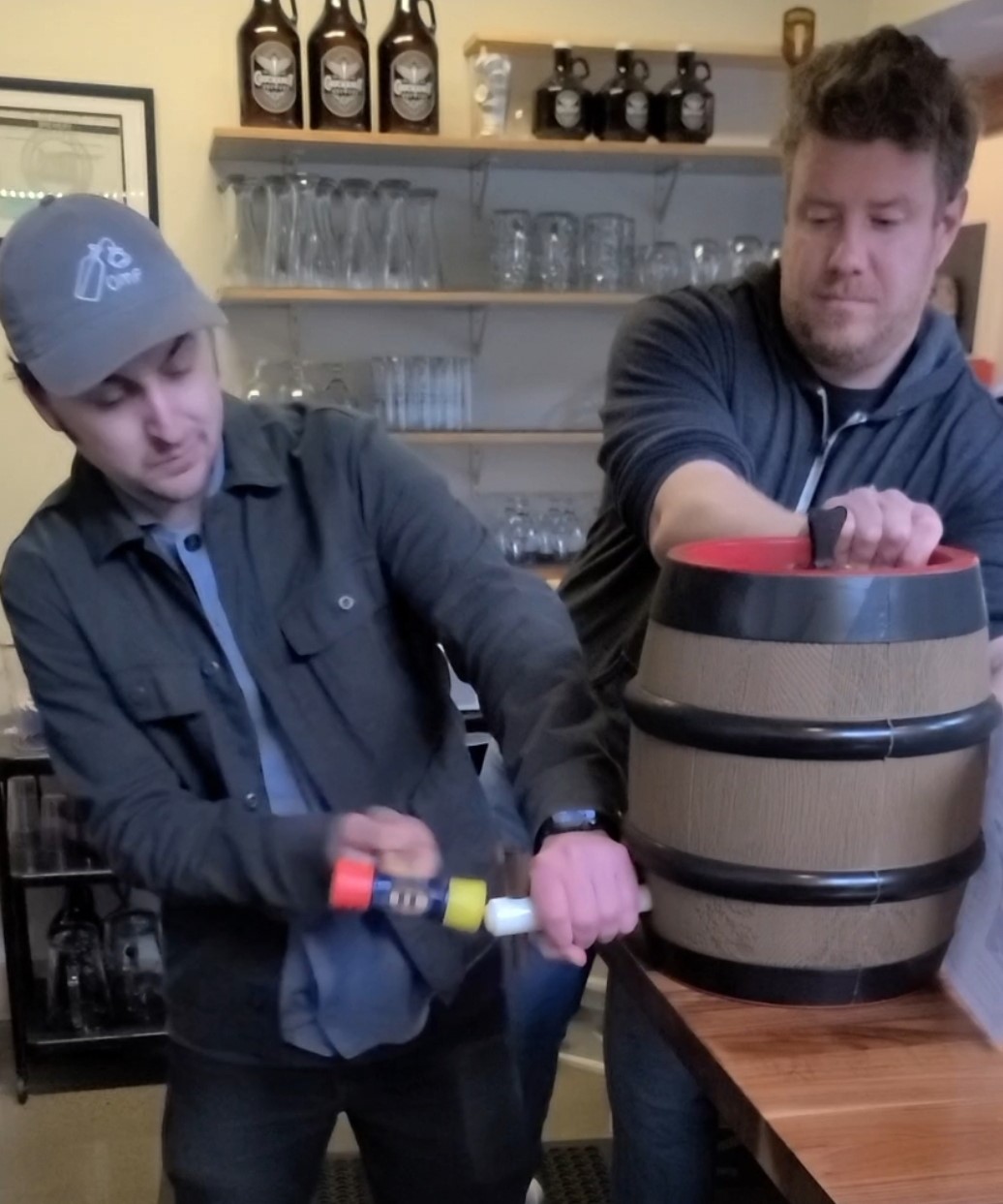 April Keller Night
Friday, April 28 – 5:00-9:00pm
Every last Friday of the month at P. Nut in Portland, the beer hall will tap gravity kegs filled with keller beer, a beer directly from the fermentation tanks unfiltered. Two different beers will be featured on April 28 when P. Nut taps its unfiltered Mexican Style Lager and Mexican Style Dark Lager in honor of Cinco de Mayo.
Chuckanut Mexican Style Lager is the color of sunshine with a slightly bready malt flavor and thirst-quenching finish. Mexican Style Dark Lager is a deep amber and has a slight malty sweetness, balanced by the noble hop finish. This lager has roasty notes while leaving the palate light and crisp despite its dark color.
Pacific Ice Smoked Fish (a variety of prepackaged local fresh fish) as well as Farmer and the Beast Smash Burgers (burgers and sandwiches) will both be serving up their amazing products during the event. Keller gravity kegs are small and if you want to make sure to taste both styles of beer try to be on site as close to 5 pm as possible, this beer will go fast!
Chuckanut P. Nut Beer Hall – 920 SE Caruthers St – Portland, OR
8th Annual Hood River Hard Pressed Cider Fest
Saturday, April 29 – 11:00am-7:00pm
The 8th annual Hood River Hard-Pressed Cider Fest gives seasoned and novice cider drinkers alike the chance to sample cider from Oregon and Washington's very own cider makers. More than twenty cideries will be participating, with more than 40 ciders on tap.
The daylong event also features local craft and food vendors, and a kids' area with giant yard games. Hood River Cider Fest guarantees a great springtime event for the whole family.
Spring showers aren't a problem, as the Cider Fest tasting area takes place under a tent on the Hood River Fairgrounds.
For more information or to purchase tickets to the Hood River Hard-Pressed Cider Fest visit https://www.hoodriverciderfest.com/.
Hood River Event Site – Portway Ave. – Hood River, OR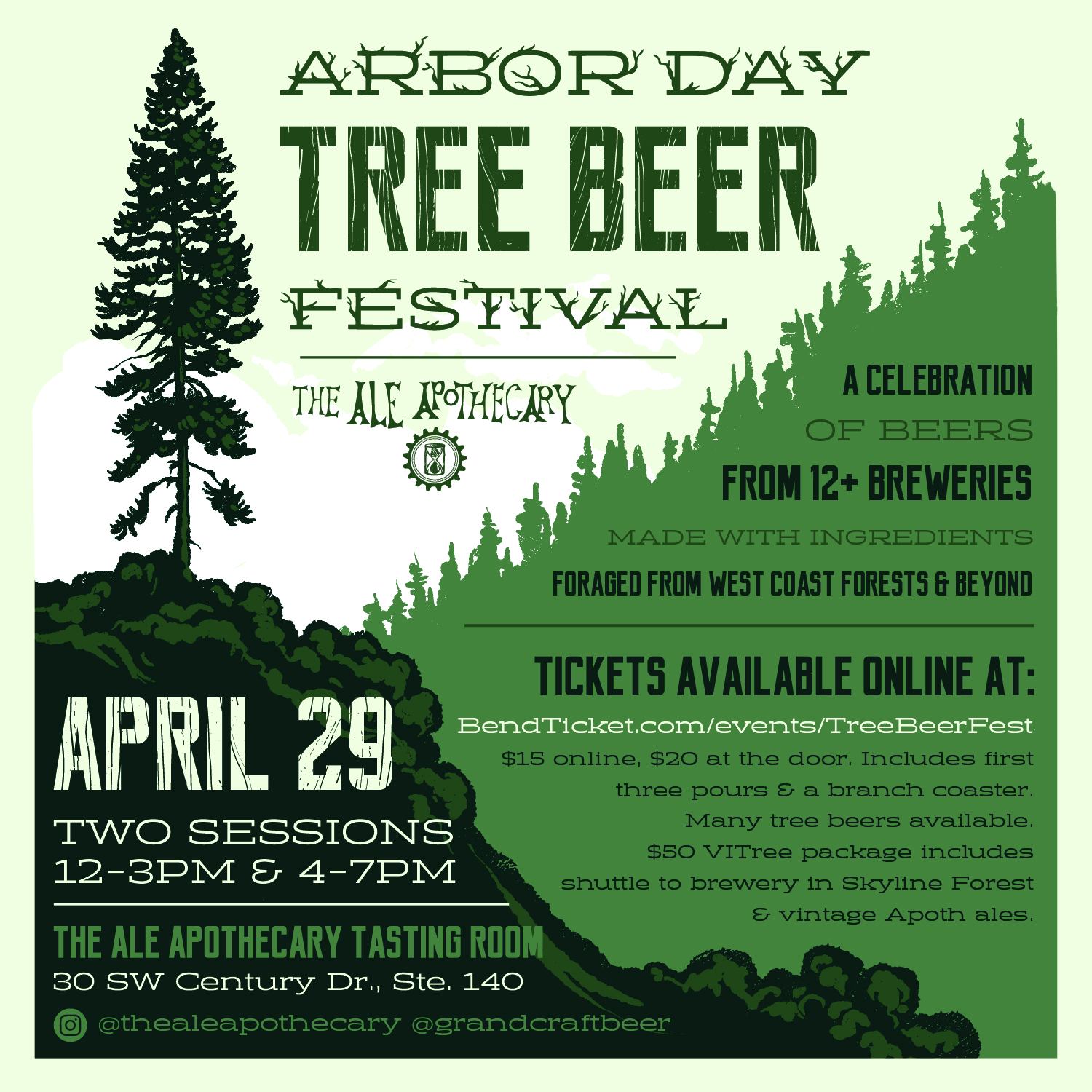 Arbor Day Tree Beer Festival
Saturday, April 29 – Noon-3:00pm + 4:00-7:00pm
The Ale Apothecary along with Brian Yaeger present Tree Beer Fest with two sessions – Noon – 3:00pm and 4:00-7:00pm. The fest will feature over one doze tree beers, each made with ingredients foraged from West Coast forests and beyond. Ingredients include spruce tips, fir tips, juniper berries, bark, lichen, and even tree-dwelling mushrooms.
Each festival ticket includes your first three tasters of tree beers. There will be over a dozen tree beers including many from like-minded breweries from around Oregon, up and down the Pacific Coast, and clear across to the Eastern shore.
Tree Beer Fest Brewery List:
There will also be a food truck on site and a la carte axe-throwing courtesy of Unofficial Logging Co., Bend's only hatchet-throwing bar.
Tickets, now on sale, are $15 online ($20 at the door) and include the first three pours and a coaster made from branches. Additional drink tickets will be available four-for-$10. Become a VITree for $50 and ride the shuttle, sponsored by Cog Wild, to the Apoth brewery in Skyline Forest for additional vintage ales. Tickets are available at Bendticket.com/events/treebeerfest.
The Ale Apothecary Tasting Room – 30 SW Century Drive – Bend, OR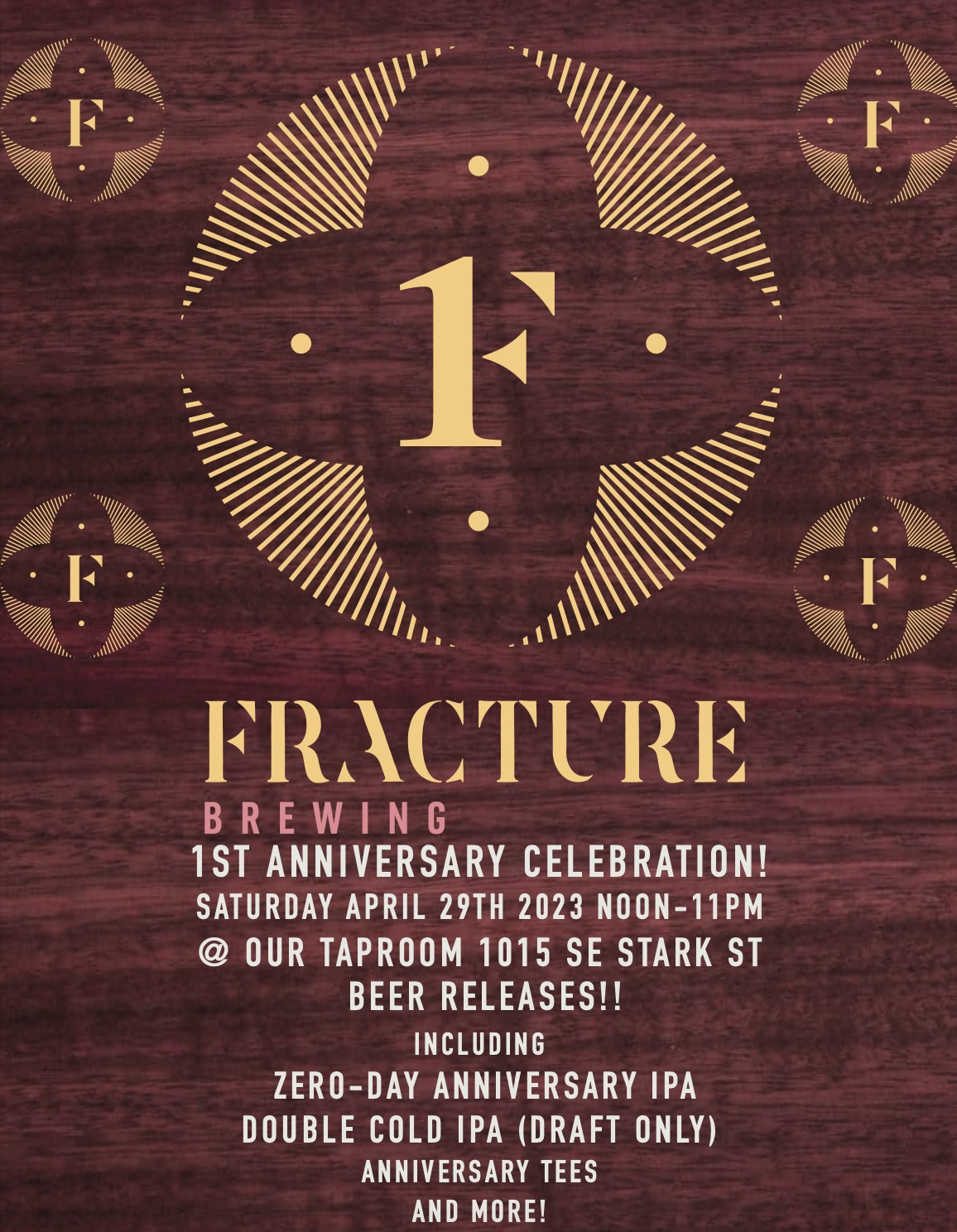 Fracture Brewing 1st Anniversary Celebration
Saturday, April 29 – Noon-11:00pm
After launching the brewery one year ago, Fracture Brewing is excited to host an anniversary celebration. The brewery is set to release two new IPAs on Saturday for the special celebration.
Here are descriptions on both beers.
Anniversary Oat Cream IPA
This IPA is brewed with big amounts of oats, wheat and lactose to give the body an overall creamy, soft mouthfeel. It was double dry hopped with Cryo, and select specialty hops from Freestyle in New Zealand, and to top it off, fermented with Cosmic Punch thiolized yeast for extra juicy, tropical character.
Anniversary Cold Double IPA
Brewed with heaps of Riwaka, Strata and Experimental hop HBC 586, this DIPA boasts big notes of strawberry and fruit punch, with a crisp finish from being fermented with 34/70 lager yeast.
Arrive hungry as the food carts next door at Lil' America will be open. Choose from The Drip'n Crab, FryBaby, Hawker Station, Los Plebes, Speed-O Cappuccino, Maukulit, and Bake on the Run.
The Fracture Brewing Taproom is dog friendly and minors are welcome until 9:00pm.
Fracture Brewing Taproom – 1015 SE Stark – Portland, OR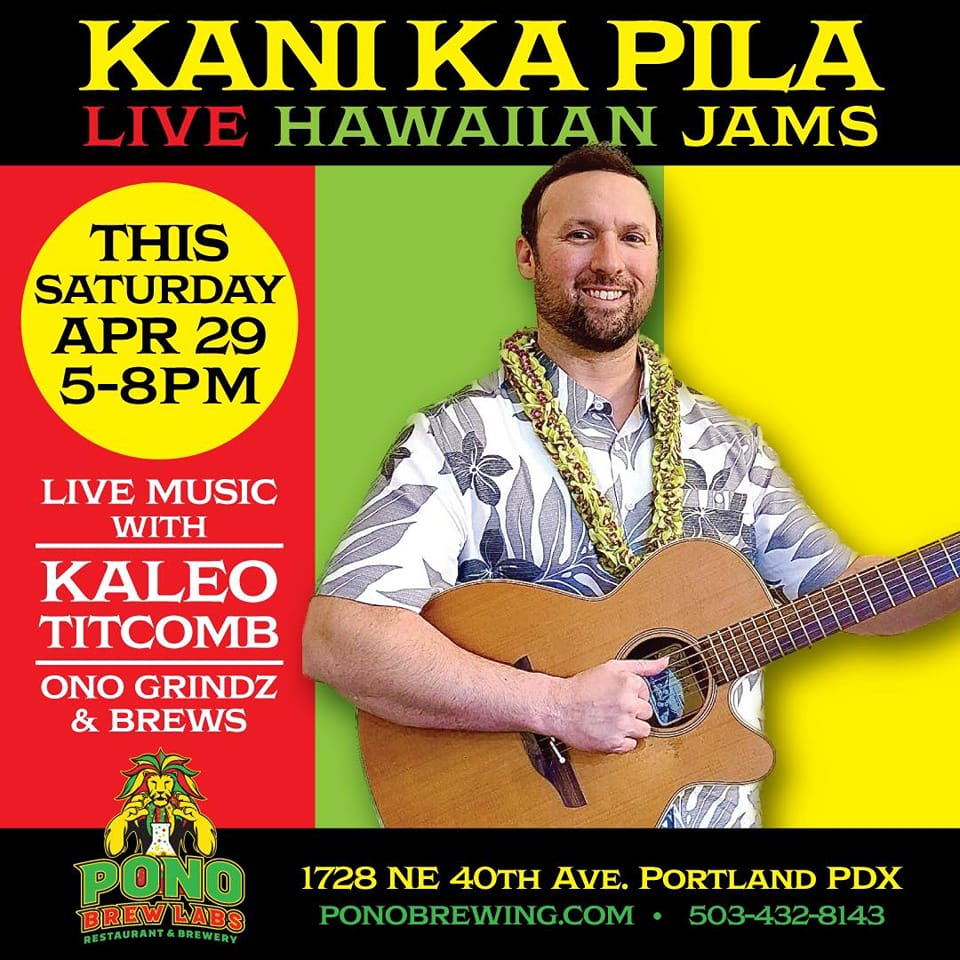 Kani Ka Pila Live Hawaiian Jams
Saturday, April 29 – 5:00-8:00pm
Live Hawaiian music from Kaleo Titcomb will fill the room at Pono Brew Labs. While there, enjoy some Pacific inspired food and beers.
Pono Brew Labs – 1728 NW 40th Ave – Portland, OR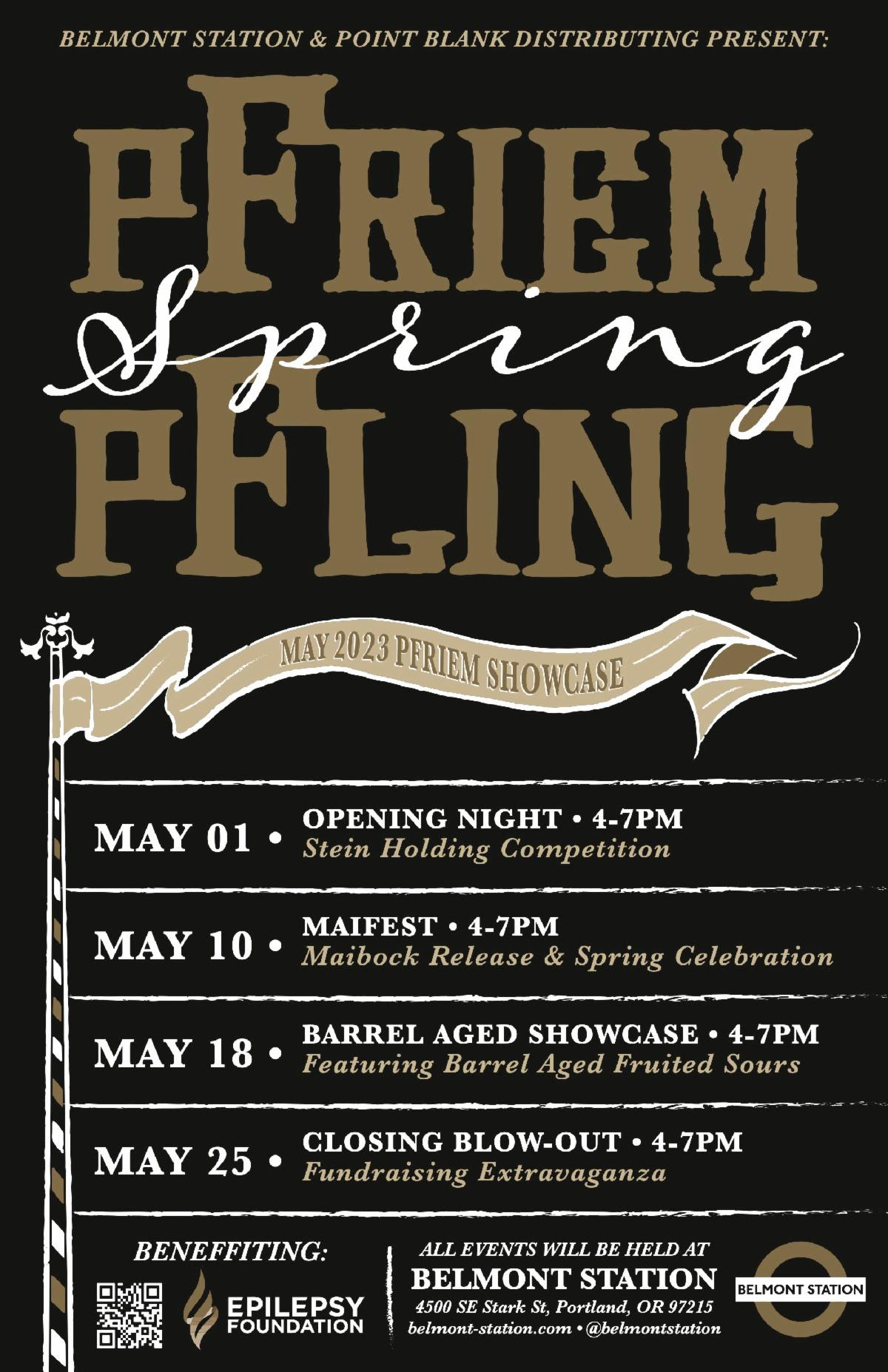 pFriem Spring pFling – May Brewery Showcase
Monday, May 1 – 4:00-7:00pm
On its next Brewery Showcase, Belmont Station is featuring pFriem Family Brewers for pFriem Spring pFling! The entire mont will celebrate great beer, great causes and great events!
Starting May 1st, pFriem will be featured on the shelves and taps all month long and showing off what makes them truly special. Plus, this month's beneficiary is the Epilepsy Foundation.
Things kick off on Monday, May 1 and will continue through May 25.
May 1st – Opening Night 4pm – 7pm
Kicking off things properly with a perfectly curated draft list of all things pFriem. There will also be a stein holding competition! You don't want to miss day one!
Belmont Station – 4500 SE Stark – Portland, OR