Weekend in Beer – Beginning December 15, 2022
|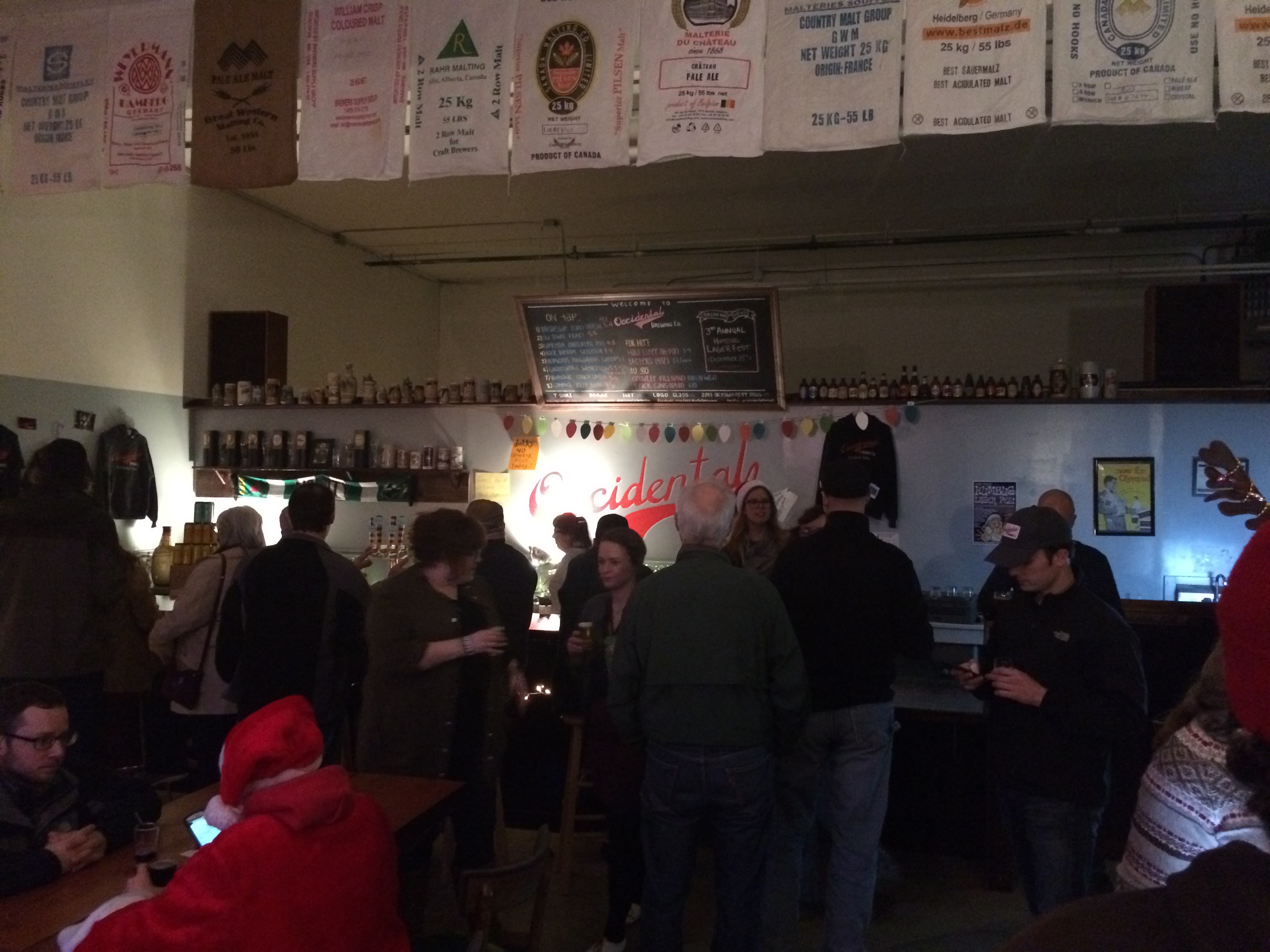 Winter is almost upon us and to keep warm, a hearty winter ale may do just the trick. If not, bundling up in an ugly sweater is an option as there are a handful of ugly sweater themed beer event taking over the Portland metro area this weekend.
Both Loyal Legion locations in Oregon will host Ugly Sweater Parties with a couple of brewery and cidery tap takeovers. On Friday, Beaverton's Room 122 will join in the fun with pFriem Family Brewers and Tieton Cider.
If you find yourself in Bend, the Central Oregon Winter Beer Festival returns on Saturday. If not, one Bend brewery, Monkless Belgian Ales, will be taking over the taps at EarthLab Libations in Portland on Friday evening.
Also taking place this weekend is the one year anniversary of Chuckanut Brewery's P. Nut Beer Hall, oysters and beer at Chill N Fill, and the return of the Humbug Lager Fest, but in a more scaled down fashion.
These mentioned events are just the tip of the iceberg as we've compiled a list of beer events taking place throughout the region that will make for a great weekend!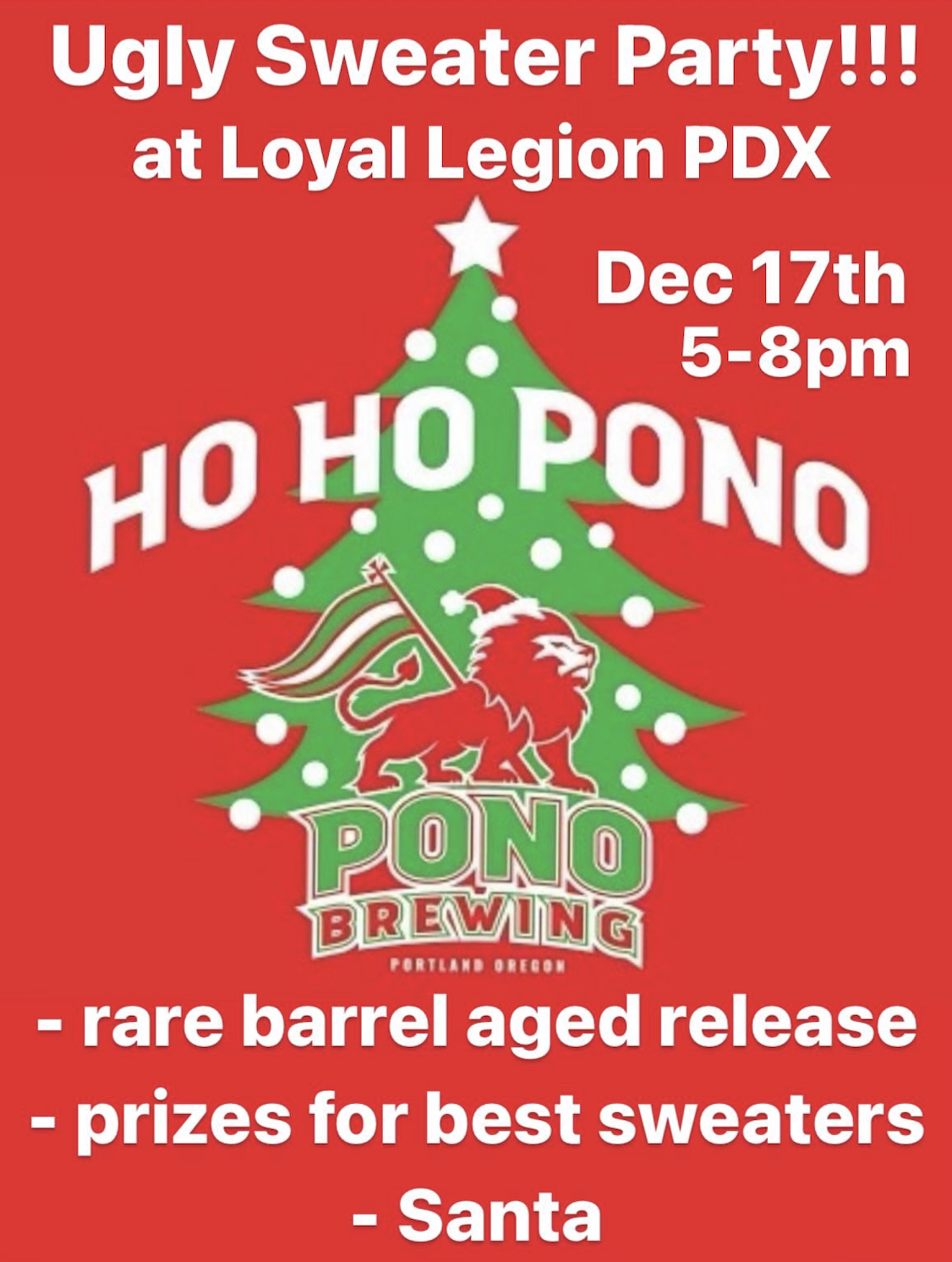 Loyal Legion Portland + Pono Brewing Ugly Sweater Party
Thursday, December 15 – Sunday, December 18 – Open-Close
Join Pono Brewing and Bauman's Cider as the two beverage makers bring their beer and cider for an Ugly Sweater Party in Southeast Portland.
Festivities kick off on Thursday evening with a coaster ornament decorating station (come get your craft on!). The Pono team will be in the house Saturday, December 17 from 5:00-8:00pm to release their Pinot Porter, which has been aging in a Makers Mark barrel for 14 months. Rumor has it that Pono's Erick Russ will dress up like Santa again this year!
Wear your best ugly sweater and one of the bartenders or someone from the Pono team will hook you up with a prize.
Loyal Legion – 710 SE 6th Ave – Portland, OR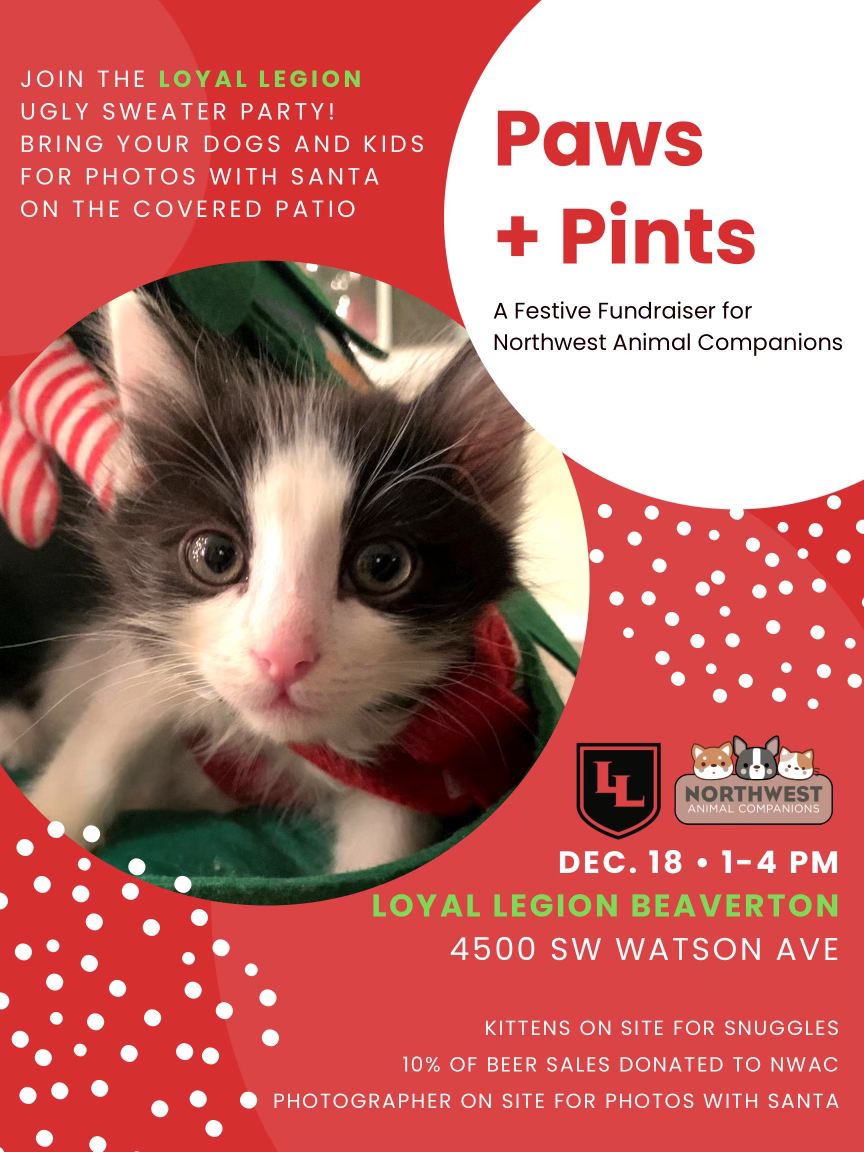 Loyal Legion Beaverton + ColdFire Brewing / WildCraft Cider Works Ugly Sweater Party
Thursday, December 15 – Sunday, December 18 – Open-Close
Join ColdFire Brewing and WildCraft Cider Works as the two beverage makers bring their beer and cider for an Ugly Sweater Party in Beaverton.
Wear your best ugly sweater and one of the bartenders will hook you up with a prize!
On Sunday, December 18, Loyal Legion is hosting a fundraiser for Northwest Animal Companions from 1:00-4:00pm. There will be kittens to cuddle and adoptable foster dogs to pet. Bring your family (including dogs) for photos with Santa on the covered, heated patio.
Loyal Legion – 4500 SW Watson Ave – Beaverton, OR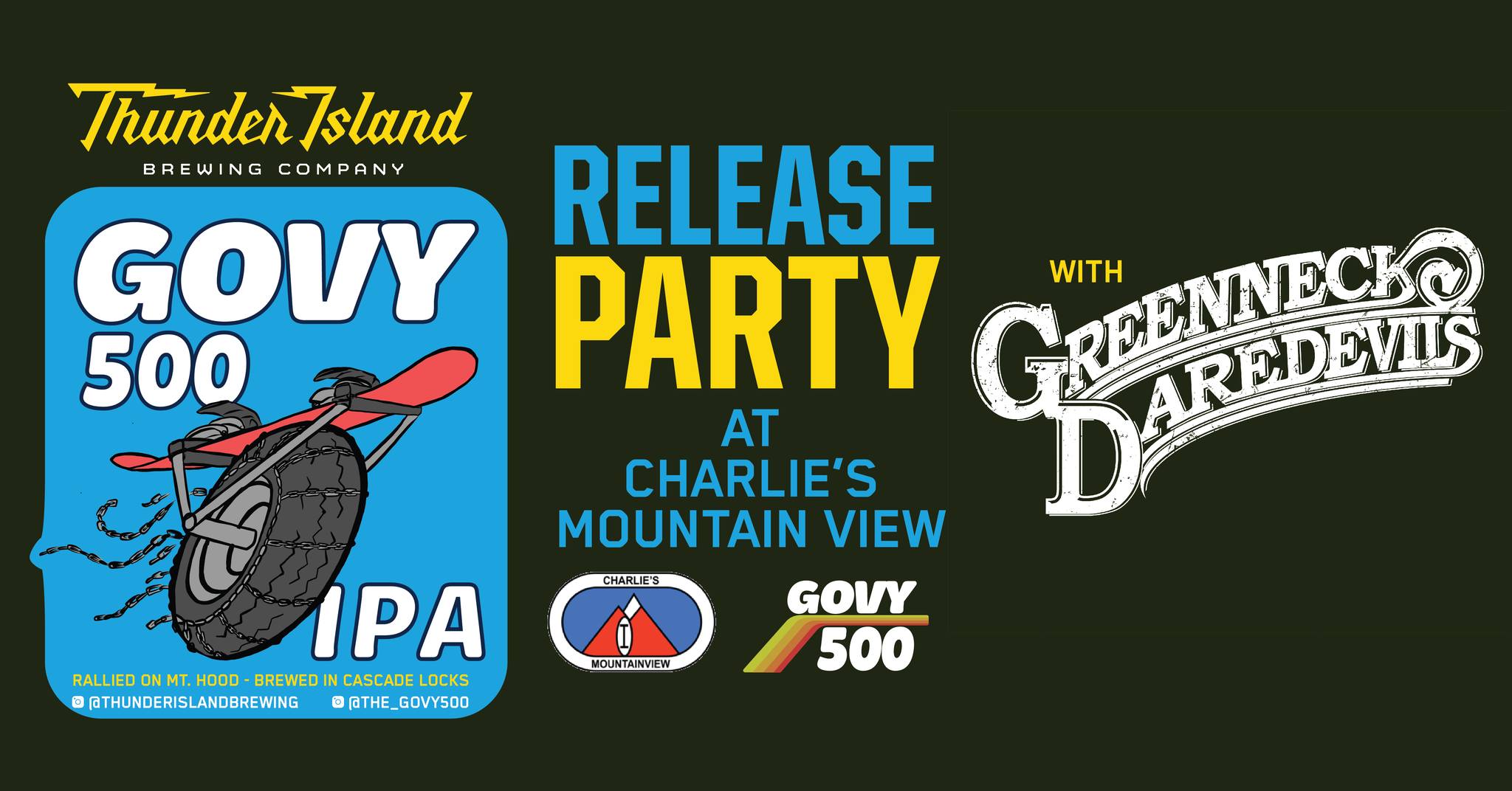 Govy 500 Release Party
Thursday, December 15 – 7:00pm-Close
With the arrival of winter, Mt. Hood's unofficial race returns with the Govy 500. For those that are not familiar with the Govy 500, it's the daily race up and down the mountain that includes traffic jams, accidents and some inexperienced drivers. All tongue in cheek of course…
To honor this yearly tradition, Thunder Island Brewing has partnered with Skagit Valley Malting on the return of Govy 500 Northwest IPA. This NWIPA sits at 6.9% ABV and stays the course with pithy grapefruit, pine, strawberry, and sweet cannabis.
Govy 500 Northwest IPA will debut in Government Camp, Oregon at one our favorite watering hole in Govy, Charlies Mountain View! Joining in the fun will be the Greenneck Daredevils who'll be taking the stage of a night of great beer and music!
Charlies Mountain View – 88462 E Government Camp Loop – Government Camp, OR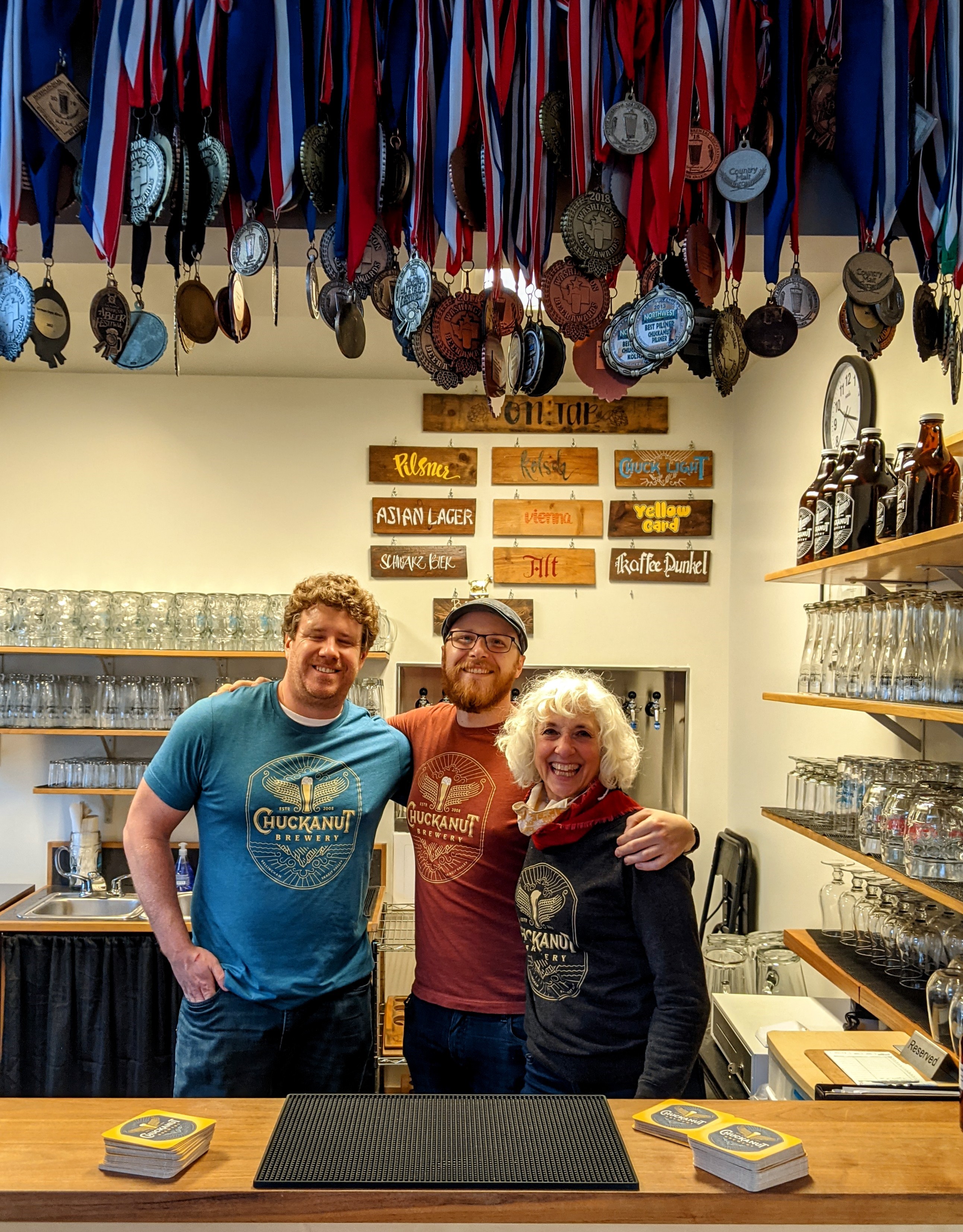 Chuckanut Brewery P. Nut Beer Hall 1st Anniversary
Friday, December 16 – 4:00pm-Close
Celebrating its first year in Portland, Chuckanut Brewery's P. Nut Beer Hall will celebrate this big milestone with food, raffles and the bottle release of its Barrel Aged Stout! This stout is very limited and numbered in half liter bottles, with only 2 bottles allowed for purchase per person. Sales will happen during regular hours and run until sold out.
During the celebration on Friday, Farmer and The Beast will be selling their smash burgers and other tasty items beginning at 4:00pm. Pacific Ice will also be on site with their specialty smoked fish will also be on hand as another alternative for the hungry.
With 11 Chuckanut beers on tap, wines, ciders, sodas and canned cocktails available as usual, everyone can raise a toast to Chuckanut Brewery's P. Nut Beer Hall!
Chuckanut P. Nut Beer Hall – 920 SE Caruthers St – Portland, OR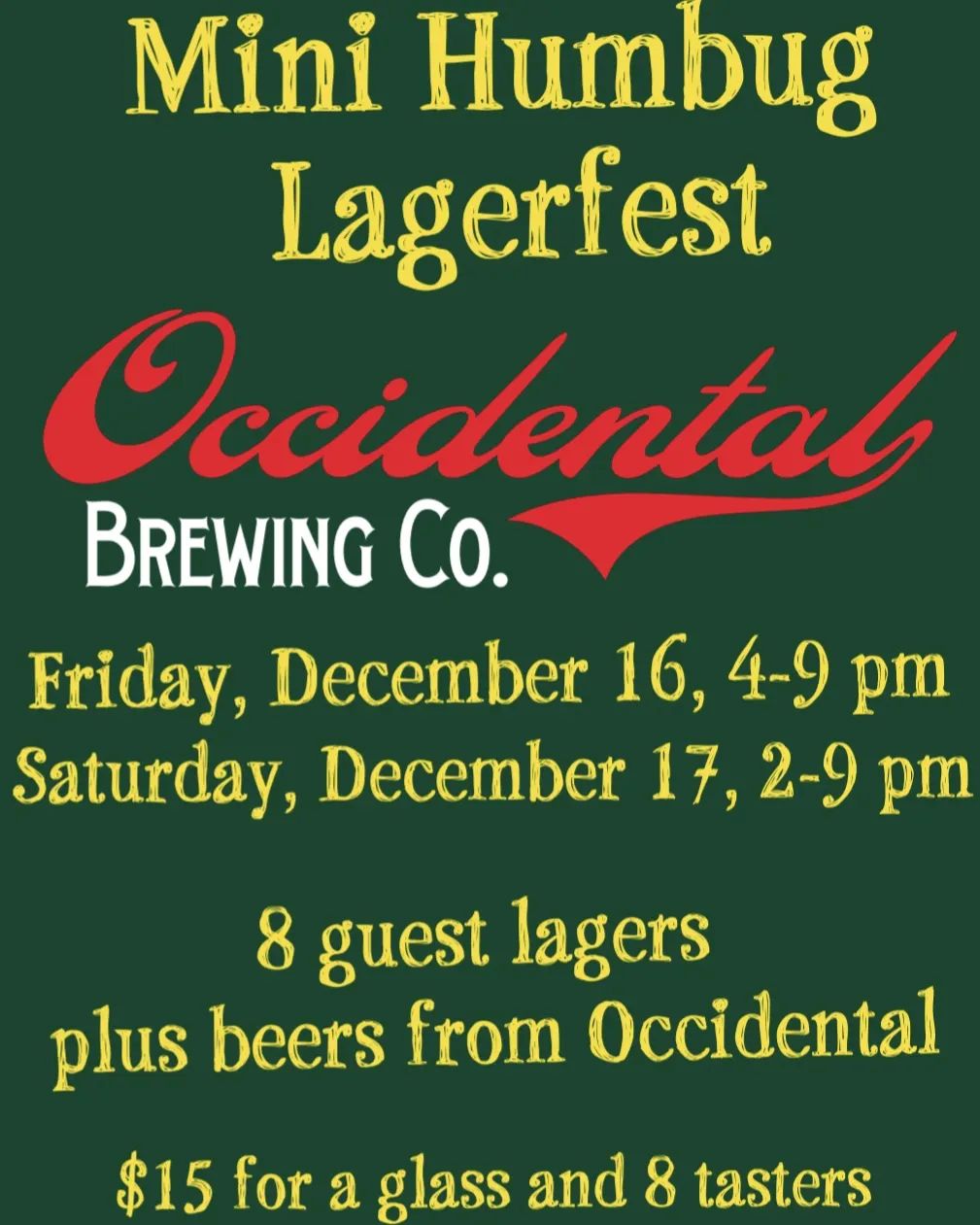 Mini Humbug Lager Fest
Friday, December 16 – 4:00-9:00pm + Saturday, December 17 – 2:00-9:00pm
After a few years of cancelling the in-person Humbug Lager Fest, Occidental Brewing returns with a scaled down version this weekend. The new and hopefully temporary Mini Humbug Lager Fest will feature eight lagers, one each from Occidental, Fort George, Breakside, Steeplejack, Oakshire, Buoy, Terminal Gravity, and Van Henion.
Entry is an affordable $15 and includes a glass and 8 tasters. A fair value for some sweet holiday cheer!
Occidental Brewing – 6635 N Baltimore Ave – Portland, OR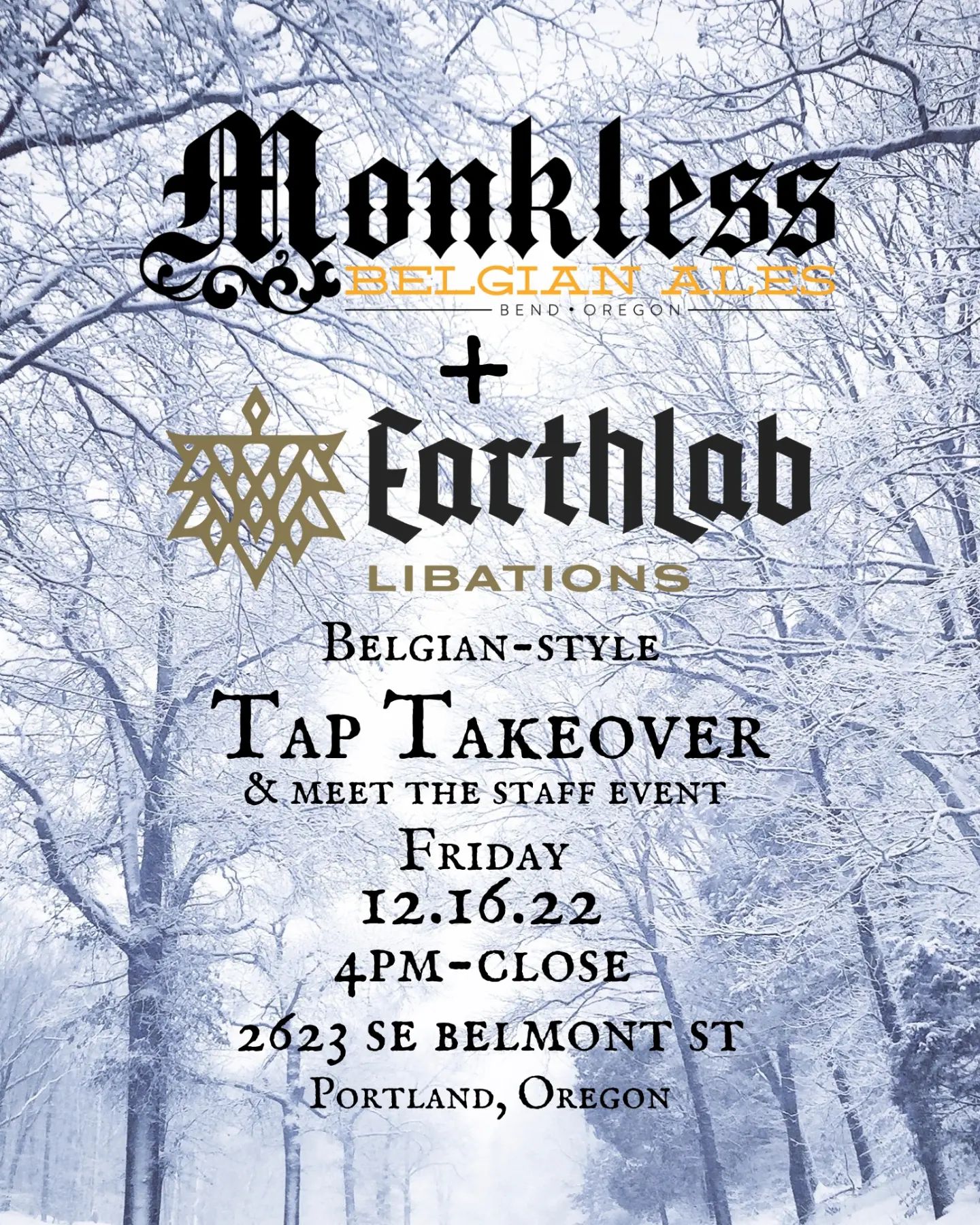 Monkless Belgian Ales Tap Takeover
Friday, December 16 – 4:00-9:00pm
Brave the elements and join Monkless Belgian Ales as the Bend based brewer takes over the taps at EarthLab Libations in Southeast Portland. There will be never before released beers from Monkless, raffle prizes and food from Taco Gang PDX to pair with these Belgian inspired beers.
EarthLab Libations – 2623 SE Belmont – Portland, OR
Oyster Pairing with Gigantic Brewing
Friday, December 16 – 5:00pm-Sold Out
The Oyster Pop Up Bar returns to Chill N Fill and this week it'll be featuring Hama Hama Oysters paired with beers from Gigantic Brewing. Oysters are served with lemon, hot sauce and white wine mignonette and will be paired with IPAs from Gigantic Brewing. Oysters are $2.00 a shuck or $20 a dozen and will be shucked by Pop Oysters PDX!
Chill N Fill – 5215 N Lombard – Portland, OR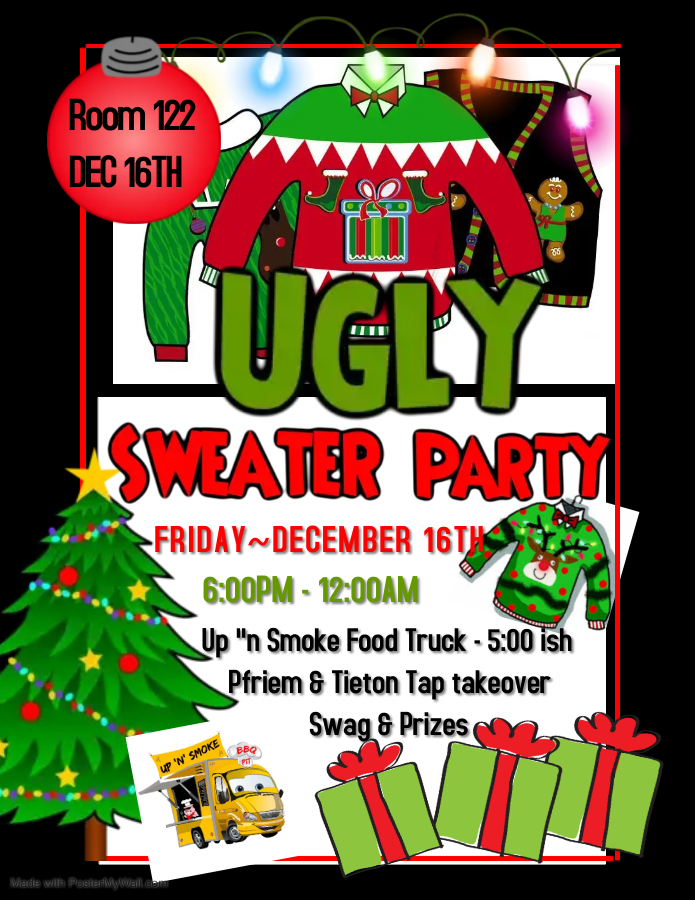 Room 122 Ugly Sweater Party
Friday, December 16 – 6:00pm-Midnight
Room 122 is hosting an Ugly Sweater Party with a dual tap takeover with pFriem Family Brewers and Tieton Cider. Up 'n Smoke Food Truck will be onsite to fill your belly as you model your favorite holiday sweater. There will also be an Ugly Sweater Contest with prizes!
Room 122 – 14274 SE Allen Blvd. – Beaverton, OR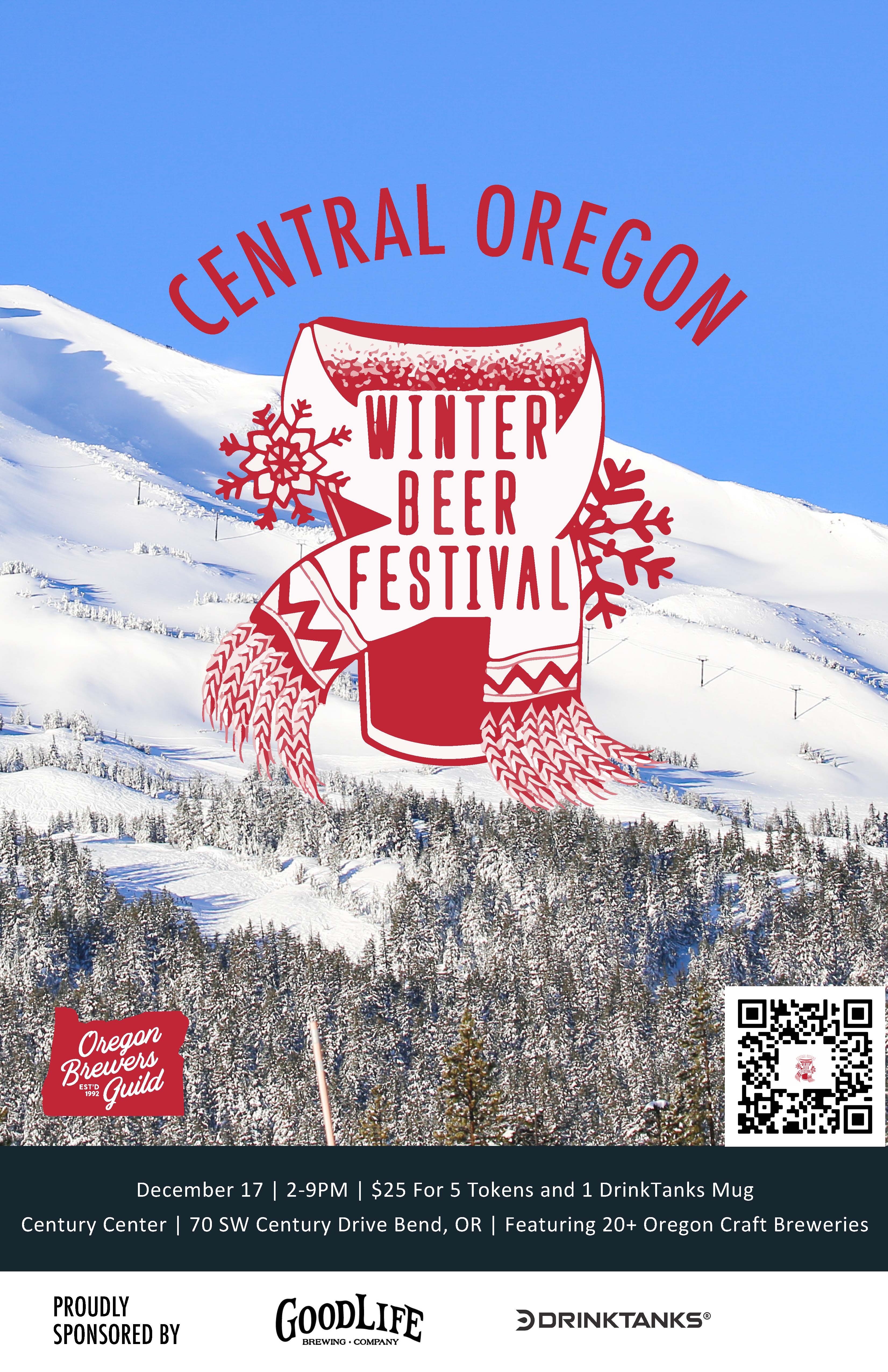 Central Oregon Winter Beer Festival
Saturday, December 17 – 2:00-9:00pm
Brave the outdoors in Bend, Oregon as the Central Oregon Winter Beer Festival returns to the GoodLife/Century Center parking lot. There will be plenty of beer, cider, fire pits, and music!
The festival has partnered with the Bend Food Project to help collect non-perishable food items for their program. You can find a list of needed food items via their website – by donating food items, you will earn an entry into the raffle for a Shoes, Brews, and Views snowshoe tour donated by our friends at Wanderlust Tours!
Admission is free but to imbibe, a drink package must be purchased at $25. Each drink package includes commemorative DrinkTank stainless mug and 5 drink tokens (5 oz. pour each). Additional drink tokens $2 each or three for $5.
Participating Breweries:
Bend Brewing Co.
Bevel Craft Brewing
Boneyard Beer
Cascade Lakes Brewing
Crux Fermentation Project
Deschutes Brewery
GoodLife Brewing
McMenamin's Old St. Francis
Silver Moon Brewing
Spider City Brewing
Sunriver Brewing Co.
Three Creeks Brewing
Van Henion Brewing
Wild Ride Brew
Worthy Brewing
The COWBF event is a fundraiser for the Oregon Brewers Guild, whose mission is to promote and protect Oregon craft beer through advocacy, education, and events.
GoodLife Brewing/Century Center – 70 SW Century Drive – Bend, OR
54 40 Brewing Merry Kolschmas Festival Brass
Saturday, December 17 – 3:00-6:00pm
Holiday cheer returns this season to 54 40 Brewing in Washougal, Washington. The Festival Brass will be performing for a free performance inside the family friendly taproom.
54 40 Brewing – 3801 S Truman Rd – Washougal, WA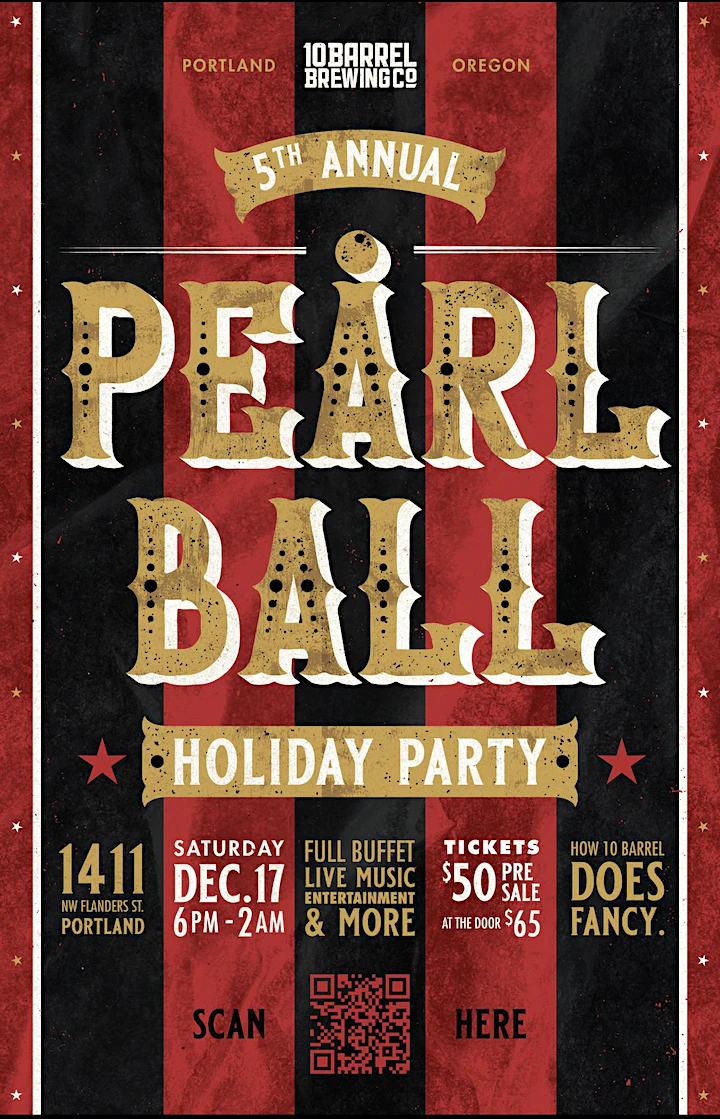 10 Barrel Brewing 5th Annual Pearl Ball
Saturday, December 17 – 6:00pm-2:00am
It's time to get dressed up in your fanciest outfit for the 5th Annual Pearl Ball at 10 Barrel Brewing in Portland. 10 Barrel's annual holiday party will offer an evening of beer, food, music and much more.
When festivities kick off at 6:00pm, there will be two floors with multiple bars, including heated outdoor space. Plus, live music by Good Co Band and DJ Courtney Flip Flops, an oyster bar + hors d'oeuvres, raffles, prizes, giveaways and a chance to mingle with brewing dignitaries. Traditional pub-food has been replaced by a gourmet buffet-style dinner by Chef Rick Broome for a luxurious experience you won't soon forget.
Open to anybody 21+, tickets are $50 in advance and $65 at the door. Each ticket includes a full buffet from Chef Rick Broome, oyster bar, passed hors d'oeuvres throughout the night, raffle prizes and a complimentary coat check. To purchase tickets click here.
10 Barrel Brewing PDX – 1411 NW Flanders St – Portland, OR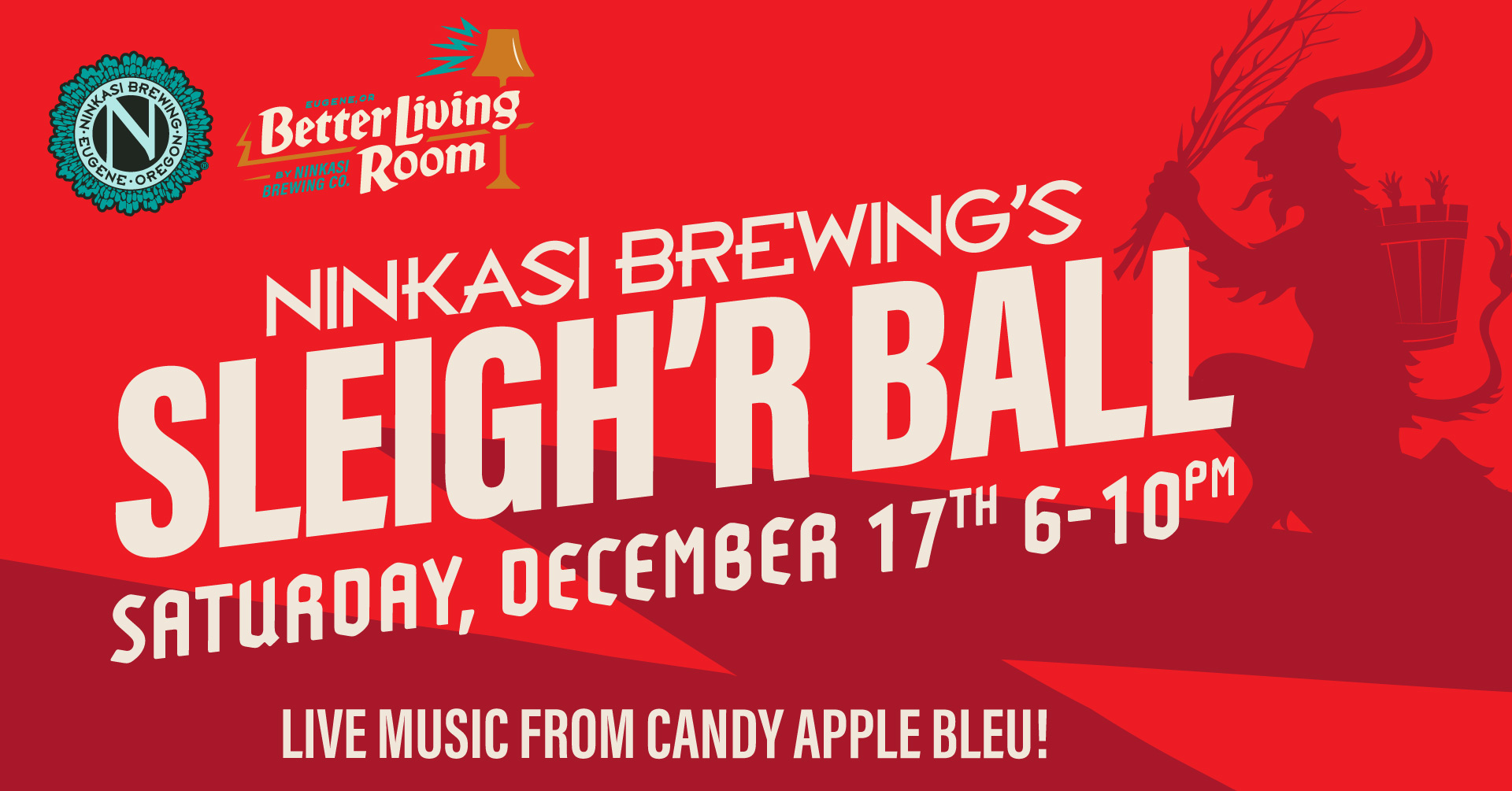 Ninkasi Brewing's Sleigh'r Ball
Saturday, December 17 – 6:00-10:00pm
The Sleigh'r Ball, hosted by Ninkasi Brewing, returns this holiday season to the brewery's Better Living Room in Eugene, Oregon.
This year's event includes live music from Candy Apple Bleu beginning at 8:00pm, a photobooth, and plenty of Sleigh'r Winter Ale. Not only will the Better Living Room be pouring classic Sleigh'r, but this is your one opportunity to enjoy a full horizontal flight of five Sleigh'r variations. This is an all-ages event, but must be 21+ to enjoy alcoholic beverages.
Tickets to the 2022 Sleigh'r Ball are $10 for General Admission and includes your first beverage while VIP Tickets are $55 and includes access to the 3rd floor VIP lounge, snacks, beer/beverages, private pre-performance from members of Candy Apple Bleu, and an exclusive swag bag! To purchase advance tickets, click here.
Ninkasi Better Living Room – 155 Blair Blvd. – Eugene, OR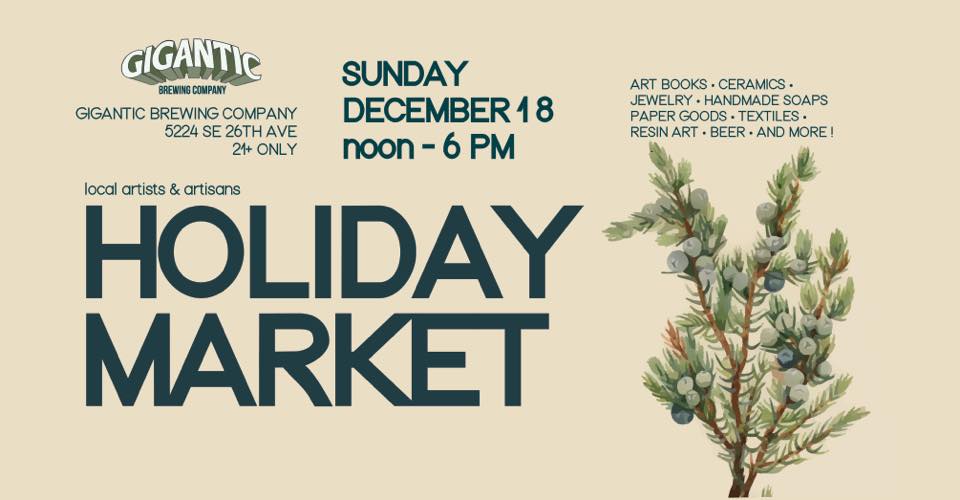 Gigantic Brewing Holiday Market
Sunday, December 18 – Noon-6:00pm
Grab a pint and shop local, handmade goods at our annual Holiday Market. Held the brewery's spacious barrel room, there will be plenty of local vendors that'll have the perfect gift that you've been shopping for.
Since this event is at the brewery, it is only open to those 21 years of age or older and is free to attend.
Gigantic Brewing – 5224 SE 26th Ave – Portland, OR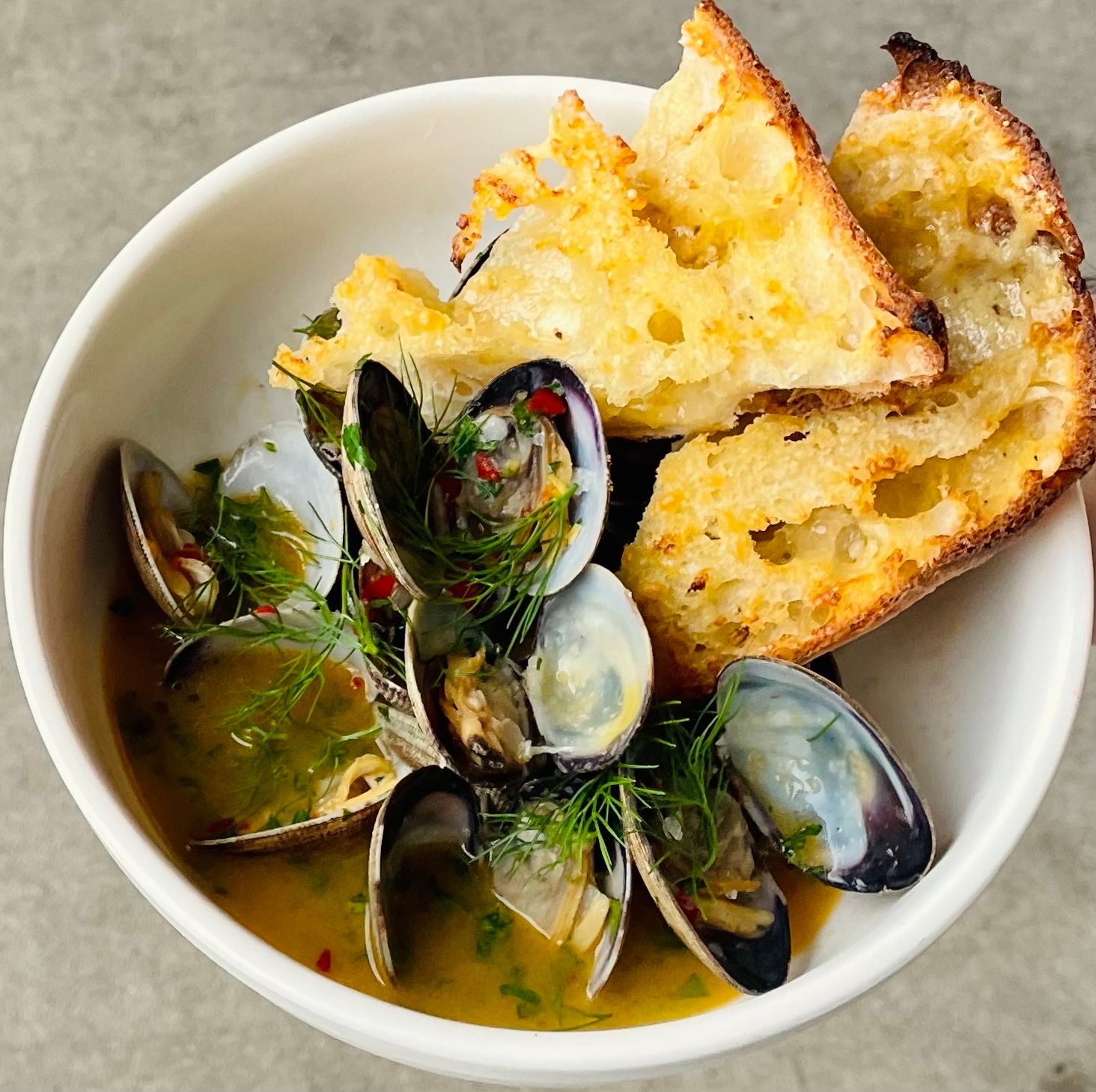 Rally Pizza's Annual Winter Solstice Dinner
Sunday December 18, 4:00-8:00pm
Rally Pizza celebrates the winter season with its Winter Solstice Dinner. This evening dinner will feature a special menu in addition to its full regular Sunday dinner menu.
For this special evening, Rally Pizza will serve up three special cocktails. Lambrusco Negroni Sbagliato – Campari, sweet vermouth, Ca del Medici Rosé Lambrusco; Pappagallo (Jungle Bird) – house rum blend, Aperol, pineapple, lime; and Amarena Manhattan – bonded rye, sweet vermouth, Amarena cherry syrup, Peychaud's.
Starters and Entrees will include Creamy Beet Salad (V) – sweet and sour beets, almond yogurt, Wobbly Cart radicchio, red cabbage, spiced seeds and nuts; Garlic Bread – house made bread slathered in garlic butter, topped with parmesan and pecorino, served hot; Clams and Garlic Bread – clams cooked in white wine, Calabrian chile butter, pickled fennel, served with garlic bread; and Sardinian Gnocchi and Lamb Ragu – handmade semolina gnocchi baked with spicy lamb ragu and ricotta, topped with pecorino.
For dessert there will be Cannoli Sundae – house made cannoli filled with ricotta cream, candied orange, and shaved chocolate atop vanilla custard with Amarena cherry syrup and pistachios and Limoncello Boozy Shakes – house Meyer limoncello and lemon curd hand-spun with vanilla bean frozen custard.
Walk-ins are welcome, but seating is limited and specials will go fast, so we recommend you reserve a table in advance at https://www.rallypizza.com/.
Rally Pizza – 8070 E Mill Plain Blvd – Vancouver WA