Weekend In Beer – Beginning February 2, 2023
|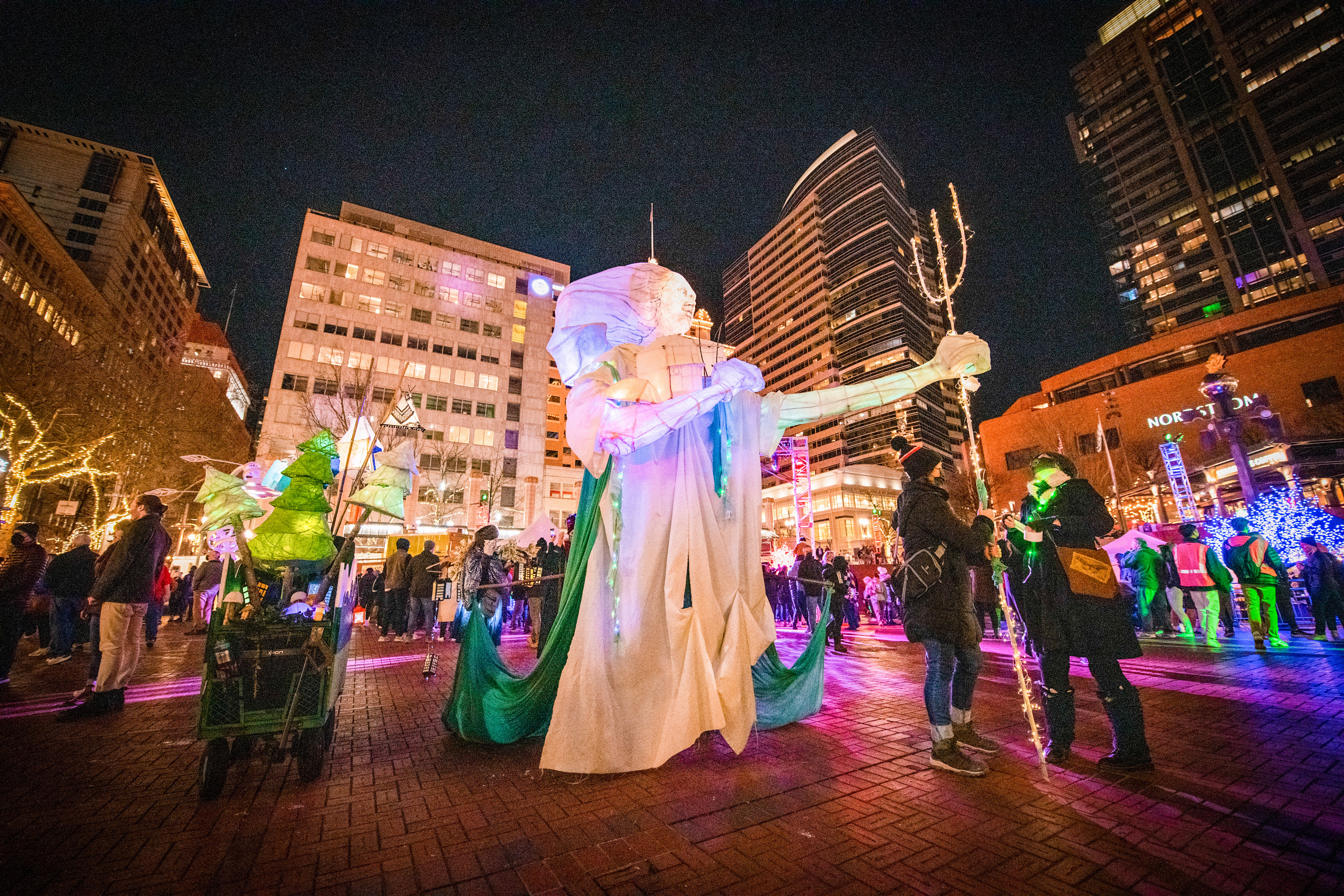 Get all set for the weekend with some fun beer events taking place across the state of Oregon. Things get underway later today with a Level Beer Video Game Showcase at Loyal Legion in Beaverton. Then a little later in the evening, Gigantic Brewing will host Seth Allen's Live Comedy Extravaganza. If live music is your thing, 54 40 Beer will host Washougal Song Circle #3 across the mighty Columbia in Washougal, Washington.
On Saturday, StormBreaker Brewing will be celebrating its 9th Anniversary while Room 122 will host Melvin Brewing's 2×4 Day. In Bend, the Midtown Yacht Club will host Flannel Fest.
These events and more can be found in our top weekend picks below.
Level Beer Video Game Showcase
Thursday, February 2 – 5:00-8:00pm
Video game and beer fans will come together this evening as Level Beer brings the beer to Loyal Legion in downtown Beaverton, Oregon. Tonight kicks off Video Game Month, featuring an extra-special game-themed tap list from Level Beer.
The brewers will be on-site, plus retro video games set up in The Vault so you can play while you enjoy a delicious Transformers-themed IPA. Your 8-year-old self would think you are so cool right now.
The tap list of Level Beer includes Autohops & Nectarons West Coast IPA, Sight Beyond West Coast IPA, Skyward Strike Hazy Pale, Fatality! Imperial Stout, Let's Play! Dry Hopped Pils, Game On! IPA, Pixelated Pale, and Sweep The Leg Japanese Lager.
Loyal Legion – 4500 SW Watson Ave – Beaverton, OR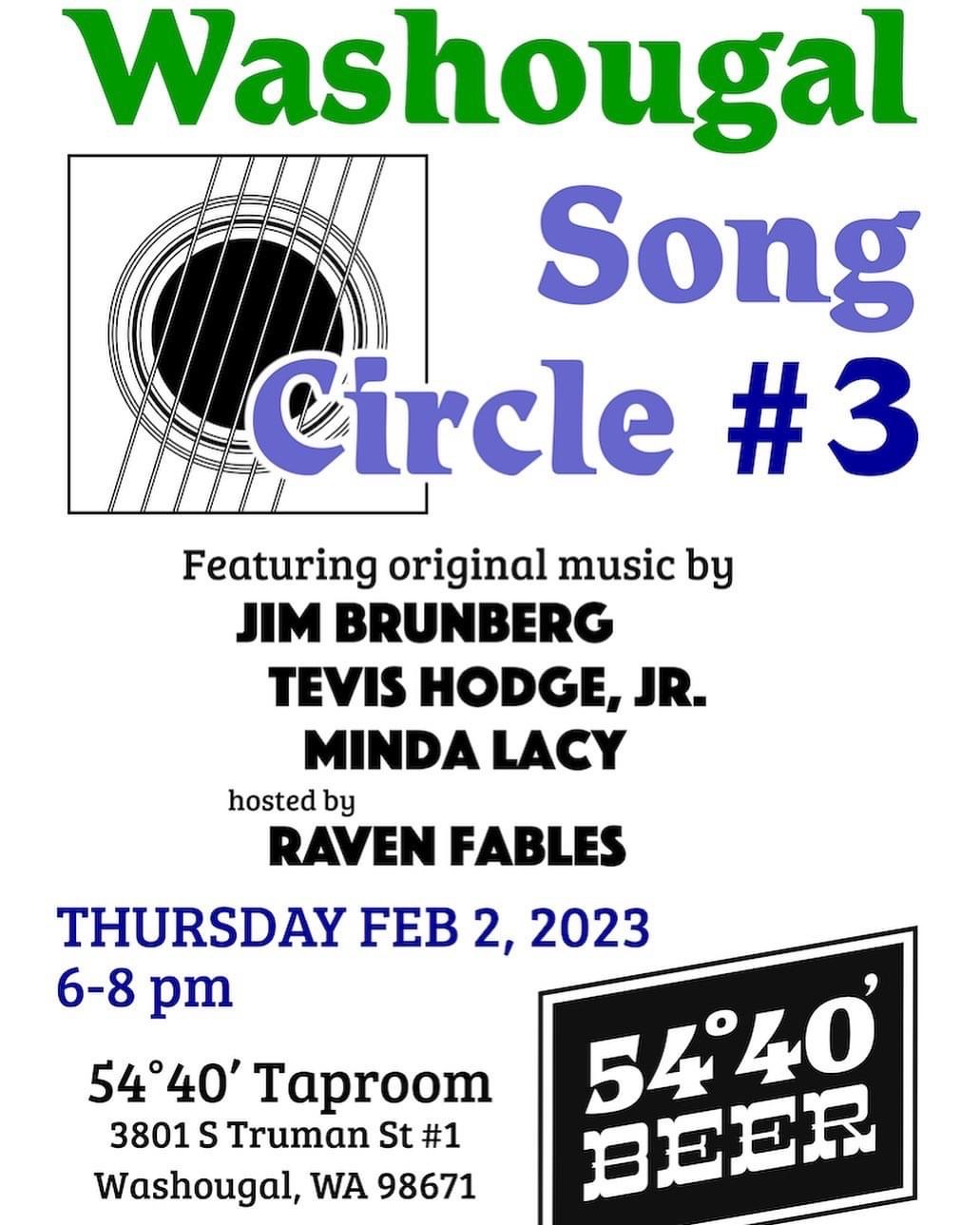 Washougal Song Circle #3
Thursday, February 2 – 6:00-8:00pm
54 40 Beer brings together an entertaining lineup of music to help usher in the weekend. This installment features a fantastic group of original songwriters sharing their music. Performing will be Jim Brunberg, Tevis Hodge Jr. and Minda Lacy with host Raven Fables.
Entry is free and all ages are welcome. Just make sure to pair the music with a fine beverage from the brewery!
54 40 Beer – 3801 S Truman St – Washougal, WA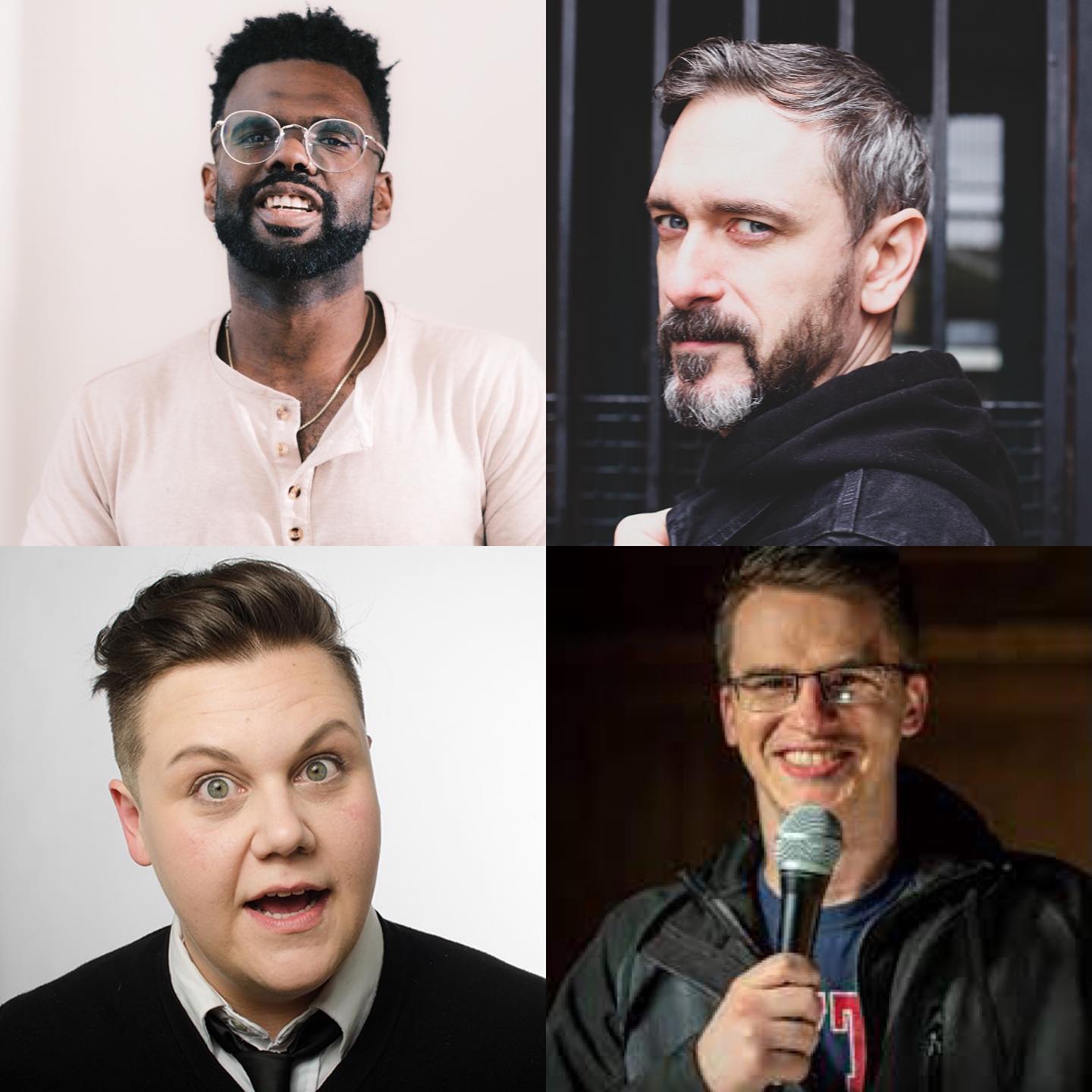 Seth Allen's Live Comedy Extravaganza
Thursday, February 2 – 7:30-9:00pm
This monthly comedy night takes place at the OG location of Gigantic Brewing each first Thursday of the month. Hosted by local comedian Seth Allen, he brings together a lineup of comedians each month that brings plenty of laughter during his Live Comedy Extravaganza.
For February, Seth has put together a fantastic lineup of comedians that includes Thomas Lundy, David Kildal, Nariko Ottand, and Arlo C. Weierhauser. So grab a pint and make your way to Gigantic Brewing's Barrel Room for an evening of free live comedy!
Gigantic Brewing – 5224 SE 26th Ave – Portland, OR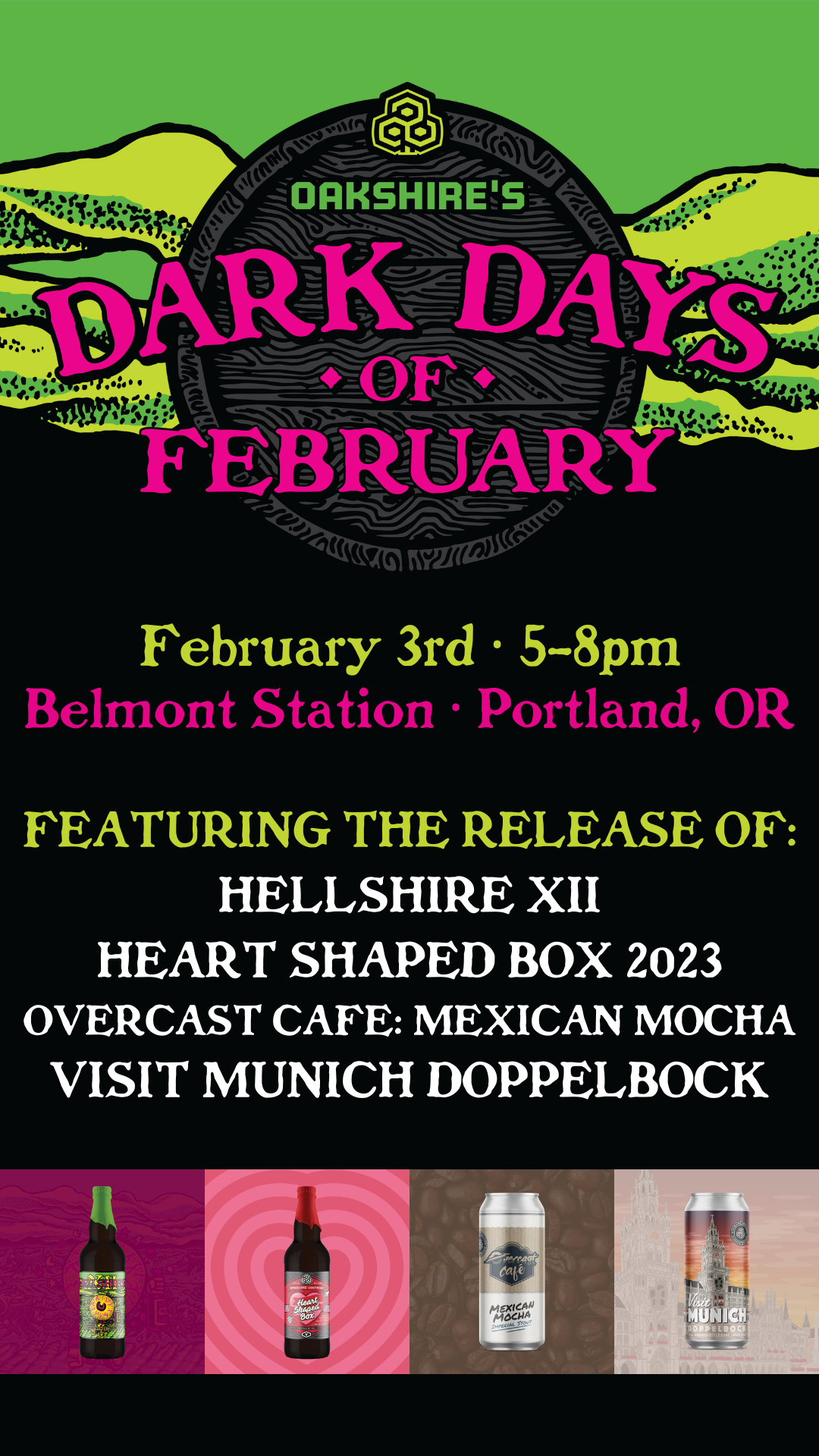 Oakshire Dark Days of February
Friday, February 3 – 5:00-8:00pm
Join the team from Oakshire for an evening of dark, bold beers, including Hellshire XII and Heart Shaped Box! The draft list looks great, so you don't want to miss out on this one. Take a peak below.
Hellshire XII – Imperial Stout aged in Elijah Craig 12 Year Bourbon Barrels. It is the 12th installment in Oakshire's annual bourbon barrel-aged Hellshire series. 13.5%
Heart Shaped Box – Last produced in 2021, is a bourbon barrel-aged Imperial Stout with raspberries, coffee, cocoa, and vanilla beans.14.5%
Overcast Cafe: Mexican Mocha – Mexican Mocha is the first variation of the limited-series Café variants. This Imperial version of the classic Overcast stout adds vanilla, cocoa nibs, cinnamon, and peppers. 8.2%
Visit Munich Doppelbock – A strong, dark German-style lager cold-conditioned for an ultra- rewarding four months. The Visit series explores classic international pilsners and lagers. 8.1%
Plus, there will be bottles of these fine beers to go. And the team from Oakshire has put together a pretty sweet raffle prize. Just a purchase of this limited flight will get you one step closer to becoming the winner that we know you are.
Belmont Station – 4500 SE Stark Street – Portland, OR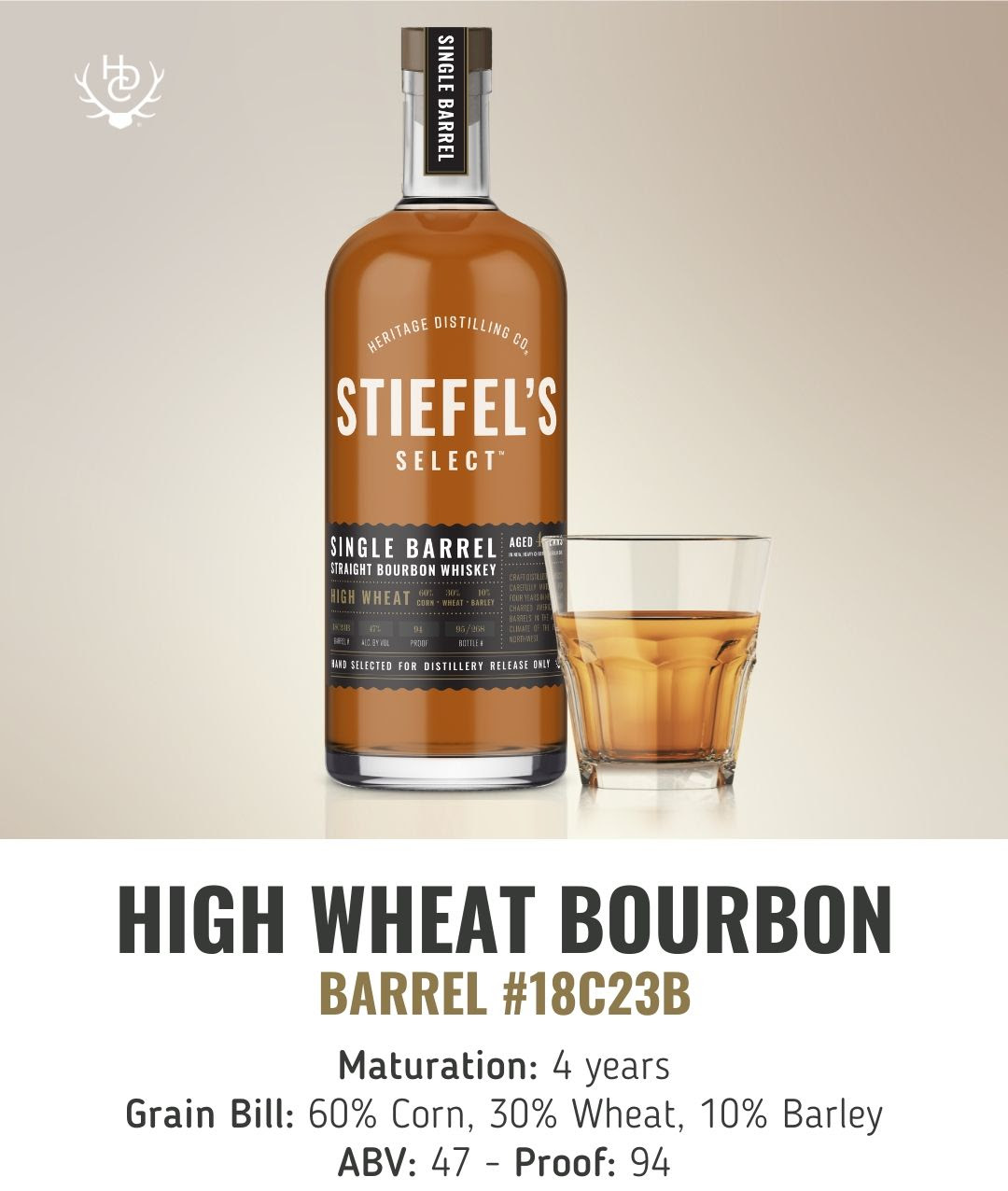 Oregon Stiefel's Select Launch
Saturday, February 4 – 11:00am-9:00pm
Heritage Distilling Company in Eugene, Oregon will release its first ever Oregon barrel of Stiefel's Select Whiskey. This new whiskey is being released under a new brand, Stiefel's Select that's named after the distillery's founders, Jennifer and Justin Stiefel. Each edition is hand selected from only the best barrels of their aging spirits.
This inaugural Oregon edition of Stiefel's Select Whiskey uses a grain bill is 60% Corn, 30% Wheat, 10% Barley and has been aged in for 4 years and 9 months in new heavy charred American Oak Barrels. It comes in at 94 proof and is in limited supply.
Heritage Distilling Co. – 110 Madison St. – Eugene, OR
Melvin Brewing 2×4 Day
Saturday, February 4 – 11:00am-Midnight
International 2X4 Day from Melvin Brewing returns to Room 122, coincidently on February 4th. Ten beers from Melvin Brewing will be taking over the taps. Many will be specialty beers that you'll not want to miss out on! Of course, 2×4 Double IPA will be the highlight.
Room 122 – 14274 SE Allen Blvd. – Beaverton, OR
Flannel Fest
Saturday, February 4 – Noon-7:00pm
Put on a flannel and head to the Midtown Yacht Club for Flannel Fest. This winter beer festival will place a spotlight on winter warmers along with a few hot beverages including a Glübier.
Every winter warmer comes with a raffle ticket to win brewery branded flannels and more, raffled off every half hour, though you must be present to win!
Plus, this event benefits Bethlehem Inn serving Central Oregon families through shelter, help and hope. Please bring warm clothes, sleeping bags, and sheets along with pantry staples such as canned goods/soups, rice, and granola bars to donate.
Midtown Yacht Club – 1661 NE 4th St – Bend, OR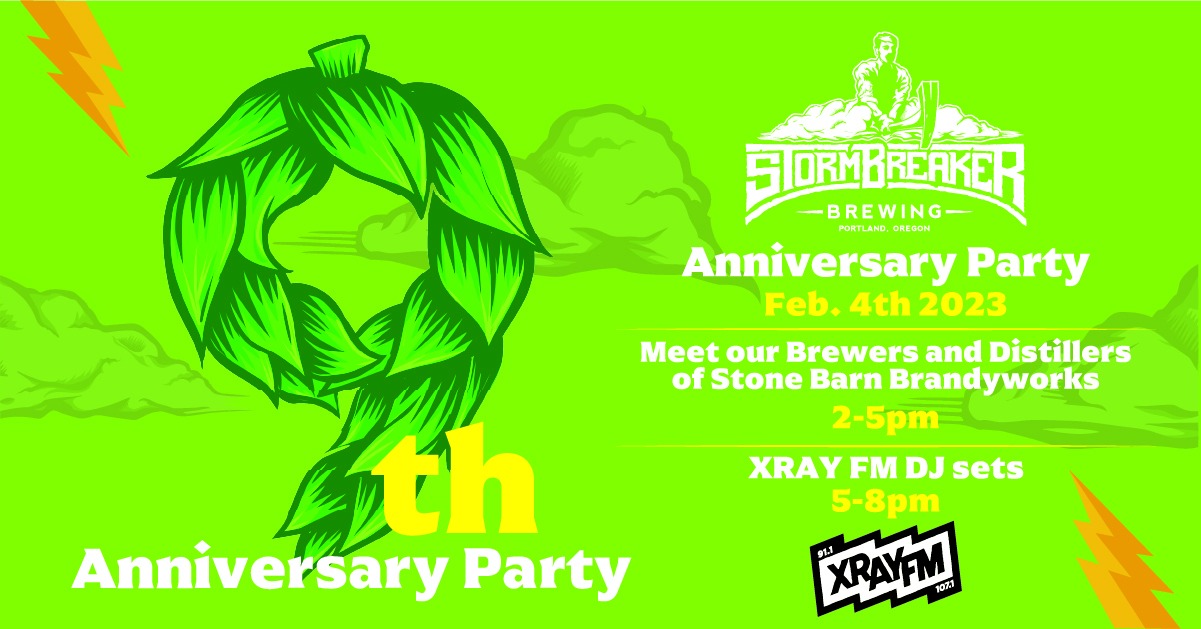 StormBreaker Brewing 9th Anniversary Party
Saturday, February 4 – 2:00-8:00pm
Celebrate nine years of StormBreaker Brewing on Portland's North Mississippi Avenue. This special event will include a meet-and-greet with their brewers, a special 4 year Barrel-Aged tasting, guest spirit tastings offered by their collaborators at Stone Barn Brandyworks, balloon art for the kids and adults by Frank Brislawn of Prismagic, and 3 hours of DJ sets from their friends at community radio station XRAY FM.
9th Anniversary Schedule:
2-5pm Meet the Brewer and Distillers
3-5pm Balloon Art with Frank Brislawn
5-8pm XRAY FM DJ set. . DNA (Beautiful Music), Jason Urick (Galaxy My Dear) and Womb Service (Much Finer)
StormBreaker Brewing – 832 N Beech St – Portland, OR