Weekend in Beer – Beginning January 12
|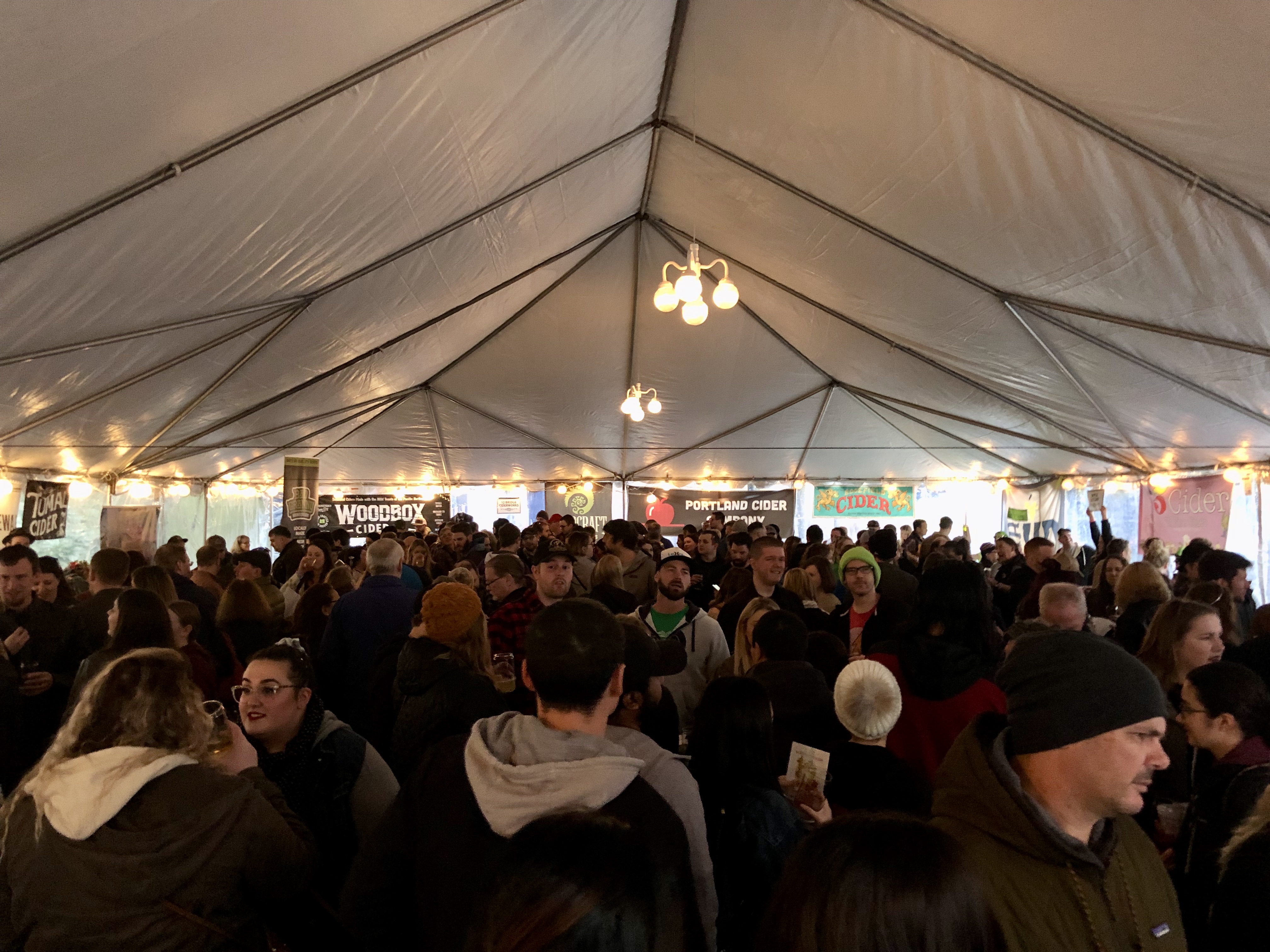 After coming out of the holidays where beer events were not very plentiful, things kick back up this evening and continue through the weekend., There are some great beer and cider events taking place in the Portland metro area and in Bend, Oregon this weekend.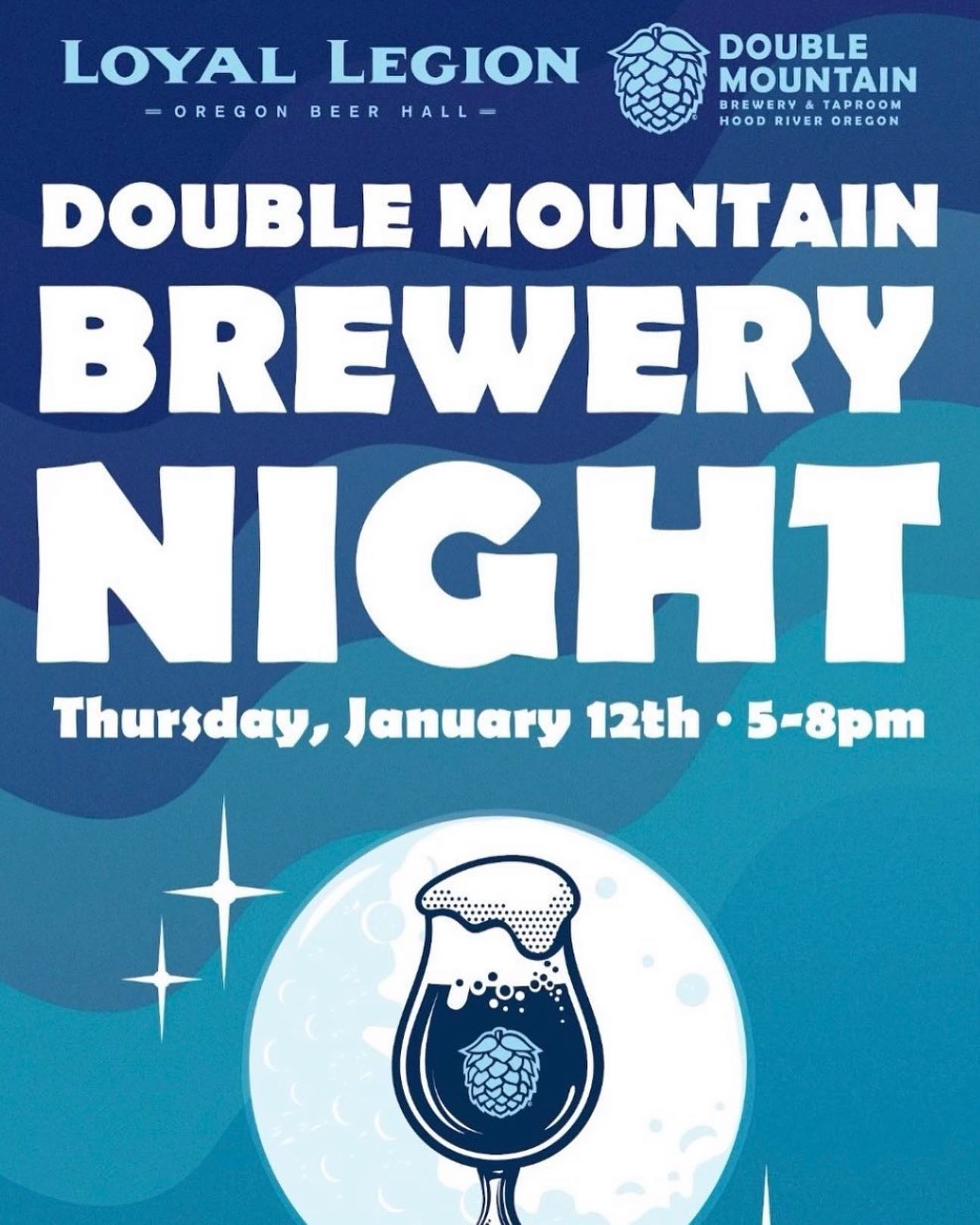 Double Mountain Rare Barrel Aged Beers Showcase
Thursday, January 12 – 5:00-8:00pm
Double Mountain Brewery takes over Loyal Legion with a Rare Barrel Aged Beers Showcase, featuring eight rare and hard to find beers, plus four of their standards. A meet the brewer will take place from 5:00-8:00pm.
Beer List:
Magdalena Oscura – Rum BA Stout
Olivia – BA Belgian Blend
2018 Peche Cuvee
2015 Devil's Kriek Cuvee
2017 Tahoma Cuvee
Funky Red Sister – BA Fland. Red
Trouble Fountain – BA Blonde
2019 Devils Kriek
Never 2 Loud – Schwartz Bier
B Side IPA
Illegale Smile – DIPA
Rose Cider
Loyal Legion – 710 SE 6th Ave – Portland, OR
APRCH// Tasting
Thursday, January 12 – 5:00-8:00pm
Taking part in Dry January or looking for an alternative to plain sparkling water? APRCH// will be at The Station sampling their lineup of CBD sparkling water. If you haven't had a chance to try these beverages, they're quite tasty!
There will be cans of Mint + Cucumber, Fruit Punch, Watermelon, and Blackberry while Cherry Lime will be on draft!
Belmont Station – 4500 SE Stark – Portland, OR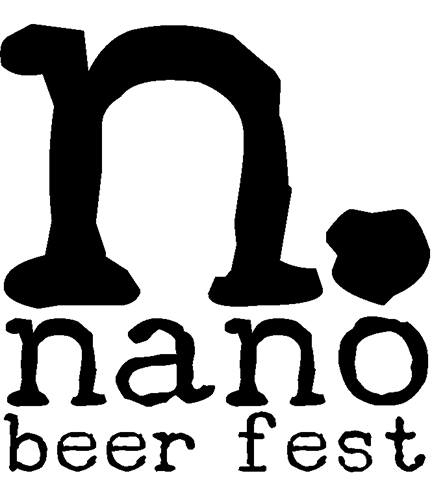 Nano Beer Fest – Winter Edition
Friday, January 13 – Saturday, January 14 – Noon-9:00pm
Nano Beer Fest returns to John's Marketplace on SE Powell for a special Winter Edition. This festival brings together many of the area's smaller, nano breweries in one space for two days of sampling.
Barn Door Brewing – Dundee, OR
Cranberry Kolsch – 5.3%
Not your typical Winter beer. This light colored beer has pilsen Malt imported from Germany. We add Vienna to create a golden color and a pleasant mouth feel. We add cranberry extract to bring in a nice rich cranberry taste. We use CT2 Hop hash to provide a earthy, spicy, pungent with citrus overtones aroma.
Belica Brau Brewing Co – Portland, OR
Vienna Style Ale – 6.2%
A Vienna style ale mashed with pale, vienna and crystal malts-layered with fine Czech Saaz hop aroma and taste-creating creamy malt pleasure in a glass
Boring Brewing Co. – Boring, OR.
Weihnacht – 8.9%
Big Dopplebock with ginger, orange peel and cinnamon. A holiday tradition at Boring Brewing Co.
Crooked Creek Brewery – St. Helens, OR.
Golden Hour Vienna Lager – 5.7%
This clean, crisp, balanced, and super smooth Vienna Lager tastes like liquid bread crust and might be the perfect winter lager.
Creekside Brewing – Hillsboro, OR.
Integrity Brewing – Aloha, OR.
Oubliette Black CDA – 6.2%
To forget. That is the meaning of the French word from which this name is based. It is a prison in which the only obvious exit is a hole at the top. This is also the only source of light. Apropos of the darkness found in this Cascadian Dark Ale. Get lost with your beer and hope not to fall into the Oubliette.
Labyrinth Forge Brewing – Portland, OR.
Caerdroia Stout – 6.7%
In Wales, a caerdroia is a turf maze built by Shepard's on hilltop for ritual dances. We hope this tasty stout will become a new ritual for you as you get lost in its complex flavors of chocolate, coffee and roast
Mad Cow Brewing  – Gresham, OR.
Pumpkin Pie Cream Ale – 5.5%
Our base cream ale flavored with pumpkin pie goodness
MoonShrimp GF – Portland, OR.
Moonshrimp Go es – 5.9%
Salted Kettle sour with Celtic Sea Salt, lots of hibiscus, and a little lime
Mutantis Brewery GF – Portland, OR
Cold IPA – 6.3%
A light base of malted rice and millet, fermented warm with a crisp lager yeast, makes a perfect canvas to reveal all the bright tropical nuances of the new Mackinac hop
SlowDrift Brewing Co. – Gales Creek, OR.
Fishin in the Dark-Chocolate Coffee Porter –  6.9%
Chocolate Coffee porter with a hint of caramel
Unicorn Brewing (Portland U-Brew) – Portland, OR.
Czech Dark Lager – 5.2%
Moderate roast notes give way to a clean lager finish
13th Moon Brouwerij – Portland, OR
13th Mountain Scottish Ale No.2 – 8.5%
Caramel, toffee, full and drinkable at the same time
Admission is $20 in advance and $30 at the door and includes a souvenir glass and ten tasting tickets. Purchase advance tickets by clicking here.
John's Marketplace – 3560 SE Powell – Portland, OR

IPAs Are Dead
Friday, January 13 – 5:00-11:00pm
Rogue Ales continues its Dead Guy line extension of its popular Dead Guy Ale. Through the years Rogue has released barrel aged versions of Dead Guy along with its popular Dead Guy Whiskey. Now they are set to release Dead Guy IPA.
In addition to getting the first taste of Dead Guy IPA, the evening will feature the JaJa Circus, a DJ spinning tunes, tarot readings, and live music from Truncheon Things!
Rogue Eastside Pub & Pilot Brewery – 928 SE 9th Ave – Portland, OR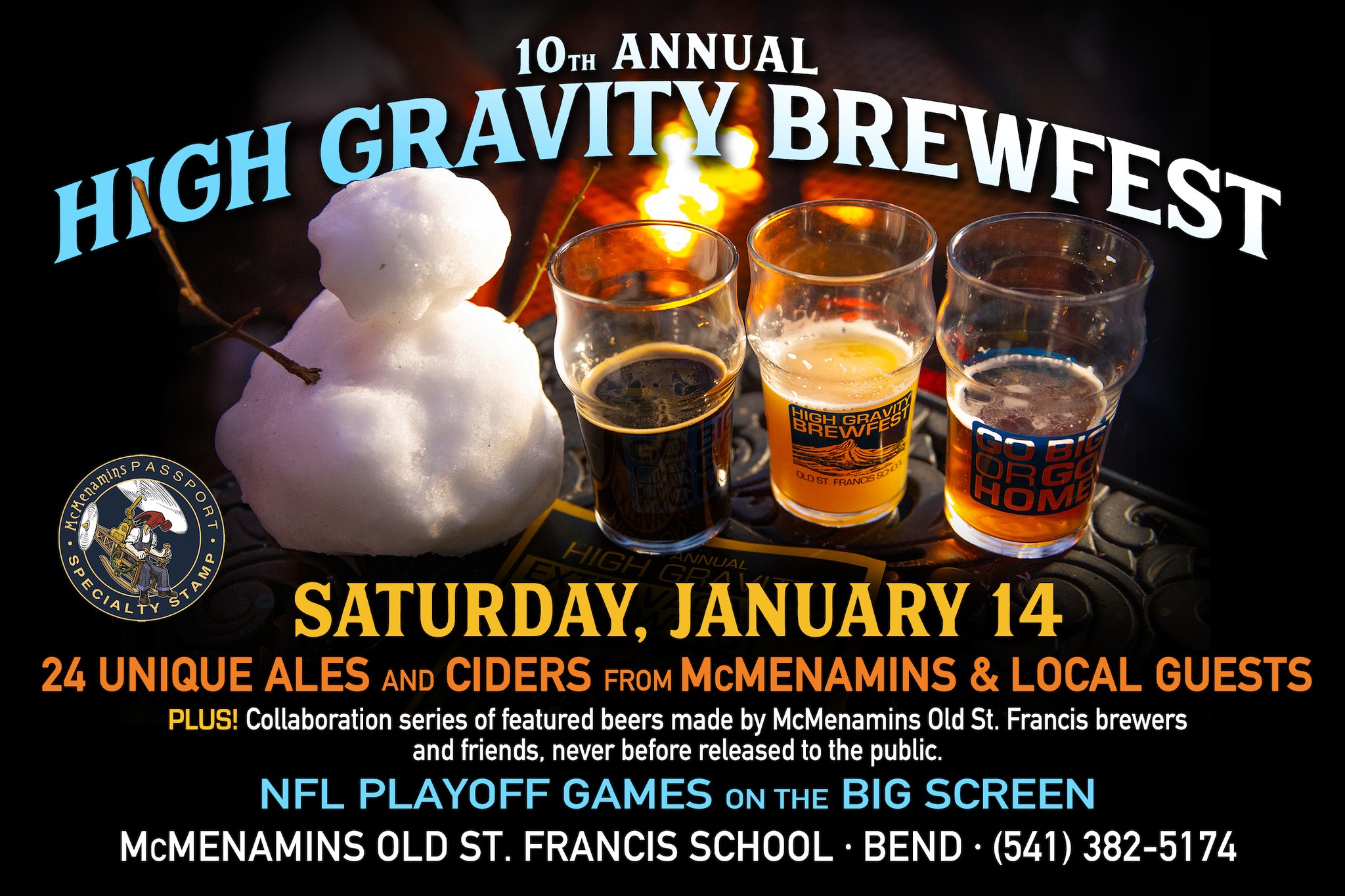 10th Annual High Gravity Brewfest
Saturday, January 14 – 1:00-8:00pm
The 10th Annual High Gravity Brewfest is set for McMenamins Old St Francis School in Bend, Oregon. The fest will take place outdoors around some warm fire pits and inside the theater at the Old St Francis School. There will be two dozen of unique ales and ciders from McMenamins and local guest breweries.
Tickets are $25 advance, $28 at the door and includes 10 tokens and a souvenir pint glass. Purchase tickets by clicking here.
McMenamins Old St. Francis School – 700 N.W. Bond St – Bend, OR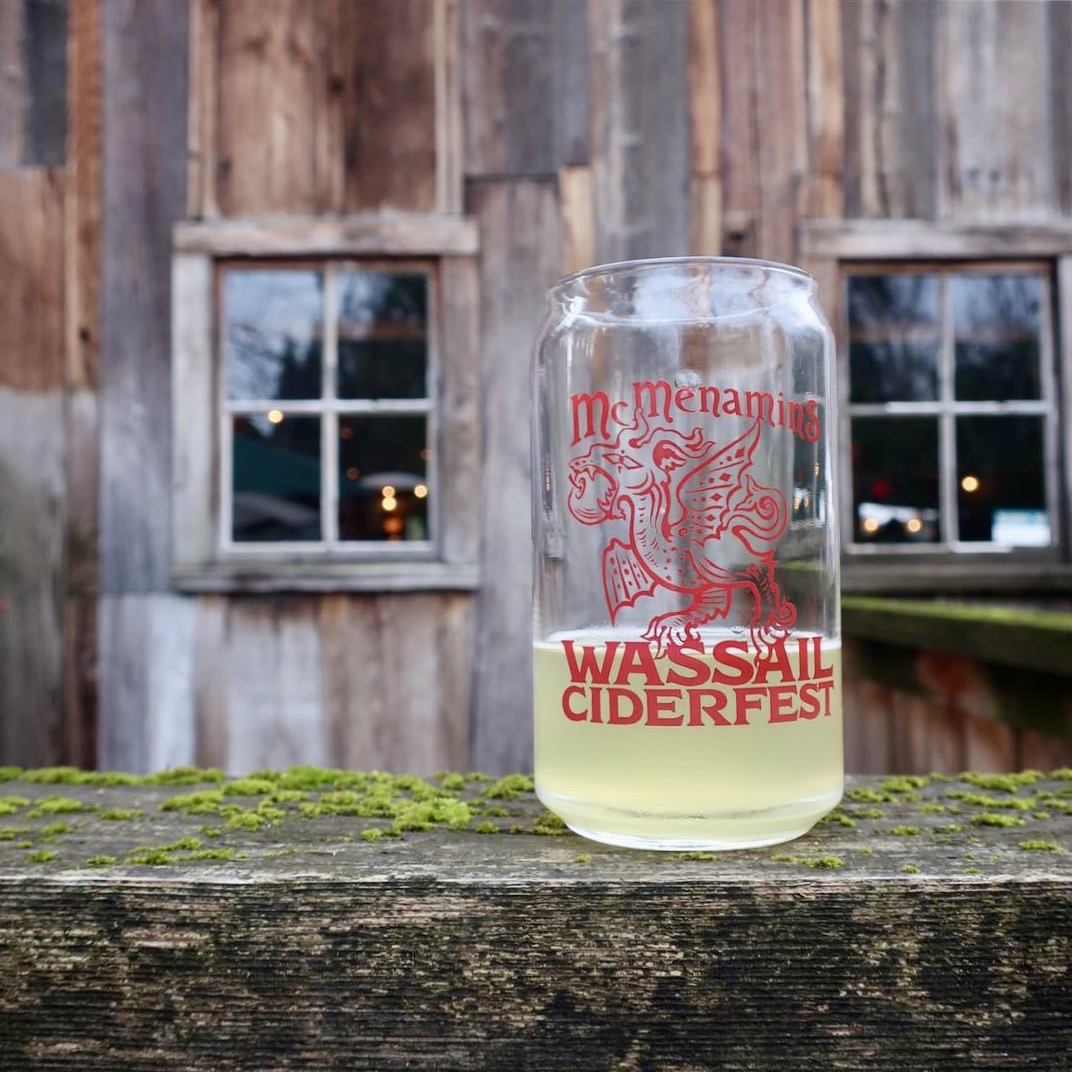 6th Annual Wassail Cider Fest
Saturday, January 14 – 3:00-8:00pm
The 6th Annual Wassail Cider Fest returns to McMenamins Corneilus Pass Roadhouse for a late afternoon and early evening of cider tasting.
Participating cideries include:
12 Bridge Ciderworks
2 Towns Ciderhouse
Avid Cider
Bend Cider Company
Finnriver Farm & Cidery
Helvetia Cider Company
Liberty Ciderworks
Republic of Cider
Salt Creek Cider house
Schilling Cider Co
McMenamins Edgefield Cider
Portland Cider Company
Bauman's Cider
19 Acres Cider Co.
Advance tickets are $45 and will be $50 at the door and includes a Wassail Cider Fest glass and 10 tasting tokens. Advance tickets can be purchased by clicking here.
McMenamins Cornelius Pass Roadhouse – 4045 NE Cornelius Pass Rd – Hillsboro, OR