Westward Whiskey to Release Westward American Single Malt Oregon Stout Cask Finish
|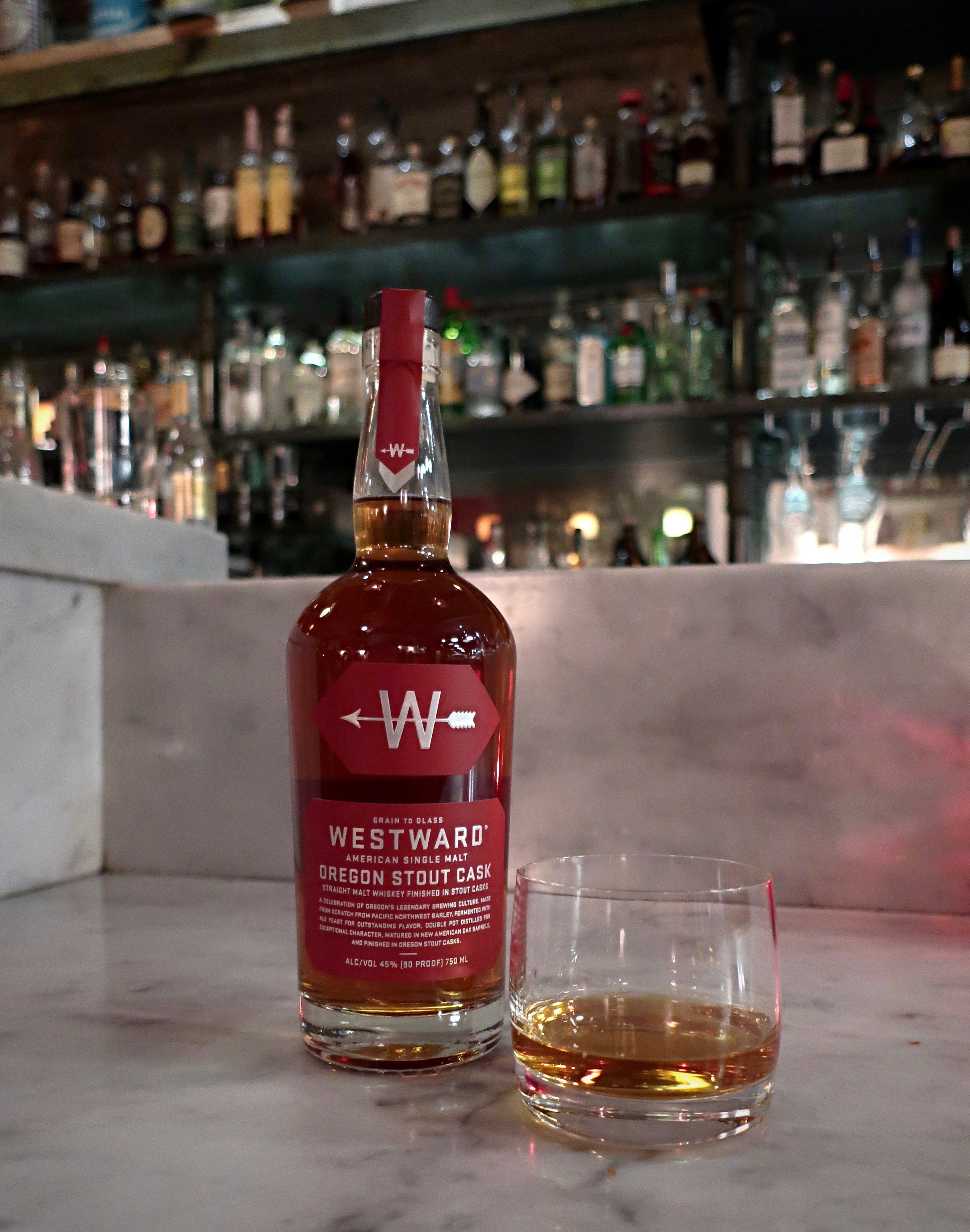 The art of making whiskey begins with the labor of brewing. Portland's Westward Whiskey does just that with its in house 35-barrel brewhouse that produces 500 barrels per week. On Saturday, February 23rd, Westward Whiskey will release its latest project, Westward American Single Malt Oregon Stout Cask Finish Whiskey that involves Breakside Brewery, Fort George Brewery and Ruse Brewing.
Westward Whiskey was launched in 20212 and is part of House Spirits Distillery, a distillery that was founded in 2004 in Corvallis, Oregon. When Christian Krogstad and Lee Medoff founded the distillery, the nation had around 35 craft distillers. Now times have surely changed! The distillery relocated to Portland a year later to a space on Distillery Row and the Medoff left a few years later to start his Bull Run Distillery. Best known for its Aviation Gin, the distiller sold this brand off in 2016 to Davos Brands and the last year actor Ryan Reynolds purchased shares in the popular dry gin. House Spirits continues to contract produce this well-made gin.
Prior to this sale, House Spirits made a massive expansion and relocated in late 2015 to a newly constructed 14,000 square foot facility just beneath the Interstate 5 split to Interstate 84. This $6M expansion also included a 35-barrel brewhouse complimented by 100-barrel fermenters that would allow Westward Whiskey to finally make its very own whiskey wash.
"Our attitude is that we are a brewery," stated Krogstad when gleefully discussing his brew system that produces his whiskey wash. Krogstad was a winemaker and a brewer prior to starting House Spirits. Locally he brewed for McMenamins and while at Edgefield he made whiskey wash for McMenamins still. This is when the light bulb when off in his head and felt he could do this himself. Years later he decided to open House Spirits in Corvallis.
When it comes to Westward, Krogstad has hired a team of brewers to brew the wash as he knows that this step is what makes the best whiskey. This is what has led to Andrew Tice, formerly of Troegs and Miles Munroe, formerly of BridgePort, Lompoc and Migration to join him at the distillery.
In brewing the whiskey wash it uses Pacific Northwest grown 2 Row Pale Ale Malt from Great Western Malting. And this they use a lot of as every few days the distillery's grain bin is filled with 75K pounds of malt. The brewhouse produces 3 mashes per day that equates to about 500 barrels per week that would make it the 11th largest brewery in the state.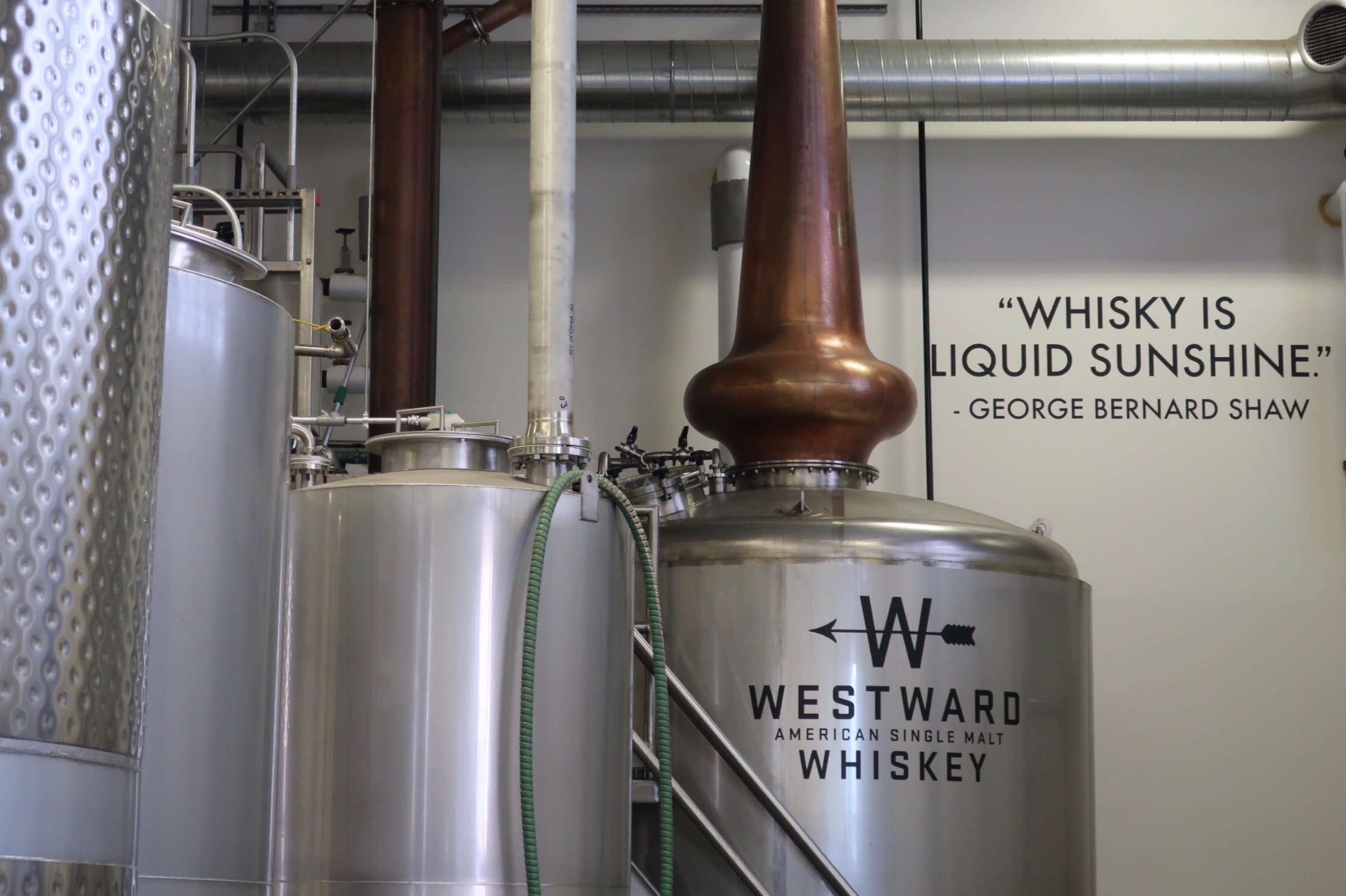 Unlike other distillers, Westward has chosen to use the Chico yeast strain in the fermenters. As Krogstad puts it, "Great whiskey is made at the fermenter." This double pot distilled craft beer is what Westward feels makes its whiskey that is more complex. Plus, its hot and fast distilling process uses its large still to get rid of the "grunge" prior to being sent to spirits still that results in a pure ethanol.
The sale of Aviation has led House Spirits to drastically expand its whiskey production. It now has a huge barrel warehouse in Clackamas that is home to nearly 3,000 barrels of resting whiskey. These barrels are all American Oak and come from Kentucky, each being 53 gallons. Westward uses a lower char on its barrels that allows for liquid to get deeper into the wood. The char is around 3 or 4 for bourbon as Westward uses a #2 Char for its whiskey that results from about 45 seconds in flame. This is what produces the Westward Whiskey's color profile.
These 3,000 barrels all rest vertically, four high and well strapped for safety. This allows for the warehouse to age more barrels and allows for more contact with the wood. Some of the world's best-known producers such as Jim Beam and Jack Daniels also store its barrels in this fashion. Then these barrels sit and rest for multiple years.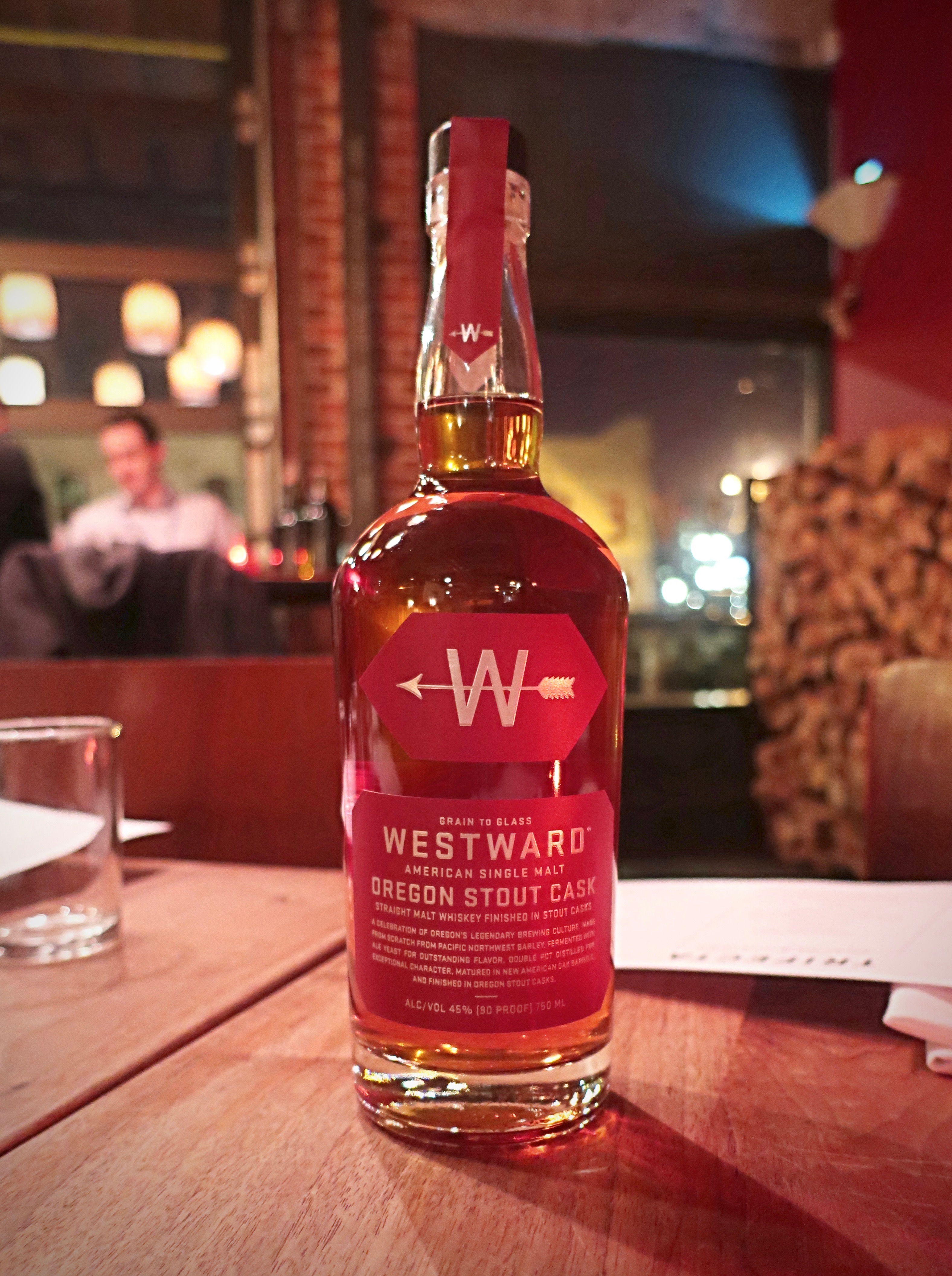 Westward Whiskey's latest project Westward American Single Malt Oregon Stout Cask Finish Whiskey brings together three breweries for this new whiskey that will be released on Saturday, February 23rd from 2:00-4:00pm. Held at the distillery, this event is free to the public and will feature tastings of the Stout Cask Finish along with complimentary distillery tours.
In making Westward American Single Malt Oregon Stout Cask Finish Whiskey, Westward worked with Fort George Brewery, Ruse Brewing and Breakside Brewery on a barrel exchange program. A total of 5 barrels of whiskey were made for the release of the Stout Cask Finish on Saturday.
Once Westward felt its whiskey had aged effectively the distiller gave its used barrels to these three breweries and had them fill the barrels with stout beer. After the barrel ageing of these beers was completed, each of the breweries returned these barrels to Westward where they filled them back up with its Single Malt Whiskey for additional aging and a new flavor profile.
"Once the Stout hits 10 months from its second aging, the whiskey finds its sweet spot," said Munroe during a preview tasting. Now two barrels each from Fort George and Ruse, along with one barrel from Breakside make up the 2019 release of Stout Cask Finish.
So how does the Stout Cask Finish differ from the Westward Black Label? During our tasting we found that the Stout Cask Finish was noticeably smoother and softer when poured neat. The appearance of the Stout Cask Finish is a bit more copper in color than the Black Label.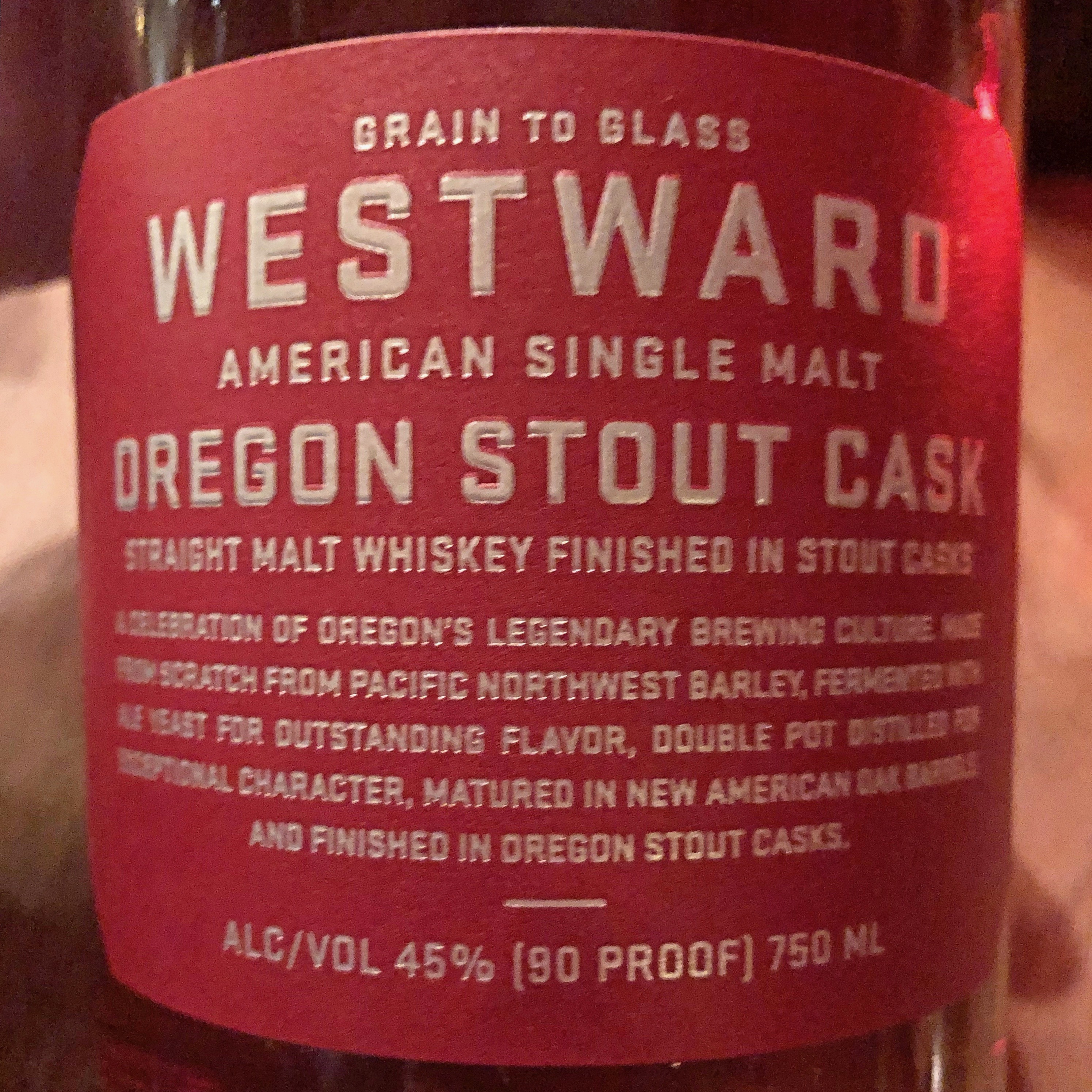 In addition to pouring Westward American Single Malt Oregon Stout Cask Finish Whiskey on Saturday, the distillery will bring in three breweries to pour beer alongside this new Stout Cask Finish Whiskey. Serving beer from 2:00-4:00pm will be Bent Shovel Brewing, Migration Brewing, and Deschutes Brewery, all sampling their Stouts.
Westward will be offering some light food to start but more importantly will be offering complimentary tours aimed to give its whiskey fans a closer look at each step of the whiskey making process and the final transformation into the new Stout Cask Finish.
Bottles of the new Stout Cask Finish will be on sale for the first time on Saturday at the distillery. The price is $89.95 per 750mL and $59.95 per 375mL bottles. The Westward Black Label retails for $69.95 per 750mL. The new Stout Cask Finish will also be on sale beginning Saturday at the House Spirits Tasting Room at the Portland International Airport. Bottles will arrive to OLCC Liquor Stores around March 1st.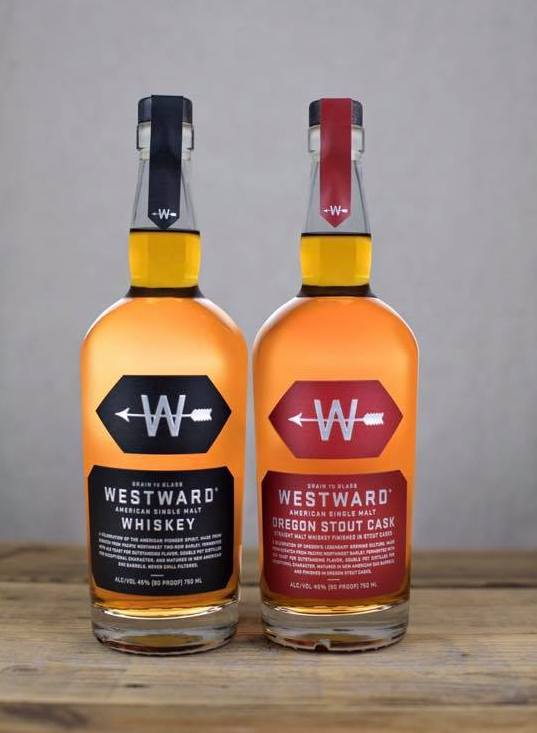 Looking past this release of Stout Cask Finish, Westward is working with additional breweries that will feature its beers in the coming years. And another project that we're excited about is one with Ken Forkish from Ken's Artisan Bakery with a Sourdough Whiskey. We sampled this in its early stages and its an eye opener with its plethora of flavors that come forth.
If you want to learn more about whiskey, Westward Whiskey will offer its Whiskey 101 Class on Saturday, March 30, 2019. This two-hour class that takes place from 5:00-7:00pm will be limited to 12 people and will take you on a journey of the entire whiskey making process. Guests will sample a multitude of different whiskies and learn about how the aging process; barrel selection and other factors alter the final flavor. Next, take an in depth look at the whiskey making process, including touring our beer house and distillery, tasting the locally grown barley, our beer wash, white dog and the final Westward whiskey. Celebrate American Single Malt with a deep dive into our whiskey making process. You'll taste Westward whiskey in each stage of the whiskey making process and learn what makes the Single Malt category so special.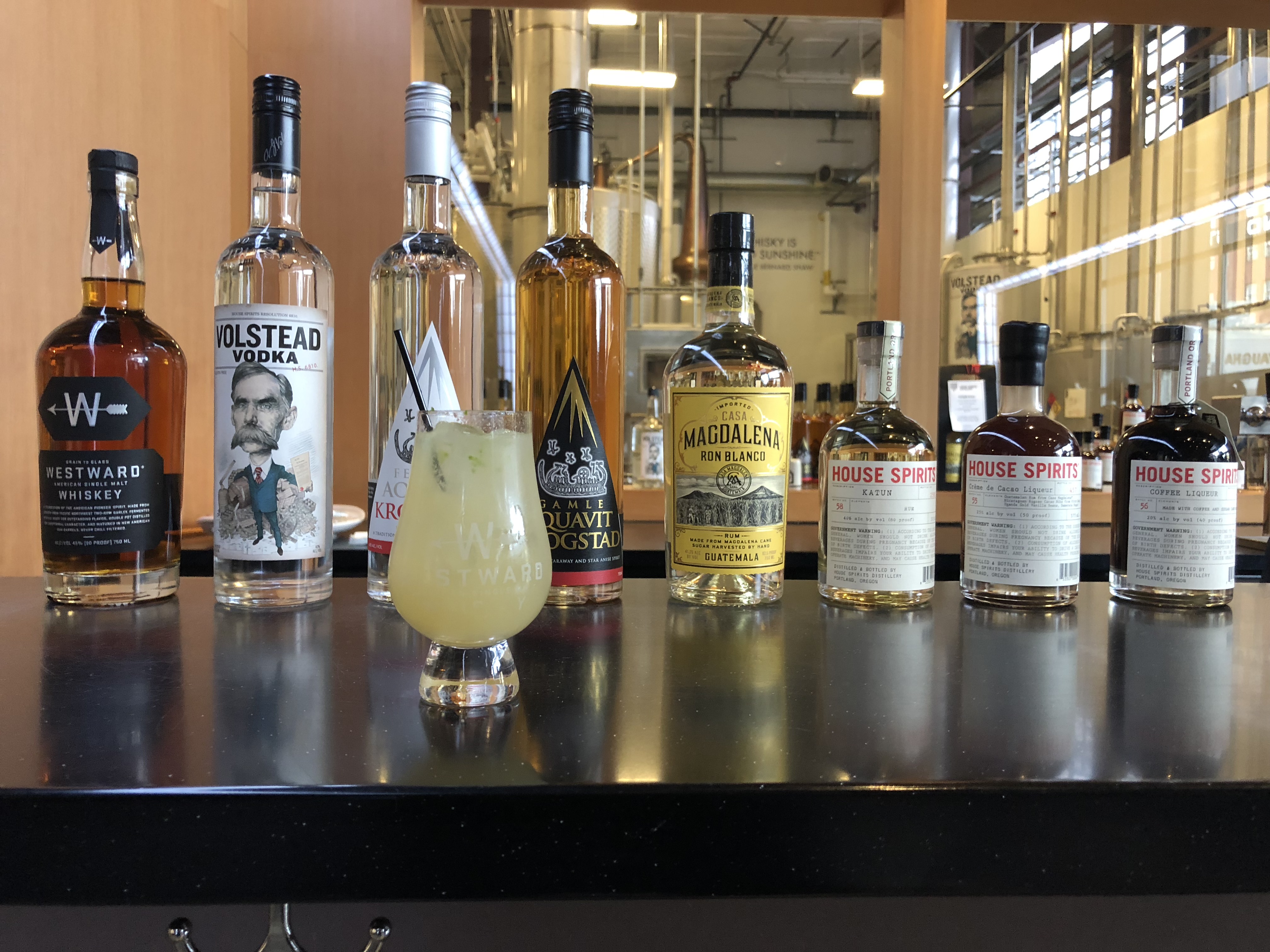 Tickets to Whiskey 101 are $85 each and can be purchased by signing up at westwardwhiskey.com. And for those attending the launch of Westward American Single Malt Oregon Stout Cask Finish you will have a chance to win two free tickets to this class, a $170 value!
House Spirits Distillery Tasting Room is open seven days a week; Sunday-Thursday from Noon-7:00pm and Friday and Saturday from Noon-8:00pm. House Spirits also hosts a tasting room at Portland International Airport near Gate C8. The PDX location is open 365 days a year from 5:00am-10:00pm.
Here's a photo recap of some of the things discussed on a distillery tour at Westward Whiskey…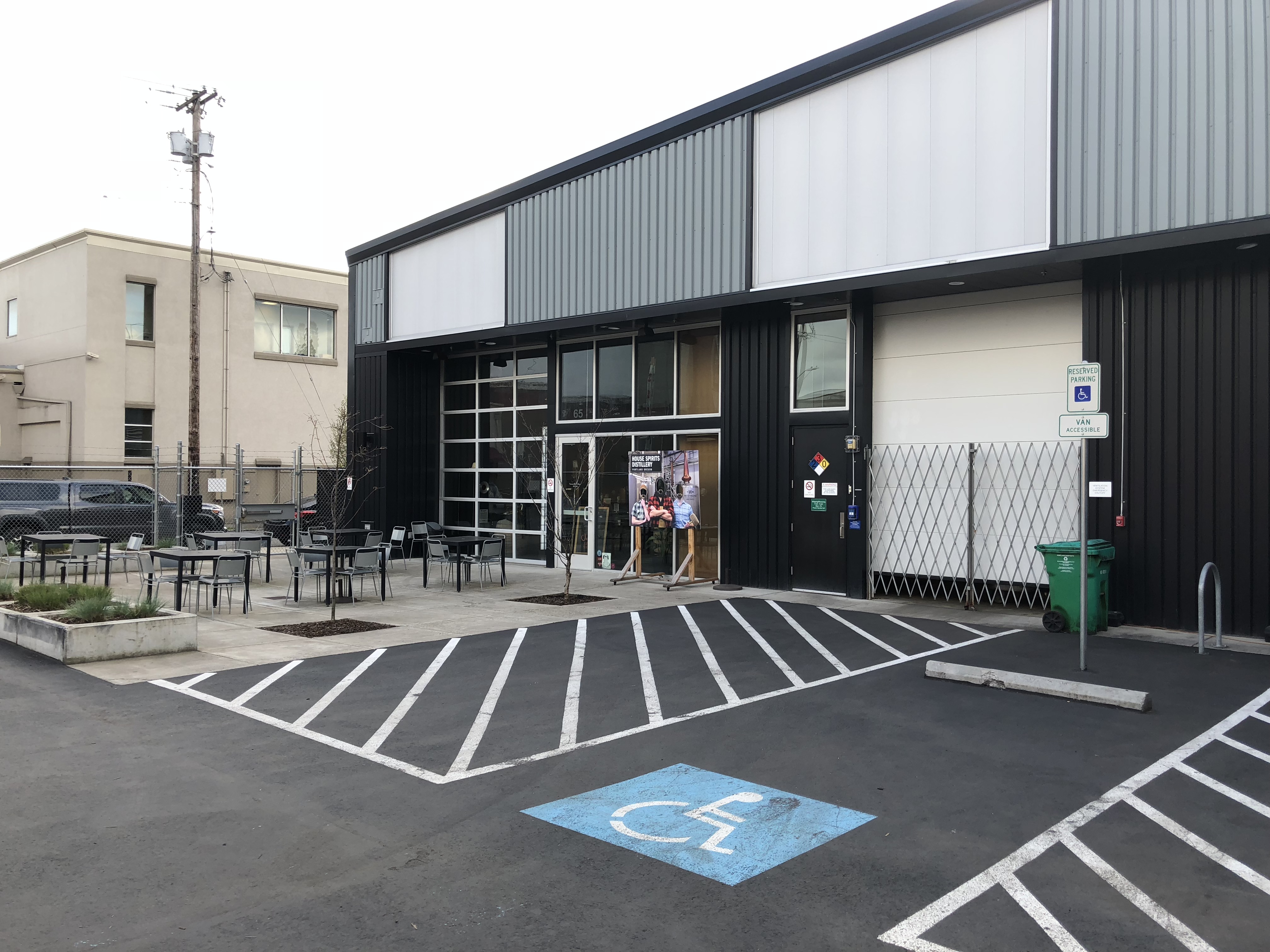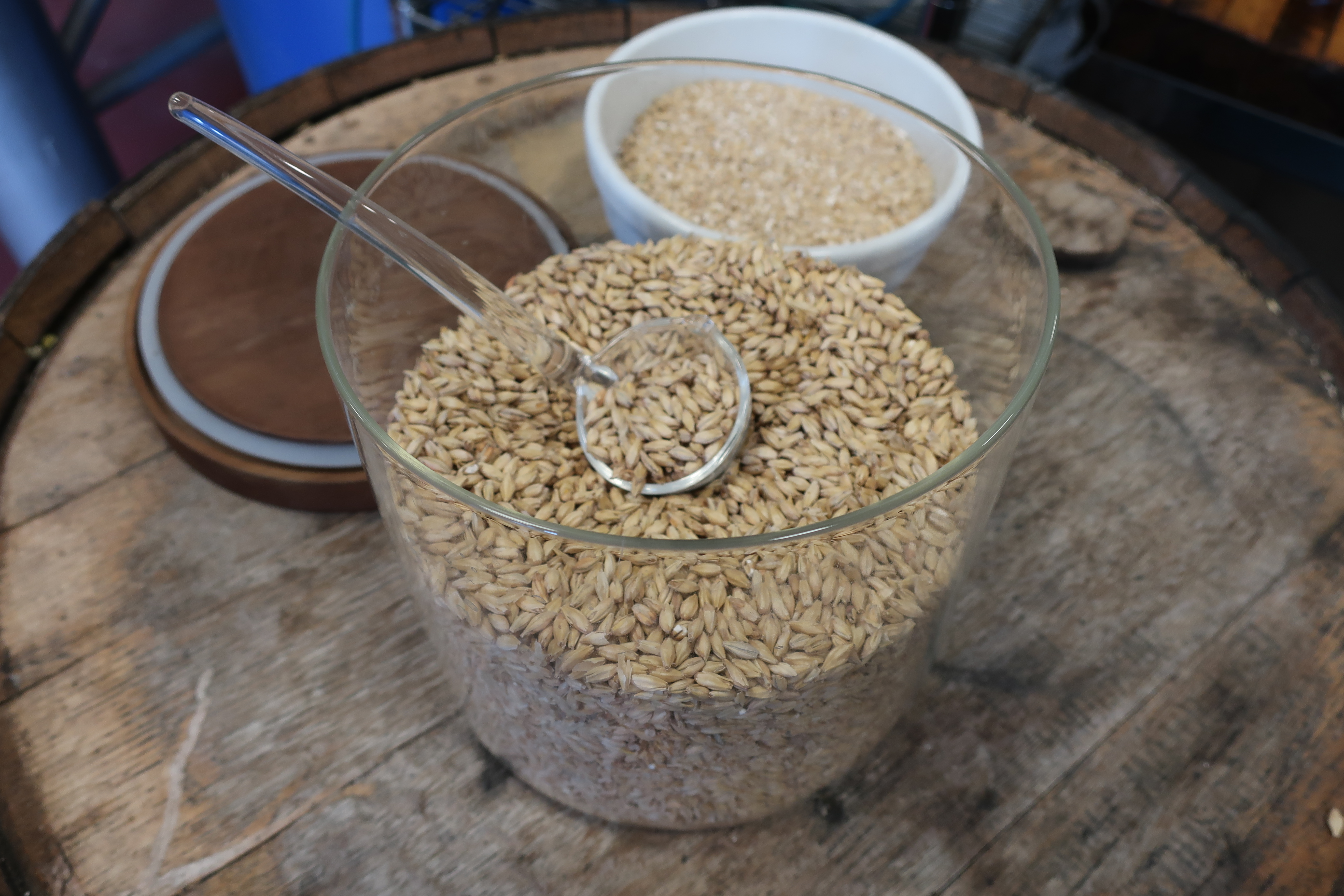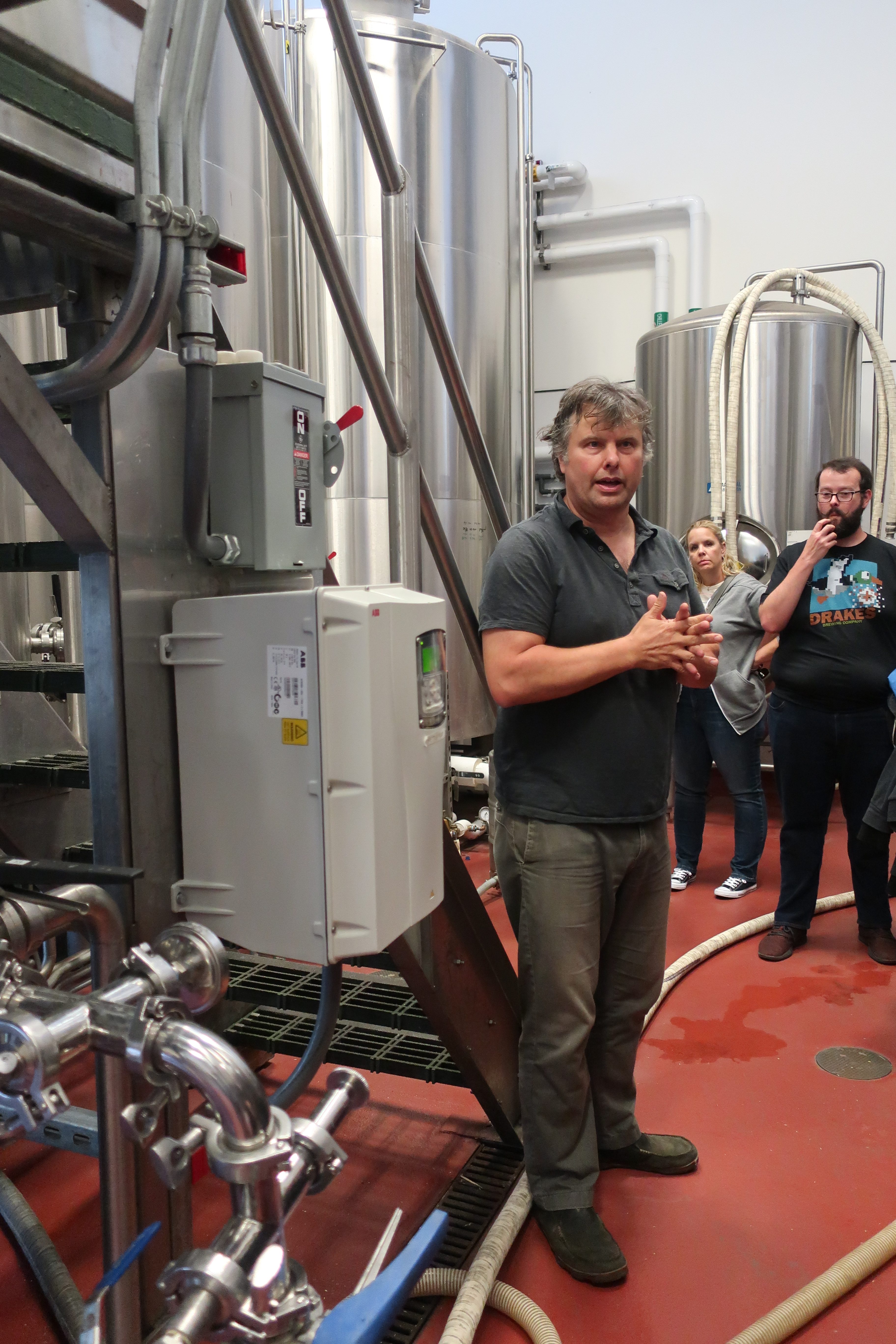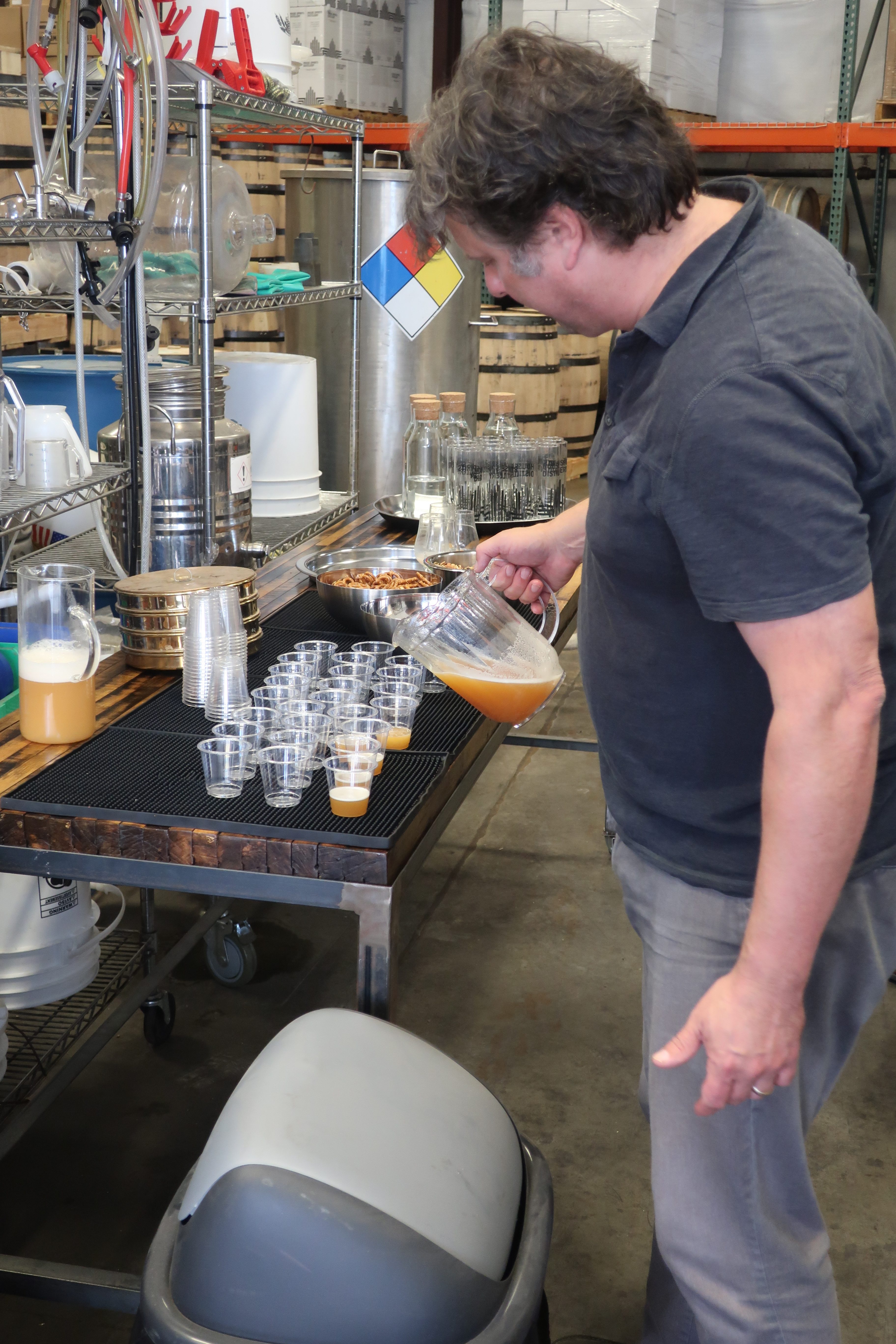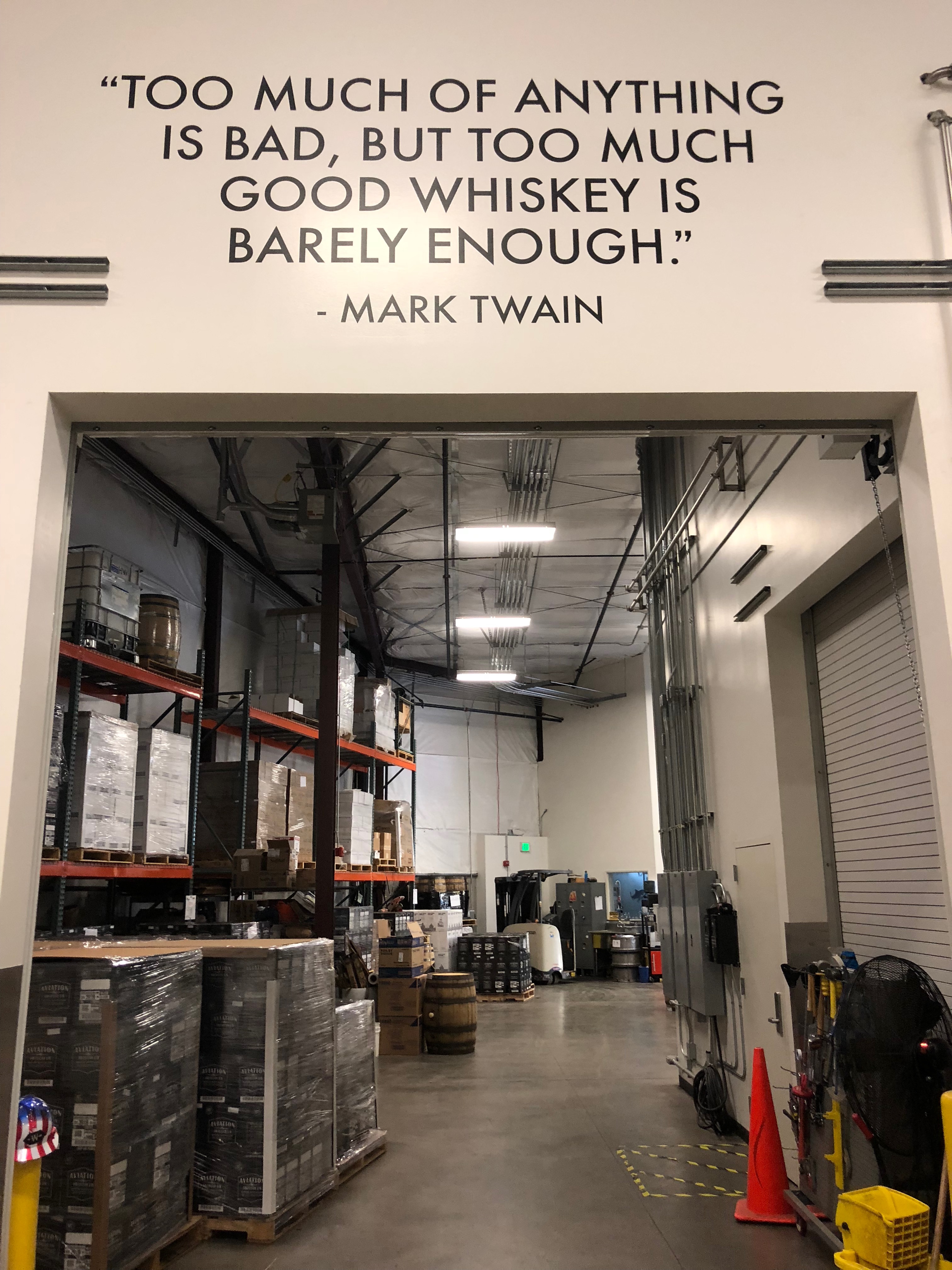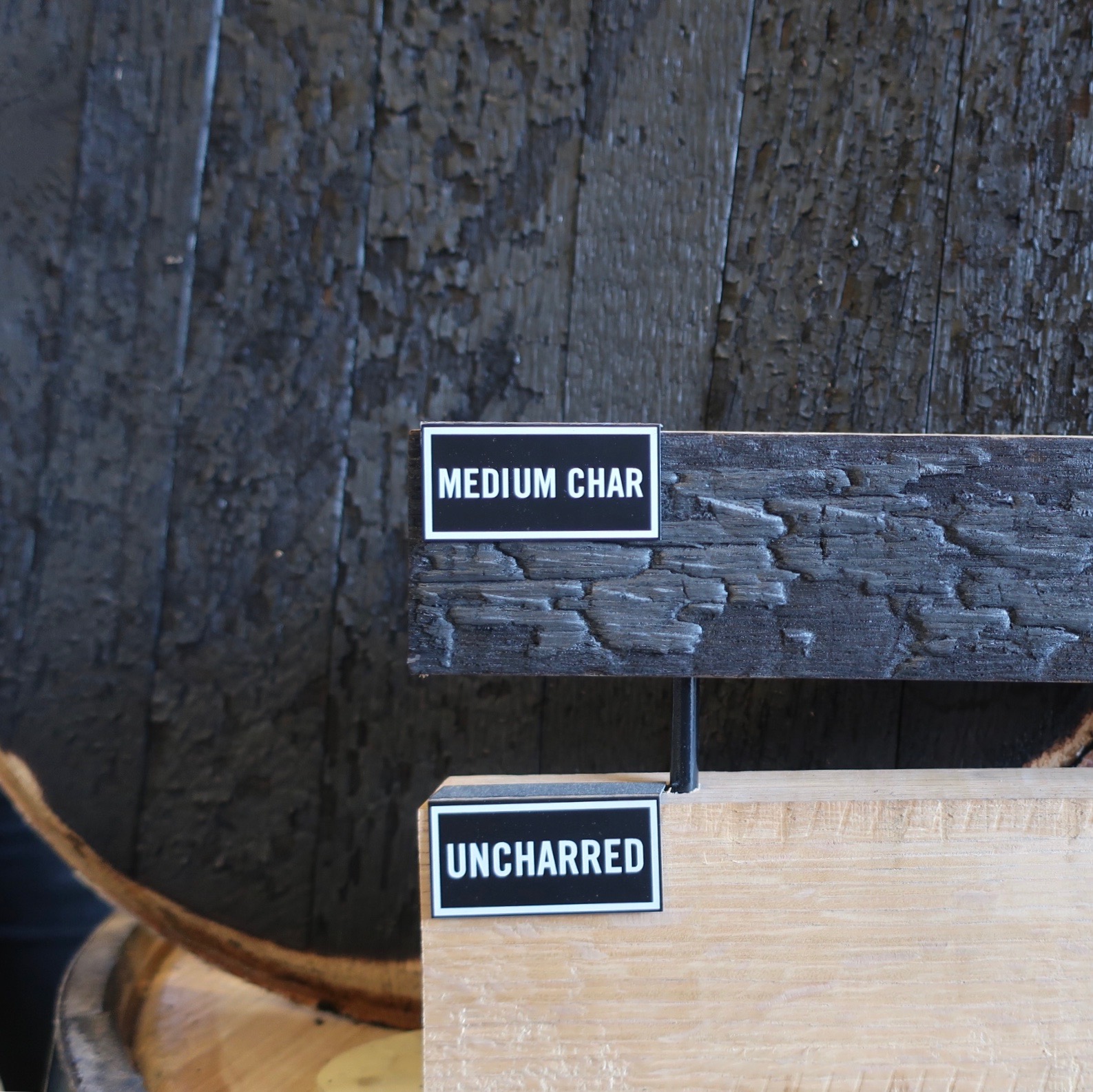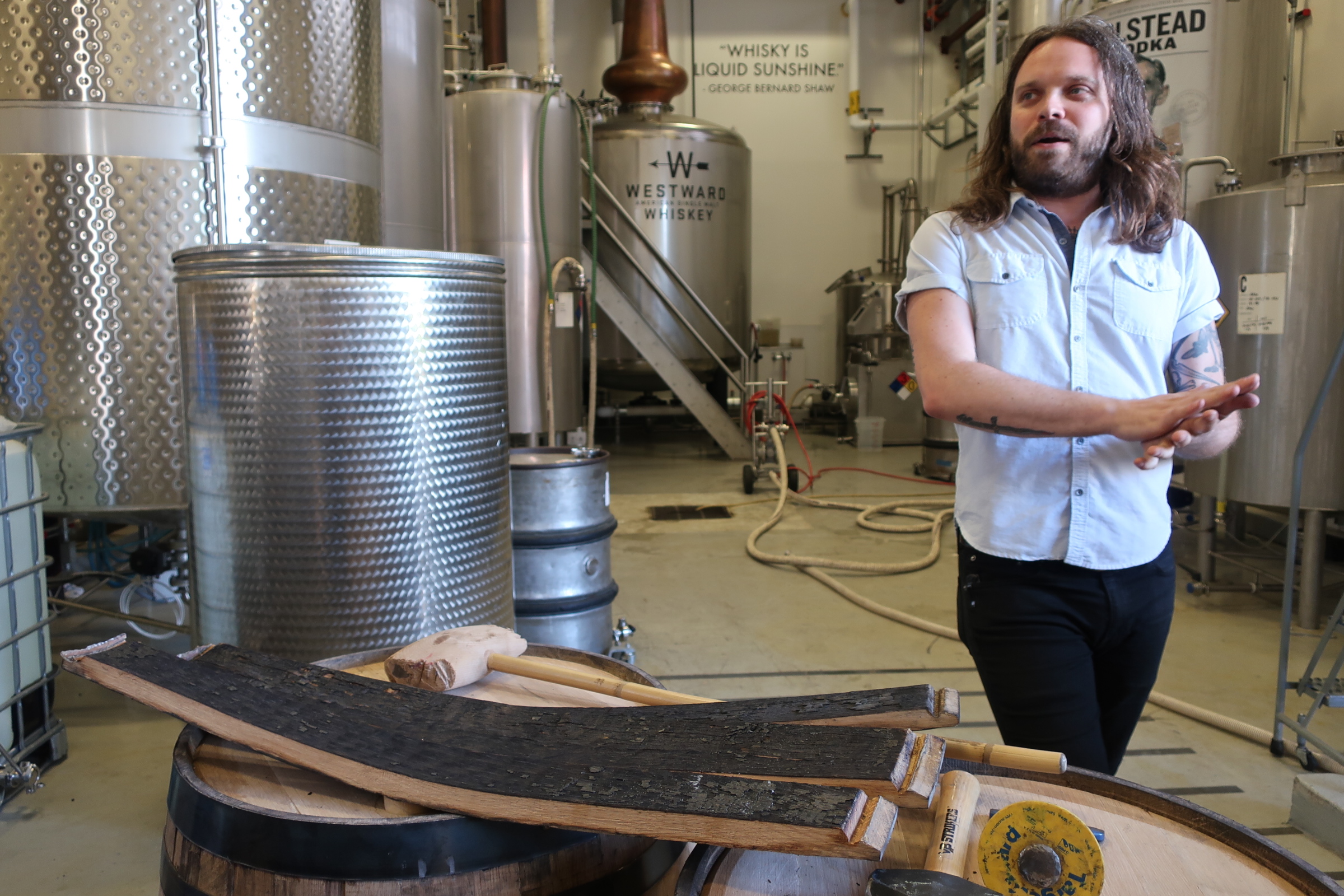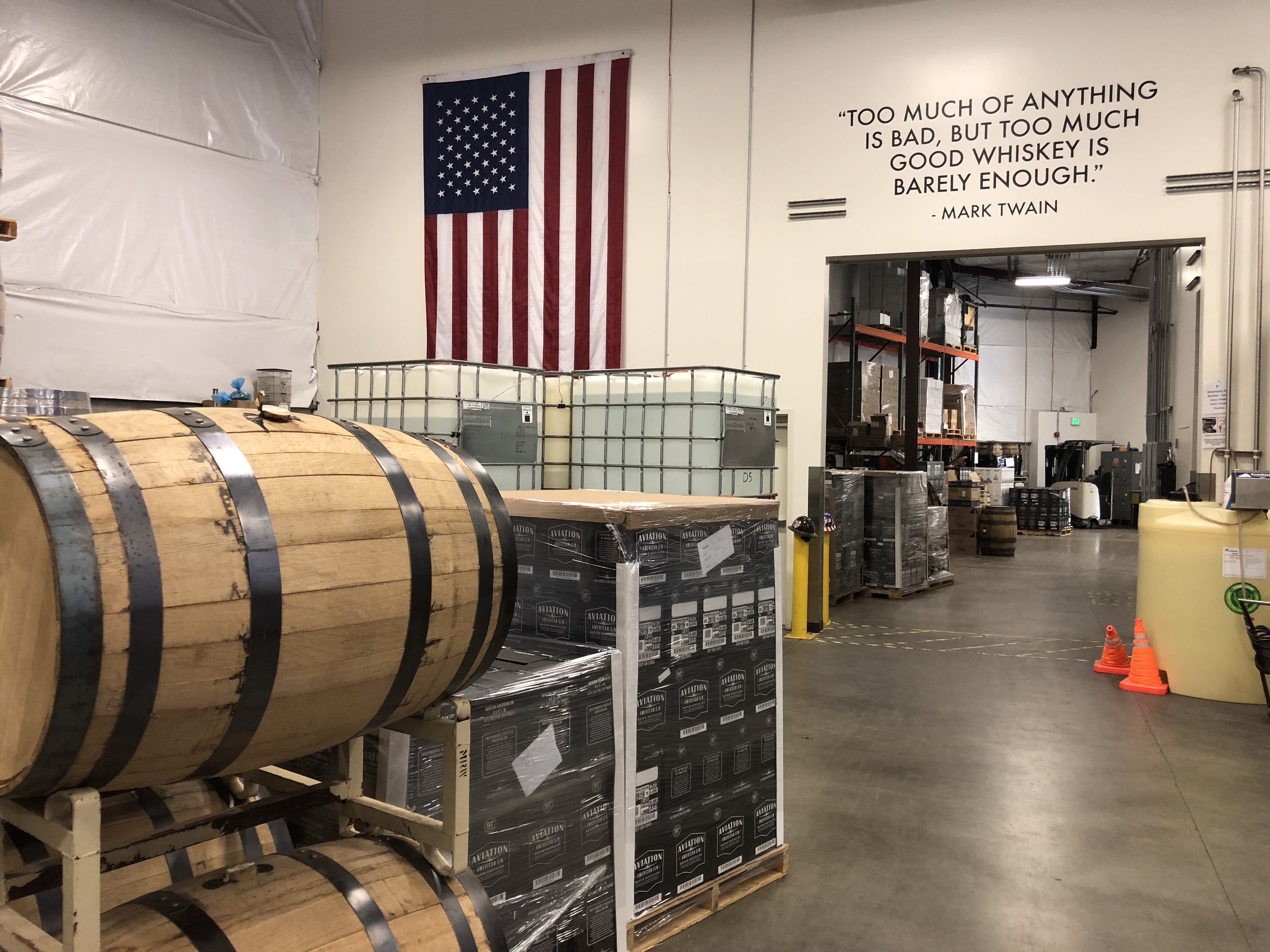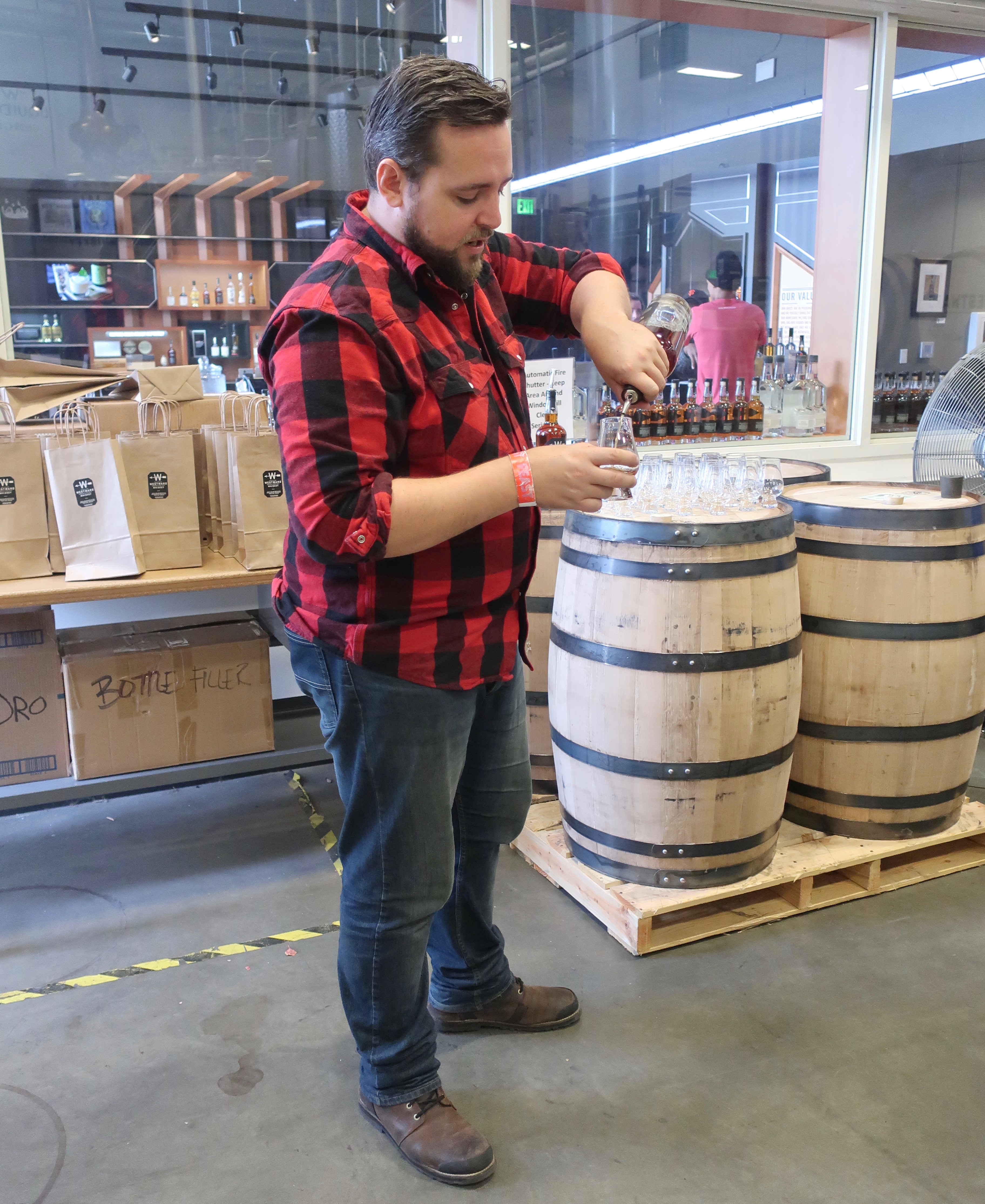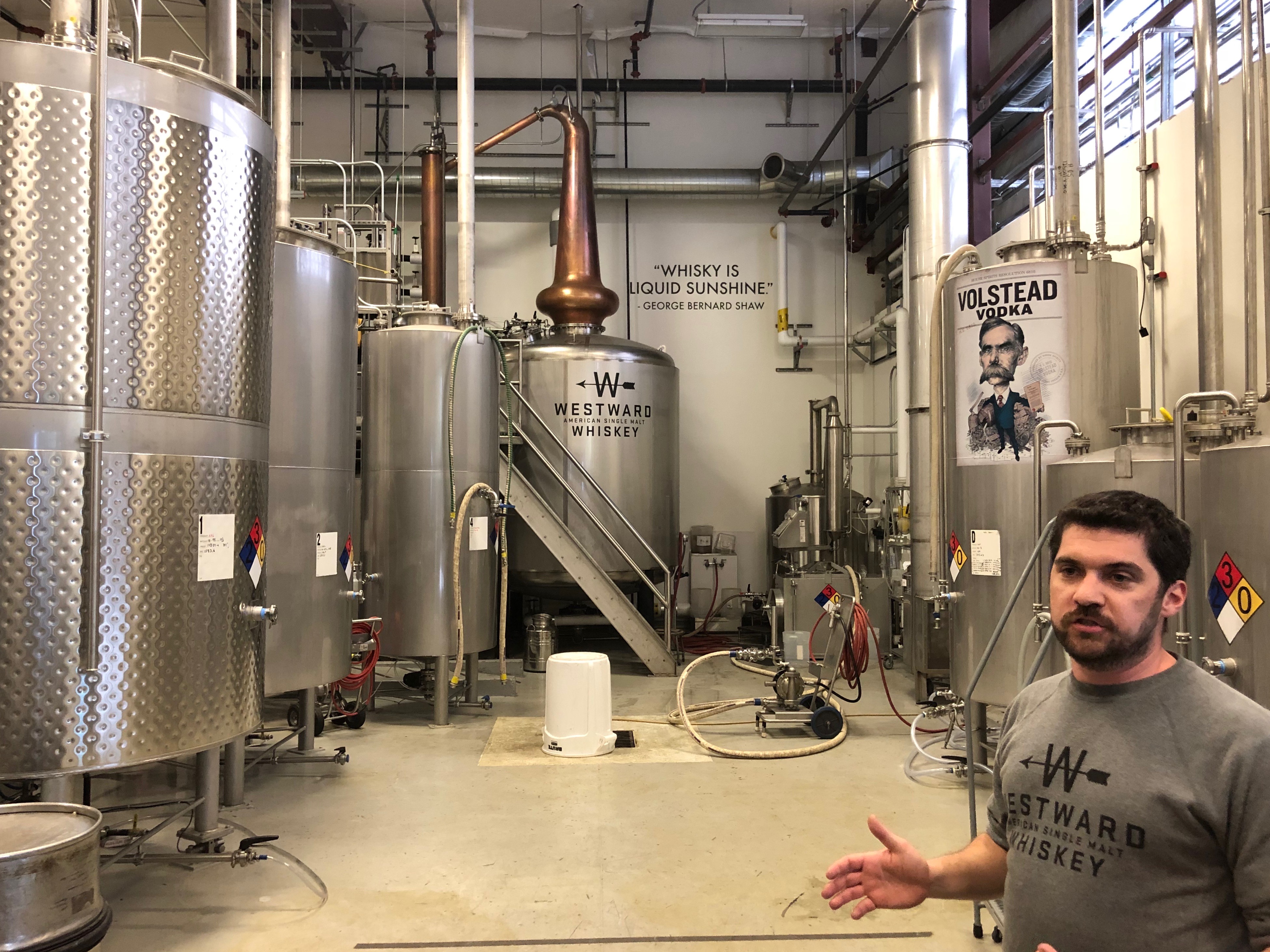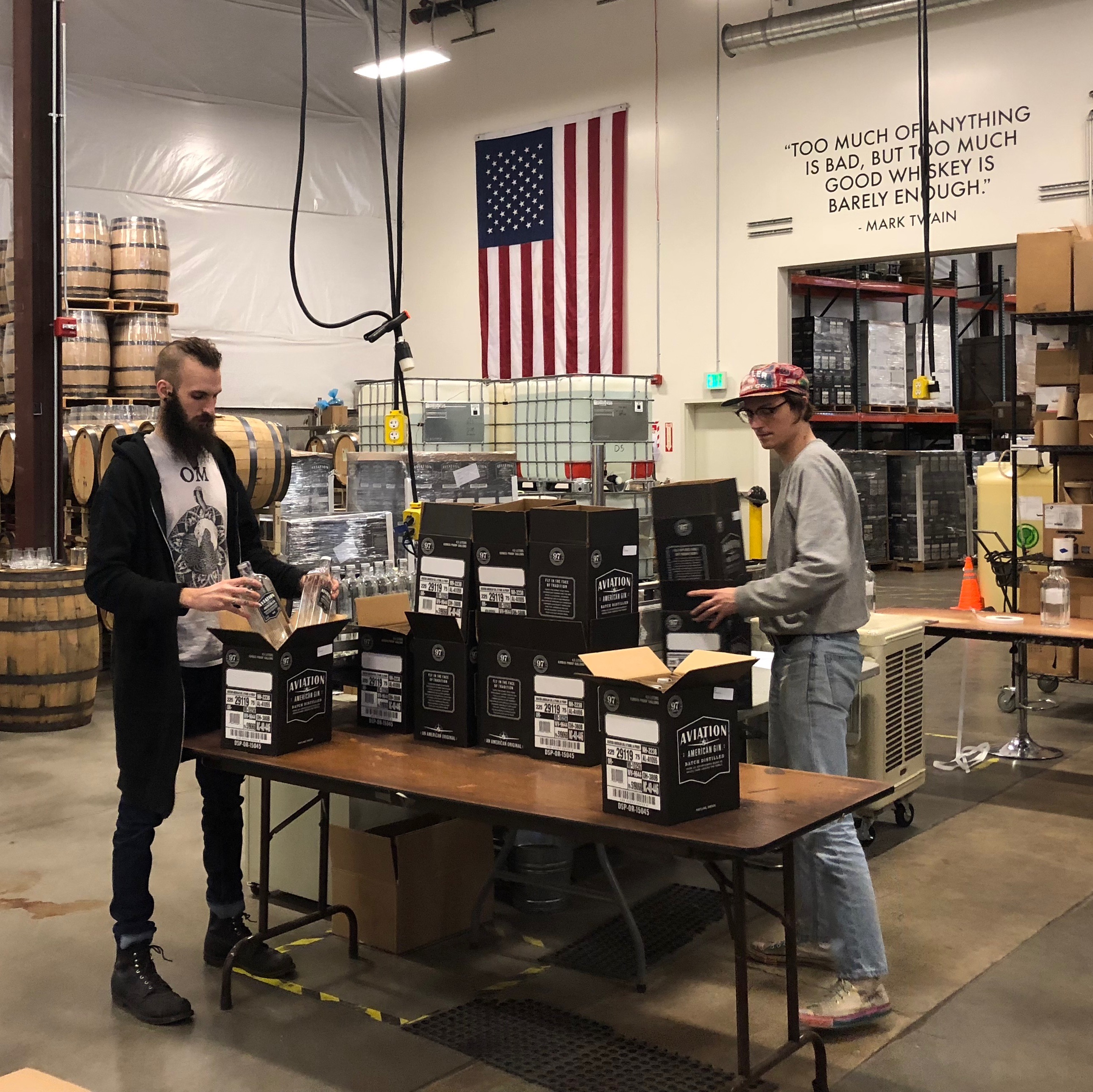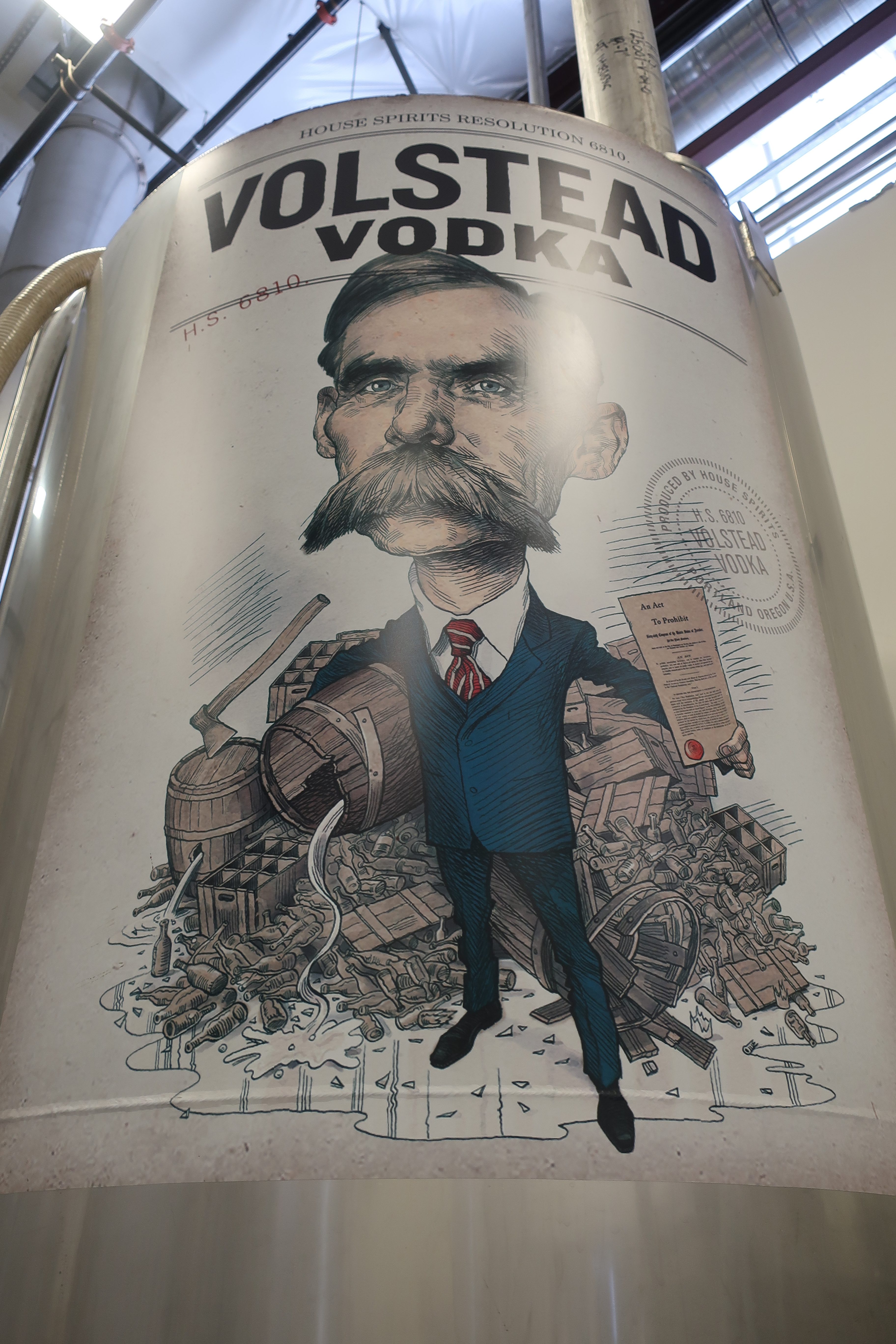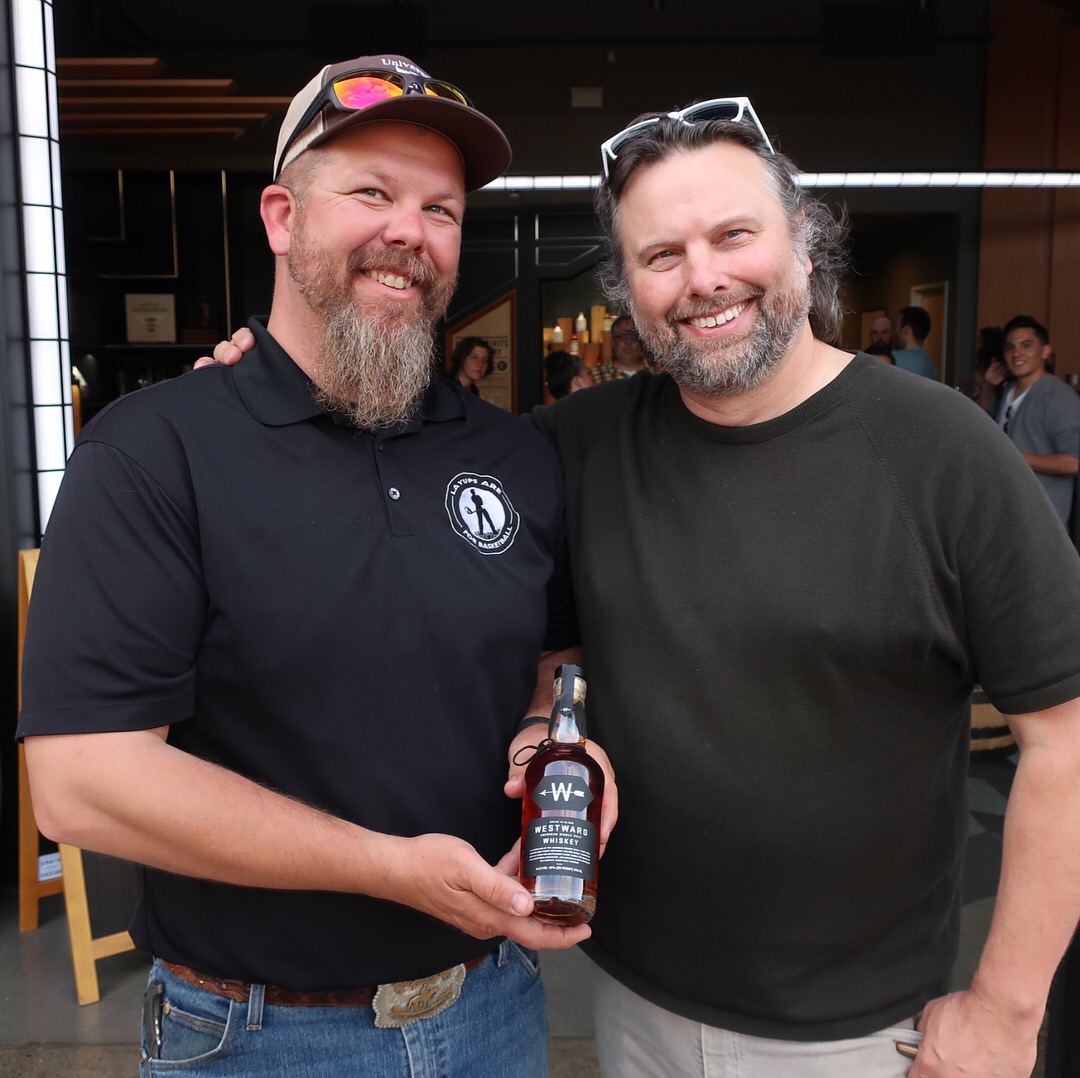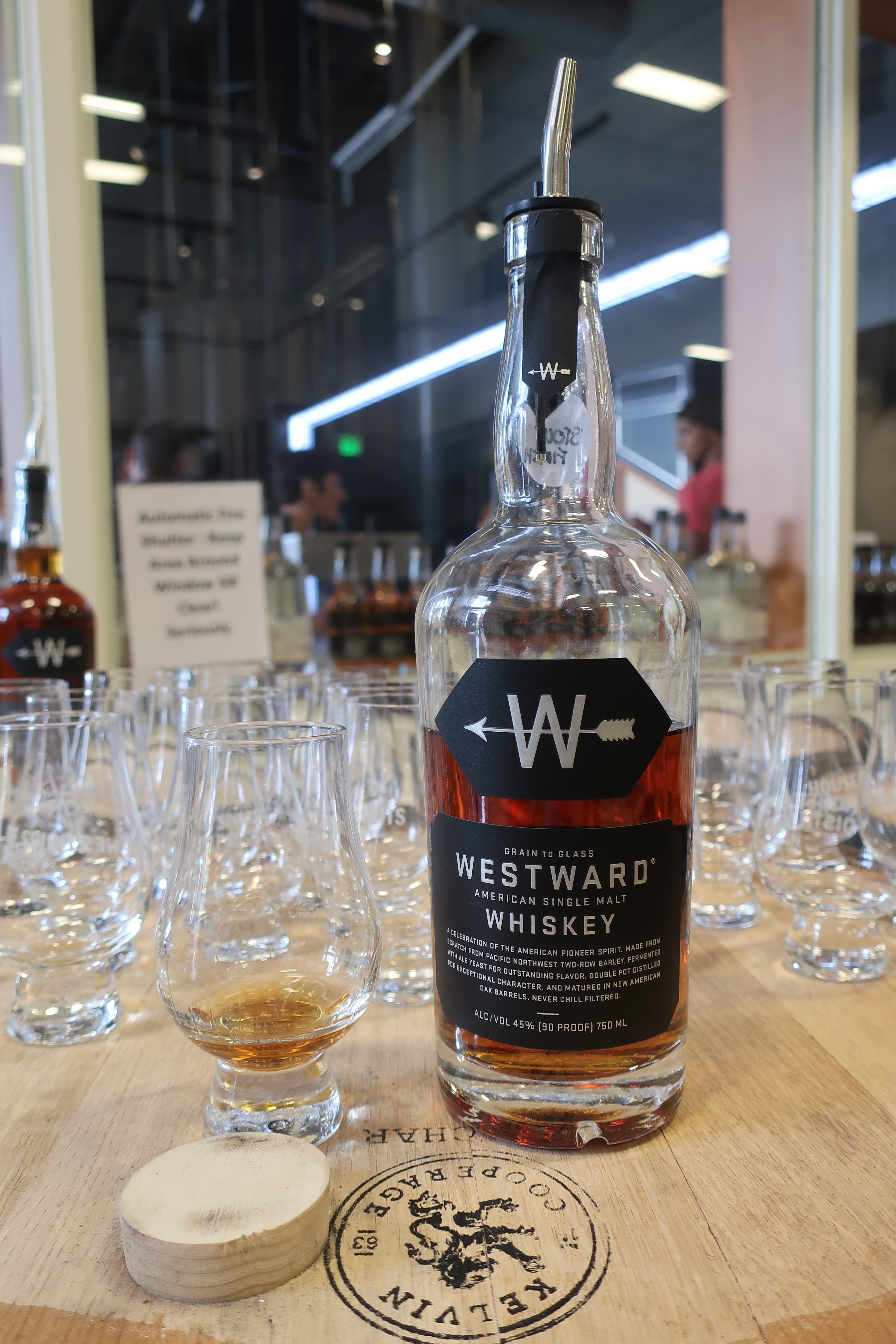 House Spirits Distillery
65 SE Washington St.
Portland, OR 97214