What To Drink At The 2018 Oregon Brewers Festival
|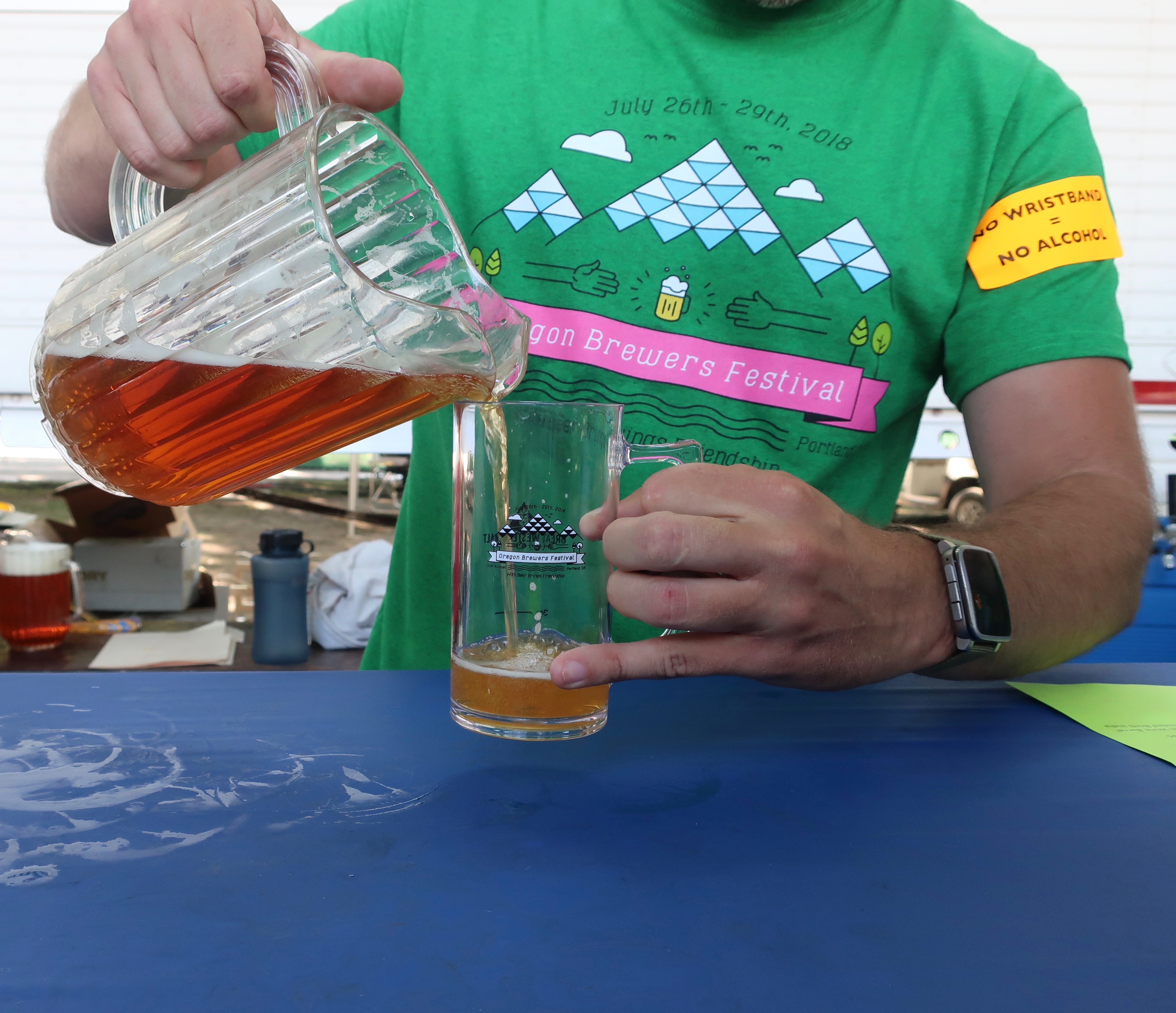 For those brave enough or we may say foolish enough to brave the 90+ degree temperatures at Portland's Tom McCall Waterfront Park festival attendees were treated to 80 beers at the 31st annual Oregon Brewers Festival.
The day kicked off in the morning when the heat was a bit less intense at the 2018 Oregon Brewers Brunch hosted by Ninkasi Brewing at the Kimpton RiverPlace Hotel. Then at 11:30 the 12th annual Oregon Brewers Parade left RiverPlace and made its way to the festival grounds as it was lead by Grand Marshalls Brian and Mike McMenamin.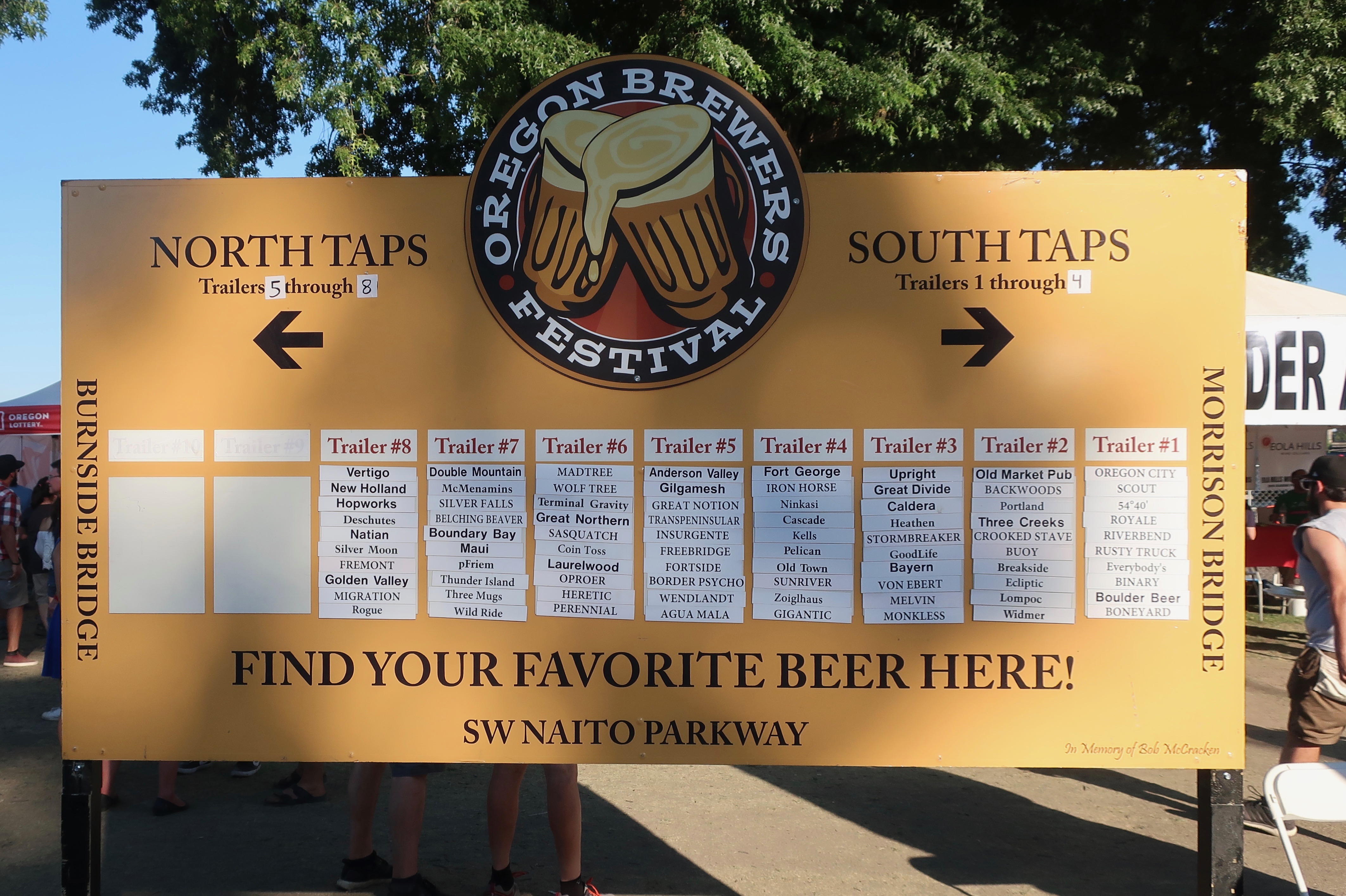 Upon arrival to the festival grounds Art Larrance, founder of OBF, took to the main stage to make some announcements. Larrance mentioned the two beneficiaries of this year's OBF – New Avenues for Youth and Habitat for Humanity Portland/Metro East. Each organization received a check for $10,000 each! Another item mentioned is that Larrance stated that he will once again invite some international brewers to the 2019 OBF. This year there are five brewers from Baja California, Mexico.
When the 32nd annual OBF returns next year Ecliptic Brewing will be the host brewery for the brunch. On stage Jamie Floyd handed the reigns for to legendary Oregon brewer John Harris, owner/brewmaster of Ecliptic Brewing. Harris has one amazing stat, he has been a brewer at all 31 OBFs!
After the announcements were completed Ninkasi tapped the ceremonial first keg of Double Dry Hopped Tricerahops. There is always a complimentary pour of the ceremonial beer each year at OBF so it's wise to arrive early for the opening ceremony!
If you've been to OBF previously most things have remained the same. That said there are a few new editions at the 2018 OBF including craft cider and local wine being poured for the very first time. And to beat the heat, brewers are ready to be dunked in the Dunk Tank raising money for New Avenues for Youth. Located on the south end of the festival grounds you can have your chance at dunking a brewer for only $2.00 a throw or three throws for $5.00.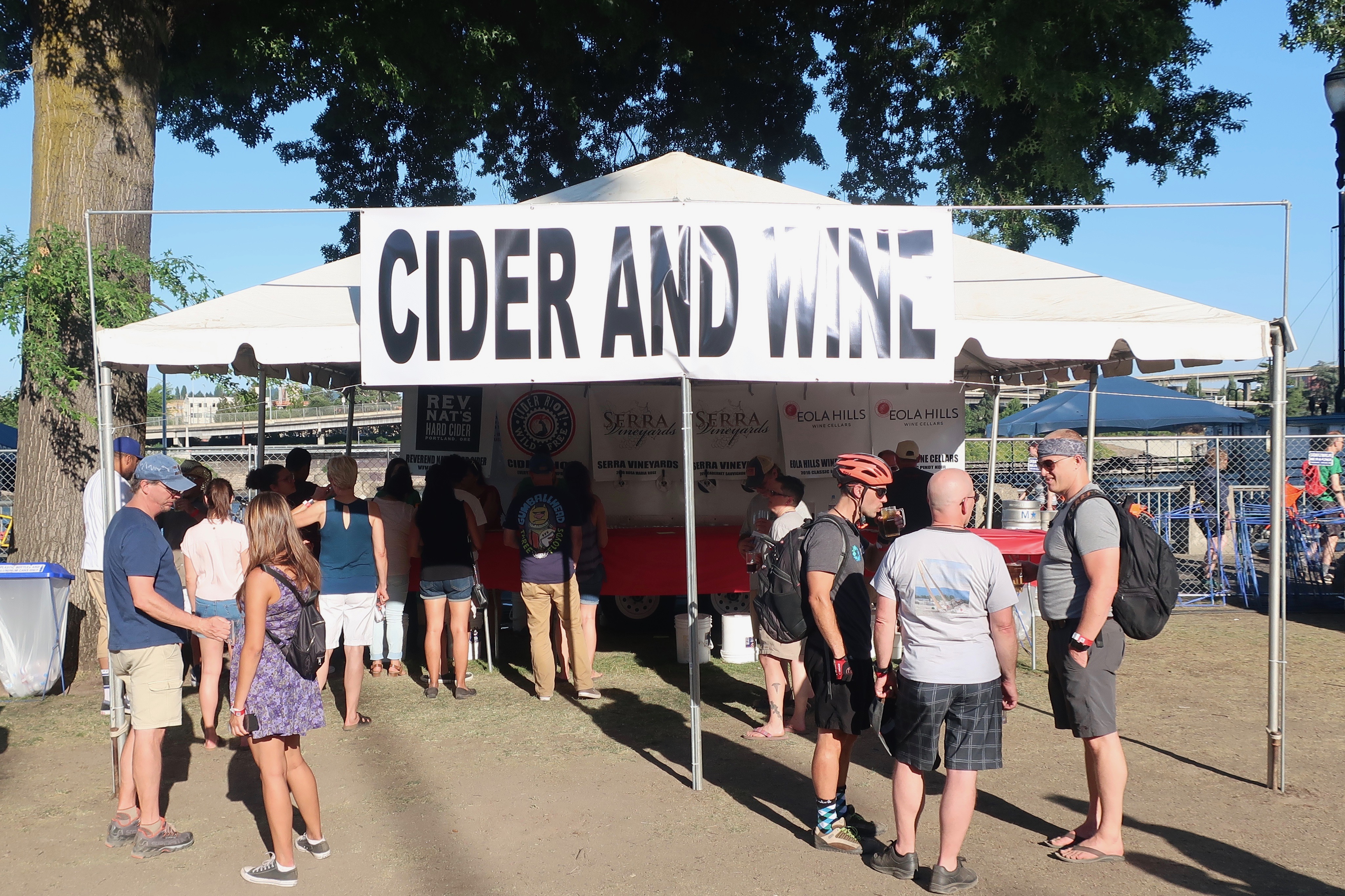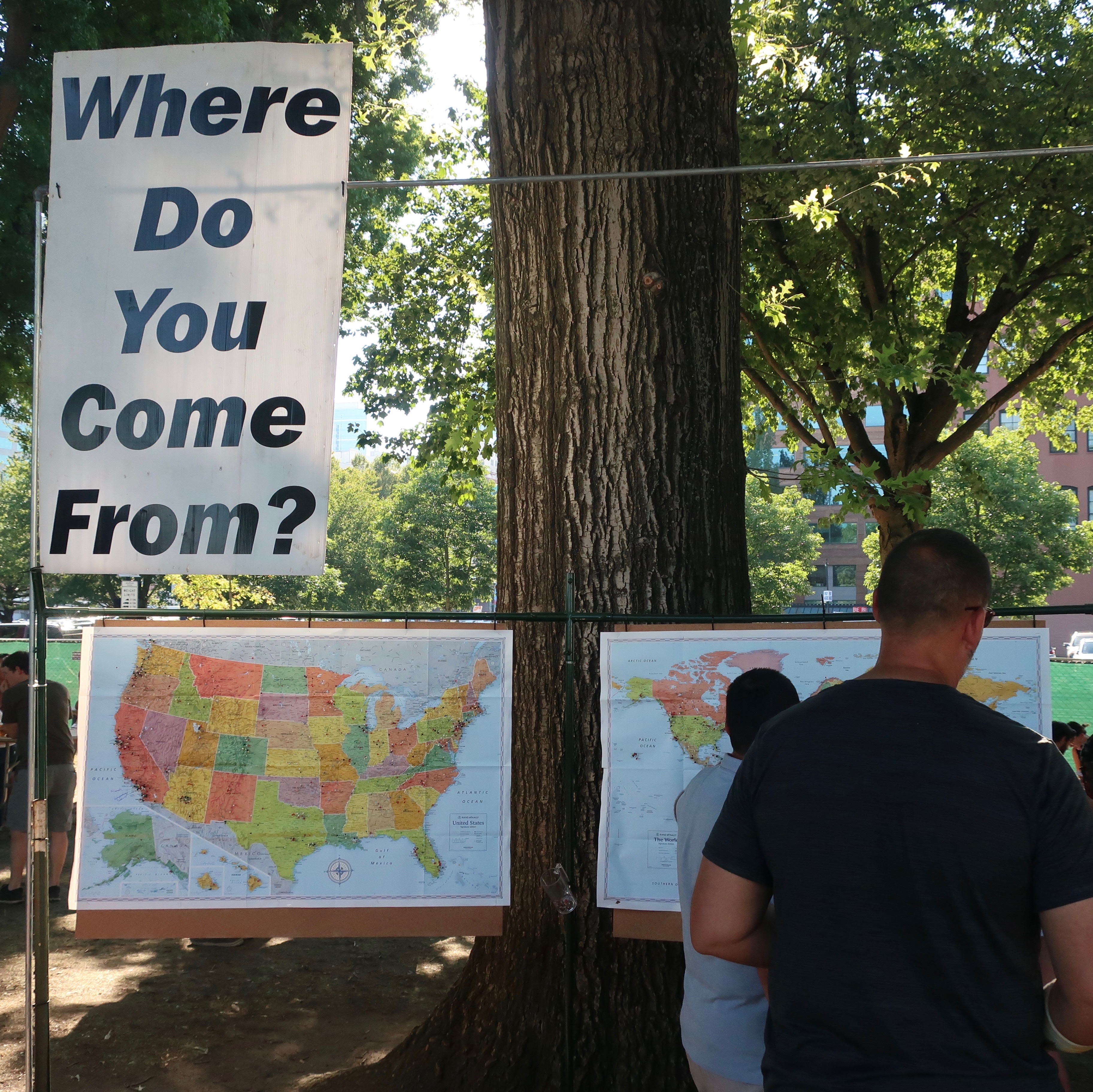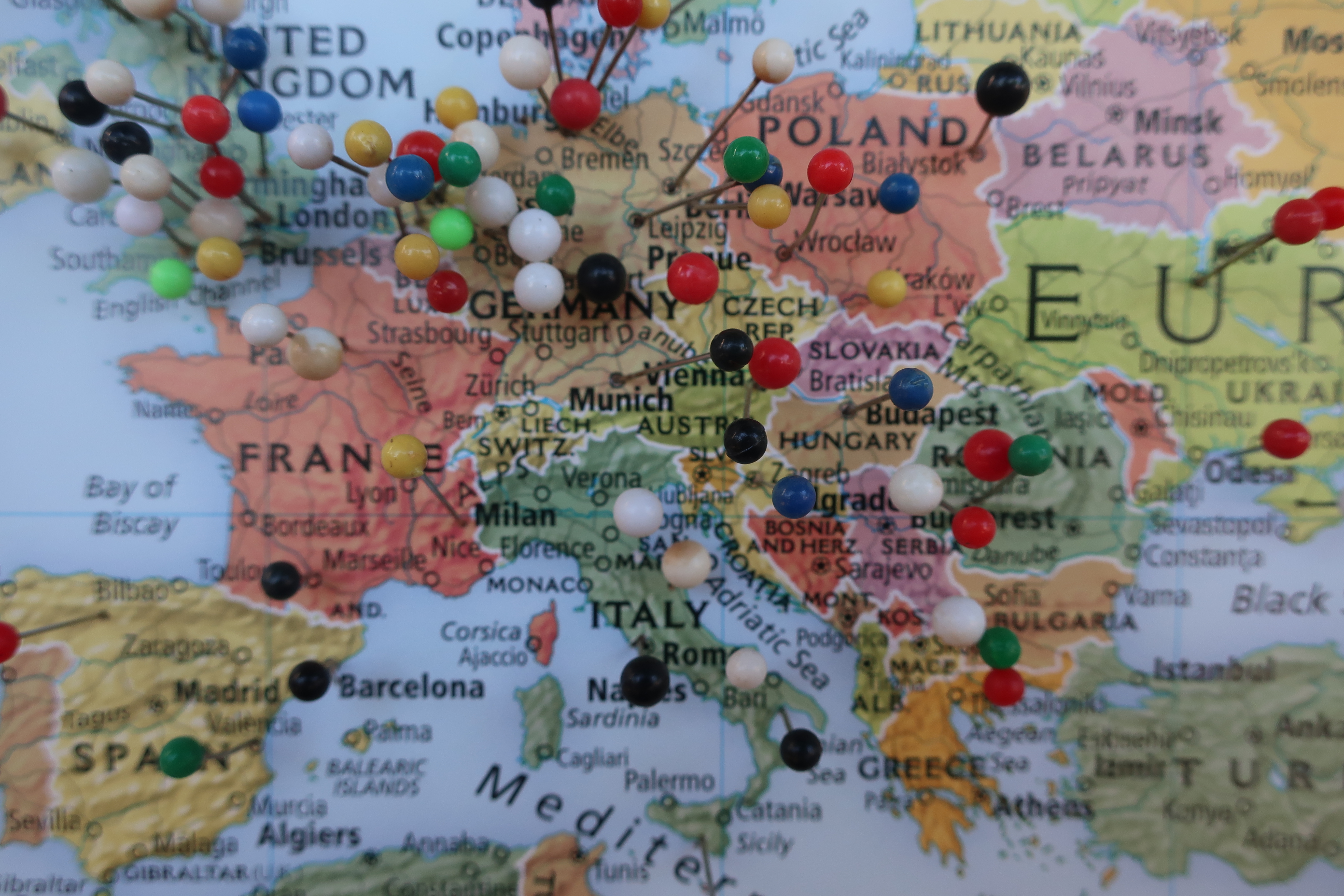 Also for 2018 organizers of OBF decided to do away with the printed program and went to an App. The OBF App can be downloaded at https://download.socio.events/event/MjAwMQ. However if you plan on taking notes we highly recommend downloading the PDF of the Beers by Trailer and Tap. We printed out this out at home and had one double sided sheet of paper to scribble notes on.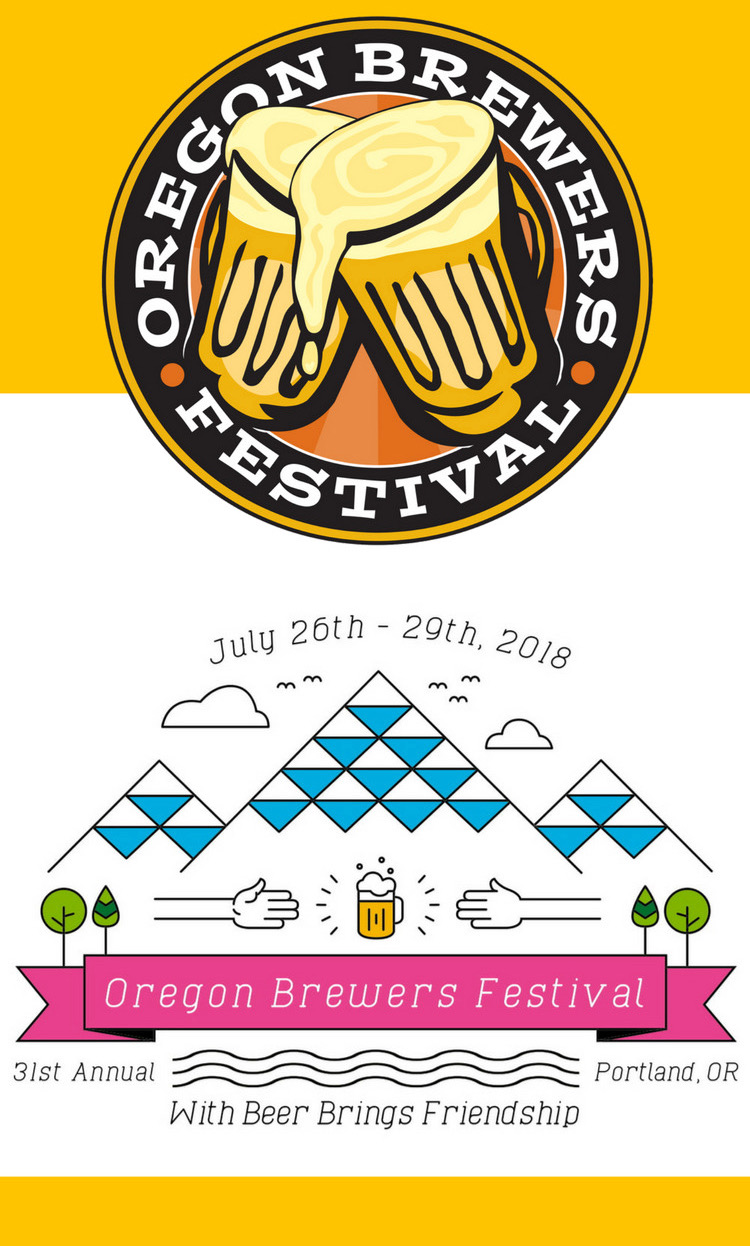 On to the beers pouring. The 31st edition of OBF has brought in five breweries from Baja California, Mexico. Look for beers by Agua Mala, Border Psycho, Insurgente, Transpeninsular, and Wendlandt as these Mexican beers will be pouring alongside the regular festival beers in Trailer 5 in the North Tent. It is great that organizers placed them all in the same trailer for easy sampling of beers seldom seen, if at all in Portland.
Yesterday we sampled through all five with 3-ounce pours and found the beers to be decent but just a bit tamed down comparing to its US counterparts. When we sampled the Perro del Mar from Wendlandt, this beer is described as a West Coast IPA. This beer is a very drinkable IPA but does not have the hop profile expected in this style of beer. But at a $1.00 a taste it's a beer worth sampling for sure!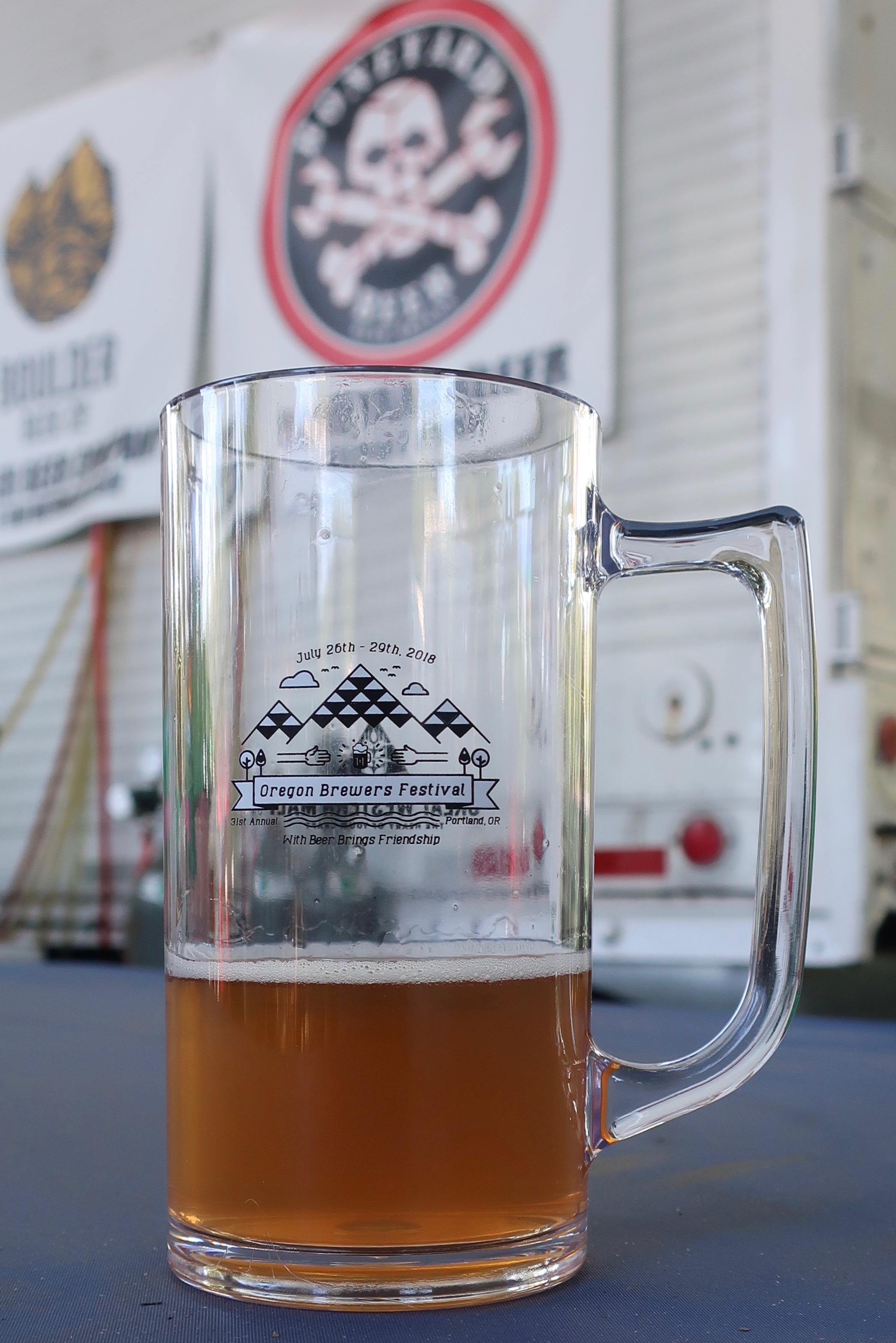 After sampling though many of the beers our favorite was from Boneyard Beer with its Pinot Pulp. On this beer Boneyard aged its Incredible Pulp Blood Orange Extra Pale Ale in Pinot Noir barrels for six months. But before aging it the brewers inoculated the beer with brettanomyces that gives this beer subtle dryness not expect in a hopped up Pale Ale.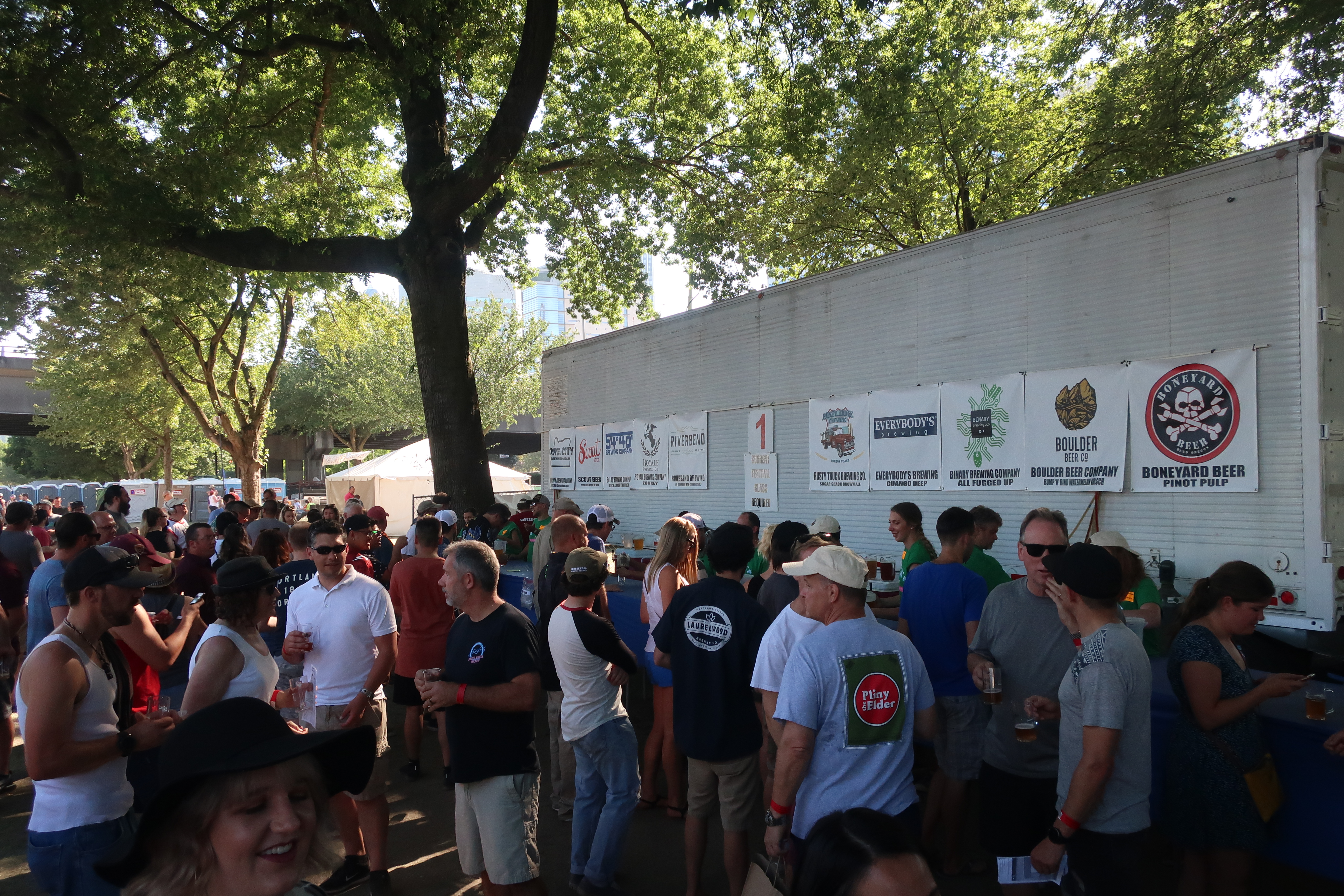 Other highlights included Green Tea Lemonade from Old Town Brewing, Long Acronym from GoodLife Brewing, Berliner Weisse from Upright Brewing, Rick & Mortmunder from 54° 40′ Brewing, Hugs and Flip Flops from Sunriver Brewing to name a few all located on the south end in Trailers 1-4.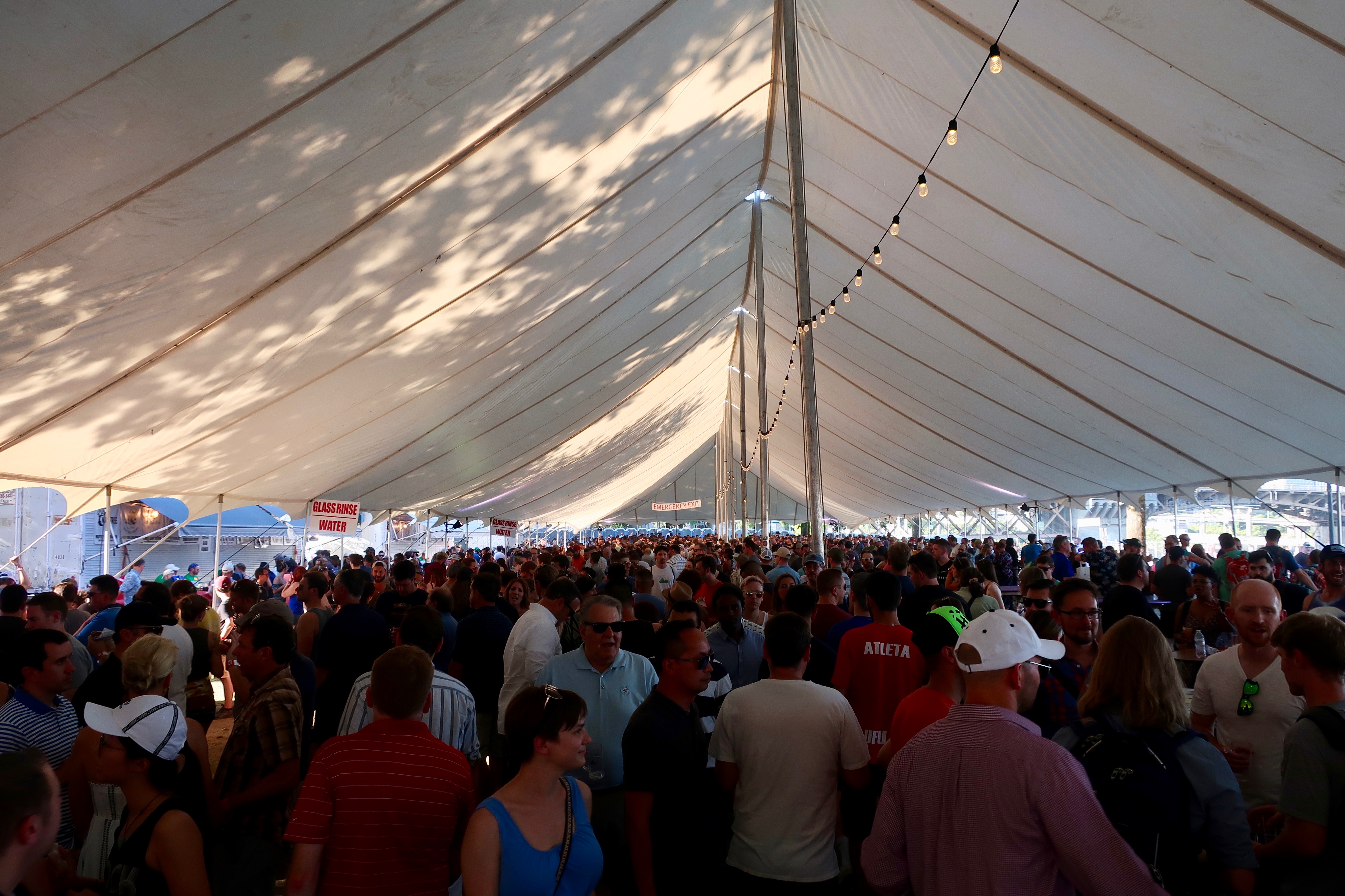 On the north end where we did not spend enough time but plan on hitting today we had a few standouts. A few include Bridge of the Gods from Perennial, Belgian Table from Maui Brewing, South of the Border Blonde from Vertigo Brewing, and Big Mountain Tea Pale Ale from Great Northern.
Here's a rundown on all 80 beers being poured at the 2018 Oregon Brewers Festival.
2018 Oregon Brewers Festival Brewery & Beer List:
54° 40′: Rick & Mortmunder (Dortmunder Lager)
Agua Mala: Sirena (Pilsner)
Anderson Valley: Framboise Rose Gose
Backwoods: Dreamsicle Kölsch
Bayern: Citra DumpTruck Summer Bock
Belching Beaver: Orange Vanilla Milkshake IPA
Binary: All Fugged Up (ESB)
Boneyard: Pinot Pulp (Blood Orange Extra Pale Ale w/Brett)
Border Psycho: Perversa (Imperial IPA)
Boulder: Bump 'n' Rind Watermelon Kölsch
Boundary Bay: Currantly Hip Sour (Black Currant Sour)
Breakside: Limon Pepino (Lime & Cucumber Lager)
Buoy: Beaver State Pilsner
Caldera: Caldera Coco-Nutty Blonde Ale (w/Coconut)
Cascade: Belmont Street Bramble (Rasp/Tangerine Sour)
Coin Toss: Caught in a Pickle Lager
Crooked Stave: Do You Even Zest?! (Imperial IPA)
Deschutes: Fruit Fight NE IPA
Double Mountain: Saison Ventoux (Saison with Fruit)
Ecliptic: Flamingo Planet Guava Blonde Ale
Everybody's: Guango Deep (Guava/Mango Hazy Imperial IPA)
Fort George: It Takes Two to Mango (Mango Hazy IPA)
Fortside: The Real Slim Hazy (Hazy IPA)
Freebridge: Summertime Radness (Rose Berliner Weisse)
Fremont: Limeshine (Pilsner)
Gigantic: Magnificent 527 (IPA)
Gilgamesh: CBD Pale Ale
Golden Valley: This Train is Bound for Hell (Smoked Helles)
GoodLife: Long Acronym (Brett India Pale Lager)
Great Divide: Heyday Modern (Hazy IPA)
Great Northern: Big Mountain Tea Pale Ale
Great Notion: Juice Jr. (Hazy IPA)
Heathen: Raspberry Rhubarb Sour Ale
Heretic: Goo (Imperial Milk Stout)
Hopworks: Completely Excellent (Hazy IPA)
Insurgente: Juan Cordero (Tijuana Pale Ale)
Iron Horse: Crazy Aunt IPA
Kells: Mezcal-a-Gose
Laurelwood: Waylay Sprite Pale Ale
Lompoc: It's Full of Stars (Pale Ale)
MadTree: Entropic Theory (IPA)
Maui: Belgian Table Beer
McMenamins: The Jester's Nightcap (Imperial Stout)
Melvin: Killer Bees (Blonde Ale)
Migration: Summertime in the 503 (Pale Ale)
Monkless: Peppercorn Imperial Wit
Natian: 1306 (Milkshake IPA)
New Holland: I Like Pretzel Day (BBA Pretzel Caramel Stout)
Ninkasi: Fruited Gose
Old Market Pub: Punchy Peach (Barrel Aged Wheat Ale)
Old Town: Green Tea Lemonade
Oproer: Refuse // Resist (Imperial IPA)
Oregon City: Guavador Dali (Pink Guava NE IPA)
Pelican: To Peach Their Own! (Lager)
Perennial: Bridge of the Gods (Grisette)
pFriem: Mango Milkshake IPA
Portland: Tart Me Up! (Berliner Weisse)
RiverBend: We Found Barb In The Strawberry Field (NE IPA)
Rogue: Pinch (Imperial Gose)
Royale: Zonkey (PNW Mexican Lager)
Rusty Truck: Sugar Shack Brown Ale
Sasquatch: American Aquarium Drinker (Gose)
Scout: Psycho Killer Qu'est-ce Que Saison (Black Saison)
Silver Falls: Wisp Raspberry Wheat
Silver Moon: Water on the Moon (Coffee IPA)
StormBreaker: Guava Man IPA (West Coast Hazy IPA)
Sunriver: Hugs and Flip Flops (Wheat Beer)
Terminal Gravity: Summer Honey (Strong Ale)
Three Creeks: Skol – Juniper Infused Norwegian Ale
Three Mugs: Passion Of The Honey (Honey Ale)
Thunder Island: Fuzzy Wit
Transpeninsular: Playitas Cali Pale Ale (IPA)
Upright: Berliner Weisse
Vertigo: South of the Border Blonde Ale
Von Ebert: Hibiscus Wit
Wendlandt: Perro del Mar (West Coast IPA)
Widmer: Lemonic Possession (Imperial IPA)
Wild Ride: Cold Chillin' Vanilla Cream Ale
Wolf Tree: Spruce Tip Gruit
Zoiglhaus: Elderberry Berliner Weisse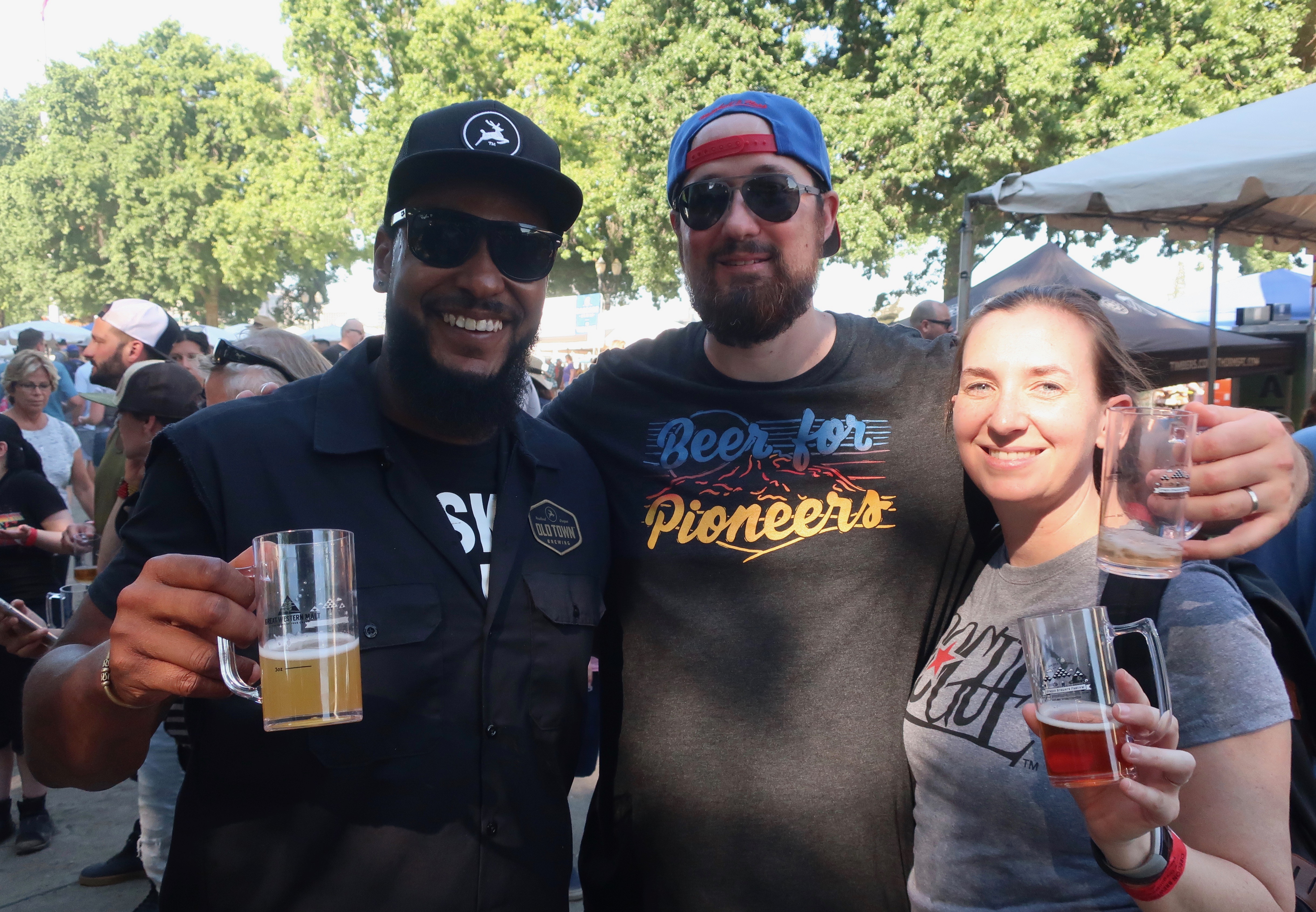 Entry into the Oregon Brewers Festival is free and is open to minors when accompanied by an adult. To enjoy any of the 80 beers one must purchase a festival mug for $7.00 and drink tokens for $1.00 each. One token allows for a 3 ounce pour and four tokens will give you a full mug.
The 2018 Oregon Brewers Festival continues through Sunday, July 29, 2018 opening each at Noon through 9:00pm on Friday and Saturday. OBF will close on Sunday at 7:00pm.