Aslan Brewing & Rainier Beer Collaborate on King of the Mountain Pilsner
|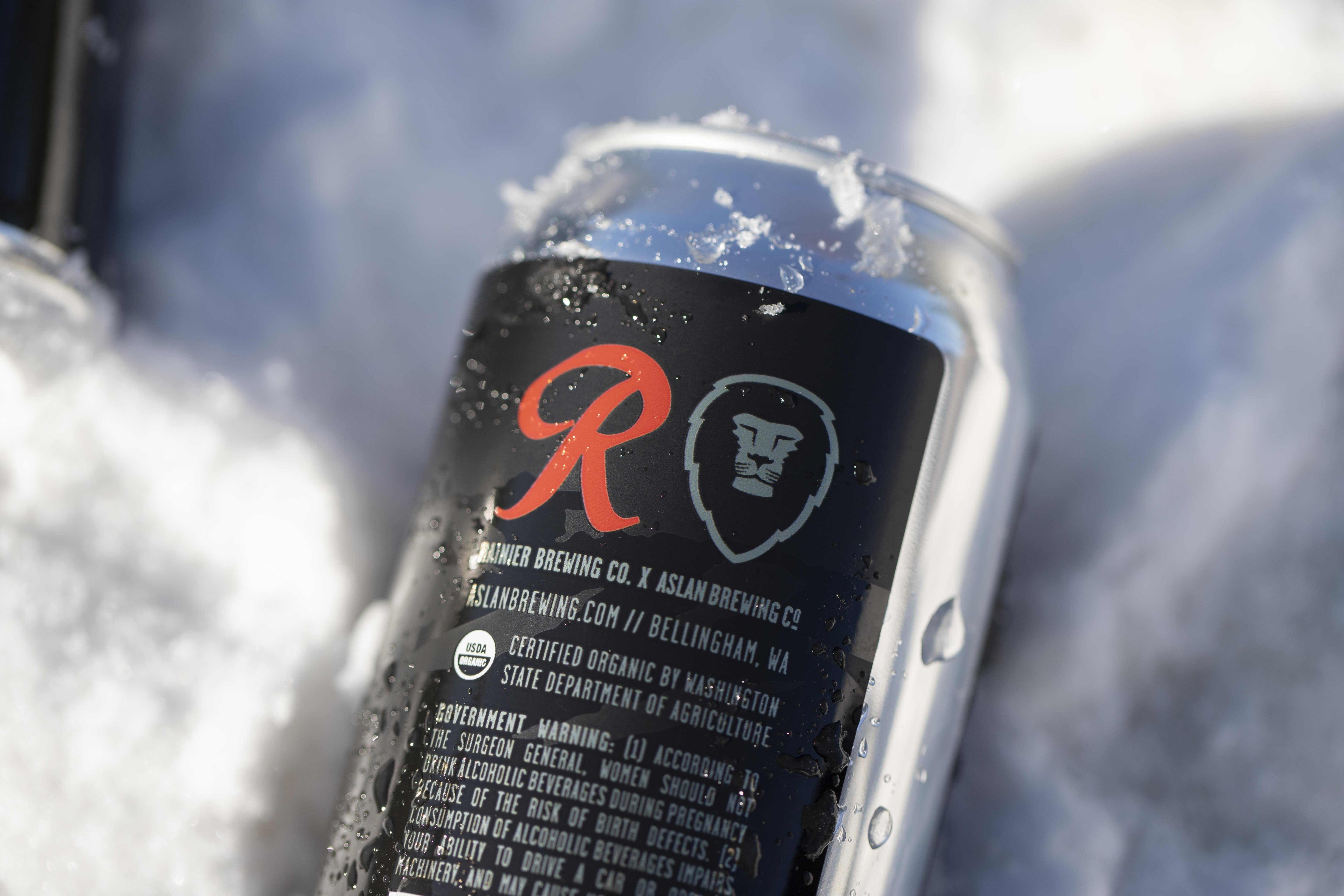 During the past few years, Rainier Brewing has partnered a few of Washington's finest craft breweries. Two years ago, it was with Reuben's Brews and last year was with Georgetown Brewing. Now the iconic Pacific Northwest associated brewery teams up with Aslan Brewing on King of the Mountain Pilsner that benefits Protect Our Winters.
The release for the new King of the Mountain Pilsner will take place this coming weekend during Mt. Baker Legendary Banked Slalom, now in its 33rd year held at Mt. Baker. The world-renowned LBS is the oldest single-venue snowboard competition in the world, bringing together hundreds of the world's top riders each year from all generations to compete head to head and reunite with the rest of the snowboard community.
On February 8th, King of the Mountain will be released to coincide with the opening day of Mt. Baker Ski Area's Legendary Banked Slalom, taking place from February 8-10. The name of the beer is a playful nod to the event itself as well as to the two partnering breweries. The Aslan logo is a lion (the king of the jungle), and Rainier Beer is named after the mountain. Plus the two breweries produced some fun videos that are reminiscent of the legendary Rainier Beer commercials from many years past.
"We are excited to partner with an up-and-coming brewery like Aslan," said Michael Scott, Brand Manager at Rainier Brewing Co. "We really appreciate that Aslan is not only making innovative beers but creating great pubs that bring people together and foster community, while having a lot of fun doing it."
The collaboration brew will be available throughout the weekend on Mt. Baker, at participating area bars, and at both Aslan locations in Bellingham (until supplies last). Five percent of the beer's total sales will go to support Protect Our Winters (POW), an organization of winter athletes and forward-thinking business leaders working toward systemic political solutions to climate change.
"We're extremely honored to be collaborating with Rainier and partnering with POW on this project. This is a great opportunity for us to raise funds and awareness for POW while bringing friends together to celebrate," said Boe Trosset, Co-Owner of Aslan in a statement. "Like many folks from the Pacific Northwest we grew up drinking Rainier, still do, and have fond memories of the commercials and brewing culture they helped develop. The truth is, we've had a Rainier neon bar sign in our brewery ever since it was a 5-gallon homebrew set up in my parents' basement."
The weekend-long celebration will culminate in a co-sponsored Wrap Party at Graham's Restaurant in Glacier, WA on Sunday February 10th from 6:00pm until late. The party is open to the public with live music and lots of Rainier and Aslan beer, including a chance to try King of the Mountain.
"We named the beer King of the Mountain in honor of LBS and as a fun nod to both our brands," said Scott in a statement. "We are stoked to share some fun content we created and to host a launch party at Graham's."
5% of all King of the Mountain draft, cans, and in-house sales will be donated to Protect Our Winters. "This is a great opportunity for us to raise significant funds and awareness for Protect Our Winters while bringing friends together to celebrate Pacific Northwest tradition, and not take ourselves too seriously," said Trosset in a statement. "We've had a lot of fun putting this together and hope everybody can enjoy it with us!"