Beer Church Hazy IPA To Raise Money For Crohn's & Colitis Foundation
|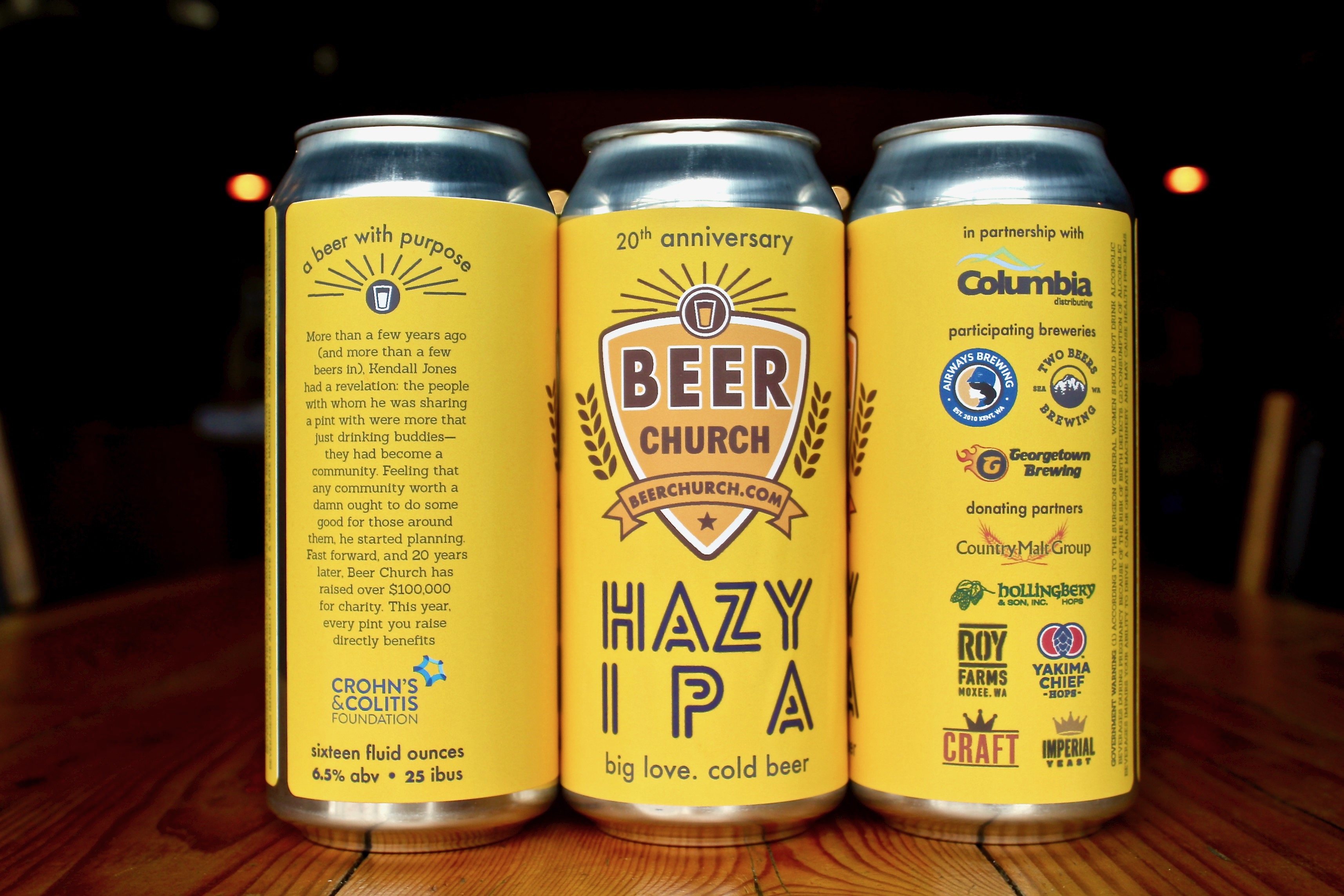 Once again beer assists to raise funds for local charities. In Seattle the 20-year-old charity, Beer Church, founded by Kendall Jones and Kim Sharpe Jones from the Washington Beer Blog is at it once again with a new collaboration beer that they helped facilitate. For 2018 the brought together three Seattle area breweries to brew a beer that will raise money for the Crohn's & Colitis Foundation.
On Saturday, November 17th, Beer Church will release its 2018 fundraising beer, Beer Church Hazy IPA a collaboration beer brewed by Airways Brewing, Georgetown Brewing, and Two Beers Brewing Co.. The release celebration is the Beer Church Turkey Bowl that will take place at West Seattle Bowl that benefits West Seattle Food Bank.
And for the first time in its 20 years, its annual fundraising beer will be available in 16 ounce cans!
Here are additional details on the new Beer Church Hazy IPA from the press release from Two Beers Brewing…
Beer Church Hazy IPA (6.5 % ABV, and 25 IBUs) is a collaboration beer from Airways Brewing, Georgetown Brewing, and Two Beers Brewing Co. that features Azacca, Comet, and Citra Cryo hops. Just 200 cases of this limited edition beer is being distributed to select Washington bottle shops. It is also available at the collaboration breweries' tasting rooms.
Kendall Jones and Kim Sharpe Jones, the folks who produce the Washington Beer Blog, operate Beer Church with the goal of uniting like-minded people (beer lovers) to benefit worthy causes. Over its 20-year history, Beer Church has raised well over $100,000 for numerous local nonprofits. This year, Beer Church aims to raise $10,000 through the sales of Beer Church Hazy IPA. Additionally, Columbia Distributing, the top Northwest beer distributor responsible for the distribution of beers from both Georgetown Brewing, and Two Beers Brewing Co., is matching the effort dollar-for-dollar, meaning the beer will raise $20,000 for the 20th anniversary of Beer Church.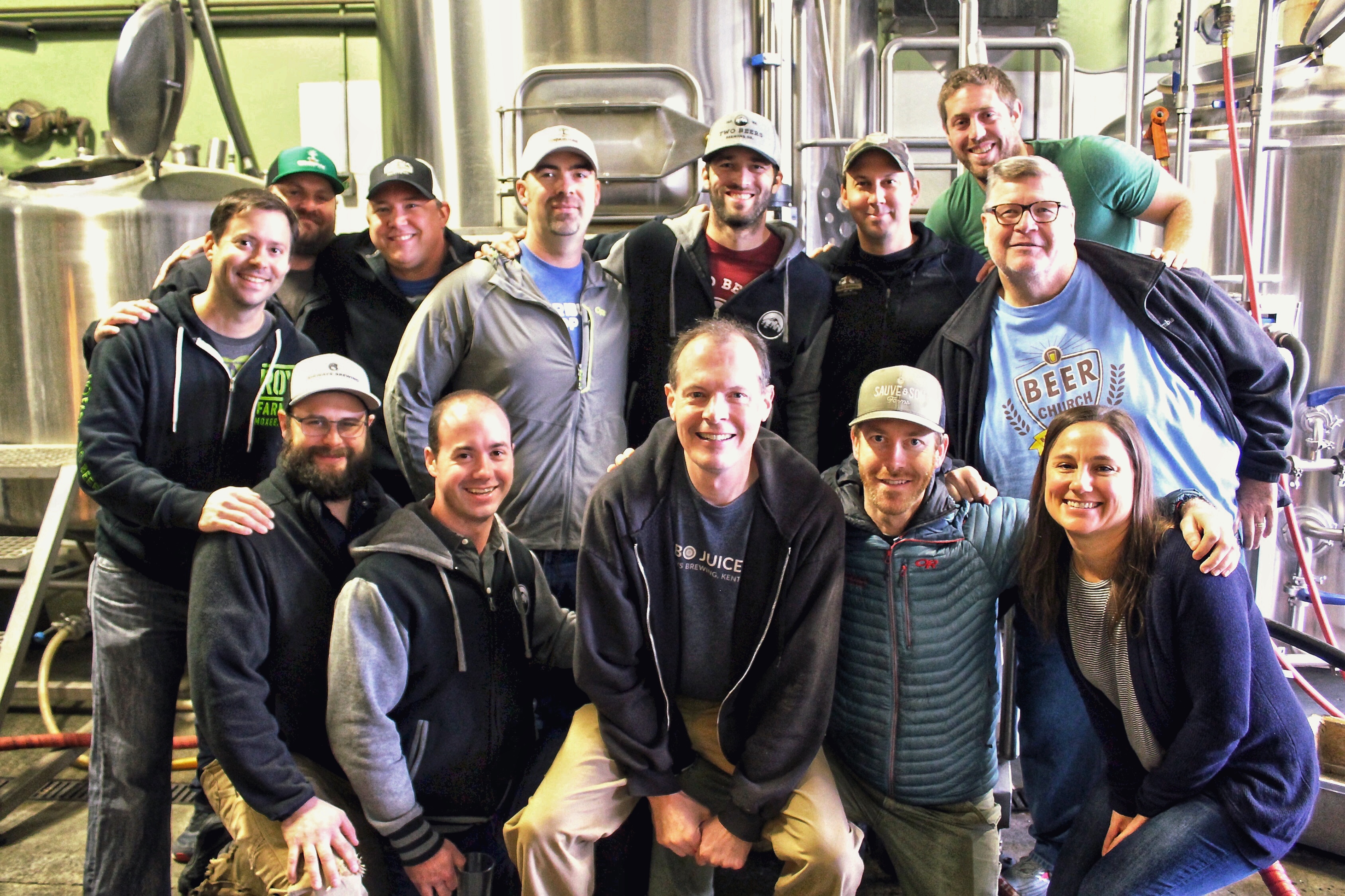 Proceeds from the sale of Beer Church Hazy IPA benefit the Crohn's & Colitis Foundation. "Community partnerships like these are essential to the Foundation," said Jennifer O'Connor, Regional Director of Crohn's & Colitis Foundation. "Crohn's disease and ulcerative colitis affect as many as 1.6 to 3.1 million Americans and are painful and chronic illnesses that can be very isolating. The dollars raised through Beer Church will help us bring more patient services to patients living here in the Northwest, while raising critical awareness for those who feel they are suffering alone."
"Since the beginning, Beer Church has been about community," said Kendall Jones, Beer Church founder. "Any community worth a damn ought to do some good for those around them. Compared to most industries, the beer industry operates with a real sense of comradery, and this year they really stepped up by donating resources, time, and money to produce this beer and support our efforts."
Generous donations from Country Malt Group, Craft Canning, Hollingbery & Son, Inc. Hops, Imperial Yeast, Roy Farms, and Yakima Chief Hops provided everything needed to produce this community fundraising beer, from the ingredients to the cans.
Whether you are interested in using beer to promote greater good, or if you are just a fan of delicious, hazy IPA's, or both, pick up a four pack of 2018 Beer Church Hazy IPA starting on November 17.