Laurelwood Brewing Presents 16th Annual Dine Out To Wipe Out Cancer
|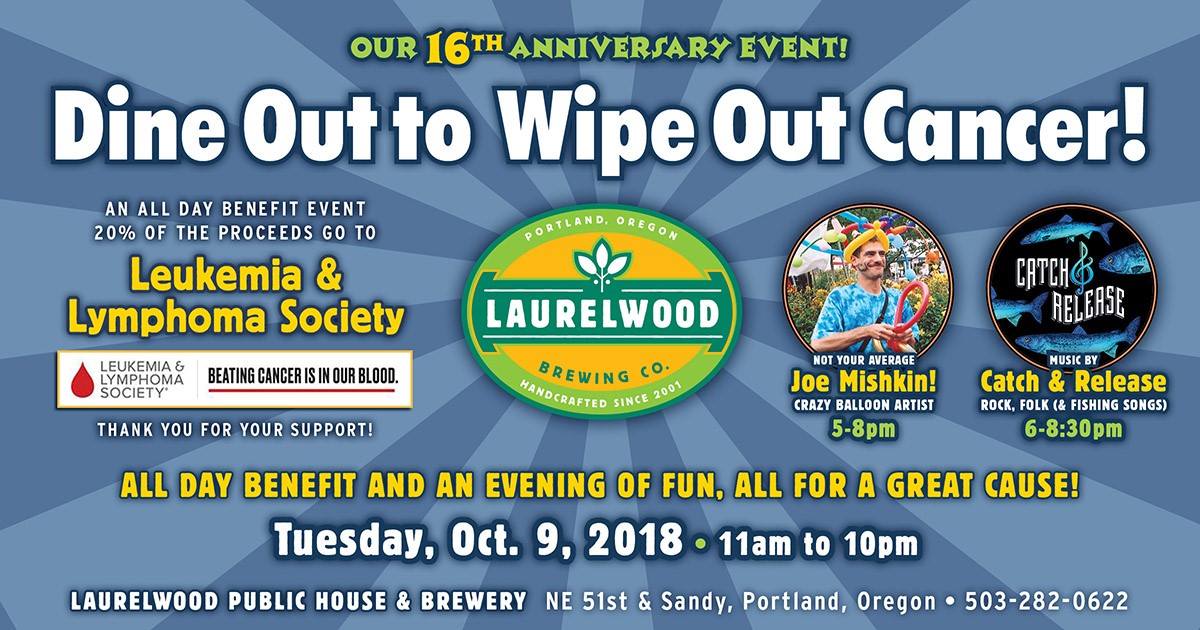 Portland, OR – For the past sixteen years Laurelwood Brewing has partnered with the Leukemia & Lymphoma Society to raise money for cancer research and provide support for patients and their families. This year's event marks the 16th anniversary of the fundraiser, scheduled for Tuesday, October 9 from 11 a.m. – 10 p.m. at Laurelwood's Northeast Portland location at 5115 NE Sandy Blvd.
Twenty percent of the day's proceeds will benefit The Leukemia & Lymphoma Society local chapter to help patients and families impacted by cancer. Over $35,000 has been generated by this partnership over the years. Event organizer and volunteer advocate Tam Driscoll said, "Laurelwood is partnering with The Leukemia & Lymphoma Society (LLS) to help push the dial to a cure. In the last 18 months, an incredible 25 new cancer treatments received FDA approval-20 of them LLS-funded. This remarkable progress is made possible by donations received from events like this."
The event offers an opportunity for the community to gather in support of a disease that impacts millions of Americans each year. There will be great food and fun for all. Balloon artist Joe Mishkin kicks off at 5 p.m. and local band Catch & Release will perform at 6 pm. Executive Director of the Leukemia & Lymphoma Society, Stephanie Carlson added, "The Leukemia & Lymphoma Society would not be able to make an impact without the support from businesses like Laurelwood. Their dedication to hosting the Dine Out to Wipe Out Cancer for 16 years has enabled LLS to fund local cancer research projects, provide co-pay assistance to local blood cancer patients and educate the community."
Join Laurelwood and The Leukemia & Lymphoma Society on Tuesday, October 9 at their NE Portland location for either lunch, dinner or a cold one from 11 a.m. until 10 p.m. Dine out at Laurelwood and help take a bite out of cancer!
About Laurelwood Brewing Co.:
Laurelwood is a family owned brewery that creates one of the most recognized regional craft beers. Owners Mike De Kalb & Cathy Woo-De Kalb are dedicated to sustainable practices, and first began producing beer in 2001. Laurelwood's product line is known for its creativity and quality therefore winning many national and international beer awards. Laurelwood's handcrafted beers can be found on draft and in cans throughout Oregon and SW Washington. To find out more about Laurelwood Brewing Company go online at www.laurelwoodbrewpub.com.
About The Leukemia & Lymphoma Society:
The Leukemia & Lymphoma Society, a 501c charitable organization, founded in 1949, is the world's largest voluntary health organization dedicated to fighting blood cancer. The LLS is: Cure leukemia, lymphoma, Hodgkin's disease and myeloma, and improve the quality of life of patients and their families. LLS funds blood cancer research around the world, provides free information and support services and is the voice for all blood cancer patients seeking access to quality, affordable, coordinated care. For more information, visit: www.lls.org