An Interview With Rogue Ales' John Maier On His 20,000 Batch of Beer
|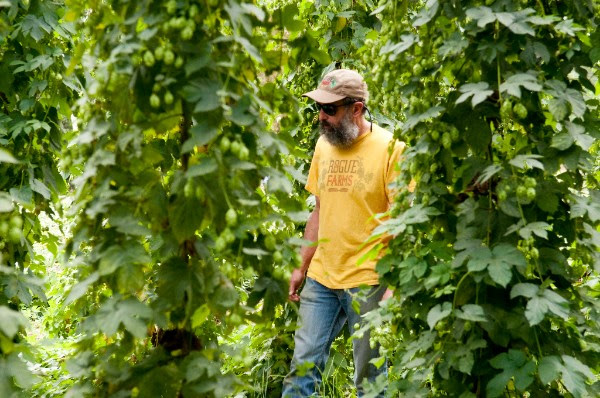 On August 18, 2016, John Maier the longtime brewmaster at Rogue Ales brewed is 20,000 batch of Rogue beer with the aptly named 20,000 Brews by the Sea. This batch has been a longtime coming since his arrival in Newport, Oregon in May of 1989 when Jack Joyce hired him that would allow him to return to his home state. It was in Newport where John brewed the first beer in Rogue's new brewery as it moved to the coast from its original home in Ashland, Oregon.
Now 27 years and 20,000 beers brewed later, Rogue is set to release 20,000 Brews by the Sea on Friday, November 18th. The formal release for 20,000 Brews by the Sea will be Newport with John "More Hops" Maier in attendance. It'll also be released at its Rogue Halls and Green Dragon in Portland. 20,000 Brews by the Sea will also see a very limited run of bottles that will only be sold at any of the Rogue Meeting Halls.
When it comes to the ingredients used in brewing 20,000 Brews by the Sea, John Maier did not go small. The beer comes up 20 as it used 20 varieties of hops, 20 specialty malts, brewed to 20 degrees plato, was bottle conditioned for 20 days and says to have a 20 year shelf life!
"20,000 brews by one Brewmaster is an unprecedented achievement in the craft beer world and all of us in the Rogue family are amazed by John's dedication, passion, work ethic, skill, creativity, and all around awesomeness," said Rogue President Brett Joyce in a release.
"This is a monumental brew in my career and I'm going to have a blast making it," prosted John the morning before he began to make 20,000 Brews by the Sea.
Prior to joining Rogue Ales in 1989, John graduated from the Siebel Institute in 1986, named National Homebrewer of the Year in 1988 for his Old Crustacean Barleywine recipe, and received the Brewers' Association inaugural Russell Scherer Award in 1997. It was also during this time that he worked at Alaskan Brewery where he created the brewery's highly lauded Smoked Porter.
We recently had the opportunity to speak with John for an interview that covers his brewing career and what led him to come up with the recipe for his 20,000-batch beer for Rogue Ales. We also learn about two of his brewing heroes, Ken Grossman and Fritz Maytag.
Congratulations on brewing your 20,000 batch of beer at Rogue. How did you decide on what special beer you would commemorate this occasion with?
I just took an idea for the 20,000 beer and came up with a theme with 20's. I came up with the initial framework of the 20 malts, 20 hops and 20 degree plato and stuck with that theme. We also did a unique process where we did a double mash but on the first mash we ran that wort back into the mashtun. A few days prior we hand milled 4200 pounds of grain and put it in bags and we got everyone involved to hand load the second mash into the mashtun that had the wort already in there. So it was mashed in with wort instead of water! It was a crazy idea but worked out great. We got everyone involved even folks from the office and we all worked like a bucket brigade up the ladder.
Did Brett Joyce help out too?
Oh yeah, Brett was there the whole time. We did the same process with the hops. We did 20 varieties and multiple hopping throughout the boil. That was really cool. And we nailed the target gravity perfectly and it will stay in the tanks for about two months.
The release for 20,000 Brews by the Sea is set for November 18th at the Rogue Halls. What should we expect?
We did some bottling, not sure on the exact quantity but we are doing some bottle conditioning on that. So it'll be 20 years age potential.
You began your career at Rogue in May of 1989, what made you decide to take a job at a brewery on the Oregon Coast?
I grew up outside of Portland on the westside in the Beaverton area in the 60's. A friend of mine, well his grandparents had property just south of here (Newport). So he invited me on the weekends to fish around the area. The Oregon Coast was a real special place. Any opportunity to get back to Oregon I'd take it.
I was brewing up at the Alaska Brewing from '87 to '89. That's when Jack (Joyce) got a hold of me through a mutual distributor friend we had and he said he was going to open up this brewery asked if I knew anybody. He gave him my name and Jack called up and I flew down here on a weekend. Went down to Ashland to the original site, which Rogue had for a long time and then we drove up here and on the bayfront and there was some equipment in the back room there. And he then offered me a job and I said of yeah, of course! So any chance to get back to the Oregon Coast I'd jump on it.
What was the first beer you brewed for Rogue?
Yeah. I moved down along the Alaskan Marine Highway and when I drove down I parked my car, or my truck I had and parked along the bayfront. I didn't know Newport at all and walked into the brewery and the original brewer, Jack, and one of the other original investors was pulling the mash on Brew #1. And that was Oregon Golden Ale. Yeah, brew #1 in May of '89.
What size was the brewhouse then?
It was a 15-barrel brewhouse. So we have gone from a 15 to a 30 to a 50 and now a 100.
Over the years what is your favorite beer that you have brewed while at Rogue?
One that I like to make that is not in our regular rotation is the winter ale we make called Mogul Madness. Goes way back to the early '90's. It would get mothballed and come back, then mothballed again. So I make it for the pubs, every other year or so often.
We are getting a 5-barrel pilot system here in the coming months. So we can bring a lot of beers out of the old archives. We can supply the pubs with this. Makes it real easy.
Are there any brewers that inspire you? If so which ones have done so?
Well going way back Ken Grossman for what he's done. One guy that's not in the business anymore is Fritz Maytag. Just the way he revived that brewery brining it back from the dead and did what he did. Those are a couple of guys, the top two guys that were early in my career when I was homebrewing. I looked up to them. And with Ken anything he does is all about the beer.
Anything new in the pipeline coming from Rogue?
We came out with Rolling Thunder. This is our aged beer in our in house made barrels. We have so much going on. Sometimes its hard to keep up with everything.
Look for 20,000 Brews by the Sea at all Rogue Meeting Halls on draft and in a very limited run of 22 oz. bottles beginning at 5:00pm on Friday, November 18th.