The Beer Here: Rosenstadt Oktoberfest and Fresh Hops Everywhere – Beer Events for the week of September 20, 2018
|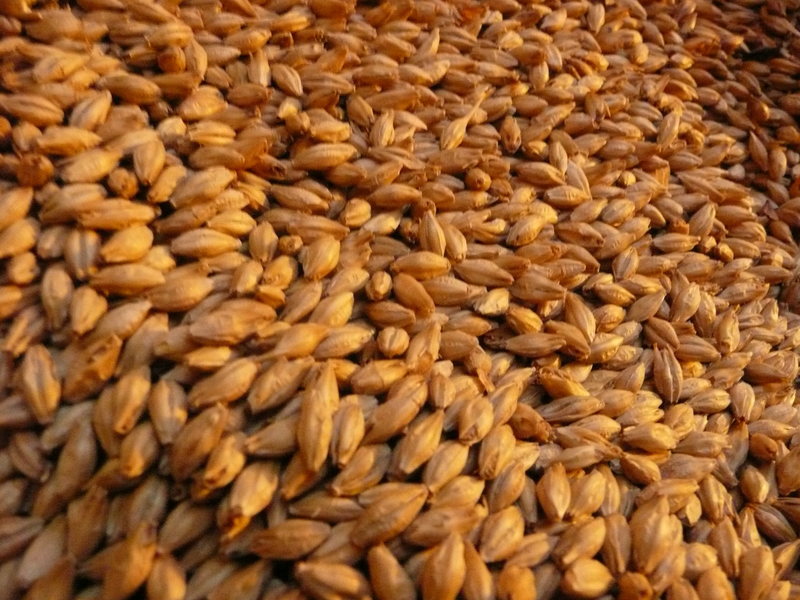 Talk about aged beer: Atlas Obscura reports that archaeologists have found evidence of beer brewed nearly 14,000 years ago (I swear I've had a pint of this, but maybe that was just an old flat keg at one of those 150-beers-on-tap pubs…)
An international team of researchers, led by Stanford University archaeologist Li Liu, analyzed stone mortars found in Raqefet Cave in present-day Israel, a site used for burials by the people of the Natufian culture. The team was trying to use microscopic residues for insight into which plants the Natufians consumed in their mortuary rituals, Liu said in a release. They found phytoliths—tiny silica particles from plant tissues—and remains of starches that appeared to be related to the transformation of wheat and barley into alcohol. Read the whole story here:
Portland Beer Week Fresh Hop Pop-Up
11:30 am-9 pm Thursday Sept. 20 -Sunday Sept. 23, Burnside Brewing, 701 E. Burnside St.; free admission.
Get 'em while they're fresh is the abiding principle of the upcoming fresh-hop beer season and the Fresh Hop Pop-Up Beer Fest is the place to do it. In order to best showcase the green, oily, lupulin-filled fresh hop beers that are only made once a season and unique to the pacific northwest, the Fresh Hop Pop-Up takes place early as the beers are first being released. The event continues Wednesday-Sunday in a temporary covered outdoor beer garden featuring ten rotating taps of only fresh hop beer, an outdoor fire pit, boombox and Oktoberfest-style food specials with no cover charge and $5 beers with $3 half pours with $13 growler fills to-go on Sundays.
Fri. Washington Beer Night: Features beers from Cloudburst Brewing, Reubens Brews, Matchless and Three Magnets.
Sat. North Bank Brewers Night: Grains of Wrath, Trap Door Brewing and Loowit Brewing
Sun. Kill the Keg $13 Growler Fills. Help them kill the leftover partial fresh kegs, bring your growlers to fill for only $13 1130am-6pm
Fresh Hop Fridays
Each Friday in September, Uptown Market, 6620 SW Scholls Ferry Rd., Beaverton;
Uptown Market plans to have a new roster of fresh hop beers each Friday in September.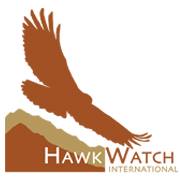 Dine Out Night at Migration Brewing
5-9 pm Friday Sept. 21, Migration Brewing Company, 18188 NE Wilkes Rd.;
Join HawkWatch International and Migration Brewing Friday at the new Gresham location for beers, birds, and food. HawkWatch will have a live raptor on hand for you to meet up close and Migration will be donating 10% of all sales to support raptor migration research. Learn more here…
On Saturday, HawkWatch International, the USFS Mt Hood National Forest and Portland Audubon celebrate International Hawk Migration Week during the 2nd annual Bonney Butte Hawk Migration Festival at the Mt Hood Cultural Center & Museum, 10 am – 4 pm. This is a free, family-friendly event with live raptors, vendor booths, and educational programs and activities.
Hood River Hops Fest
Noon-8 pm, Saturday Sept. 22, Columbia Lot, 5th and Columbia, downtown Hood River; $20 day-of includes entry, commemorative glass and five taste tokens; all ages until 5 pm.
Hood River Hops Fest is an annual celebration of beer's bitter friend, freshly harvested hops. Hood River County is surrounded by world-renowned hop growing regions, and since 2003 brewers have gathered each September in downtown Hood River to share their fresh-hop beer creations. The family-friendly event features more than 40 breweries with more than 60 fresh-hop beers, plus a variety of food vendors, live music and a collectable mug.
2018 Strong Scotch Ale and Fearless Oktoberfest Release
Saturday, Sept. 22, Fearless Brewing, downtown Estacada;
Brewer Ken Johnson's Strong Scotch Ale has been a favorite for the past 15 years and the 2018 batch looks like it is going to be especially good. Plus, for the first time, he's brewed an Oktoberfest and says it has all the signs of turning out to be an outstanding beer, which — knowing his skill as a brewer and affinity for malty beers, I'm sure is the case. Live music by The Mossy Rock Ramblers starting at 5:30 pm.
Olympia Provisions/Rosenstadt Oktoberfest
Noon-10 pm, Saturday Sept. 22, Olympia Provisions Public House Eatery, 3384 SE Division St.; $20 buys beer stein and first pour.
Celebrate the official opening day of the world's biggest beer festival — Munich's Oktoberfest, right here in Portland…you won't likely be rubbing elbows and beer steins with nearly a million beer fans, but you WILL find great German style beers from Rosenstadt and enjoy and authentically Oktoberfest menu from Olympic Provisions.
Here's what the press release has to say: The celebration will highlight German favorites from the menu including bratwursts, frankfurters and hand-rolled pretzels, as well a massive skillet of Choucroute Garnie which will be portioned and charged by the pound. The Rosenstadt Brewers are kicking off the day with an official "Anstich" (ceremonial tapping) of the 2018 Rosenstadt Festbier: a malt forward rich beer with aromas of almonds, fresh bread, golden raisins, and dried fruit balanced with spicy, floral noble hops. The patio at Olympia Provisions Public House will be a classic tented biergarten with rows of tables for friends and families to join in the celebration. The festival will have a costume contest to find the best Lederhosen in Oregon, a Hammerschlagen ("Striking Hammer"), and a Stein Holding Tournament. MENU OFFERINGS:
Oktoberfest Features
Hand-rolled pretzels
Grilled Frankfurters or Bratwurst
Choucroute Garnie
Festbier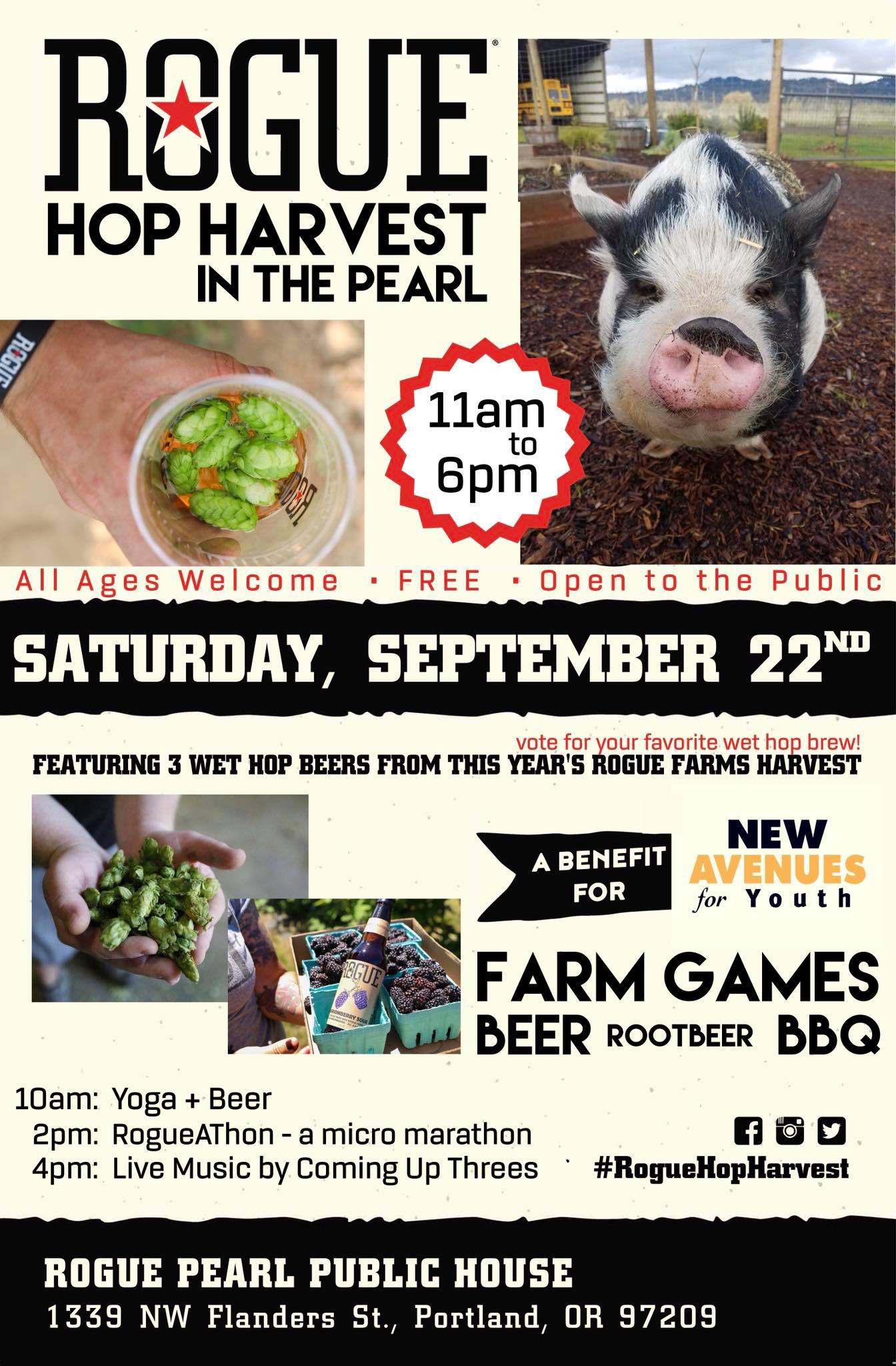 Hops in the Pearl
11 am Saturday Sept. 22, Rogue Pearl Public House, 1339 NW Flanders St.;
The Rogues are excited about the hop crop this year and they'll tap some freshly harvested beers –three wet hop ales made by our Innovation Brewers, including one by our legendary Brewmaster John Maier, and you get to vote for the best. Also: farm games, food specials and live tunes by Coming Up Threes starting at 4 pm.
SOLVE benefit
11 am – 10 pm Sunday Sept. 23, Ecliptic Brewing, 825 N, Cook St.;
Eat, drink, AND support a great cause — SOLVE, whose goal is to bring Oregonians together to protect and preserve the places that make up our uniquely beautiful home. 10 percent of the day's pub proceeds will go to help continue litter cleanup efforts in the Eliot neighborhood and Portland Metro area.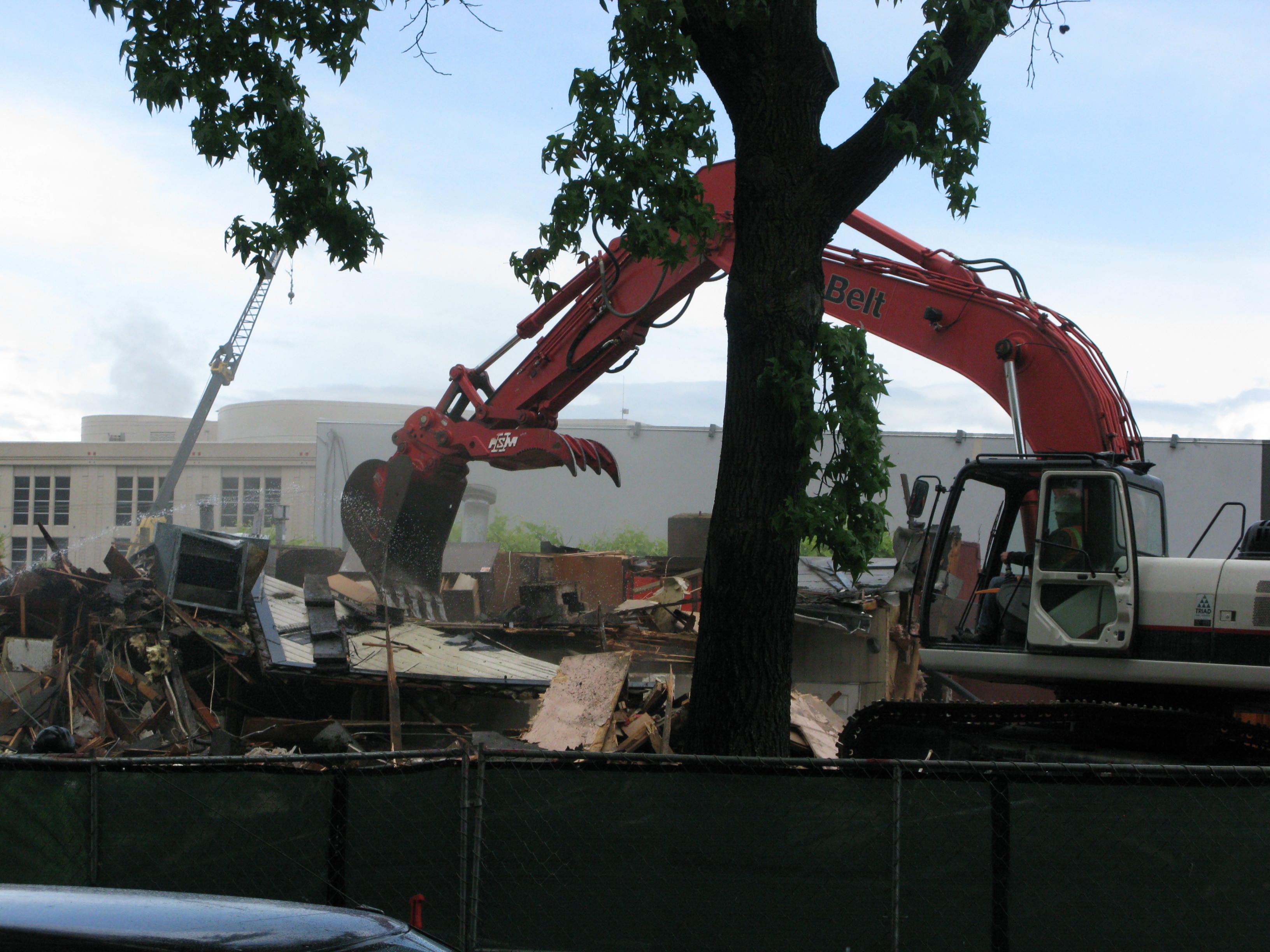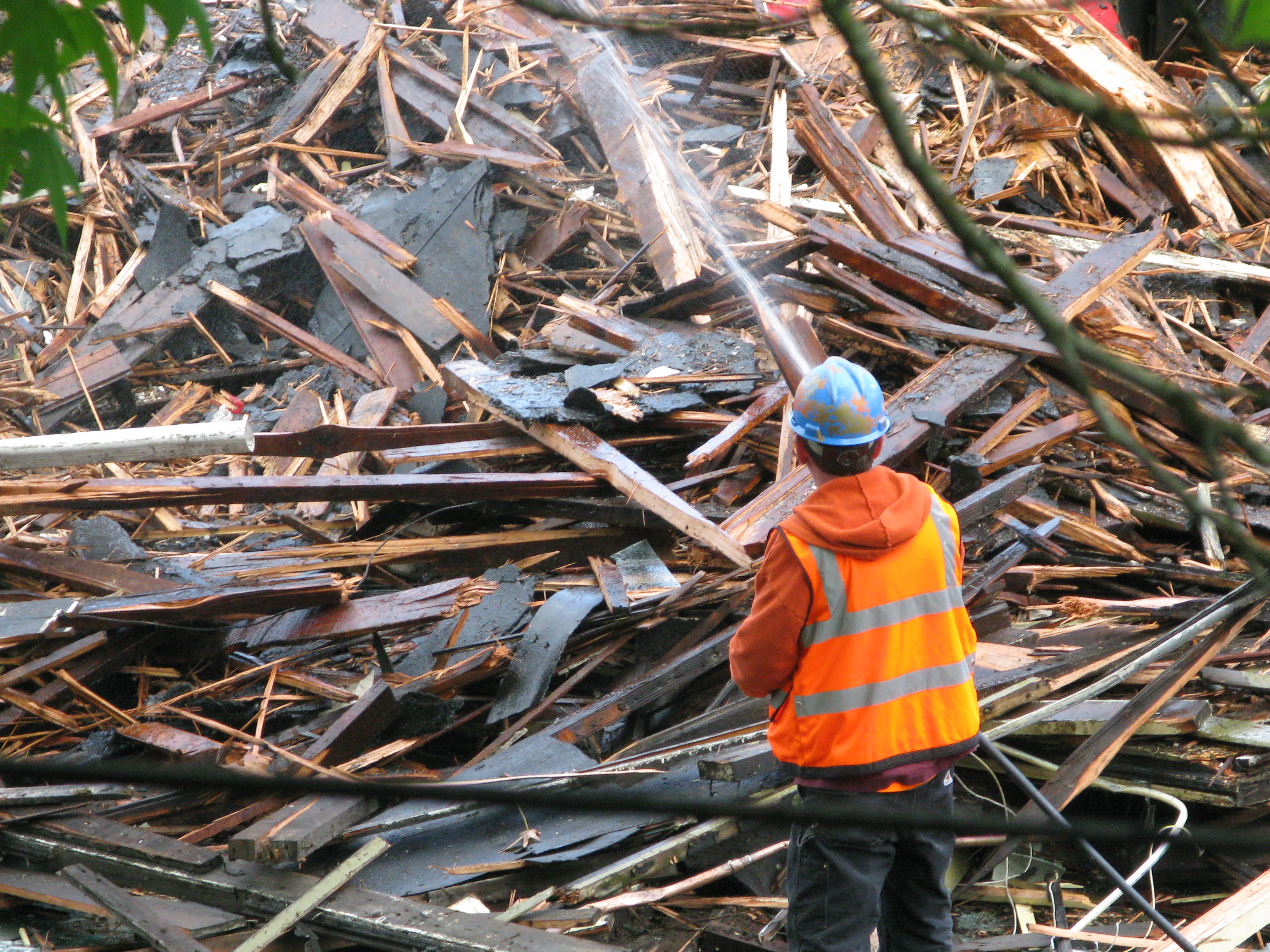 Last Call at Lompoc Tavern
Wednesday, Sept. 26, Lompoc Tavern, 1620 NW 23rd Ave.
The Old Lompoc Tavern opened in 1993, and began producing handcrafted ales and lagers in 1996 under the direction of Fechter. The business was purchased by Fechter and Don Younger in May 2000 and renamed the New Old Lompoc. In 2012, the building was sold and razed, making way for a multi-use building with retail on the first floor and apartment units above. The new building opened one year later with a new address of 1620 NW 23rd Ave. and Lompoc Brewing re-established its ties to the neighborhood. The lease is being taken over by Tap & Table, which currently has a location on SE Ankeny St. Lompoc owner Jerry Fechter says the move — along with the closure last year of Lompoc Hedge House, now the Little Beast tasting room on Southeast Hawthorne Boulevard — will allow he and his crew to concentrate on the three remaining Lompoc locations: Lompoc Fifth Quadrant and brewery; Lompoc SideBar; and the Oaks Bottom Pub.