Top 50 U.S. Brewing Companies by Sales Volume for 2020
|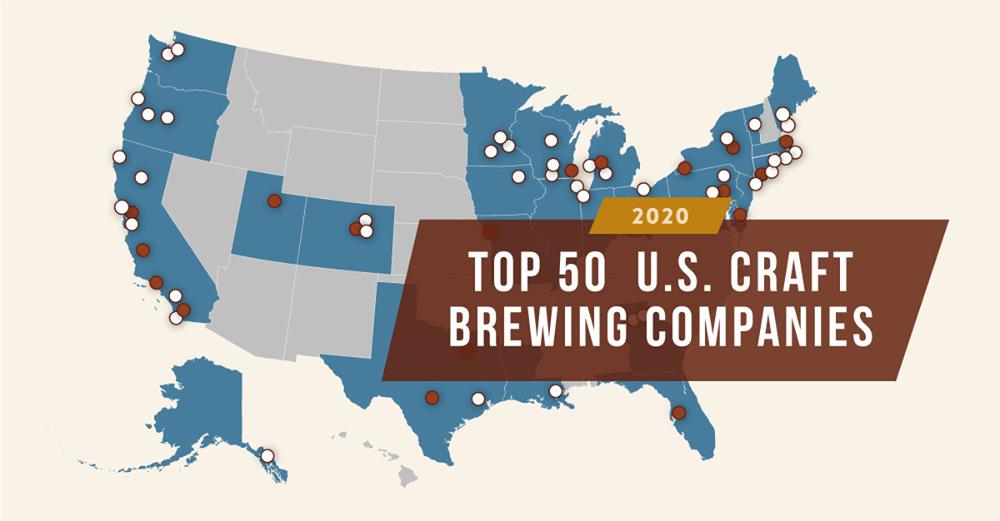 The Brewers Association (BA) released its annual list of the top 50 producing craft brewing companies and overall brewing companies in the U.S., based on beer sales volume. According to the BA, 40 of the top 50 overall brewing companies were small and independent craft brewing companies.1
This past year has seen a massive upheaval in the way and the channel that beer is sold through. Due to the pandemic, draft business pretty much came to a halt and those breweries that were already in package and in strong grocery channels for the most part did well. Those that didn't transition took a dip in sales volume.
"The COVID-19 pandemic drastically changed where Americans purchased alcohol in 2020," said Bart Watson, chief economist, Brewers Association, in a statement. "Breweries who had established packaging and distribution capacity were best positioned to take advantage of the boom in off-premise sales and weather market uncertainty. These businesses also saw variation in performance based on geography and business model, with different parts of the country seeing very different beer trends, and draught-heavy breweries suffering."
Regionally here in the Pacific Northwest, six breweries made the list of the top 50 U.S. craft brewing companies and five of them were also in the list of the top 50 overall U.S. brewing companies. Deschutes Brewery led the PNW breweries falling in at #10 in U.S. craft brewing companies. Also joining Deschutes on this list is Alaskan Brewing #26; Georgetown Brewing #28; Ninkasi Brewing #33; Rogue Ales & Spirits #37; and Fremont Brewing #45.
On the top 50 overall U.S. brewing companies, Deschutes Brewery led PNW ranking #19; followed by Alaskan Brewing #35; Georgetown Brewing #37; Ninkasi Brewing #42; and Rogue Ales #46.
Also of note, Modern Times Beer that has a small footprint here in Portland but has its home base in San Diego came in at #40 in U.S. craft and took the final spot at #50 in overall U.S. brewing companies.
Top 50 U.S. Craft Brewing Companies
Top 50 Overall U.S. Brewing Companies
Looking back ten years ago at the same list there are a few PNW breweries still hanging around while a few others have fallen off. Back in 2011, Deschutes Brewery ranked #5 in U.S. craft and #11 in overall U.S. brewing companies. Rogue Ales arrived in at #25 and #35 respectively while Ninkasi Brewing cracked the list arriving at #50 in the U.S. craft top 50.
Missing from the list today that was part of the list one decade ago is Full Sail Brewing. Ten years ago the Hood River based brewer was ranked #18 in U.S. craft and #27 overall. Also in 201, the now shuttered BridgePort Brewing ranked #34 and #46 respectively. Up in Washington State ten years ago, Mac & Jack's Brewery reached the #41 spot on the top U.S. craft brewing companies list. Its interesting to look over the list from one decade ago and its easy to do so in the link below.
A comprehensive State of the Industry report will be presented via online webinar on April 8, 2021.
The Brewers Association's full 2020 industry analysis, which shows regional trends and sales by individual breweries, will be published in the May/June issue of The New Brewer®, available in May 2021.
1 FIGURE BASED ON COMPANIES THAT MET THE CRAFT BREWER DEFINITION FOR ALL OR PART OF 2020. AN AMERICAN CRAFT BREWER IS A SMALL AND INDEPENDENT BREWER. SMALL: ANNUAL PRODUCTION OF 6 MILLION BARRELS OF BEER OR LESS (APPROXIMATELY 3 PERCENT OF U.S. ANNUAL SALES). BEER PRODUCTION IS ATTRIBUTED TO THE RULES OF ALTERNATING PROPRIETORSHIPS. INDEPENDENT: LESS THAN 25 PERCENT OF THE CRAFT BREWERY IS OWNED OR CONTROLLED (OR EQUIVALENT ECONOMIC INTEREST) BY AN ALCOHOLIC BEVERAGE INDUSTRY MEMBER THAT IS NOT ITSELF A CRAFT BREWER. BREWER: HAS A TTB BREWER'S NOTICE AND MAKES BEER.
View a list of brands included under the companies in the overall brewing category.