BREWPUBLIC's Beer Lover's 2020 Holiday Gift Guide
|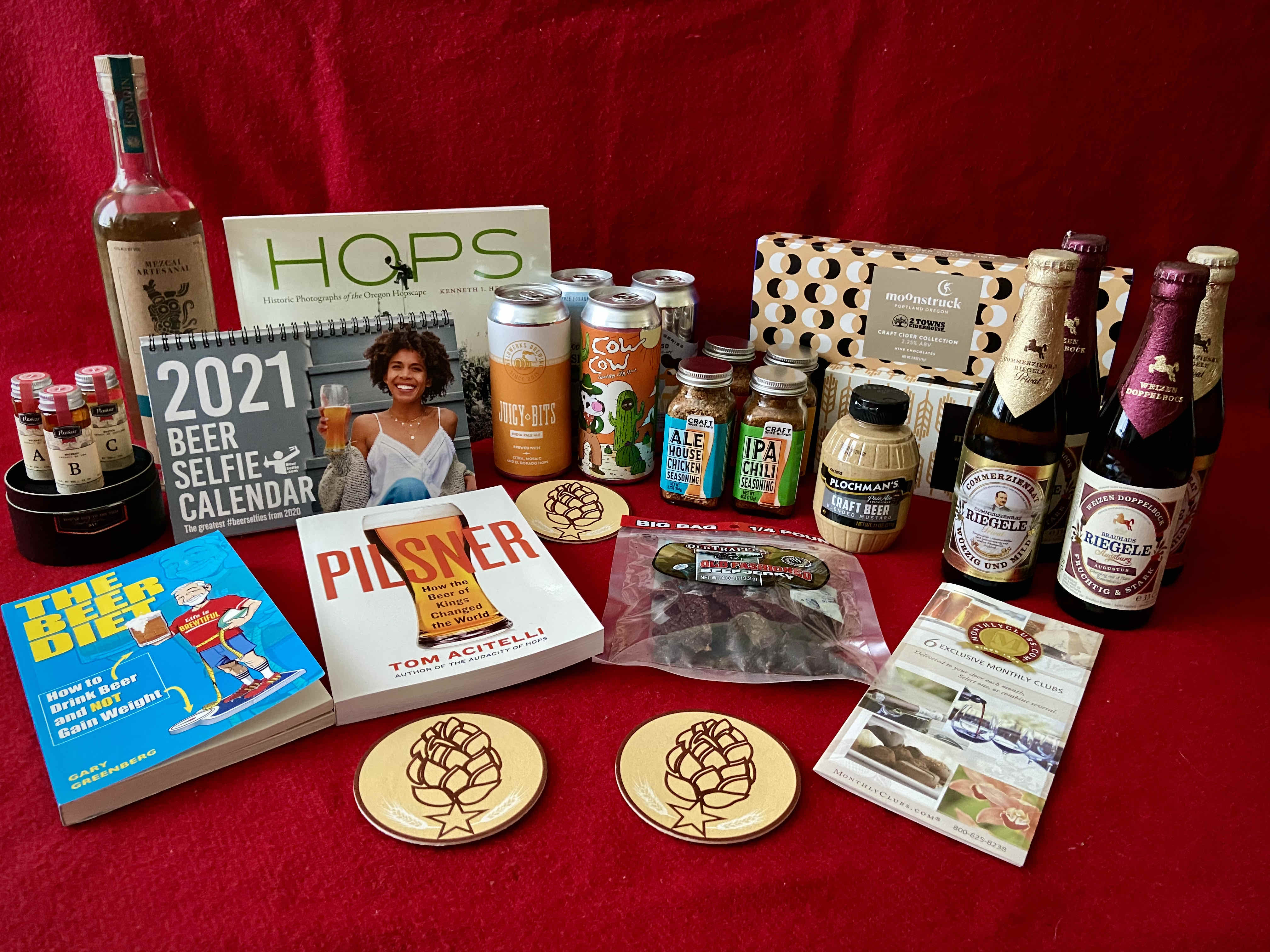 What a crazy year 2020 has been and it now all culminates with the holiday season ahead. If you haven't completed your holiday shopping and are looking for a great gift for a loved one that enjoys an adult beverage or two, we have curated a list of interesting and unique beery items that are sure to delight a beer aficionado on your list.
For our Beer Lover's 2020 Holiday Gift Guide we take a look at over a dozen gifts that range from beer delivered right to your door, beer snacks, grilling spices, beer books, festive spirits and much, much more…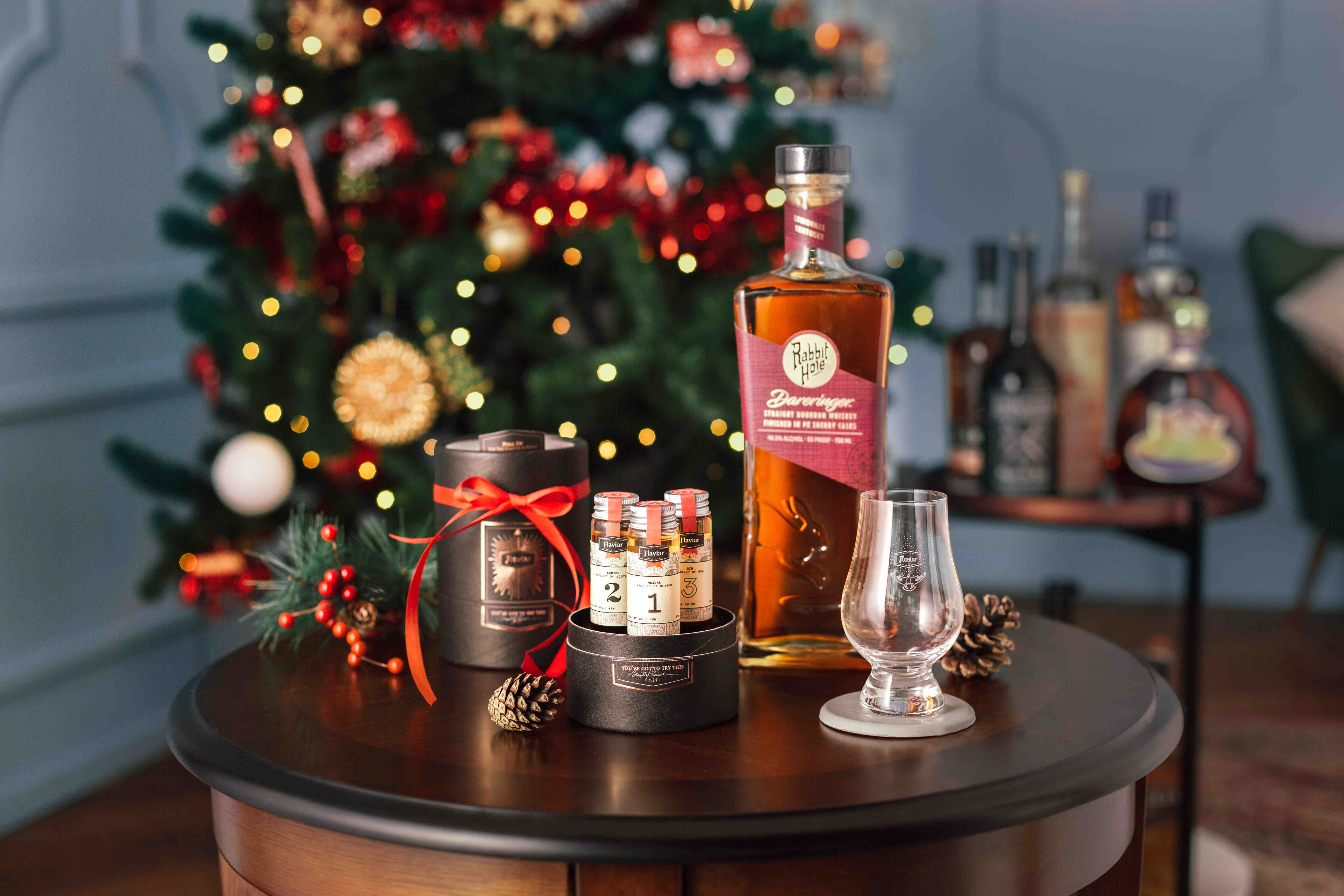 Flaviar
One spirits club that has been gaining traction as of late is Flaviar. Founded in 2012, Flaviar is a spirits club that offers a unique way to experience the world of spirits with quarterly or yearly memberships that delivers fine liquor from around the world to your doorstep. Flaviar helps its members discover and learn about their flavor preferences by introducing them to a host of exciting producers with a special focus on craft players, boutique distillers, and hidden gems alongside classic drams.
Flaviar members choose from three selection Tasting Boxes and full-sized bottles from a vast collection of exciting and unusual spirits to be included in quarterly deliveries shipped direct to your door. Plus, members have access to rare and original spirits while also offering exclusive experiences for them and their friends to satisfy their thirst for knowledge with excellent tasting and pairing notes all for $95 a quarter or $300 per year.
Included in each quarterly shipment is one Tasting Box of 3 x 1.5oz samples as well as one full size (750ml) premium bottle, some of which may not be normally available in the state that you reside in. Then, once a month, Flaviar opens up The Vault, its private collection of the most exclusive, hard to find spirits out there. Flaviar also offers access to Flaviar Originals limited-edition private bottlings exclusively for Flaviar members. Flaviar also offers live flavor experiences (currently virtual), which has included a Live Blended at Home session with WhistlePig and Flaviar's annual Craft Spirits Celebration.
Learn more about Flaviar and its membership options by clicking here.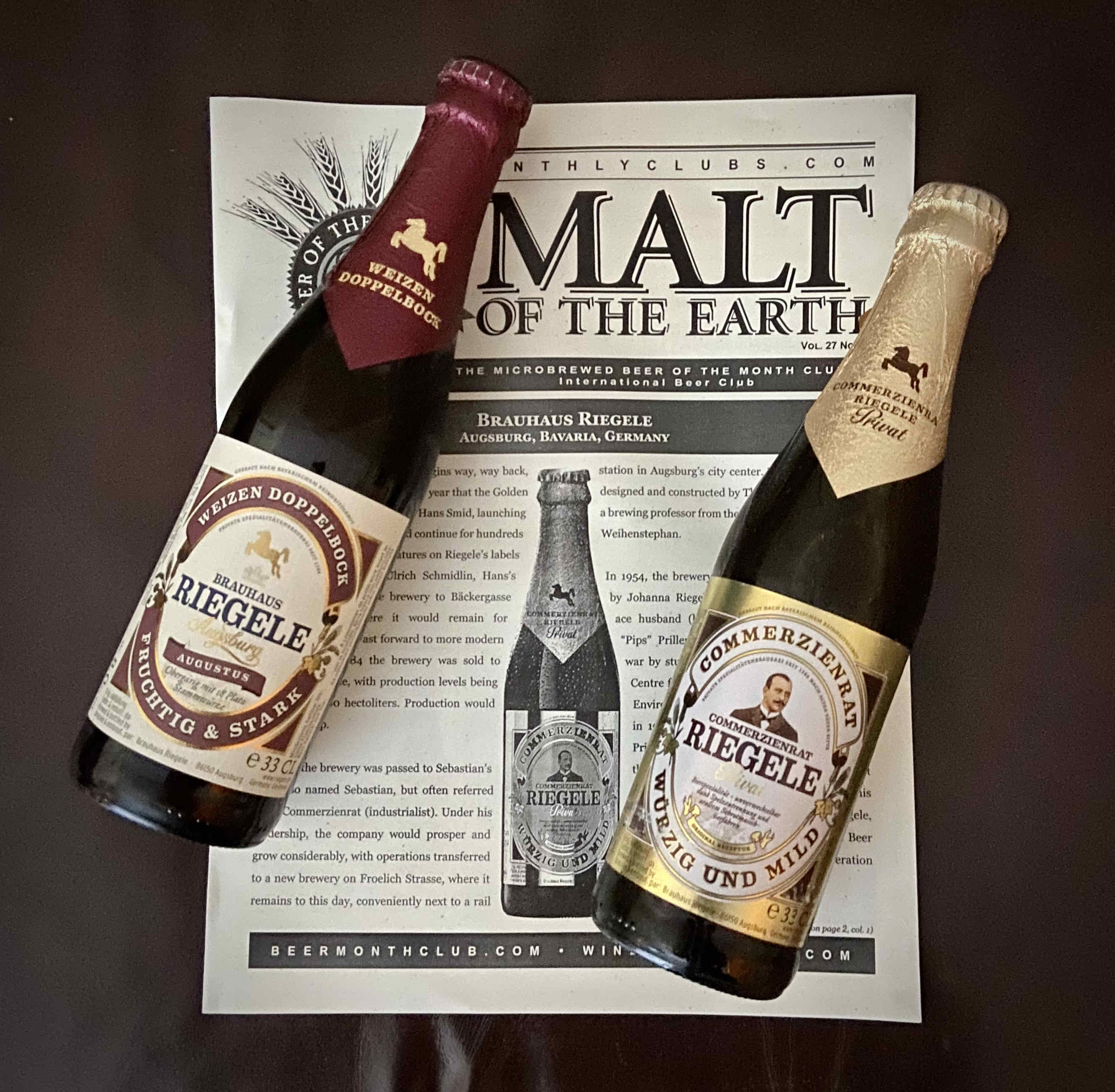 The Microbrewed Beer of the Month Club and The Rare Beer Club
For the past quarter century The Microbrewed Beer of the Month Club and The Rare Beer Club have been delighting craft beer lovers with hard to find, rare and exceptional curated beers delivered to your door step. Members can choose from 5 distinctive beer clubs that begin at $29.95 + $15 S+H, and can be purchased by clicking here. These clubs can be set up to receive beer each month, every other month or just quarterly. Plus you can opt out whenever you choose.
We recently received a shipment from The International Beer Club that included one of our favorite breweries from Bavaria, Brauhaus Riegele located in Augsburg, Germany. Brauhaus Riegele dates back to 1386 and received some name recognition here in the States a few years back when they collaborated with Sierra Nevada Brewing on an Oktoberfest bier. This month's selection included six bottles of Commerzienrat Riegele Privat (Festbier) and Augustus (Weizenbock). The monthly shipment also arrives with a descriptive newsletter with detailed tasting notes, beer profiles, brewery histories, and suggested food pairings.
To make this holiday season of giving even better, The Microbrewed Beer of the Month Club is offering some holiday savings. Receive $10 off any 4-shipment order (Code: SAVE10); $15 off any prepaid 6-shipment order (Code: SAVE15); and $30 off any prepaid 12-shipment order (Code: SAVE30).
You may also be interested in a few of their other clubs including The Gourmet Cheese of the Month Club or The Premium Cigar of the Month Club among others. Plus, one can be creative by using the Design Your Own Club that brings together all six of the Monthly Clubs into one easy gift package full of discovery! Check them all out by clicking here.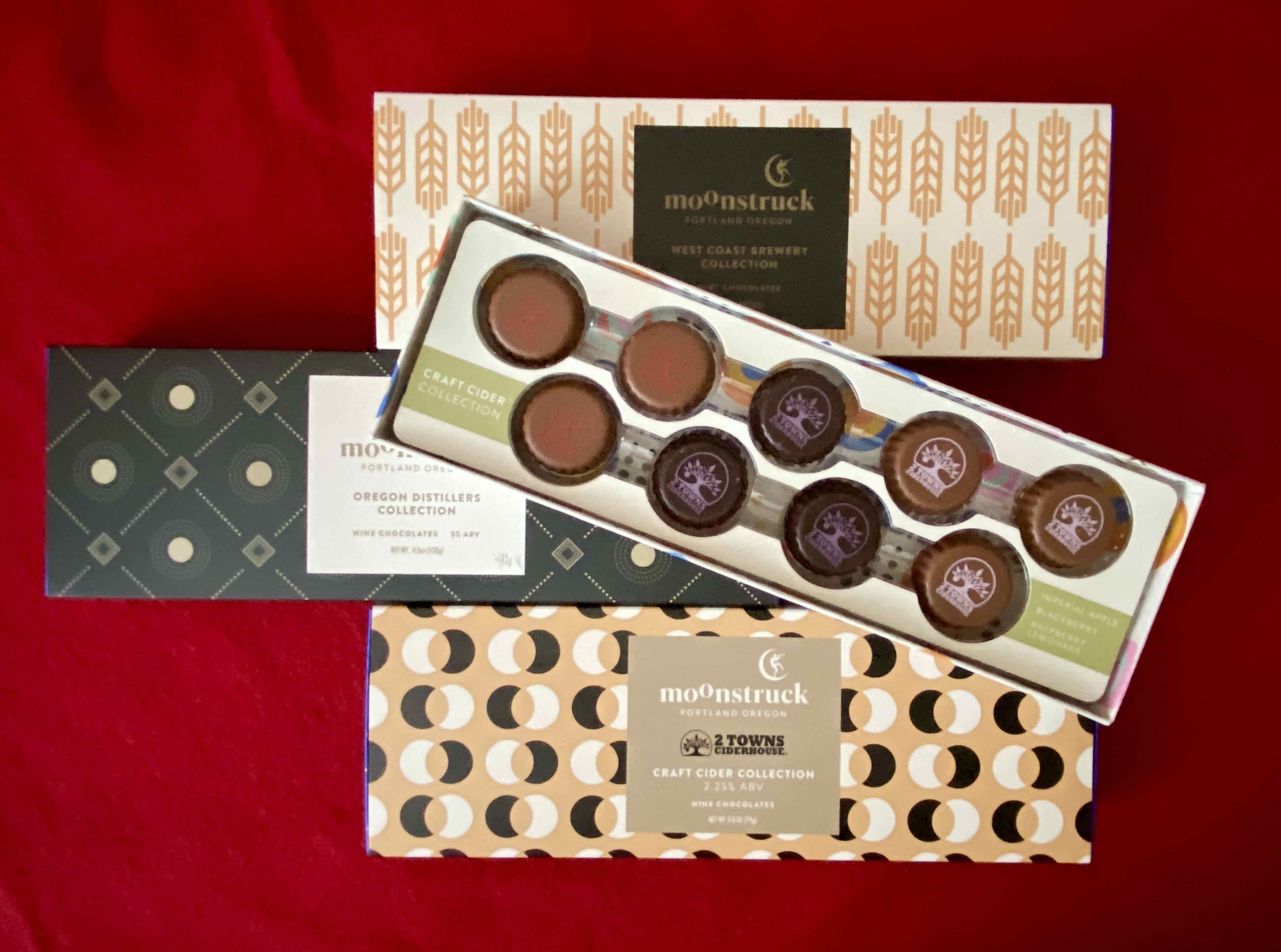 Moonstruck Chocolate Craft Cider, West Coast Brewery, and Oregon Distillers Collection
There's a new alcohol inspired chocolate collection from Portland's own Moonstruck Chocolate. The new Craft Cider Collection has joined the West Coast Brewery Collection and the revamped Oregon Distillers Collection of alcohol infused chocolates.
For the Craft Cider Collection, Moonstruck Chocolate partnered with Oregon's largest cider maker, 2 Towns Ciderhouse to create a three-flavor chocolate collection that contains 2.25% ABW (2.81% ABV). These decadent flavors include The Bad Apple, Made Marion and Easy Squeezy all created in beautiful chocolate bottle caps of three each. Grab each cider to pair with each chocolate for an even better experience.
Also available is the West Coast Brewery Collection that arrived earlier this year. This nine-piece chocolate collection brings together Breakside Brewery's True Gold Golden Ale, Pike Brewing's Monk's Uncle Tripel Ale and Sierra Nevada's Hazy Little Thing IPA for a tasting experience like no other.
And for those on your list that enjoy Oregon's craft spirits, Moonstruck Chocolate has updated its classic Oregon Distillers Collection with nine truffles infused with craft spirits from the Beaver State. Flavors include Bull Run Distilling Company® Temperance Trader Straight Bourbon Whiskey, Rogue Ales® Dead Guy Whiskey, Clear Creek Distillery® Oregon Pear Brandy, Rose City Distilling® Marionberry Vodka, Oregon Spirit Distillers® Wild Card Absinthe, New Deal Distillery® Ginger Liqueur, Clear Creek Distillery® Oregon Apple Brandy, New Deal Distillery® Coffee Liqueur and Glaser Distillery® Limoncello. Each truffle sits at approximately 5% ABW (6.25% ABV) so be careful while indulging in these!
To purchase any of these collections click here.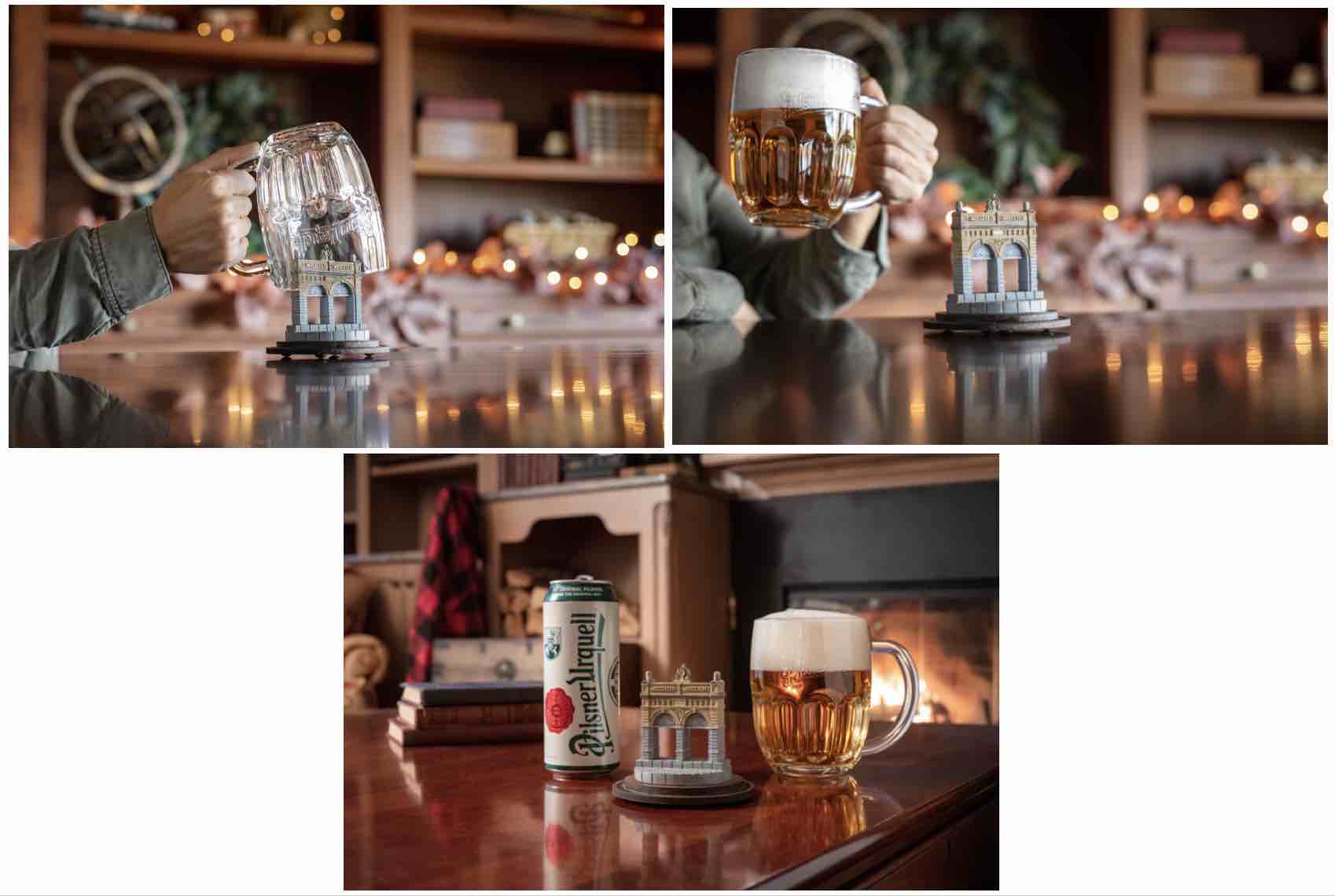 Pilsner Urquell Mugloo
The famous gates of Plzeňský Prazdroj in Plzeň, just outside of the Pilsner Urquell brewery are part of a new Pilsner mug holder décor item. In time for the holidays, Pilsner Urquell has just released its new Mugloo that combines Pilsner Urquell's iconic drinking mug (which resembles an igloo when turned upside down) with a detachable, decorative base inspired by the brewery's rich, Czech heritage.
The design of the mugloo features a removable wood base with laser-etching and a hand-painted sculpture depicting the gates of Plzeňský Prazdroj in Plzeň, which nods to the beer's rich, 178-year-old heritage as the world's original pilsner lager.
The Pilsner Urquell Mugloo is available for a limited time at $24.99 each. These mugs are a great item as we use them for both beer and its heavy gauge glass is also great for a mug of coffee! To order a Mugloo click here.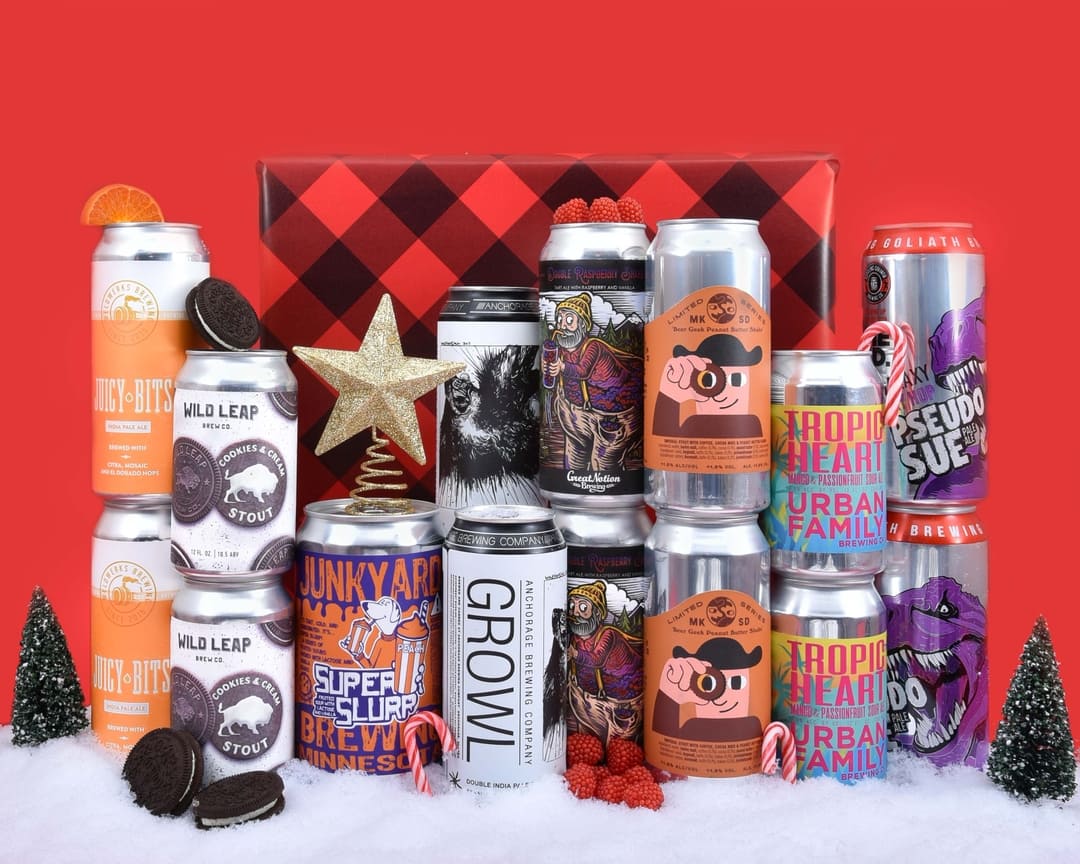 Tavour
One of our go-to home beer delivery services for hard to find, out of market beers is Tavour. Throughout the year, this Seattle area-based home beer delivery company works with over 650 independent craft breweries from 47 states to bring its customers interesting curated gift boxes of beer. Tavour also offers the ability to choose your own beer shipment with one flat shipping fee.
Ordering from Tavour is easy and quick. Download the Tavour App on your phone, set up an account. Then all that is left is to build your custom box of hard-to-find, 100% independent craft beer from across the U.S. and have it shipped for a flat rate of $14.90. Or enroll in a subscription and Tavour will automatically snag the highest-rated beers that fit your preference and this option includes shipping. There is never any minimums or commitments. Learn more about all of the various Gift Box options from Tavour by clicking here.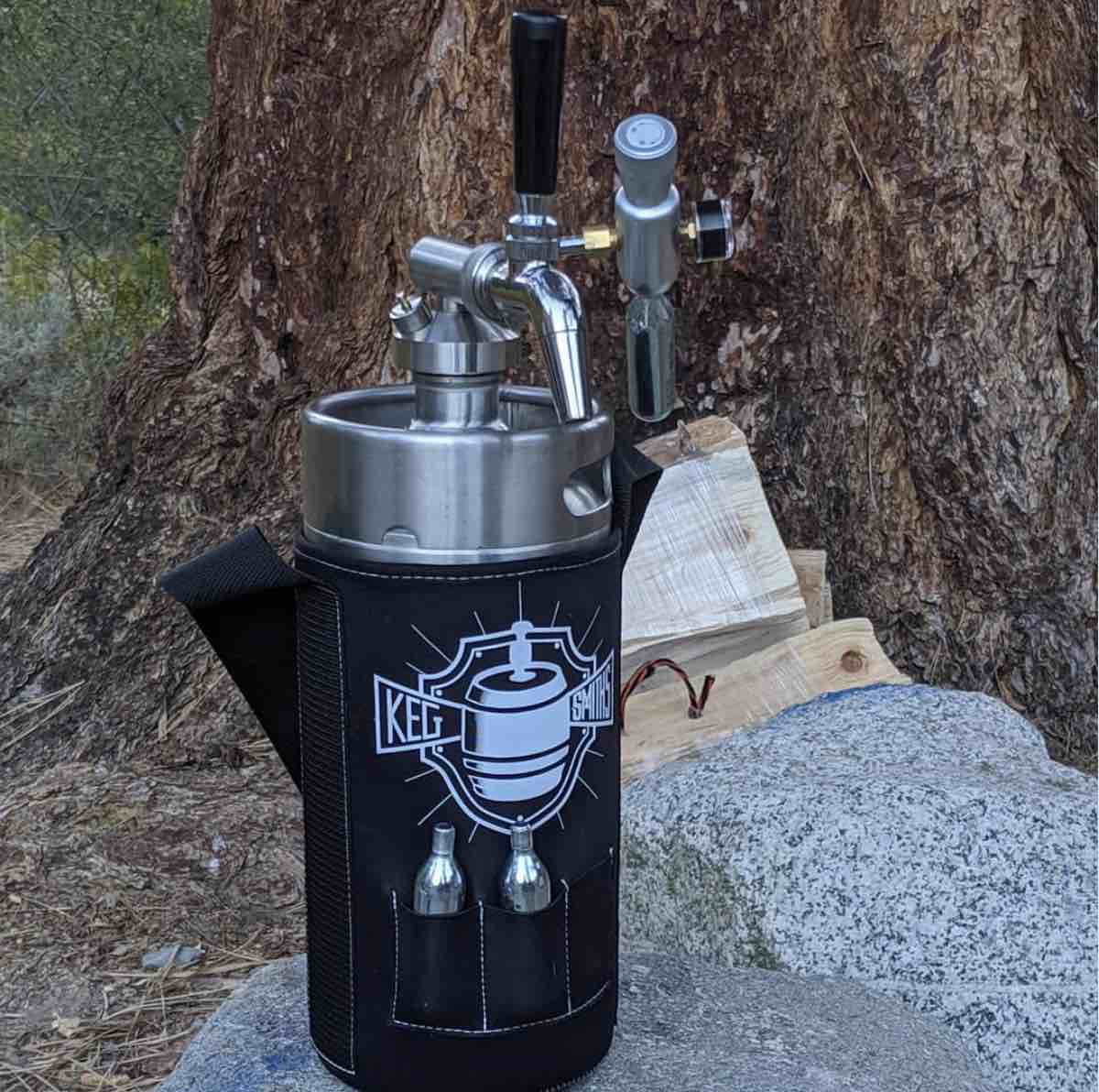 Keg Smith's Premium CO2 Draft Keg System
Not having the accessibility to draft beer during the pandemic is taking its toll. One way to combat this is to purchase the Premium Draft CO2 Keg System from Keg Smith.
This mini keg, that actually looks like a keg is the perfect vessel for craft beer fans. Of course it is great to fill with beer and keep it under proper CO2, but the Premium Draft CO2 Keg System is also great for mixing up cocktails and dispensing them on tap. The system can even be used for coffee, including nitro cartridges for a smooth nitro cold brew, and for iced tea!
The mini keg is simple to fill and can easily be stored for later use. The CO2 pressurized tap system accepts 16-gram threaded CO2 cartridges. For best results it is recommended to use beverage grade CO2 cartridges (Keg Smith's or Leland Brand), as not all CO2 cartridges are made with the same quality. To help ensure a perfect pour the Keg Smith's 8-Pint comes with an adjustable regulator. Most beverages operate best between 5-9 PSI but certain concoctions will require more. The tap system is easily removable and easy to clean.
To peruse the offerings and order a unit from Keg Smith that begin at just $125.00, click here.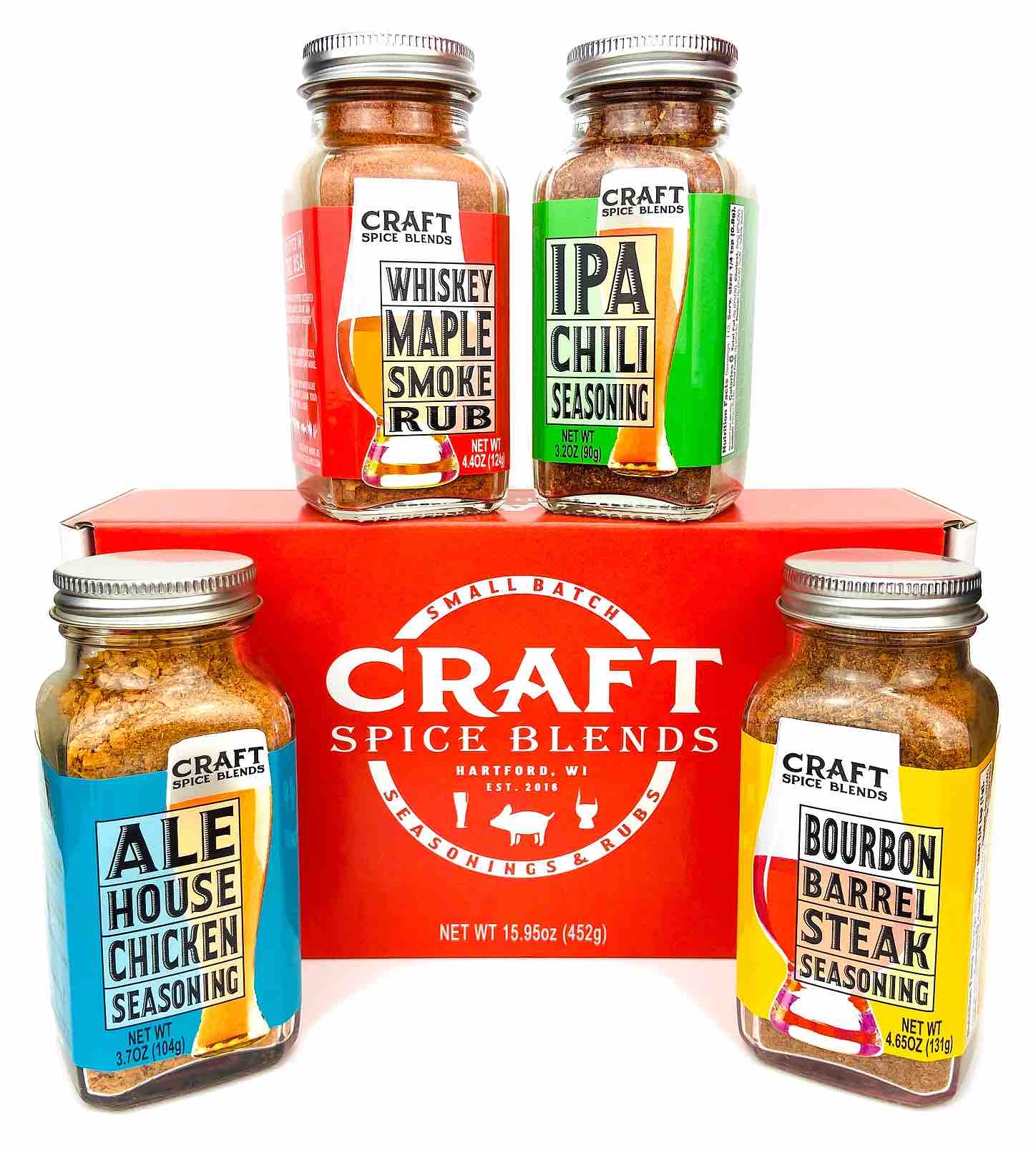 Craft Spice Blends Seasonings & Rubs – Grilling, Cooking & Smoking Gift Set
Grilling season never ends, even during the wet, rainy winters here in the Pacific Northwest. You just need to be a bit more creative. To assist in your grilling adventures, we have found some great new spices that will take your culinary skills to a new level.
The new Craft Spice Blends Seasonings & Rubs – Grilling, Cooking & Smoking Gift Set features four amazing flavors – two beer and two whiskey. Cannot go wrong with these options!
Craft Spice Blends Gift Set Flavors:
IPA Chili Seasoning – Bold medium heat chili mix with layers of sweet ancho chili pepper, earthy smoked paprika and fresh notes of cilantro and hops.
Ale House Chicken Seasoning – Zesty lemon and herb seasoning. Sprinkle on chicken, fish, eggs, pasta, vegetables or salad and enjoy.
Whiskey Maple Smoke Rub – Our most popular rub, this All-Purpose smoky-sweet blend is definitely a crowd pleaser.
Bourbon Barrel Steak Seasoning – Small batch seasoning featuring savory herbs, spices, roasted garlic, molasses and salt naturally cold smoked with bourbon barrels that have spent years marinating in whiskey.
To learn more about these fantastic Craft Spice Blends and to purchase this set click here.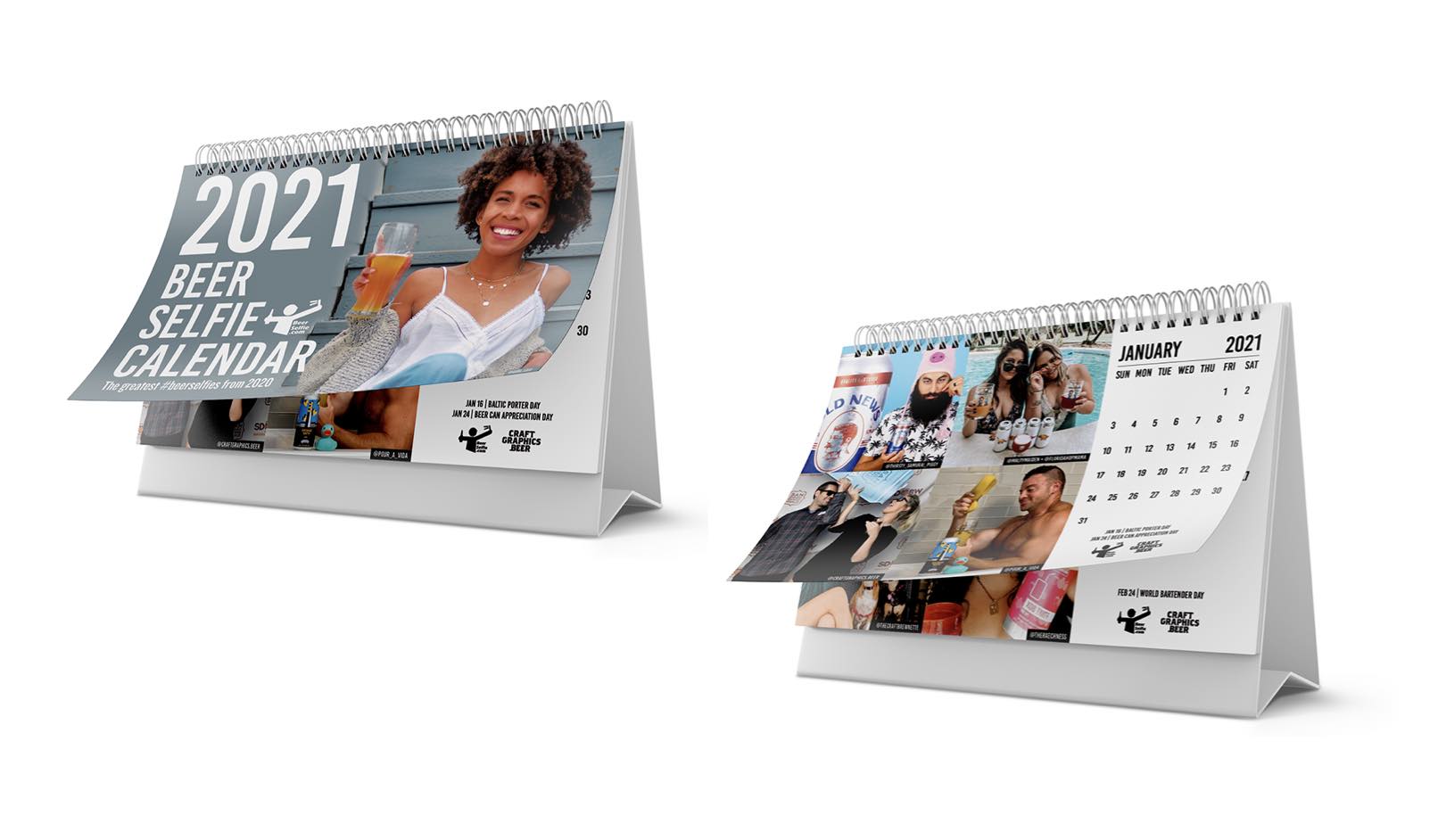 BeerSelfie 2021 Calendar
Support craft beer by purchasing the BeerSelife.com 2021 Desktop Calendar as this year's calendar is a fundraiser for BottleShare that's a craft beverage non-profit supporting industry workers and their families when they experience adversity outside of the workplace. Best of all, 100% of the proceeds from calendar sales will be donated to BottleShare.
The 8.5″ x 5.5″ desk calendar features 48 craft beer enthusiasts you'll recognize from the BeerSelfie Instagram page. To purchase the BeerSelife.com 2021 Calendar click here.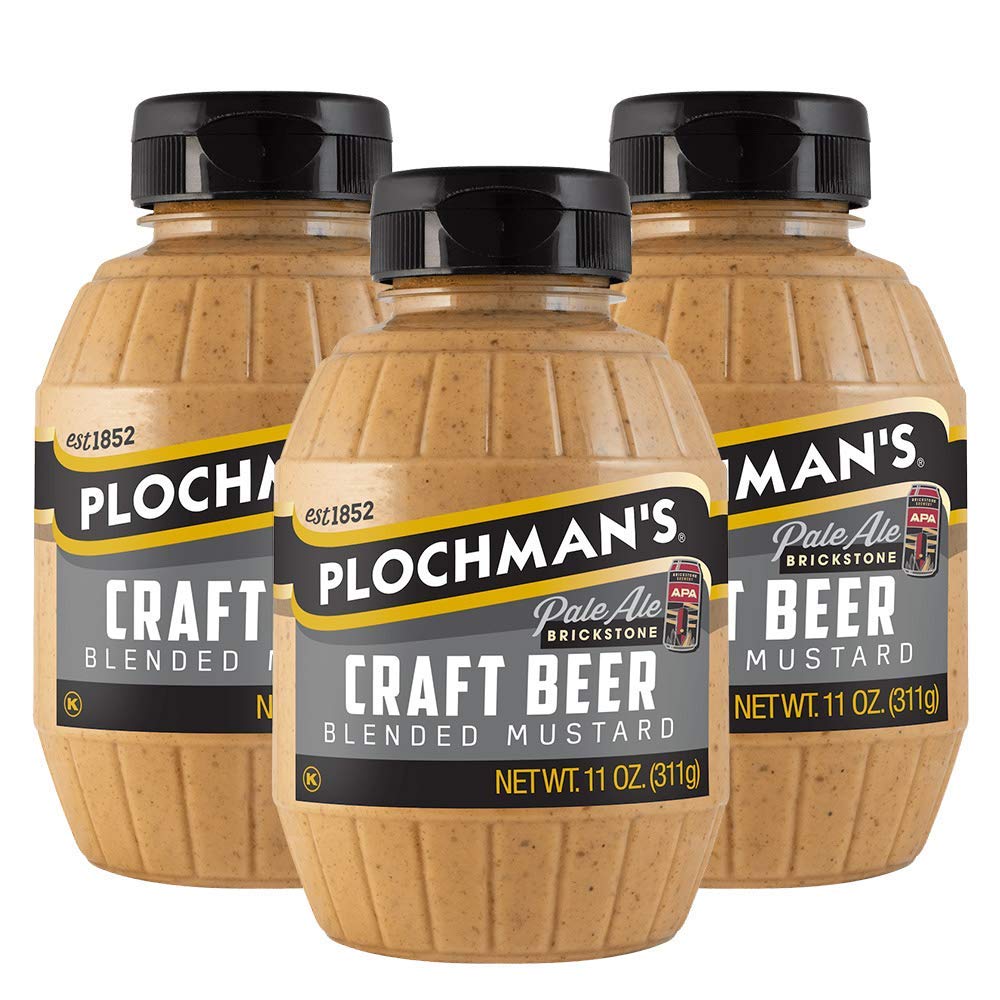 Plochman Beer Mustard – BRICKSTONE American Pale Ale
When selecting a condiment for an encased meat, we turn to selecting a fine mustard. Plochman has recently launched the new Plochman Beer Mustard – BRICKSTONE American Pale Ale that is hopped with Amarillo, Citra and Centennial hops for an undeniably crisp American Pale Ale flavor right from its partner brewery, BRICKSTONE Brewery taproom.
This beer mustard is made with Red Premium Lager that gives It a memorable flavor. It is 100% all natural and is available in 11oz containers.
Plouchman's also produces two other alcohol inspired mustards with its Tequila Blended Mustard and Bourbon Blended Mustard. To learn more and to purchase Plochman mustards click here.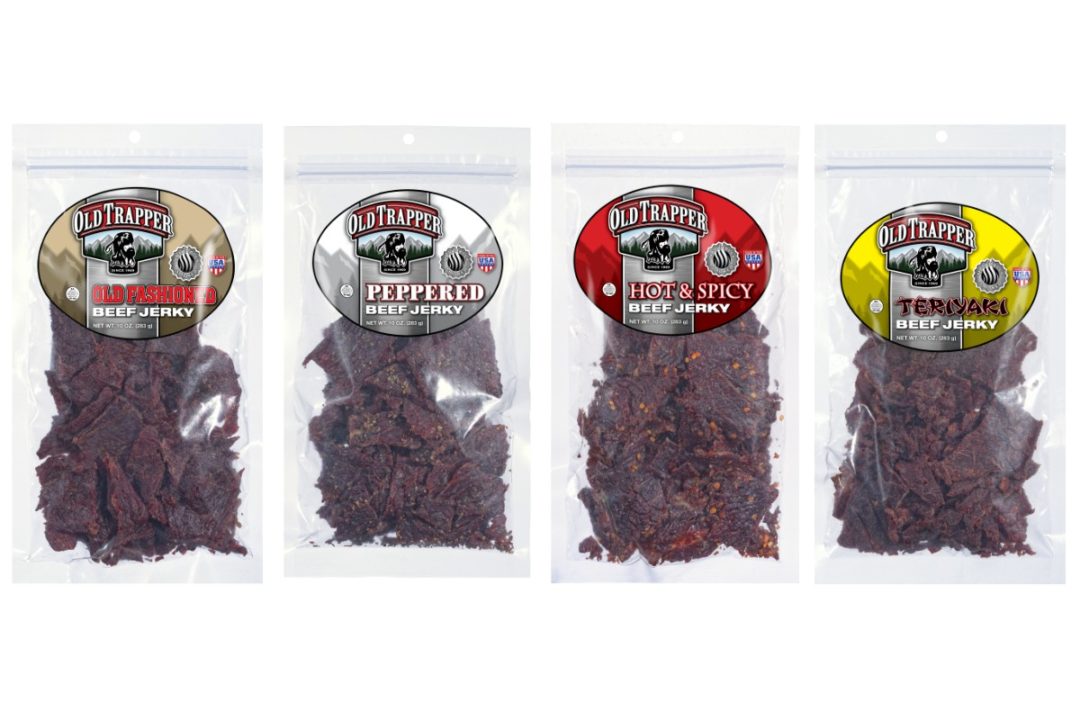 Old Trapper Jerky
Based in Forrest Grove, Oregon, Old Trapper brings its 50 years of beef jerky to fans of all ages. Old Trapper only uses lean high-quality meat, quality seasonings, real wood-fired smoke and a hands-on manufacturing process.
Varieties of Old Trapper Jerky include Old Fashioned, Peppered, Hot & Spicy and Teriyaki. We suggest conducting a beer and jerky tasting to determine your favorite pairing! Shop for Old Trapper Beef Jerky, Beef Steak and Snack Sticks by clicking here.
33 Books: Flight Decks
Dave Selden founded 33 Books in 2009 and ever since continues to offer new ways to enhance and document one's drinking experiences. His latest venture is with his new assortment of Flight Decks. This Flight Deck series features new ways of tasting various beverages that allows one to notate their tasting experience while sampling beverages in rounds of three. Each Flight Deck offers a way to train your palate, compare and contrast, and even replaces three coasters on your coffee table.
33 Books is currently offering Flight Deck editions for Beer, Cider, Wine, Whisk(e)y, Gin, and Coffee. To learn more and to purchase a Flight Deck click here.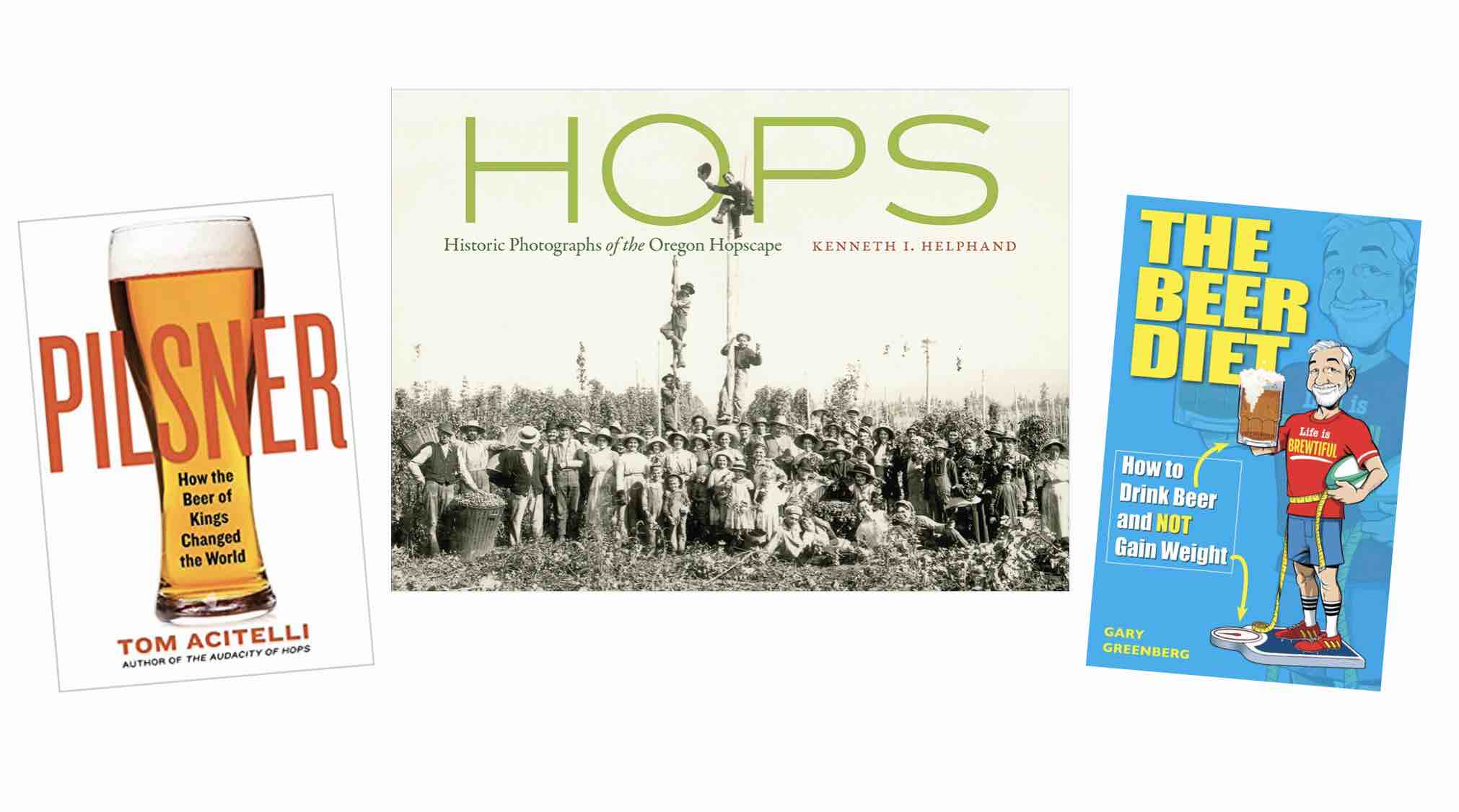 New Beer Books – Hops: Historic Photographs of Oregon's Hopscape, Pilsner: How the Beer of Kings Changed the World, and The Beer Diet: How to Drink Beer and Not Gain Weight.
Hops: Historic Photographs of Oregon's Hopscape by Kenneth I. Helphand
Published by OSU Press, author Kenneth I. Helphand takes an in-depth photographic look at Oregon's hop growing history. This visual dive preserves the history of hops from pickers and poles to cones and oasts through archived photos from the Willamette Valley.
The 85 photographs featured in Hops portray pickers of all backgrounds through different eras of agricultural practice. Here are children, nuns, families, immigrants, and college students in fields, hop driers, and tent camps. Helphand provides a historical essay provides a short overview of the plant's history and the world of hop growing and picking. To purchase Hops, click here.
Pilsner: How the Beer of Kings Changed the World by Tom Acitelli
The new book Pilsner: How the Beer of Kings Changed the World by Tom Acitelli brings forth the history of one of the world's most popular beer styles, pilsner.
Pilsner brings to light insights into the pilsner style and into beer in general through a character-driven narrative that demonstrates how pilsner influenced everything from modern-day advertising and marketing to immigration to today's craft beer movement where the beer style has regained much notoriety. To purchase Pilsner, click here.
The Beer Diet: How to Drink Beer and Not Gain Weight by Gary Greenberg
The myth of the beer making you gain weight is dispelled in the new book, The Beer Diet: How to Drink Beer and Not Gain Weight written by Gary Greenberg. With the high calories in today's craft beers, Greenberg explains how small adjustments in your life can make a huge difference in your waistline, and your overall health. The Beer Diet not only offers invaluable health tips but also pays homage to the world's most popular beverage and even shows you how to brew your own beer. The book takes a fun and informative look at beer for anyone who enjoys tipping back a few. To purchase The Beer Diet, click here.