Deschutes Brewery and Brooks Running Partner on Beer Themed Run Hoppy Shoes
|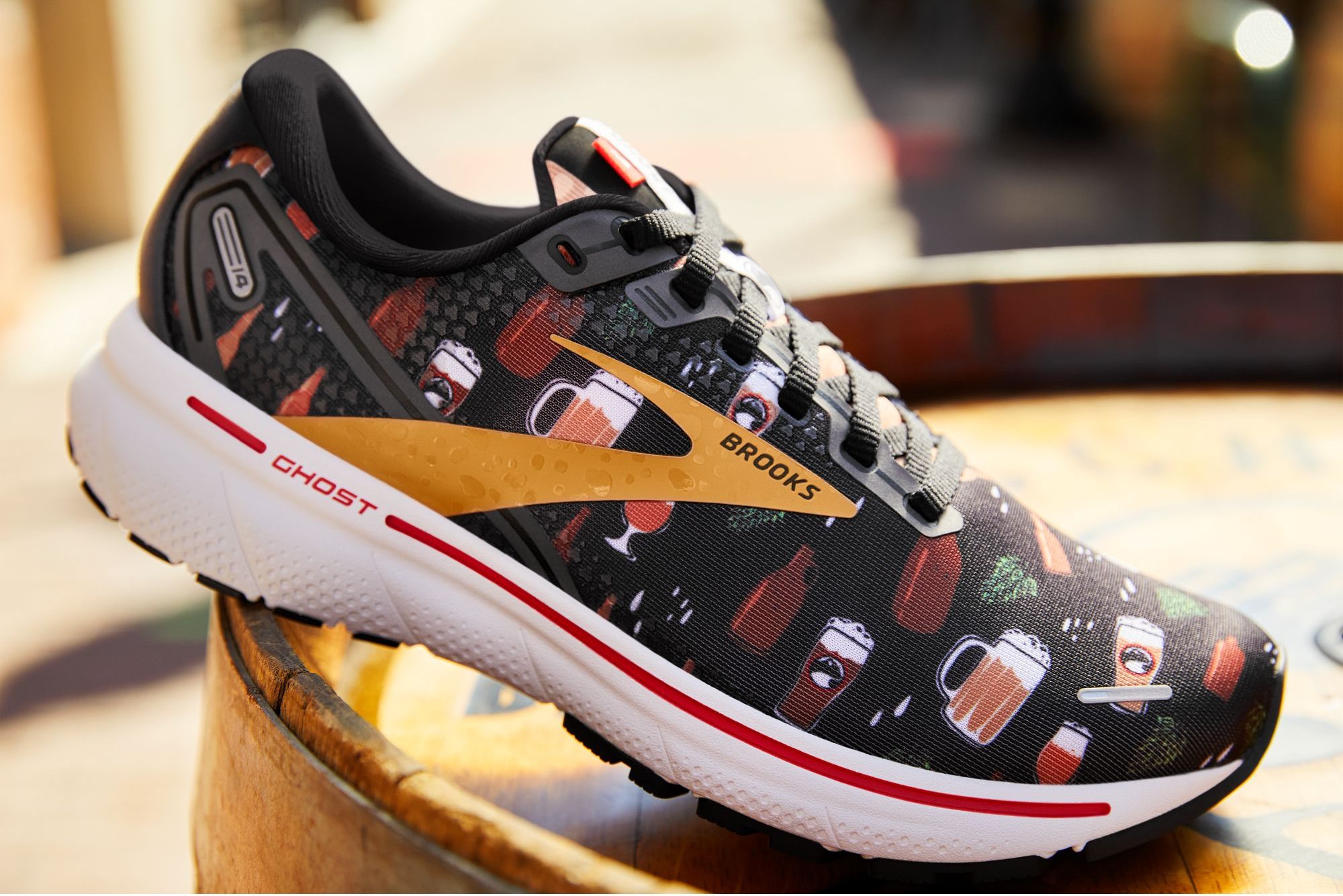 In recent years there have been a few breweries that have partnered with shoe manufacturers to create unique one-off shoes. A few years ago Dogfish Head Craft Brewery worked with Merrell on the Merrell Agility Synthesis X Dogfish Trail Runner Shoe. Then last year, New Belgium Brewing partnered with Chaco Footwear on Chillos Fat Tire Sandals and this year the two expanded with a couple of new sandals.
Now closer to home, Bend's Deschutes Brewery and partnered with Seattle based Brooks Running on the Run Hoppy Collection of shoes and apparel.  This lineup features Deschutes themed Ghost 14 Road Running Shoes alongside Run Hoppy apparel for runners to rep their favorite post-run beer reward.
The new Run Hoppy Collection is a take on Brooks' Run Happy motto. And to compliment this new shoe and clothing line, Deschutes will simultaneously release Run Hoppy Golden IPA at its Bend and Portland pubs and Tasting Room.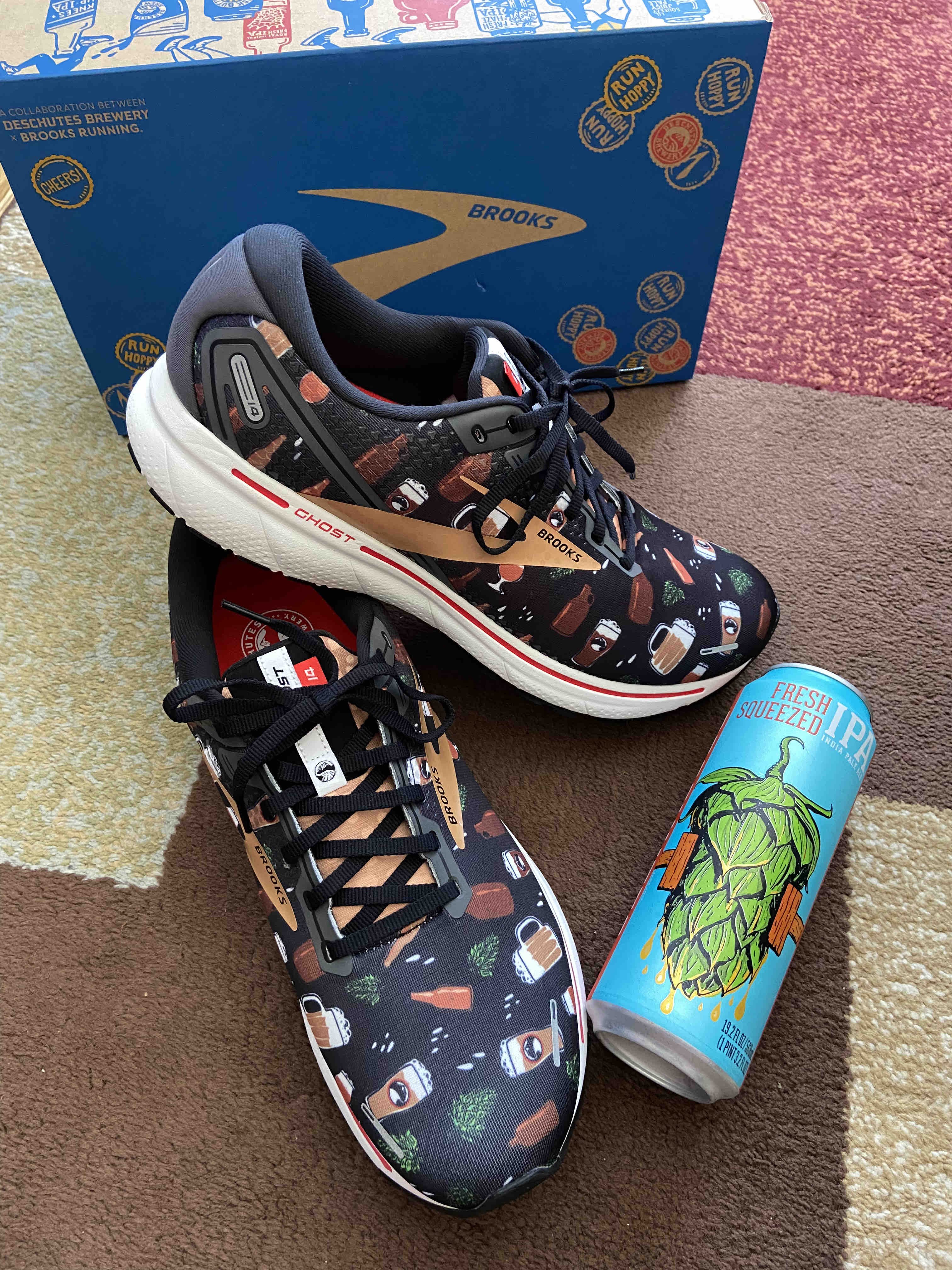 The Run Hoppy Ghost 14 shoes features a flashy print of beer mugs, imperial pint glasses, and growlers like those in Deschutes Brewery's tasting rooms, brimming with a pillow of foam. Accenting these beery images are hops that dot the upper and pay tribute to the Deschutes' Fresh Family line of beers. A condensation effect on the Brooks logo and on the tongue are reminiscent of a glass of cold beer on a warm day. The Deschutes logo appears on the sock liner and on the tongue, while the iconic Deschutes red appears on the midsole and tongue.
We located and purchased a pair of these Run Hoppy Ghost 14 shoes this past week at Dick's Sporting Goods at the Washington Square Mall. Some may say the all over print on the shoes may be a bit too much but we are enjoying the fine beery details integrated into the shoes. Plus, these Brooks shoes are very comfortable and lightweight. They do seem to run a bit small as we ended up going with one size larger.
Beyond the Deschutes Ghost 14 shoes, Brooks created a Men's Distance Graphic Short Sleeve and the Women's Distance Graphic Tank. Each of these items feature a beer can motif inspired by Deschutes Brewery's beer cans with discoverable details throughout the graphic. The Deschutes Brewery logo appears on the sleeve of the men's shirt and the center back of the women's tank. The Discovery Trucker Hat and Tempo Knit in Crew sock feature a beer mug with legs and the "Brooks Running x Deschutes Brewery" collaboration tagline. "Run Hoppy" appears on the hat.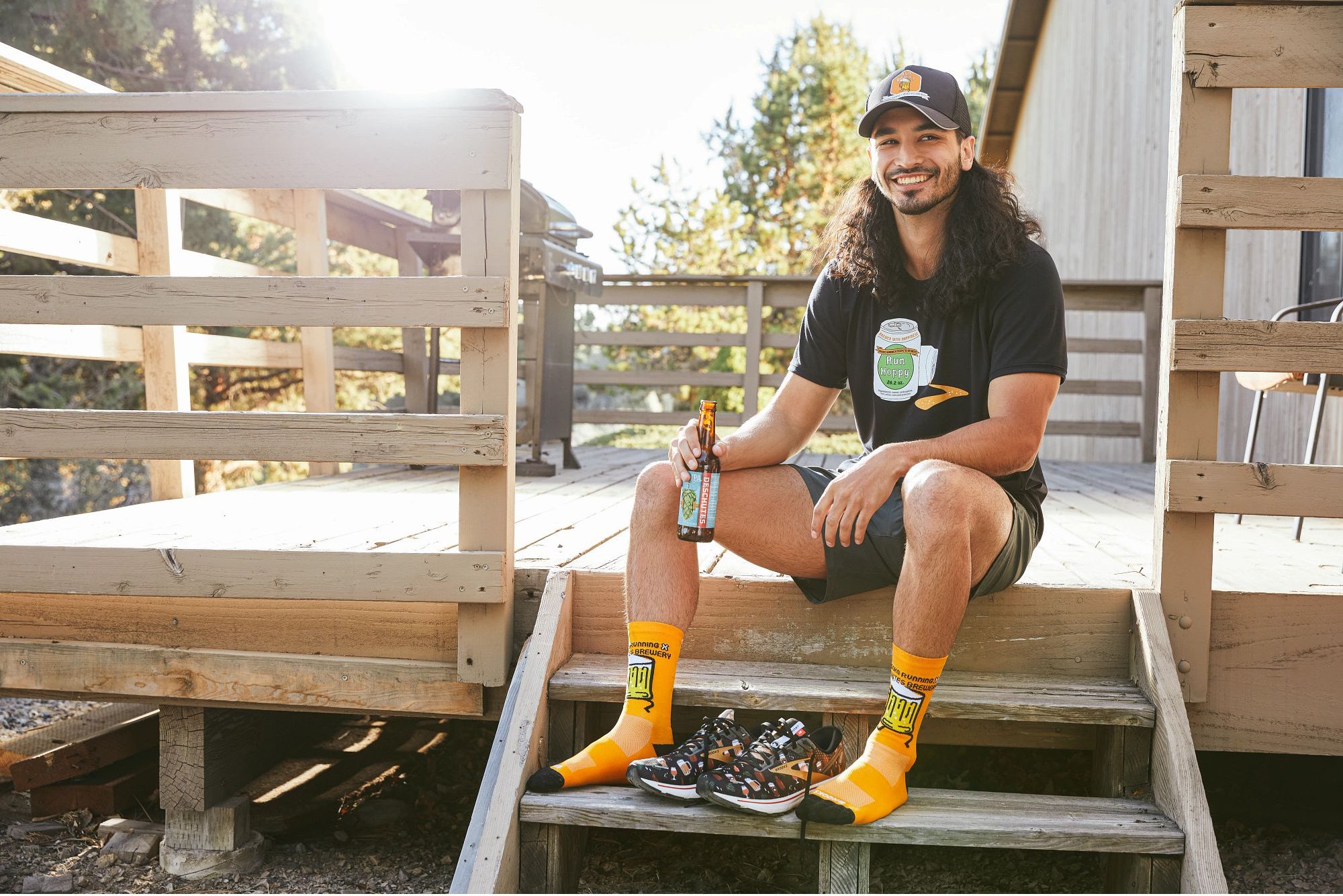 "We know that many runners cap off a good run with a refreshing, cold beer, especially at this time of year," said Brooks Running SVP, CMO Melanie Allen, in a statement. "This collection celebrates that running tradition and gives runners and beer drinkers new gear to inspire them to run all summer long. We're proud to collaborate with Deschutes Brewery, a brand with deep roots in craft beer and the outdoors which, like Brooks, also believes in promoting a balanced and active lifestyle."
"There isn't anything better than a great craft beer after a run out in the scenic outdoors of the Pacific Northwest and this collaboration with Brooks perfectly captures the spirit of that lifestyle," said Neal Stewart, VP of Sales & Marketing for Deschutes, in a statement. "As one of the original PNW craft breweries, we're extremely excited and proud to partner with an iconic brand like Brooks who shares the value of a balanced lifestyle for their employees and running community."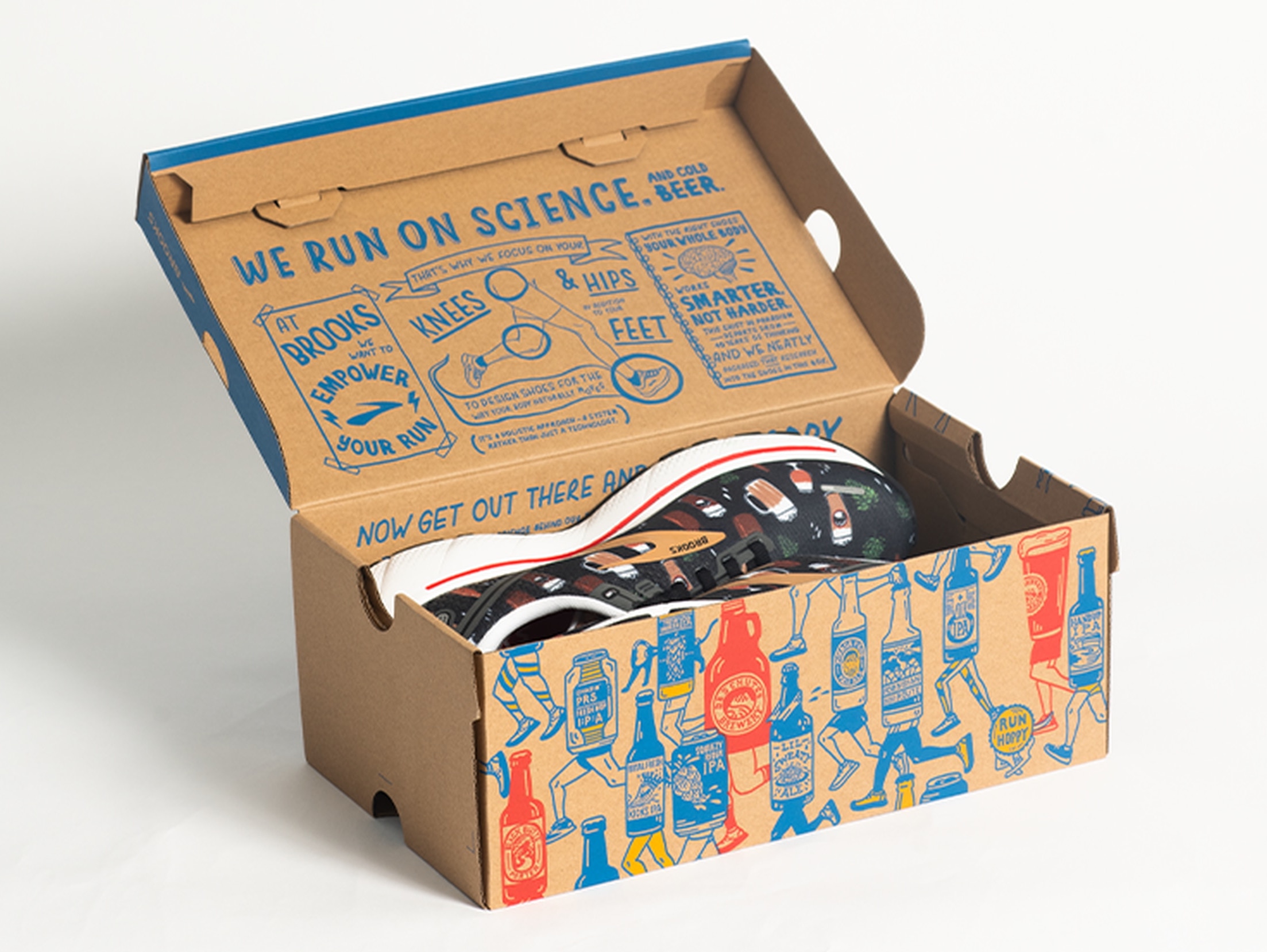 To pair with these sweet new shoes, Deschutes Brewery has brewed Run Hoppy IPA. This new draft only beer was created by runners, for runners as the Brooks Running community helped create the recipe for a limited-edition craft beer.
In brewing Run Hoppy IPA, Deschutes surveyed runners to learn what they want in a refreshing, post-run beer. Keeping the alcohol content low was top of mind, so Deschutes crafted a balanced Golden IPA at 5.5% ABV. Knowing how important carbs are for running, the brewery utilized classic English Golden Ale malt varieties to provide the backbone, with notes of biscuit, cracker, and a hint of honey. Run Hoppy IPA utilizes numerous hop additions for big Centennial, Amarillo and Citra hop flavor and aroma with lower and balanced bitterness. Look for Run Hoppy IPA on draft at the Deschutes Brewery pubs and Tasting Room in Bend, Oregon.
The Deschutes themed Run Hoppy Ghost 14 shoes are available in both men's and women's sizes and retail at $129.99. Follow this link to find the Brooks Beer Shoe and Run Hoppy apparel near you.