Keystone Light Smooth Operator Tactical Vest
|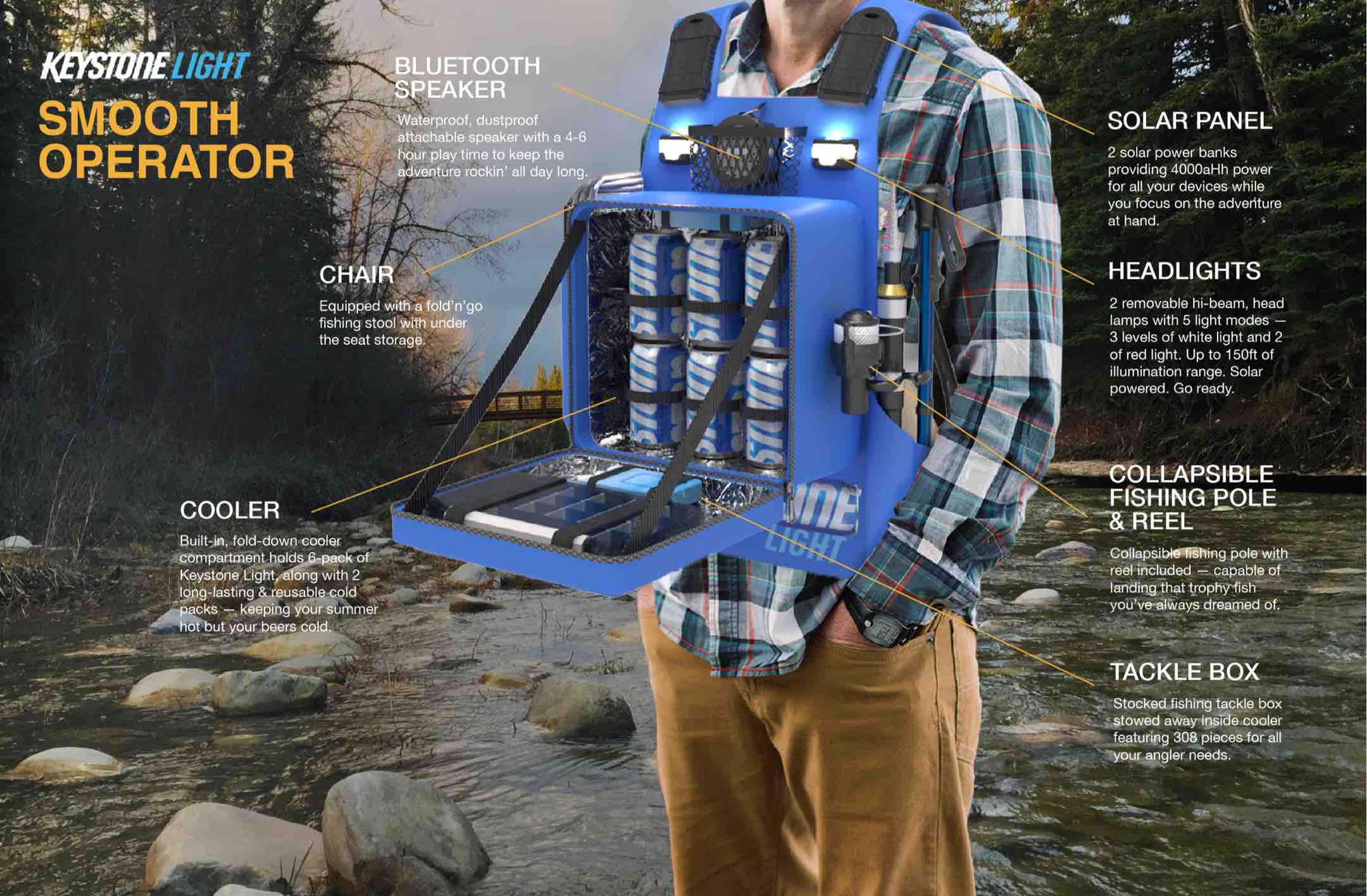 It's been a few years, or more likely decades, since we've last cracked open a can of Keystone Light. Back when we were crushing these, the beer was known for its specialty lined can that offered a bottle beer taste in a can. Now the longtime price point light beer is enticing us a bit with the Keystone Light Smooth Operator, its pretty nifty tactical vest that goes on sale later this week.
Perfect for a day or even a weekend in the Pacific Northwest wilderness, the Keystone Light Smooth Operator vest comes complete with so many features that'll keep your trip exciting and on the go. The vest is complete with solar panels, a built-in cooler, fishing rod, speaker, folding chair and more for just the average price of a case of Keystone Light, only $14.99.
After acquiring one of these bad versatile vests, your friends will be envious as you chill down a 6-pack and have room for various adventures that await. This go-bag-meets-tactical-vest has everything you need to make your summer quite memorable.
Keystone Light Smooth Operator Vest Specs:
Two (2) removable hi-beam lamps with five (5) light mode. Fire up to 150ft of illumination range. Solar powered. Go ready.
Waterproof, dustproof attachable speaker with a 4-6 hour play time to keep the adventure rockin' all day long.
Equipped with a fold'n'go fishing stool with under the seat storage.
Collapsible fishing pole with reel included — capable of landing that trophy fish you've always dreamed of.
Stocked fishing tackle box stowed away inside the cooler featuring 308 pieces for all your angler needs.
Collapsible, lightweight hiking stick to help you summit any peak.
Two (2) solar power banks providing 4000aHh power for all your devices while you focus on the adventure at hand.
Attachable waterproof, glow in the dark phone pouch keeping it safe from all the elements you may encounter day or night.
Built-in features:

Built-in, fold-down cooler compartment holds 6-pack of Keystone Light, along with two (2) long-lasting & reusable cold packs — keeping your summer hot but your beers cold.
Additional built-in fully insulated compartment for that emergency Keystone Light when you or one of your crew may need it most.
Three (3) additional side pockets for holding additional gear and/or rations. All pockets have quick-release magnetic snap closures for easy access.
Front accessory storage strap – clips together to hold any additional adventure ready items you may need  like a towel, sweatshirt, frisbee, etc.
Features back and waist straps for extra support when the trails goes off the beaten path
A limited supply of Keystone's Smooth Operator will be available for $14.99 on Friday, June 11, 2021 at 9:00am. The one-of-a-kind item is available on a first come, first-served basis at https://keystonesmoothoperator.com/. When they're gone, they're gone!
"We know people are excited to get back outside and maximize everything summer has to offer, like camping, hiking, fishing and enjoying some cold beer with friends along the way," said Marissa Meliker, Associate Marketing Manager of Keystone Light, in a statement. "Creating the Keystone Light 'Smooth Operator' vest felt like the perfect solution to keep adventurers moving hands free and smooth all summer long."