Ring in the New Year From Afar with Miller High Life Wi-Fi Enabled Coupe Glasses
|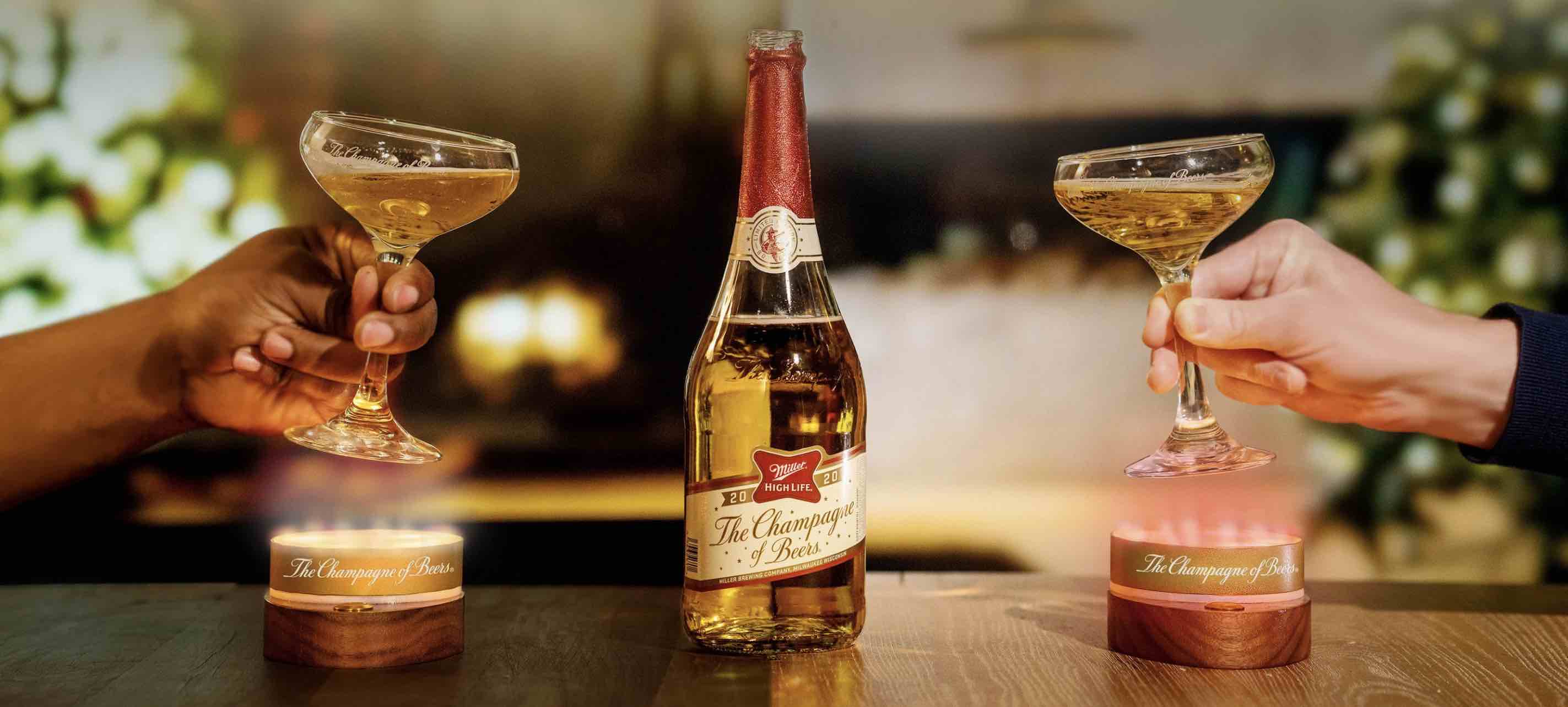 Ringing in the New Year will be a bit different later this month as bars will not be open when the clock strikes midnight on December 31st. To help with your virtual cheers, Miller High Life will begin selling its new Miller High Life Wi-Fi Enabled Coupe Glasses on December 15th.
To assist in toasting from afar this holiday season, Miller High Life has created custom Holiday Coupe Glasses to help friends and family stay connected for a virtual cheers at the push of a button. Using your Wi-Fi network, connect the new Miller High Life Wi-Fi Enabled Coupe Glasses to each of your networks to toast one another with The Champagne of Beers. Sort of like a bat phone but for toasting with a beer.
After each party connects a custom-designed base to their Wi-Fi network and presses a cheers button, each of the pre-paired glasses light up together in a red, gold, white and navy blue celebratory pattern.
"High Life is all about celebrating the simple moments that make life special, like sharing a beer with family, friends and loved ones," says Lucy Bloxam, associate marketing manager for Miller High Life, in a statement. "We know the holidays this year will keep some family and friends apart, so Miller High Life's goal is to give them the ability to toast from afar."
The pair of Miller High Life Wi-Fi Enabled Coupe Glasses will cost $19.03, priced to honor the birth year of High Life, 1903. Each pair of coupe glasses comes with the second coupe pre-packaged so you can send one to a friend or family member you're missing this holiday season. To purchase a pair of these tech coupe glasses visit: https://mhltoastsfromafar.com.
To help celebrate and bring these new glasses to life, Miller High Life is once again releasing The Champagne of Beers in celebratory foil capped 750mL bottles. 2020 marks the fifth year for these bottles and this year they receive a redesign with the bottle necks wrapped in red foil with broad shoulders embossed with "The Champagne of Beers" in raised glass letters.
"Each year, we want to ensure we make the design unique and special, and this year's red foil design will help us stand out at retail and give our biggest brand fans another collectible for their shelves," said Bloxam, in a statement. "The attention these bottles get at retail are a great marking tool for us and helps The Champagne of Beers become part of more holiday moments."
The Champagne-sized bottles will be available this year in key markets throughout the U.S. and are expected to retail for $3.49 in the off-premise. These 750mL bottles are beginning to roll out into the market and can be located here: https://www.millerhighlife.com/locator.