Elysian Brewing Celebrates the Return of Live Music with Cheers to Live Music
|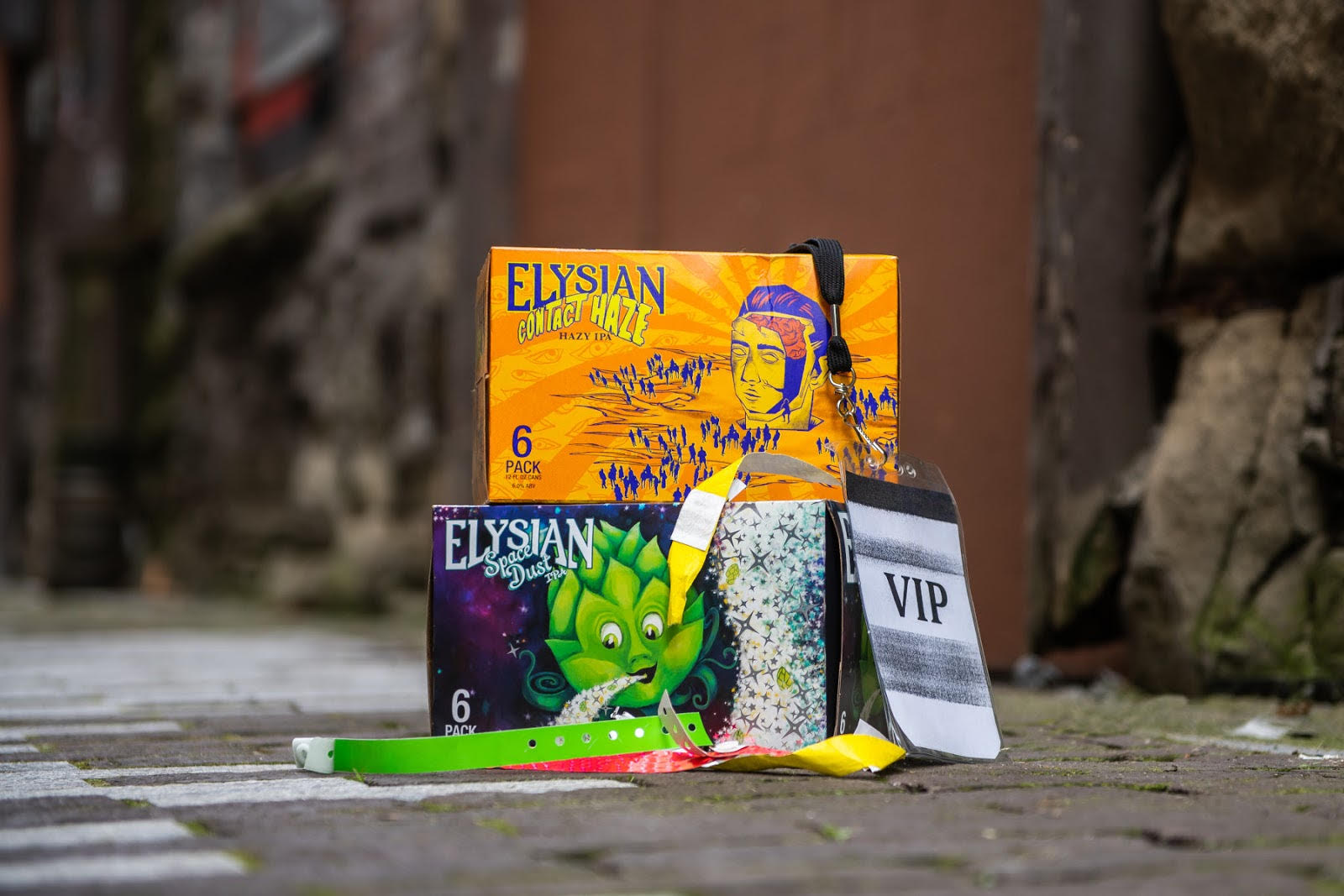 For the past 25 years, Elysian Brewing has been supporters of live music and as we work our way out of this pandemic, the Seattle based brewer is once again ready to rekindle this spirit. With the return of live music, Elysian Brewing has brought forth its Cheers to Live Music program that supports the long-awaited return of live music and reopening of venues across the country.
This new Cheers to Live Music program will ease the burden of attending a live show with a new rebate program on the purchase of a six-pack of Space Dust IPA and Contact Haze Hazy IPA (up to $10.99) and the purchase of a ticket for a live music event.
Through the years, Elysian Brewing has been part of the Seattle music scene and beyond. Most notably, Elysian has brewed beers in partnership with Sub Pop Records, legendary rock band Def Leppard and last year's Keep Music Live IPA. With Cheers to Live Music, Elysian is doing its part to support the reopening of venues, touring musicians, music fans and the return of the quintessential summer beer drinking occasion – concerts.
"Music venues everywhere are starting to sell tickets and re-open, something so many of us have been eagerly awaiting," said Elysian's co-founder Joe Bisacca, in a statement. "Beer and music go hand in hand, and the Cheers to Live Music program is our way of celebrating and supporting the return of in-person concerts."
One Elysian's music partners through the years has been KEXP, the Seattle based radio station. The two have hosted many concerts together and most recently, released a beer KEXP Mixtape Blood Orange Milkshake IPA that was part of the Elysian Brewing XXV Anniversary Beer Box.
"We at KEXP are so grateful to have been able to stay connected to our community through music over the airwaves and with virtual events this past year," said Morgan Chosnyk, Associate Director of On-Air Programming and DJ at KEXP, in a statement. "After a long year without live music, we are thrilled to see our local venues reopening and bands booking tours. Being the first to shut down and some of the last to reopen, it's vital that we support our local venues as soon as possible to make sure they can get their footing back under them. Elysian's 'Cheers to Music' program is such a generous incentive to get back out there and enjoy concerts this summer. Free beer with the purchase of a concert ticket? Yes please!"
Two of Elysian's most popular beers qualify for the Cheers to Live Music rebate. The first is Space Dust IPA (8.2% ABV), a West Coast-style IPA and the #1 beer in Elysian's portfolio, which balances bitterness with a sweetness of hop flavors and features grapefruit, mango, and orange aromas with a medium body and a dry finish, while the second is Contact Haze (6% ABV), a Hazy IPA that offers a tangled chemistry of mild haze, low bitterness, and explosive hop aroma, with notes of bright raspberry, currant, citrus, guava and passion fruit.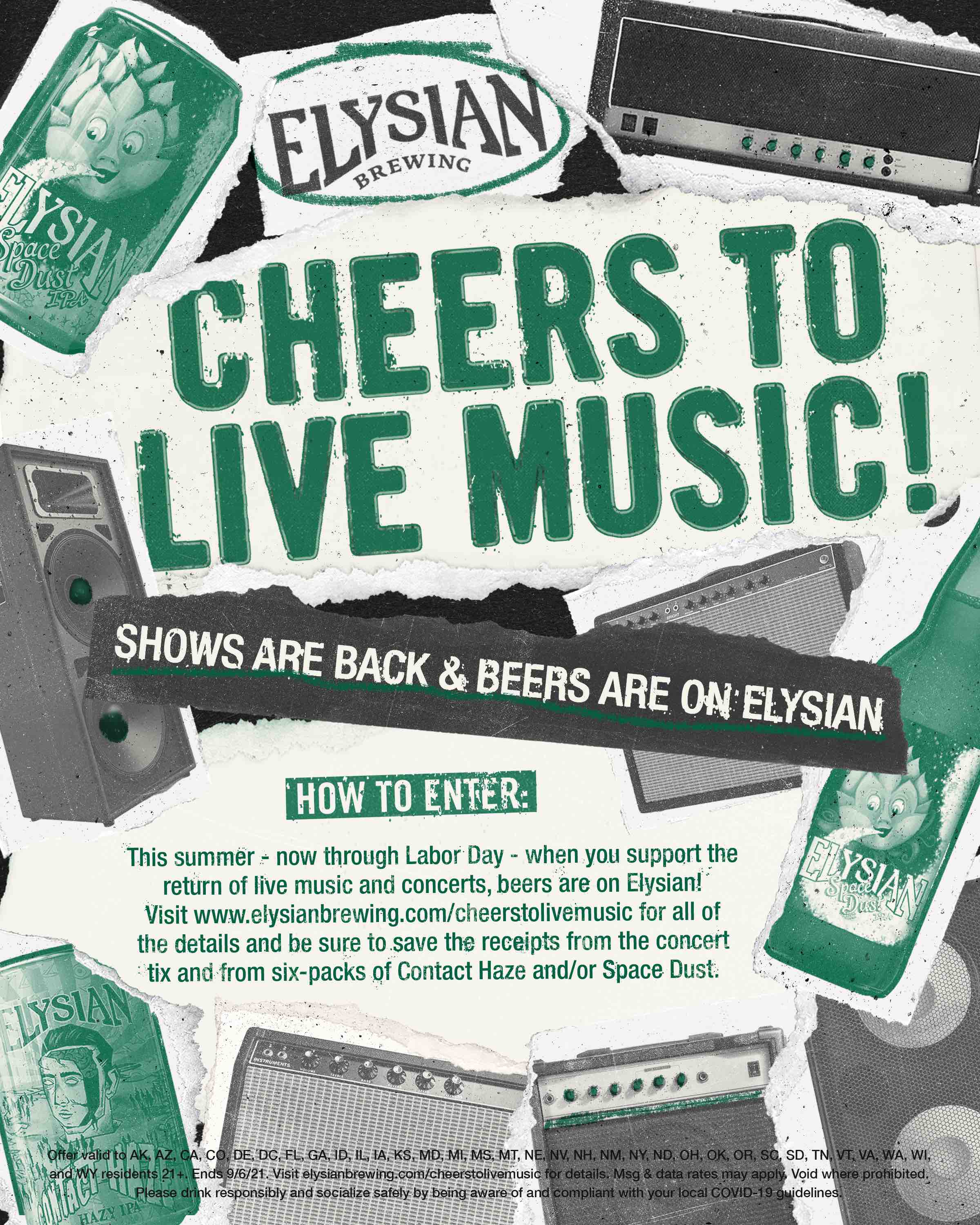 To participate in the program, beer and music lovers can visit elysianbrewing.com/cheerstolivemusic, where they'll be prompted to complete two steps:
Fill out and submit the online form
Upload a photo or screenshot of your concert ticket purchase receipt, as well as the UPC of the Elysian Space Dust or Contact Haze 6-pack, and receipt of your qualified beer purchase dated between 6/23/21 and 9/6/2021.
Participants who successfully complete both of these steps will receive a rebate equivalent to the purchase price of one (1) six-pack of Elysian Space Dust or Contact Haze, excluding sales tax, up to $10.99.
For more information on 'Cheers to Live Music' as well as Elysian Brewing, visit www.elysianbrewing.com or @elysianbrewing. Please drink responsibly and socialize safely by being aware of and compliant with your local COVID-19 guidelines.