Fort George Brewery to Host 4th of July 3-Day 3-Way Toast to Independence
|
Fort George Brewery will once again host its 4th of July 3-Day 3-Way Weekend at its brewery in Astoria, Oregon. Taking the past year's festivities to the next level, Fort George will be adding a beer party to its courtyard that will feature beers from all 3-Way IPA collaborators and all three years of 3-Way IPA.
The courtyard celebration will include handpicked beers on tap from every 3-Way IPA collaborator including Lompoc, Gigantic, Block 15, Boneyard, Georgetown, and pFriem. Plus, to make this weekend even more enjoyable Fort George will tap freshly brewed batches of all three years of 3-Way IPA. This will be the first time one can have three different 3-Way IPAs all in one location. The small batch, draft only re-brews of 2013 and 2014 3-Way IPA are available only on the coast, and they will go quickly.
During the brewery's 4th of July 3-Day 3-Way Weekend all areas of Fort George Brewery including the upstairs, downstairs, and the taproom will be open for business as usual. The 3-Way IPA party in the courtyard on Saturday is cash only and the $10.00 festival cup is required for tasting. Best of all there is no cover for the live music. Party cups will be available starting Friday, July 3rd in the Taproom.
Here is the schedule of events for the three-day weekend from July 3 – 5.
Friday, July 3rd
Live music from 5pm to 10pm with The Sam Stoners, Michael Hurley, The Resolectrics, and the Quick and Easy Boys.
Buy your festival cup a day early in the Taproom – $10 for the cup and your first fill. Then prep your palate with a taster tray loaded with beers from previous 3-Way IPA collaborators.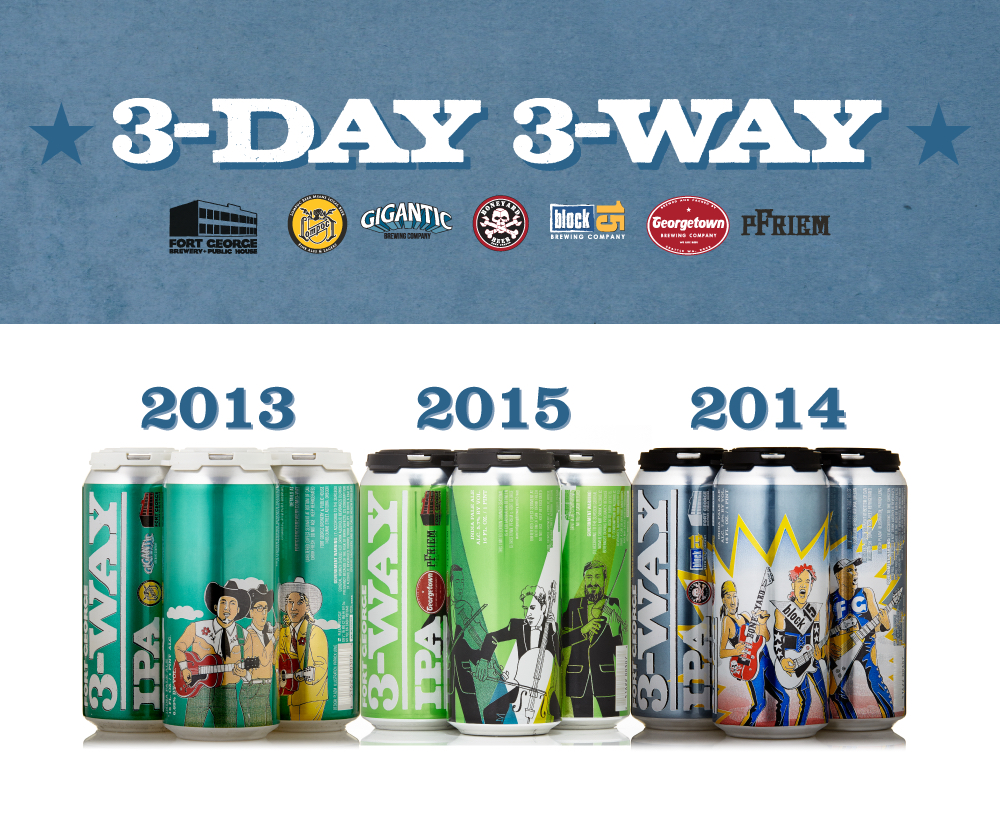 Saturday, July 4th
Live music from 2pm to 10pm with Kelsey Mousley Band, Aaron Mark Brown and his band, James Kindle and the Eastern Oregon Playboys, The Quick and Easy Boys, and Tango Alpha Tango.
The 3-Day 3-Way IPA party begins in the courtyard (*festival cup required for these beers*). Select picks from Gigantic, Lompoc, Boneyard, Block 15, Georgetown, pFriem, and Fort George, all chosen by the brewery owners. Plus fresh batches of 3-Way IPA 2013 (Gigantic, Lompoc, Fort George), 3-Way IPA 2014 (Block 15, Boneyard, Fort George), and 3-Way IPA 2015 (Georgetown, pFriem, Fort George) brewed exclusively for this Independence Day celebration. Taps open at 2pm following The Star-Spangled Banner.
Fireworks over the Columbia River at dusk
Sunday, July 5th
Live music from 5pm to 10pm with Dedric Clark and the Social Animals, Jamie Leopold and the Short Stories, Tim Snider, and The Brownsmead Flats.
There will be plenty of 3-Way IPA collaborator guest taps in the Taproom, plus all three years of 3-Way IPA for growler fills and taster trays. There will also be brewery games in the courtyard, including a corn hole tourney.
Fort George Brewery
1483 Duane St
Astoria, OR 97103