New Elysians, Haggard Fest and Widmer Hefe Shandy release: Your week in beer for May 27-June 2
|
Get ready for new Elysians, Haggard Fest and Widmer Hefe Shandy release among other events for your week in beer for May 27 – June 2.
Elysian New Beer Release
5-8 p.m. Friday May 27, The BeerMongers, 1125 S.E. Division St.;
The Elysian crew will be pouring the newest in the Manic IPA series, Hubris HUGE IPA as well as the first release of the new specialty saison series, Saison Poivre tonight at Mongers. Here are the descriptions from the press release:
HUBRIS HUGE IPA
We've been warned: What goes up, must come down. With over the top Northwest hop flavor, Elysian Brewing's newest release in the Manic IPA Series, Hubris, is a Huge IPA with designs to touch the sky.
Completely full of itself and without regard, Hubris stridently takes its place in the pantheon of Elysian IPAs. Available in 22-ounce bottles and on draft beginning in May. Hubris is brewed to a staggering 8.6 percent with malted barley and wheat. Ten hop additions of Chinook, Cascade, and Centennial underline the "Huge" on the label, including a massive dry-hopping to the melt the wax off your wings. 80 IBU. (Melt the wax off your wings is that bit opaque until you see the label, which depicts Icarus getting ready to fly too close to the sun…)
SAISON POIVRE
From farmhouse to townhouse, Saison Poivre melds spicy aromatics from our Belgian yeast against a fruity and fiery blend of green, white, black, and pink peppercorns. The first of three Saisons to be released this year from Elysian Brewing, Saison Poivre was brewed to 7.3 percent with malted barley and wheat, German Northern Brewer, and Czech Saaz hops. Earthy spiciness from a blend of black, white, and green peppercorns layers below the bright, fruitiness of pink peppercorns. Vibrant and refreshing, Poivre is our decidedly urban take on a rustic tradition. One batch only will be brewed and released in May 2016 in 22-ounce bottles and on draft.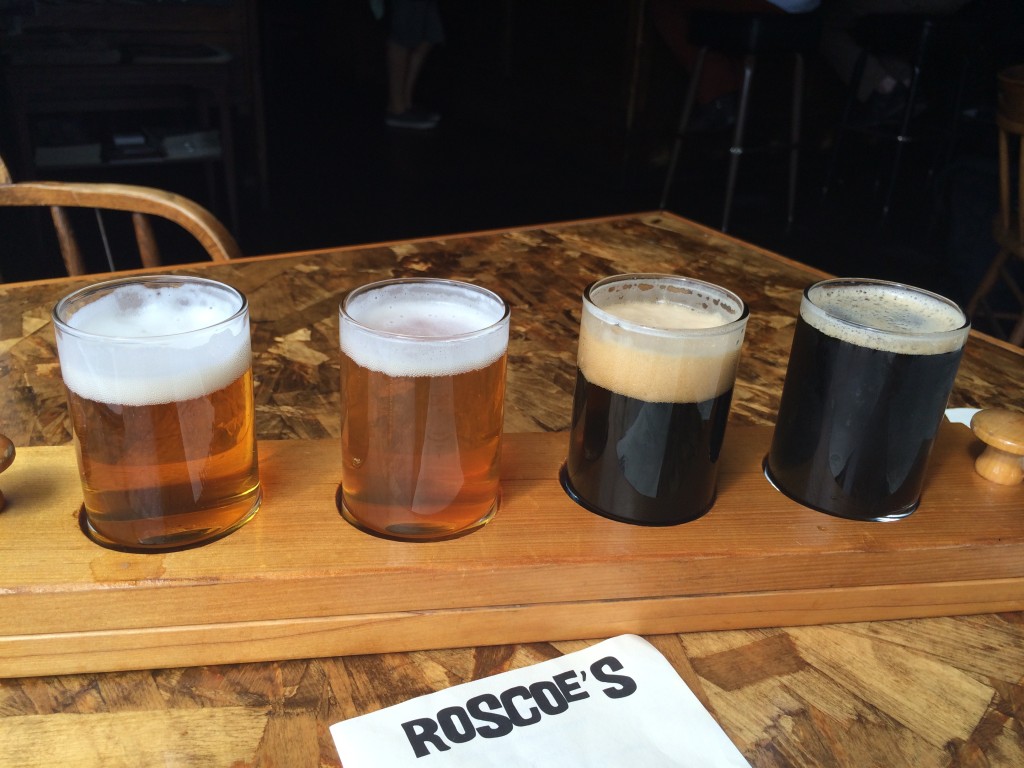 Roscoe's Seventh Annual Belgian Beer Summit
2pm, Friday, May 27- Sunday May 29, Roscoe's, 8105 S.E. Stark St.;
The Roscoe's crew will be celebrating Belgian and Belgian-style beers brewed by their favorite breweries from all over the world, including pFriem Family Brewers (Flanders Blonde), Culmination Brewing Co. (Pinot Evil, Oak aged tripel with pinot noir grapes), De Dolle, Oakshire, Double Mountain, and many more. As always, taster trays will be available and some of the brewers may well be in the house Friday afternoon…
Merle Haggard Tribute Beer Festival
Noon-10 p.m. Saturday May 28, 54°40′ Brewing Co., 3801 S Truman St, Washougal, Wash.;
Bolt Minister, co-founder of 54° 40′ Brewing Co. is not only one of the best brewers in the region, he's got impeccable musical taste too, and is a longtime Merle Haggard fan – and aren't we all. Once you get past the 1960s-era roper vs. doper truculence of "Okie From Muskogee" and "The Fightin' Side of Me" and really listen to Haggard's faultless songcraft, his soulful singing and the understated musicianship of his band – best described as cowboy jazz – you'll understand why American music lost a great one with Haggard's recent death.
The Merle Haggard Tribute Beer Festival will feature a line up of specially crafted special tribute beers from the host brewery, 54° 40′ Brewing, along with their friends at Flat Tail Brewing from Corvallis, Everybody's Brewing from White Salmon, and Lucky Labrador Brewing from Portland. In addition to the Haggard inspired beers, the Lions Club of Washougal will be at the brewery serving up a southern-style rib dinner. There will also be cornhole boards set up and various giveaways.
Widmer Hefe Shandy Release Party
5-8: p.m. Thursday June 2, Bar Bar; 3939 N Mississippi Ave,;
Widmer Hefe Shandy is a tribute to the ritual of adding a lemon to the rim of the brewery's flagship Hefeweizen and its summer seasonal. Hefe Shandy returns in 2016 as a top-10 craft beer in the state and the brewery celebrates its release – and the beginning of summer in Oregon – summer Thursday with a party on the patio that includes Hefe Shandy slushies out of a slushy machine.
Hefe Shandy features Hefe's signature hazy appearance with the addition of lemon drop hops and natural lemonade flavor. The lemonade flavor is noticeably toned down compared to other shandies in the market: the primary goal was to make Hefe Shandy taste like a beer first and foremost, and not a cloying fruit drink. The lemon drop hops used in Hefe Shandy add to the natural lemon profile of the beer, and give it a distinct, bright citrus hop aroma. At 4.2 percent ABV, Hefe Shandy is the perfect session beer for when the summer days heat up.
The Growler Guys Southeast Second Anniversary
Thursday June 2, The Growler Guys Southeast, Grand Central Bowl Bldg.;
To celebrate the first two years in Southeast, the Growler Guys will have specialty kegs from AleSmith Brewing Company, Barley Brown's Beer, Belching Beaver Brewery, Bend Brewing Company, Block 15 Brewing Company, Breakside Brewing, Cascade Brewing Barrel House, The Commons Brewery, Double Mountain Brewery, Fat Head's Brewery, Goose Island Beer Company, pFriem Brewery, Upright Brewing and many more. As a bonus, the first 125 people who buy a pint will receive a commemorative glass and additional giveaways will continue through the weekend.