Treefort Music Fest Expands for its 11th Year in Boise
|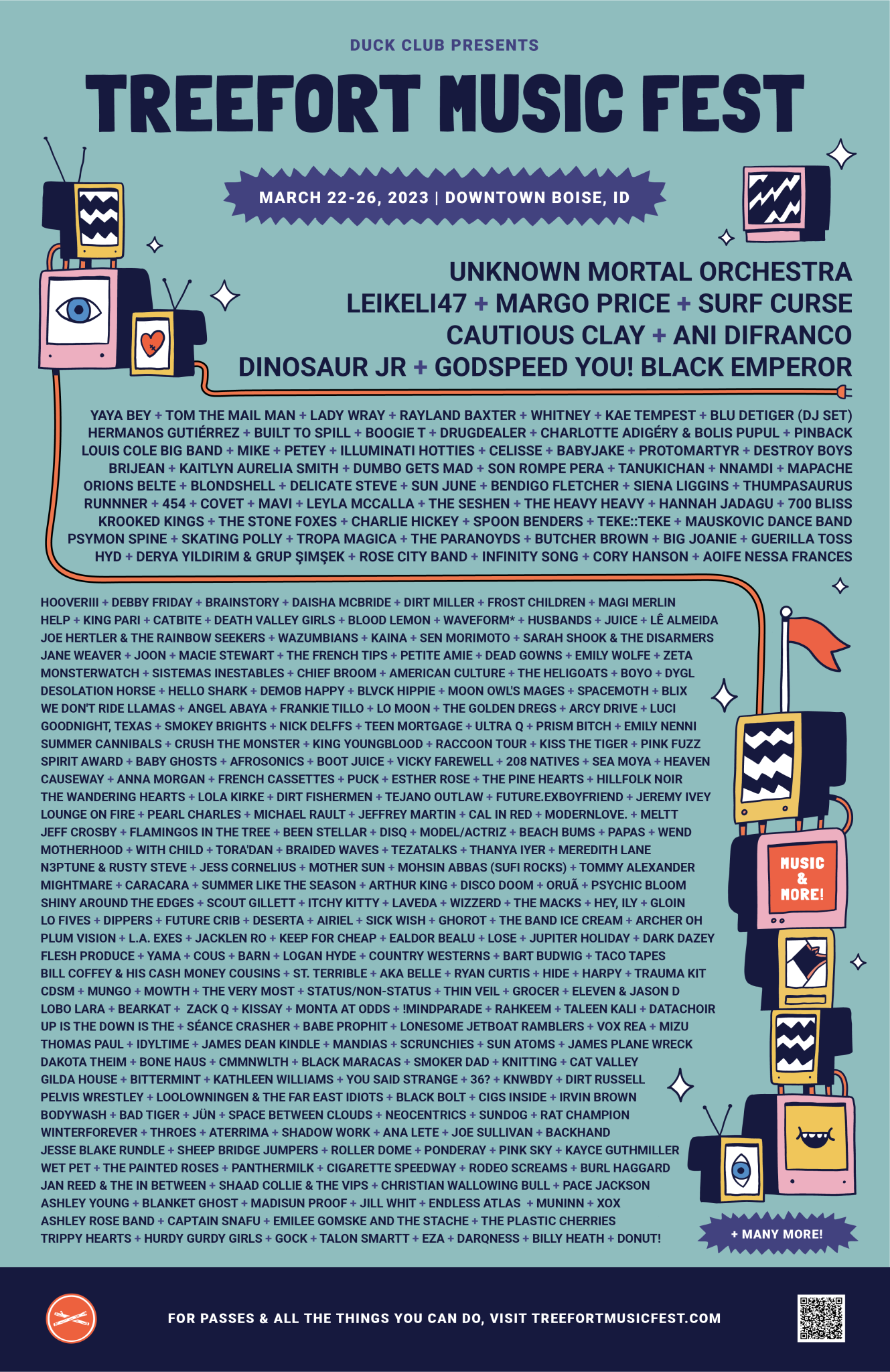 As it enters its second decade, the annual Treefort Music Fest will see the festival expand into a larger footprint in its eleventh year. The 2023 edition of the Treefort Music Fest returns in three weeks to downtown Boise, Idaho from March 22-26, 2023.
Last year was a milestone year for the Treefort Music Fest as it hosted its 10th edition of the festival. It was also a memorable one for us as it was the first major event that we attended since the COVID lockdown in March 2020. We were able to catch so many great bands, including new ones such as New Candys, Prism B!tch, and Margo Cilker and a few favorites such as Built to Spill, Guided by Voices, and Mercury Rev.
Each year, the Treefort Music Fest brings over 25,000 festival goers to downtown Boise for five days of music, drink, food and much more! This year, the 11th annual Treefort Music Fest will host over 300 artists from 37 US states and 24 countries. A few of the headliners include Unknown Mortal Orchestra, Dinosaur Jr, Old 97's, Built to Spill, Leikeli47, Margo Price, Ani Difranco, Pinback, Godspeed You! Black Emperor, Whitney, Rose City Band to name a few. To take a peek at all of the bands visit treefortmusicfest.com/lineup/ or take a look at the festival poster from the lead image above, but with so many bands you may need a magnifying glass to do so.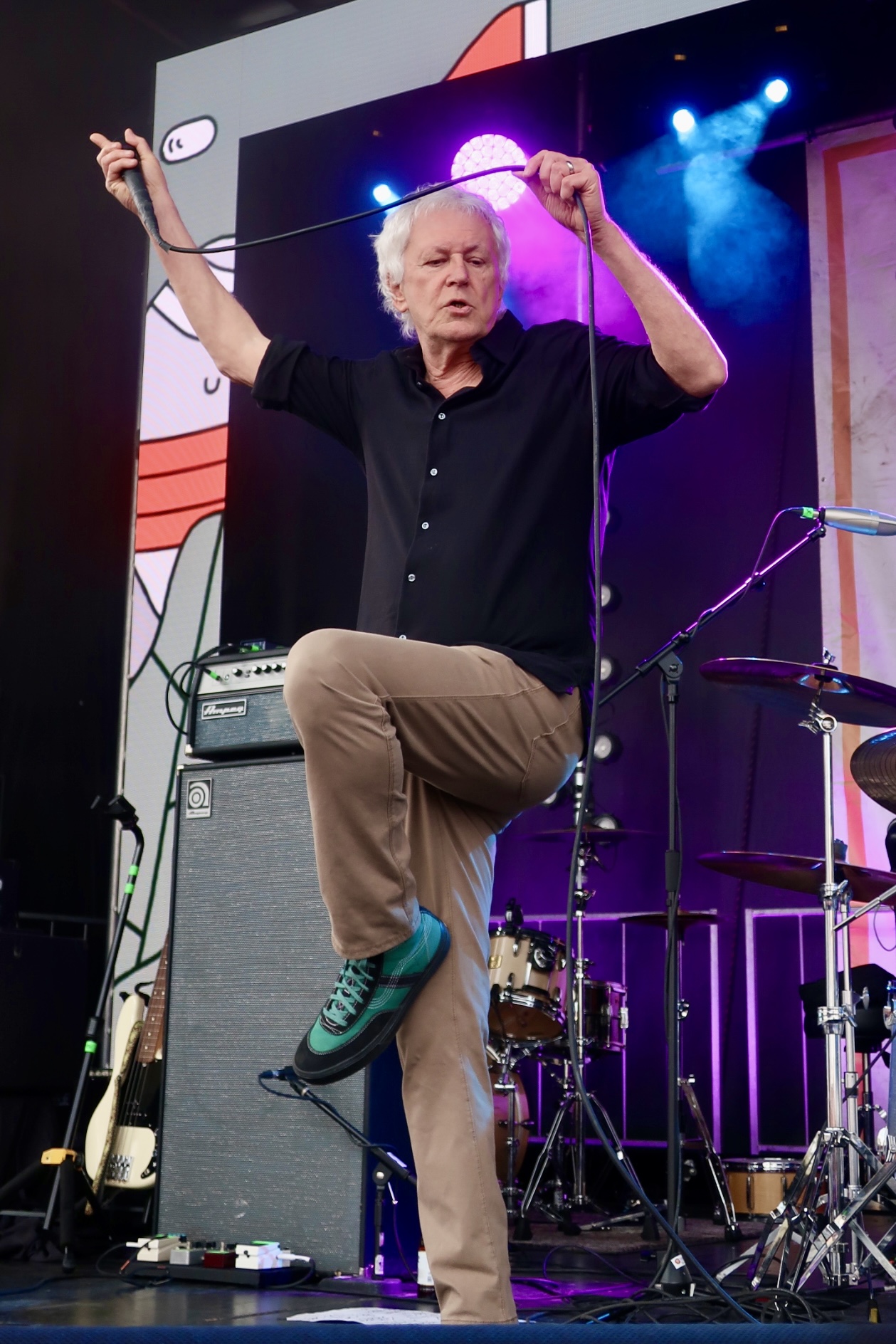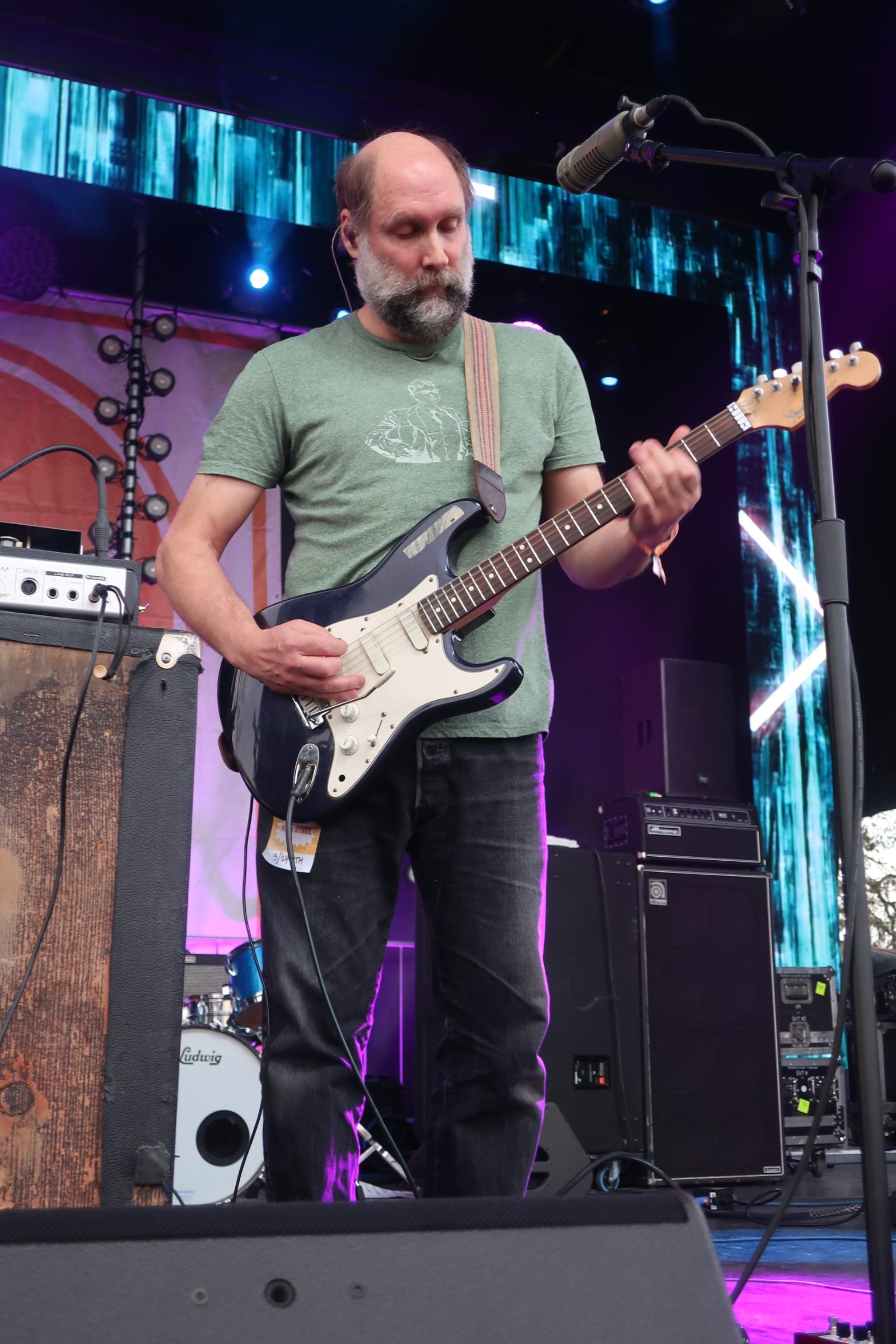 Bands playing the Treefort Main Stage will be part of a new setting that appears to be one that will allow the festival to grow into its second decade. The Main Stage is relocating from its ten-year run in a surface parking lot on the westside of downtown Boise to a larger footprint in Julia Davis Park near the city's zoo. The relocation of the Main Stage will also see Alefort making the same move to be part of this larger festival hub between Capitol Boulevard and Zoo Boise.
"As Treefort enters its second decade and Boise's music and broader creative scene continues to gain momentum, we are excited to share the first glimpse of Treefort 2023," said Eric Gilbert, co-founder and festival director of Treefort Music Fest. "In addition to moving the Treefort Main Stage to a new home within Julia Davis Park, we are reimagining the festival experience for Boise and our visiting attendees from around the world. We are honored to host such talented artists who are doing exciting work and representing a variety of genres and communities. It's already shaping up to be a great festival – and there's still much more to come."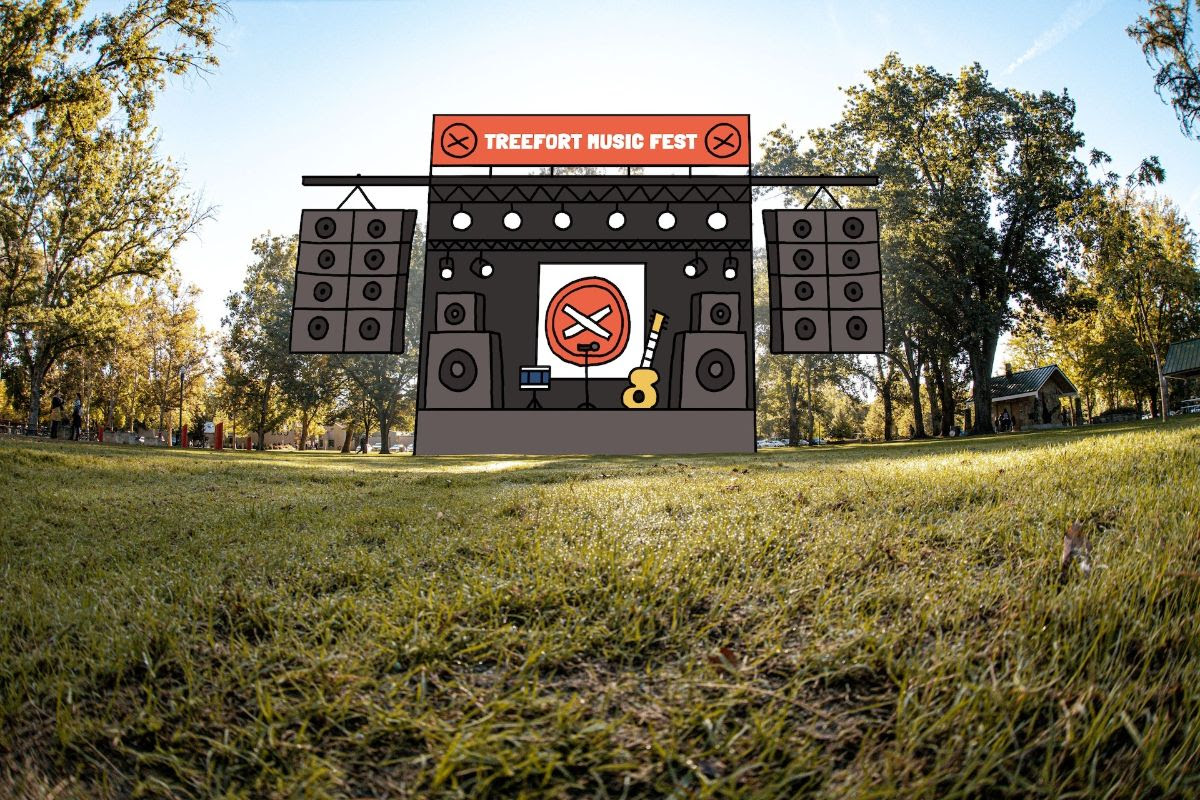 This new vision of Treefort is now taking shape with the announcement of two new zones within Julia Dave Park. There will be the Fort Zone and the Wristband Zone.
The Fort Zone encompasses the West half park and is free and open to the public. It includes many of the forts and activities that were previously located along Grove Street, like Alefort, Kidfort, Radioland, Ranger Station, food trucks, bars, restrooms, water stations and merch/token sales.
The Wristband Zone is located between the Fort Zone and the Zoo and will require a Five-Day, Single-Day or Main Stage pass to enter. This zone includes Main Stage, Hideout Stage, the Garden Dome, art installations and much more.
All attendees will enter the park through the Main Entrance facing Capitol Boulevard, just south of the Boise Art Museum. Regardless of passholder status, all attendees will go through security upon entering the park. Additional information and maps can be found at treefortmusicfest.com/2023-park-map.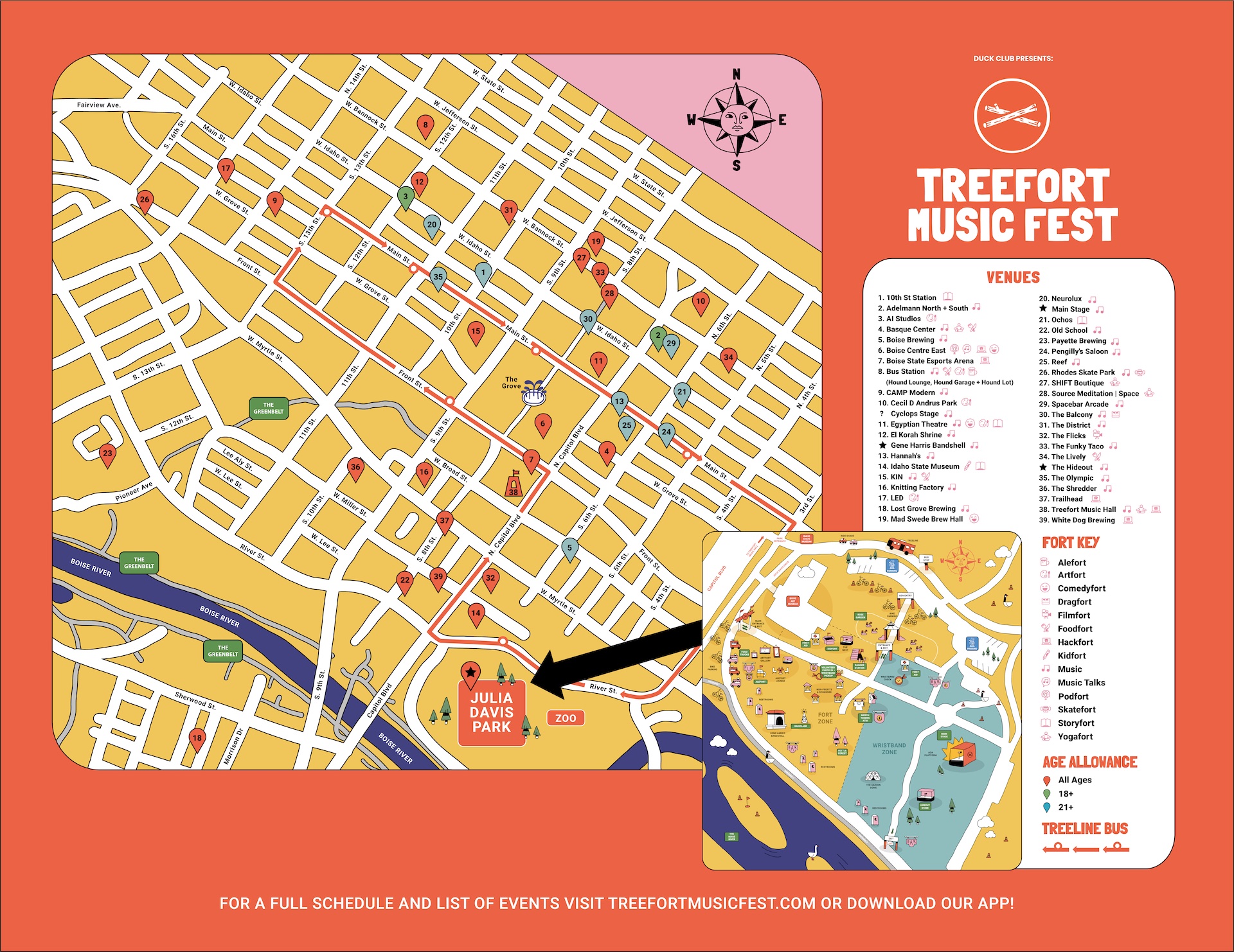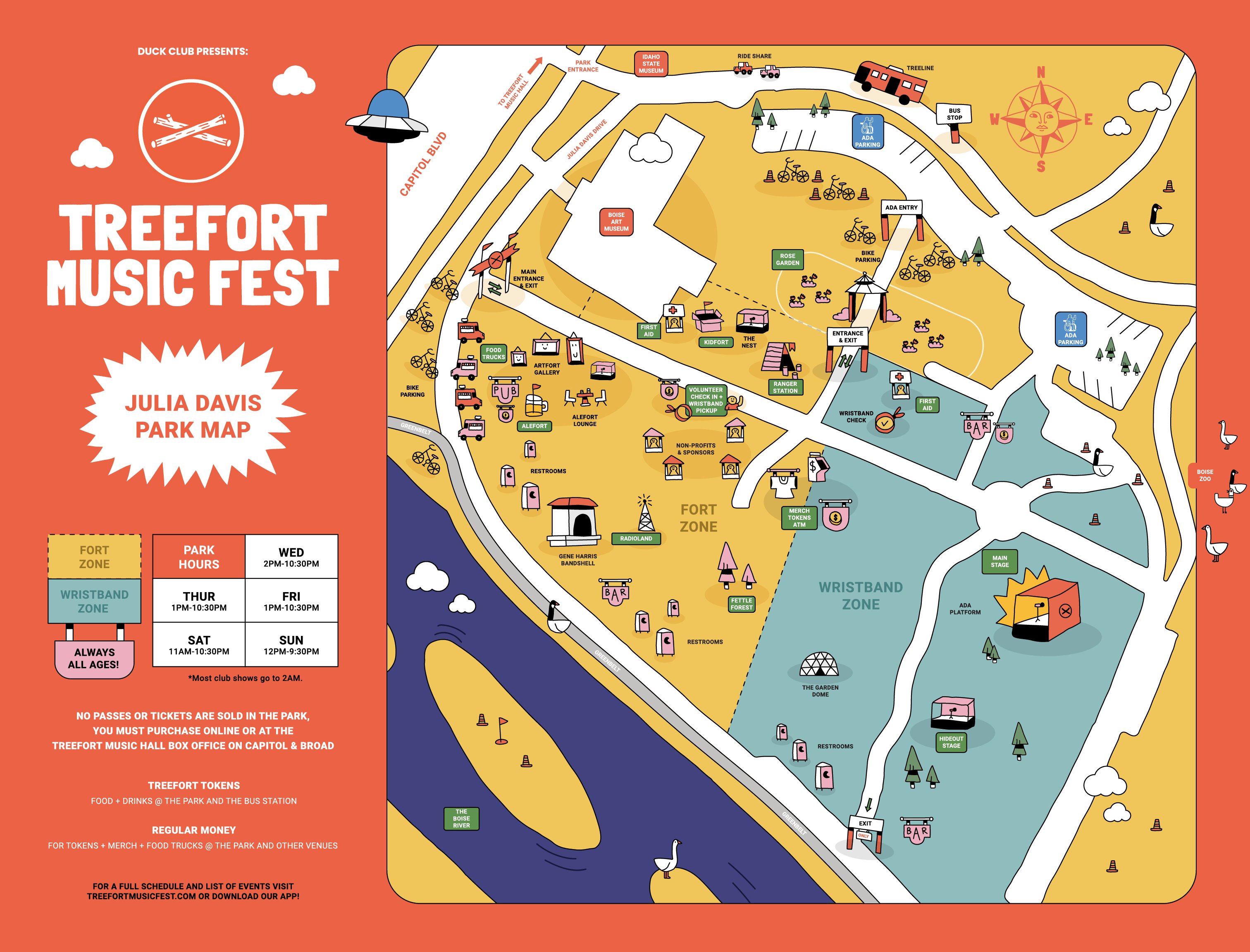 Treefort 11 Passes are on sale now. Five-day Festival passes are $290, Zipline passes are $420, and U21 passes are $150. Single Day passes are $100, and Main Stage passes are $50. Kids age 12 and under are always free to attend with an adult passholder. Many of the other peripheral 'Forts are free to attend, including Alefort. For more information and to purchase tickets to Treefort 11, visit treefortmusicfest.com/tickets.
As previously mentioned, Alefort is now part of the new Fort Zone and is once again free to attend during its run from Wednesday, March 22 through Sunday, March 26. Yes, there's an extra day of Alefort! Organized by the folks at Bittercreek Aleshouse, Alefort has grown through the years to become a beer festival in its own right but with so much great live music just steps away.
For this year's Alefort, expect to find over 65 local and regional beers, ciders, wines and specialty cocktails at the Alefort Pub and Lounge at Julia Davis Park. Once again, the Alefort Pub and Lounge will feature the Treefort Gallery with daily exhibits.
But Alefort does not end at Julia Davis Park as it expands to a new, second location. This new Alefort extension will see the Alefort Cocktail Showcase and other tastings at the converted Greyhound Station at 12th and Bannock.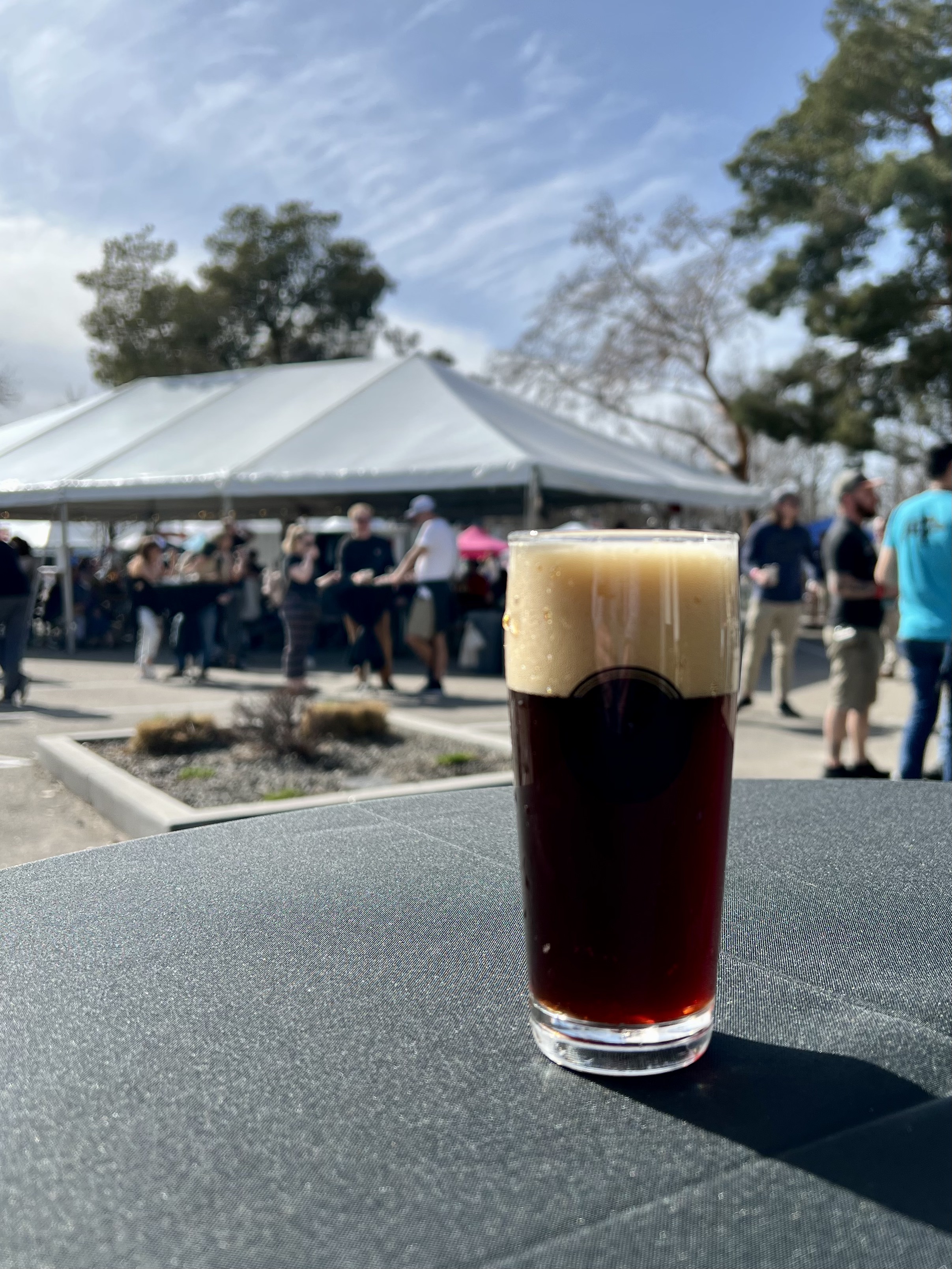 Best of all, Alefort is free to attend and is open to all ages. There's no need to have a Treefort pass to attend. However, you must have valid ID and a 21+ wristband to drink alcohol. Drinks are purchased with tokens.
If you fancy yourself a fantastic Alefort experience, snag a Buzz Pass. The Buzz Pass is like a ZIPLINE for Alefort. Includes 8 tokens, a super cool MiiR tasting mug, power to skip the line at either Alefort location, and access to exclusive beer tastings. Buzz Pass is $120 — only 200 available.
Treefort Music Fest aims to be a waste-free fest and organizers recommend bringing your own 8 oz Alefort cup and/or your Treefort 16 oz stainless steel cup. Both 8oz and 16oz stainless steel cups will be available for purchase on-site. Learn more about Alefort 2023 at treefortmusicfest.com/alefort-2023.
But it's just not music and beer at Treefort as there are various other 'Forts to explore. Programming includes Artfort, Comedyfort, Dragfort, Filmfort, Foodfort, Hackfort, Kidfort, Podfort, Storyfort, Yogafort and Music Talks. Here's a rundown on what to expect from these peripheral 'Forts during the 2023 run of Treefort!
ARTFORT 2023 announced additional performance and visual artists for Treefort 11, including Starbelly Dancers, BRENDA ARTS, and Colossal Collective, as well as artists painting live murals during the fest and two special artist showcases. Artfort is free & open to the public of all ages. Learn more about Artfort 2023 at treefortmusicfest.com/artfort-2023
COMEDYFORT 2023 has announced its full lineup, headlined by Emmy and Grammy nominated stand-up comedian Tig Notaro. Individual tickets to see Tig are sold out, but Festival Passholders will have first come, first served seating on the second level/mezzanine of The Egyptian. Comedyfort's lineup includes Matt Besser, Shane Torres, Jessica Keenan, Johnny Taylor, Todd Basil, Maureen Ferguson, Bryan Bixby, Jake Silberman, Sofia Javed, and more. Comedyfort requires a Festival Pass. Learn more about Comedyfort at treefortmusicfest.com/comedyfort-2023
DRAGFORT 2023 has five days of performances and pop up events planned for Treefort 11, featuring performers like Kerri Colby, a celebrated model, online and TV personality, activist; Seattle's fave martian Irene "The Alien" Dubois, Treefort fave Big Dipper, drag artist and motivational speaker Meatball, and Austin's drag collective Poo Poo Platter. Dragfort requires a Festival or Dragfort Pass ($69) and most events are at The Balcony (21+). Learn more about Dragfort 2023 at treefortmusicfest.com/dragfort-2023
FILMFORT 2023 has announced additional feature films, including ᏓᏗᏬᏂᏏ (We Will Speak), a documentary exploring efforts to save the Cherokee language from the brink of extinction, and Free Time, a film following a man named Drew who quits his job, then quickly decides he wants it back. Filmfort also announced additional short films which will screen in blocks of 5-6 films daily. Filmfort requires a Festival or Filmfort Pass ($30). Learn more about Filmfort 2023 at treefortmusicfest.com/filmfort-2023
FOODFORT 2023 has announced its dining experiences. On Wednesday, March 22, James Beard Nominee and Food & Wine's Best New Chef of 2021, Chef Ji Hye Kim will create an intimate dinner exploring Korean cuisine. On Thursday, March 23, Street Eats will return. On Saturday, March 26, Virginia's five-time World Barbecue Champion Tuffy Stone is hosting a mouth-watering BBQ. Treefort alum Chef Hugh Acheson will also return to Foodfort for a very special and delicious vegan lunch (details TBA). All Foodfort events are ticketed and tickets will be on sale soon. Learn more about Foodfort 2023 at treefortmusicfest.com/foodfort-2023
HACKFORT 2023 has announced several workshops happening at the fest, includingBuild Your Own Custom Keyboard, Solderfort 101: An introduction to basic soldering, Escape the Aliens Using Your Trusty Raspberry Pi!, and Lock Picking Lounge. Hackfort is also hosting interactive events like Board Game Brunch, Magic of the Bands, and BoiseLAN. Hackfort is open to all ages and requires a Festival or Hackfort Pass ($30). Learn more about Hackfort 2023 at treefortmusicfest.com/hackfort-2023
KIDFORT 2023 has programming for the younger crowds at Treefort Music Fest and has announced additional workshops happening during the fest, including Folky Fun for Families with Boise Music Lessons, the Little Mini Mural with Emme Nye, and the Aerial Circus Show with Asana Aerial Arts Youth Company. Kidfort is free and open to the public of all ages. Learn more about Kidfort 2023 at treefortmusicfest.com/kidfort-2023
PODFORT 2023 is for all things Podcasts. This year more than 20 podcasts will be doing live recordings at the fest, including improv4humans with Matt Besser, High and Mighty with Jon Gabrus, Sloppy Seconds with Big Dipper and Meatball, and more! Podfort is free and open to the public. Learn more about Podfort 2023 at treefortmusicfest.com/podfort-2023
STORYFORT 2023 is bringing in some of the most influential young and emerging writers in the country, and has announced additional writers coming to the fest including Kevin Maloney, New York Times Bestselling author Jonathan Evison, Tomás Baiza, and Parker Young. Storyfort is free and open to the public of all ages. Learn more about Storyfort 2023 at treefortmusicfest.com/storyfort-2023
MUSIC TALKS brings the industry's brightest minds to Treefort Music Fest to discuss the future of music and help artists build thriving careers. Made for artists at any point in their career and anyone who is interested in the music industry, talks this year include Treating Your Music (or Art) Like a Business, Music Supervision, Mental Health for Musicians, Monetizing Music in 2023, Music PR and more. Music Talks are free and open to the public of all ages. Learn more about Music Talks 2023 at treefortmusicfest.com/musictalks-2023
YOGAFORT 2023 is celebrating 10 years! This year Yogafort will have 20+ experiences – including Nia, meditation, dance, yoga, breath work, sound baths, sensual embodiment yoga and much more. Dozens of yoga practitioners, guides and musicians will lead Yogafort experiences, including headliners Sheela Bringi, Clinton Patterson, East Forest, Marisa Radha Weppner, and Brent Kuecker. Yogafort requires a Festival or Yogafort Pass ($69). Learn more about Yogafort 2023 at treefortmusicfest.com/yogafort-2023

The upcoming festival will celebrate the second decade of the Treefort Music Fest, which began in 2012 to showcase Boise's local music and arts community while playing host to the national and regional music scene. Stay in the loop on all things Treefort Music Fest at treefortmusicfest.com or @treefortfest on social media.
And to take a look at last year's festival, here are additional photos from Treefort 2022…