2017 Hop Harvest At Goschie Farms With Pyramid Brewing
|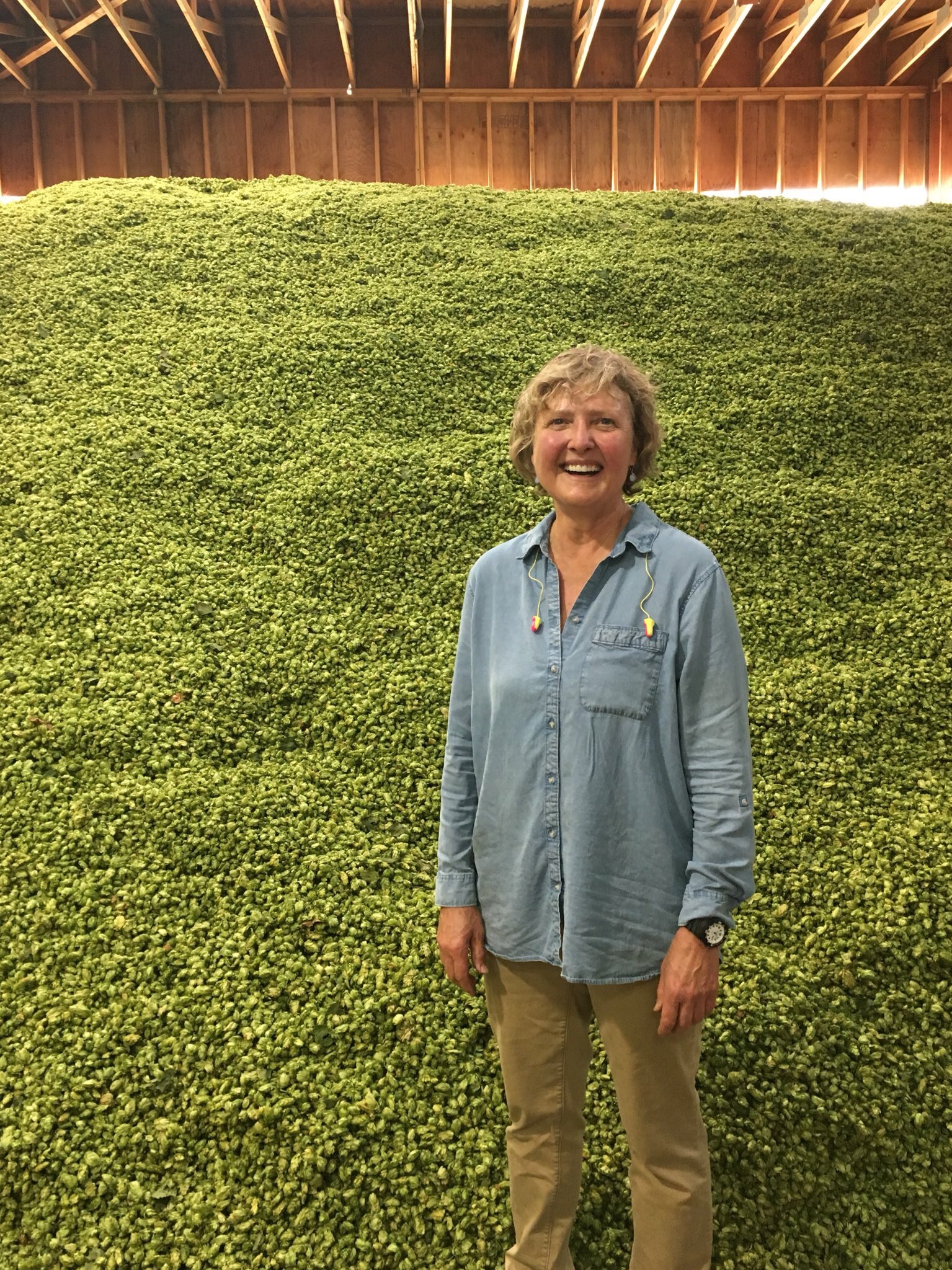 A short 45-minute drive down Interstate 5 from Portland will lead you into the Willamette Valley. When you enter Marion County its here were a majority of the 7,765 acres of Oregon hops are grown that equated to a total crop value in the state of over $65M in 2016.
Last week we were invited by Pyramid Brewing to visit Goschie Farms in Silverton, Oregon that is in the beginning of its annual hop harvest that will end on September 15th. This family farm, now in its 4th generation, began growing hops in 1904. Now in its 3rd generation of growing hops Gayle Goschie continues on with this crop that has seen its hop varieties expand from three to currently ten varieties and now takes on over 500 acres. In addition to hops the farm also grows other crops such as wine grapes, corn, grass seed and now barley.
Goschie Farms was the first hop farm to be certified Salmon-Safe. Gayle first learned about Salmon Safe Farms through Oregon's wine industry and felt that the brewing industry should embrace this sustainable practice. Since she has always been a leader in sustainable farming practices she decided to get her farm certified. This certification took place in 2007. Now all of crops grown on the farm are Salmon-Safe.
When we arrived the farm was in the midst of harvesting Centennial hops. However the first hops to be harvested in 2017 were Hallertau Abiqua. Gayle decided to add the Abiqua name to her Hallertau varieties to pay respect to the terroir of the region and how influential Abiqua Creek is to the agricultural industry.
When it comes to deciding which hops are ready for harvest hop farmers look for a few key elements of the hop cone. According to Gayle, "Maturity of the hop cones is key teller of its peak lupulin glands." Regarding this year's crop she adds, "Centennials are a very consistent hop this year."
During our tour of the hop farm Gayle led us through the hop processing process. After the hop bines are cut from the trellis in the field, they are brought in by truck to begin the process of making the hops useful to brewing. Here are a couple videos that show the beginning process to detach the hop cones from the bine.
After the hop cones are fully detached they will go through a kiln drying process. When harvested hops contain about 80% moisture. The hops are kiln dried at about 130 degrees Fahrenheit for about six to eight hours. During this kiln drying process you can definitely feel and see the heat in the room. And to gauge how dry the hops are getting Gail and her crew will put hop shoes (flat boards that look like snowshoes) to walk in the drying hops to get a moisture reading. Here is a video of the hop cones being added to the kiln drying floor.
After drying the hops are then bailed in the 200 pound bales by adding then compacted hops in two 100 pound intervals. The process can be seen in the video below.
Then after the tour ended Ryan Pappe, Head Brewer at Pyramid Brewing, along with a few assistants went back up to the kiln drying floor to bag up 200 pounds for freshly picked Centennial hops.
From there we left to head back to Pyramid Brewing where Ryan's brew team was ready to grab these fresh hops to add to a batch of Outburst Imperial IPA. Here's video of the fresh Centennial hops being added to 55 barrels of Outburst Imperial IPA.
Pyramid Brewing will is set to release its Outburst Fresh Hop Imperial IPA brewed with fresh Centennial hops on Wednesday, August 30th at the brewery in Northwest Portland located at 2730 NW 31st Avenue.
Here's a photo recap of the days festivities at Goschie Farms and Pyramid Brewing…