A Look at Aslan Brewing In Bellingham, Washington
|
I have always loved the City of Bellingham. Growing up on Vancouver Island we regularly listened to KISM FM from Bellingham, in the early 90's I was drawn to Bellingham because Estrus Records was putting on some of the best garage rock shows ever at the 3B Tavern (RIP) – those were Pabst days for me.
Bellingham always struck me as the logical progression for moving up the coast, you start in San Francisco, and then go to Portland and from there to Bellingham.
The beer scene in Bellingham has been steadily growing during the last decade or two and anytime I am passing by Bellingham I take the opportunity to explore a brewery. And on my most recent trip I stopped at the Aslan Brewing for lunch and of course a few beers.
Open for just under two years, Aslan Brewing offers up some beer and food that is organic and delicious. Its staff is attentive, knowledgeable and very keen, they obviously like to work there. The space is bright and airy with a big bar and a chalkboard above listing the beers. The tap handles are all beautiful wooden hand crafted and one of kind.
The beer list was large and comprehensive, there are many beer styles from the standard IPAs and Stouts to more adventurous beers with fruit and/or funk and barrel aged goodness. I was with my wife who was behind the wheel, which afforded me the ability to sample every beer they had.
A nice touch is the little descriptor cards that come with each sample providing the basis stats of the beers. All of the beer was good and some were great. The Unicorn Picnic for example – it is their Dawn Patrol Ale aged in red wine barrels with Brettanomyces Lambicus to fantastic results, it's a little fruity and little funky with a nice tartness.
The Pulp Fiction is a Belgian pale brewed with blood orange. Sweet/tart and a blood orange juiciness that is very satisfying.
With a great room, fun staff and fantastic beer, what more could you want? How about great food? Check.
The food is organic with lots of vegan, vegetarian and gluten free options. The menu is extensive but not crazy extensive to the point it doesn't make sense. I had the Bison burger which was cooked perfectly medium rare and came with cheese, lettuce, pickles, tomatoes and 'classic sauce' – their options for sides are different and much appreciated, I chose the pickled veggie side and it worked well with the burger and the beer. Next time I look forward to trying the poutine.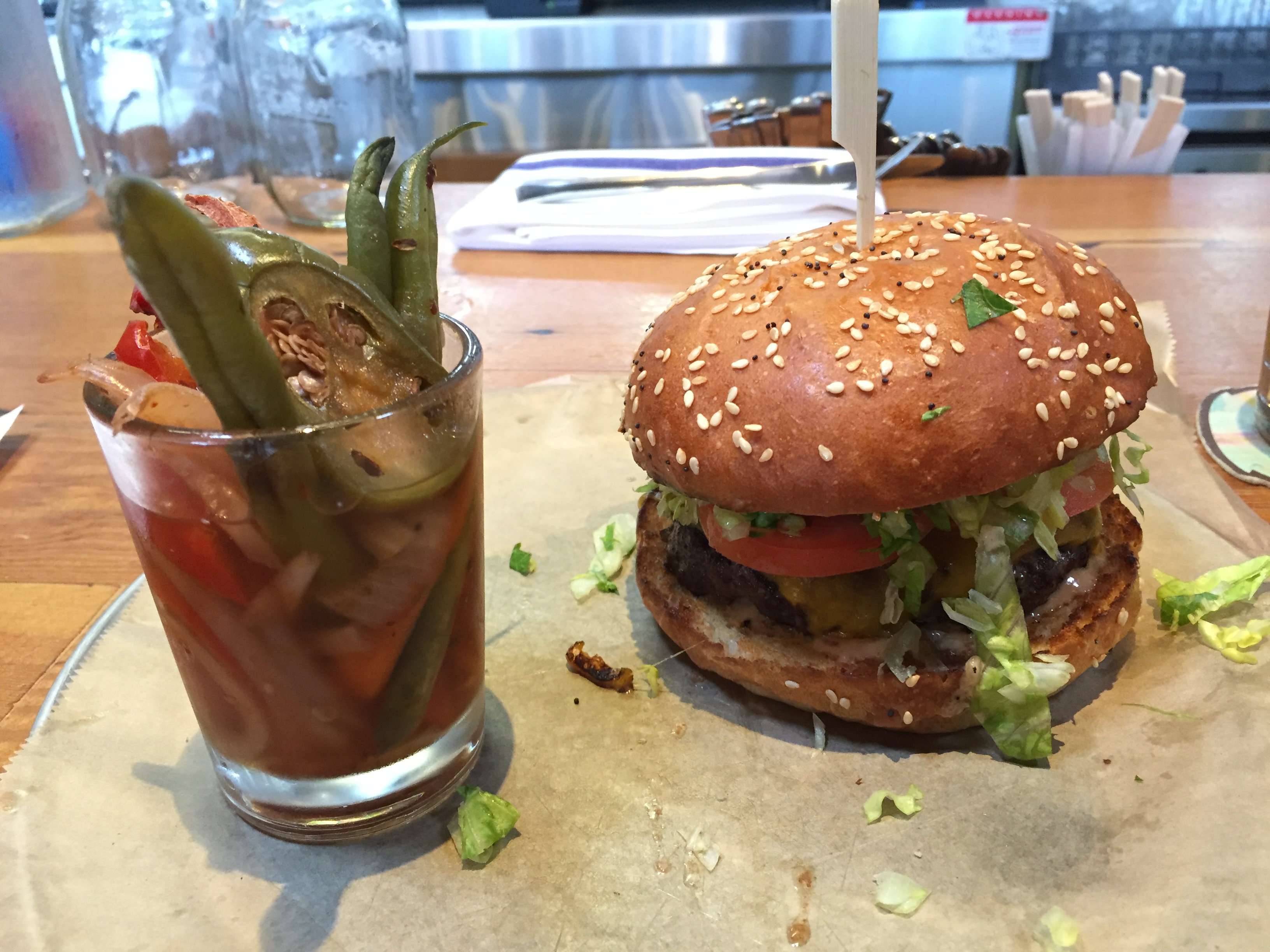 If you are traveling to or near Bellingham I highly recommend a stop at the Aslan Brewing, feed your inner lion the organic goodness it deserves.