Ackley Brands Acquires Mac & Jack's Brewing Company
|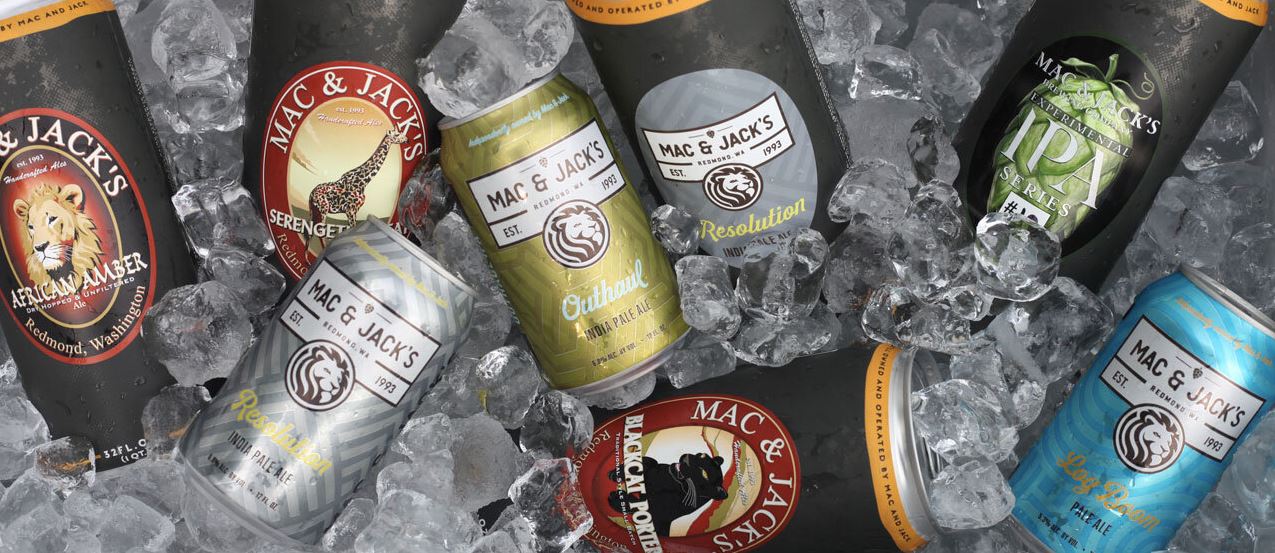 After 30 years of brewing, Mac & Jack's Brewing Company has sold to Ackley Brands, a Seattle based family-owned company that owns and operates premium beverage brands in the Pacific Northwest. The Redmond, Washington based brewer that was founded by Mac Rankin and Jack Schropp will now be part of a larger beverage company while keeping its ownership in Washington state.
The two friends started Mac & Jack's Brewing Co. out of Schropp's garage where they honed their recipes to become one of the state's most notable brewery. Best known for its African Amber, an unfiltered and dry-hopped Amber Ale, this beer still dominated tap handles for across the Pacific Northwest where it distributed its beers in Washington, Oregon, Idaho, Montana, Alaska, and Hawaii.
Here are additional details from today's press release…
"The family values of their company align with ours so well," said Ackley Brands President Brandon Ackley, who has been enjoying Mac & Jack's beers since the 2000s. "Mac and Jack are hard-working, humble individuals who put their heart into everything they do. We are happy to start this journey together, and to continue making craft beer with the same quality standards as Mac and Jack have always held."
Both Mac & Jack's and Ackley Brands are locally grown companies that are committed to staying local. Rankin first dreamed of owning a brewery in his college days at the University of Washington, and Washington State University is where Ackley first tried Mac & Jack's beers.
"The Mac & Jack's team has been a family for years, and we couldn't be prouder of what we've accomplished. We have been looking for the right partner for our brewery, and we know we are placing it in the capable hands of a company that will continue to pursue excellence without neglecting our standards or our community," said Rankin, who has been integral to the growth of craft brewing in the Pacific Northwest. "Fans of Mac & Jack's beers can expect the same level of flavor, quality, and consistency that they have come to expect from us," he continued.
The acquisition signifies a seamless transition for Mac & Jack's, underscoring the craft brewery's commitment to preserving its distinct identity, culture, and dedication to quality. Their popular beers will continue to be produced by the same brewery team, who are all retaining their positions. Rankin and Schropp will continue in their leadership roles, as well as acting as consultants during the transition. Their dedication to sourcing the highest quality local ingredients and pursuing partnerships with Oregon and Washington restaurants and distributors will not change.
"We built Mac & Jack's on partnerships across the region that we know will carry forward in its new form," said Schropp. "We're glad to be a part of this vital transition for our brewery and see a bright future ahead."
The brewery grew solely through keg sales until 2019, competing with national and international brands for tap handles across the Northwest and selling personal-use kegs to consumers. In 2019, Mac & Jack's began canning seasonal beers and started canning their flagship beers soon thereafter. This prescient move helped them weather the pandemic, but their partnerships with bars and restaurants across Washington State are still the greater part of the business.
Mac & Jack's first brew is still their flagship beer, the African Amber. The Serengeti Wheat is an American-style Hefeweizen, but Mac & Jack's brews with 50% malted wheat, well over the 30% minimum to be called a wheat beer, which helps it stand out in a crowded field. The Blackcat Porter is balanced with coffee and cocoa notes and is a relatively light porter, one that can be enjoyed year-round. Mac & Jack's cemented their reputation with these beers before creating their Resolution IPA and Log Boom Pale Ale, and they continue to produce one-off seasonal beers as well as a new series of Pacific Expedition IPAs.
Ackley Brands was founded in 2016 when the Ackley family purchased Montinore Estate, a leader in the world of Biodynamic® viticulture that has been producing wine in Oregon's Willamette Valley for nearly four decades. Ackley Brands is dedicated to developing premium beverage brands in Oregon and Washington, with four wine brands and tasting rooms including The Grove in McMinnville, Oregon, and Montinore Estate and Landlines Estates Tasting Room in Woodinville, Washington. In 2024, Ackley Brands will open The Cove at the Lake Union Piers, a wine bar that will feature a rotating selection from their portfolio of wines as well as Mac & Jack's beers.
Mac & Jack's is Ackley Brands' first brewery acquisition, and both teams are excited to move forward together. Ackley Brands will provide expertise in management, operations, and sales that will support Mac & Jack's ongoing success and growth.