After Ron Gansberg's Departure Cascade Brewing Promotes Kevin Martin to Director of Brewery Operations
|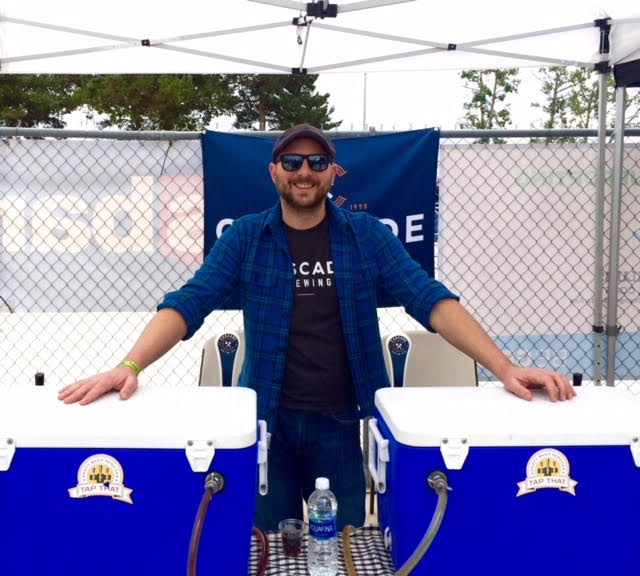 Some changes have taken place in the brewery at Cascade Brewing, one of Portland's most recognized breweries known for its sour ales. After the abrupt departure of Ron Gansberg that was announced on the brewery's Facebook page on June 28th, Cascade Brewing has made it official that Kevin Martin has been promoted to Director of Brewery Operations.
Today the 20-year-old brewery sent out a press release stating that Martin will take over the reigns at the brewery known worldwide for its sour ales. Martin, a very competent brewer and one that has a lot of influence on the beers in recent years at Cascade is ready for this new opportunity. He will be in charge of production of its sour ales and the brewery assures its fans that it will be at the same level of quality that Cascade Brewing has been known for during the past two decades.
"Working closely with the production and sales teams, I am committed to fostering a unified vision that informs the planning, brewing, blending, packaging and quality management of our beers while continuing to support the spontaneity and inventiveness of our live barrel and small blend programs," stated Martin in today's press release.
Gansberg has been by the side of Cascade Brewing's founder Art Larrance since the inception of Raccoon Lodge, the brewery that would become Cascade Brewing. We reached out to Cascade Brewing today to learn more about Gansberg's departure that took place one month ago and were provided this statement, the same statement that was posted on its Facebook page on June 28, 2019.
"We are incredibly sad to announce that Cascade Brewmaster Ron Gansberg has moved on to pursue other opportunities. Ron has been in the beer business for 30+ years, and has been with Cascade Brewing since day one. His contributions to the company over the past two decades have been immeasurable, and his foresight in helping create the Northwest Sour Beer category was groundbreaking. Cascade Brewing owes a big thanks to Ron, and his presence and wizardry will be missed. We wish him all the best in his future endeavors. Servus!" – Cascade Brewing
Martin first gained industry experience in the wine industry as a cellarman in Oregon, New Zealand and Australia. He then honed his homebrewing skills that began in 2003 to make the leap into brewing when he interned at Laurelwood Brewing as he went on to graduate from the American Brewers Guild course in Brewing Science and Engineering. He then joined Cascade Brewing in 2012 as a cellarman, and was promoted to Lead Blender in 2014. In 2015 Martin graduated from Portland State University's Business of Craft Brewing program.
He will now but theses skills and experience to work when he expands Cascade's portfolio of beers while developing the talents of the Cascade team of brewers.