An Interview With Brett Joyce and Dharma Tamm From Rogue Ales
|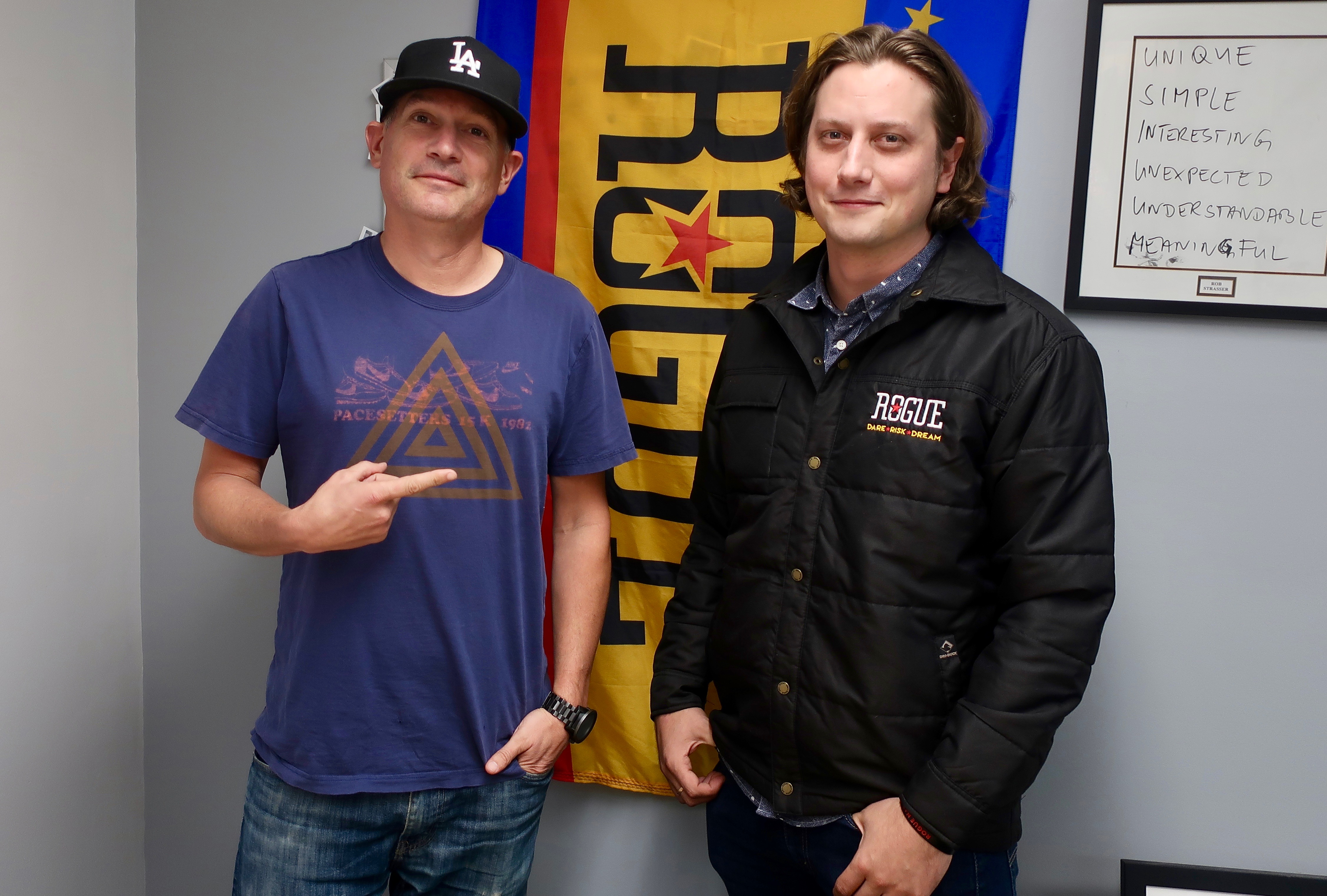 One of Oregon's most well known breweries will see a change in its top level of management when we enter the New Year. For the past 11 years, the president of Rogue Ales has been Brett Joyce, the son of the founder, the late Jack Joyce. On January 1, 2019, Brett will depart the company and Dharma Tamm will take over as the Rogue Ales' new president.
During Rogue Ales thirty years it relocated to Newport, Oregon and expanded multiple times in the Oregon coastal town. During this time the brewery has been awarded 31 medals at the prestigious Great American Beer Festival. It also opened satellite pubs along the west coast in Portland, Astoria, Issaquah, and Independence. Rogue also had a pub in Eugene that closed nearly four years ago and one in San Francisco that closed earlier this year due to a major 4-alarm fire.
The announcement of Brett leaving the company that his father started 30 years ago in Ashland, Oregon was a bit shocking when we first heard the news last Friday morning. And then we learned that the 31-year-old Dharma Tamm would be taking over as the brewery's president on January 1, 2019. When Brett took over as president of Rogue he was just 34-years-old, therefore not much of an age difference with Dharma's current age.
"We announced it internally to our staff simultaneous announcements here in Portland and in Newport to our people on Wednesday (October 17, 2018) afternoon," said Brett. "Then Beer Business Daily was the first to report it on Thursday (October 18, 2018) morning."
Prior to joining Rogue Ales, Brett Joyce spent his years prior in the athletic industry, similar to his father's years at Nike. Brett worked for Adidas, Taylor Made (when it was still owned by Adidas) and Fila prior to joining his father at Rogue.
Dharma arrived at Rogue in January 2017 coming from seven years of experience at Anheuser-Busch InBev. During his seven years at AB InBev he held various positions at AB InBev including working in its High End Craft Division.
AB InBev is also where Dharma met former Rogue employee, Michael Higgins who is now the National Sales & Marketing Director, High End Imports at AB InBev. Dharma goes on to explain his connection; "So Higgins and I sat next to each other in New York so we know each other well. Higgins is great." Therefore he learned what he was about to get himself into at Rogue from someone that knew the company quite well.
All this said we still find it very strange that Brett is jumping ship at the young age of 45. The brewery turned 30 this year and he is the direct link to his father that founded the brewery in Ashland, Oregon back in 1988.
Here's our interview with Brett Joyce and his successor Dharma Tamm that took place on Tuesday afternoon at the Rogue Headquarters in Southeast Portland.
So why are you stepping down?
Brett: I can only tell you what I told our people and I can only tell you what is the truth, which is its time. I've always operated off of a strong gut instinct. Its been planned but its also instinctual so those things are kind of diametrically opposed in some ways. I kind of knew a couple years ago that we needed more high-level talent in the organization. So that's the first time I had sought out really a general manager. I wanted a strong number two to bring into the business to help the business and to help me have a strong right hand. This is when I found Dharma a couple of years ago. So that was sort of the outline of a plan. So the good news is that I hired the right guy, Dharma so its been great working with him everyday for two years. And just the last few months I kind of had that its time feeling. There was no pressure; there was no have to deadline. It was just really me kind of knowing that I am ready to move on and that Dharma was ready to assume the role.
Did your father's passing a few years back have anything to do with your decision to step down?
Brett: No but that of course is part of the journey too and that changed the company. Either I was his right-hand or he was mine or maybe it didn't matter. It was just he and I to run this thing in lots of ways. So certainly with him passing I had a void there for a couple of years. And then maybe it took me that time to figure out that we need more talent. So him passing had nothing really to do with the decision. I think about it this way, I have been at Rogue for 13 years as an adult; I have been the president for over 11, that's a long time. I was in the athletic business for about the same amount of time so I feel like maybe I have a shelf life of maybe 10, 12, 13 years and then I got to go do something else.
You're only 45 years old. What is in store for you in the future?
Brett: I don't know yet. I got to get this thing to the finish line and then I'll figure out what's next. I can tell you what its not going to be, it's not going to be in craft beer. I'm passionate about only one of those and that's Rogue. The kids say that this is a gig economy so I need to find a new gig.
So does Adidas have an opening?
Brett: Oh no! There's phase three so there's athletics, beer and then what's next. So it'll be something different.Will you remain living in Oregon?
Brett: We have roots here. I am born and raised here. My kids are in high school here and we have deep roots here. So I am not moving for anything.
I understand that you will still sit on the board at Rogue Ales. How many people sit on the board?
Brett: We have six board members.
Are these board members family members and/or ones from outside the organization?
Brett: We don't disclose that.
Dharma, prior to joining Rogue as its General Manager in January 2017 what was your experience? How many years at AB InBev?
Dharma: I was with them from the end of 2009 through 2017. I started here at the very beginning of 2017.
You will transition from General Manager to President at the beginning of the New Year. Each company has a different hierarchy structure but at Rogue are there any positions in between these two?
Brett: Nothing in between. We have a great executive team but over the past couple of years I gave Dharma more and more responsibilities and oversight to the company. There is nothing in between he and I.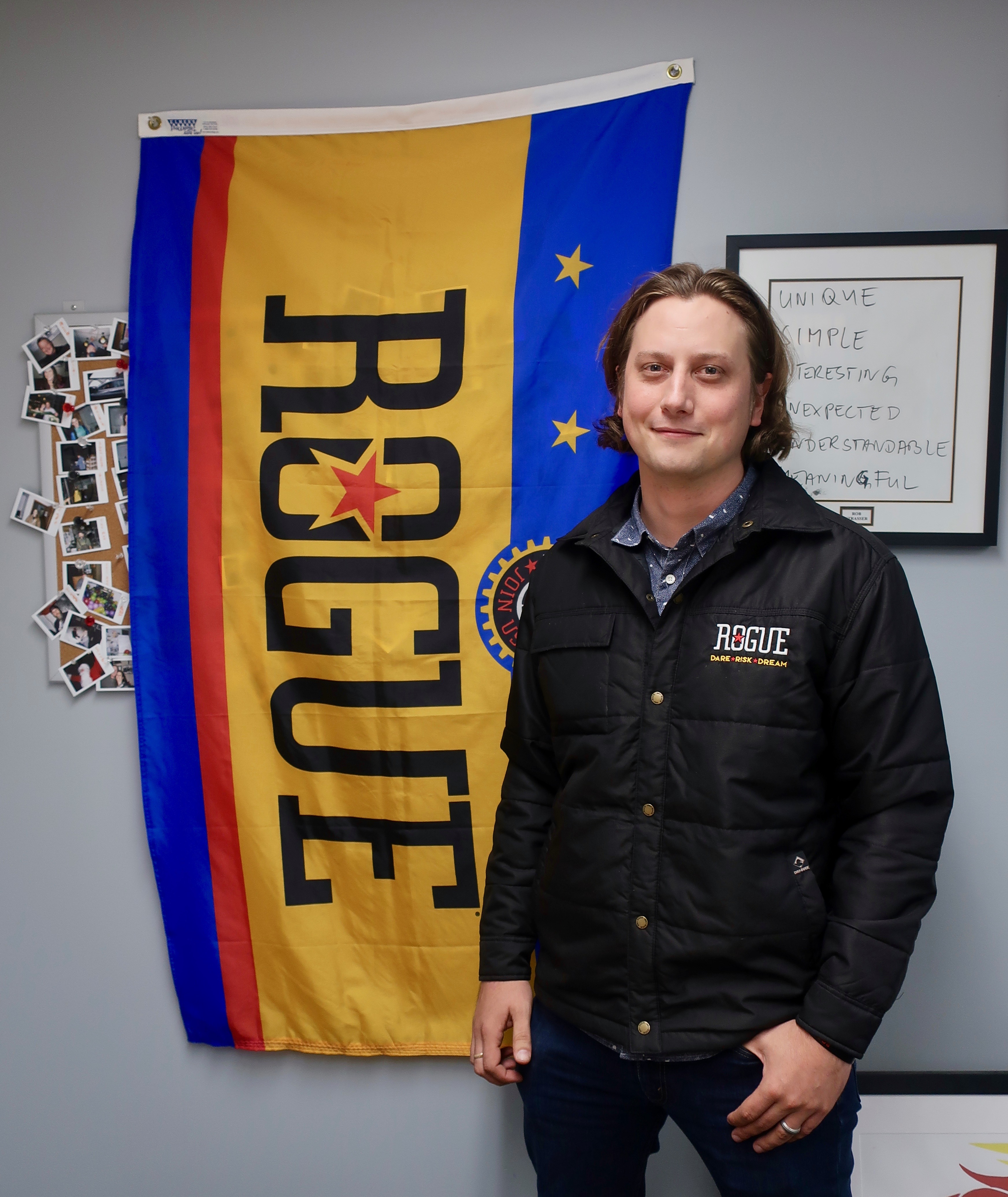 At only 31 years of age do you feel that you are ready to lead a brewery that brewed over 98K barrels last year and according to the BA is the 42nd largest brewery in the U.S.?
Dharma: In general the beautiful thing about working with Brett for the past two years we have been able to learn. It's less of starting from scratch to more of a cohesive transition. It feels a lot better for both of us and for the company as well. There are a lot of people that work with the company that understood that this would be the case.
How can you help reinvigorate a brewery that is facing an uphill battle as an internationally distributed brewery?
Dharma: We are a nationwide brewery, as we are in all 50 states and in 54 countries. So we have no plans to change that. We have seen a lot of growth in places that you may not expect. The further east you go or the Midwest is good. We consider ourselves the smallest national independent brewery, which is an interesting thing. We still are excited about that challenge.
Dare, Risk, Dream…. will this still be the branding going forward?
Dharma: Dare, Risk, Dream is so much more than just branding. It's really the ethos of the company. It's what we stand for. So yes and….
Your brewmaster, John Maier is not getting any younger. How many more years will he be at this position?
Brett: John will be at the helm until John chooses not to be. That's all I can tell you. John's a fantastic brewmaster. We've been fortunate to have him in Newport for 29+ years now. Especially to be a working brewmaster is pretty unprecedented for that period of time for a craft brewer. I know that day has to come and when it comes we will just have to wait and see.
Does Rogue have a succession plan for John at his brewmaster's position?
Brett: Yes, we have a really strong experienced brew team down there (in Newport). We have a lot of long-term, high quality brewers there. If that day were to come we would have several very qualified candidates.
Due to a fire you had to close the Rogue Hall in San Francisco. Any plans to reopen in the Bay Area?
Brett: No plans to go back. It was a great run there and what happened was obviously unfortunate.
What does the future hold for Rogue?
Dharma: We got to look at things that made us last for 30 years which is continuously creating amazing products whether its beer or spirits. And then getting them out to people who are interested in those products and also pushing what is the status quo when it comes to flavor profiles. But at the same time we are also a Newport brewery, so staying true to Newport is important to us as well.