Anchor Brewing Company Appoints Thomas Riley to Brewmaster
|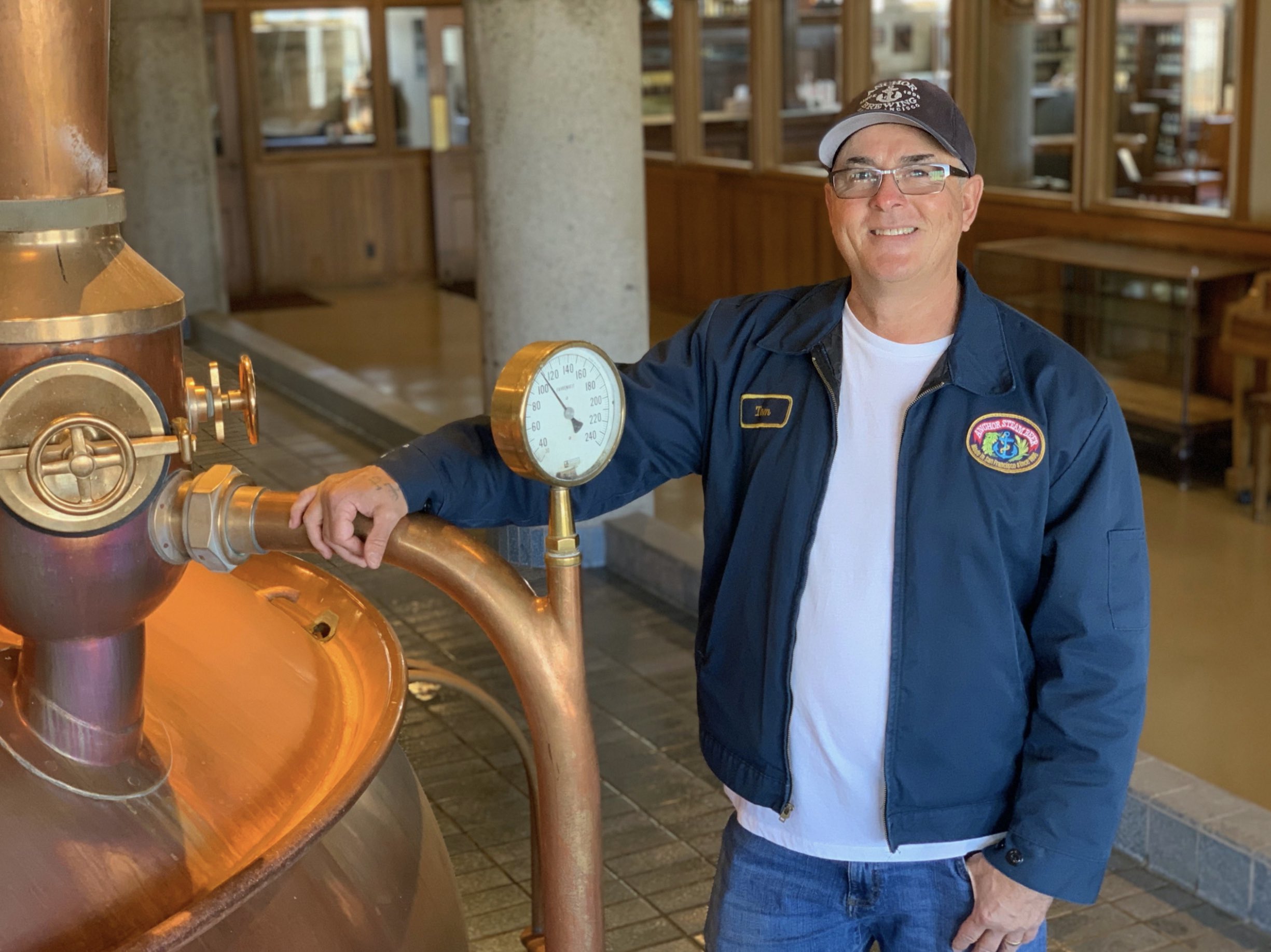 Dedicating your life to one employer for over three decades is not very common in today's society. This time and dedication spent has now rewarded Thomas Riley, the 36-year Anchor Brewing Company employee as being promoted to be the brewery's new Brewmaster.
During Anchor Brewing's 124-year history, the San Francisco brewery has had limited changes in its Brewmaster position. So much so that Riley is the brewery's fourth Brewmaster since 1965, the year that Fritz Maytag purchased the brewery that dates back to 1896. In his new position, Riley is immediately responsible for all beer production, management of the historic brewhouse, careful preservation of the brewery's classic beers such as Anchor Steam® Beer, as well as leading the development of innovation products and production methods.
Here are additional details from this afternoon's press release from Anchor Brewing…
Riley grew up in Potrero Hill, where Anchor's current brewhouse has been operating for over 40 years. His journey at Anchor started at the age of 21, working on the packaging line in the summer of 1984. Quickly realizing how much he loved the brewery, Riley has had a dream brewing journey working nearly every production job available at Anchor Brewing Company.  Moving from the packaging line to tour Guide and eventually brewer for the past 20 years, Riley has a deep understanding of Anchor's brewhouse, processes, and legacy.
"Anchor has always been deeply connected to our local community, so going from a Potrero Hill neighborhood kid to the Brewmaster at Anchor is really a dream" said Tom Riley, Brewmaster for Anchor Brewing Company.
Riley, most recently the Assistant Brewmaster, follows in the footsteps of Anchor's former Brewmasters Fritz Maytag, Mark Carpenter and Scott Ungermann. "Fritz Maytag, Mark Carpenter and Scott Ungermann were all committed to keeping our classics, like Anchor Steam, in their purest forms, using the most traditional techniques, while still innovating new beer styles, brewing methods and beers that carry forward the next generation of Anchor's legacy." Riley added, "It's an honor and privilege to follow in the footsteps of these brewing icons and continue the legacy at Anchor. We have a lot of exciting new things coming up and I'm extremely proud to be a part of it all."
Riley's first official day as Brewmaster is also the start of the 6th Annual Anchor Steam Week®. In 2015, the Mayor of San Francisco proclaimed the third week of August to be Anchor Steam Week, honoring Anchor's role in pioneering the American craft beer movement, legendary local history and continued commitment to brewing in San Francisco—the brewery's home for now over 124 years.
While Anchor Steam Week is usually celebrated with parties and events in venues in the Bay Area and beyond, the 2020 celebration has gone completely virtual with performances and culinary experiences by legendary San Francisco Bay Area artists.  It will all take place on Anchor's Instagram page, including a live cooking demo by San Francisco's Chef Melissa King, Winner of Bravo's 'Top Chef All Stars' and a special DJ set with Toro y Moi live from Company Studio.  Anchor Steam Week will also welcome live virtual concerts by The Y Axes and Rainbow Girls. The full schedule of virtual events can is available on Instagram at @AnchorBrewing. Anchor has dedicated the 6th annual Steam Week to the legendary local musicians, culinary professionals and other icons who have helped make the Bay Area an epicenter of culture.
Friends and fans in the San Francisco Bay Area can celebrate Anchor Steam Week by ordering beers and merchandise through the brewery's Beer To-Go program. Featuring an easy-to-use online ordering platform and a convenient pickup location at Anchor Public Taps on Potrero Hill, the Anchor Beer To-Go program will offer deals and specialty items throughout Steam Week (from August 14 – 23). Special deals offered daily will range from discounts on Anchor Steam bottles, cans, and growlers, to a mixed 4-pack of crowlers featuring a Steam vertical tasting flight of unfiltered California Lager, unfiltered Anchor Steam, classic Anchor Steam, and a newly released brewery exclusive, 'Caramel Steam.'  Orders can be placed throughout the week for weekend pickup at www.AnchorBeerToGo.com

Anchor Steam® Beer derives its unusual name from the 19th century when "steam" was a nickname for beer brewed on the West Coast of America in rooftop coolers, before the invention of modern refrigeration. In lieu of ice, the foggy night air naturally cooled the fermenting beer, creating steam off the warm open pans. Today, Anchor Brewing is one of the few American breweries that still employs open fermentation on a commercial scale. Although Anchor has traded their rooftop pans for modern equipment indoors, the brewery has maintained an open fermentation as part of the brewing heritage for Anchor Steam as well as other beers.
The distinctly flavored San Francisco original has been classically handcrafted in Anchor's copper brewhouse for 124 years and counting. In 1965, Fritz Maytag acquired and revived the struggling Anchor Brewery. With that, Anchor Steam (4.9% ABV) was the first handcrafted beer to be revitalized in America after Prohibition, starting a revolution in beer that originated today's craft beer movement. In 1971, Fritz began bottling Anchor Steam Beer—the first bottled Anchor Steam in modern times.
Anchor Steam owes its bright amber color, frosty tan head, and rich, distinctive flavor to its unique, historic brewing process. It reigns in a beer style category of its own by fermenting cool lager yeast at warmer ale temperatures. With a flavorful blend of pale and caramel malts, Anchor Steam is a refreshing, well-balanced beer that complements the crispness of a lager and complexity of an ale.
Celebrate Anchor Steam Week on social media by using the hashtag #RaiseYourAnchor. For more information on Anchor Brewing Company, visit www.AnchorBrewing.com or follow @anchorbrewing on social media.