Barley Brown's Beer Cans its Award-Winning Pallet Jack IPA
|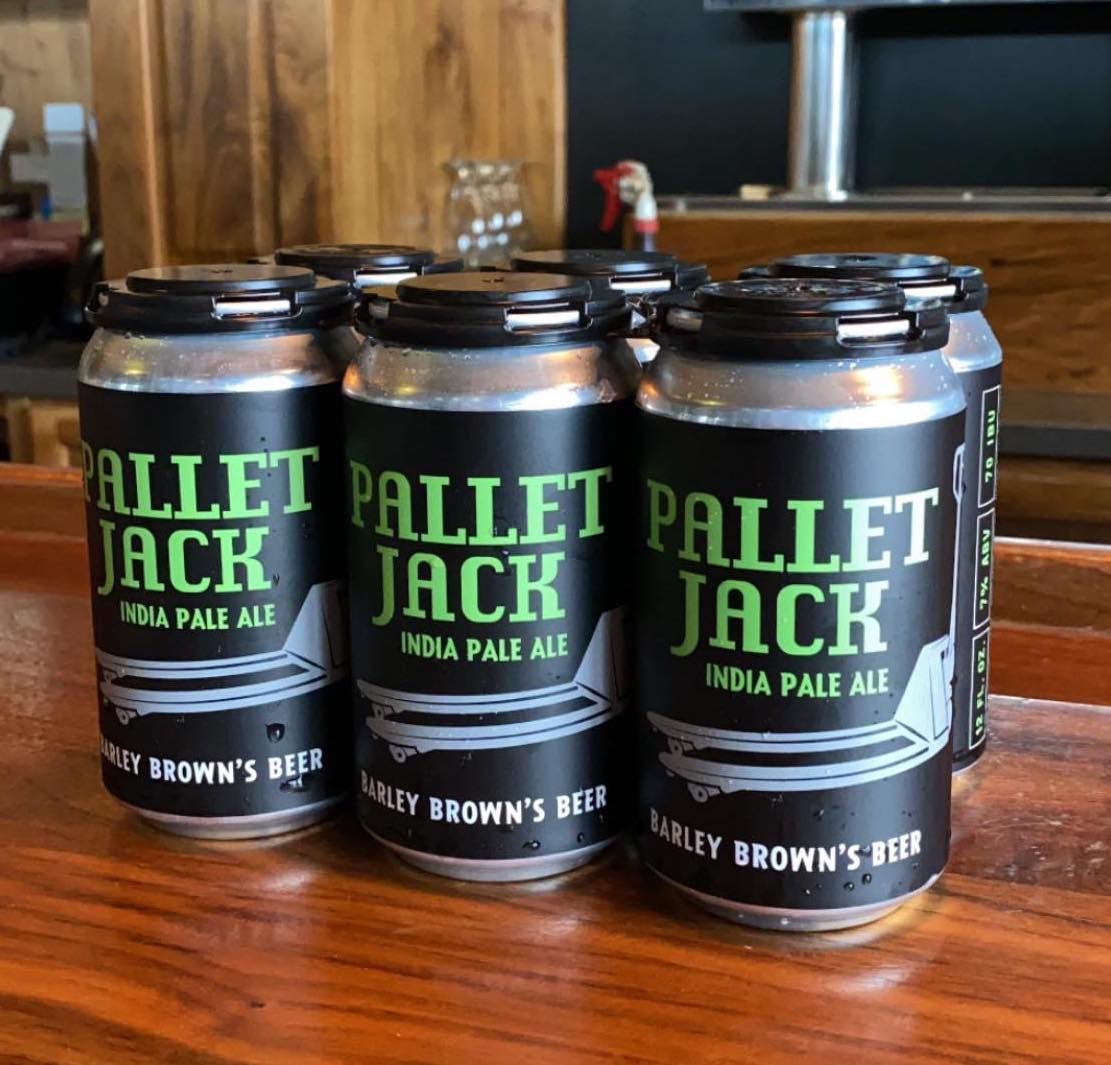 Out in Eastern Oregon, Barley Brown's Beer has been continuing along, brewing draft only beer for over two decades. For many of these years it sold its beer on premise at its brewpub in downtown Baker City where Tyler Brown, owner/brewmaster, honed his recipes on a manageable 4-barrel brewhouse. Eventually he began to send a keg on occasion five hours west to Portland and began to build up a strong following for his hop forward beers. He then devised a business plan to satisfy this demand that he created.
Nearly seven years ago, Tyler expanded his brewing operations across the street from his brewpub and opened a 20-barrel production brewery. This is when the brewery entered the distribution market and fully embraced its draft only and desirable production model. Barley Brown's signed distribution agreements, most notably with Point Blank Distributing based in Portland. From there the brewery's growth exceeded expectations, especially for a brewery that only offered its beers on draft.
But a little over two weeks ago this all came to a grinding halt as the COVID-19 pandemic fully hit the nation. Oregon's Governor, Kate Brown ordered all bars, taprooms and restaurants to cease all on site consumption beginning Tuesday, March 17th. This government shutdown of private business immediately put many brewery owners in a challenging and daunting situation, especially for breweries that only packaged beer for onsite consumption.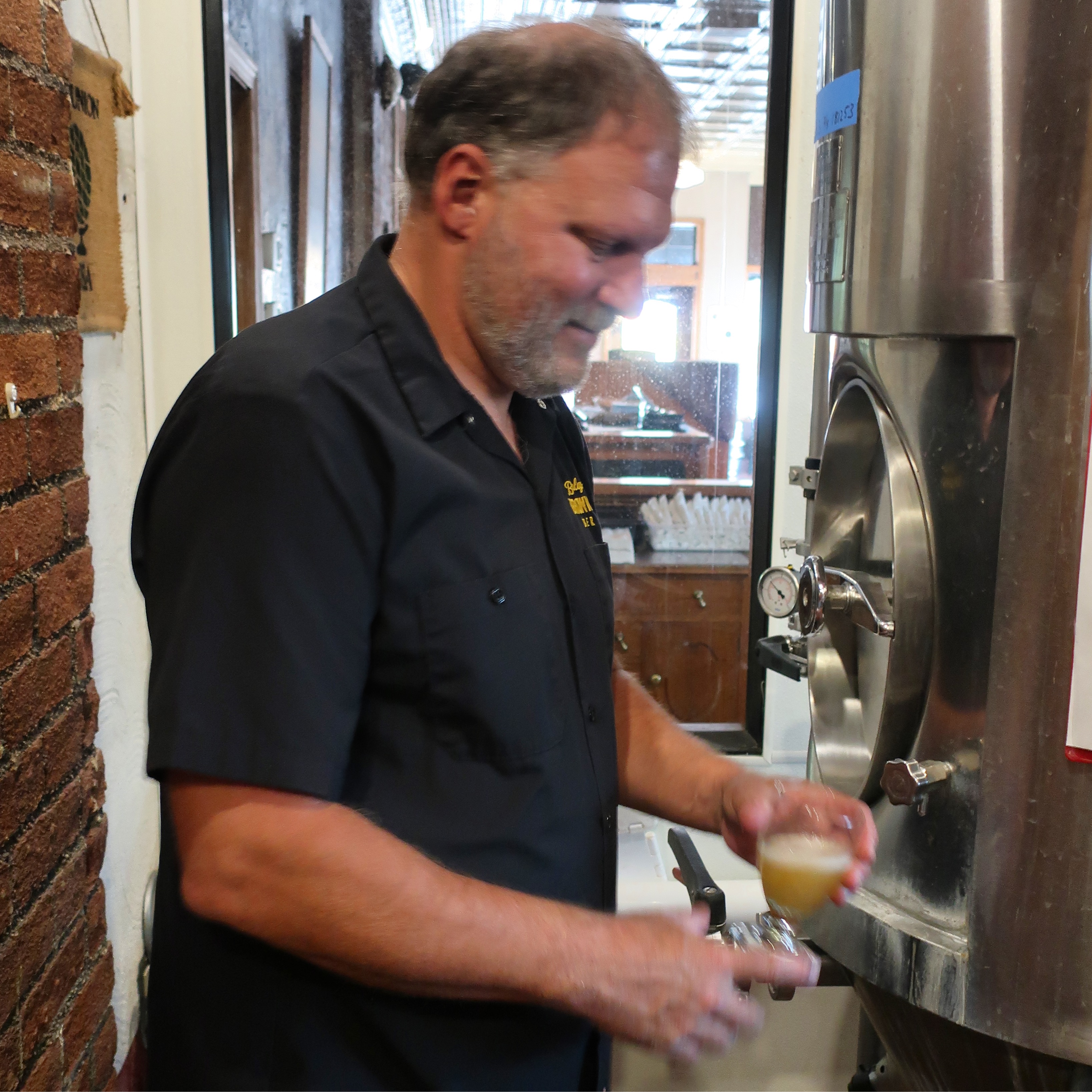 Tyler was a bit scared to put it lightly. He like other breweries had a lot of beer in tanks and his business model did not have many options on selling this beer in the marketplace in the foreseeable future. Many of his tanks were filled with the brewery's highly coveted and awarded Pallet Jack IPA.
"We went from 45 employees on March 16th to about all but 10 after that," confided Tyler in a phone conversation on Wednesday.
He did keep on brewing team of Eli Dickison, Addison Collard and Kyle Dickison. "Since we had beer in process, we had to take care of it," said Tyler.
"As soon as things got ugly down in California (with the Coronavirus) we stopped brewing. We stopped filling any kegs because it could get ugly here. We kept all brewing schedules to finish all of the beer that we had in the tanks. We did not want to compromise any beer quality."
Earlier this week on Monday, Barley Brown's canned its first beer for off premise sales and began selling 6-packs and 24-pack cased of Pallet Jack IPA at the brewery later that day. The brewery went nearly through an entire pallet from its social media push. Definitely something new for this brewery, but a way to get its beer to market in lieu of the beer spoiling in the tanks. And in doing so, Tyler went against his long standing word where he had previously stated on numerous occasions that he would never can or bottle his beer. As the ole saying goes, "Desperate times call for desperate measures".
"At least we are selling beer, we are selling cans of beer now," said Tyler. "It's not profitable when you're a rural brewery and have to bring in a mobile canner at the last minute. But its better to at least break even."
However, the road to can a beer for a brewery that never canned a beer at its brewery before was one with a few obstacles. This is where Tyler's daughter Tori came into assist. She handles marketing for the brewery and was tasked to source a label, cans and a mobile canner to come to the brewery as soon as possible.
"We put Tori on a mission, though the last thing we want to do is to package any beer," stated Tyler. Tori quickly worked with Brewery Branding to design a label and reached out to Boise River Canning to set up a canning run to set up a time for Monday, March 30th. She then found a label printer in Idaho to print the labels over the weekend. An amazing feat, especially in these times with so many businesses closed up due to the COVID-19 pandemic.
Well the rest is history; Barley Brown's has canned its first beer. And wisely so it canned its most popular and award-winning beer. Tyler may do another run of cans of Pallet Jack IPA in the coming weeks and quite possibly another option. It is going to be a tough few months for breweries and anything to get some revenue stream flowing in will assist.
On Wednesday a truck picked up pallets of 12oz, 6-packs of Pallet Jack IPA that are now being distributed by Point Blank Distributing in Portland. Look for 12oz, 6-packs of Pallet Jack IPA at bottle shops and smaller grocery stores throughout the Portland area. As of last evening, The BeerMongers had some inventory of the beer. If your shop is stocking Pallet Jack IPA give us a shout and let us know.