Boneyard Beer To Release The Ale Master IPA Inspired by Craft Beer Legend, Bert Grant
|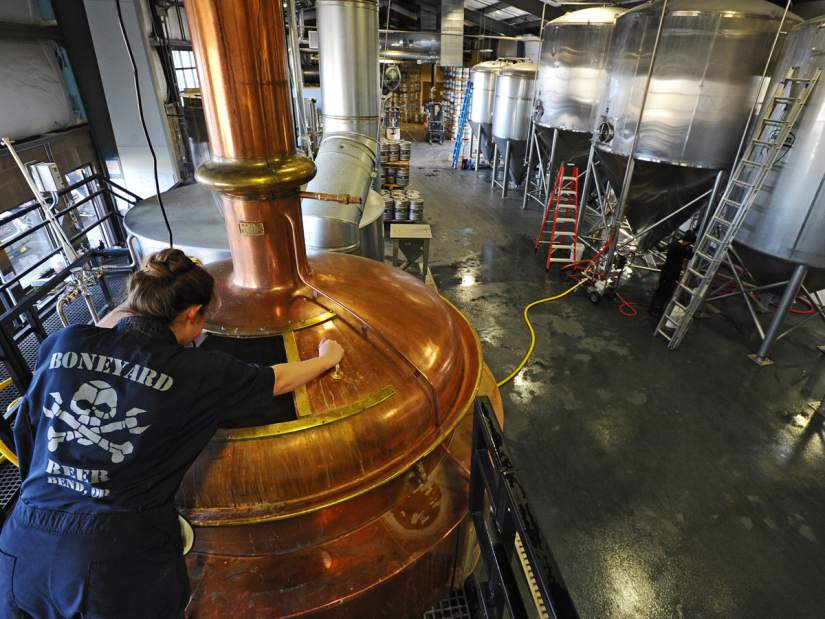 Bend, OR – April 14th, 2016 – Boneyard is retiring the use of its historic copper brew kettle originally acquired from Bert Grant's Brewery Pub in Yakima, WA. Before replacing the copper kettle Boneyard brewed a limited release IPA to celebrate its history and to honor the late Bert Grant – often considered the pioneer of the modern day American IPA. Bert Grant opened Grant's Brewery Pub in 1982, which was the first brewpub since Prohibition and widely regarded as the birthplace of the American Craft Brewing Industry. Bert Grant was a proponent of intensely hoppy, aromatic beers and can be credited with pushing the industry to use more hops, expanding beer drinkers' pallets to appreciate hop-forward, bitter beers.
"Bert Grant, aka the 'Ale Master,' was a brewing pioneer and a hop man. We are not pioneers at Boneyard, although we love hops," said Tony Lawrence, Boneyard's owner/brewmaster. "We didn't see this project coming, it just happened. We realized we were doing our last brew into the historic copper the next day and it seemed fitting to do a tribute beer. We used a lot of hops and some hop oil. Bert carried hop oil in his pocket to dose into a pint beer deemed not hoppy enough. Hopefully he wouldn't have to spike this brew."
Named after Bert Grant's legacy, The Ale Master IPA, can be categorized as a dank, resinous IPA with a medium bodied mouthfeel and a strong hop presence. Ale Master IPA will be available at the end of April.
About Boneyard Beer
In 2010, Boneyard Beer was started in an old auto shop tucked away in the backstreets of Bend, Oregon's historical district. Without any outside investors or major bank loans, Boneyard's inception was unconventional to say the least. After decades in the brewing industry, owner Tony Lawrence built up a "boneyard" of old equipment he collected from 13 different breweries around the country. Alongside co-founders, Clay and Melodee Storey, this second-hand brewing equipment was pieced together to brew the first batch of Boneyard Beer in May 2010. Boneyard currently distributes draft beer in Oregon and Washington.