Breakside Brewery Opens Its Northwest Portland Brewpub In Slabtown Today
|
After a slight delay Breakside Brewery will open its new Slabtown brewpub today, March 6th, just in time for lunch at 11:30am. The new location that features a 10-barrel brewhouse built by JV Northwest will be Breakside's new self described "Hop Lab" creating beers that push the boundaries of hops.
Located at the corner of NW 22nd Avenue and NW Raleigh, Breakside Brewery – Slabtown shares the same building as New Seasons Market. This area is in the midst of a massive Conway development that will bring in many new residents to the area over the coming months. It is also in close proximity to Lucky Lab Beer Hall, Lompoc Tavern and few McMenamins locations.
With this new location this marks the brewery's third brewing location. Will Jaquiss will lead the brewing operations along with the assistance of Tom Fischer. Previously Jaquiss has been Breakside's R&D Brewer and will take these skills to Slabtown to brew beers more hop forward focused. The JV Northwest brewhouse was built to optimize both hop flavor and aroma. Breakside's Brewmaster Ben Edmunds and its Director of Brewing Operations Jacob Leonard will also be involved in the brewing recipe design, process refinement, and brewery management at Slabtown.
The space itself is quite impressive with two floors, two bars and an upcoming rooftop deck. Taking up 5,000 square feet of space, Breakside has maximized this space quite well attaining an inviting, modern space. With tables, booths and a bar with liquor, this new Breakside location will be an enticing spot for fans of Breakside beers and food.
The tap list of Breakside Brewery – Slabtown beers brewed specifically for this location and will begin pouring today. On the tap list at the new location these exclusive Slabtown beers are designated with a star to the left of the beer name on the Euro looking tap board. (Currently these beers have been brewed at its other locations but will be brewed at the new location in the near future.) Here is what to expect when it comes to the exclusive Slabtown beers.
SOMETHING WICKED – A New England-inspired IPA with loads of Mosaic and Citra hops. Part of our "Seeker" series
PRECIOUS SNOWFLAKE DOUBLE IPA – Intensely hoppy double IPA with notes of apricot, papaya, and juicy fruit
W I L S N E R – Classic Pilsner meets West Coast sensibilities: German Pilsner + Simcoe hops
O R O – Easy drinking Summer Ale with a kiss of Lemondrop hops
TROPICAL GOSE – Gose with lychee fruit, coriander, and umeboshi (salt cured Japanese plums with red shiso)
MEXICAN COFFEE STOUT – Sweet stout with cinnamon, fennel, and Stumptown coffee
From our recent visit this past weekend, we really enjoyed both the Wilsner and Something Wicked IPA. With Breakside's "New England Style" IPA, Something Wicked offers up both the hop aroma and citrus taste but with more body that is expected in a beer.
The following beers are scheduled for release on Wednesday March 15th at Breakside Brewery – Slabtown.
SLABTOWN SESSION ALE – 4.7% hop bomb featuring Eldorado hops
COCONUT HAZE – Famous "Vermont-style" yeast meets contemporary IPA and toasted coconut
SUN BELT IPA – Classic Southern California-inspired IPA
CHINOOK IPA – Contemporary meets classic in this Northwest IPA, heavy on Chinook and Mosaic hops
SHIFT BREAK WHEATWINE – Collaboration beer with Night Shift Brewing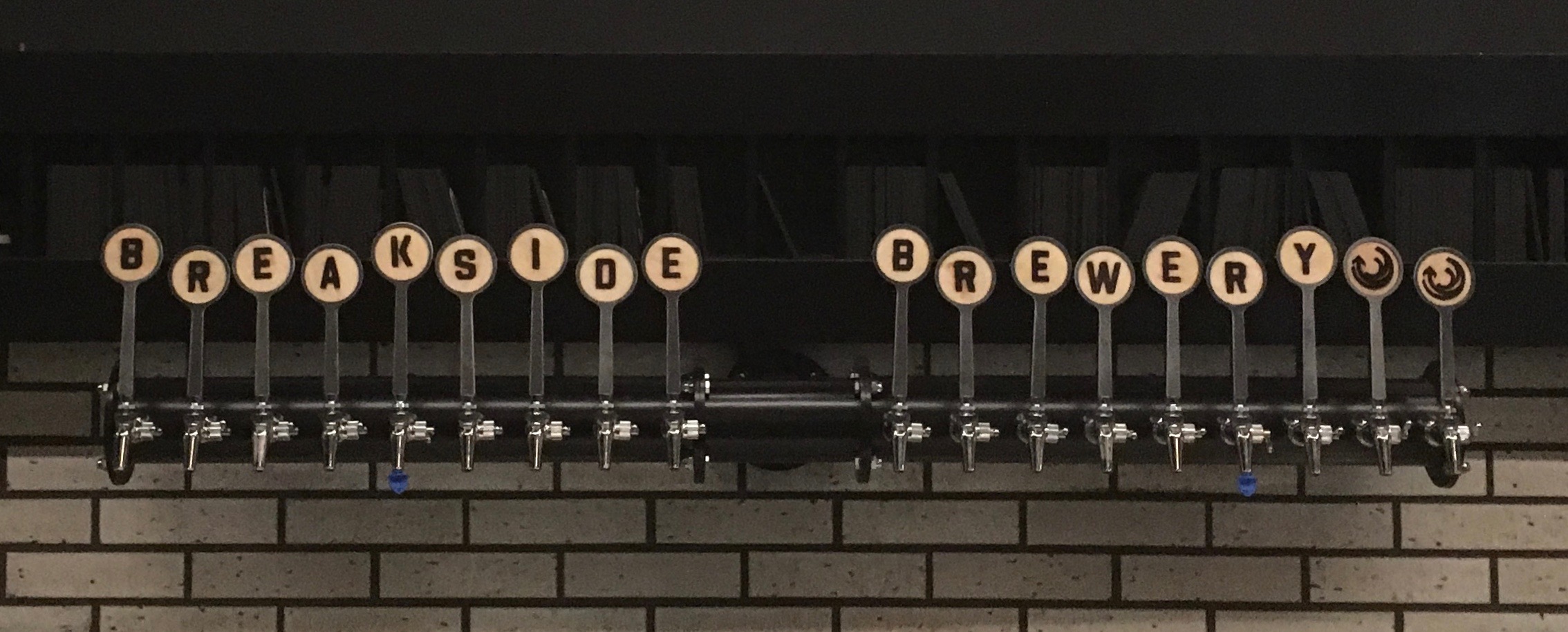 Over time this tap list will continue to rotate with a wide array of styles. Breakside states that customers will likely see two or three IPAs on at all times along with an additional two or three hop forward beers on draft. And for fans of lagers, dark beers and wild beers, Breakside will have these styles on tap as well. The remaining tap handles will be core lineup beers brewed at its Milwaukie production brewery alongside a selection of limited, barrel-aged and sour beers.
Then already in the pipeline are collaboration projects scheduled with Nightshift, Figueroa Mountain, Reuben's Brews, Pinthouse Pizza, and Little Beast to name a few. Breakside will also launch a Hop School Series of beers and will return with its Chef Collaboration Series.
Hours:
Sunday through Thursday:  11:30am-10pm
Friday and Saturday:  11:30am-11pm
Breakside Brewery – Slabtown
1570 NW 22nd Ave
Portland, OR 97210