Brewers Association Announces Top 50 Brewing Companies by Sales Volume of 2019
|
The top breweries by sales volume was recently released by the Brewers Association (BA), the not-for-profit trade association comprised of thousands of American breweries. The BA released lists of both the Top 50 Craft Brewing Companies and the Top 50 Brewing Companies, based on sales in 2019. Of the top 50 overall brewing companies, 40 were what the BA classifies as small and independent craft brewing companies, a definition that continues to evolve.
"Although 2020 will be a markedly different year than 2019 for the craft brewing market, these companies are well positioned to help the craft category weather the current market uncertainty and rebound with the flavor, variety, and innovation that beer lovers have come to expect from small brewers," said Bart Watson, Chief Economist at Brewers Association, in a statement.
In the Pacific Northwest, six breweries made the list of the Top 50 Craft Brewing Companies. This includes Deschutes Brewery (11), Alaskan Brewing (22), Georgetown Brewing (33), Rogue Ales (36), Ninkasi Brewing (38), and Full Sail Brewing (46). Coming in at the number 6 ranking is Gambrinus, the owner of the now shuttered BridgePort Brewing and Modern Times Beer that's based in San Diego, CA and has a brewery in Portland came in at #44.
When it comes to the Top 50 Overall Brewing Companies, a list that includes the big brewers such as Anheuser-Busch, MolsonCoors, Heineken and others. Pacific Northwest breweries include Craft Brew Alliance (13), Deschutes Brewery (21), Alaskan Brewing (32), Georgetown Brewing (43), Rogue Ales (46), and Ninkasi Brewing (48). Gambrinus came in at the #15 ranking.
Take a look at both lists by clicking here.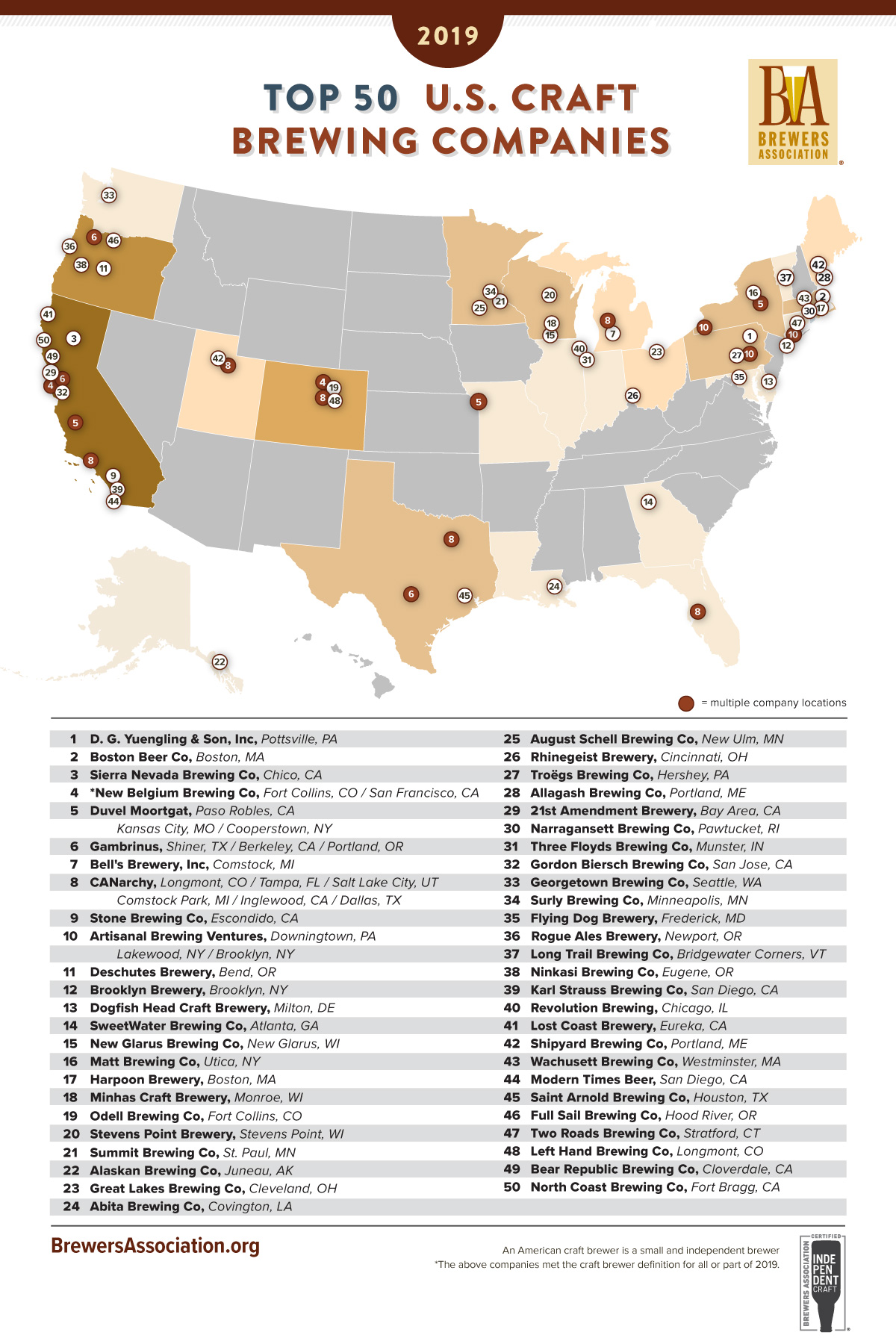 A State of the Industry report will be presented via webinar in mid-April. The Brewers Association's full 2019 industry analysis, which shows regional trends and sales by individual breweries, will be published in the May/June issue of The New Brewer®, available in May 2020.