Brewers Association Releases 2021 Annual Craft Brewing Industry Production Report
|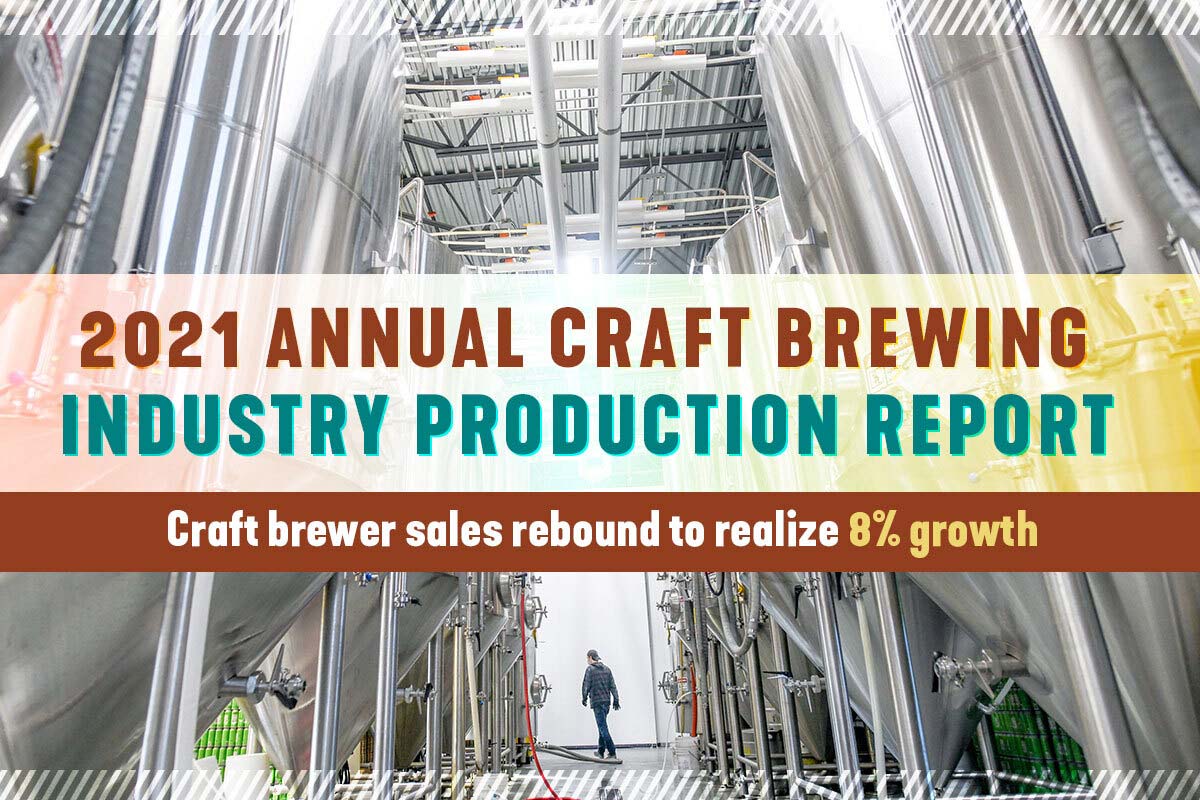 During the second year of the pandemic, craft beer sales have seen an improvement over the previous year, but the future still has plenty of questions. Sales of craft beer grew 8% in 2021, but that was after the segment experienced a sharp 10% decline during the first year of COVID.
Earlier today, Bart Watson, Chief Economist of the Brewers Association, led a press conference to discuss the recently released 2021 Annual Craft Brewing Industry Production Report via Crowdcast. Prior to this press conference, the Brewers Association (BA) announced its preliminary annual production figures for the U.S. craft brewing industry.
The BAs report stated that In 2021, small and independent brewers collectively produced 24.8 million barrels of beer and realized 8% growth that increased craft's overall beer market share by volume to 13.1%, up from 12.2% the previous year. The overall beer market grew 1% by volume in 2021. Retail dollar value was estimated at $26.9 billion, representing 26.8% market share and 21% growth over 2020. This growth is stronger than volume primarily due to the channel shift back to on-premise sales at bars and taprooms that offers a higher average retail value. The report also stated that craft brewers provided more than 172,643 direct jobs, a 25% increase from 2020.
"Craft brewer sales rebounded in 2021, lifted by the return of draught and at-the-brewery traffic," said Watson. "However, the mixed performance across business models and geographies as well as production levels that still lag 2019 suggest that many breweries remain in recovery mode. Add in continuing supply chain and pricing challenges, and 2022 will be a critical year for many brewers."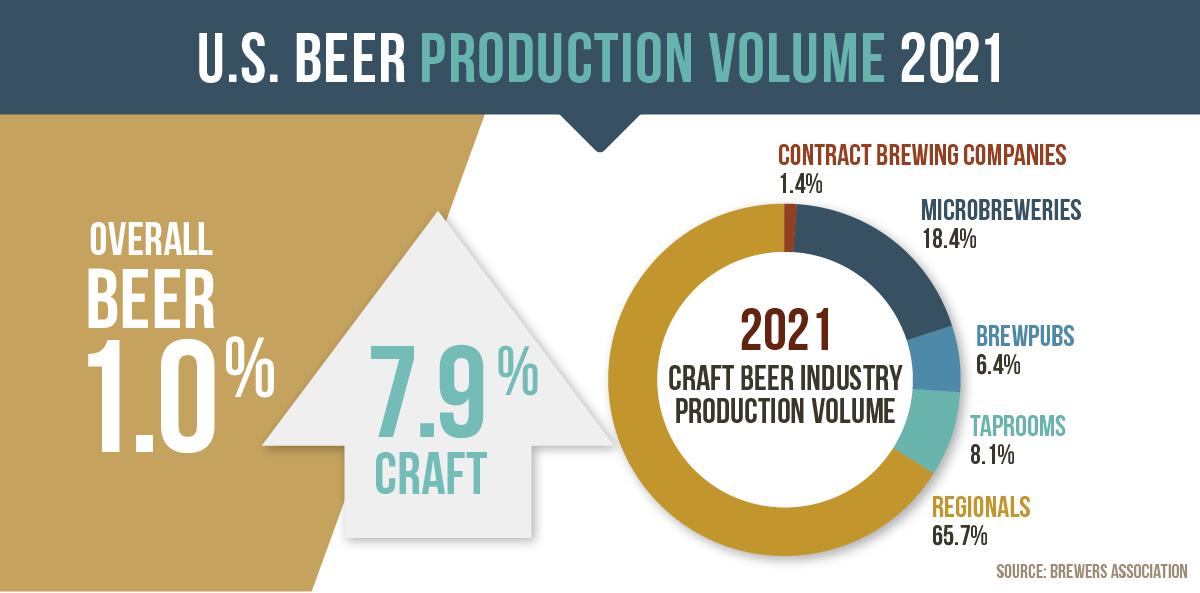 The number of operating craft breweries continued to climb in 2021, reaching an all-time high of 9,118, including 1,886 microbreweries, 3,307 brewpubs, 3,702 taproom breweries, and 223 regional craft breweries. The total operating brewery count was 9,247, up from 9,025 in 2020. Throughout the year openings outpaced closings as there were 646 new brewery openings and 178 closings. Openings decreased for a second consecutive year, with the continued decline reflecting a more mature market. Ongoing pandemic challenges and rising interest rates were additional factors. The closing rate also declined in 2021, likely helped by a combination of better sales numbers and additional government relief through the Restaurant Revitalization Fund, which was available to some brewpub and taproom brewers.
"While the boom in breweries of a few years before has certainly slowed, the continued growth in small breweries shows the solid foundation of demand for their businesses and beers," added Watson. "2022 is going to be a make-or-break year!"
In the Top 50 Craft Brewing Companies, four Pacific Northwest breweries made the list – Deschutes Brewery arrived in at #11, Georgetown Brewing at #25, Rogue Ales at #33, and Ninkasi Brewing at #40. The same breweries also made the Top 50 Overall Brewing Companies list. Deschutes Brewery comes in at #20 and Georgetown Brewing at #34, Rogue Ales at #42, and Ninkasi Brewing rounded out the list at #50.
Take a look below at the Top 50 breweries, both craft and all encompassing breweries. One thing that does jump out is the first time entry of Athletic Brewing Co. to the list of the Top 50 Craft Breweries. The non-alcoholic beer producer entered the list at an impressive ranking of #27. This shows why craft brewers such as Deschutes Brewery have entered the N/A category. We are likely to see other breweries enter it as well.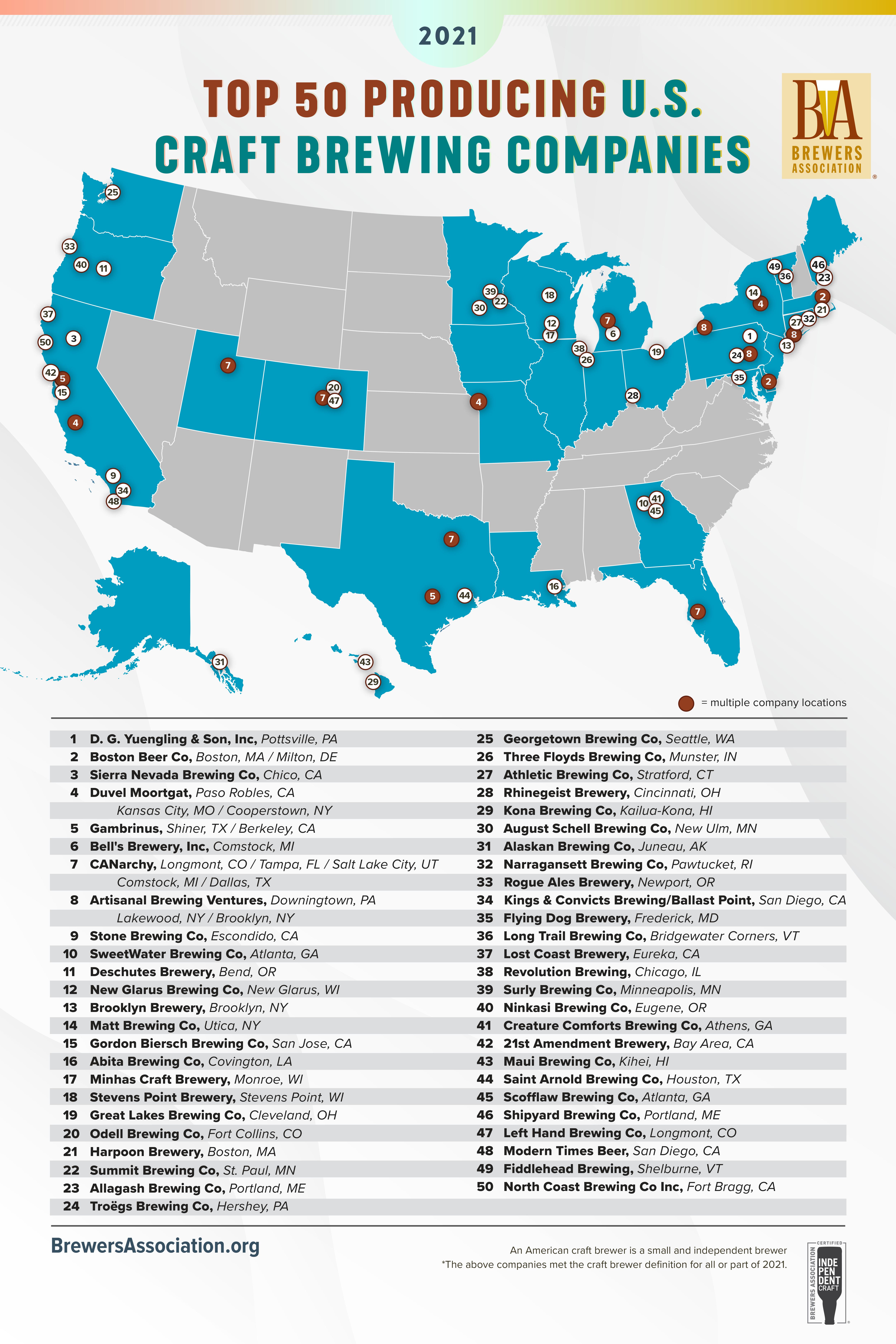 Top 50 Craft Brewing Companies
D. G. Yuengling and Son Inc – Pottsville PA
Boston Beer Co – Boston MA + Milton MA
Sierra Nevada Brewing Co – Chico CA
Duvel Moortgat USA – Paso Robles CA + Kansas City MO + Cooperstown NY
Gambrinus – Berkeley CA + Shiner TX
Bell's Brewery, Inc – Comstock MI
CANarchy – Longmont CO + Tampa FL + Salt Lake City UT + Comstock MI + Dallas TX
Artisanal Brewing Ventures – Downingtown PA + Lakewood NY + Brooklyn NY
Stone Brewing – Escondido CA
SweetWater Brewing Co – Atlanta GA
Deschutes Brewery – Bend OR
New Glarus Brewing Co – New Glarus WI
Brooklyn Brewery – Brooklyn NY
Matt Brewing Co – Utica NY
Gordon Biersch Brewing Co – San Jose CA
Abita Brewing Co – Covington LA
Minhas Craft Brewery – Monroe WI
Stevens Point Brewery – Stevens Point WI
Great Lakes Brewing Company – Cleveland OH
Odell Brewing Co – Fort Collins CO
Harpoon Brewery – Boston MA
Summit Brewing Co – Saint Paul MN
Allagash Brewing Company – Portland ME
Troegs Brewing Co – Hershey PA
Georgetown Brewing Co – Seattle WA
Three Floyds Brewing – Munster IN
Athletic Brewing Company – Stratford CT
Rhinegeist Brewery – Cincinnati OH
Kona Brewing Co – Kailua HI + Kona HI
August Schell Brewing Company – New Ulm MN
Alaskan Brewing CoJ – uneau AK
Narragansett Brewing Co – Pawtucket RI
Rogue Ales Brewery – Newport OR
Kings & Convicts Brewing/Ballast Point – San Diego CA
Flying Dog Brewery – Frederick MD
Long Trail Brewing Co – Bridgewater Corners VT
Lost Coast Brewery – Eureka CA
Revolution Brewing – Chicago IL
Surly Brewing Company – Minneapolis MN
Ninkasi Brewing Co – Eugene OR
Creature Comforts Brewing Co – Athens GA
21st Amendment Brewery – Bay Area CA
Maui Brewing Co – Kihei HI
Saint Arnold Brewing Co – Houston TX
Scofflaw Brewing Co – Atlanta GA
Shipyard Brewing Co – Portland ME
Left Hand Brewing Company – Longmont CO
Modern Times Drinks – San Diego CA
Fiddlehead Brewing – Shelburne VT
North Coast Brewing Co Inc – Fort Bragg CA
Top 50 Overall Brewing Companies
Anheuser-Busch Inc (a) – St. Louis MO
MolsonCoors (b) – Chicago IL
Constellation (c) – Chicago IL
Heineken USA (d) – White Plains NY
Pabst Brewing Co (e) – Los Angeles CA
Diageo (f) – Norwalk CT
D. G. Yuengling and Son Inc – Pottsville PA
FIFCO USA (g) – Rochester NY
Boston Beer Co (h) – Boston MA + Milton MA
Sierra Nevada Brewing Co – ChicoCA
New Belgium Brewing Co / Kirin (i) – Fort Collins CO + San Francisco CA
Duvel Moortgat USA (j) – Paso Robles CA + Kansas City MO + Cooperstown NY
Founders Brewing / Mahou San Miguel (k) – Grand Rapids MI + Boulder CO
Gambrinus (l) – Berkeley CA + Shiner TX
Bell's Brewery, Inc (m) – Comstock MI
CANarchy (n) – Longmont CO + Tampa FL + Salt Lake City UT + Comstock MI + Dallas TX
Artisanal Brewing Ventures (o) – Downingtown PA + Lakewood NY + Brooklyn NY
Stone Brewing – Escondido CA
SweetWater Brewing Co (p) – Atlanta GA
Deschutes Brewery – Bend OR
New Glarus Brewing Co – New Glarus WI
Brooklyn Brewery – Brooklyn NY
Matt Brewing Co (q) – Utica NY
Gordon Biersch Brewing Co – San Jose CA
Abita Brewing Co – Covington LA
Minhas Craft Brewery (s) – Monroe WI
Stevens Point Brewery (r) – Stevens Point WI
Great Lakes Brewing Company – Cleveland OH
Odell Brewing Co – Fort Collins CO
Harpoon Brewery – Boston MA
Summit Brewing Co – Saint Paul MN
Allagash Brewing Company – Portland ME
Troegs Brewing Co – Hershey PA
Georgetown Brewing Co – Seattle WA
Three Floyds Brewing – Munster IN
Athletic Brewing Company – Stratford CT
Rhinegeist Brewery – Cincinnati OH
Kona Brewing Co – Kailua HI + Kona HI
August Schell Brewing Company (t) – New Ulm MN
Alaskan Brewing Co – Juneau AK
Narragansett Brewing Co – Pawtucket RI
Rogue Ales Brewery – Newport OR
Kings & Convicts Brewing/Ballast Point – San Diego CA
Flying Dog Brewery – Frederick MD
Long Trail Brewing Co – Bridgewater Corners VT
Lost Coast Brewery – Eureka CA
Anchor Brewing Co / Sapporo USA (u) – Tarrytown NY + San Francisco CA
Revolution Brewing – Chicago IL
Surly Brewing Company – Minneapolis MN
Ninkasi Brewing Co – Eugene OR
* 2021 Top 50 Overall U.S. Brewing Companies Notes