Buoy Beer Announces its 2022 Beer Release Calendar
|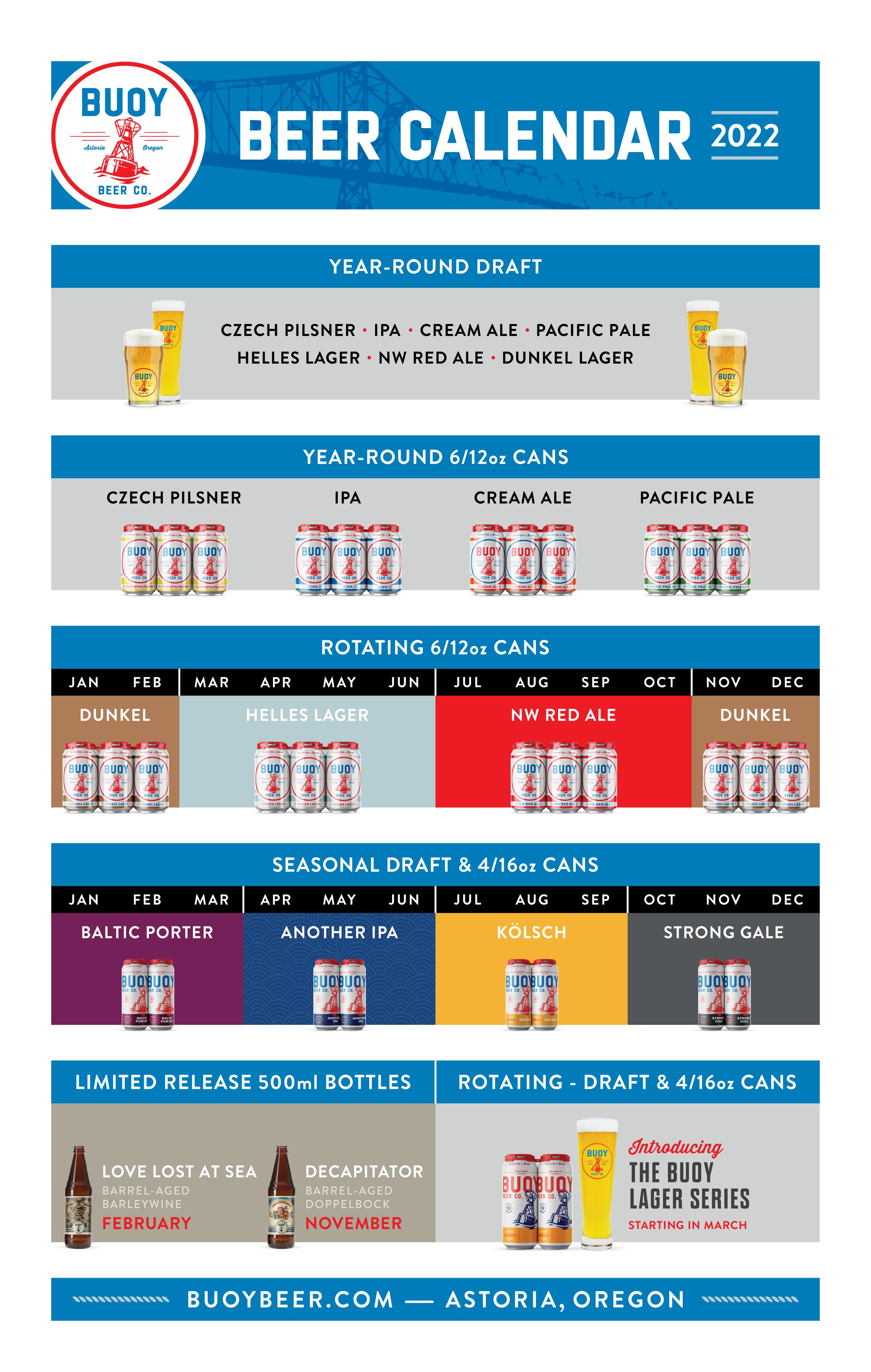 ASTORIA, OREGON – Buoy Beer Company released their 2022 beer calendar of year-round, rotating, and specialty beers. Pacific Pale, a new recipe launched in Fall 2021, joined the year-round can lineup fitting in well amongst the Czech Pilsner, Buoy IPA, and Cream Ale favorites. Rotating 12oz cans will include Dunkel Lager, Helles Lager, and introduce NW Red into the July-October schedule while 16oz seasonal cans and draft availabilities will include Baltic Porter, Another IPA, Kölsch, and Strong Gale. Speciality bottles will include the fifth year of Love, Lost at Sea to be released in February and the fourth bottling of Decapitator scheduled for November; the Foeder series will be in 2023. Buoy Beer will also add a rotating lager series packaged in 16oz cans, beginning in March.
"Over the last few years, the size of our brewing operation meant we could only produce a limited number of beer styles and varieties," says Kevin Shaw, Director of Brewery Operations. "But earlier this year we installed a new 50bbl brewhouse, more fermentation capacity, and a higher speed canning line. This will allow us to increase the amount of beer we produce and the spectrum of styles we brew, as well as improve our beer's overall quality and consistency. One of the things we're excited about is the ability to introduce a new 16oz rotating lager series. We have always been a big fan of lagers here at Buoy and have made a bunch of them over the years, but most have been small-batch beers enjoyed at the brewery. This series will allow our brewers to explore the many wonderful lager styles and share them with our fans in an exciting new package."
Buoy's lager series will include 5 different lagers in 2022, beginning with a Maibock this March. Extensive lager research and development has been done at the brewery since 2014 and the brewers have dozens of thirst-quenching recipes to explore, tweak, and refine into high-quality, well-produced cold Buoys. The lager series will rep the new 16oz label design for a fresh take on traditional lagers.
"We're excited for the opportunity to showcase additional SKU innovations along with thrilling new branded 16oz cans in 2022," says Jeremiah Smith, Sales Director. "Our seasonal lineup has been growing in popularity and availability and we look forward to being able to produce more draft varieties and present this line's new look."
The seasonal rotating lineup debuted at the beginning of 2020 with high hopes of pints being poured all over Oregon and Washington. While the world had other plans, Buoy pivoted to packaging the Baltic Porter, Another IPA, Kölsch, and Strong Gale in 16oz cans in 2021. However, 2022 renews the dream of tall frothy pints of these delicious brews being filled at the tap and cracked open at home.
"More beer in 2022!," says Matt Jones, Head Brewer. "Pacific Pale has been a hit this fall, and we're stoked for more people to get their hands on this new, crisp, crushable beer along with more seasonal beers, rotating cans, and the addition of the lager series. We look forward to next year and getting everyone's hands on a cold Buoy."
The rest of the lager series styles will be released throughout the year. Stay tuned for news about this package lineup and numerous draft-only options throughout the year.