Cheers to the Land Returns from Oregon Agricultural Trust this October
|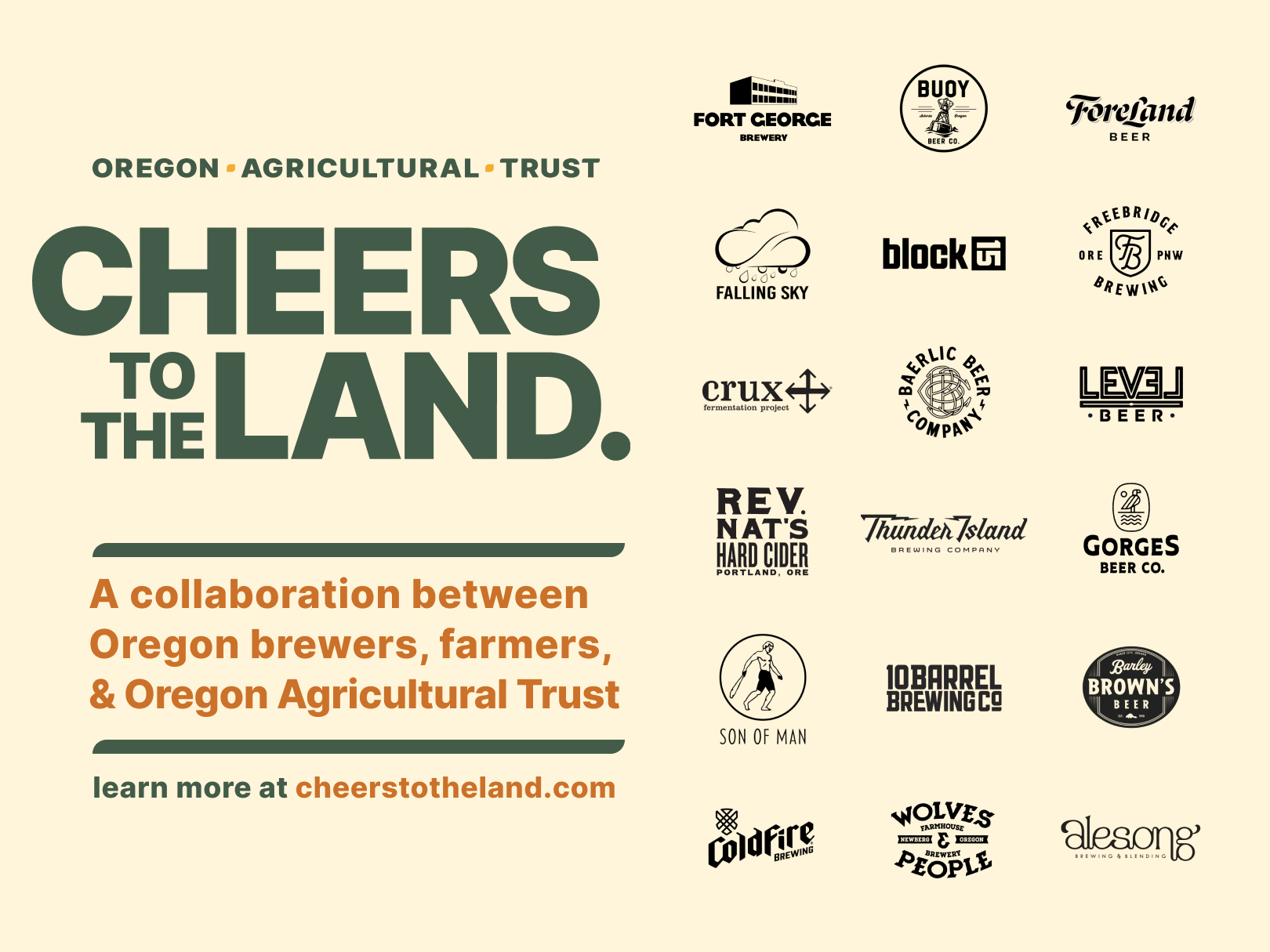 July 25, 2023. Portland, OR — Oregon Agricultural Trust is pleased to announce its statewide campaign, Cheers to the Land, will make its return this October. Now in its second year, Cheers to the Land asks brewers to make new beers and ciders with Oregon ingredients and to support OAT's work to permanently protect farmland from  .
Last year nine breweries took part in the campaign, raising $12,000 in support of OAT's work to protect agricultural land from development and keep it in production. This year the campaign expands to 18 companies — including 16 breweries and 2 cideries — in partnership with Goschie Farms in Silverton and Gold Rush Malt in Baker City.
2023 Participating breweries and cideries include:
Alesong Brewing & Blending (Eugene); Baerlic Brewing (Portland); Barley Brown's Brewing (Baker City); Block 15 Brewing (Corvallis); Buoy Brewing (Astoria); ColdFire Brewing (Eugene); Crux Fermentation Project (Bend); Falling Sky Brewing (Eugene); ForeLand Beer Co. (McMinnville); Fort George Brewing (Astoria); Freebridge Brewing (The Dalles); Gorges Beer Co. (Cascade Locks); Level Beer Co. (Portland); Reverend Nat's Hard Cider (Portland); 10 Barrel Brewing (Portland); Thunder Island Brewing (Cascade Locks); Son of Man Cider (Cascade Locks); Wolves & People Farmhouse Ales (Newberg).
For more Cheers to the Land updates:
Expect additional announcements later this summer from OAT about tap takeovers across the state, specialty canned beers, and more. Sign up for email updates at cheerstotheland.com.
If you are a beer buyer for a retail location and would like to carry the Cheers to the Land beers, please visit https://www.cheerstotheland.com/stay-in-touch.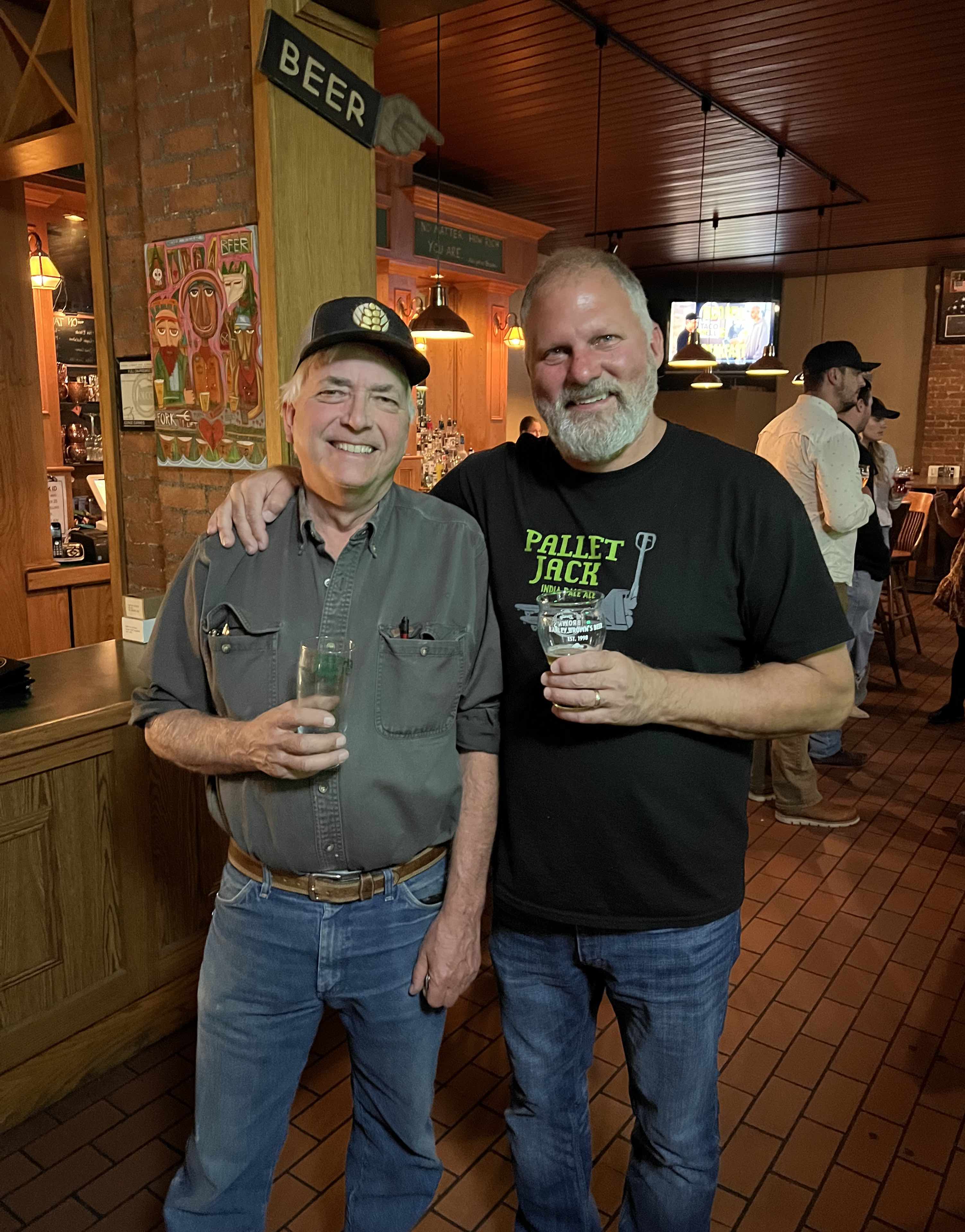 Why Oregon Agricultural Trust is necessary
OAT works collaboratively around the state to safeguard Oregon's farm and ranch lands and the rural communities that depend upon them. The organization protects ag land, helps it stay in production, educates local communities, and helps advocate for farmland preservation. This work is increasingly important because 25% of Oregon's land is in farming and ranching, 64% of the land will change hands in the next 20 years as farmers age, yet fewer than 20% of farmers and ranchers have a succession plan in place. Once farmland is paved over, it's gone. Oregon is renowned for soil that grows quality beer ingredients and OAT is making sure it stays that way.
About Oregon Agricultural Trust
Oregon Agricultural Trust is a statewide agricultural land trust designed to address the interrelated challenges of ag land loss, farm and ranch succession, and access to land for the next generation. OAT partners with farmers and ranchers to protect agricultural lands for the benefit of Oregon's economy, communities, and landscapes.