Columbia Distributing Brings Almanac Beer and Crooked Stave Brewing to Oregon and Washington
|
Two highly sought after craft breweries are now available in the Pacific Northwest market. Welcome Almanac and Crooked Stave to the Oregon and Washington fold thanks in part to Columbia Distributing. Here's more info from the horses' mouths:
PORTLAND, Oregon (April 14, 2015) – Almanac Beer Co has selected Columbia Distributing to expand its portfolio of barrel-aged sours and year-round fresh beers throughout Washington and Oregon, beginning this week. Almanac's food-friendly, seasonal artisan ales begin with the best fruit from Northern California farms which is blended into beers inspired by the great brewing traditions of the world.
Co-founder and Brewmaster Jesse Friedman is confident Columbia Distributing will expand Almanac's reach and brand awareness in the Pacific Northwest. "There aren't a lot of other breweries focusing on the same things we are and we know there is demand for Almanac. We wanted someone who really understands the local beer market, sells other great brands, and above all else, respects quality and customer service. We found that in Columbia."
Expansion into Oregon and Washington will carry with it Almanac's growing list of fan favorites and new releases, including Farmer's Reserve Strawberry, a barrel aged sour blond aged in wine barrels with mountains of fresh strawberries from the Santa Cruz coast and Almanac IPA, a west coast hop bomb emphasizing tropical and citrus flavors.
"Understanding the depth of Almanac's research on Pacific Northwest distributors makes this announcement that much sweeter," said Jesse Ferber, vice president of craft and import beers at Columbia Distributing. "Almanac left no stone unturned and we're thrilled with the outcome. Undoubtedly this brewery will make a strong name for itself in the Northwest."
About Almanac Beer Co
The Almanac Beer Co was founded in 2010 by Jesse Friedman and Damian Fagan. The brewery is dedicated to producing seasonal artisan ales, brewed specifically to complement local cuisine sourced and prepared with the same great care and craft. Each harvest Almanac partners with a different Northern California farm to supply the fruit used for our next brew. Every beer is a collaboration between Almanac and the local terroir. For more information, visit www.almanacbeer.com.
(Denver, CO)  – Crooked Stave Artisan Beer Project is excited to announce that its unique wild and sour beers will soon be available in Oregon, thanks to the distribution partnership formed with Columbia Distributing. This marks the first time Crooked Stave will enter the Pacific Northwest on a frequent basis.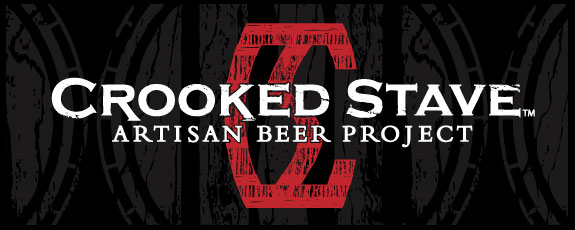 "Oregon is a bit of a second home to us, a fun market with tons of friends," says Chad Yakobson, Crooked Stave Owner and Head Brewer "We are excited to make our unique beers available to everyone who has been reaching out for years and bring in sour and wild ales to a city like Portland where food and beverage is such a focal point of the culture."
Through a unique process of barrel aging, Crooked Stave is able to produce award-winning beers of astounding complexity. These complexities – including acidity from mixed culture fermentation and aged vinous notes from extended time in oak – create a unique flavor profile that isn't commonly found in today's market.
With an expanded fermentation capacity of 250 barrels, thanks to six new 50-hectoliter fermenters at its Barrel Cellar, Crooked Stave is able to focus on expanding its product reach to out-of-state territories with the most discerning of palates.
"If there's one thing we know about Oregon, it's that the beer crowd has done its homework," says Yakobson. "They recognize quality and appreciate fine craftsmanship. We're excited to join a market that values the kind of creativity and enthusiasm we bring to our work."
Crooked Stave's products will arrive in the Oregon market during the Craft Brewer's Conference, taking place April 14-17 in Portland.  With eleven different offerings to choose from, enthusiasts will be able to find both bottled and draft options in bottle shops, restaurants, and beer bars throughout the region. This latest expansion puts Crooked Stave beers into nearly a dozen states across the US and several countries throughout Europe.
About Crooked Stave Artisan Beer Project
Crooked Stave is the culmination of "Founder and Brettanomyces Guru" Chad Yakobson's open source Master's research, The Brettanomyces Project. Crooked Stave's progressive approach to brewing blends science and art through creativity and passion. The artistic creations, all of which use Brettanomyces yeast and mature in oak, result in beers of extraordinary complexity.
About Columbia Distributing
Columbia Distributing is one of the nation's finest beer, cider and non-alcoholic beverage distributors. Headquartered in Portland, Oregon, the company has distributed some of the best known brands in the beverage business since 1935. Today Columbia Distributing and its 2,500+ employees service over 20,000 retail customers covering more than 135,000 square miles in Oregon and Washington. The company's success is based on the deep-rooted tradition of delivering quality products, timely service and a genuine concern for customers' needs. This is achieved by providing ongoing, sustainable opportunities and growth for its employees, customers, suppliers, shareholders and communities. For more information, visit www.coldist.com.