Deschutes Brewery Launches New Packaging and Labels
|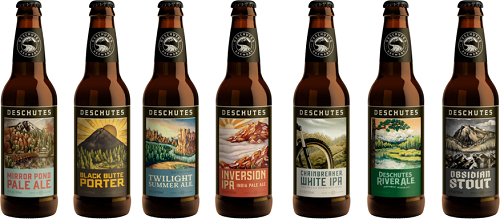 August 13, 2015 – Bend, Oregon – Deschutes Brewery is excited to announce that new packaging is hitting the shelves as we speak! All of the brewery's bottles, cartons, and tap handles will be sporting the new, updated look which was designed to better reflect the quality of the beer inside, as well as increase shelf presence and display impact. The presence of "Deschutes Brewery" is also more prominent to help pull together a family of brands that has evolved over the past 27 years.
Jeff Billingsley, director of marketing for Deschutes, said, "As the craft beer segment continues to grow, and we continue to expand, it's critical that we stand out on the shelf and reinforce our brand. We've incorporated many key elements in the new design that should help us achieve this goal. We are excited to hear what our fans think about the new look!"
The design change was spurred in part to, help improve brand awareness and better stand out in an increasingly crowded category. Each brand has its own unique color palette and custom typeface, with company branding in black for the mainline and seasonal brands, and red for the Bond Street Series. The classic illustrations associated with each brand have been retained in the new design to further highlight each beer's individuality.