Deschutes Brewery Q1 2018 Beer News and Releases
|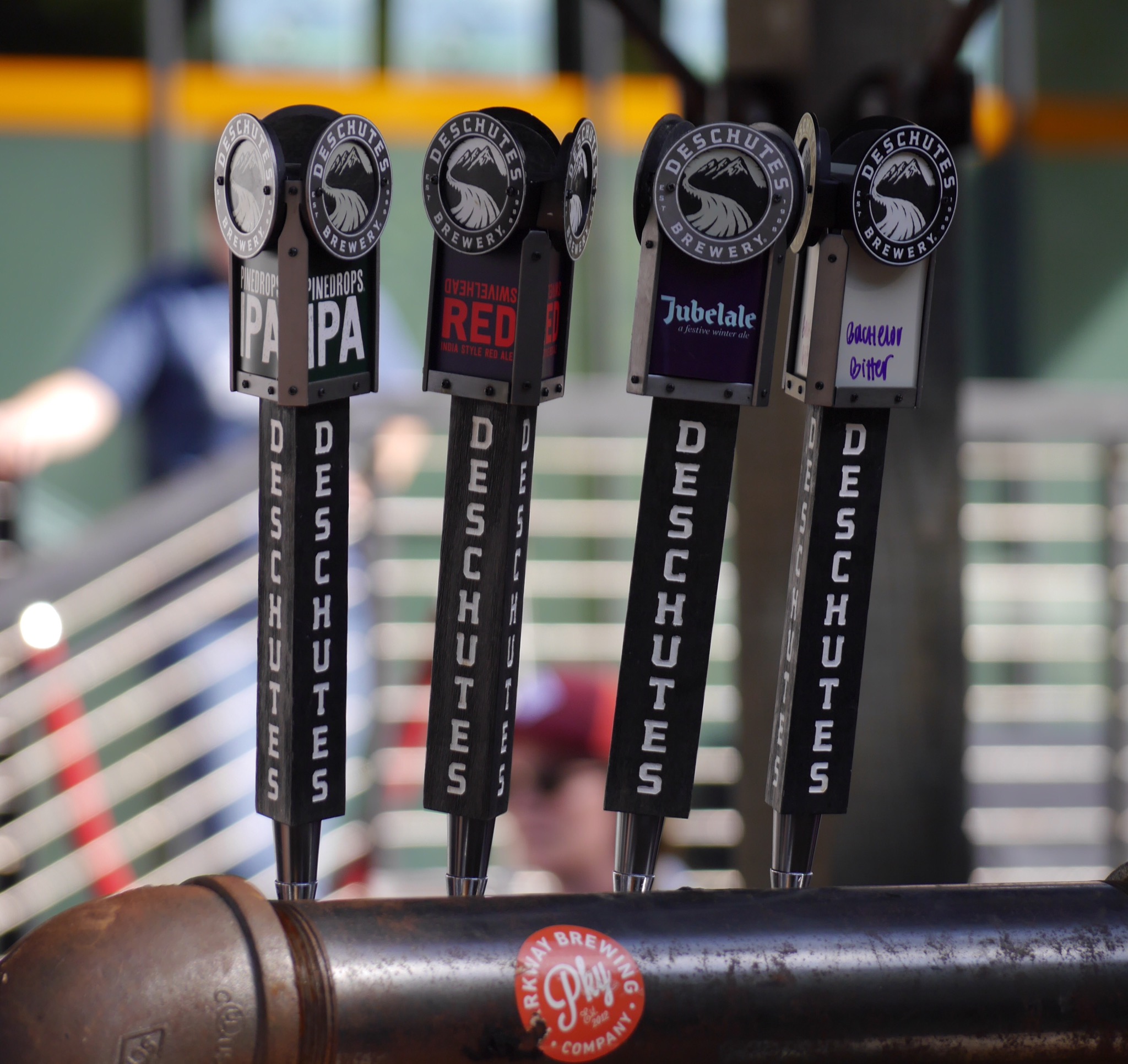 Deschutes Brewery brings us some beer news while we enter the second half of the first quarter of 2018. The Bend Base brewer has released three of its core lineup beers in new 12-ounce cans along with announcing a few other forthcoming releases in the first half of 2018. Deschutes has also been honored with being awarded new medals at the World Beer Awards and Best of Craft Beer Awards.
In late 2017 Deschutes were awarded Gold at the World Beer Awards for its The Abyss and Hopzeit Autumn IPA as its very popular Mirror Pond Pale Ale and Pinedrops IPA both took home silver. Here is a list of all of the 2017 Winners.
Then this past month a bit closer to home, Deschutes Brewery came home with medals from the 2018 Best of Craft Beer Awards. Its Black Butte Porter received a silver medal and Hop Henge Imperial IPA a bronze medal at the Best of Craft Beer Awards that takes place in Bend, OR. Here's a list of all 2018 Medalists.
When it comes to supporting the local community Deschutes Brewery has raised $1.4M for nonprofits during its three-year run of its popular Street Pub. This traveling beer fest welcomed over 300,000 beer fans to its 19 stops over the past three years.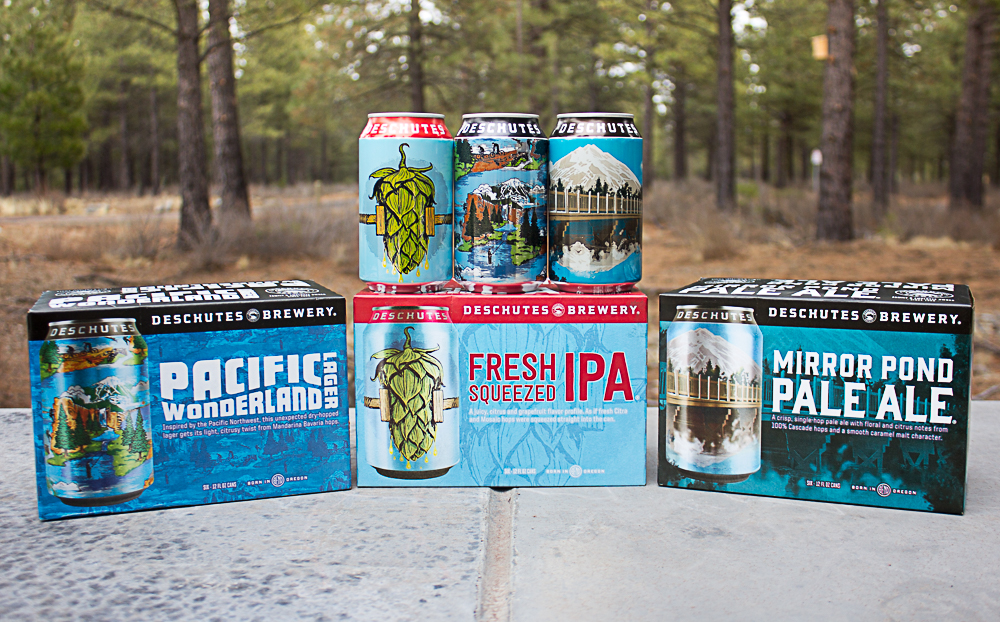 When it comes to new beer releases Deschutes has just launched its popular Fresh Squeezed IPA, Mirror Pond Pale Ale, and Pacific Wonderland Lager in 12 ounce cans. These offerings are just beginning to arrive in local stores.
Deschutes Brewer is also set to release a few other beers during the first four months of 2018. Look for Pear Bergamot Sour, Swivelhead Red (February), Fresh Chair Northwest Pale Ale (March), The Ages (April), and Twilight (April).
Here is a rundown on all of the forthcoming beers as provide to us by the brewery…
SOUR SERIES
Pear Bergamot Sour
When:  Year Round 2018
What:  Sour Series (draft only)
The Deschutes Sour Series is a new offering from Deschutes Brewery. An innovative and creative series of stainless, lacto soured beers that vary in the use of fruit, hops, spices and specialty ingredients, all maintain a harmonious and clean acidity ranging from mild to medium. This series combines two trends among craft beer consumers: an emerging interest in kettle sours and a movement toward fruit-flavored beers. This series delivers both in a distinctly Deschutes way that is culinary-inspired and truly unique. Pear Bergamot Sour Ale tasting notes include pear and citrus with a floral aroma. Next up this spring, Black Raspberry Sour.
Beer Geek Information:  4.3% ABV  |  18 IBUs
Where: Available everywhere Deschutes is sold on draft.
RESERVE SERIES
The Ages
When: April 2018
What: Reserve Series (500ml-bottles)
A gueuze-inspired, multi-year blending shapes a wild brew brimming with fruity, spicy esters and savory, tangy pear and white pepper flavors. Deschutes' first release in a 500ml bottle, this is a beer for the ages.
Beer Geek Information:  7.5% ABV | 15 IBUs
Where: Available everywhere Deschutes is sold.
 
BOND STREET SERIES
Swivelhead Red
When: February – May 2018
What:  Bond Street Series (12-ounce bottles and draft)
Perfect for that St. Patrick's Day celebration! This twist on a traditional red ale gets its herbal hop character from European varietals added in American quantities, with a light melon accent from Australian hops, all resulting in a malty brew without the roast that's sure to turn heads wherever it's shared. The quirky artwork on the label tells a story and represents all the characters that contributed to this brew.
The Stats:  6.5% ABV | 70 IBUs
Where: Available everywhere where Deschutes is sold.
COLLABORATIONS
Fresh Chair Northwest Pale Ale
When: March 2018
What: 30th Anniversary Collaboration with Crux Fermentation Project (draft only)
In celebration of Deschutes Brewery's 30th birthday, they've partnered with several Deschutes Brewery alumni to collaborate on seven exciting brews. The first debut includes former brew masters Larry Sidor and Cam O'Connor now of Crux Fermentation Project, in the creation of a perfect blend of award winning Fresh Squeezed IPA and Red Chair Northwest Pale Ale. Encompassing the popular hop varieties Citra, Mosaic and Centennial, a bright and bold hop aroma compliments a drinkable malt body. All proceeds from this beer will benefit restoration of streamflow and improved water quality in the Deschutes River Basin.
Beer Geek Information:  6.5% ABV | 35 IBU
Where: Limited release in Oregon and Washington.
Humm Zinger
When: May 2018
What: Humm Kombucha Collaboration
A collaboration with Humm Kombucha, a fellow Bend, Oregon, craft pioneer, this unique kombucha radler combines Humm's tangy grapefruit with the iconic Cascade hops and Pilsner malt that Deschutes Brewery uses in many of its beers. The finished brew is a crisp and invigorating fresh twist on a radler.
The Stats: 4.3% ABV | 12 IBUs
Where: Limited release in Oregon and Washington.
SEASONAL
Twilight Summer Ale
When: April – August 2018
What:  Seasonal (12-ounce bottles and draft)
Back by unrelenting customer demand, Twilight Summer Ale hits the shelves just in time for summer this year! Originally introduced in 2004, this clever golden-hued ale pours remarkably crisp and clean. A distinctive malt body complements a refreshing hop profile led by a healthy dose of bold Amarillo hops. It's going to be a great summer.
The Stats:  5.0% ABV  |  38 IBUs
Where: Available everywhere Deschutes is sold.