Double Mountain Brewery Expands to North Portland
|
Double Mountain Brewery & Cidery will be adding a new location in Portland as it takes over the former Lucky Labrador Brewing location on N. Killingsworth. The goal is to make some minor changes and host a Grand Opening during Summer 2023.
After operating a pub at 1700 N. Killingsworth Street for over 12 years, Lucky Lab closed its doors at this location on December 22, 2022. But the brewpub is continuing on at its three other locations – Hawthorne, Multnomah, and Quimby.
Located in the Overlook neighborhood, Double Mountain Taproom – Killingsworth plans to attract the 6,000 residents form the neighborhood's 3,500 homes to its new pub. The Brewery & Cidery looks forward to becoming a welcomed addition to the community by providing the same family-friendly cozy and quirky ambiance of their other two locations. It currently operates its brewery and taproom in in Hood River alongside its second Taproom in Portland's Woodstock neighborhood and as the beer and food purveyor of The Lamp that's part of the Aladdin Theater.
Double Mountain will take over the 4,600 square foot taproom that consists of three separate rooms, with a bar in the main room that will house nearly 20 taps that will flow with Double Mountain's unfiltered and long-aged beers, regional ciders, and house-made sodas. The new Taproom will offer the same New Haven style pizza fans have come to love, along with sandwiches, salads, and more!
The space has a decent kitchen, and the Brewery & Cidery is excited to explore the potential of that space, with more house made offerings. You can also expect to enjoy free live music, and we plan to have an event space in the back room that will be available for large parties.
Some light interior updates will take place within the next few months, while the Brewery & Cidery works on transforming the space into the familiar Double Mountain living room-esque ambiance that helps all to feel welcome and at home.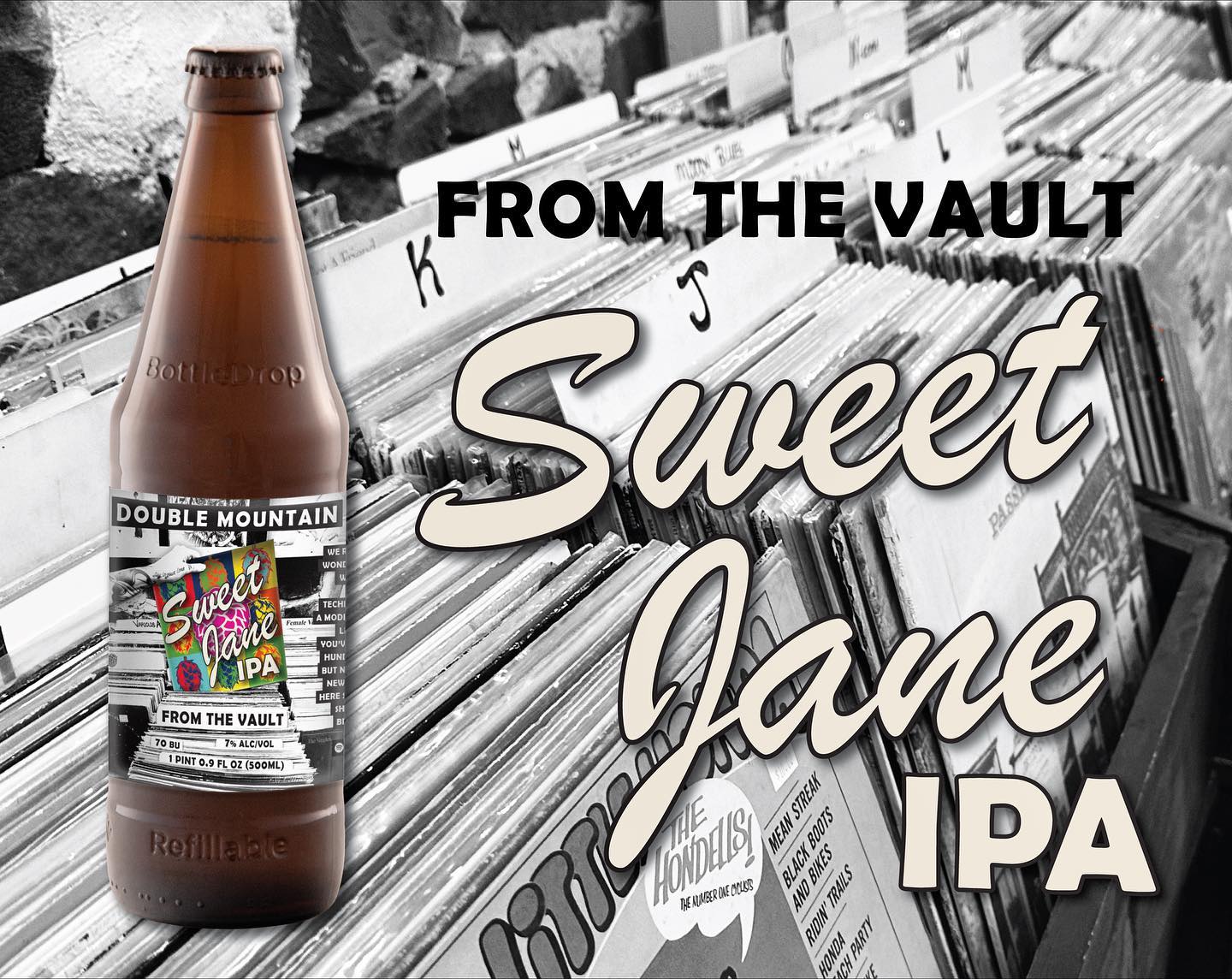 In addition to this news, Double Mountain has also brought back a fan favorite beer. Sweet Jane IPA returns as part the brewery's From the Vault Series that first appeared in 2017
A nod to Lou Reed, Sweet Jane IPA is an aggressively balanced West Coast IPA that's full of pine and citrus aromas. For this encore, the brewery revisits this classic with some modern techniques and tweaks, drawing on the additional expertise acquired by the brewers since they first made this beer.
To keep the same orange/red color without the use of crystal malts, Double Mountain used Red X from Best Malz, a German malt that provides nice red and orange color without the caramel notes. This keeps it rounded and balanced, but without the perceived sweetness that can come from crystal malts, providing a good springboard for the hops.
Sweet Jane IPA sits at 7% ABV and 70 IBUs and is available in 500mL bottles and on draft throughout the Pacific Northwest. And this one also has its very own Spotify playlist. Rock on!