Ecliptic Brewing's Moon Room Celebrates its Grand Opening
|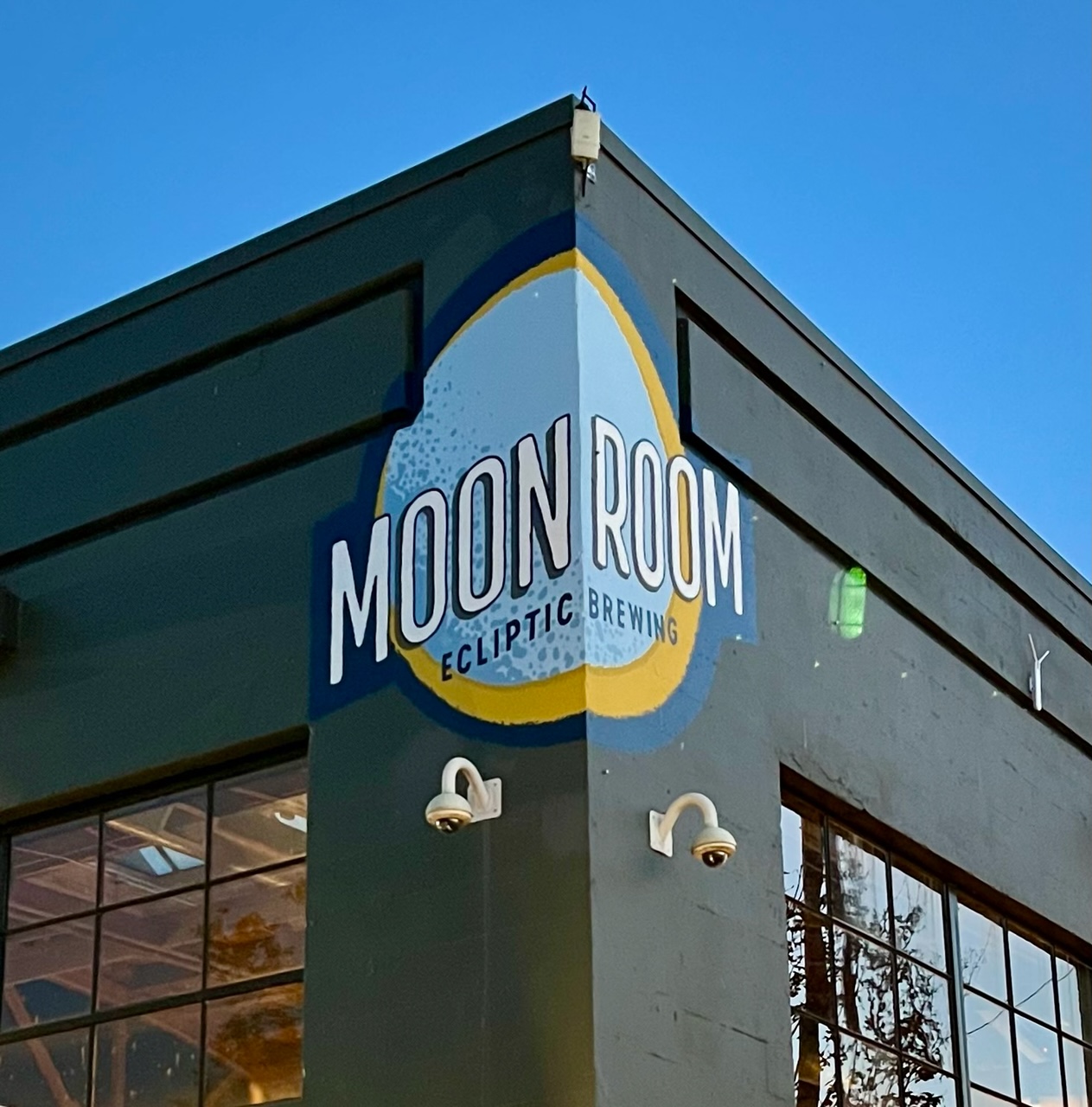 After months of renovations, Ecliptic Brewing has opened the doors to its new Moon Room located in Southeast Portland. This is the eight-year-old brewery's second location and takes over the building that was home to the shuttered Base Camp Brewing.
The new Moon Room is a full-on brewery with a taproom, bar, outdoor patio and onsite food cart that is open for those 21 years of age or older. Ecliptic has been brewing at the Moon Room for a few months and opened its new onsite taproom to the public today. The onsite brewing at the Moon Room will enhance its brewing capabilities. Its original facility, at what is now known as the Mothership Brewery, in North Portland about 2.5 miles away is at near capacity.
In renovating the former Base Camp Brewing space, Ecliptic Brewing enlisted Terry Amundson with local architect firm, Koble Creative. This firm has done work with other breweries including Migration Brewing, West Coast Grocery Co., Baerlic Brewing, and Upright Brewing to name a few.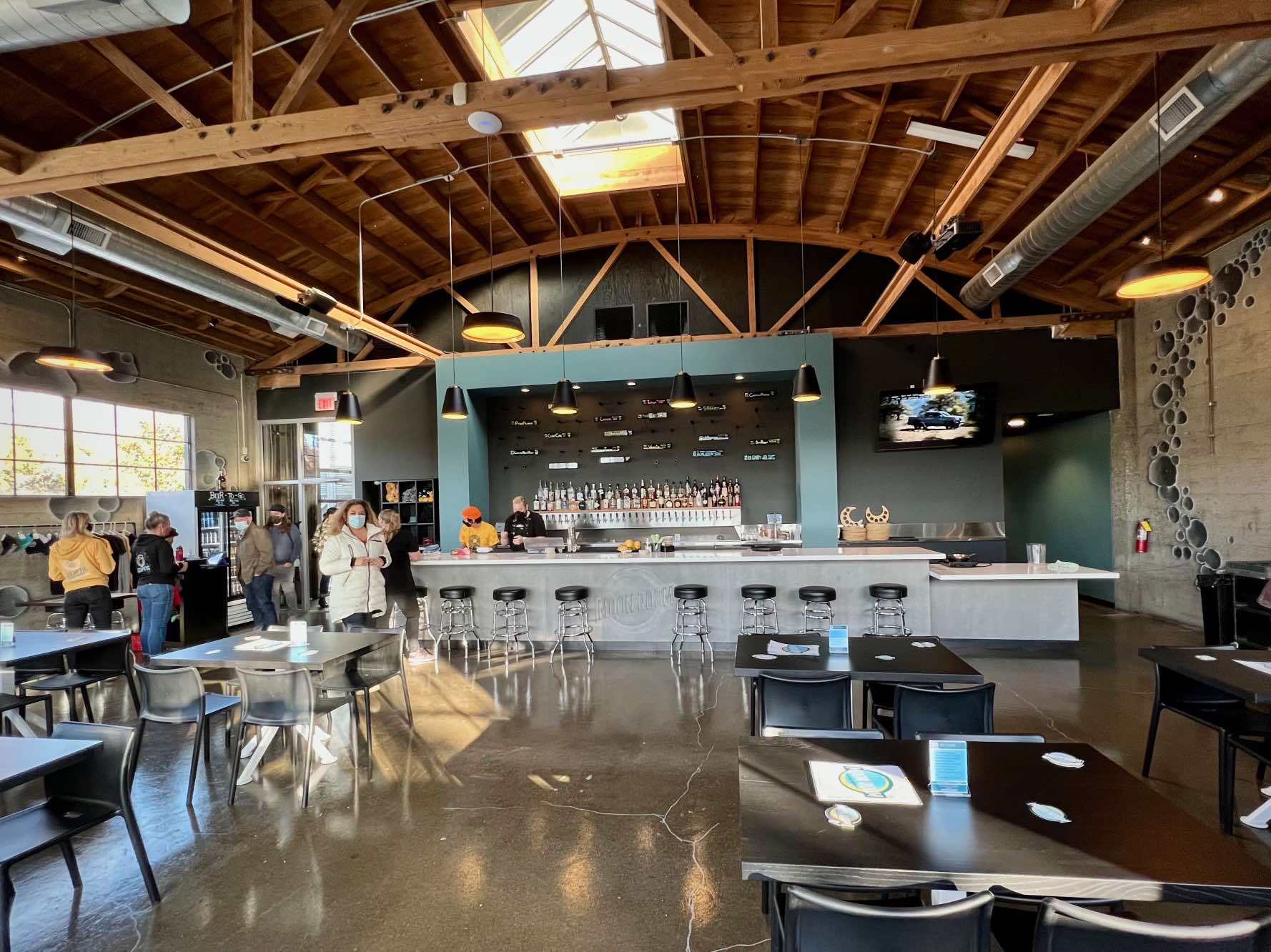 The remodeled space does look similar to its former tenant, but with some noticeable changes. The outdoor photos behind the bar have been replaced with a beer menu board, that highlights the 30 possible draft offerings. A new bar top has been installed with the new Moon Room logo, one that looks eerily similar to a brewery from Colorado, adorning the frontside of the bar. And the former water keg that was suspended in the air has been replaced with a conventional self-serve water container.
Giving the room its expected space theme, the walls have artwork representing the craters on the moon. The team at Ecliptic wisely chose to retain the stars that continue to sparkle on the taproom's ceiling.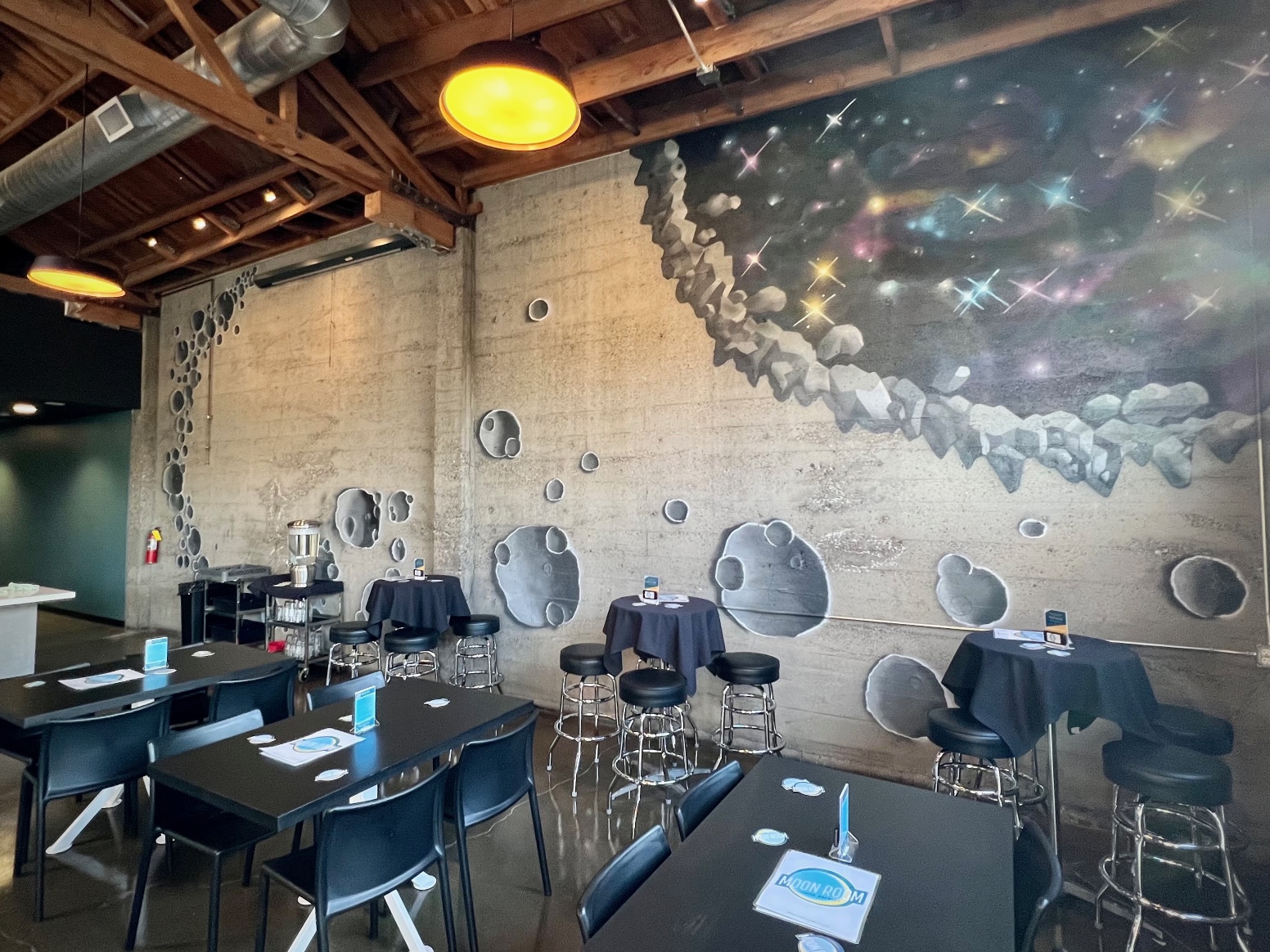 Outside on the patio, there is space to accommodate up to 86 people. Currently the patio is uncovered, so if it remains so, may be more of a challenge to sit outdoors during our rainy season over the next five to six months.
Also out in the patio is the Moon Room food trailer. Offering a more slimmed down menu than what is at the Mothership Brewery, the Moon Room offers an array of sandwiches and snacks. These sandwiches will include classic favorites, as well as unique options, and there will always be vegan entrees available.
Each sandwich comes with chips and a side salad or soup can be subbed for an additional $3.00. Many of the sandwiches range in price from $10 to $14. The menu will rotate every six weeks as it does at the Mothership Brewery and will include fresh, local and seasonal ingredients.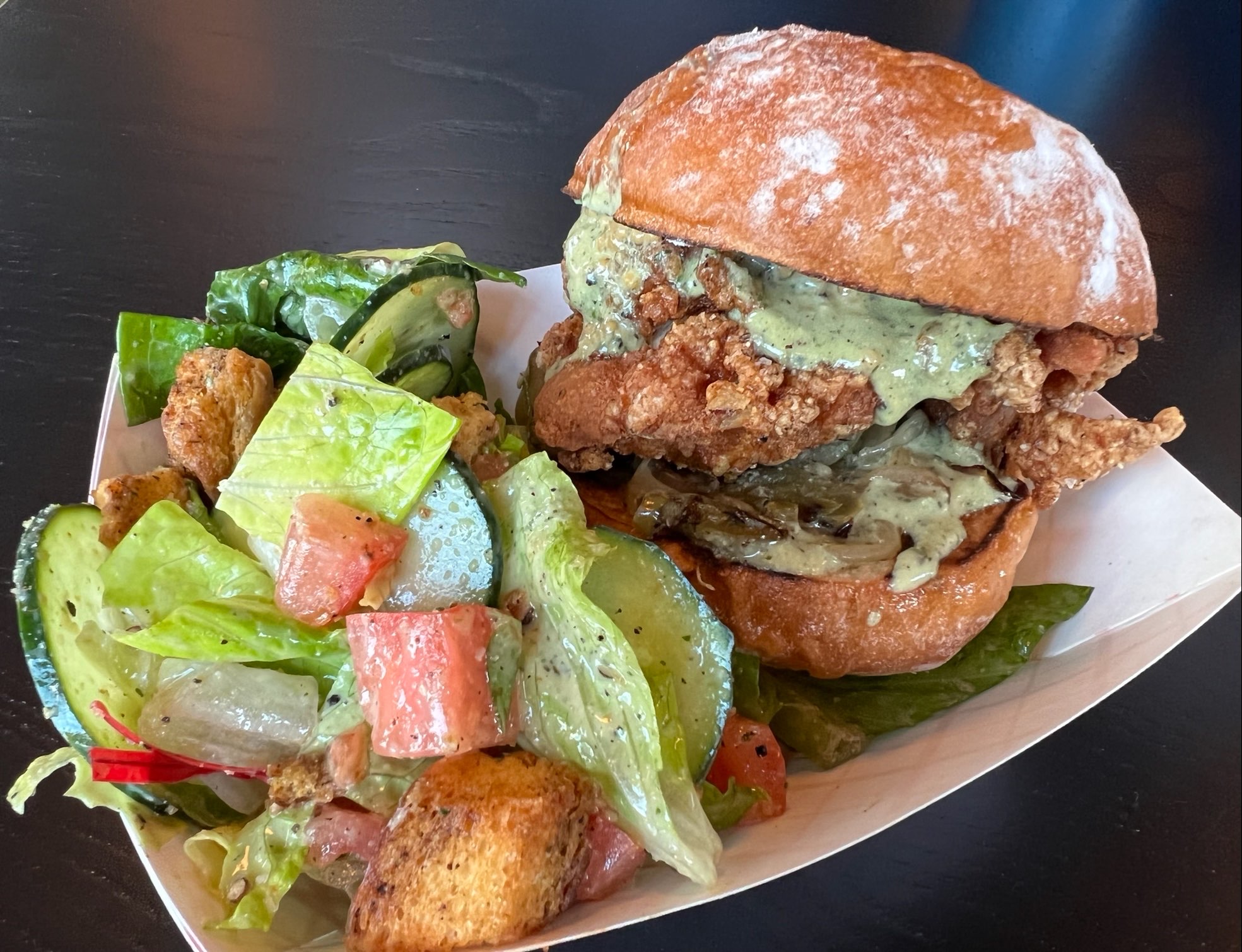 When it comes to the beer selection, the Moon Room has the potential to serve 30 different options on tap. During our visit yesterday, 18 beers from Ecliptic were being served, with a few brewed on-site. Many of the beers are priced at $6 per 16oz pour. Once the on-site brewery is fully up and running, the Moon Room will offer exclusive beers, barrel-aged projects and more beer options from Ecliptic's Cosmic Collaboration partners.
In addition to the beers, the Moon Room has also placed a stronger emphasis on its bar program. There is a noticeable larger selection of spirits at the new location with a focus on Gin.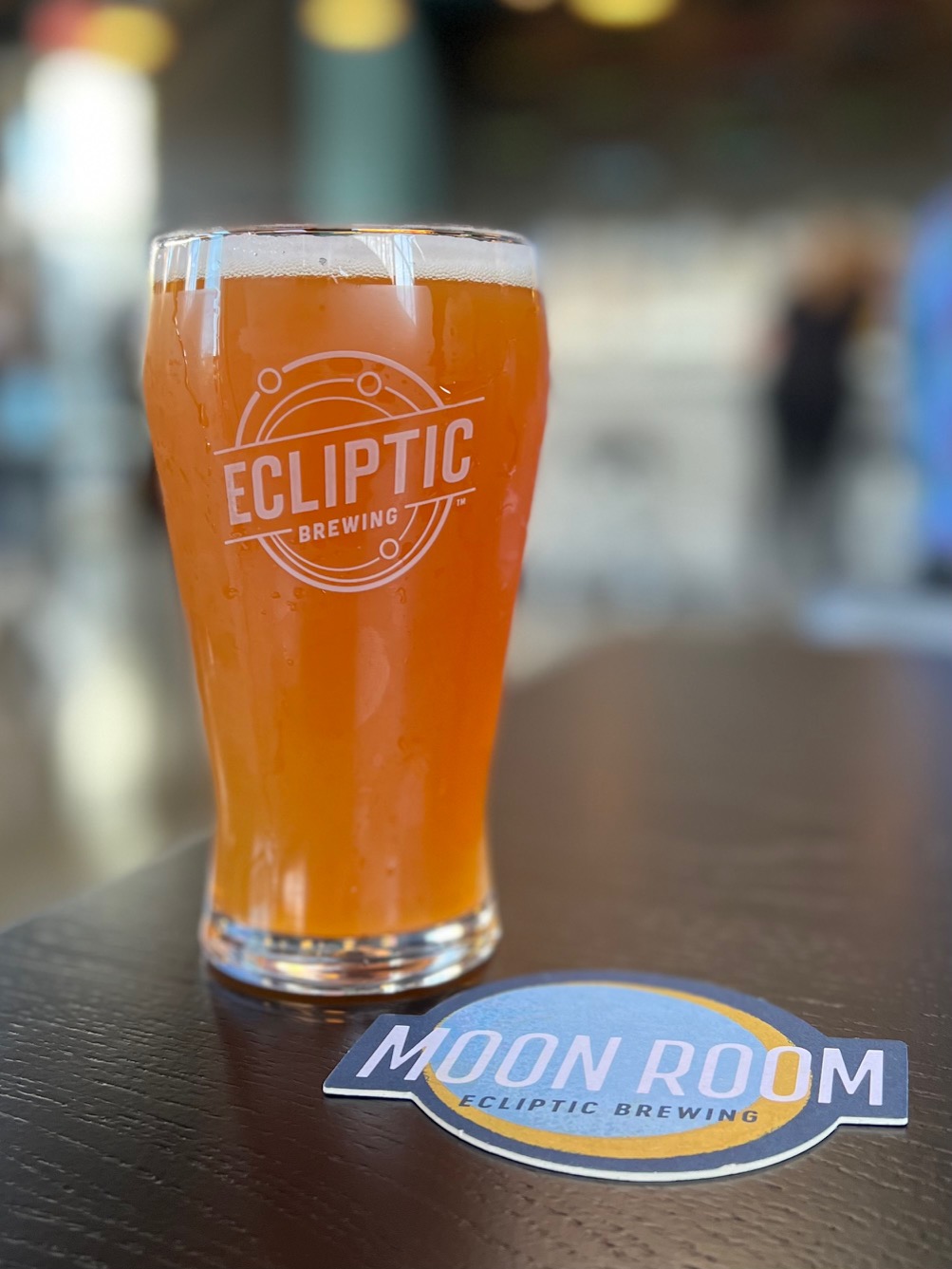 This idea stems from Ecliptic's Owner and Brewmaster John Harris as during the pandemic he experimented at home with his favorite liquor. "Gin is a botanical paradise," said Harris in a statement. "We will aim to showcase our beer and also the world of gin- Martini, Negroni, and the understated Gin and Tonic, will all be elevated here at the Moon Room. Look for a nice list of gins and how different these classics can be interpreted, as well as modern gin cocktails."
The addition of Ecliptic's Moon Room re-establishes this area of Portland as a great beer destination. Located within blocks of Moon Room are West Coast Grocery Co., Cascade Brewing, Rogue Ales & Spirits, Modern Times, Mt Tabor Brewing, Hair of the Dog Brewing, Wayfinder Beer, Level Beer's Level 3 Taproom, and the forthcoming Brewery 26.
"All of us here at Ecliptic are excited to bring another pub experience to lead our cause in 'Creating Joy in the Universe," said Harris, in a statement. "We can't wait to show you our new space."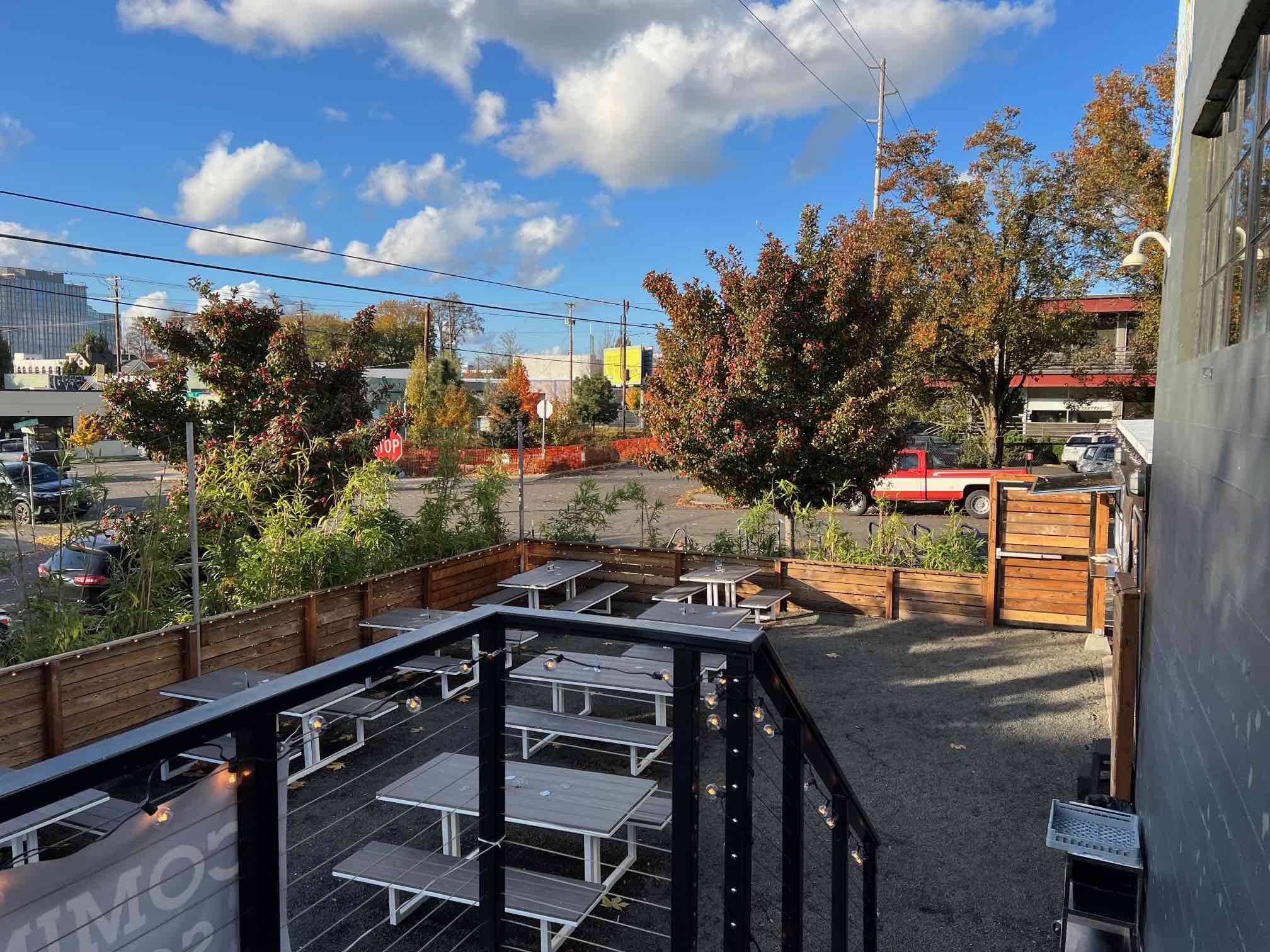 Hours for the Moon Room will be Wednesday – Thursday from 4:00-10:00pm; Friday – Saturday from Noon-10:00pm and Sunday from Noon-8:00pm. Minors are not allowed at the Moon Room and what is being described as "well behaved pets" are allowed on the outdoor patio.
Ecliptic Brewing Moon Room
930 SE Oak St.
Portland OR 97214