First Look at Grains of Wrath – PDX
|
After a few delays while navigating through a pandemic, Grains of Wrath – PDX will open the doors to its new Portland location on Thursday, October 29th. Now Grains of Wrath will have two Portland area brewpubs with its original location in Camas, Washington continuing on and the new Grains of Wrath – PDX located on North Williams in the former Lompoc Sidebar space.
This endeavor from Grains of Wrath was announced back in February with an anticipated opening a few months later during Spring while its Portland Kettle Works built brewhouse would come online later in the year. Well this was all put forth prior to COVID-19 fully inundating our country and coincidentally a few delays occurred during the build out.
Now back on track, Grains of Wrath – PDX will officially open its doors on Thursday, October 29th at 3:00pm. During its first month or so, Grains of Wrath will be serving beers brewed from its original location in Camas. Mike Hunsaker, Brewmaster and Co-Owner, told us that he hopes to have the brewhouse here in Portland up and running in the next few weeks. If so, beer should be tapped before the end of the year.
Since taking over the quaint former Lompoc Sidebar space, Grains of Wrath has done a bit of remodeling. Gone are all of the barrels that gave the space a cozy feel and in its place are a few more spread out tables and booths to get the brewery through the pandemic. The walls have been painted black to give it an edge that the brewery was looking for. What was once an office space near the front door is now the kitchen. One thing that has remained from Lompoc Sidebar is the fireplace that'll be perfect for the months of cold, rainy weather ahead.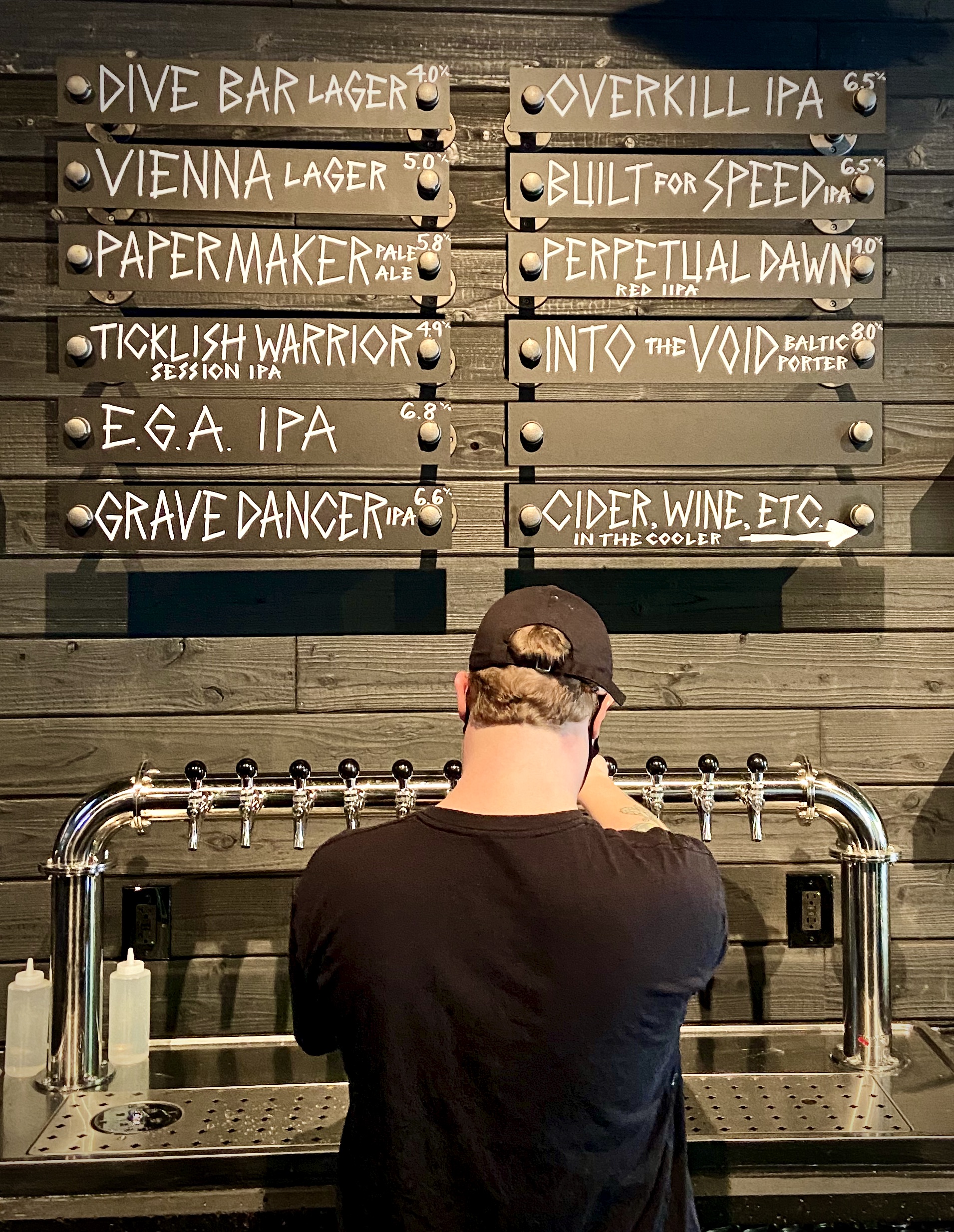 Grains of Wrath added a few TVs, four to be exact, that will show whatever sports will be playing while we continue through these strange times. There will be limited outdoor seating alongside the building, but this will not likely happen until next year when the drier days return.
The beer menu for its opening features ten beers brewed in Camas, including Built for Speed IPA that was awarded a Gold Medal at the 2020 Great American Beer Festival. Other choices include the soon to be canned Dive Bar Lager, Vienna Lager, Papermaker Pale, Into the Void Baltic Porter, and five IPAs. Beers are priced from $6.00 – $7.00 for a 16oz pint. If you're looking for beer to go, Grains of Wrath – PDX has a cooler that will be stocked with its beers.
Beyond serving its own beer, Grains of Wrath – PDX will also serve a few craft ciders and currently has a sour ale from Black Project available. This spot will also have a full bar and one that will be small but offer some nice selections. How can you go wrong when Buffalo Trace is your well whiskey? Eventually Grains of Wrath – PDX will be offering a canned Dive Bar Lager with a shot of Buffalo Trace as its beer and shot special. Not too bad!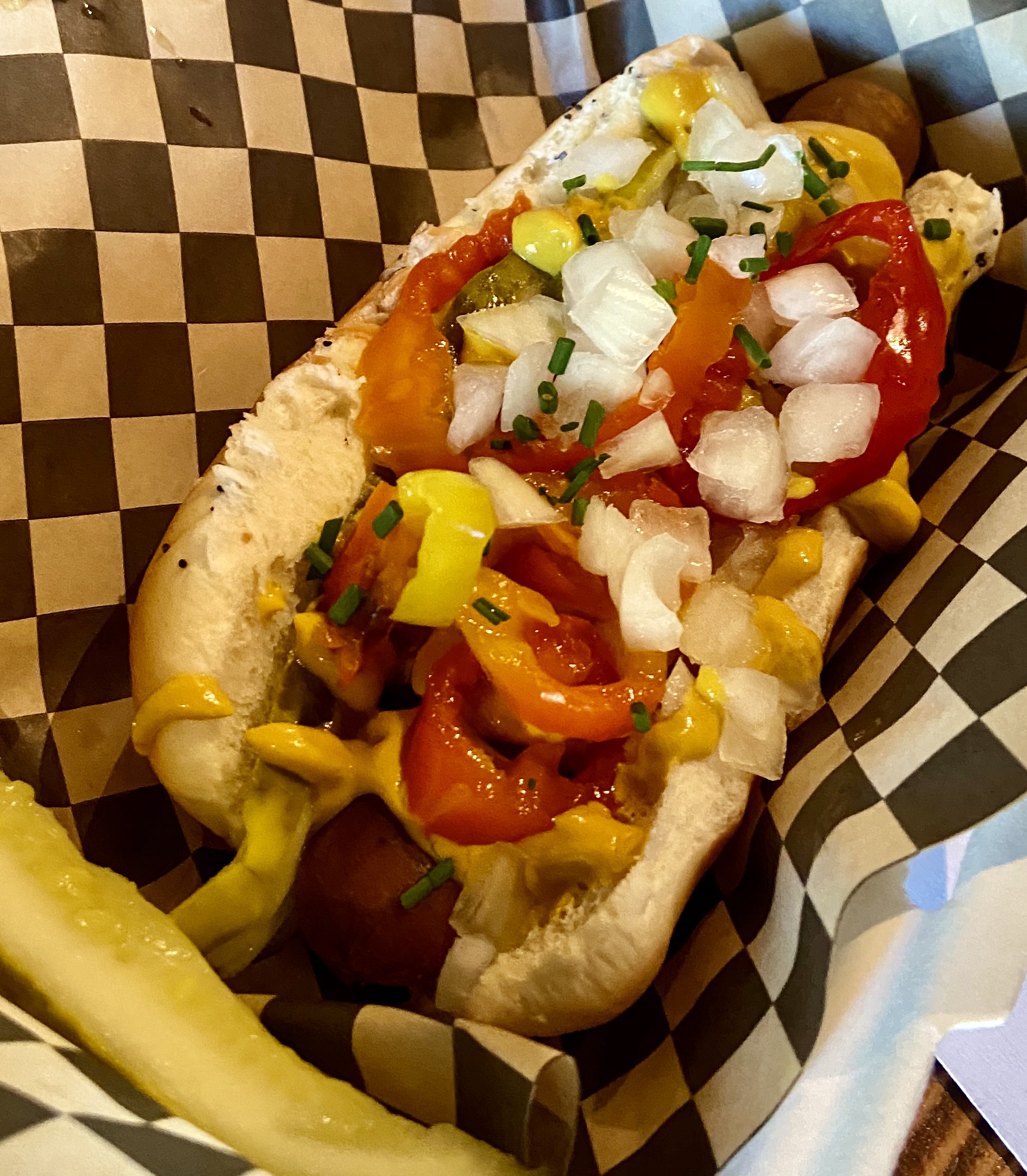 When it comes to its food options, Grains of Wrath – PDX went small but with endless options. The limited but well executed food menu will feature some delicious encased meats from Zenner's Sausage Co. Grains of Wrath – PDX may not have the reputation of Abe Froman quite yet, but from the first tastes of this menu we can definitely attest that they are on track. There are four standard dogs, which one is vegan along with a build your own option. Plenty of standard toppings and premium toppings such as bacon and beer cheese. All dogs come with a choice of chips or a side green salad.
Here's a preview of the four standard dogs that are available for on-premise or carry out.
Jalapeno Popper Dog: Zenner's Smoked Kielbasa with cream cheese, bourbon-bacon jam, and fresh jalapeno on a pretzel bun. $10
Buff Dog: Zenner's Red Hot Sausage with buffalo sauce, blue cheese crumbles, bacon, and chives on Pretzel bun. $10
Beer Sausage: Zenner's Jalapeno Cheddar Frankfurter with sauerkraut, bacon, chives, and beer cheese on a pretzel bun. $10
Vegan Dog: Field Roast Vegan hot dog with dill pickle, yellow mustard, sport peppers, and diced onion on a poppyseed bun. $10
Build Your Own Dog: Zenner's Frankfurter on a poppyseed bun with your choice of toppings. $7 and up
Grains of Wrath – PDX is a 21+ establishment that is open daily from 3.00-10:00pm. Follow Grains of Wrath – PDX on Instagram.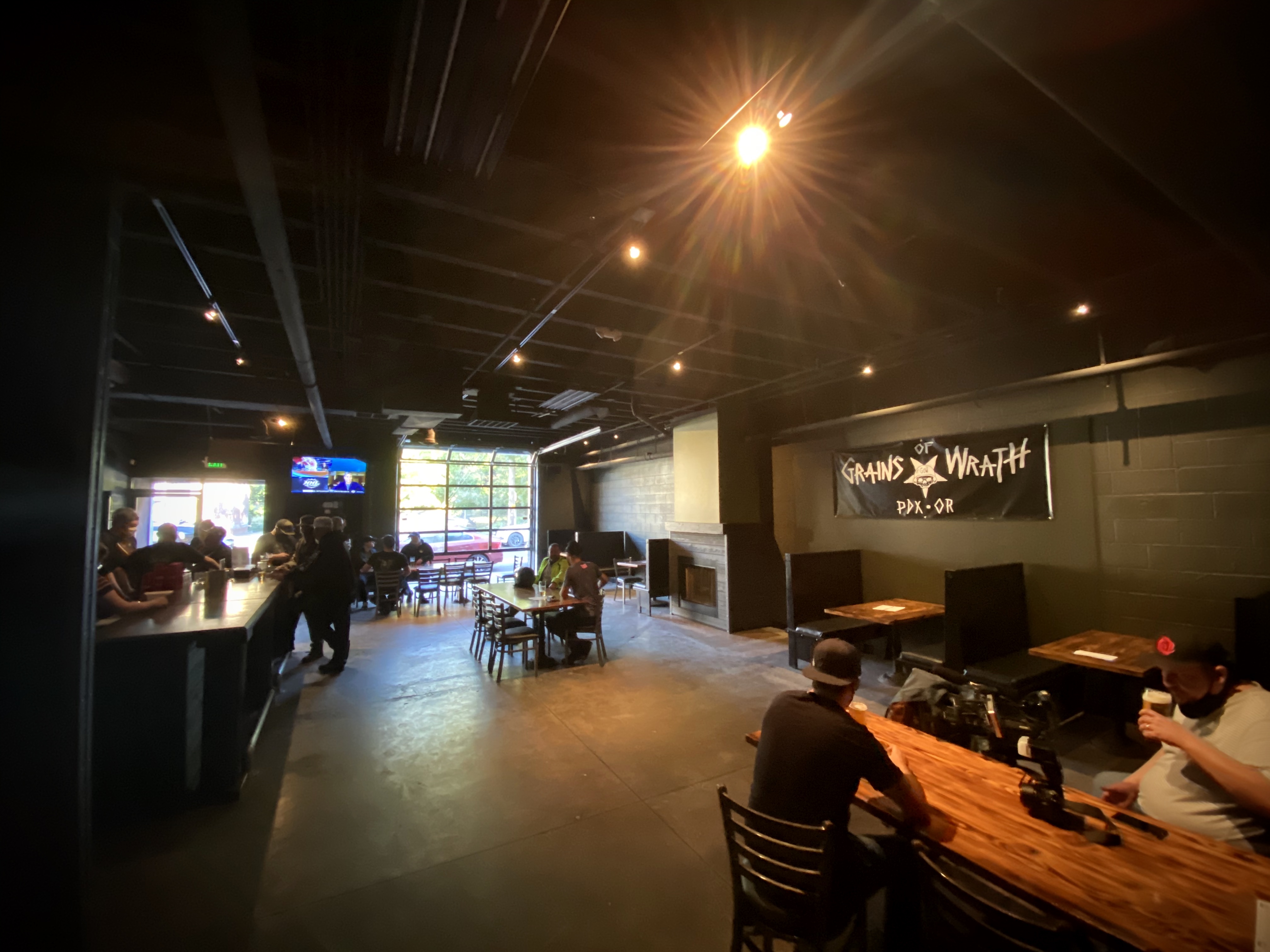 Grains of Wrath – Portland
3901 N. Williams Ave.
Portland, OR