Founders Brewing Announces 2019 Beer Release Calendar
|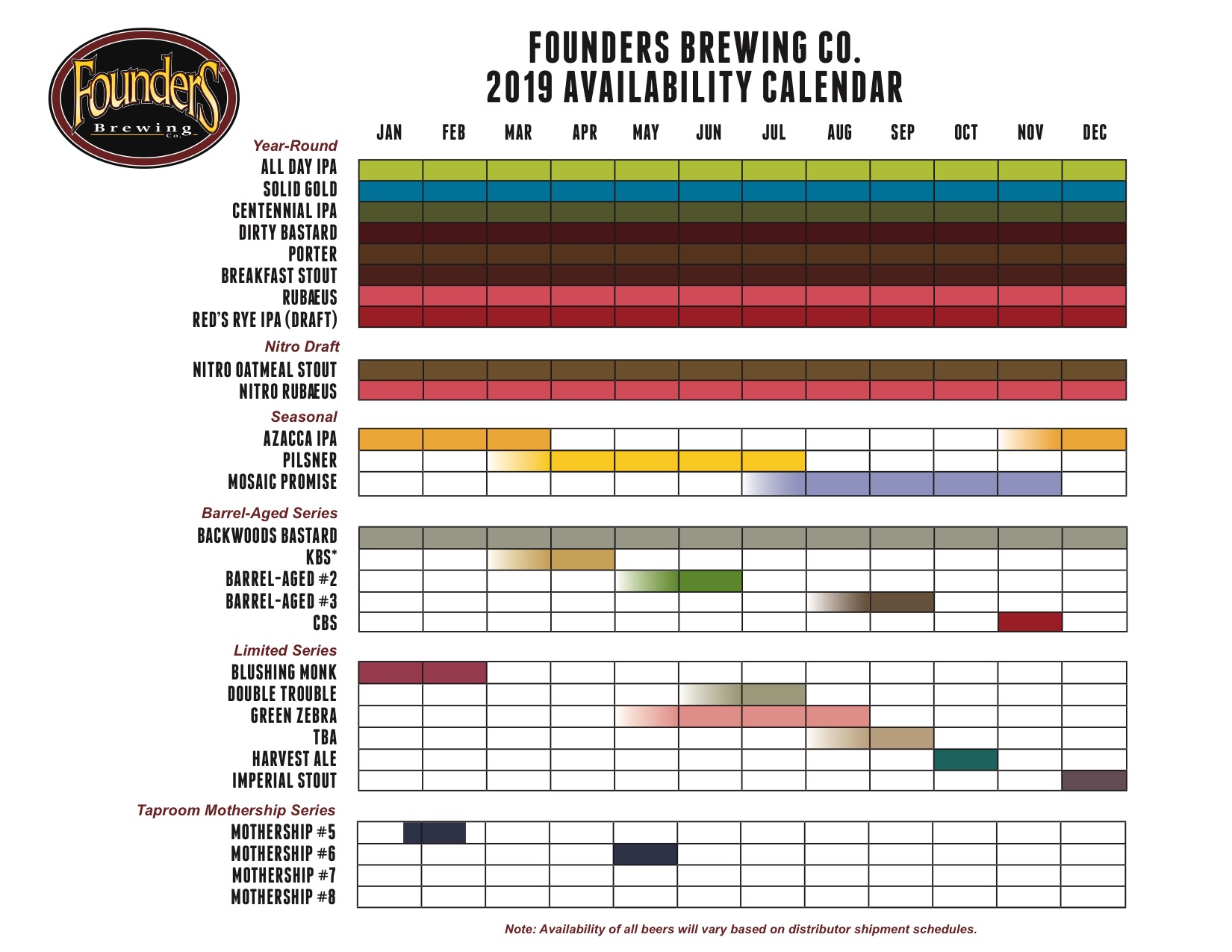 Founders Brewing has announced its 2019 Beer Releases Calendar and the coming year will see some new additions and a few changes to its beer lineup. The New Year will also bring the first time that one of Founders beers will be contract brewed.
Three beers being added includes Blushing Monk, Imperial Stout and Green Zebra. First up will be the brewer's Blushing Monk, a Belgian-style ale brewed with raspberries, will be returning to the Limited Series lineup in 4-packs of 12oz bottles in January 2019. Green Zebra, a Gose-style ale will be available in the spring and summer. And a fan favorite, Imperial Stout will return to the Limited Series in December 2019 in 4-packs of 12oz bottles.
Released earlier this year, Solid Gold, Founders answer to an easy drinking lager will expand in 2019. By early February 2019, Solid Gold will expand its offerings to include 19.2 oz cans, 12-pack cans and 12-pack bottles. The beer will also be available in 24-pack cans across the brewer's entire distribution footprint. This pack was previously only available in the Midwest. Solid Gold will continue to be available in 6-pack cans and the 12-pack cans will replace the 15-packs.
"Solid Gold has more than doubled our first-year expectations and has driven us to meet an ever-growing demand," said Co-Founder and CEO Mike Stevens in a statment. "We'll be adding additional pack sizes to accommodate more occasions and will continue to push into the American domestic premium lager space with a brand consumers can connect with."
But the biggest news for 2019 is that Founders Brewing will begin to contract brew its most popular beer, All Day IPA. This session IPA will begin to be brewed for the Western United States in Boulder, Colorado at Avery Brewing. Since both Founders and Avery are 30% owned by Spanish brewery, Mahou San Miguel, this news is not all that surprising.
"Rest assured, anything created with the Founders name on it will be just as delicious and consistent with product coming out of Grand Rapids," Founders wrote on its blog. "Our production team has completed a number of quality checks at the Avery facility. We're confident in their system's ability to replicate All Day IPA."
When it comes to packaging sizes for All Day IPA, it will see new 12-pack bottles being added and will begin shipping by early February 2019. All Day IPA will continue to be available in 6-pack cans, 19.2oz cans, 15-pack cans, 6-pack bottles and on draft.
"We've featured a lot of beers in our lineup over the years and, as a result, have had to bench some favorites to make room for new styles," said Co-Founder and President Dave Engbers in a statement. "The silver lining is that we then get the opportunity to reintroduce some of these beloved styles. Most often it's because we listen to you, our fans, who lobby for us to bring something back. Well, your voices have been heard and we're happy to share that Blushing Monk and Imperial Stout will return to the Limited Series in 4-pack bottles. Plus, CBS will return in 2019! As always, enjoy, share and celebrate their return with a friend."