Gigantic Brewing Hawthorne Pub is Now Open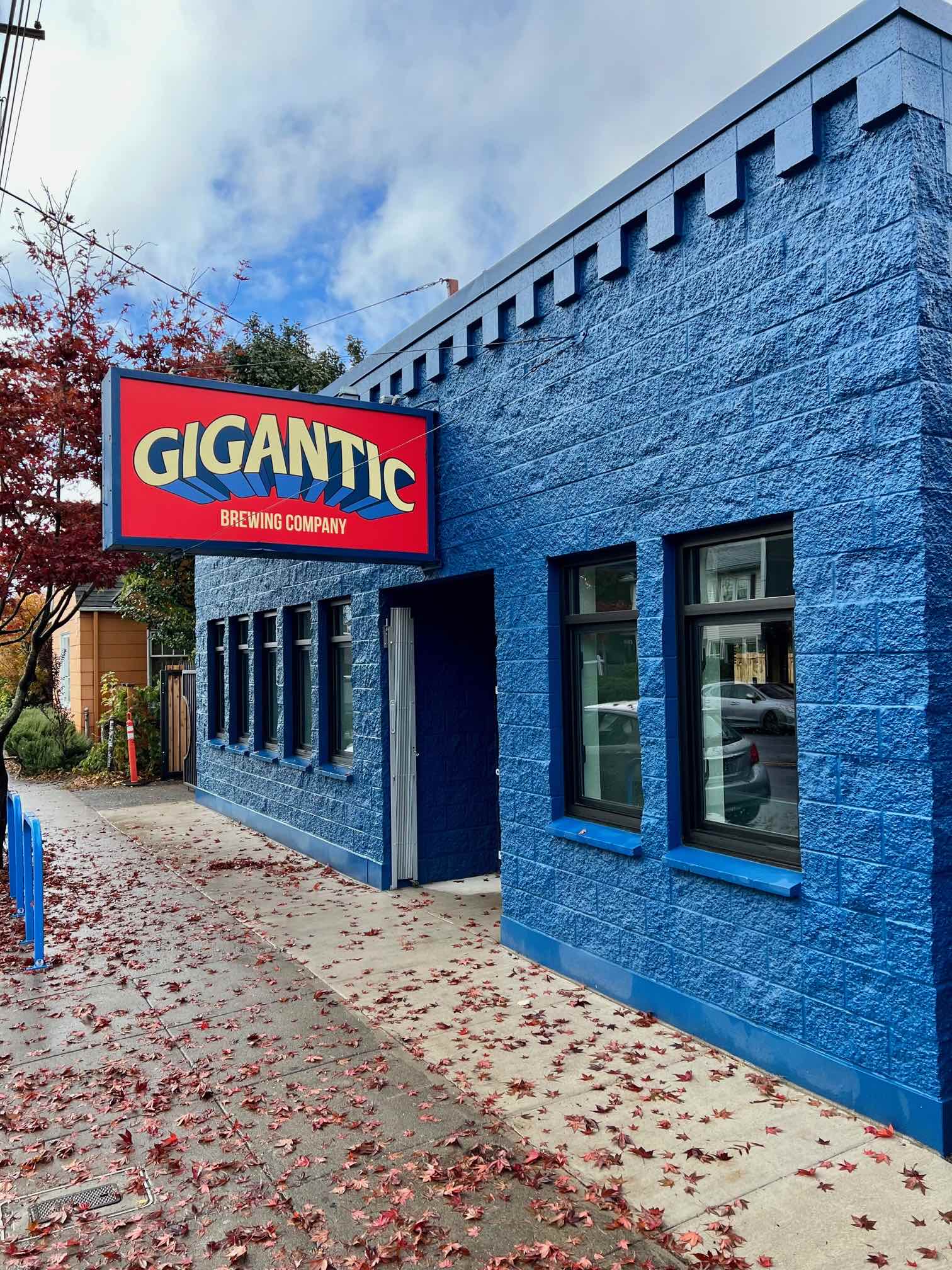 This past Friday, Gigantic Brewing opened the doors to the new Gigantic Brewing Hawthorne Pub. The new family friendly taproom and restaurant is located at 4343 SE Hawthorne Blvd, about equal distance from both the Gigantic Brewing Taproom & Champagne Lounge and the Gigantic Robot Room.
What makes this location special is that it's the first Gigantic Brewing location to serve food. Though the Gigantic Brewing Taproom & Champagne Lounge and Gigantic Robot Room have food purveyors next door, this will be the brewery's first onsite kitchen.
Venturing into food was not an easy decision as both Gigantic Brewing co-founders, Van Havig and Ben Love, are brewers first and foremost and not restaurateurs. When asked about why the two decided to open a pub with a full kitchen, Van immediately said, "Terrifying!" But to calm this anxiety down, Van and Ben hired an excellent kitchen staff that is offering a variety of food options, including items that are vegan and gluten free. But the exciting part of this new food venture is that patrons will be able to taste the dishes that both Ben and Van have enjoyed during their travels around the globe!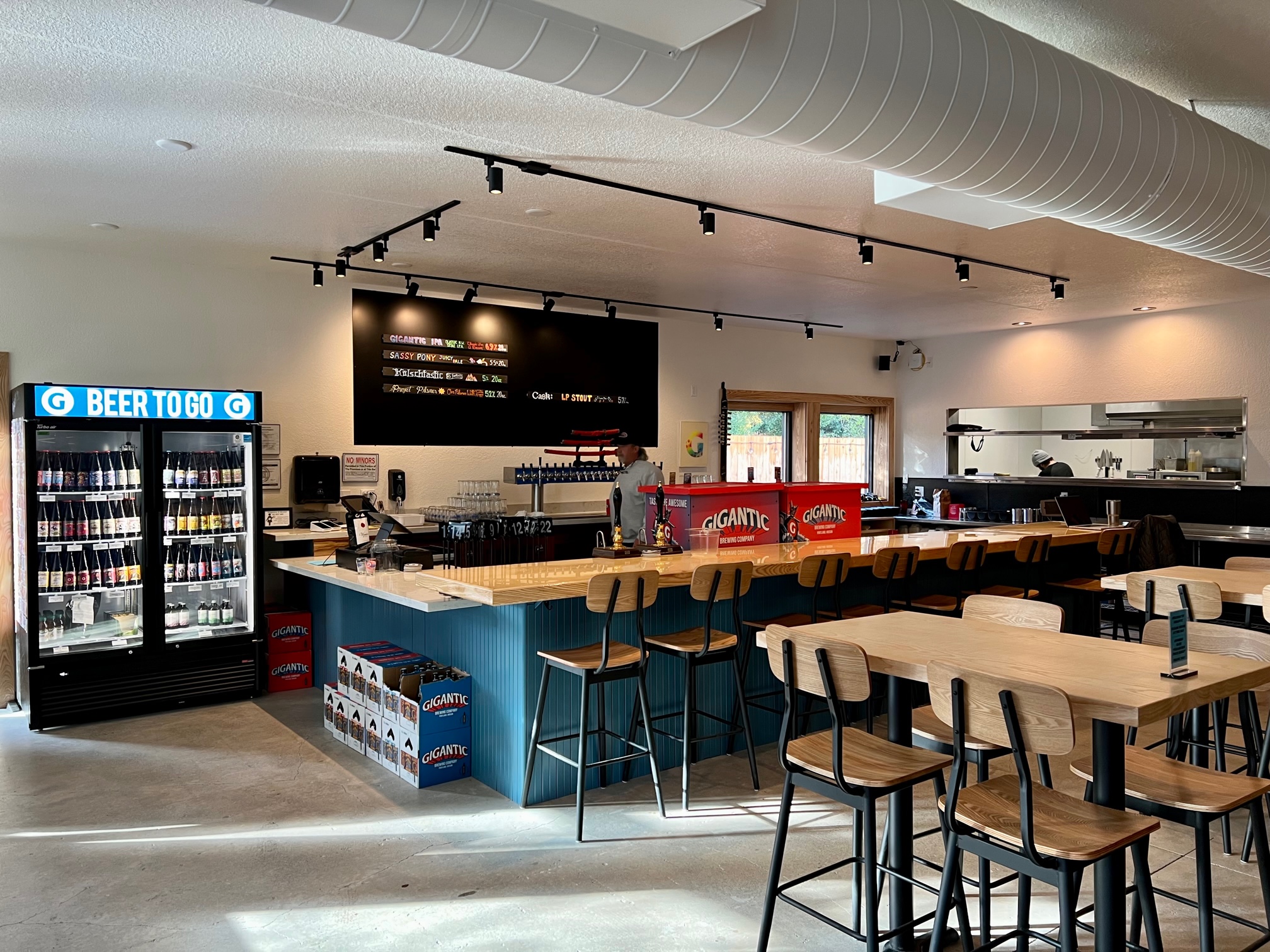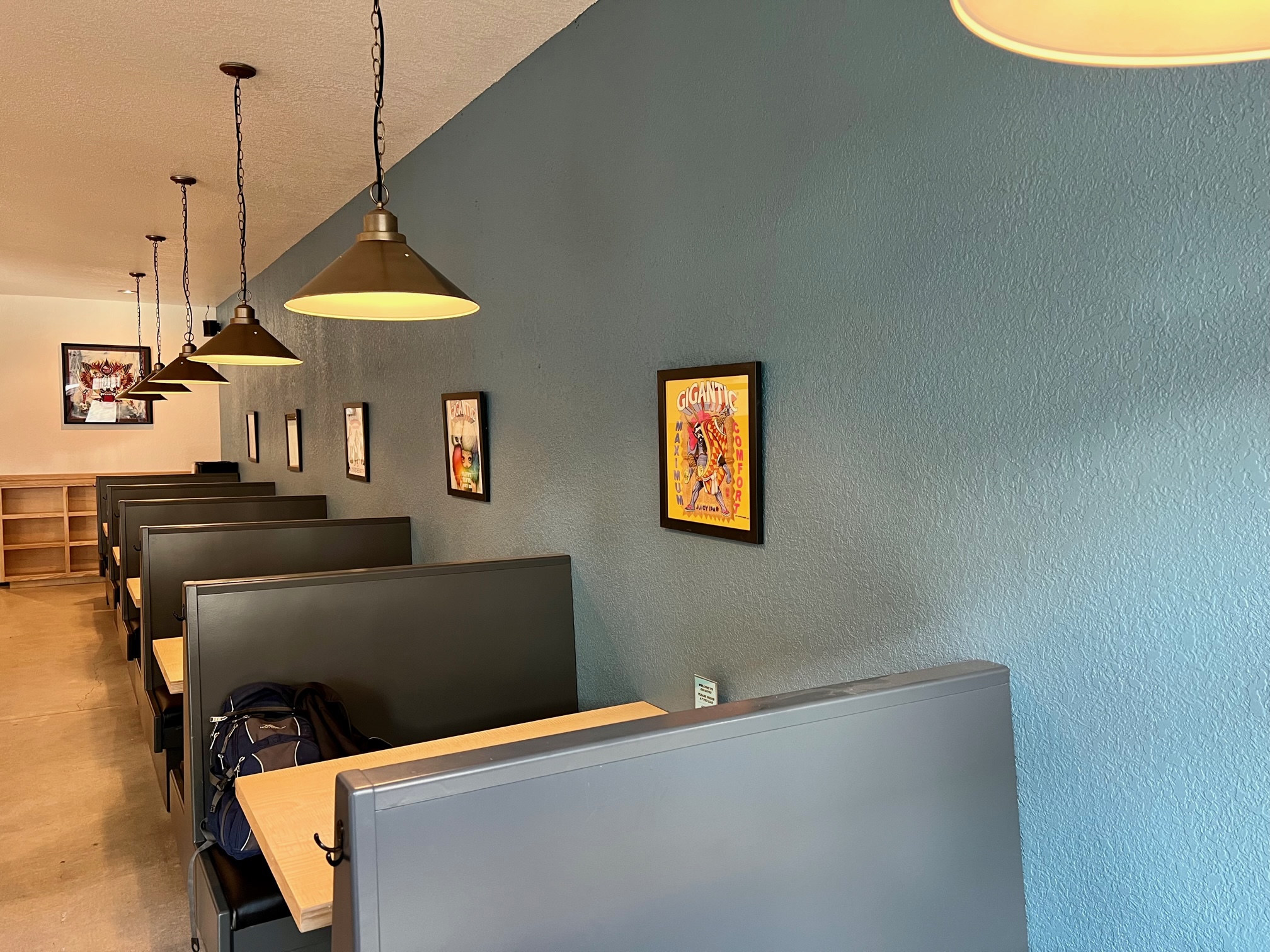 Inside there is plenty of space, nearly 2,000 square feet, to enjoy a few beers and a meal. Just as when the building was home to the Hawthorne Fish House, the booths have been reupholstered and line the south and east walls. These walls feature framed artwork from the brewery's 10 years of artfully created beer labels.
The expansive bar that runs alongside the west wall seats nine with ample space and chairs with backs on them. In between the bar and the booths are six tall bar tables that each seat four. Ordering is done at the counter, but the food is delivered to your table.
In addition to a main taproom, the building also includes a semi-private Portrait Lounge that is still under construction and a large side and back patio with 18 tables. They also will be adding a machine that shows Timbers matches before the 2023 season. Plus the new pub is family friendly, just don't expect a playroom for the kiddos.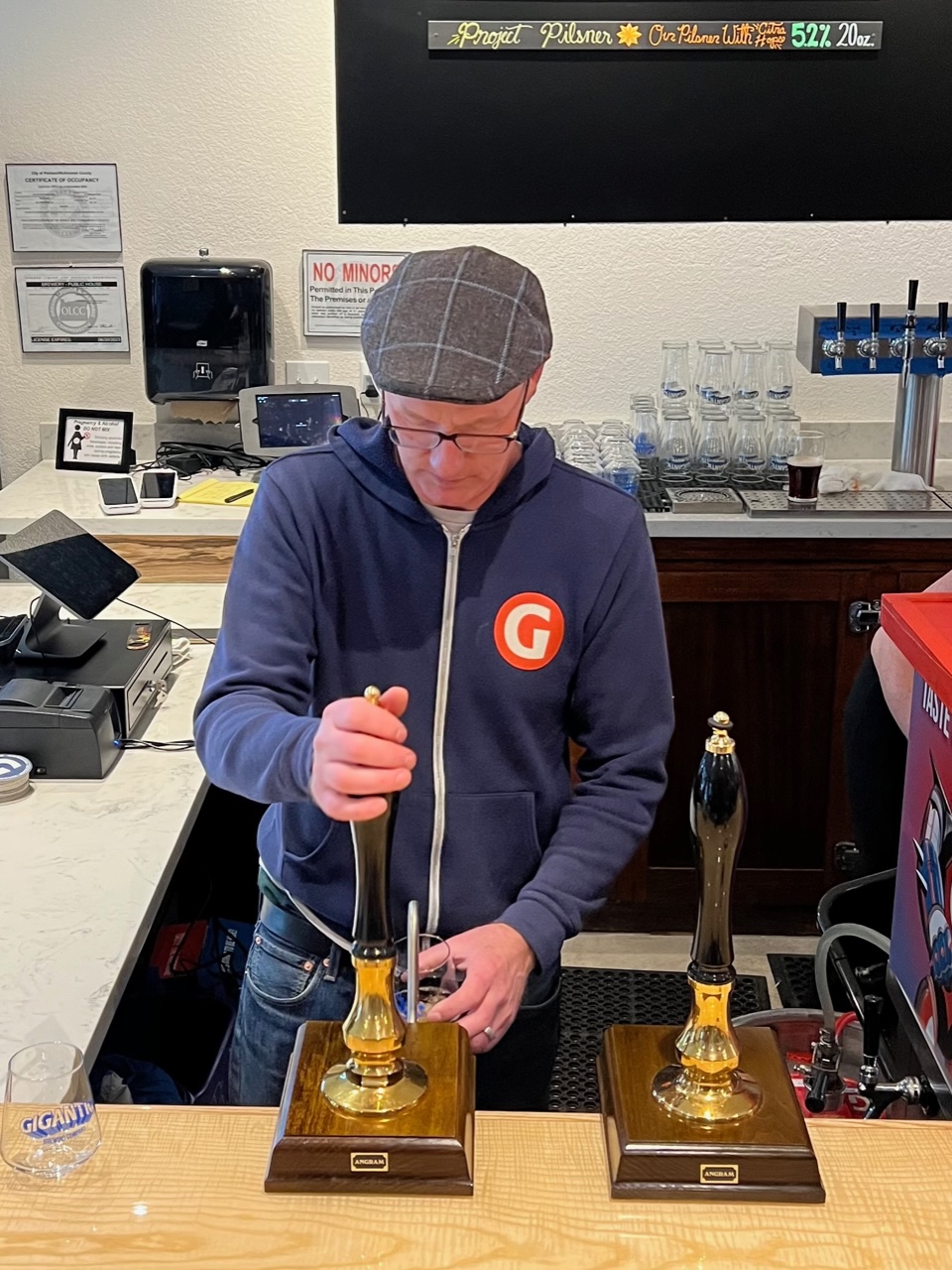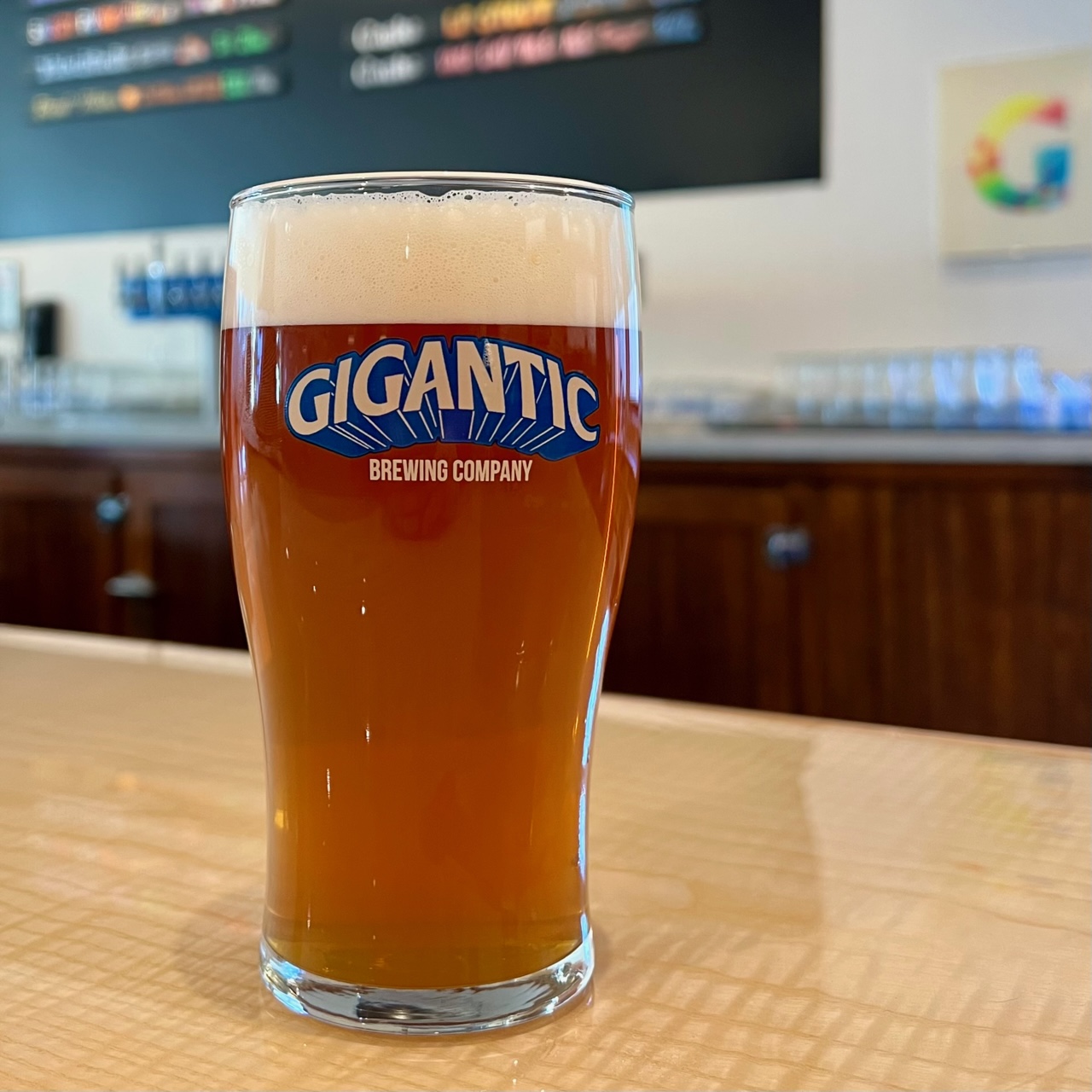 The Hawthorne Pub is set up to serve 20 Gigantic draft offerings, one that is a nitro tap. However, until Gigantic receives on more permit, the pub is currently serving four draft beers and two beers on cask. Ben stated that he hopes to have the full draft system up and running within the next week. There's also a fully stocked cooler with plenty of bottles for onsite consumption or to grab and go. Then for your aperitif needs there's a fully stocked belt of Underberg hanging behind the bar.
Something new for Gigantic is the addition of two cask engines. This has been something that Van has been looking forward to. Back in his days at Rock Bottom in downtown Portland, it was common to find two of his beers being served from the cask engines.
"We finally have a large enough bar that can serve cask," stated Van. This past weekend, the Hawthorne Pub had a cask of LP Stout and Days End Pale Ale with experimental hops being served.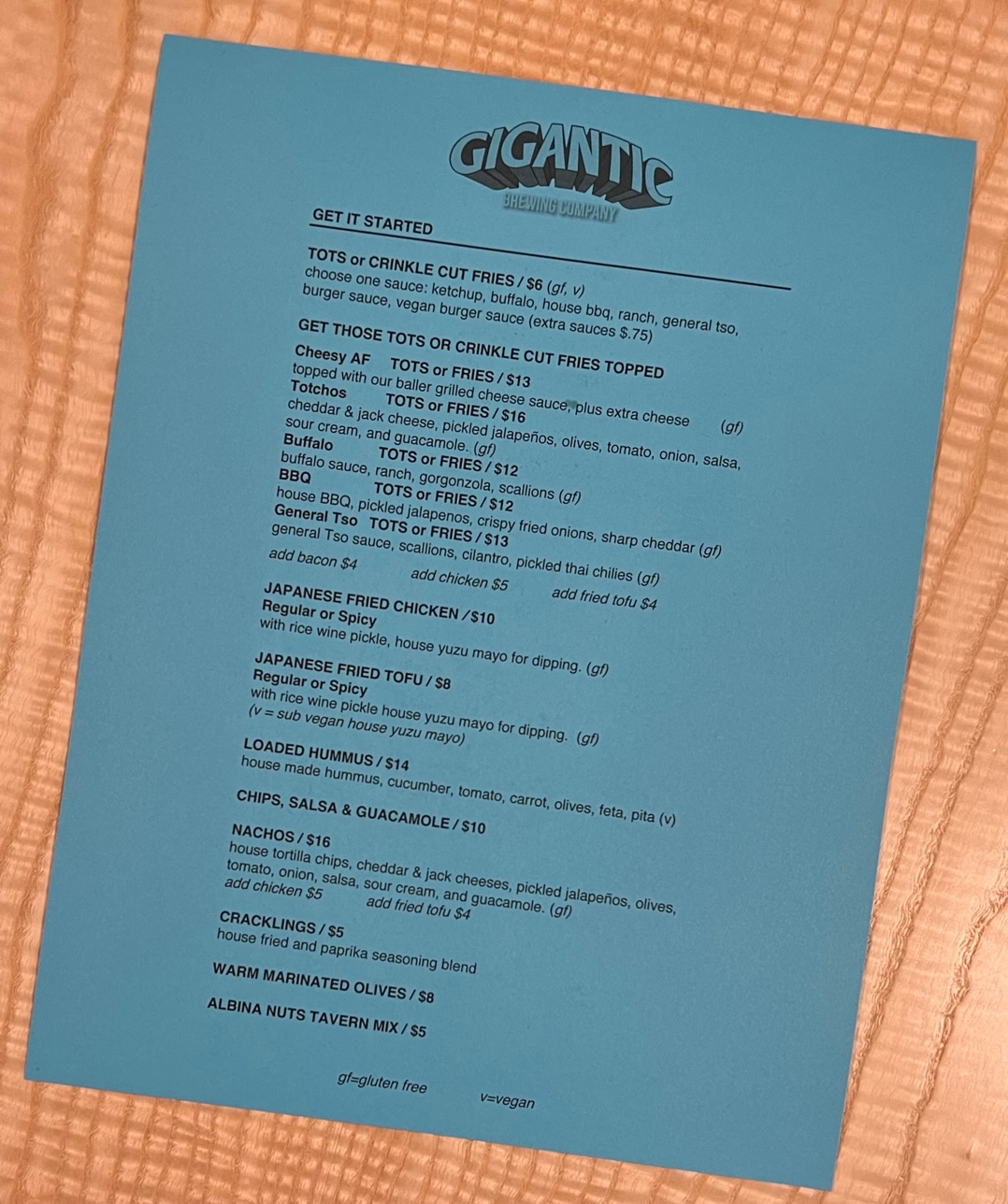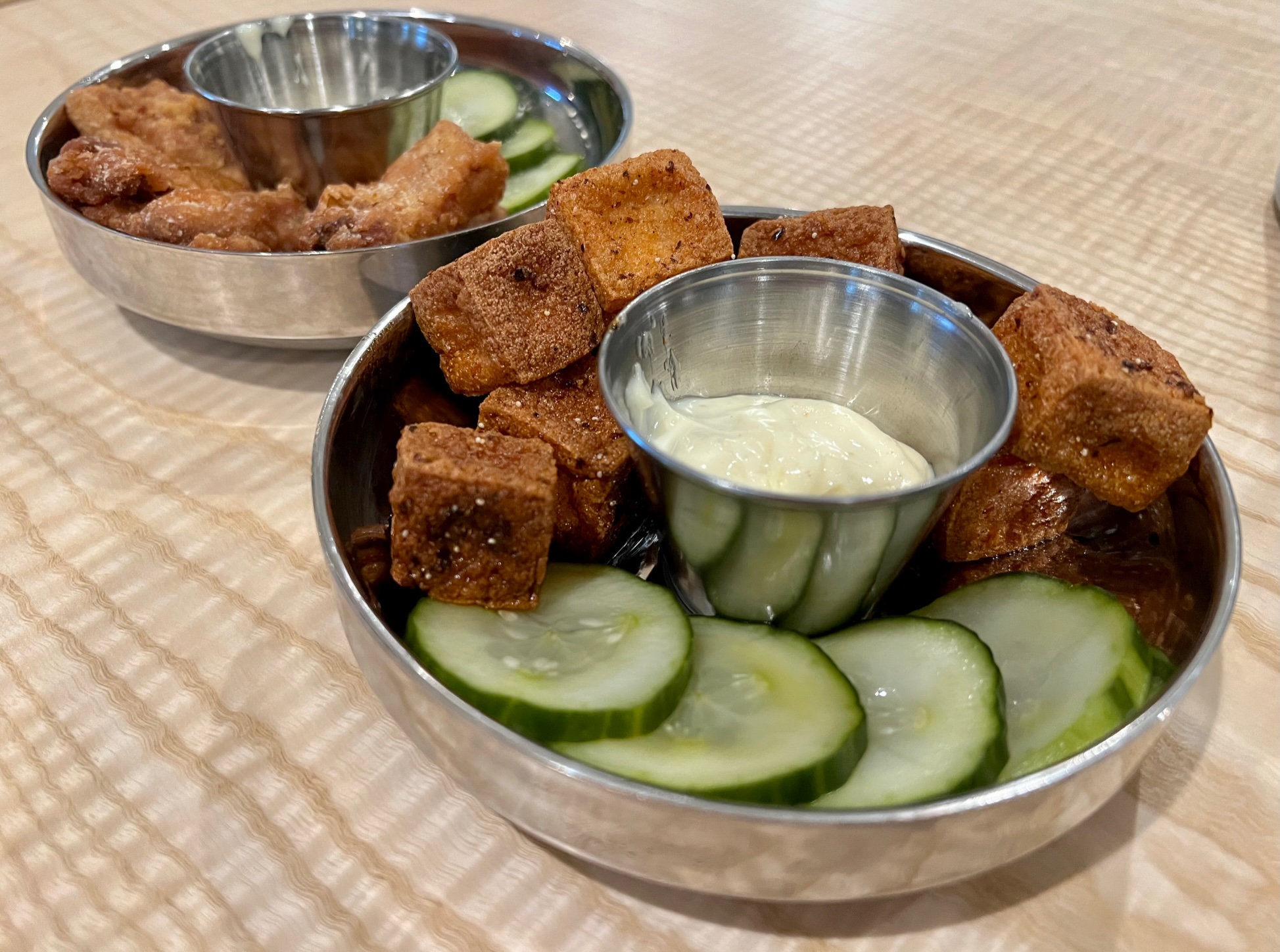 Moving on to the food menu, this portion of the new pub is in full gear. The menu was inspired by Van and Ben's travels around the world pouring Gigantic beer at festivals and the bar food the two have enjoyed in those places.
There are plenty of options for starters that begin with tots or crinkle cut fries. Then there are five additional options for these tots and fries, including cheese, totchos, buffalo, BBQ, and General Tso.
Moving on from the spuds, there's chicken option. Though the menu calls it Japanese Fried Chicken, it truly takes inspiration from the Karaage Chicken of Japan. These bite size chunks of chicken thighs are also offered in a spicy version that'll warm you up a tad bit.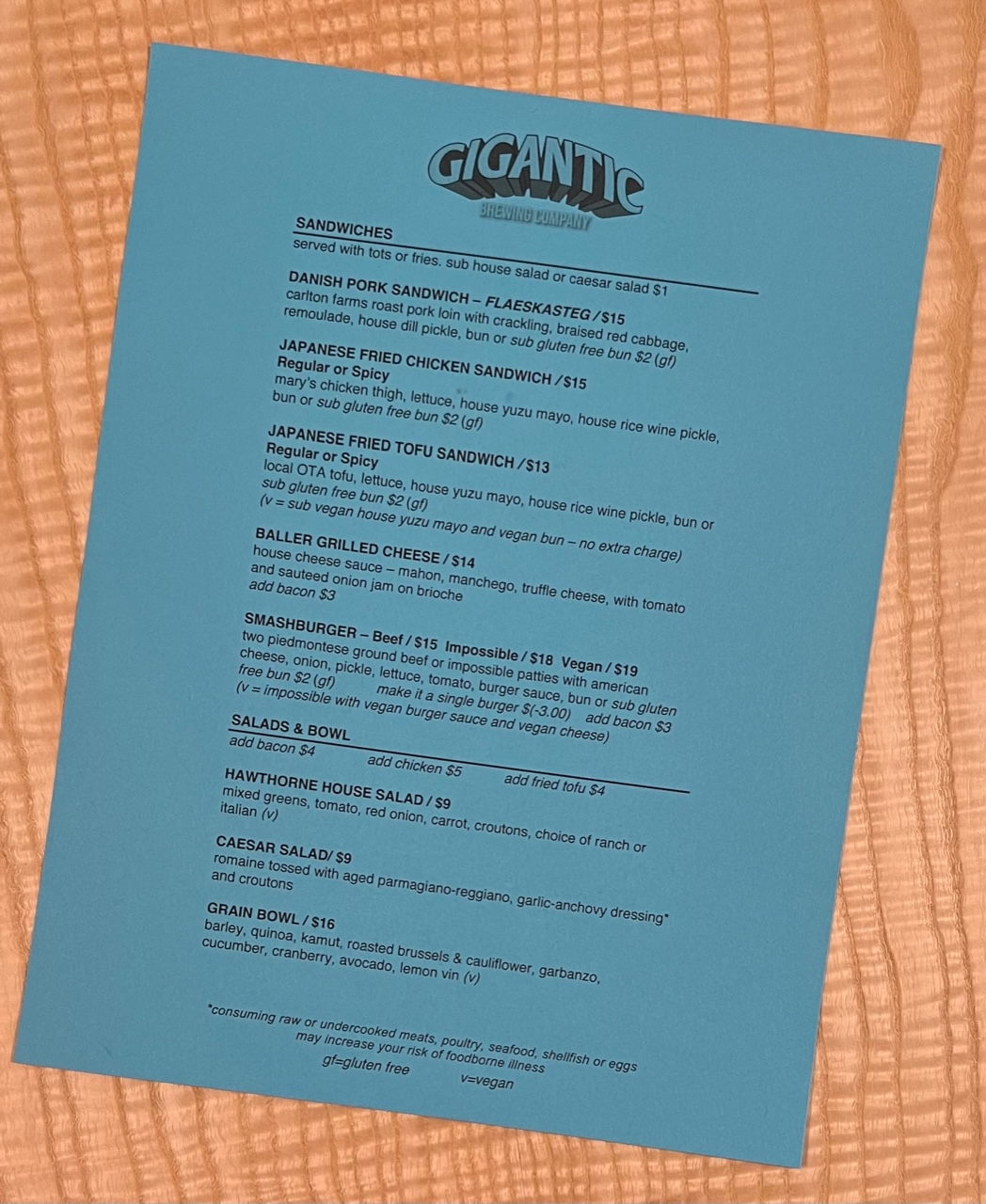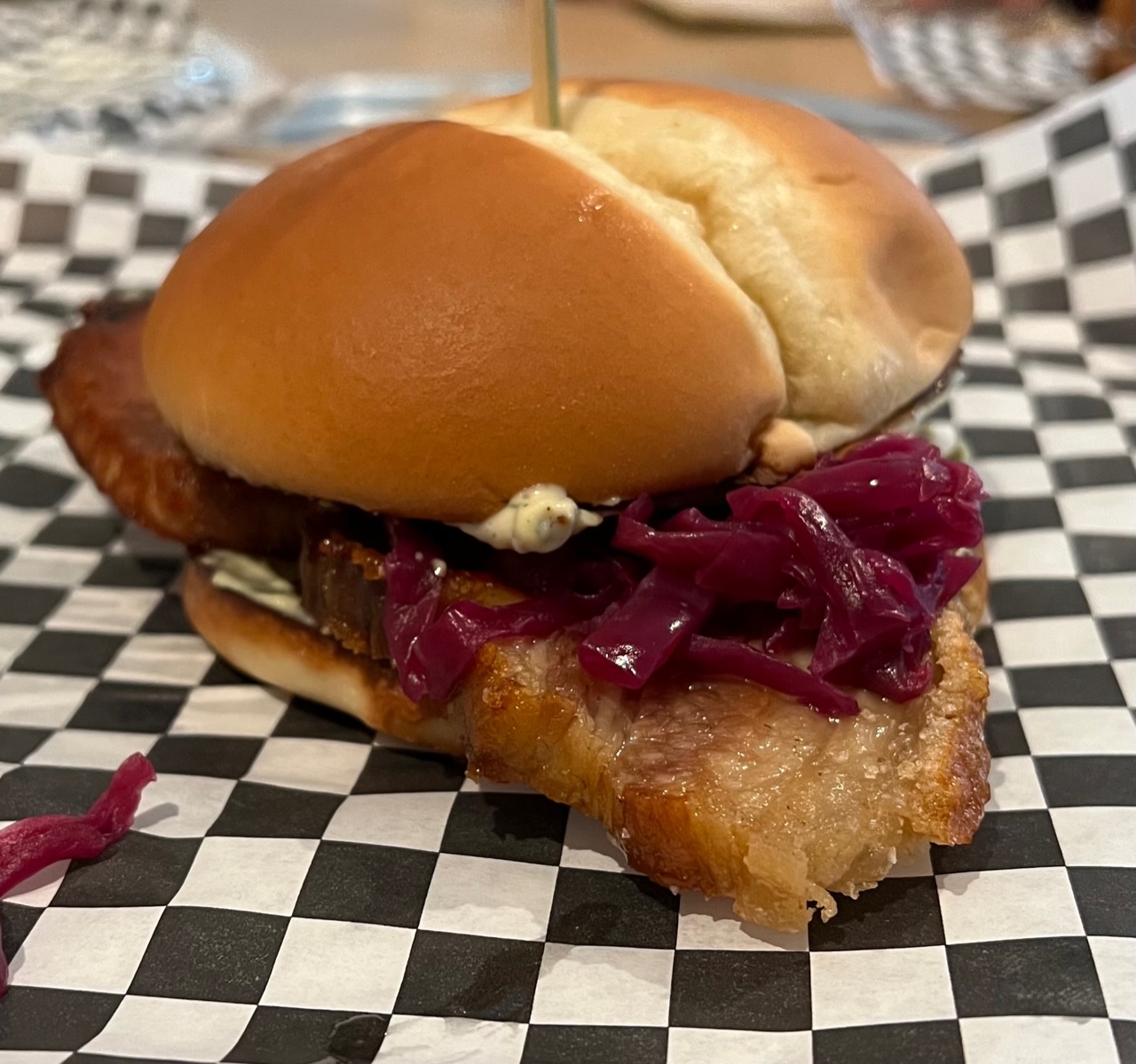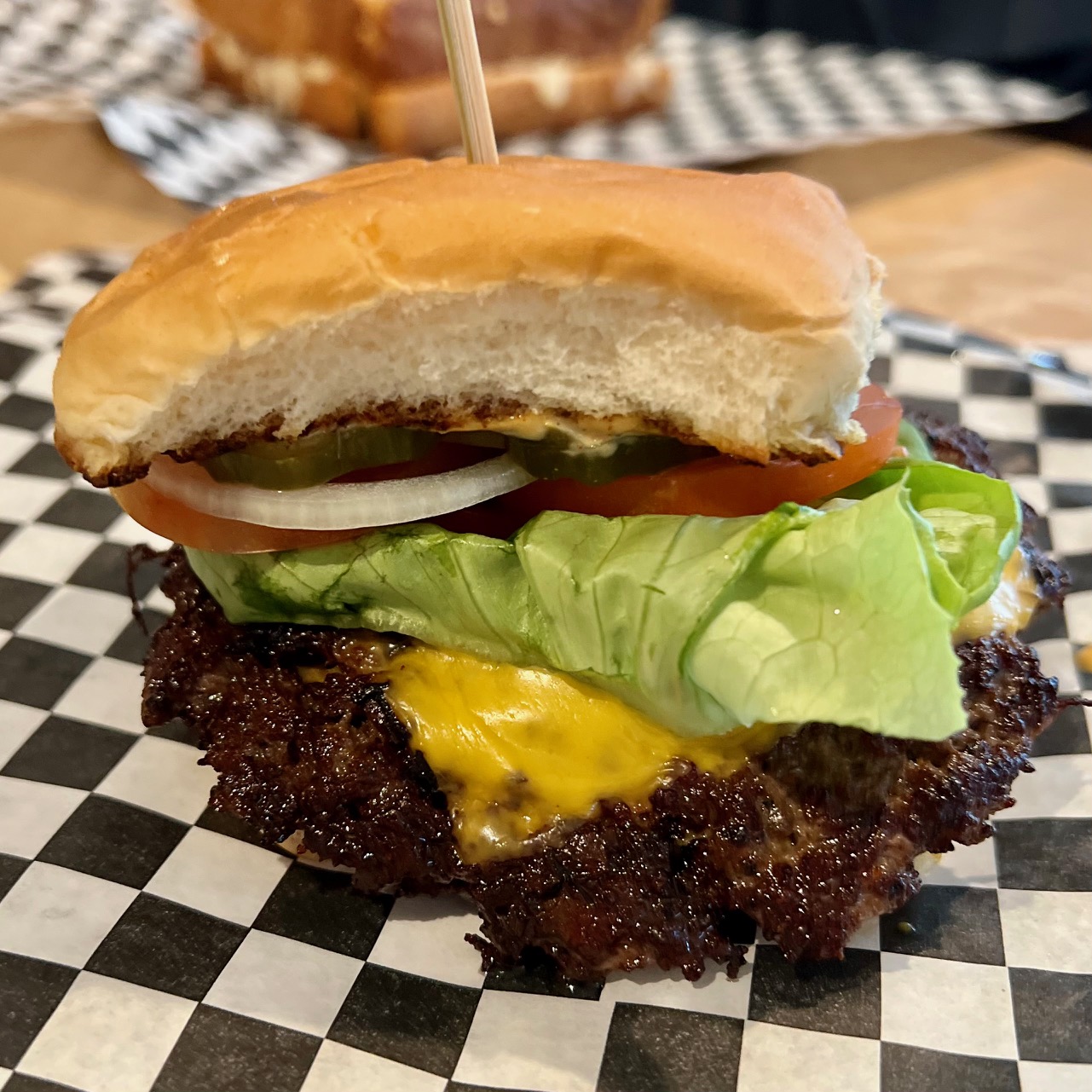 When you flip the menu over for the sandwiches, there's plenty of choices to be had. But the dish that Van and Ben are most excited about is the Flaeskatsteg, a Danish Pork Sandwich that is served at the Isted Grill in Denmark. There's even a photo of the restaurant that graces the walls of the new pub.
"So the Flaeskatsteg is a pork loin that's been roasted until its crackling and gets really crispy," stated Ben. This is definitely the case and is topped with a remoulade and red cabbage. It's quite tasty as the preparation of the crackling is a great addition to compliment to pork from Carlton Farms.
Another great food option is the Smashburger. On coming up with this one, the kitchen team traveled around Portland to taste through all of the top-notch food carts that serve a Smashburger. They wanted to make sure the edges are a bit crisp and this has been accomplished on this item.
The menu also features a Baller Grilled Cheese, and a Japanese Fried Chicken Sandwich. There's also a Japanese Fried Tofu Sandwich. All of these sandwiches come with a side of tots or fries.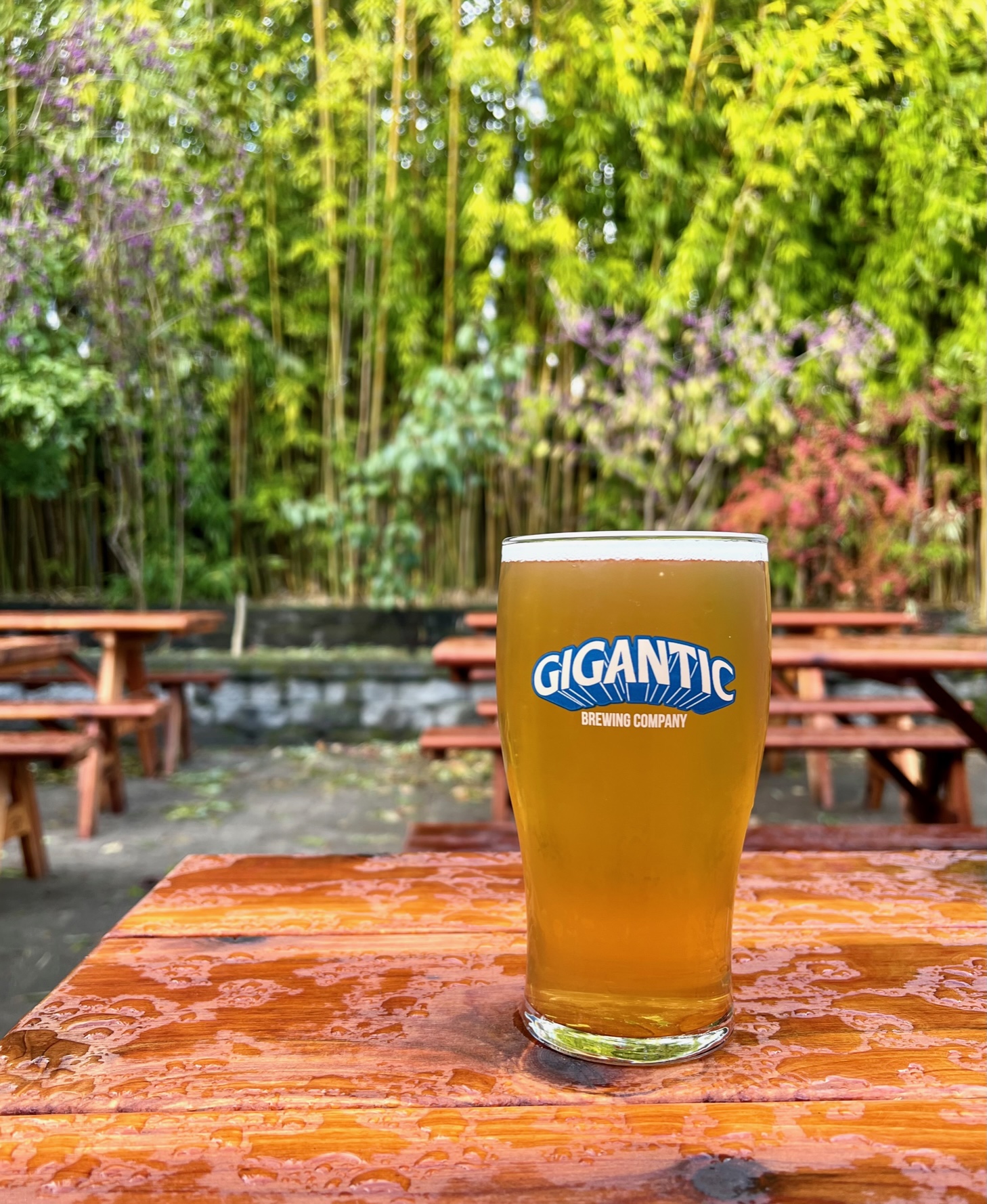 Gigantic Brewing Hawthorne Pub is open seven days a week with hours of Monday – Friday from 3:00-9:00pm and Saturday – Sunday from Noon-9:00pm.
Gigantic Brewing Hawthorne Pub
4343 SE Hawthorne Blvd
Portland, OR 97215