Gorges Beer Co. Set To Open in Cascade Locks Today
|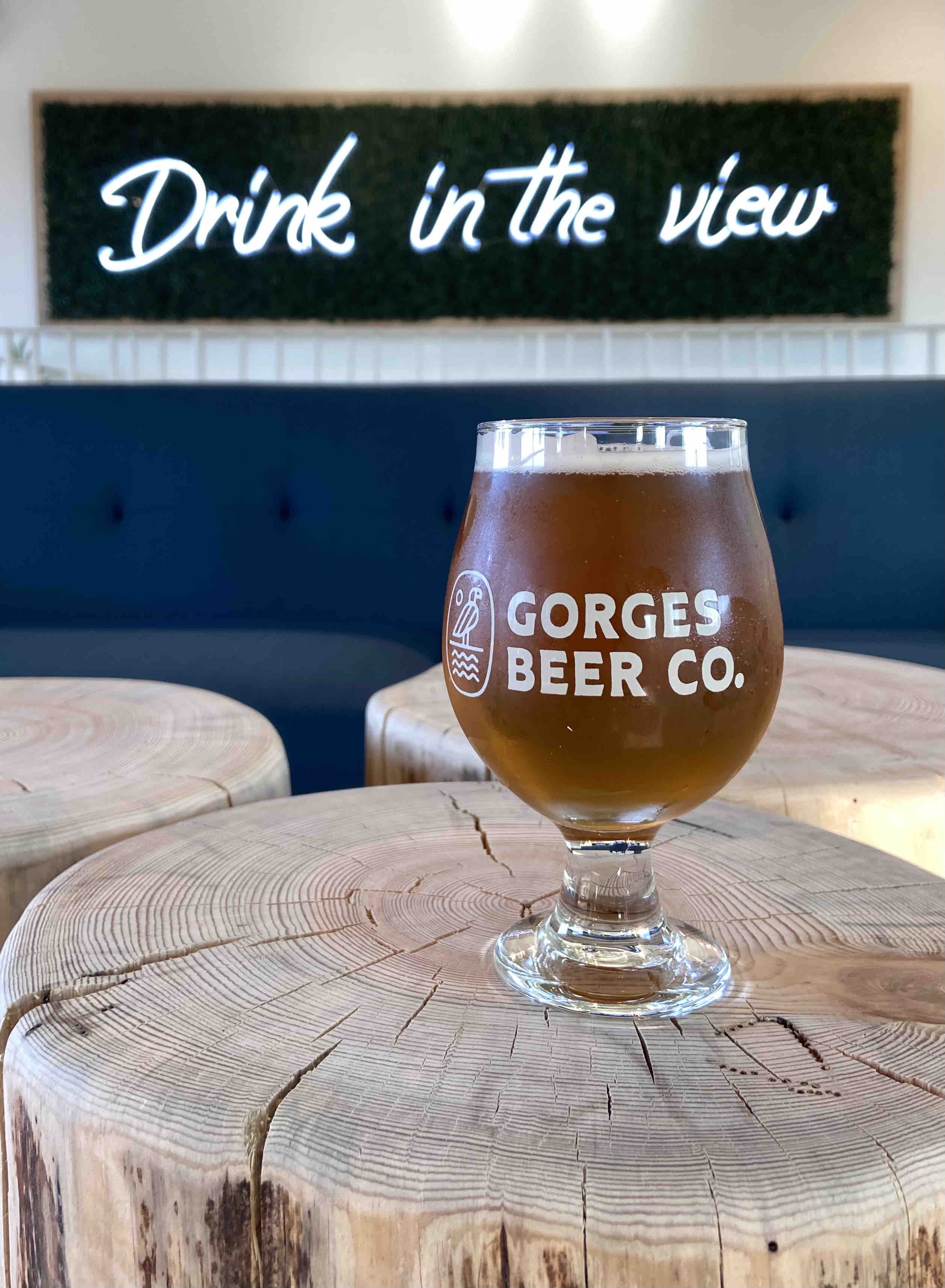 After breaking ground 13 months ago, Gorges Beer Co. will finally be able to live up to its name as it opens it new brewpub today in Cascade Locks. Located about a 45-minute drive from Portland, Gorges Beer Co. will become the third brewery in this Columbia River city that's home to about 1,300 people.
This opening is one that might make the river town a true beer destination. Already home to Thunder Island Brewing and pFriem Family Brewers Barrel Facility, Gorges Beer Co. is located on the bustling Wa Na Pa Street across from the Eastwind Drive-In. This new three-story brewpub that sits on a 1.8-acre property offers families a place to visit for beers, cocktails and a great food menu.
But this is said to be just the first step in a long-term plan to take this property to the next level. Its vision includes a dog park, event venue, amphitheater and potentially a rustic tiny home rental area. This of  course will need approval of the city, so time will tell on what comes to fruition.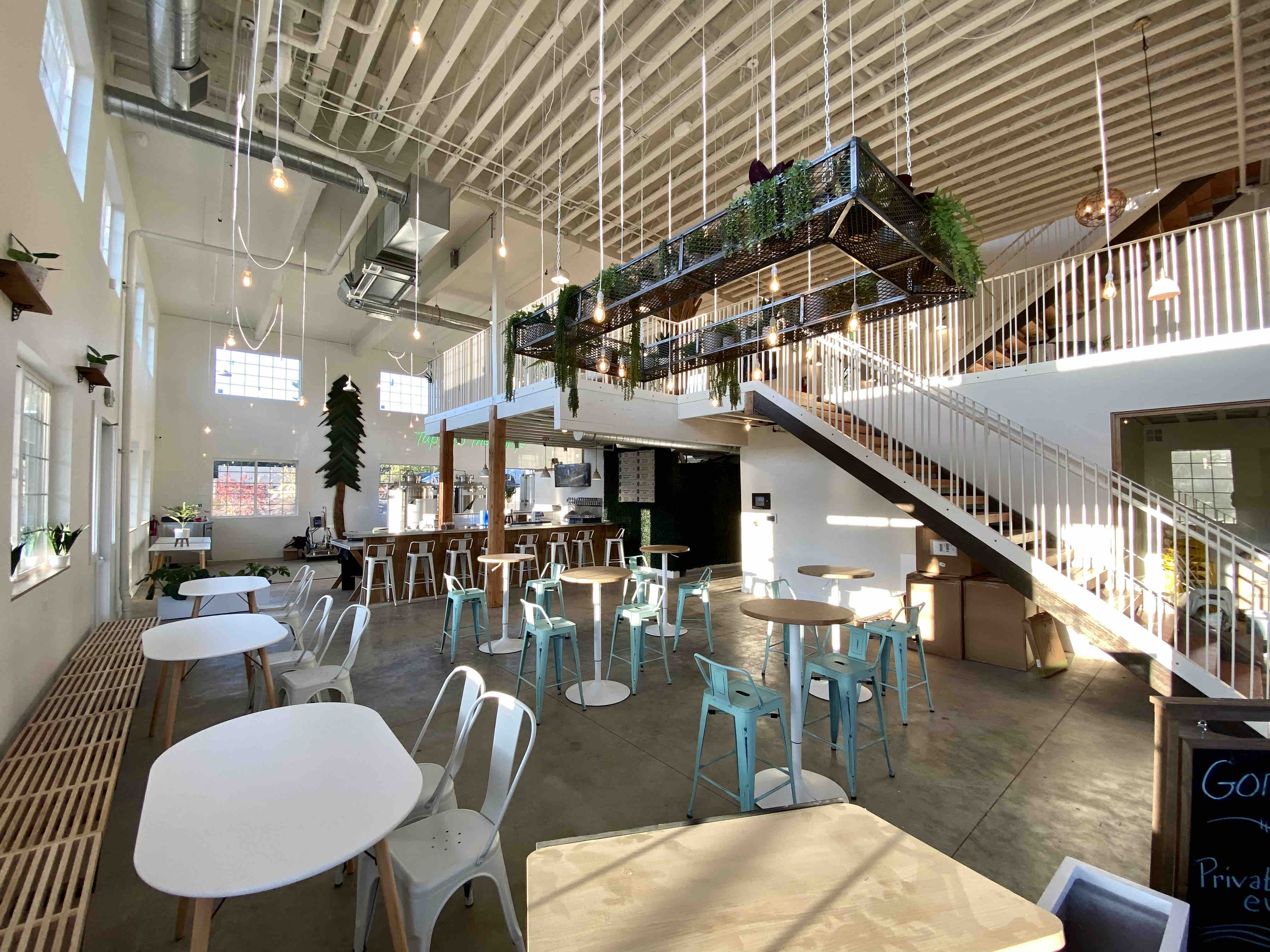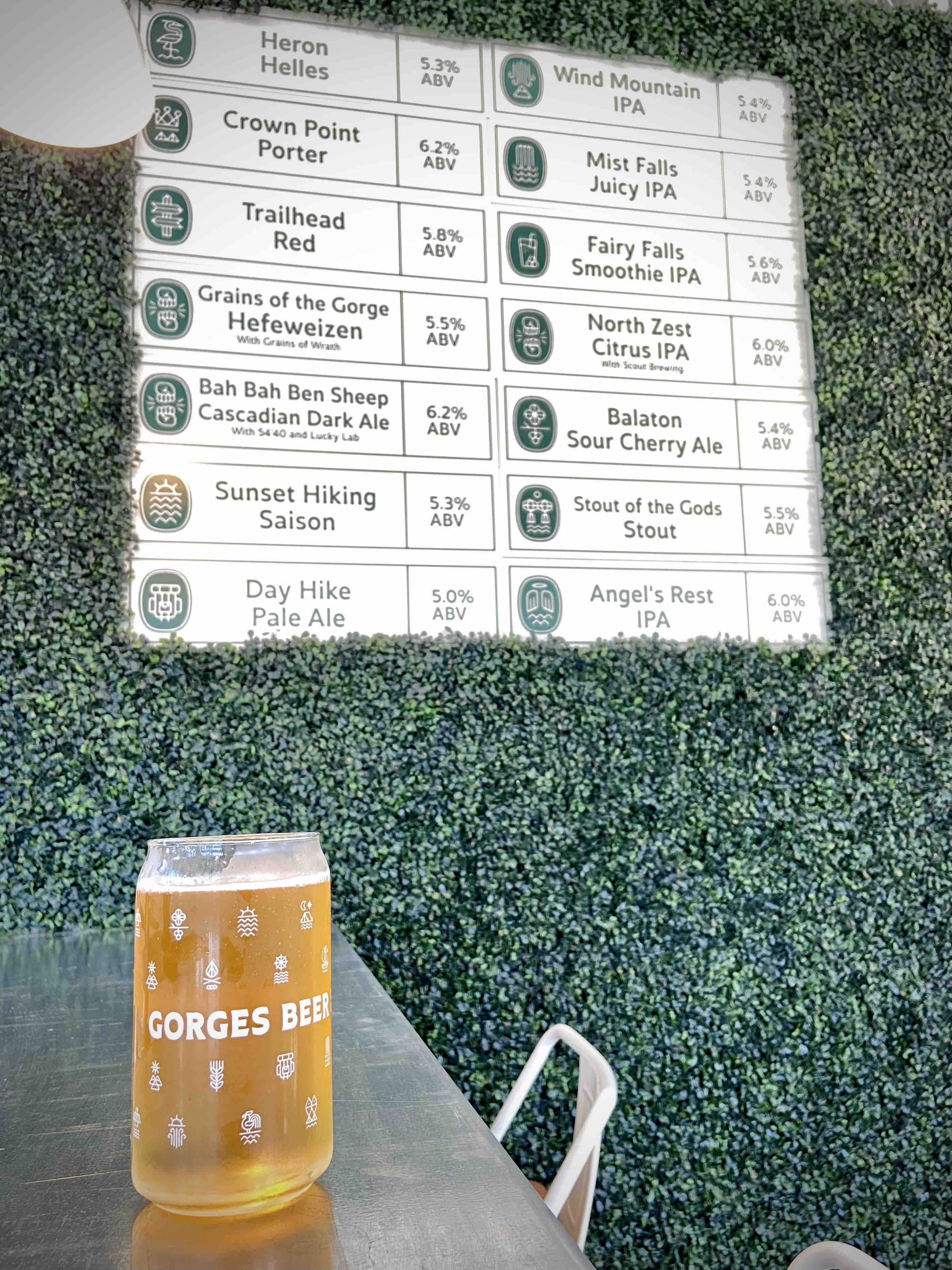 Gorges Beer Co. is a venture from Travis Preece, Willis Boyer, and Bryan Keilty that began 18 months ago in Southeast Portland when they took over the former Coalition Brewing space. They held their grand opening on March 6, 2020, just weeks before the COVID-19 shutdown. "We opened and we had two weekends before COVID shut us down.," said Keilty during Monday evening's preview event.
But prior to brewing their first beer in Portland, the trio of owners have diverse backgrounds that will only elevate their ambitious plans. Preece is a restaurateur that owns Ankeny Tap & Table that is located across the street from the brewery. Boyer is a construction contractor that has handled renovating the former Coalition Brewing space and led the building of the new ground up space in Cascade Locks. In the brewhouse is Keilty. He spent many years at Lompoc Brewing and became involved in this venture just as Lompoc shut its doors in late 2019.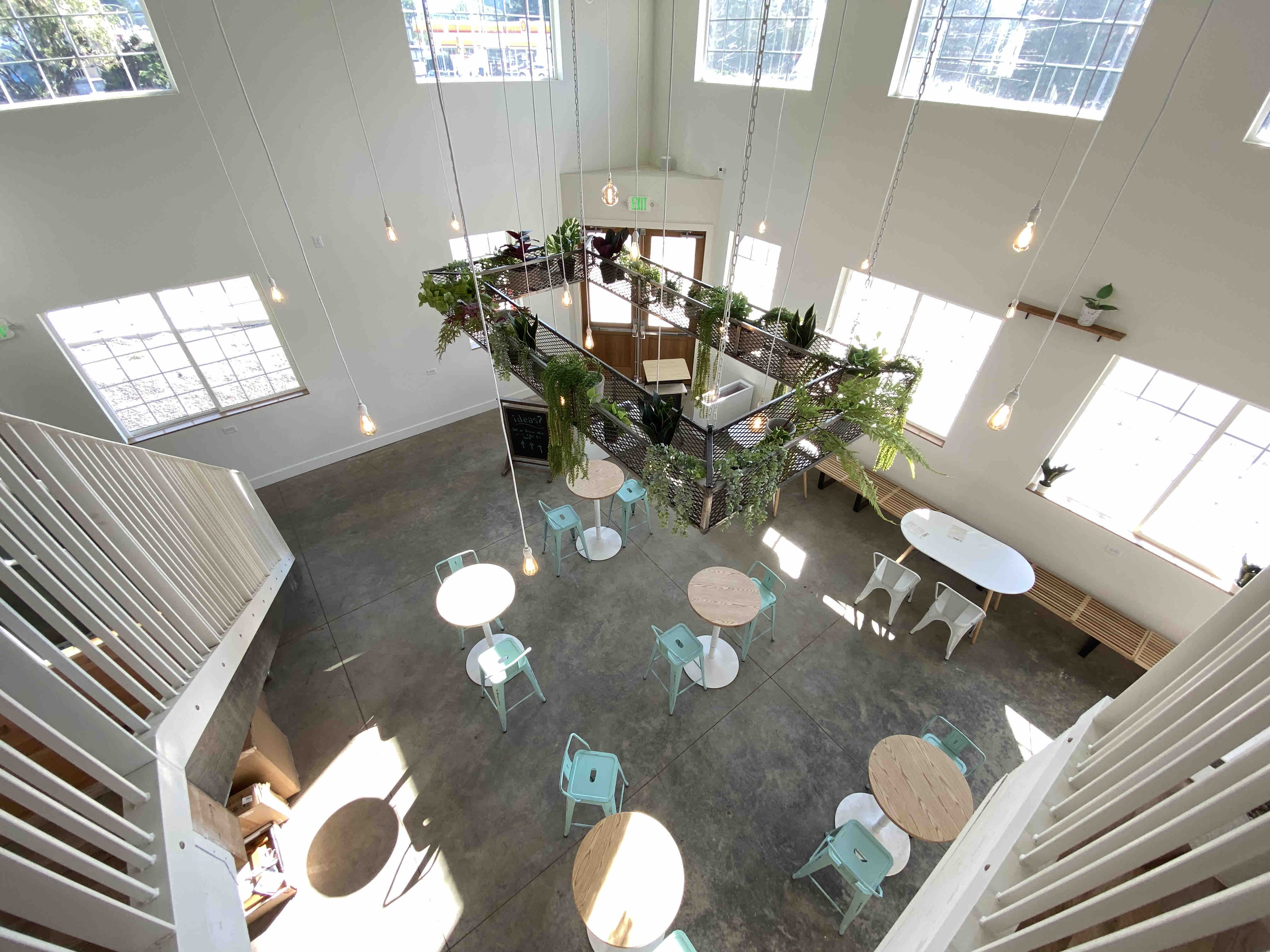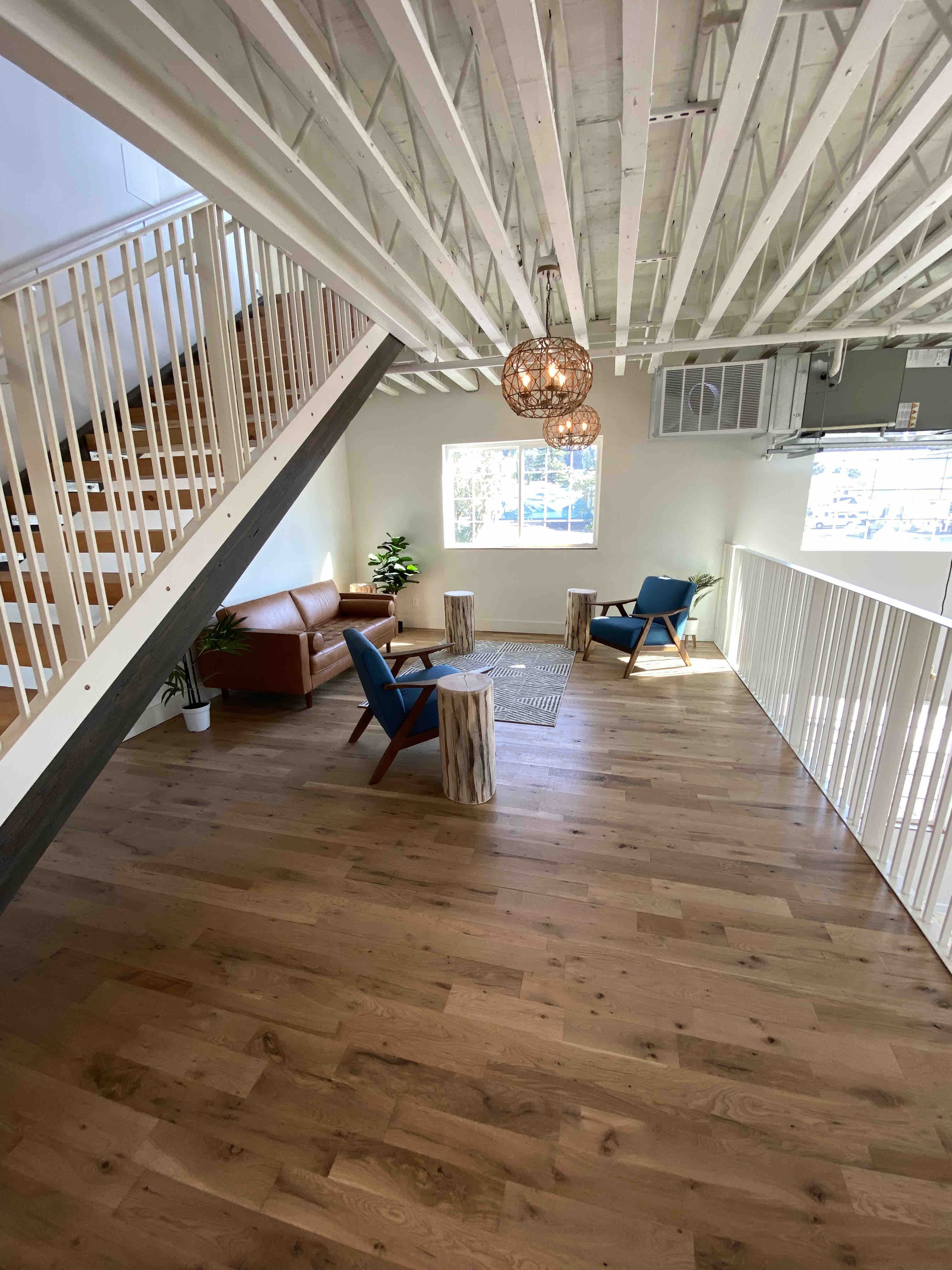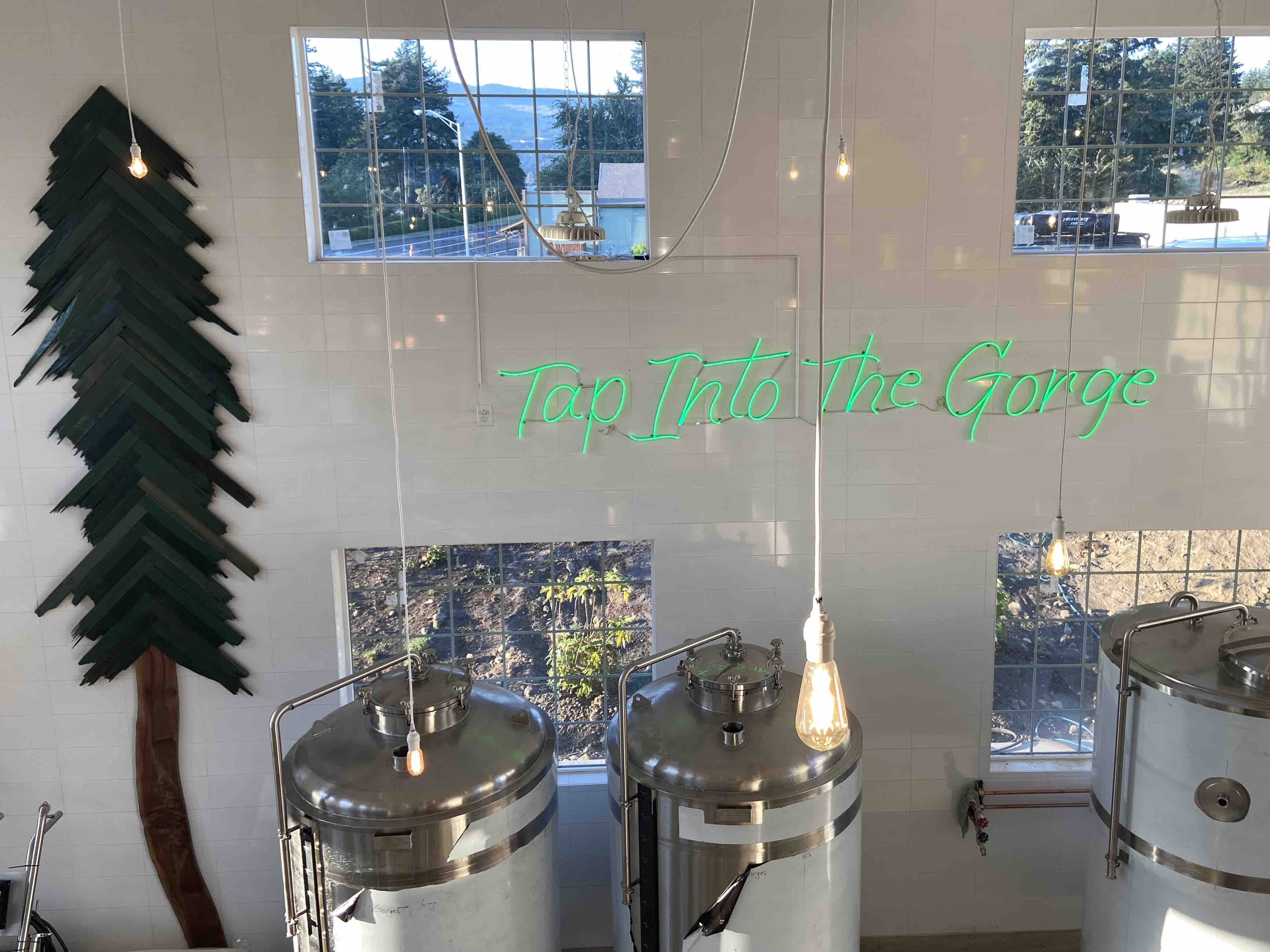 Both Preece and Boyer are Portland natives and have always enjoyed trips out to the Gorge. Boyer fell in love with the town of Cascade Locks about five years ago and knew he wanted to open a business there.
"I wanted to do something," said Boyer. "I fell into this property and worked with the Port to make it happen. We are super excited to be in this town!"
Boyer and his team broke ground in Cascade Locks to outpost on May 27, 2020. Now 13 months later and navigating a construction project through the pandemic, they are excited to show of this new space. The result is a well laid out building that offers plenty of space, both indoors and outdoors, for unwinding during an adventure in the Gorge. Or as Preece told us, "Take a vacation for the afternoon noon!"
The three-story building features an array of windows and two rooftop decks that allow for views of the Columbia River Gorge and Table Mountain across the river in Washington. The larger deck features plenty of seats to take in the scenic views or to warm up at night around the fire pit. In all, Gorges Beer Co. will be able to sit up to 190 people.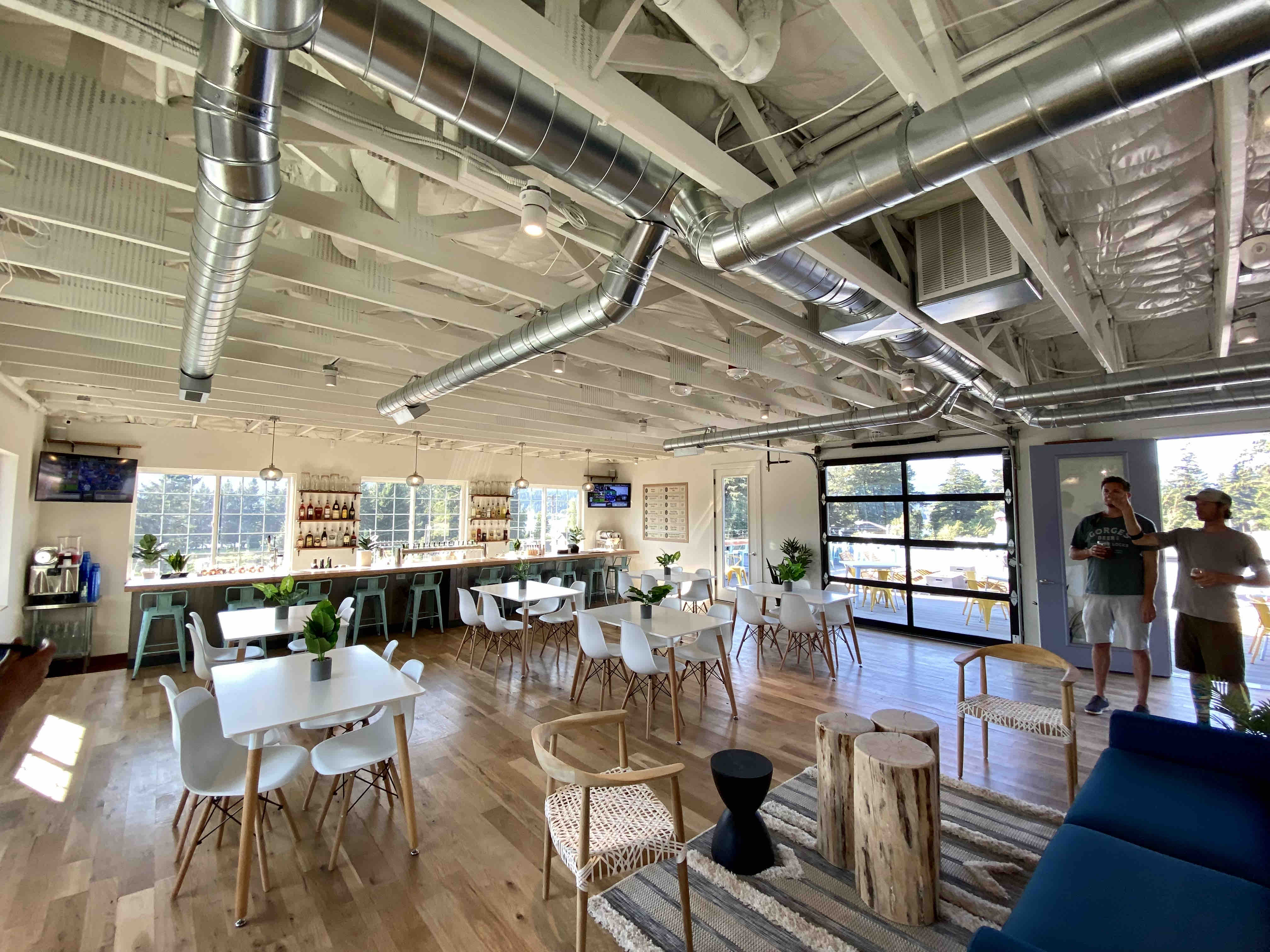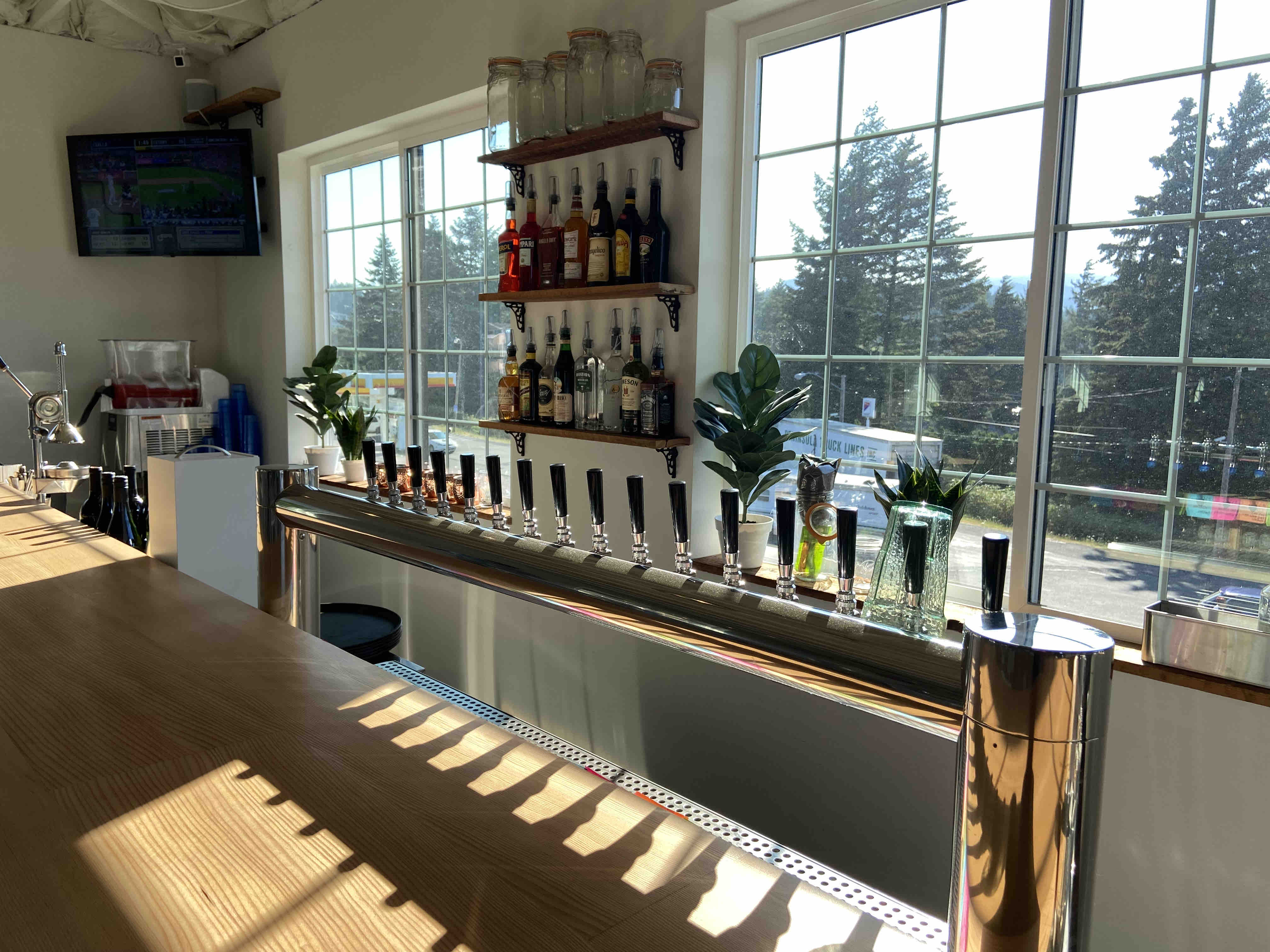 Inside Gorges Beer Co., the décor is one that is a bit minimalist with freshly painted white walls and an exposed ceiling. Reminiscent of a coastal beach vibe, somewhat similar to what Boss Rambler Beer Club has done with its space in Bend.
On the family friendly main level there is plenty of table seating that leads to the bar that is home to eight seats and television. The bar will be able to serve from 16 taps; 14 of their own beers alongside two cider taps.
The second level has some additional seating with views that overlook the main level that includes a large television. This level is also where the kitchen is located, convenient for serving food throughout the three floors.
Taking the next set of stairs to the third level is where we will be camping out when we return to Cascade Locks. Home to the two outdoor decks, this third level is also home to a full bar for cocktails or a choice of 16 draft options. It is also where Keilty will be experimenting with a few beer slushies!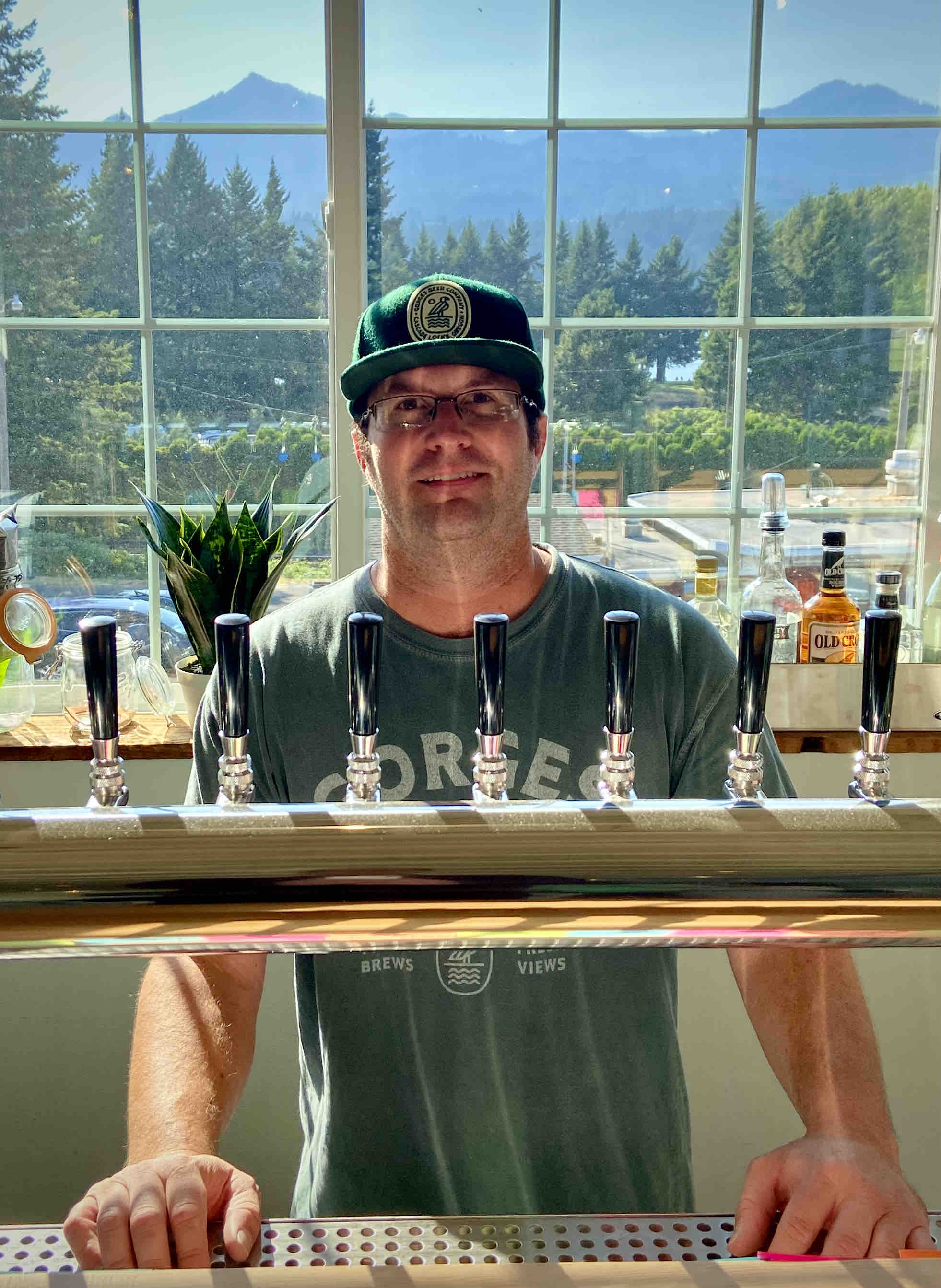 One thing that will not be taking place at its Cascade Locks location is any brewing. Gorges Beer Co. will continue to brew on its 10-barrel brewhouse at its brewery in Southeast Portland that's located at 2705 SE Ankeny St. The brewery will be shuttling beer to Cascade Locks from Portland.
"We are not going to be brewing here as we will be barrel aging here," said Keilty. It is where Keilty will experiment with aging and blending using three onsite blending tanks in Cascade Locks. Once a bit of a library of barrel-aged beers gets built up, Keilty mentioned that the brewery will launch a beer club.
For its opening today in Cascade Locks, Gorges Beer Co. will be serving 14 draft offerings. This lineup includes three collaboration beers – Grains of the Gorge Hefeweizen brewed with Grains of Wrath; North Zest Citrus IPA with Scout Brewing; and Bah Bah Ben Sheep CDA with 54 40 Brewing and Luck Lab Brewing.
When it comes to the food menu, this will be led by Head Chef Rick Garrett. An Arkansas native, Garrett spent time in the Navy and was stationed in Sicily, Italy. It was there where he nurtured his appreciation for Mediterranean food.
This shines through on the menu that we were able to sample through on Monday evening. Gorges Beer Co. treated us to through four food options that were paired with four different beers to get a glimpse of what to expect on its food menu.
Garrett is excited to utilize the bounty from the region, especially the Hood River Valley. He will bring together year-round options and a seasonal menu along with a few daily specials.
We were impressed with all four food options with the Triple Berry Bruschetta and Braised Pork Belly Sandwich coming out on top. Not confined to a normal tomato-based bruschetta, Garnett decided to go with three berries – strawberries, raspberries, and black berries. This trio of berries were added to olive oil, mint and basil on top of honey-whipped goat cheese served on a toasted baguette. Just never thought that berries would be a topping on some bruschetta! It paired quite nicely with the easy drinking Angels Rest IPA.
Braised Pork Belly Sandwich was an impressive sandwich the features chardonnay-braised pork belly that's served with onions and the always satisfying Mama Lil's Peppers. This melt in your mouth pork belly paired nicely with the Angels Rest IPA as well as Day Hike Pale Ale.
Rounding out the menu that we sampled was a Peach Caprese that was filled with lots of flavor and the Gorge Burger, made with Snake River Farms Wagyu with Tillamook White Cheddar. Both of these held up quite nicely on their own or paired with the lovely Crown Point Porter or Balaton Sour Cherry Ale.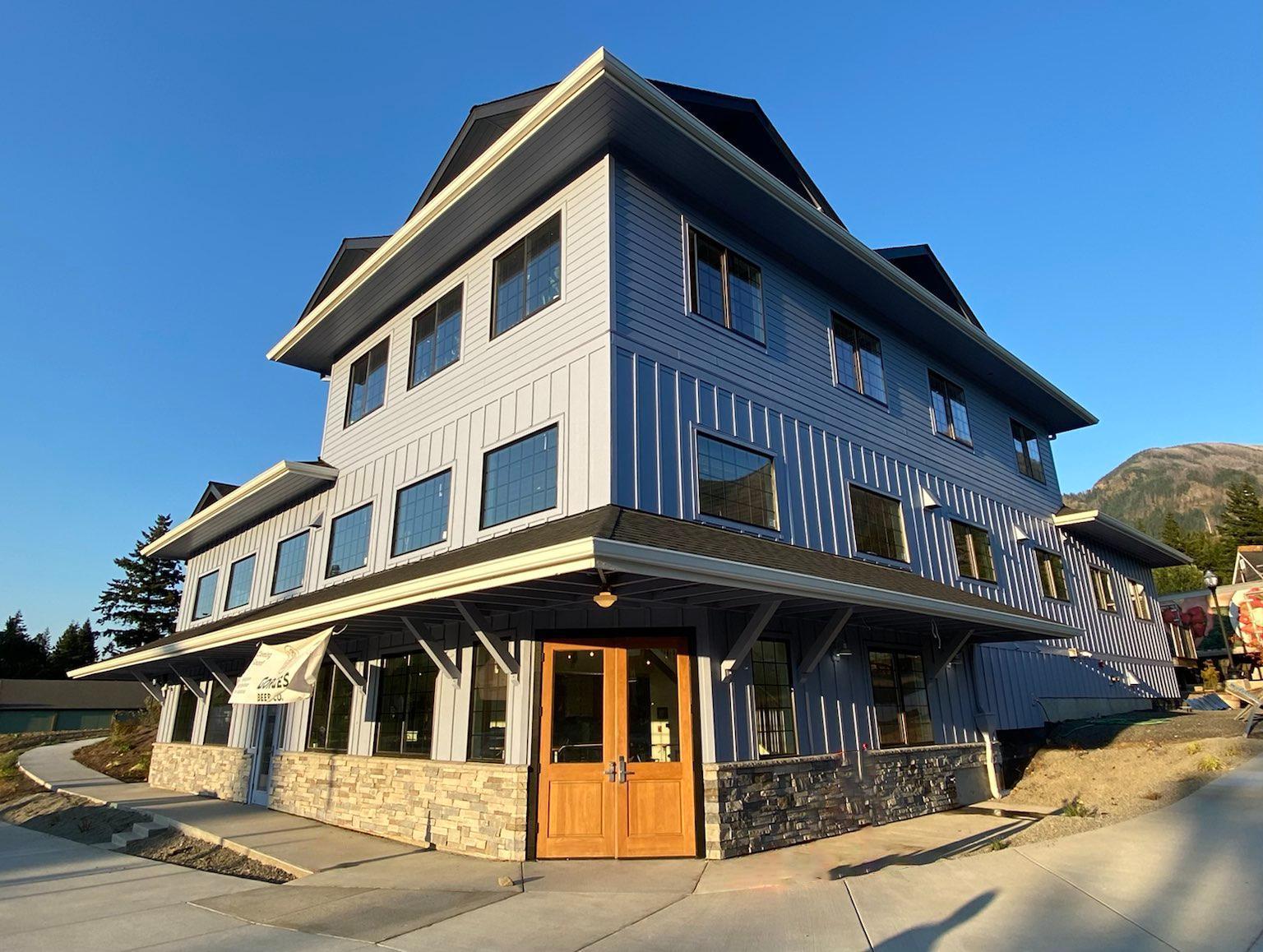 Gorges Beer Co. – Cascade Locks will tentatively be open Noon – 10:00pm from Tuesday – Sunday with the goal to be open seven days per week in the coming months.
Follow Gorges Beer Co. on Facebook, Twitter, and Instagram or visit the brewer's website.
Gorges Beer Co.
390 Wa Na Pa Street
Cascade Locks, OR 97014