Grand Fir Brewing Opens in Southeast Portland
|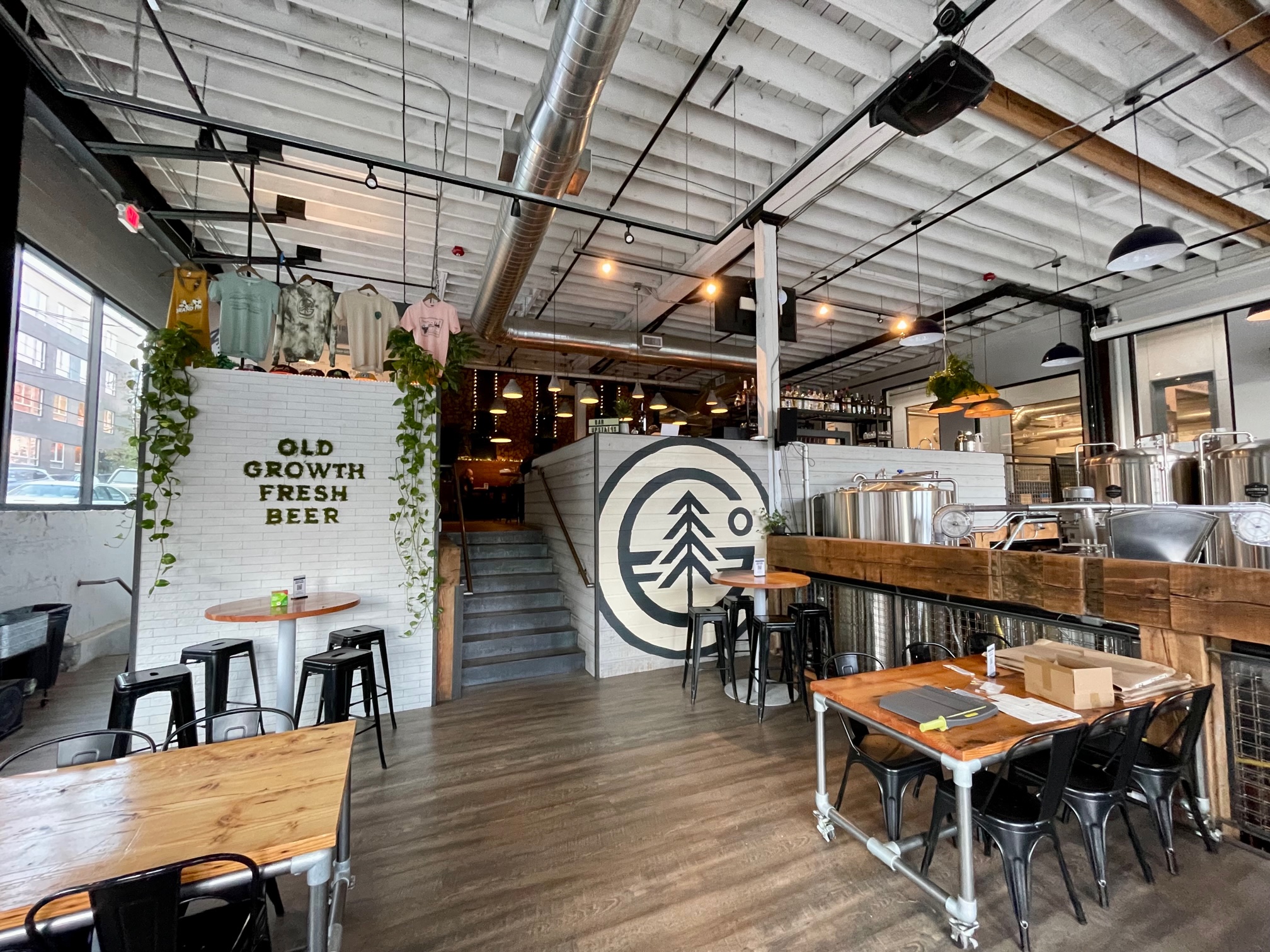 This past Friday, Grand Fir Brewing, Portland's latest brewery opened its doors to a line of waiting patrons outside. These folks were excited to be the first to enjoy the beer and food from this new brewpub that's been creating a buzz around Portland.
Grand Fir Brewing is a new brewpub from award-winning brewer Whitney Burnside and celebrated chef Doug Adams. The married couple brought their dream of opening their own brewpub to reality last weekend.
Located in the historic Luxury Bread Building that dates back to 1929, Grand Fir Brewing has created something special. The space was previously the home of West Coast Grocery Co. that had their rough four-year run end this past summer.
Prior to beginning her brewery career, Whitney took her culinary degree from Johnson & Wales University to become a cheesemaker at Herbfarm Restaurant in Woodinville, Washington. While there, she took the fermentation process in cheese to her newfound hobby of homebrewing.
She then made the jump into professional brewing in 2009 when Laurelwood Brewing hired her. From there she went on to work in the brewhouse at Upright Brewing and back to the Puget Sound are to brew at Elysian Brewing. Then she returned to Oregon to take the Head Brewer position at Pelican Brewing in Pacific City. From there she was hired by 10 Barrel Brewing in 2015 to become the Brewmaster at its new Portland outpost. There she brewed award winning beers, including one of our favorites, Whitburger, a Bohemian Style Pilsner.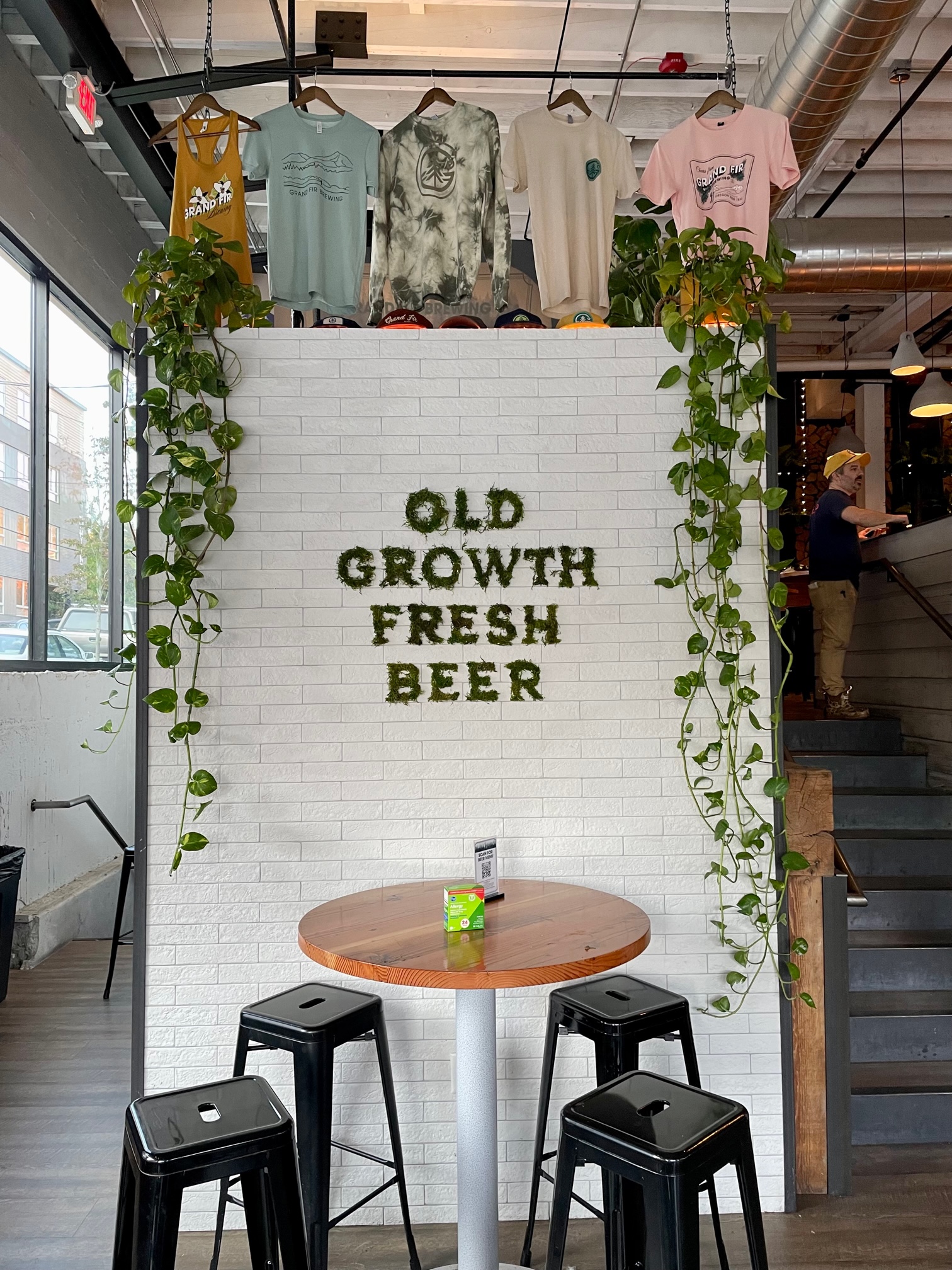 Doug also came from a culinary background, but ended up making it a career, one that has taken him from the kitchen to the small screen. During his career he has worked in some of the best restaurants in Portland. He spent nearly a decade working for Vitaly Paley at Paley's Place and then as the Executive Chef at Imperial. During this time he made his small screen debut in 2015 as a finalist on the television program, Top Chef.
He then left Imperial to open Bullard in 2019 where he presented a menu that was inspired by his Texas roots. Doug then went on to co-found Holler Hospitality where he opened Holler in the Portland's Sellwood neighborhood. But this all came to a halt in mid-2021 when Doug announced that he was departing from both Bullard and Holler Hospitality to focus on his family.
It was the pandemic that made him readjust his priorities in life and begin to conceptualize the dream that he and Whitney had of opening their own brewpub.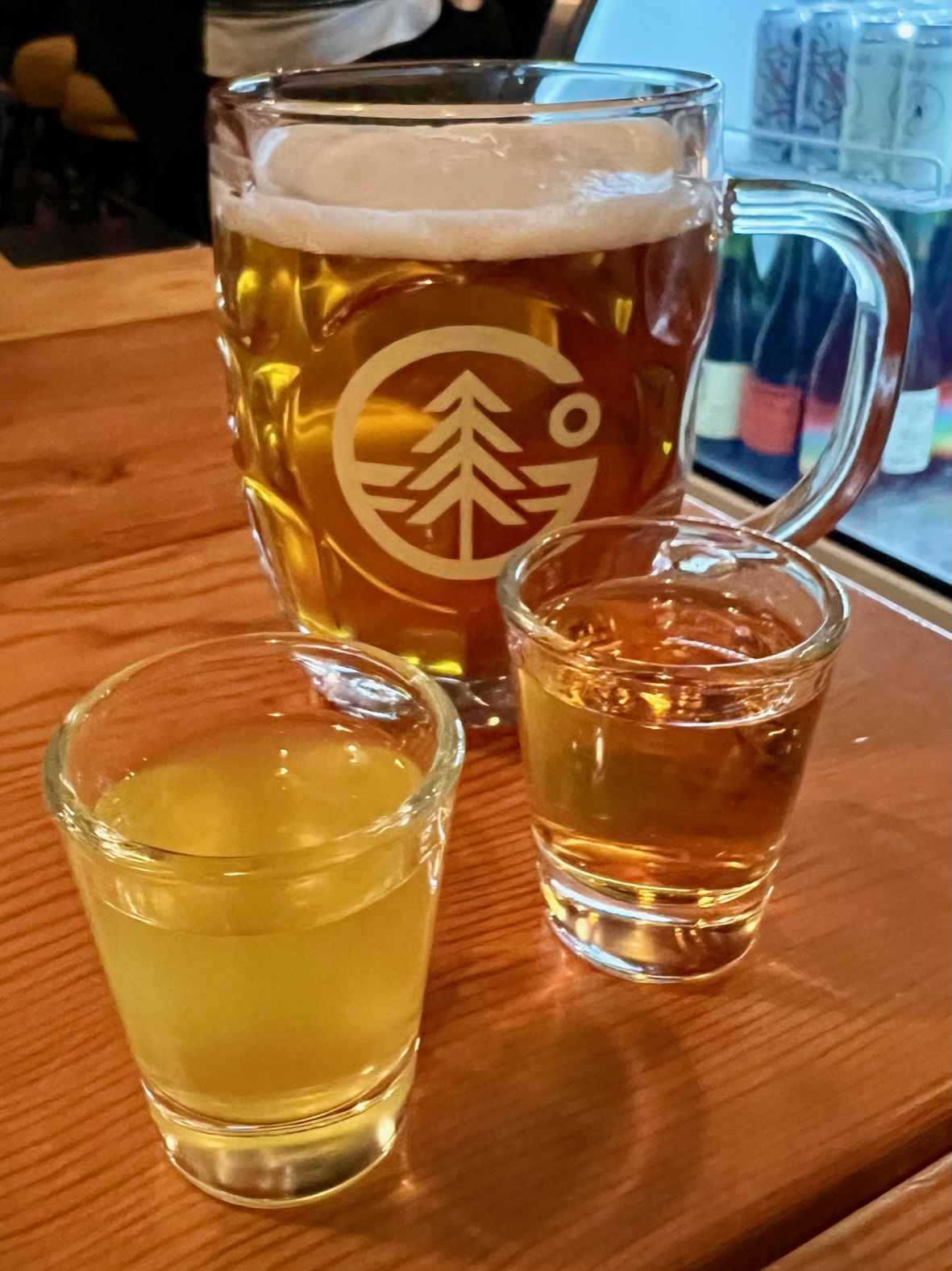 "It was really thanks to the pandemic," said Doug. "When the pandemic hit for me, I laid off a hundred employees," said Doug. "That was hard. And I personally never really recovered from it. So when I walked away from all that, I started bothering her about it."
"We have had the idea in our head," stated Whitney. "I was comfortable at 10 Barrel and he was doing his thing at Bullard and Holler and then the pandemic hit. And it changed a lot of things. And it opened the door for us just to really start thinking about, wow, this could be possible. We could do this together. We could combine our careers and create something really unique!"
Stepping inside the newly opened Grand Fir Brewing, there has been some changes from the previous tenant, West Coast Grocery Co. Most noticeably is in the bar area. Gone is the wall that was behind the bar that brings in more natural light into the upper area of the pub.
Also gone is the bright, fun mural and shuffleboard table in the upstairs bar area. Taking its place is additional seating and a wall that utilizes salvaged wood from the former Sunshine Dairy as the lower paneling. Then above the paneling are logs from Whitney's father's house on Whidbey Island.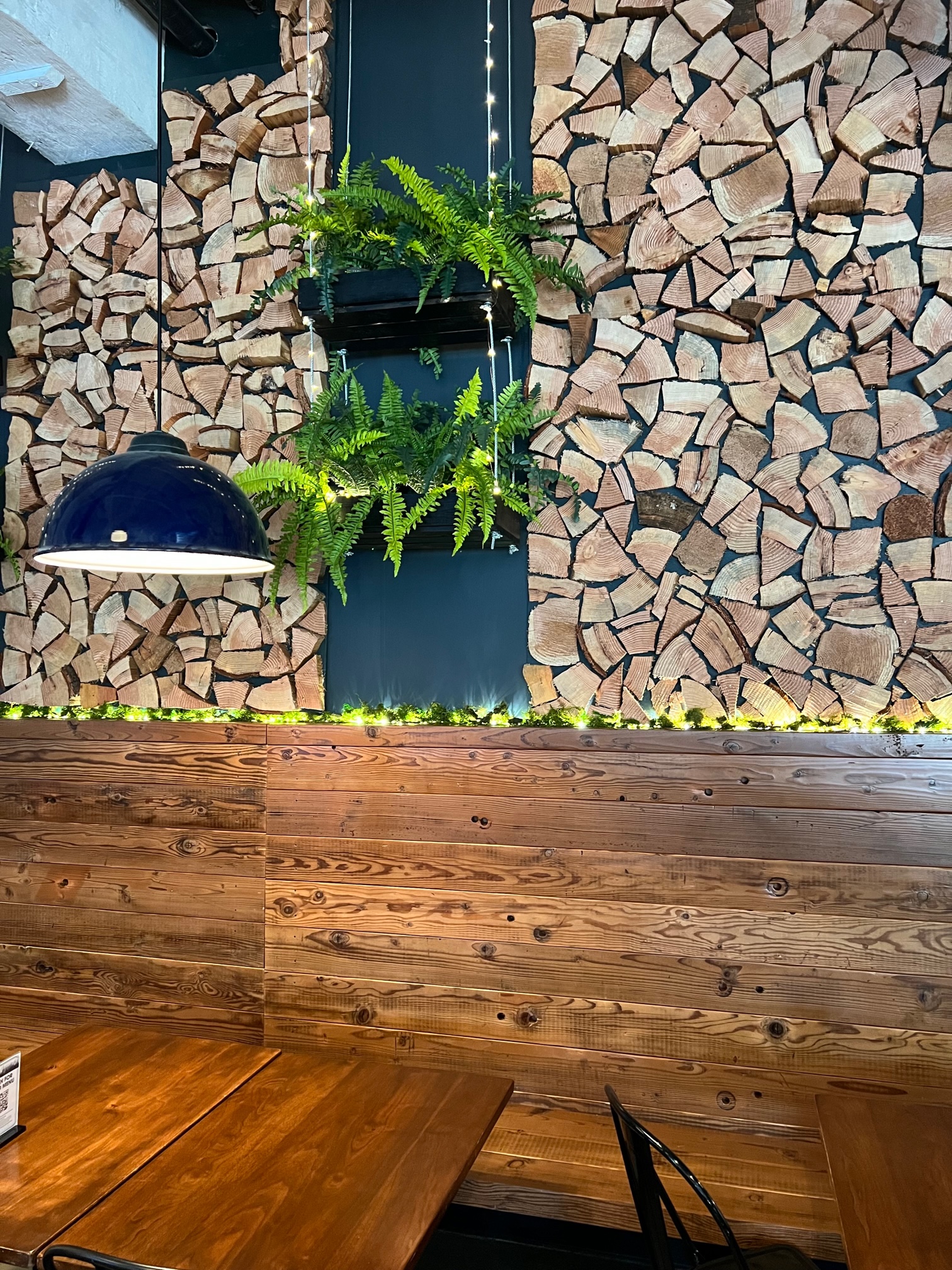 The 15-barrel brewhouse is still intact from when West Coast Grocery Co. opened in 2018. Joining Whitney in the brewhouse is Jeff Vidricksen, her assistant brewer that was with her at 10 Barrel Brewing. The two have made a few modifications for efficiency, including the addition of serving tanks in the walk-in cooler to minimize the need for kegging all of their beer.
Eventually Whitney and Jeff will begin a small barrel aging program where the two can tinker with various recipes and barrels. They'll have a bit more space here to do so than they did at 10 Barrel Brewing in Portland. The two also plan on packaging its beer in the coming months.
For the opening weekend Grand Fir served six beers on tap, all priced at $7. Four of these beers were brewed in house and are a bit of a throwback to when beers were a bit simpler. This assortment includes Tack Shack East Texas Lager, Old Growth Pale, GFBIPA, and Heartwood Stout.
"I like to do some wide range of styles," said Whitney. "Everything from classic, straightforward, all the way to crazy experimental. Showcasing my culinary background and baking background."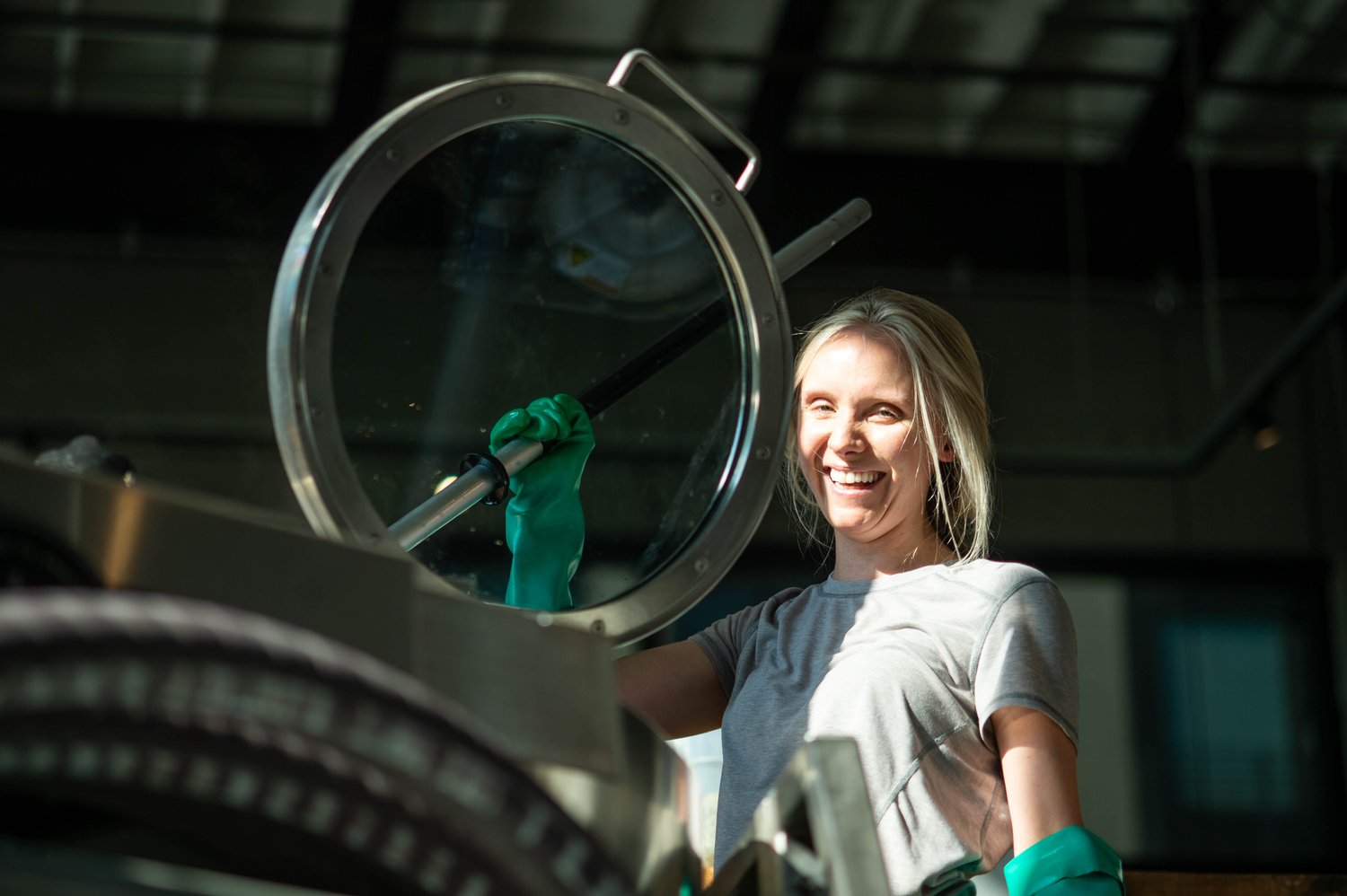 Tack Shack East Texas Lager is a classic 6% ABV Czech Amber Lager that is brewed to pair nicely with many of the food dishes created by Doug and his kitchen team. It's one of our favorites on tap as it paired nicely with the Double Grand Fir Burger.
Also on tap is Old Growth Pale that was inspired by the iconic Sierra Nevada Pale Ale. Whitney took a modern twist on this one using Crystal and the new Cryo Centennial hops. Its well-balanced and great on its own or paired with food.
Rounding out the house brewed beers is GFBIPA, the house IPA that is full of citrus and pine notes and Heartwood Stout, an Export Stout at 7.3% ABV. In the near future, this stout will have a coconut variant. "I always like to take my export stout and split it off and do coconut," stated Whitney.
Joining these four house brewed beers are My Father's Pilsner brewed at Living Häus Beer Co. with Obelisk Beer Co. and Baby One More Time at 10 Barrel Brewing – Portland. My Father's Pilsner is an aggressively hopped Pils that uses Citra, Strata, US Tettnanger hops, while Baby One More Time is a Double Hazy IPA brewed with Maddy McCarthy, the brewer that replaced Whitney at 10 Barrel Brewing.
On the horizon are a few other beers that will help fill out the 14 available taps. One is a Honey Kolsch, a beer that Whitney enjoyed brewing at here previous employer. "It's going to be a little bit different this time," said Whitney. "I use this honey from World Honey Exchange. I'm playing around with some different varieties now, so I'm excited for that!"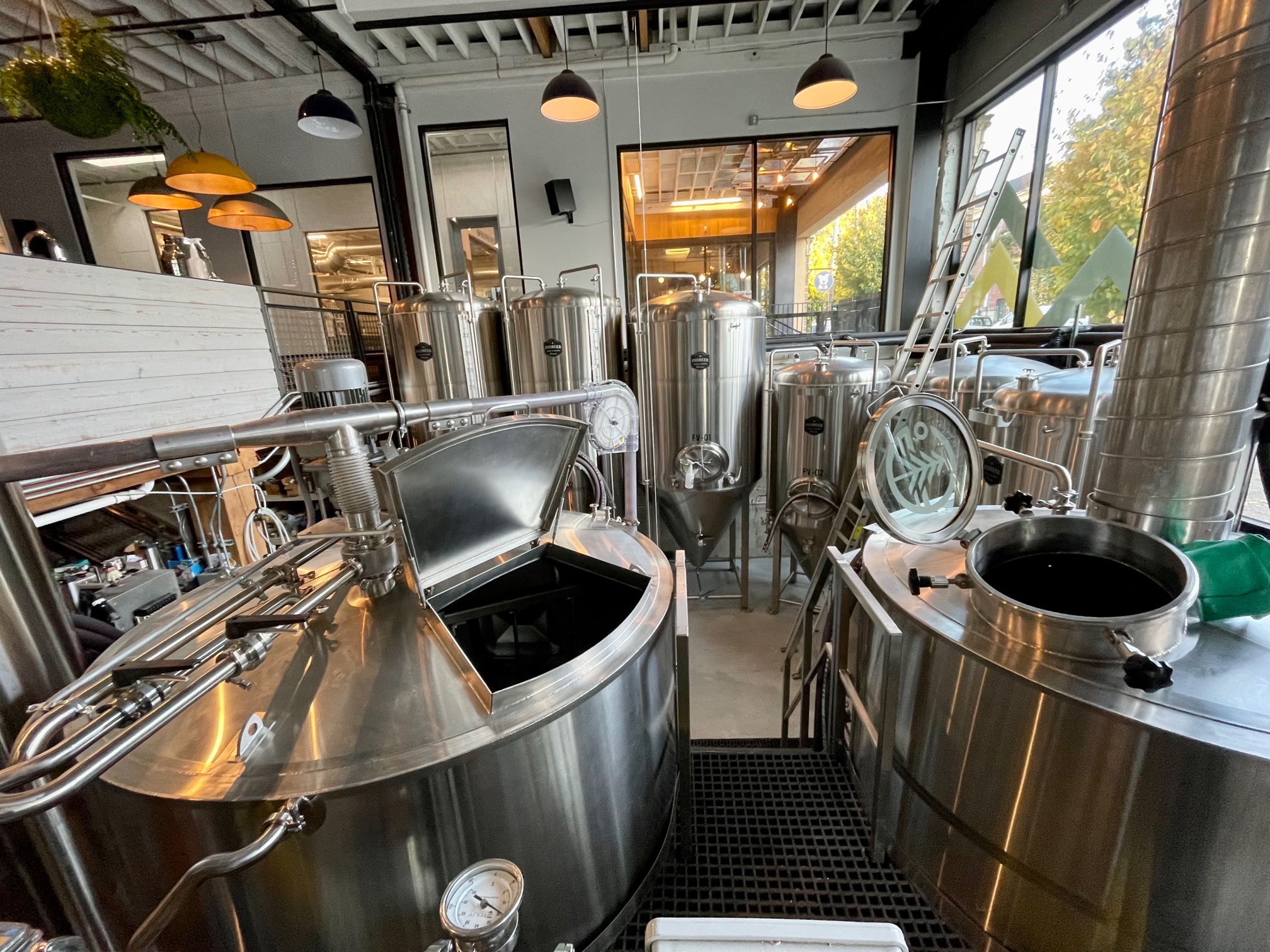 Other forthcoming beers include a Bohemian Pilsner and Schwarzbier that she has brewed in the past. "Definitely bringing the Bohemian Pilsner back. And a Schwarzbier coming down the pipeline."
There are also a few more collaboration beers that are in the tank and on the schedule. Eternal Flame is an IPA that she brewed with a few former Elysian Brewing brewers – Dick Cantwell, Kevin Watson, and Steve Luke.
"We're all ex-Elysian folks from Capitol Hill," stated Whitney. "We decided to do kind of old school IPA nod to (Sierra Nevada) Celebration, but also a nod to Prometheus, a popular IPA recipe that was served at Elysian. It was really fun to have them here and we all just rubbed hops and decided to modernize it!"
Additional forthcoming collaborations include Destroyer Triple IPA with Grains of Wrath that'll be tapped this week and a Saison with Upright Brewing. "We did a Saison with Fresh Bay Laurel and Red Peppercorn that's aging in foeders. We're really excited about that one."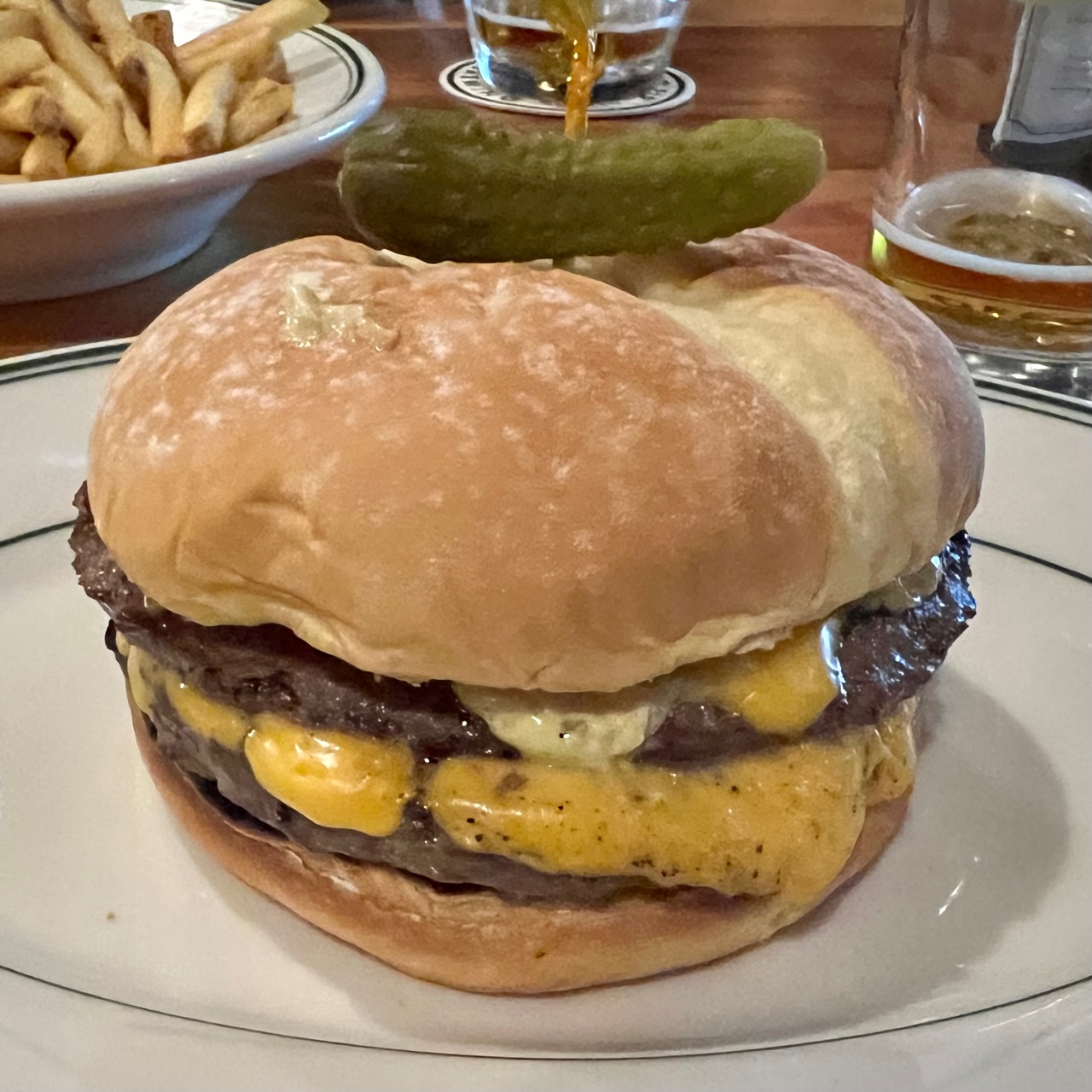 To compliment this beer selection, Doug has created a food menu that will attract both beer drinkers and foodies. All of the food menu options are priced at $15 or under. The large plates, such as the Grand Fir Burger or the Fried Chicken, are all served à la carte. Adding a side such as fries will add an additional $5 to the bill.
Doug wanted a menu that complimented the various beer styles that Whitney is brewing while also supporting local farmers.
"We thought a lot about," said Doug. "There are some things on the menu that I've just been really pumped about like the burger. It's Carmen Ranch grass fed beef from the Wallowa's. That beef is just super and to me it tastes almost like ground brisket."
"And then the burger sauce is great! I grew up on Whataburger in Texas, so I like mustard on my burgers. It's a mustard burger sauce with smoked and caramelized onions that we're caramelizing in the Texas lager. Just a really classic nostalgic burger."
Another dish that Doug is excited about is the Beer Braised Elk. "We have an elk dish on the menu right now that to me just feels like old you're at an English pub," added Doug. "It's lightly smoked and braised in beer and then we serve it in a little cast iron and just ripping hot and bubbling. Then we put an egg yolk on top, throw it back in the oven for a hot minute. It hits a table with crusty bread and you just kind of stir the yolk in and spread it on bread."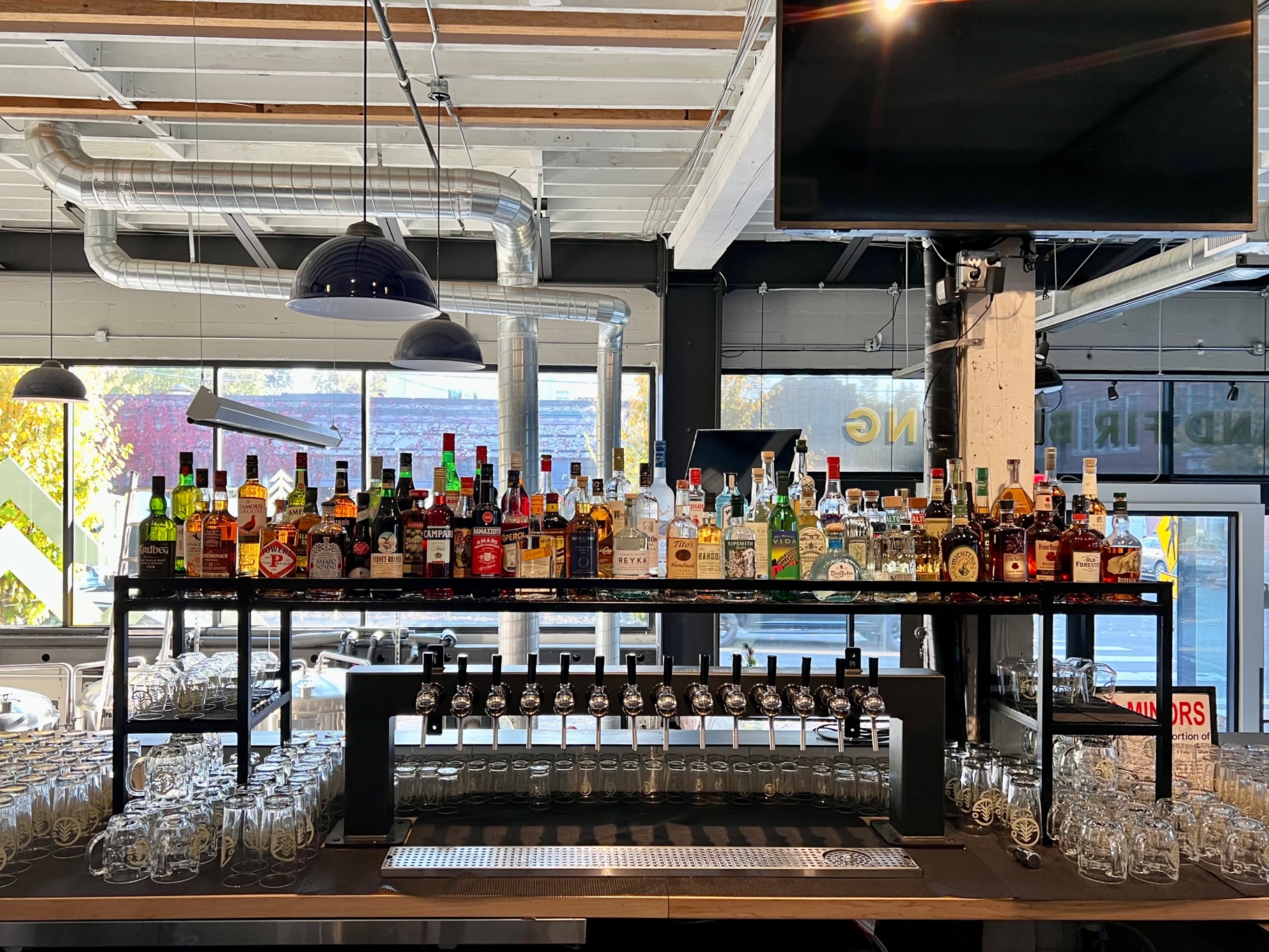 Then to keep his kitchen staff fresh and creative, he will begin to host special ticketed Supper Club dinners in January 2023. "We'll probably do it like once or twice a month," said Doug. "I will bring in guest chefs. I've got Peter Cho from Han Oak coming in to do a Korean barbecue with us.
Doug also wants to do some fish options, including a possible fish fry, Midwest style. "My friend May Lynn's going to come and we're going to do a Midwest fish fry," stated Doug. "When I was in Milwaukee, I sat at this bar that had this huge pile of bluegill and chips. "Now I'm trying to source bluegill. I'm asking all these purveyors out here and they're like, "Doug, what's bluegill?" We sure hope he succeeds in sourcing this as bluegill is a great fish!
Beyond the beer and food dishes, Grand Fir serves homemade soft serve, with nostalgic candy bar flavors to start, and peak fruit seasonal flavors to follow. It also offers up a spectacular cocktail program under the supervision of Eugene Doherty, formerly of The Wythe Hotel and Diner in Brooklyn.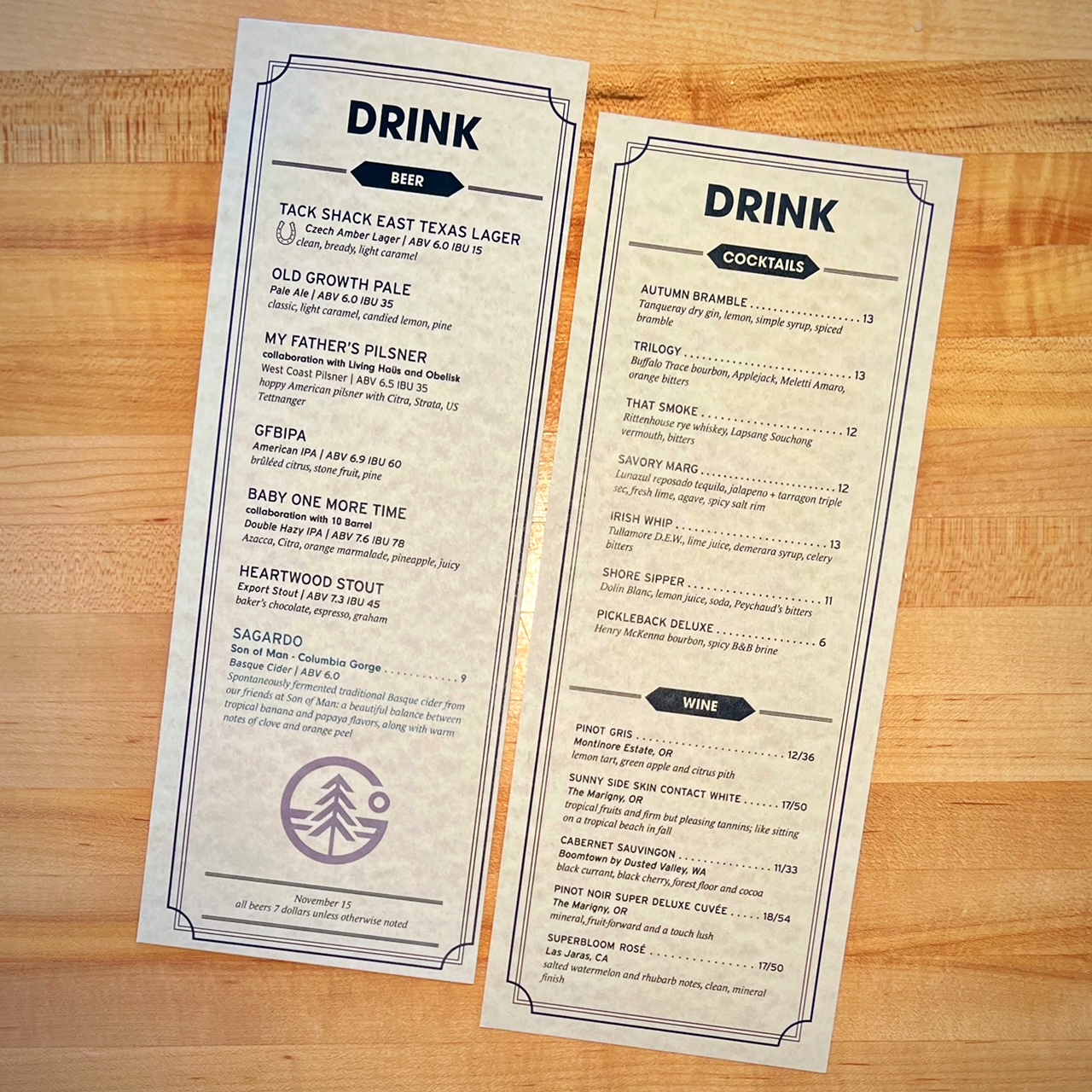 The cocktail menu features That Smoke, with rye whiskey and Lapsang Souchong-infused vermouth, and Rusty's Irish Whip, with whiskey, lime juice, and celery bitters. Plus a favorite of ours, the Pickleback Deluxe featuring Henry McKenna Bourbon and spicy bread and butter brine for just $6!
Grand Fir Brewing is currently open Tuesday through Sunday at 3:00pm and closes at 10:00pm on weekdays and at 11:00pm on Friday and Saturday. The brewpub plans to re-establish lunch service in the future. To stay up to date on brewery happenings, follow Grand Fir Brewing on Instagram at @grandfirbrewing.
Grand Fir Brewing
1403 SE Stark St.
Portland, OR 97214