Ground Breaker Brewing Refreshes Its Brand + Adds 16 Ounce Cans
|
Portland's 100% gluten-free brewery, Ground Breaker Brewing has refreshed its branding with a new company logo, new packaging and a new line of brewery merchandise.
When Ground Breaking Brewing opened in 2011, then known as Harvester Brewing, the brewery launched its beers exclusively in 22-ounce bottles. Then in 2015, the first 100% dedicated gluten-free brewery in the United States began packaging select beers in 12 ounce cans. This is when Ground Breaker packaged its flagship beer, IPA No. 5 and Olallie in the more convenient sized package.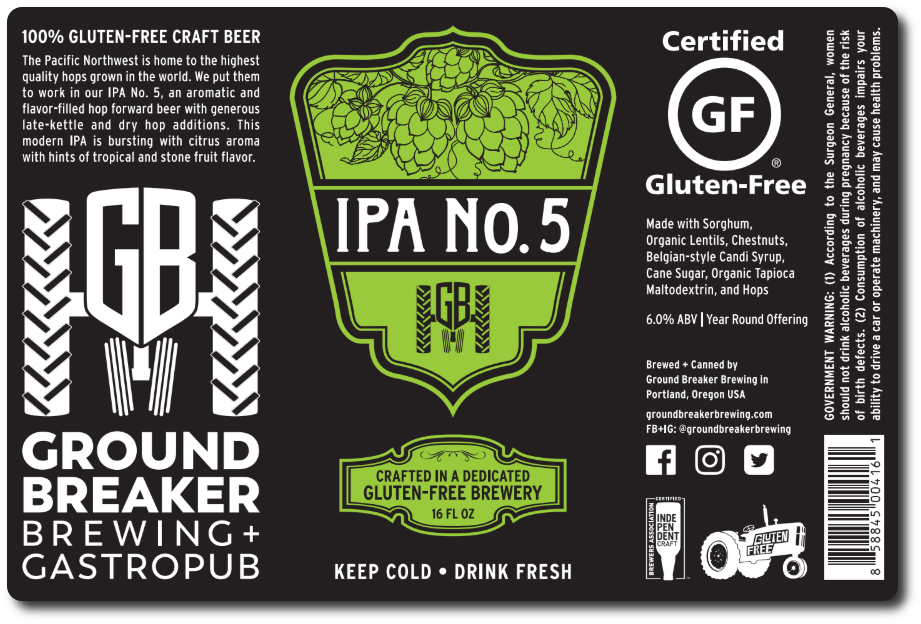 Now three years later Ground Breaker has decided to go with new 16-ounce cans as it launches a brand refresh with a new brewery logo alongside these larger size cans.
"We're packaging most of our year-round, seasonal and limited-release beers in a 16 ounce can package," announced James Neumeister, founder and head of R&D at the brewery in a statement.
"We tested the waters in 2015 with 12 ounce cans after our successful Yes We Can! Kickstarter campaign," Neumeister continued in a statment. "We knew customers wanted cans because they invested with us in the Kickstarter campaign, and the response from our distribution and retail partners over the last two-and-a-half years has been just as enthusiastic."
Going forward both IPA No. 5 and Olallie will continue to be offered in a 12-ounce cans along with the new 16-ounce cans. Ground Breaker will also release future Experiment Ale and Roll-Up Door series beers in the new 16-ounce cans. The new 16 ounce 4-packs will began shipping to distribution partners last week.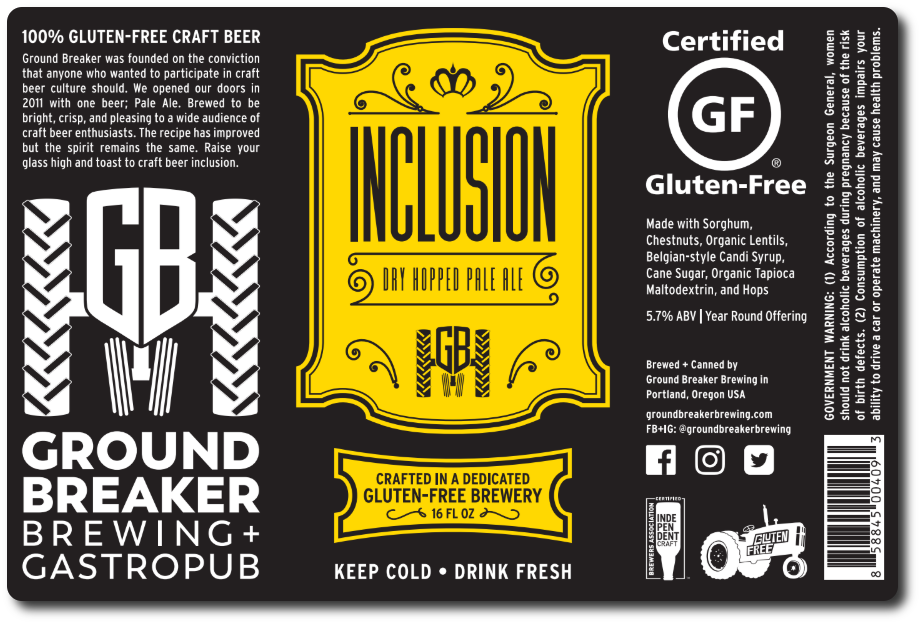 Neumeister also announced that their award-winning dry-hopped pale ale would be rebranded as Inclusion. "We try to provide a craft beer experience that everyone can enjoy," said Neumeister in a statement. "Inclusion is a name that captures that spirit and conviction, which we founded the brewery with. It's a great name for our first beer. It's also the beer we won our first GABF medal with."
The first Experiment Ale Series beers to see the can switch will be fresh hop ales Epoch and Gayle. Epoch features Strata hops which debuted last year out of Oregon State University's Aroma Hop Breeding Program and were commercialized with the help of Indie Hops, an Oregon-based hop merchant. Gayle features Crystal hops that are grown and harvested locally at Goschie Farms out of Silverton, Oregon.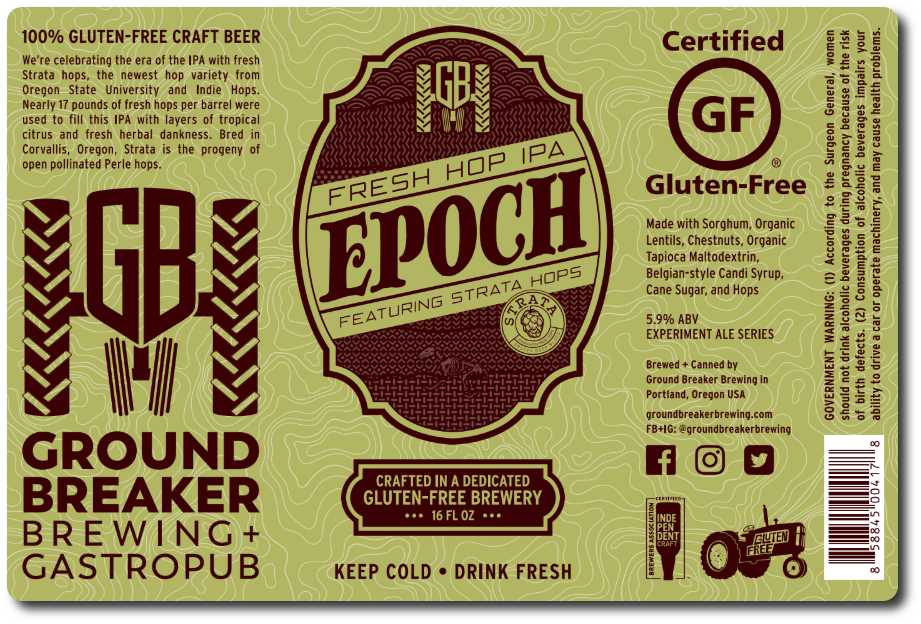 Merchandise featuring Ground Breaker's new logo is now available for purchase in the Gastropub as well as on their website.
Ground Breaker's beers are distributed in OR, WA, ID, CA, CO, VT, ME, MA, RI in the United States; BC and AB in Canada; and Japan.