Hammer & Stitch Brewing Is Now Open in Northwest Portland
|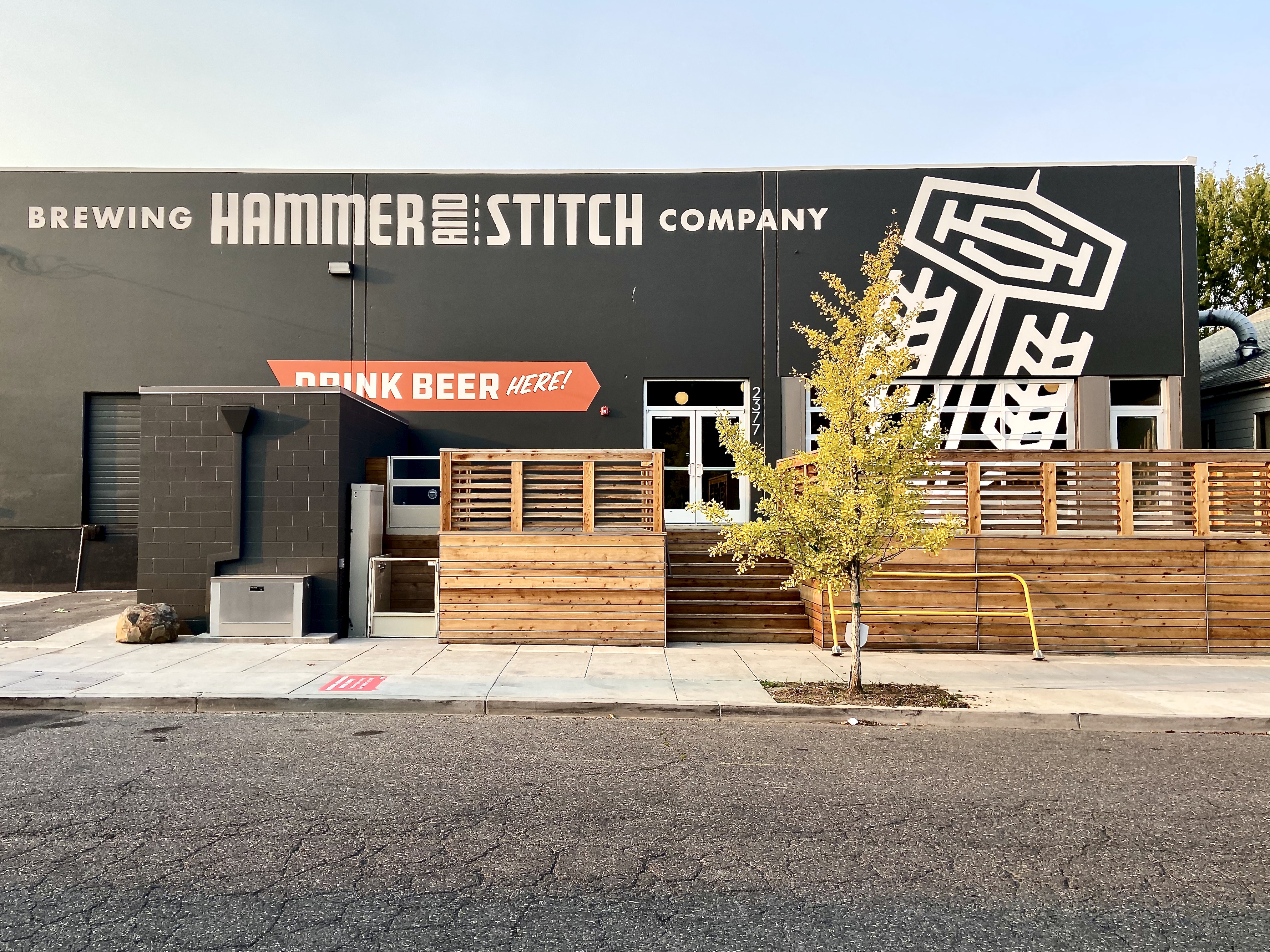 After a few setbacks and delays, Hammer & Stitch Brewing is now open in Northwest Portland. Co-founded by Ben Dobler, he will bring his vast years of brewing to his new brewery that hosts its Grand Opening today beginning at 11:00am.
Located on the final street of the Alphabet District, just off trendy NW 23rd Avenue at NW Wilson, Hammer & Stitch Brewing will focus on approachable beers with full flavor. Today's tap list will feature four of these offerings, all of which are well executed and quite impressive.
In the brewhouse, Dobler is joined by Cameron Murphy. The two reunite as Murphy worked under Dobler during his time at Laurelwood Brewing a few years back. The core team Hammer & Stitch is rounded out by Madison Moody who leads the brewery's marketing.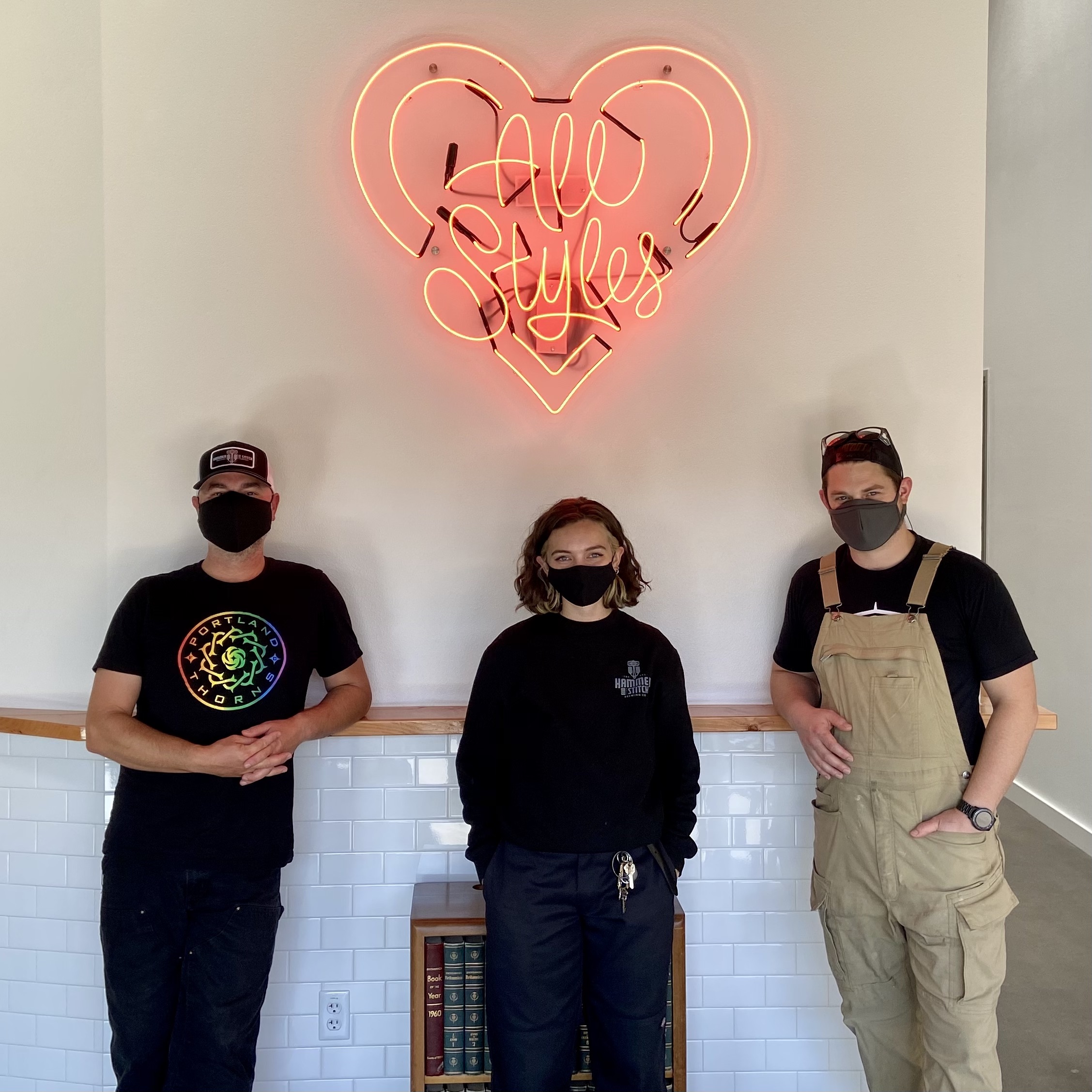 Earlier this week we visited the new brewery to learn more about what to expect from the first brewery opening in Portland since the COVID-19 pandemic hit in mid-March. Upon entering the brewery, Dobler greeted our arrival with, "Welcome to our brewery theater!"
His concept design wanted to keep a tap room with a strong visual focus of the brewery. This goal was accomplished in the retrofitted building that was once the home of Clear Creek Distillery. With a sloping concrete floor and trench drain already installed, the brewhouse buildout was a bit easier and less costly.
Inside the tap room there are high ceilings with tables well placed for proper social distancing, many with a view of the brewery. But the best spot to sit will likely not be available until next year. Once we can belly up to the bar again, this seating option will offer the best view into the brewery where patrons will be able to watch the innerworkings of the brewing operation.
The stark white walls of the taproom are now filled with artwork created by Aaron Draplin, the designer behind Field Notes. He has created art that shows the states where the staff at Hammer & Stitch hail from. There is also a prominently displayed red neon that states "All Styles', that reflects the openness to the beer that will be brewed inside these walls.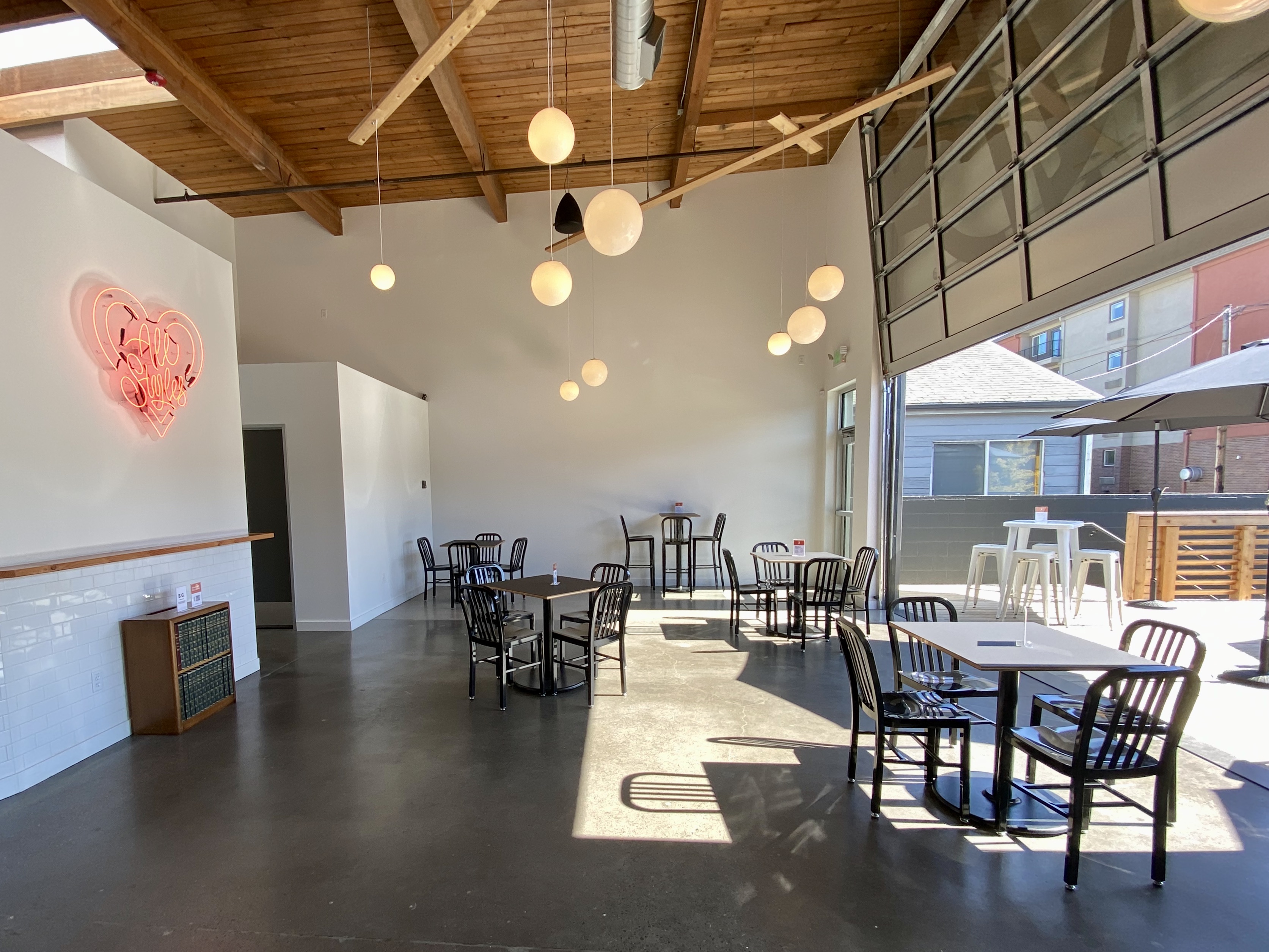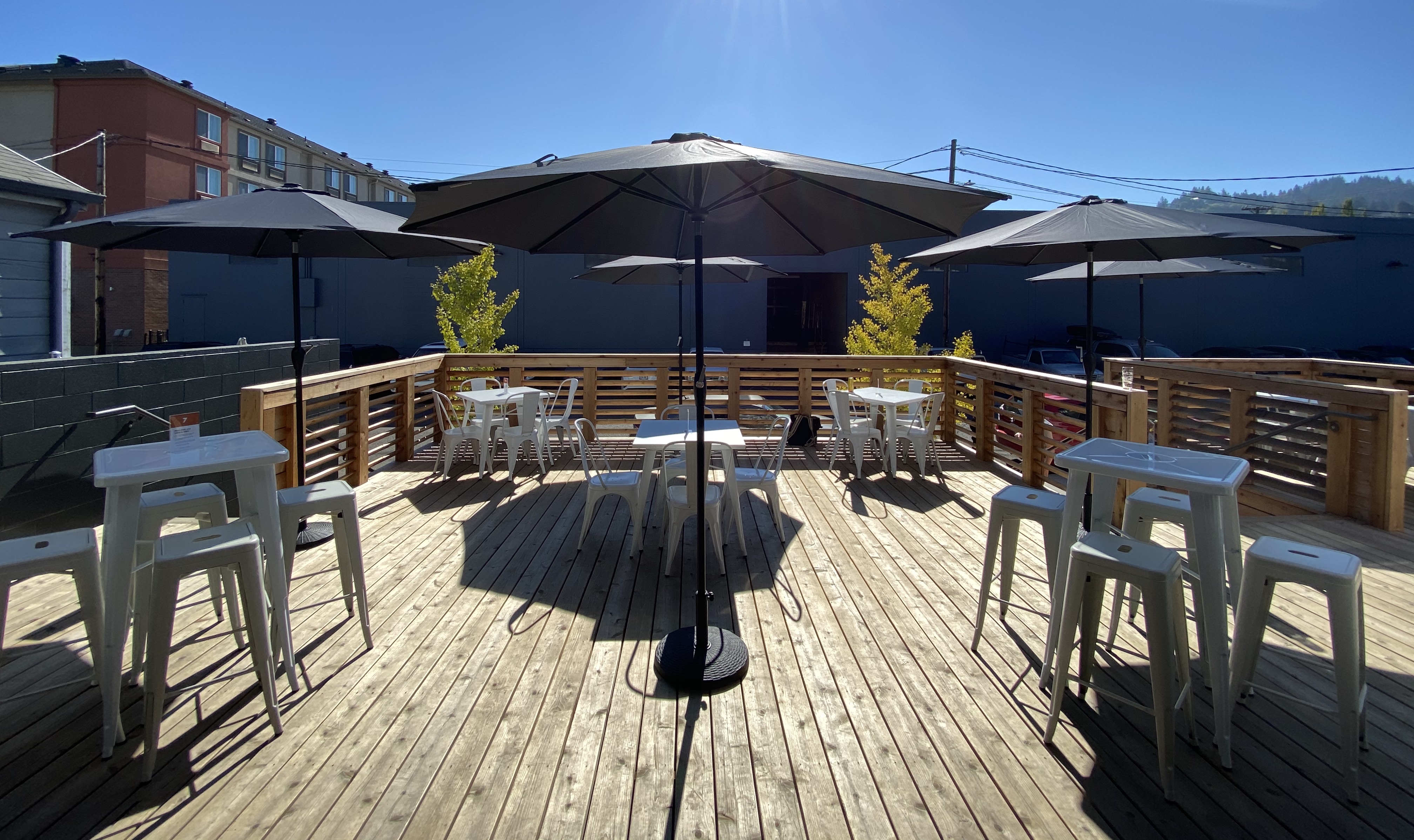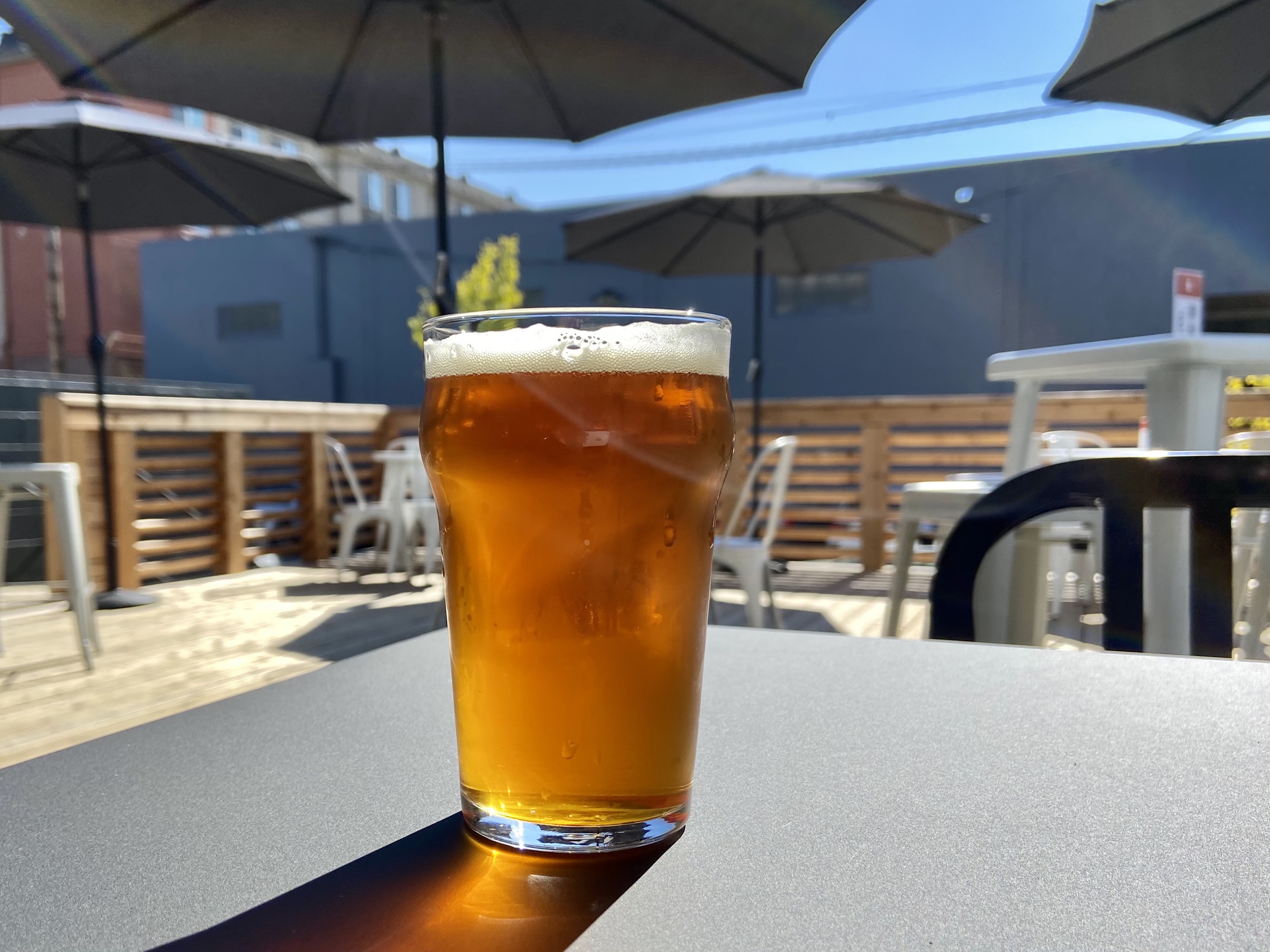 Outside the rollup door from the tap room that will at some point fill up to 49 occupants is an elevated deck that has views to the west of the Montgomery Park Building and Portland's West Hills. It is here where they have properly spaced tables with umbrellas and hopefully soon, an outdoor tent for the rainy months that await us.
The opening tap list for today includes four well-made house brewed beers. Beers will be served in either ½ pints for $4.00 or full pints for $6.50. Fortunately for its customers, the glassware being used allow for an honest pint with proper head!
During our visit to the brewpub earlier this week and sampled all four and were impressed with the beers being offered for the brewery's grand opening today. Dobler plans to focus on more traditional beer styles while putting his own twist on them. And it will not just be his 'twist' as he has full confidence in Murphy's skillset in the brewery. From our visit we sensed that Murphy has a lot of input into the beers that are now being served at its tap room. Murphy also has a better sense of trendy beer styles and will offer his input and experience into theses styles such as New England inspired IPAs.
One style that Hammer & Stitch are not likely to touch are some of the more hyper-trendy beers such as Milkshake IPAs and heavily fruited beers. That said, they are not afraid to produce a hard seltzer.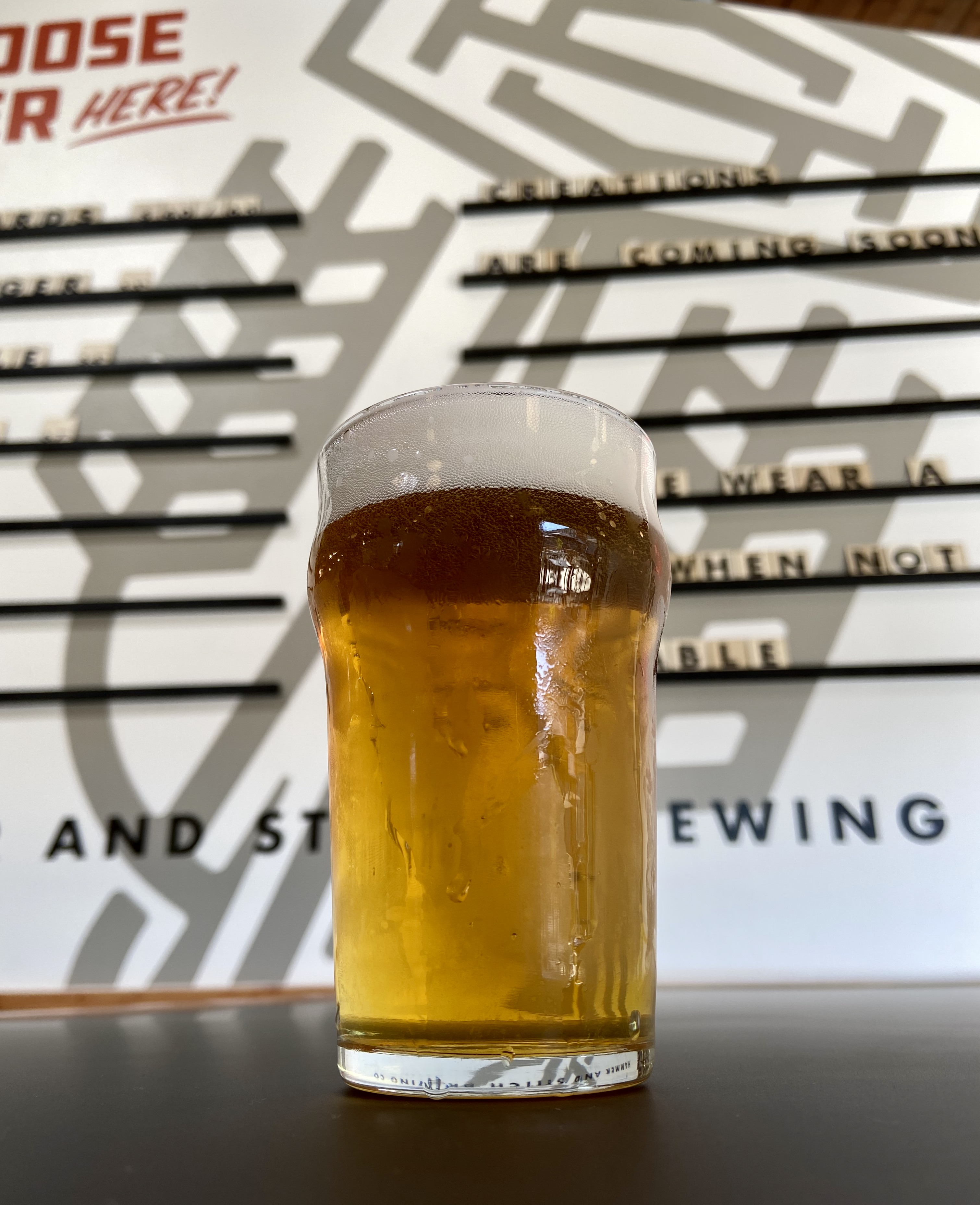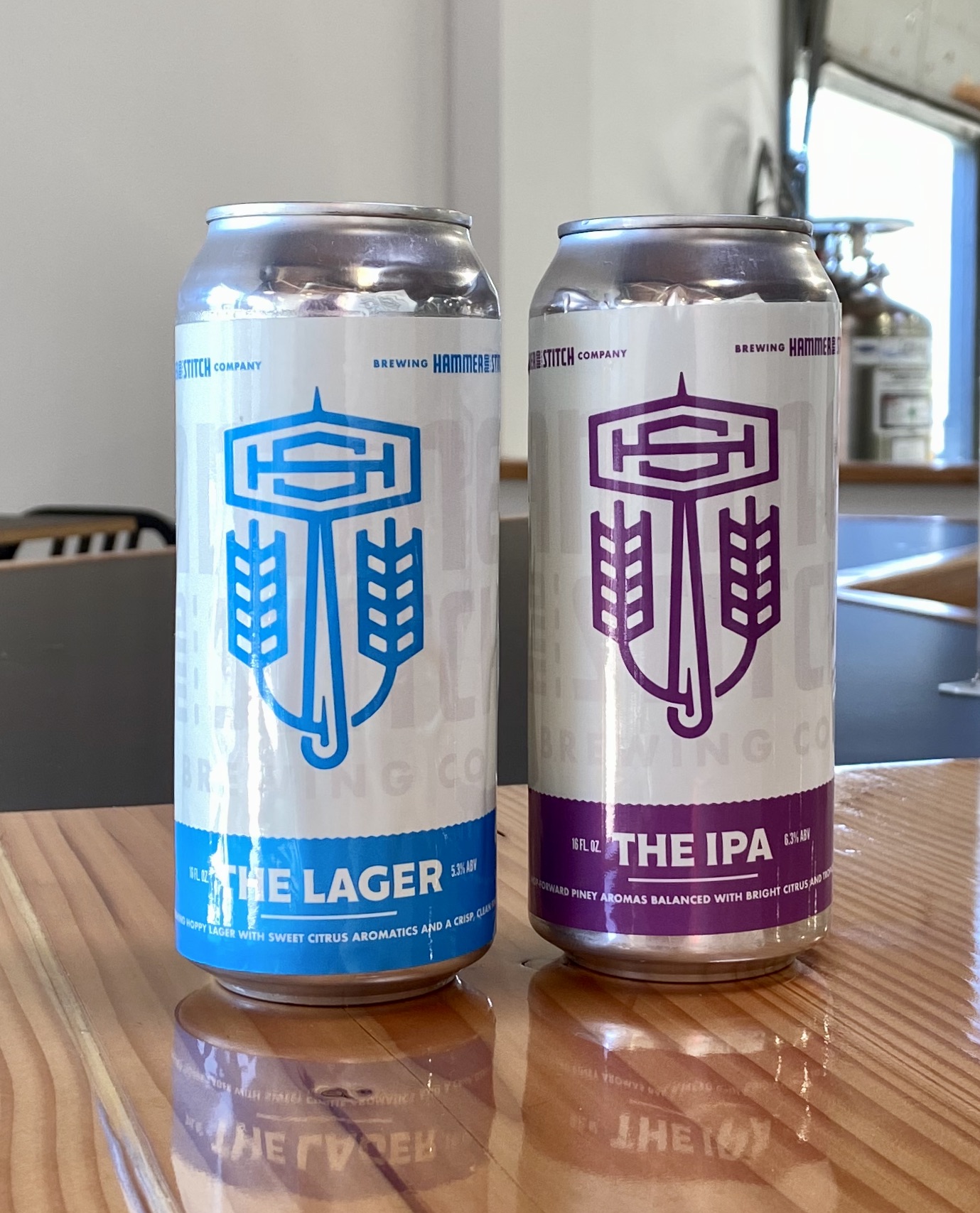 For its opening, Hammer & Stitch chose to brew all of its beers in house in lieu of the more common collaboration approach that many new breweries take. This can be a risk as it usually takes a bit of time for a brewery to hone in their brewhouse. Well this is not an issue here as all four beers being served are all tasty and will want to have you ordering another one.
We left being fans of both The Lager and The Porter. With its bottom-fermented beer, The Lager, provided a very pleasant, easy drinking beer that's clean and crisp. Being fans of a Porter, it's nice to see a brewery going all in on this style. The Porter from Hammer & Stitch is full of dark, roasted malts with a hop punch that is reminiscent of the once common and now seldom seen Cascadian Dark Ale.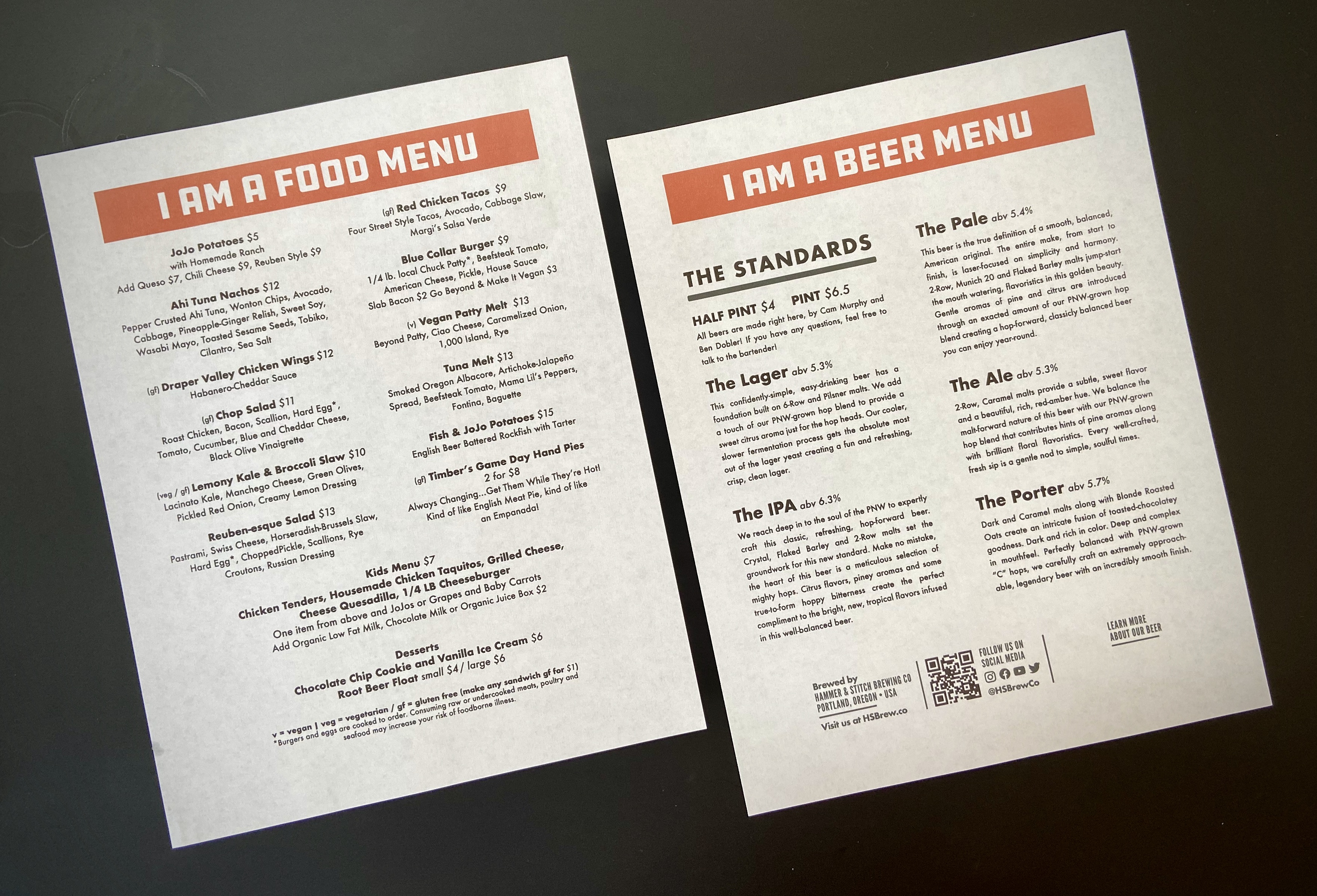 Here's a list of that tap list for today's opening with descriptions provided by Hammer & Stitch Brewing.
THE LAGER
This confidently-simple, easy-drinking beer has a foundation built on 6-Row and Pilsner malts. We add a touch of our PNW-grown hop blend to provide distinction. Our cooler, slower fermentation process gets the absolute most out of the lager yeast creating a fun and refreshing, crisp, clean lager.
5.3% ABV 23 IBU 11.6P OG
Hops: A blend of PNW hops
Malt Bill: Pilsner, 2-Row, and 6-Row
Availability: Year Round / On-Tap / 16oz Cans (coming soon)
THE IPA
We reach deep into the soul of the PNW to expertly craft this classic, refreshing, hop-forward beer.  Crystal, Flaked Barley and 2-Row malts set the groundwork for this new standard. Make no mistake, the heart of this beer is a meticulous selection of mighty hops. Citrus flavors, piney aromas and some smooth hoppy bitterness create the perfect complement to the bright, tropical flavors infused in this well-balanced beer.
6.3% ABV 55 IBU 14P OG
Hops: Old School "C" hops and some cool-kid new-school hops
Malt Bill: 2-Row, Carafoam, C-40
Availability: Year Round / On-Tap / 16oz Cans (coming soon)
THE PALE
This beer is the true definition of a smooth, balanced, American original. The entire make, from start to finish, is laser-focused on simplicity and harmony. 2-Row, Munich 20 and Flaked Barley malts jump-start the mouthwatering, flavoristics in this golden beauty. Gentle aromas of pine and citrus are introduced through an exacted amount of our PNW-grown hop blend creating a hop-forward, classically balanced beer you can enjoy year-round.
5.4% ABV 45 IBU 11.9P OG
Hops: PNW "C" hops, Azacca
Malt Bill: 2-Row, Munich 20, Flaked Barley
Availability: Year Round / On-Tap
THE PORTER
Pale Chocolate, Black Prinz, 2 Row malts along with Toasted Oats create an intricate fusion of toasted-chocolatey goodness. Dark and rich in color. Deep and complex in mouth feel. Perfectly balanced with PNW-grown "C" hops, we carefully craft an extremely approachable, legendary beer with an incredibly smooth finish.
5.7% ABV 40 IBU 14.1P OG
Hops: PNW "C" hops
Malt Bill: 2-Row, Pale Chocolate, Toasted Oats, Golden Promise
Availability: Year Round / On-Tap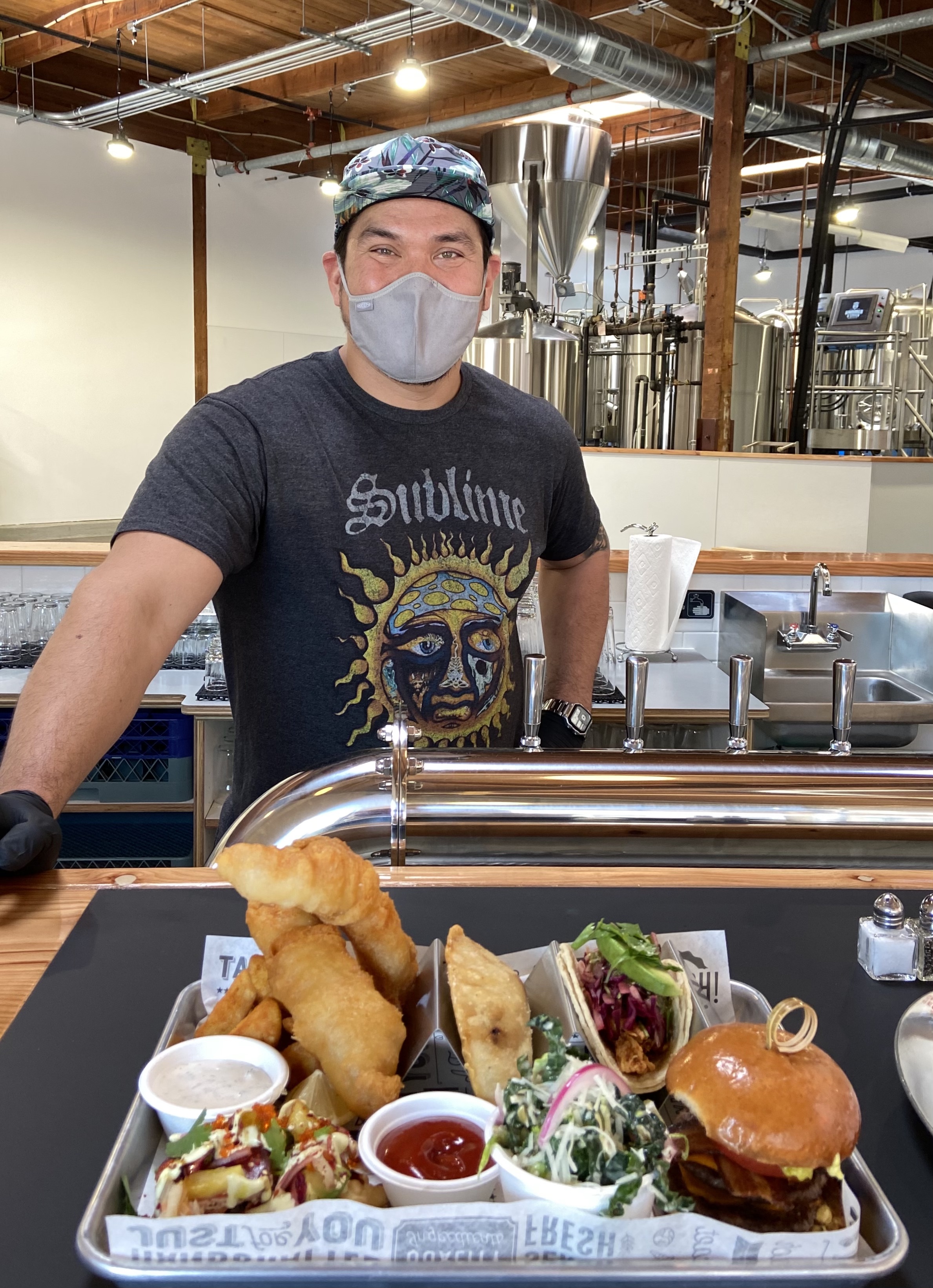 It's not only beer that will be served at Hammer & Stitch as there will be a full kitchen preparing food dishes to complement its beer. The kitchen will be operated by Grand Cru Hospitality. Dobler knew that his focus would be best on operating a brewery, something he has done for well over two decades. Therefore he hooked up with the team at Grand Cru Hospitality to lease the kitchen space inside the brewery. Their track record is strong and have been well received it operates the kitchen at StormBreaker Brewing. The ebb and flow with easy ordering on one POS system is flawless.
The one food item that Dobler insisted on being served at Hammer & Stitch are Jojos. And this item leads off its food menu with a few options including add-ons such as queso, chili cheese, and one called Reuben style. Will need to try the latter one on our next visit!
The menu itself offers brewpub staples such as nachos but with a twist by using ahi tuna; chicken wings; salads, tacos; ½ lb. burgers; melts including one that's vegan; fish and chips jojos; and some very tasty hand pies, only available on Timber's Game Day! And if you have dietary restrictions, the menu is very easy to read to see which dishes are gluten free (gf), vegan (v), and vegetarian (veg).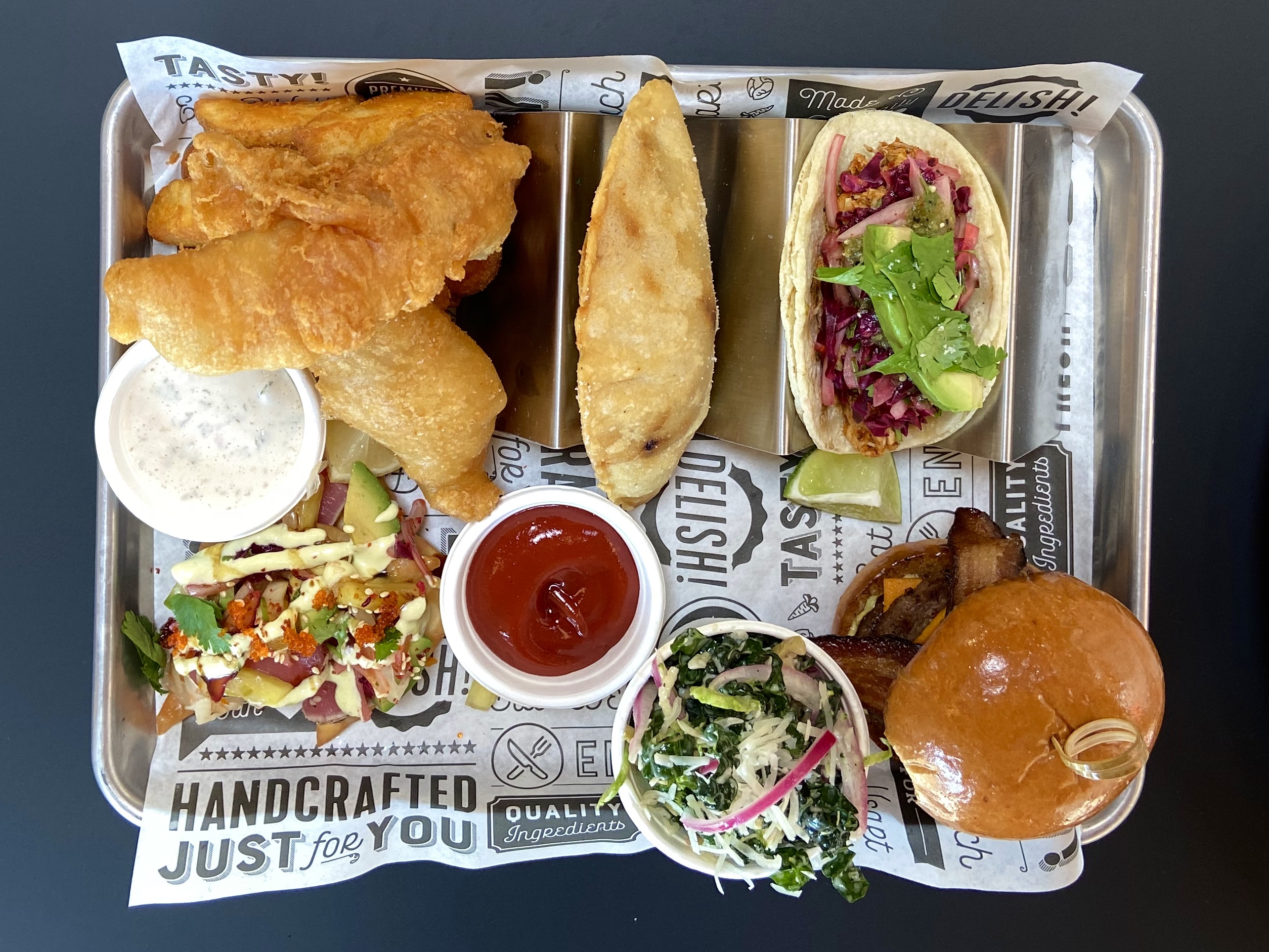 Food for the kids is also available. Look for chicken tenders, house made chicken taquitos, cheese quesadilla, cheeseburger and of course grilled cheese! These dishes can be paired with choices of milk or a juice box.
Hammer & Stitch Brewing is open Wednesday – Sunday from 11:00am-8:00pm. You can also order food to be delivered to your front door by using Postmates. To stay up to date on the happenings at the brewery, follow Hammer & Stitch on Instagram and Facebook or visit www.hsbrew.co.
Hammer & Stitch Brewing
2377 NW Wilson St,
Portland, OR 97210