Hillsboro Hops Partners with Breakside, Pelican, Fort George and Anheuser Busch
|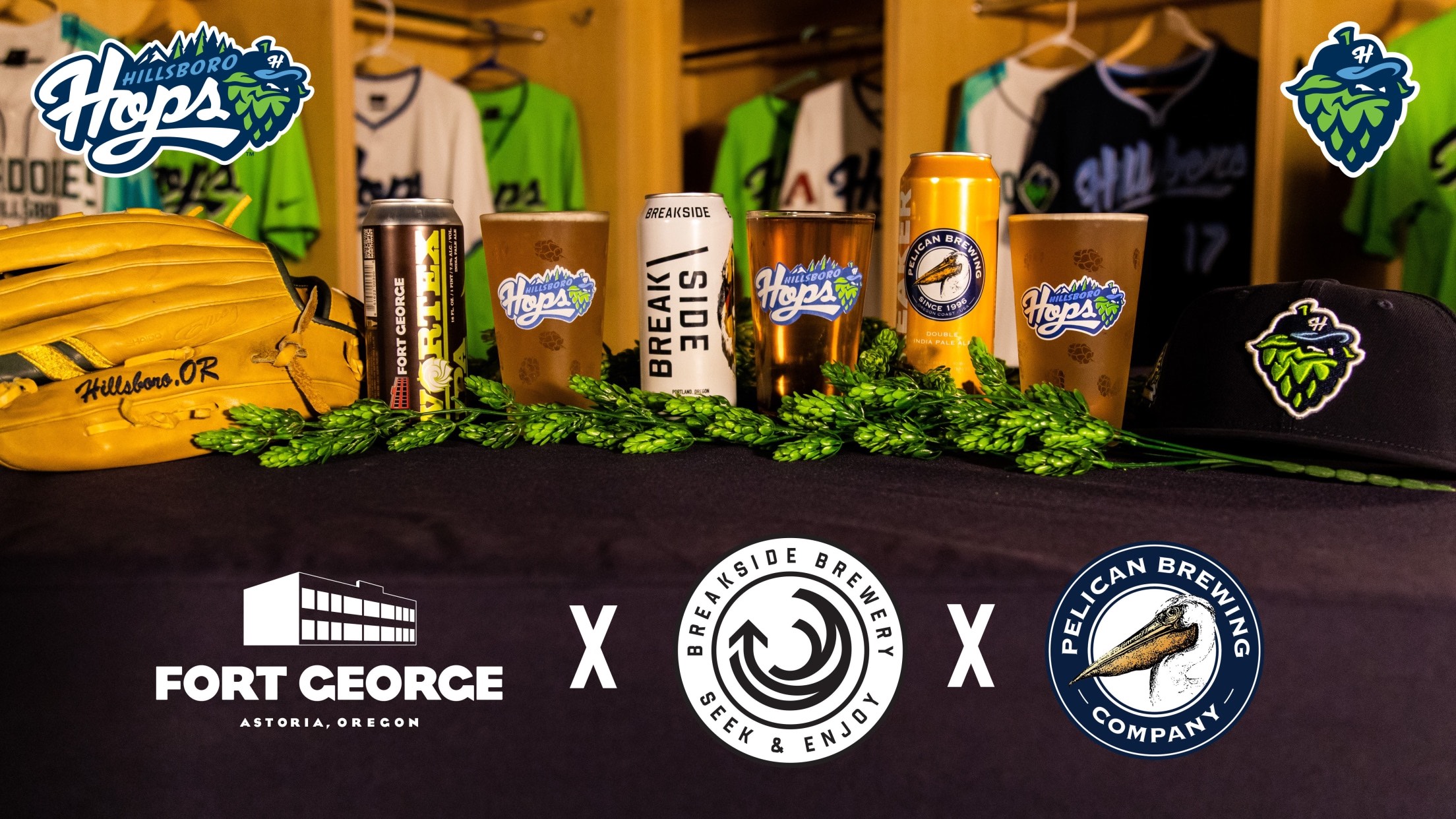 In recent years, the Portland metro area's only professional baseball team, the Hillsboro Hops have partnered with a handful of different craft breweries. For the upcoming 2023 season, the Hops have partnered with three Oregon craft breweries – Breakside Brewery, Fort George Brewery, and Pelican Brewing. For its domestic beer, the Class A affiliate of the Arizona Diamondbacks has partnered with Anheuser Busch.
When the home opener takes place on Tuesday, April 11, all four brands will be featured throughout Ron Tonkin Field via signage and logo placement. This will all be highlighted by a rebranded and refreshed "Breakside Bullpen" social space down the right field line.
Then leading into Memorial Day Weekend on Thursday, May 25, these brewery partners will be featured on the first of two Craft Beer Nights. The second night will take place on August 24.
Hops fans are encouraged to keep their eyes open for local retailers that showcase the new official beer partners of the Hops, including contests that will provide sweepstakes for V.I.P. Hops experiences during the 2023 baseball season. Breakside Brewery and the Hops are also currently collaborating to develop a new Hops-themed specialty beer for the upcoming season.
"We're extremely excited to partner with three of the most decorated Oregon craft breweries and with Anheuser-Busch, whose continued support has made them synonymous with baseball," said Hillsboro Hops Senior VP of Partnerships & Operations Matt Kolasinski. "These brands clearly obsess about the quality of their product in the same way we do about our fan experience and we think this partnership will be positive for Hops fans. We're especially looking forward to collaborating with Breakside on our new signature beer. We couldn't ask for a better partner to work with on it and we look forward to sharing it with our fans in the near future."
"Breakside is excited to be the official craft beer partner of the Hillsboro Hops for the upcoming 2023 season," said Breakside Brewery's VP of Sales and Marketing E.K. MacColl. "We look forward to an entertaining Spring and Summer of baseball and can't wait to get the season started."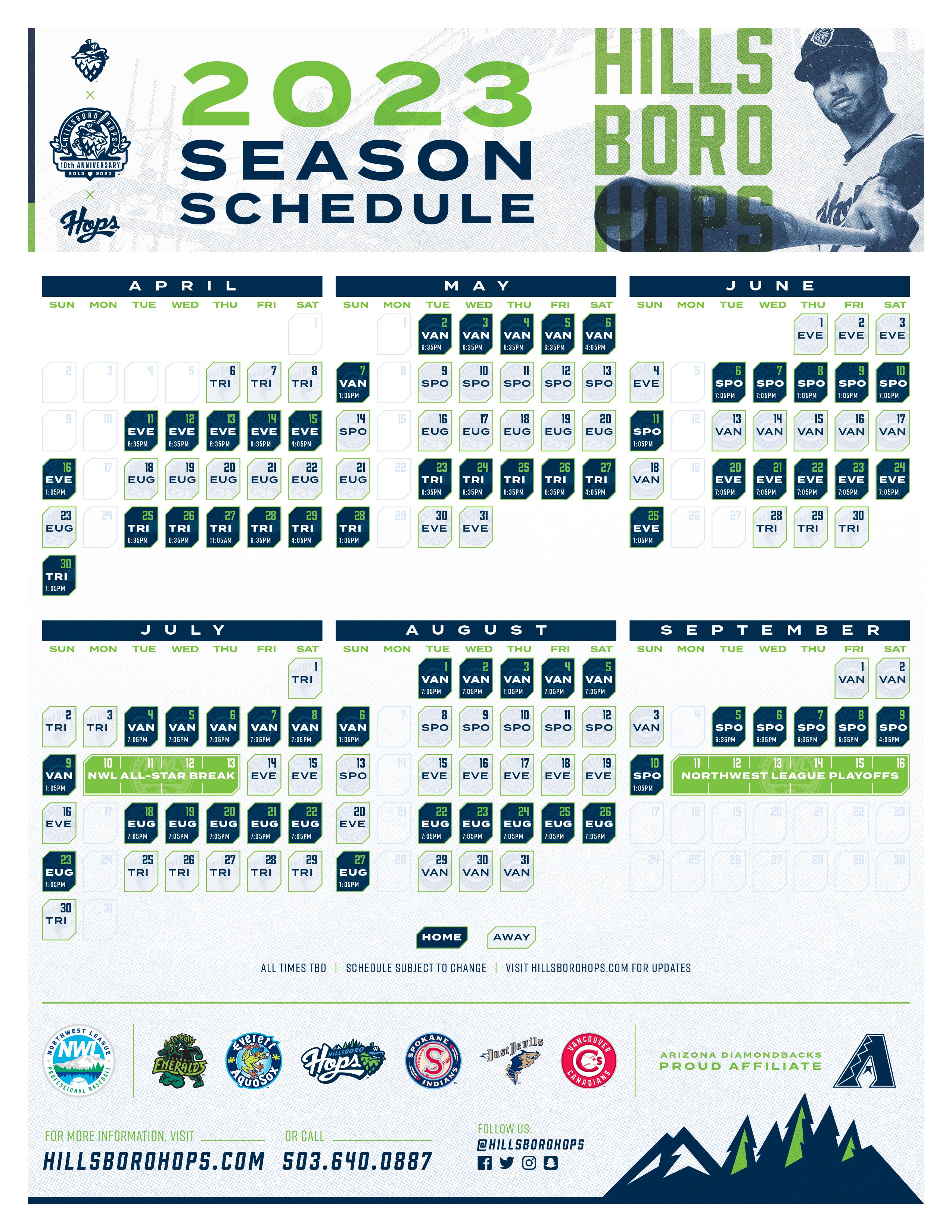 "Here at Pelican Brewing we are thrilled to announce our partnership with the Hillsboro Hops for their 2023 season," said Pelican Brewing Company's Marketing Brand Manager Alexandra Pallas. "Our proximity to the Hillsboro Hops stadium has created a fan base throughout our staff and our entire team is looking forward to the upcoming games. Beer and baseball are a classic pairing, and we look forward to sharing our coastally crafted beers as well as our NA hop-infused sparkling water with everyone at the ballpark."
"The whole team at the Fort George Brewery is super excited to partner with the Hillsboro Hops in 2023," said Fort George Brewery's Marketing & Sales Director Brian Bovenizer. "Though Fort George is based in Astoria, OR, we can't wait to take our friends and families down HWY 26 out to Ron Tonkin Field to share our craft with our fellow Hillsboro Hops fans."
To learn more about the Hillsboro Hops visit the clubs website at hillsborohops.com or follow the Hops on Facebook at www.facebook.com/HillsboroHops and on Twitter, Instagram and TikTok @HillsboroHops.