Living Häus Beer Co. To Open in Former Modern Times Space In Southeast Portland
|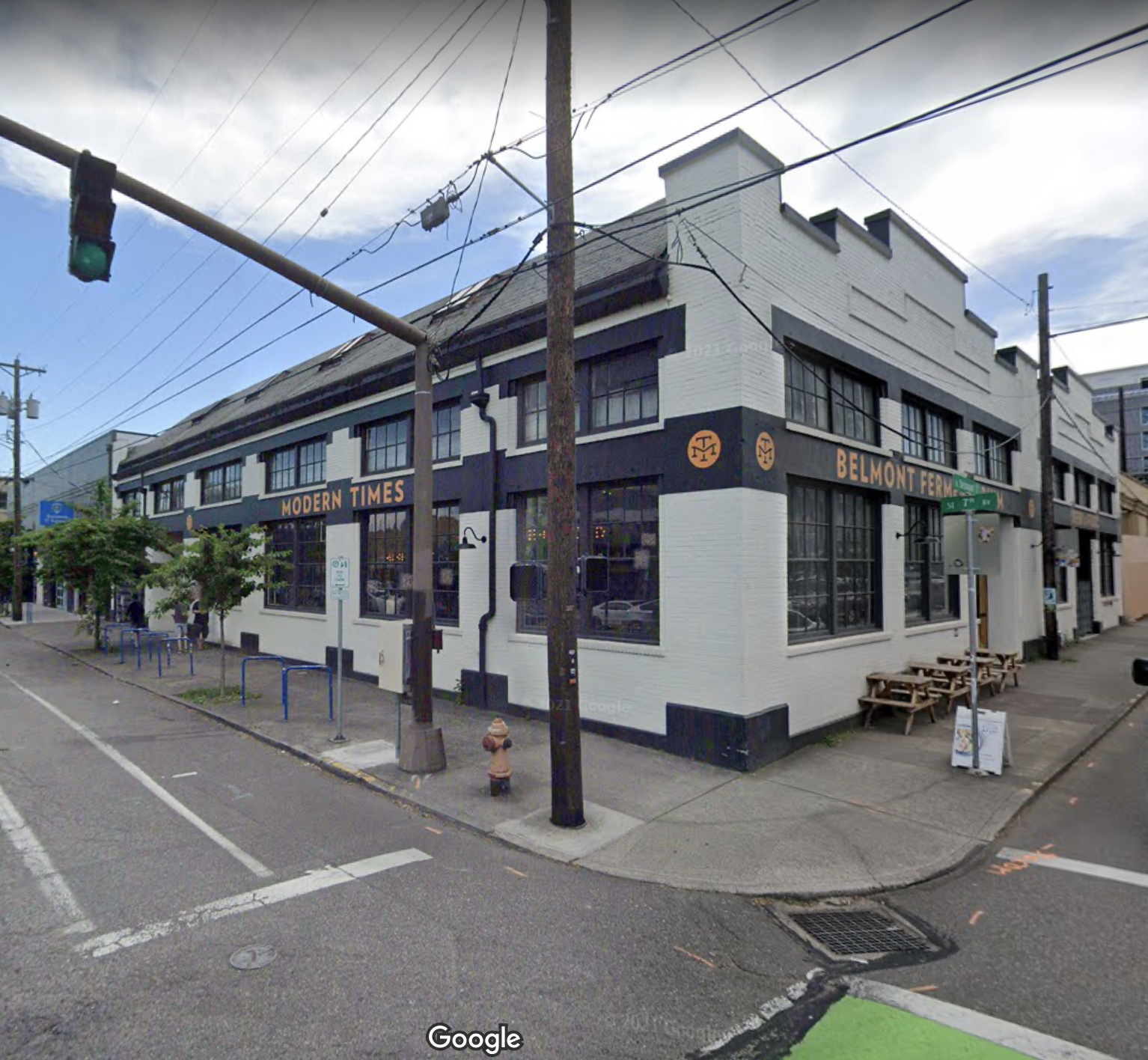 A new brewery will be taking over the former home of Modern Times Beer and prior to that, The Commons Brewery, at the corner of SE Belmont and SE 7th in Portland, Oregon. With a scheduled summer opening, Living Häus Beer Co. will begin operations from two former Modern Times brewers and one formerly of pFriem Family Brewers.
This new project comes from Conrad Andrus and Mat Sandoval, formerly of Modern Times Beer and Culmination Brewing. Also joining these two in this new venture is Gavin Lord, formerly of pFriem Family Brewers. He will lead the brewery's contract brewing portion of the business known as Sin Marca Beverages.

Though Modern Times expanded in recent years along SE Belmont, Living Häus Beer will only be taking over the space that Modern Times originally held, or the portion that The Commons Brewery once resided in. In the coming weeks, Living Haüs Beer will begin remodeling the interior space of the building and will address some of the challenges that this building has faced in the past such as airflow during the summer months.
"The decor and feel of the space will be getting an upgrade, the bar and taps will remain in place for now," wrote Sandoval. "We plan to open up the space with some new roll up windows for airflow ASAP. We also plan to transform the interior with tons of foliage."
In acquiring the space, the trio purchased the equipment from Modern Times Beer. With both Sandoval and Andrus already having experience brewing on it while at Modern Times, the launch of Living Häus should be a smooth and easy one. This will give them a slight advantage over other start up breweries! Once up and running this summer, the brewery will be packaging its beer in both cans and draft while they self-distribute their product in the local market.
Then there's the other side of the business, Sin Marca Beverages, that is part of this brewery that'll be let by Lord. He will bring his experience of running pFriem Family Brewers to Portland to assist other breweries in allowing more of their product to be out in the marketplace.
"Sin Marca's goal is to provide contract services of the highest quality," stated Sandoval. "More world-class breweries of the Pacific Northwest are now facing capacity issues than ever before. Sin Marca's team of experts will offer solutions to these issues that the industry can trust."
Here are additional details from the press release that discusses the brewery's self described lush, green environmental space that will be complimented by thrash metal music, yes an interesting combo…
Industry veterans Conrad Andrus and Mat Sandoval, formerly of Modern Times Beer and Culmination Brewing in Portland, announce the forthcoming launch of Living Haüs Beer Company, which will open in the industrial Central Eastside neighborhood in summer 2022. Living Haüs will take over the former Modern Times facility at the intersection of Belmont and 7th Ave as a lager-centric taproom and brewery. The revitalized space will welcome guests into a lush, green environment reflecting the natural world outside the brewery walls, with a thoughtful roster of high-quality beers alongside a curated list of natural wine and spirits.

"Our goal has always been to create a brand with the highest quality beer that is approachable, creative, and sessionable. I believe we as a group are extremely talented across all styles, but a lot of our focus will converge on classic, clean, and refreshing lager beer. We aim to be your favorite brewer's favorite brewery. We aspire to be at the cutting edge of the industry and also embrace the tradition that brought us here," explains Andrus.

Living Haüs' parent company, Sin Marca Beverage, will use a portion of the expansive existing brewery to offer first-rate contract brewing services. Under the direction of Contract Brewing Director Gavin Lord, formerly of pFriem Family Brewers, Sin Marca aims to build collaborative long-term relationships within the beer industry and beyond.

"From our beers to our tasting room, Living Haüs Beer Co. will highlight all things living, breathing, and ever evolving," says Sandoval. "This space has so much potential, and with some creative inclusions of the natural elements of light, earth, air, and water, we have designed an area that stands up to the quality and artistry of our beers. Within our approach to the design of our beers and our space, you will find elegance mixed in with a hint of danger: high-quality beer, an airy and green environment, and thrash metal."

Sandoval adds: "While our in-house brand will showcase the thoughtful, yet fun-loving approach Conrad and I have to beer, the contract brewing portion of the business will let us prove our technical brewing strengths in a completely different way. With Gavin at the helm of this endeavor, I have all the confidence in the world that our clients and their fans will be impressed with the quality and consistency of their products. We can't wait to raise a glass with Portland."

The trio will share more details, as well as an early July opening date, in the months to come.
The trio of brewers will be taking over a location that some may feel is a tad bit cursed as the two breweries that have previously called this location home have shuttered after facing financial issues. It will be an uphill battle in a local beer market that has seen better days. That said, these three have some great experience and with correct business plan that's properly executed, the three can surely turn this location into one that has longevity.
Living Häus Beer has a placeholder website at https://www.livinghausbeer.com along with an Instagram account. It also has an Instagram account for the Sin Marca Beverage side of the business.
Living Häus Beer Co.
Sin Marca Beverages
628 SE Belmont St.
Portland, OR 97214