Living Häus Beer Company Hosts its Grand Opening Today
|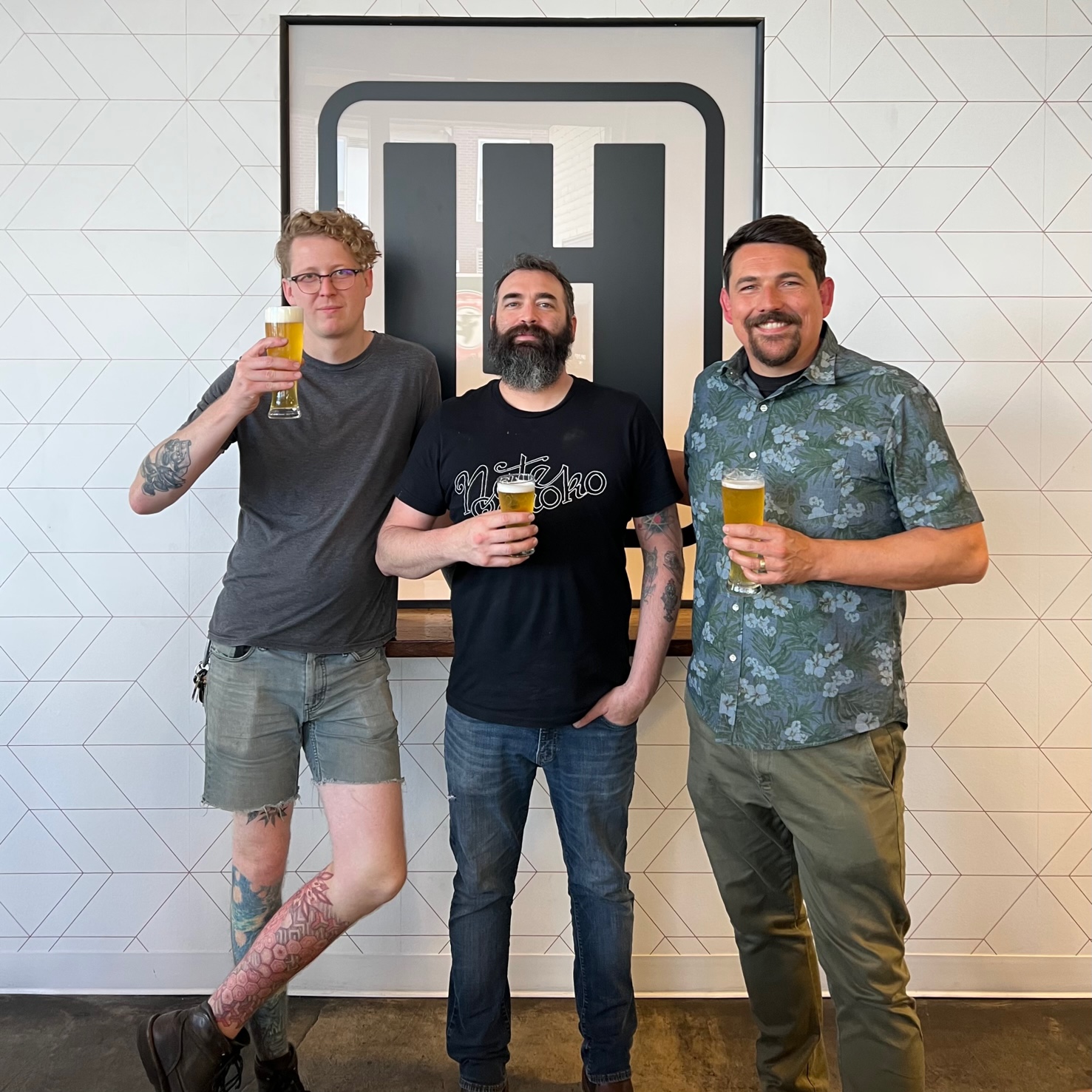 The third time's the charm at the corner of SE Belmont and SE 7th in Portland as Living Häus Beer Co. will host its Grand Opening today and Saturday from Noon – 11:00pm. It's opening will feature eight new beers, DJs spinning tunes and food from Afuri and Tanaka Katsu Sandwiches.
As many Portland beer fans know, this space was once the second home of the beloved The Commons Brewery and then after its demise, California's Modern Times Beer's Belmont Fermentorium. Both breweries brewed some exceptional beer but the space itself proved to have its challenges and both shuttered.
Now two former Modern Times' brewers, Mat Sandoval and Conrad Andrus, along with former pFriem Family Brewers' head brewer, Gavin Lord, have opened a fabulous looking brewery and taproom in this space. Yes, some may say it's a cursed space but this trio has done one hell of a job at transforming it into a sleek, modern look while keeping the character of this building that dates back to the 1930s.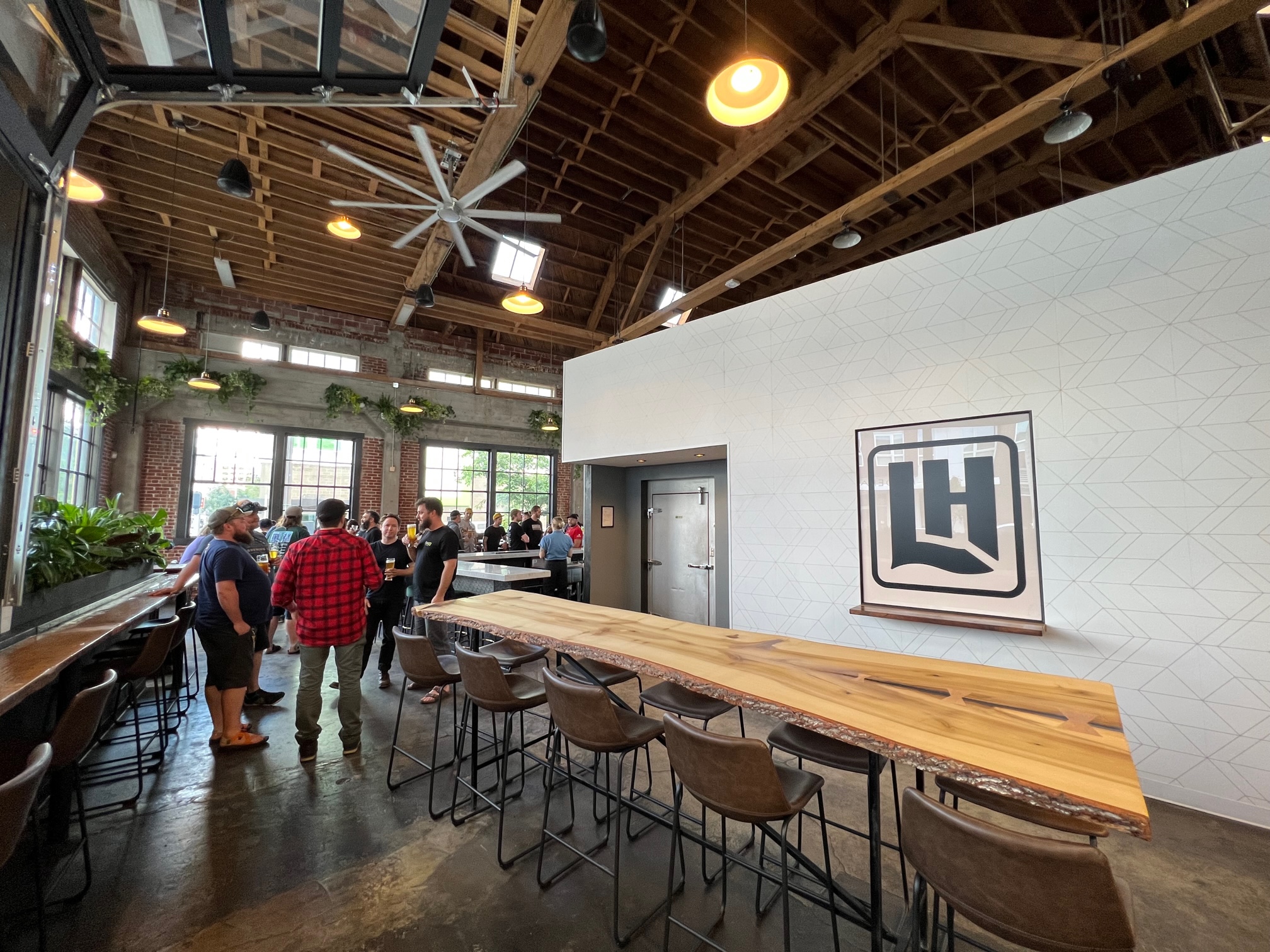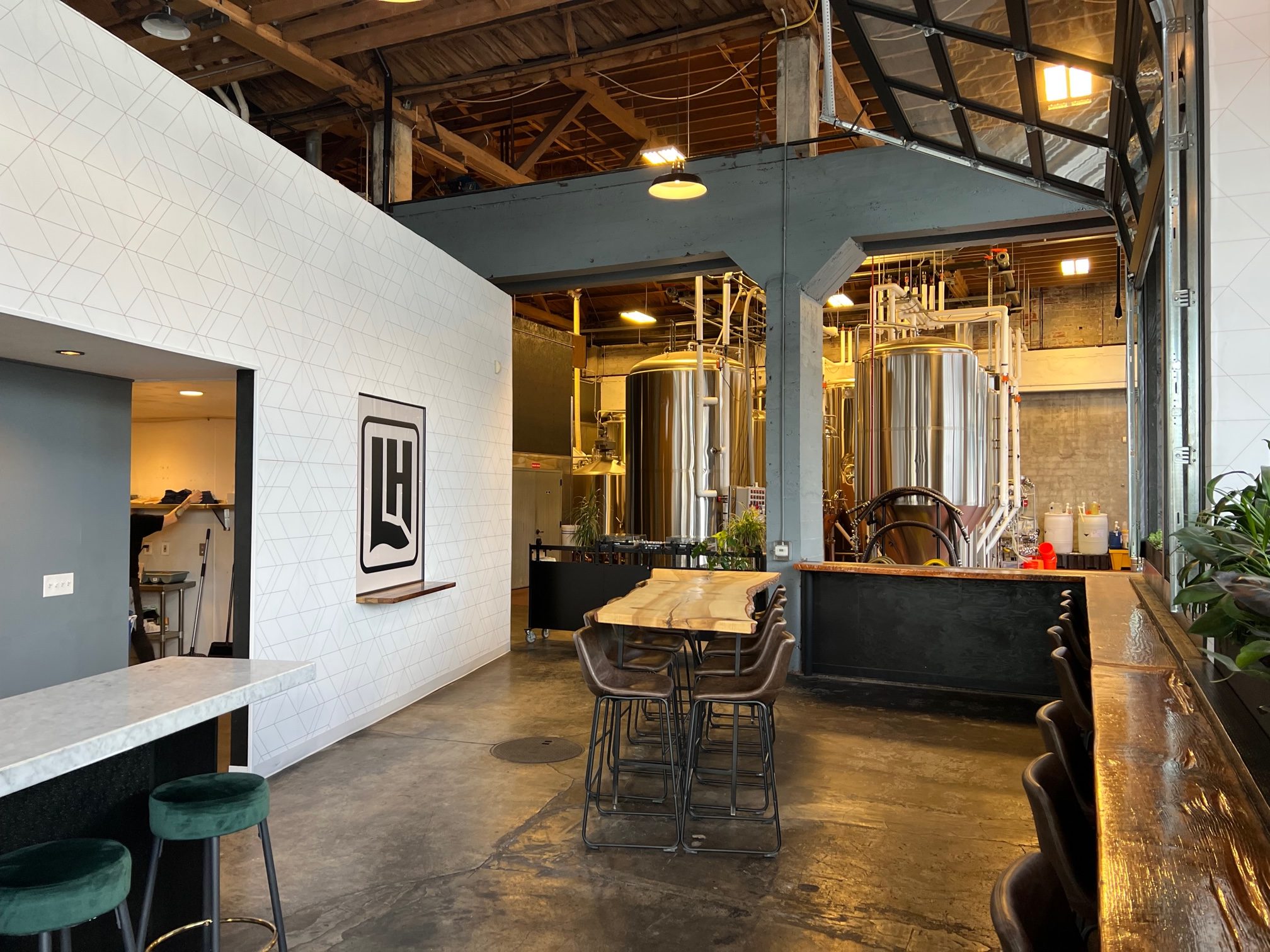 Remnants of The Commons are there with the angled bar and wall of taps. Old restored wood bar rails remain as many more tables and chairs are placed throughout the space. Its less splashy than when Modern Times occupied the space beginning in 2018. Gone is the flying Randy "The Macho Man" Savage, floppy discs along the bar back, walls decorated with comics and yarn to usher in a new era.
Instead of hiring an interior designer, the trio of Mat, Conrad, and Gavin decided to take a DIY approach to the interior. Fortunately Gavin has a degree in graphic design! The space is now much brighter and inviting. There's plenty of greenery with hundreds of live plants within the brewery that blends well with the nearly 100-year-old brick and restored wood. Its clean, yet one that is quite inviting and will make you want to enjoy a few of its tasty house brewed beers!
Probably the largest complaint that this building faced since becoming a brewery in 2015 is the lack of airflow during the summer months. Plain and simple, it could get very hot inside. Living Häus has taken a few steps to correct this issue. Prior to Modern Times moving its taproom to the west of the brewery, it had installed a few Big Ass Fans to help with air circulation. Many of us were not aware of this and now these fans are on full display offering noticeable air movement. But its not just the Big Ass Fans as there are two new rollup doors that have been installed to bring in cross flow of air throughout the space.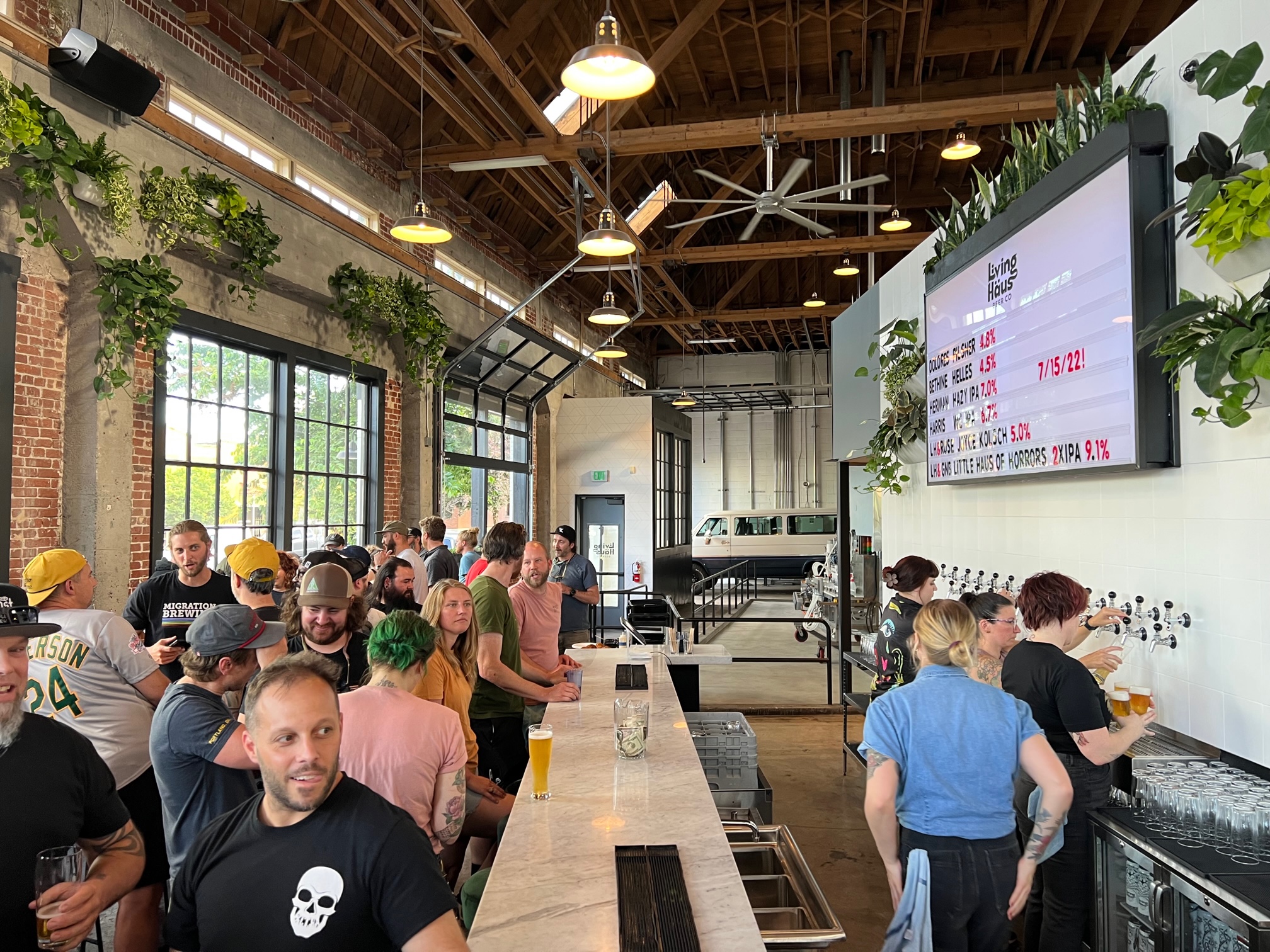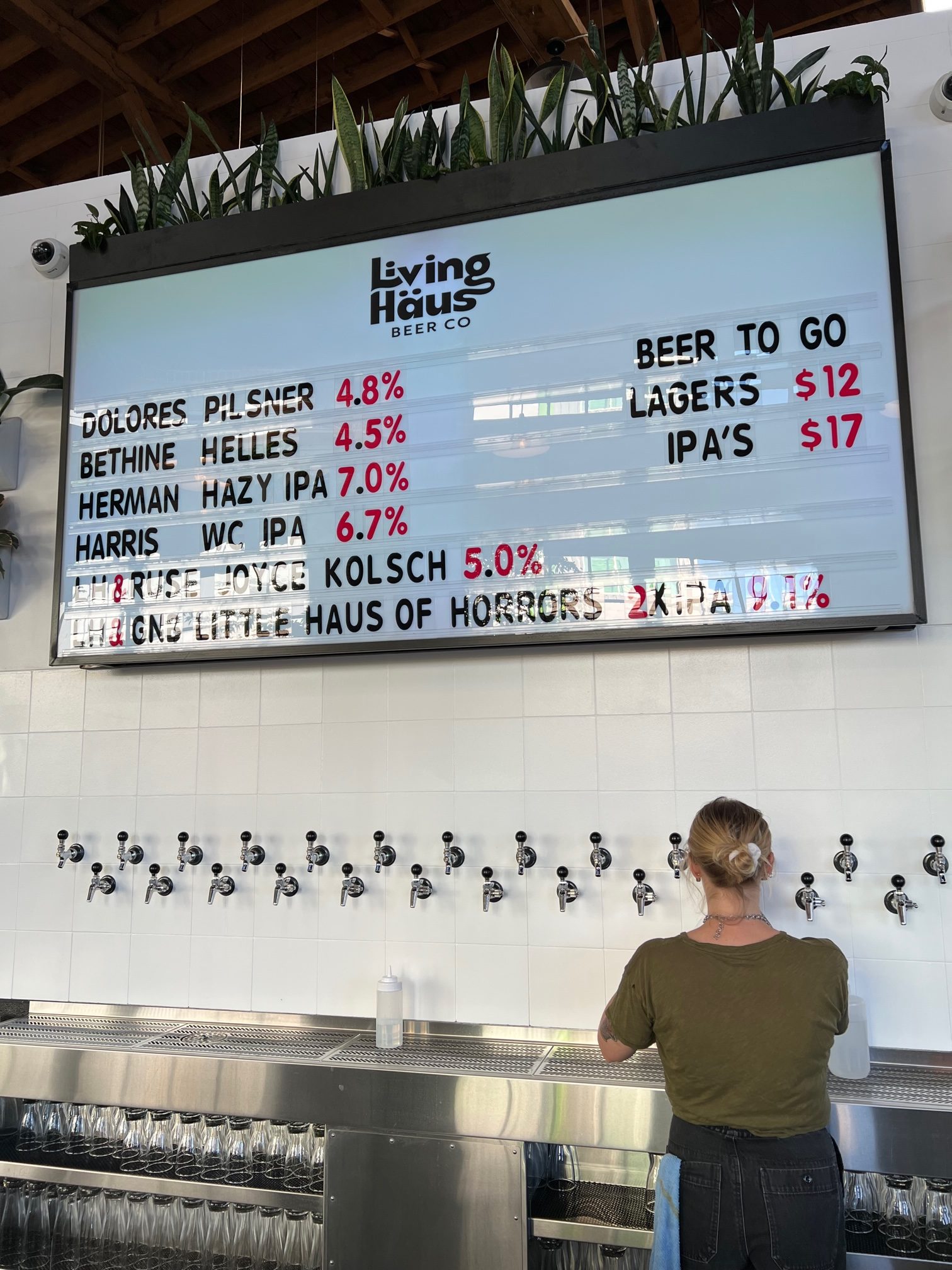 But when it came to the brewery's logo and artwork, the trio reached out to Starkeep Studio for its expertise and creativity. Starkeep has done a beautiful job on the brewery's logo and its label artwork. It fits in well with the ascetics of the brewery and taproom. Living Häus' identity has been established, in a positive approach. This artwork is on full display on the beers that Living Häus has packaged into 16oz cans.
The trio has done an excellent job at staying focused to open the new space after announcing its new brewery on April 14th with a summer opening of July. It's one of the few breweries to actually open on time, an amazing accomplishment! And when they do officially open today after a week-long soft opening, Living Häus Beer Co. will be serving six house brewed beers alongside two additional collaboration beers brewed off-site.
Living Haüs Beer Co. Opening Tap List:
Dolores – Pilsner 4.8%
Bethine – Helles 4.5%
Herman – Hazy IPA 7%
Harris – WC IPA 6.7%
Babi – Cerne Pivo 4.3%
Joyce – Kolsch 5 % Collab with Ruse Brewing (brewed at Living Häus)
Margaret – Light Lager 4.2% Collab with Von Ebert Brewing (brewed at Von Ebert)
Little Häus of Horrors – Hazy Double IPA 9.1% Collab with Great Notion (brewed at Great Notion)
From our couple of visits over the past week, the beer that we've had has been of the utmost quality. Our expectations were high coming in as this trio of brewers has been crushing it through the years.
Both Mat and Conrad have been brewing on this system for some time. After relocating from San Diego where he brewed at Modern Times, Mat led the brew team at The Belmont Fermentorium since it opened in early 2018. Conrad joined Mat in January 2020 after building his resume for five years at Culmination Brewing. Then add in Gavin's experience at pFriem Family Brewers and these three definitely know their way around a brewery and it shows with the beers already being served at Living Häus Beer Co.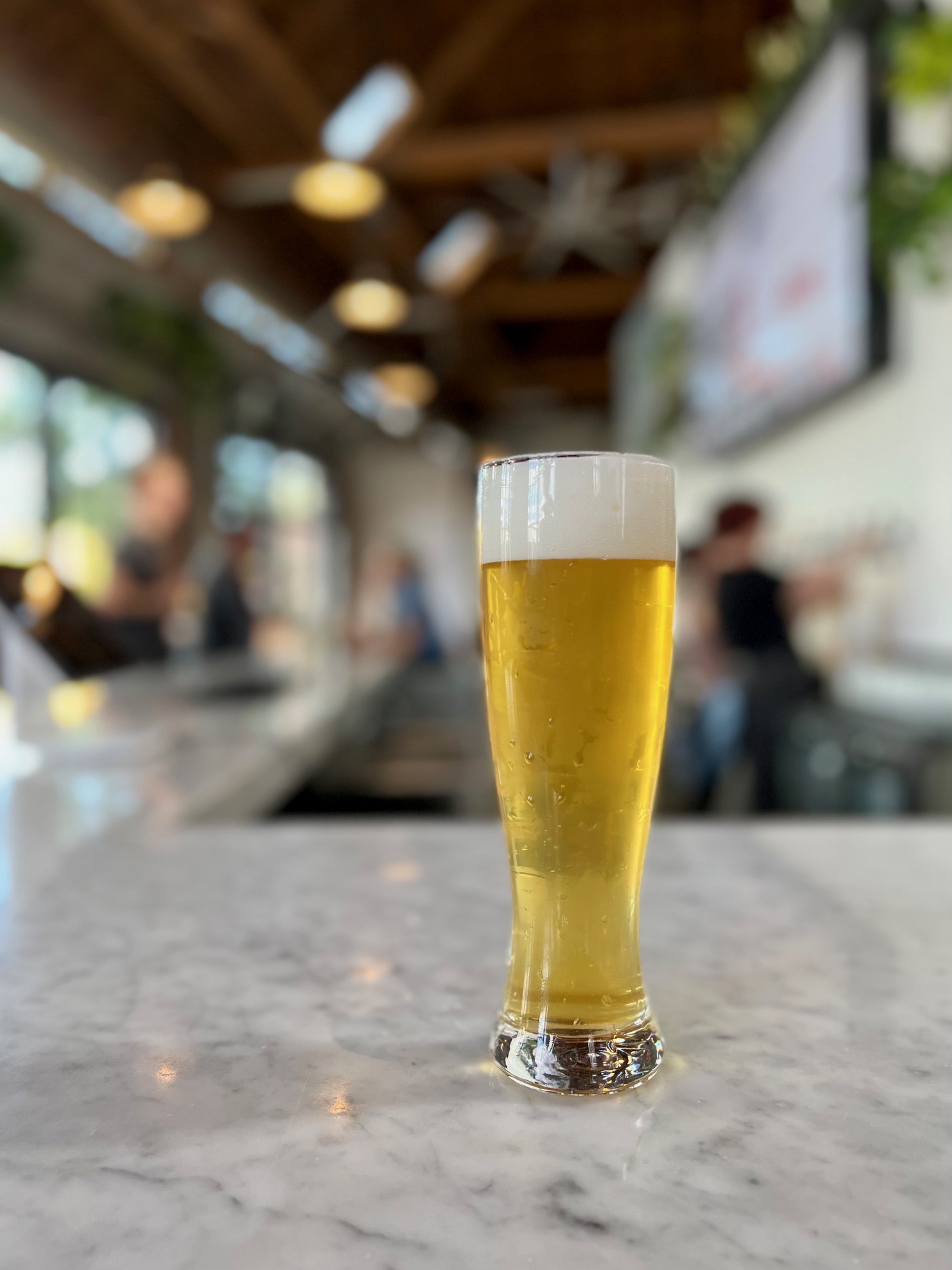 Out of the gate both of Living Häus' lagers are quite quaffable. Bethine, its German inspired Helles is on point and Dolores, its Americanized Pilsner is crisp with a hop snap to it! Harris, its West Coast inspired IPA checks off all of the boxes on this style. Plus, all three beers are available in cans to go or at a handful of local beer stores as the brewery begins to self-distribute.
Later today we look forward swinging on by to order a few new offerings – Babi and Margaret – that are debuting at the Grand Opening!
When it comes to naming their beers the team a Living Haus took an endearing approach. The core beer lineup is inspired by family members of the team.
Their Munich-Style Helles Lager, Bethine, is brewed in celebration of Conrad's Grandmother. Dolores is their hoppy Pilsner beer, brewed in honor of Mat's Abuelita, his late grandmother that has been the foundation of the Sandoval family over the years. Their West Coast style IPA, Harris, is brewed in honor of Conrad's Grandfather. Rounding out the lineup, Herman is the Hazy IPA they brew to celebrate Mat's Papa.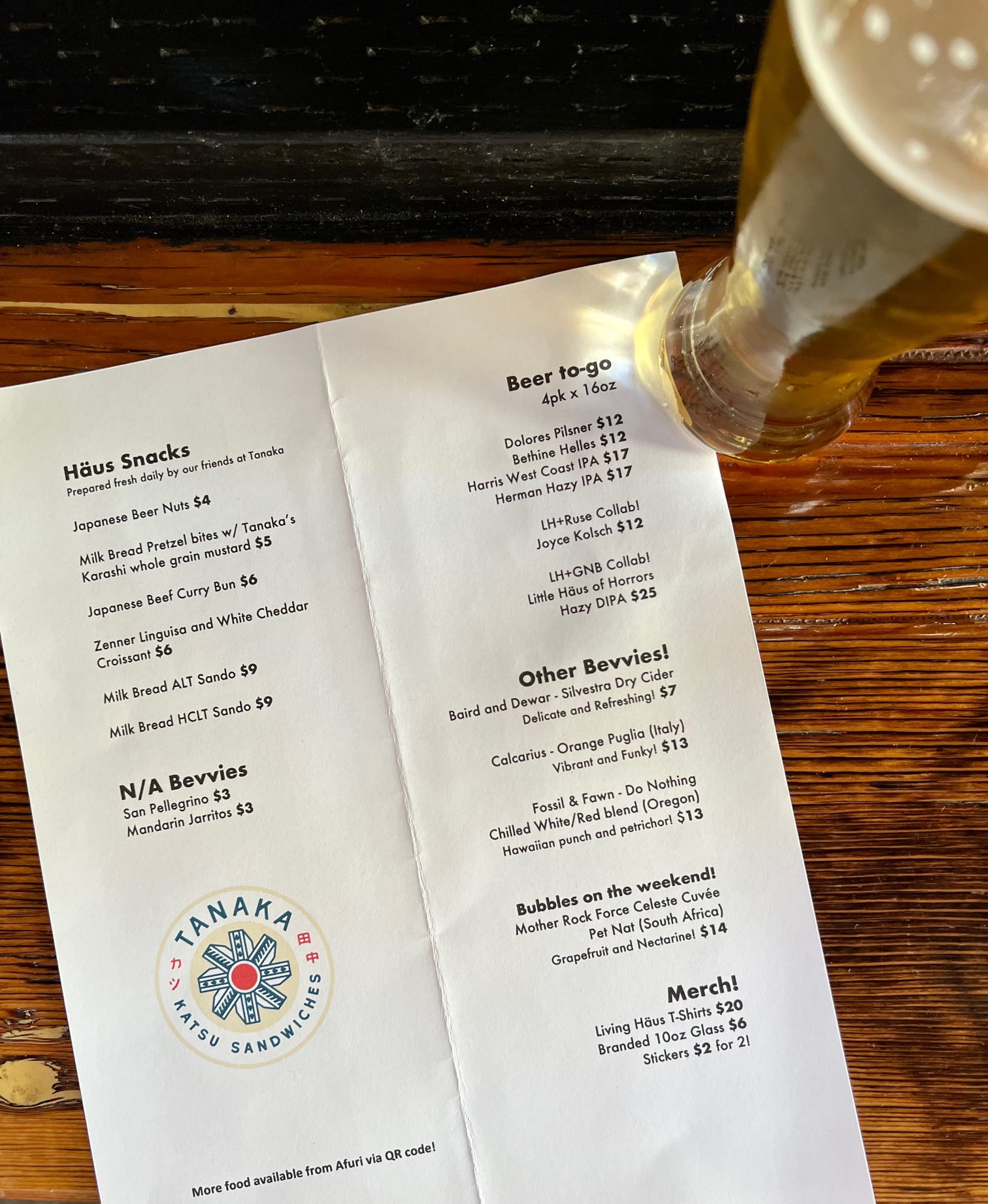 Living Häus will utilize the quaint kitchen space that was left behind from its two previous tenants. There they will place the finishing touches on a special menu from the newly opened Tanaka Katsu Sandwiches. It'll also have a special menu from Afuri, its neighbors just to the south. The Tanaka menu will be ordered through the Living Häus bartenders and the Afuri menu via a QR codes at the tables and bar to be delivered directly to you inside the brewery.
Tanaka Menu:
Japanese Beer Nuts – Tree nut and peanut mix with Furikake seasoning
Pretzel Bites – Milk bread pretzel bites w/ Tanaka's Karashi whole grain mustard
Japanese Beef Curry Bun – Deep fried bread bun filled with beef based curry mix
Linguisa and White Cheddar Croissant – Fresh baked croissant with Zenner's Linguisa pork sausage and white cheddar cheese encased inside
ALT Sando – Avocado, lettuce, and tomato sandwich with a light mayo and Tanaka's Karashi mustard on a Japanese milk bread
Ham and Cheese Sando – Ham, cheese, lettuce and tomato sandwich with a light mayo and Tanaka's Karashi mustard on a Japanese milk bread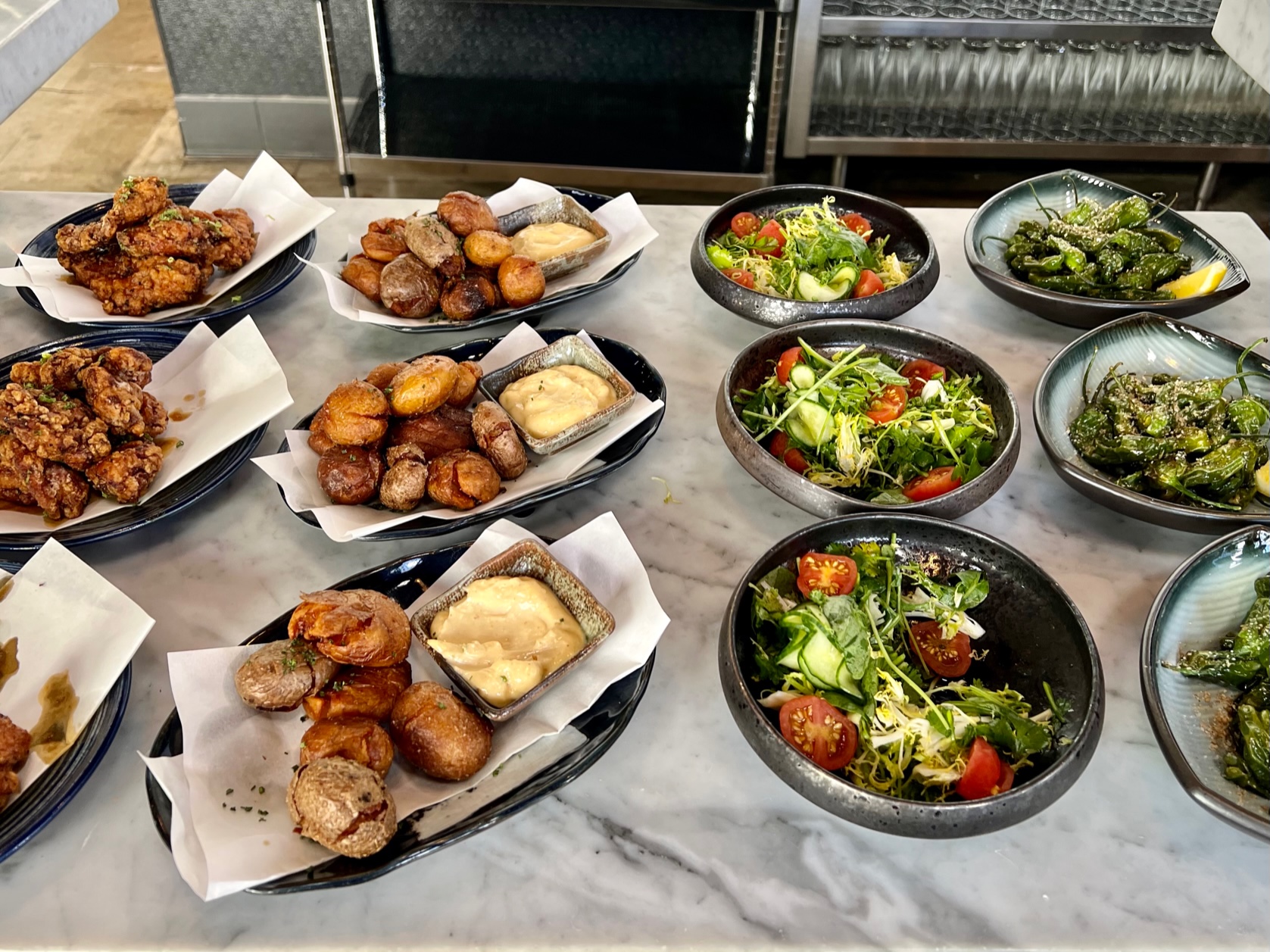 Afuri Menu:
Nagoya Style Karaage – 5-6 pieces of fried chicken tossed in a Nagoya-style black pepper glaze. Garnished with sesame seeds and scallions
Smoked Potatoes – Baby yukon gold potatoes smoked then smashed and fried. Seasoned with salt and served with a sudachi (Japanese citrus similar to lime) aioli.
Summer Salad – Mixed greens, cucumbers, and tomato dressed with a sesame vinaigrette.
Fried Shishito Peppers – Fried shishito peppers tossed in a soy sauce and mirin reduction. Topped with crushed sesame seeds.
Fried Miso Cashew Gyoza – AFURI's Miso Cashew Gyoza dumplings, fried and served with a mildly spicy soy sauce and rice vinegar dipping sauce.
During both days of the Grand Opening on Friday and Saturday, Living Haus will have DJs spinning tunes each evening from 7:00-10:00pm. Friday will DJ Aquamarine playing classic hip hop, soul, and funk and come Saturday, DJ Maxx Bass will be spinning modern funk and whatever gets you moving.
As the brewery moves forward, Mat and Conrad will focus on the Living Häus brewed beers. Their other partner, Gavin will lead the brewery's contract brewing portion of the business known as Sin Marca Beverages. To assist in this contract brewing venture, the brewery has added three 20-barrel fermenters and one 40-barrel brite tank.
Living Häus Beer Co. is open seven days a week. It's hours of operation are 3:00-10:00pm Monday – Thursday, Noon-11:00pm Friday – Saturday, and Noon-8:00pm Sunday.
Living Häus Beer Co.
628 SE Belmont St.
Portland, OR 97214